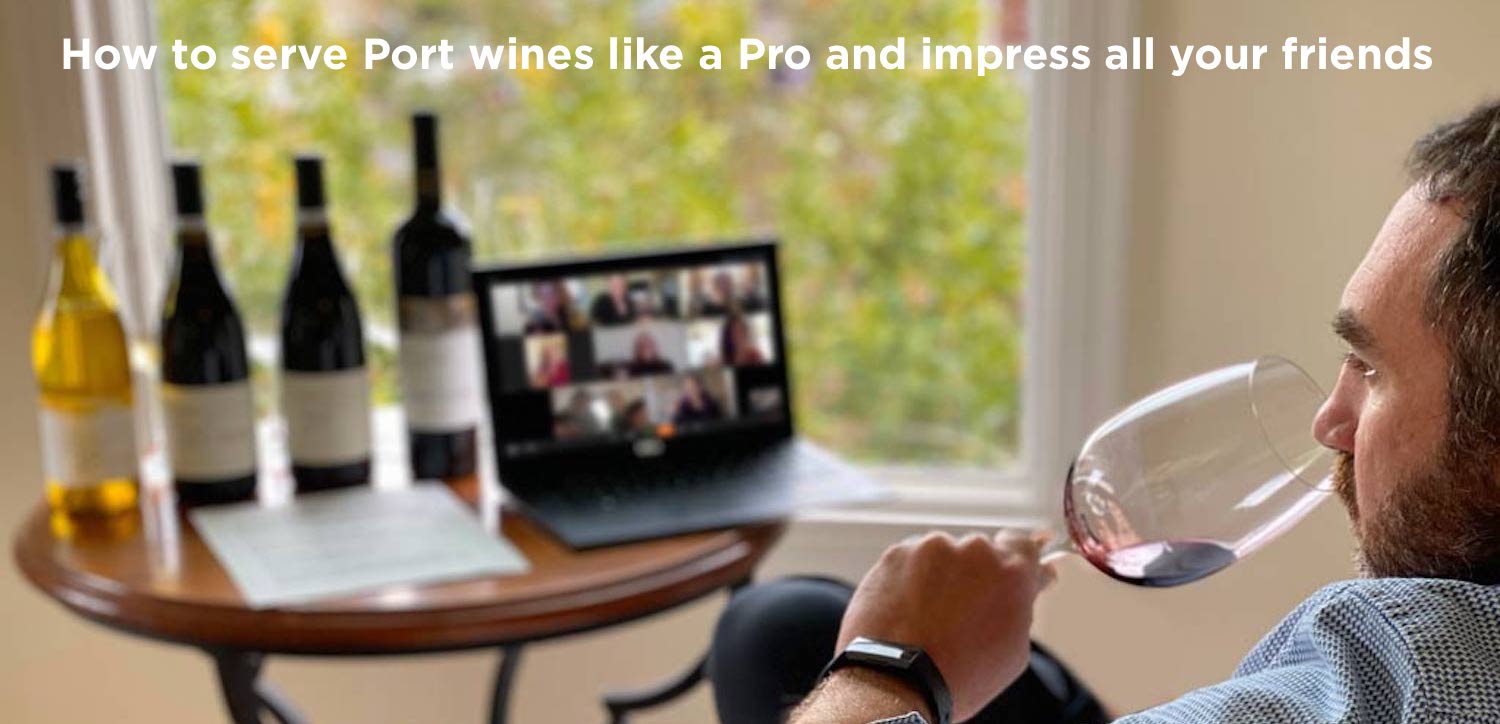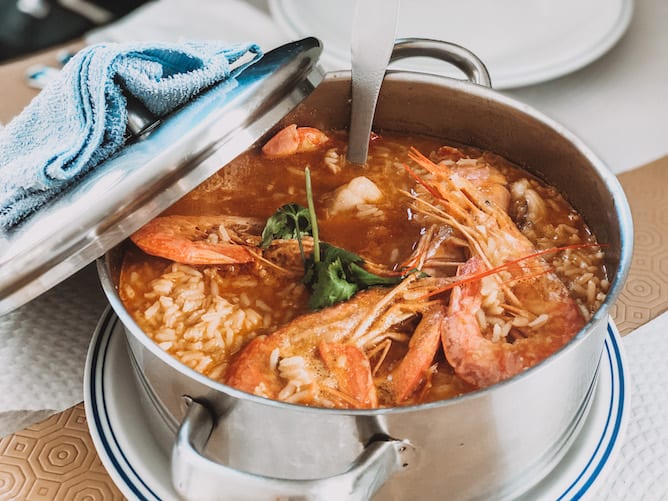 5 Tips to serve Port Wine like a Pro and Impress all your Friends
Port wines should be served at an optimal temperature: a Ruby Port should be served serve between 53°- 61°F (12° – 16°C). A Tawny must be drunk between 50° – 57° F (10° – 14°C) and the whites at 43° – 50° F (6° – 10°C).
The size matters: The classic Port wine glass has a long stem that leads to a small cup, to ensure that you don't pour too much wine and to express the wine's rich aromas more intensely.
Quantity matters, too: Port wine is a fortified drink with around 20% alcohol, so it should be drunk in portions of 3 oz (75ml), which corresponds to around a 1/3 of the glass. You can certainly drink more, but you should always drink it like a gentleman.
You should store your Vintages correctly: no standing up bottles, please! Vintages age in the bottle and they should be lying down (to make sure that the cork is always in contact with the wine), in a dark room with controlled temperature.
There is a Port wine for every occasion: there are Ports that should be open with a group of people, whereas others can be enjoyed by a single person; there are Ports for memorable occasions and everyday Ports. The secret is to know how to pick the right Port for each moment.
Is there any wine lover who hasn't been puzzled by Port wines?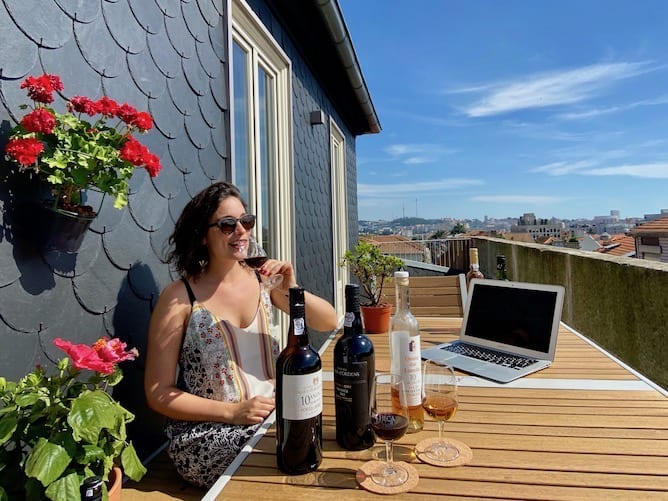 Ports are magnificent wines shrouded in mists of ignorance and prejudice. But it doesn't have to be that way!
I believe we should feel confident when buying, ageing and serving a Port wine, which is why I created a private wine tour company and, most importantly, a virtual Port wine tasting.
My name is Sara Riobom, I am a professional wine tour guide and I have guided hundreds of people in Douro Valley, where Port wine is produced. I will share all my Port wine knowledge with you on this virtual Port wine tasting, too.
This virtual Port wine tasting is a fun and engaging experience that will allow you to confidently dive into the world of Port wines.
On this virtual Port wine tasting, we are going to…
Learn the history of the Douro Valley region, where Port wine is produced.
Discover the production process of Port wine as well as the different ageing processes.
Learn about the three types of Port wine: Ruby's, Tawny's and White Ports. We will also be talking about Vintages and LBV's, don't worry!
Learn how to serve, store and age each bottle of Port wine according to its style & age.
What is the format of this virtual Port wine tasting?
It is quite simple. We will make a zoom call and I will dedicate the first part of this virtual Port wine tasting to teach you about the history of Douro Valley, its terroir and the production process of Ports.
The second part is when the real fun begins! You will grab your bottles of Port wines, I will grab mine, and we will do a virtual Port wine tasting together.
We will go through each different style of Port wine and have a relaxed yet informative conversation about how to store, age and serve your Port wines.
What you need to get to participate:
We will be serving the three styles of Port wine, so please make sure you have at home a:
A bottle of a Tawny Port (it can be a Fine Tawny, a 10 / 20 / 30 / 40 Years Old Tawny or a Single harvest).
A Bottle of Ruby Port (it can be a Fine Ruby, Ruby Reserve, LBV, Crusted or Vintage).
A Bottle of White Port (it can be Fine / Dry / Extra Dry or an older wine).
It doesn't matter the age or overall quality / price of each wine – bring what you have at home or what you can easily find in the nearest liquor store, and I will adjust the tasting accordingly!
My experience as a tour guide in Douro Valley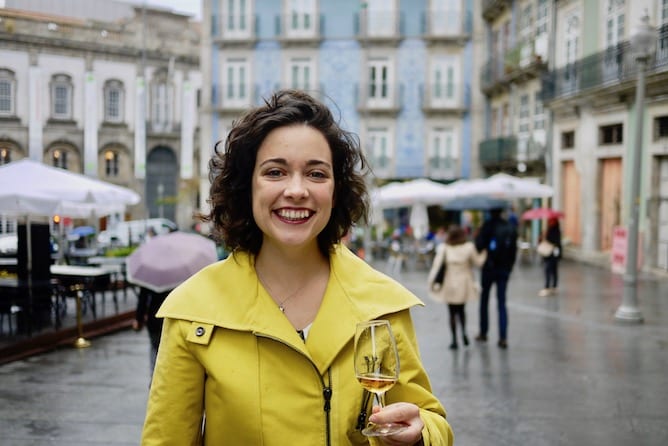 My name is Sara Riobom and I am a professional city blogger and tour guide in Porto, Portugal. Even though I graduated in Industrial Engineering, my true passions were always History, Politics and Story Telling. So I quit my well paid corporate job in a consulting firm to follow my dream of writing and telling stories.
Contrary to everyone else's expectations, this turned out to be a great idea, as my blog helps thousands of people to plan their trip to Portugal, and I have been conducting tours as a professional guide for the past five years!
I got my training at one of the best food tour companies in the city, and after one year I decided to create my boutique tour agency in Porto. Even though we conduct tours all around Northern Portugal, our stronghold has always been the Douro Valley, where Port wines are produced. We are proud to work mostly with small scale producers that make the most exquisite wines.