Do you miss traveling to beautiful wine regions, and to do a proper wine tasting?
Don't worry, I have got your back!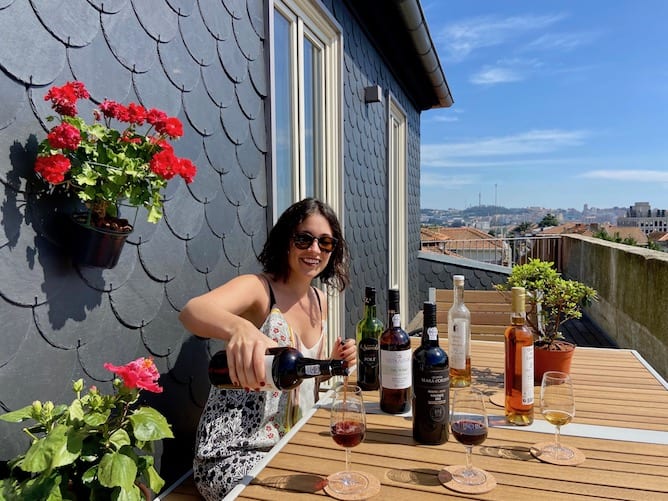 My name is Sara and I am a professional tour guide in Portugal. Together with my amazing team I have been showing the Douro Valley to travellers like you for the past five years, and you can read their glowing reviews on our TripadAdvisor.
Indeed, teaching people about wines is my biggest passion in life and even though we can't travel right now, I can still teach you about the wonders of Douro Valley and Port wines.
Let's discover the world of Ports on my…
Virtual Port wine tasting.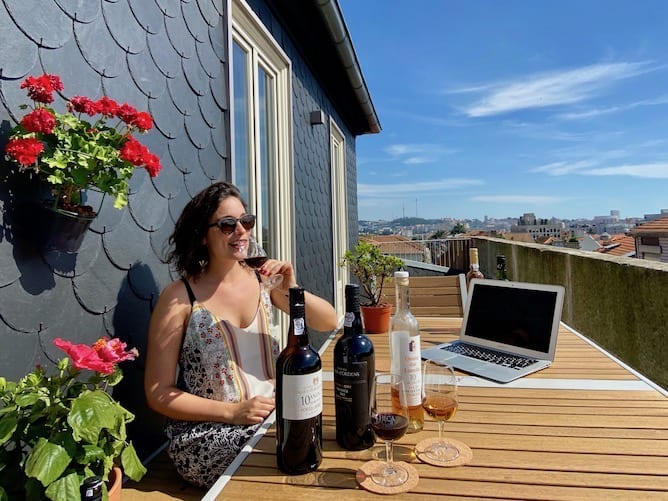 On this virtual Port wine tasting, we are going to…
Learn the history of the Douro Valley region, where Port wine is produced.
Discover the production process of Port wine as well as the different ageing processes.
Learn about the three types of Port wine: Ruby's, Tawny's and White Ports. We will also be talking about Vintages and LBV's, don't worry!
Learn how to serve, store and age each bottle of Port wine according to its style & age.
What is the format of this virtual Port wine tasting?
It is quite simple. We will make a zoom call and I will dedicate the first part of this virtual Port wine tasting to teach you about the history of Douro Valley, its terroir and the production process of Ports.
The second part is when the real fun begins! You will grab your bottles of Port wines, I will grab mine, and we will do a virtual Port wine tasting together.
We will go through each different style of Port wine and have a relaxed yet informative conversation about how to store, age and serve your Port wines.
What you need to get to participate:
We will be serving the three styles of Port wine, so please make sure you have at home a:
A bottle of a Tawny Port (it can be a Fine Tawny, a 10 / 20 / 30 / 40 Years Old Tawny or a Single harvest).
A Bottle of Ruby Port (it can be a Fine Ruby, Ruby Reserve, LBV, Crusted or Vintage).
A Bottle of White Port (it can be Fine / Dry / Extra Dry or an older wine).
It doesn't matter the age or overall quality / price of each wine – bring what you have at home or what you can easily find in the nearest liquor store, and I will adjust the tasting accordingly!
My experience as a tour guide in Douro Valley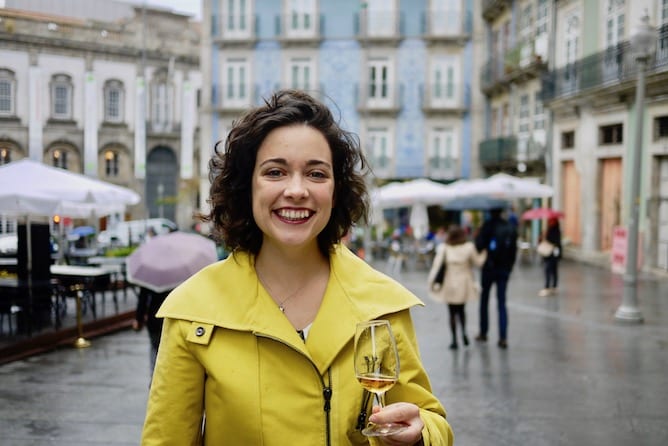 My name is Sara Riobom and I am a professional city blogger and tour guide in Porto, Portugal. Even though I graduated in Industrial Engineering, my true passions were always History, Politics and Story Telling. So I quit my well paid corporate job in a consulting firm to follow my dream of writing and telling stories.
Contrary to everyone else's expectations, this turned out to be a great idea, as my blog helps thousands of people to plan their trip to Portugal, and I have been conducting tours as a professional guide for the past five years!
I got my training at one of the best food tour companies in the city, and after one year I decided to create my boutique tour agency in Porto. Even though we conduct tours all around Northern Portugal, our stronghold has always been the Douro Valley, where Port wines are produced. We are proud to work mostly with small scale producers that make the most exquisite wines.