Join our team
2022 was great. 2023 is going to be EPIC! 🙂
After an incredible 2022, with hundreds of clients that fell in love with Porto and with Douro Valley on our private tours in Northern Portugal, we are hiring tour guides for 2023!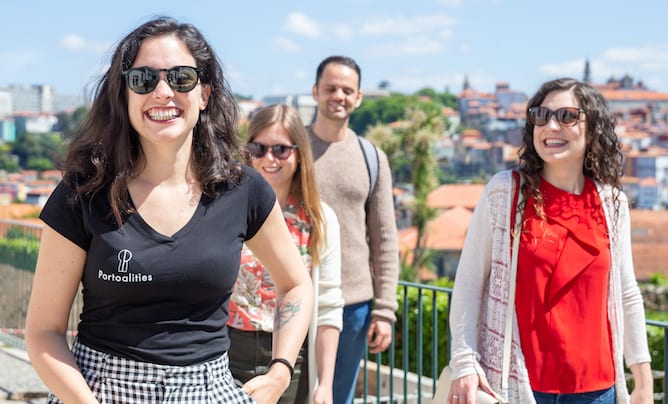 Why apply for a tour guide position with Portoalities?
With more than 7 years of experience and thousands of (very) happy customers, Portoalities is the right company for you to:
Meet interesting people from all around the world EVERY DAY.
Have a flexible schedule that allows you to pursuit your hobbies.
Enjoy wages above the market average.
Expand your knowledge about Porto, Douro Valley and Port wine – as we only organize private tours, no tour is the same!
Work with passionate people who happen to be the best ambassators of Portugal. True story 🙂
Tour guides in Porto and Douro Valley: What will you be doing
Lead small groups of up to 15 pax on walking tours in Porto AND groups of up 8 people on wine tours in Douro Valley.
Speak clearly and passionately about Porto's history and monuments, as well as Douro Valley region and its fabulous wines.
Have meaningful conversations with our guests about a wide range of topics, from Portuguese culture to international politics.
Help guests to make the most of their time in Northern Portugal (e.g.: give recommendations at the end of the tours, help them to book restaurants, etc).
Help to collect TripAdvisor reviews from our guests.
Who we are looking for
Simply put, we're looking for active, hard-working people who will truly enjoy getting to know our guests and delivering world-class service.
Portoalities develops personalized tours in Porto and in Douro Valley, so each of our tour is unique and extraordinary.
For that same reason, we appreciate the diverse qualities and personality YOU bring to the table – no tour guide is the same, like no client is the same!
It doesn't matter if you have studied tourism or not. In our ranks is a former Industrial engineer, a musician and a fashion designer – all of which bring their own personality and stories to our tours.
Do you think you could fit on this group of hard working, colorful tour guides? Ring us a bell then! 🙂
Required Education and Experience
A valid driver's license with a clean driving record.
Location: you must live in Porto or its surroundings.
English proficiency.
Full availability with limited time-off requests during our peak season, April 1st May 15th – November 15th. And Yes, many times our tours take place during the weekends.
Education: If you have a BsC or MsC in History; History of Art; Winemaking or Public Relations, that would be great. If you don't have a degree but are, nonetheless, really passionate about these topics, that would be great as well!
Work experience: No prior work experience is required, but if you have experience working as a tour guide for other tour companies, Port wine lodges or any monuments in Porto or Northern Portugal, we would love to hear from you.
Do you have what it takes?
Great! We'd be happy to hear from you 🙂 Fill in this survey and we'll get in touch really soon!