The holiday season is one of the happiest times to be in our city, so I wrote this article with plenty of suggestions for you to enjoy during your Christmas in Porto.
I wrote about the best things to do during Christmas in Porto, including best Christmas markets, best restaurants for Christmas Eve & for Christmas lunch and great stores for some Christmas shopping. I hope you like it!
Moreover, me and my team am available to conduct private tours in Porto and Douro Valley, which is the best way for you to navigate the region during the Christmas season.
[toc]
What you should KNOW about Christmas in Porto 2022
Most hotels in Porto are already sold out for Christmas 2022 🙁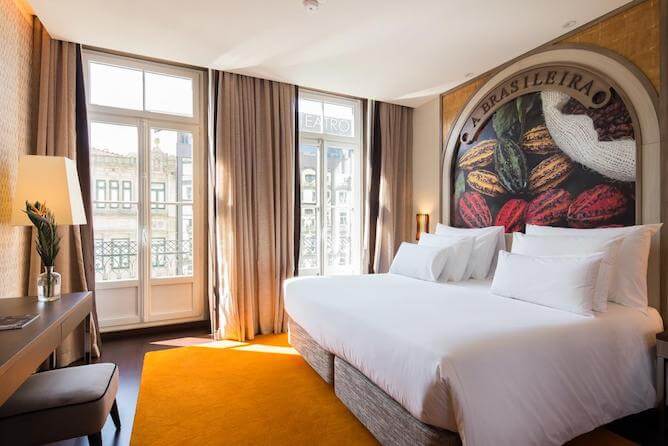 I have been getting a lot of emails from the local hotels and even apartments telling me that they are already sold out for 2022.
If you are not from Porto and you haven't booked your place to stay in the city, I want to help out. I cannot possibly know what properties are available every single day until Christmas, but I can connect you to Porto's page on booking.com so that you can find the best deals still available.
Some people prefer to use AirBnB but one thing that irritates me to the bones with this platform is that the price that shows for each properties is not really the price that you are going to pay, because on top of that they add at least a couple of fees.
With booking.com you KNOW what you're going to pay, and it also has tons of apartments to choose from. So make sure to book your stay in Porto while there are still some spots available.
You can also sleep below the bridge. At least you have six of them to choose from 😛
The best way to enjoy your Christmas in Porto is to go around with a local friend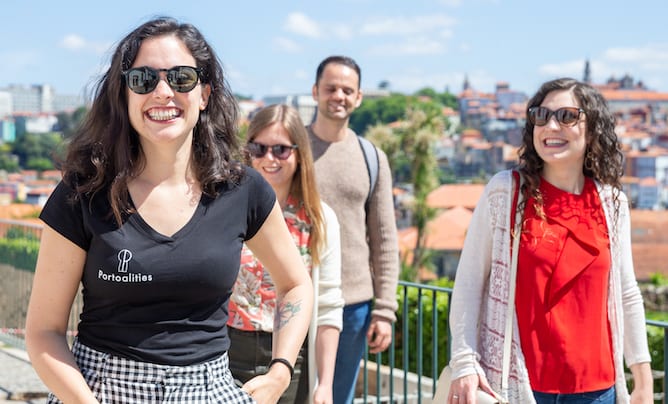 The best way to explore Porto during the holidays is to join one of our private tours, where me and my fantastic team will give you insider information on how to best take advantage of your time in our city. Let's meet soon! 🙂
Best events during Christmas in Porto
The City Hall of Porto organizes dozens of free events during the Christmas holidays, that are suitable for both adults and children.
There are also other public and private organisations promoting different activities all around the city, as well as plenty of Christmas markets do to some shopping 🙂 Here are some suggestions:
Be dazzled at the Clérigos church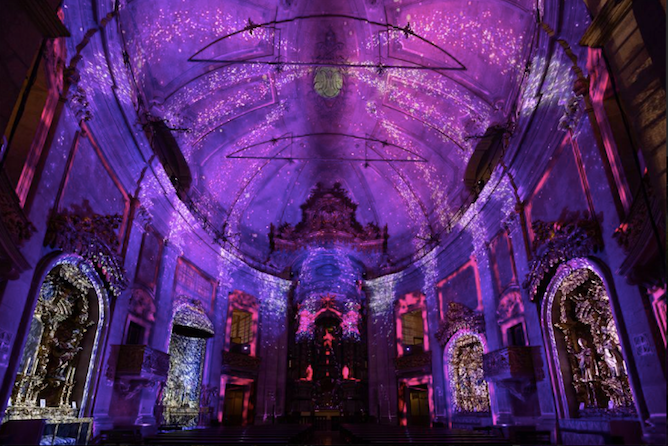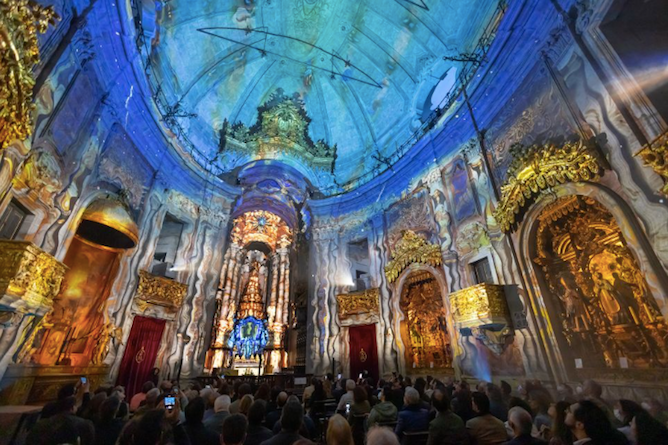 I honestly cannot thing of a better activity to do in Porto around Christmas other than to be dazzled by a multimedia show at our beloved Clérigos church – in my opinion, the most beautiful church in the city.
The show lasts around 30 minutes and it is inspired by a poem of Álvaro de Campos, the pseudonym of the most famous Portuguese writer of all time, Fernando Pessoa.
I won't tell you more about what you'll see (so as not to spoil the surprise!), so I'll just tell you that the effect of the lights projected on the oval walls of the Clérigos Church, the music and the colors create a beautiful and unforgettable effect.
This show is only available until the 8th of January and has very limited seats, so I recommend you to get your tickets online. to make sure you don't miss out on this great experience! And if the weather is nice, it is worth it to get the ticket to Climb the Clérigos tower. as the view from the top is stunning 🙂
Local tip: get there earlier in order to to sit in the back seats, from where you have a better panoramic view of the church 😉
Visit Alice's Wonderland in the Botanical Garden of Porto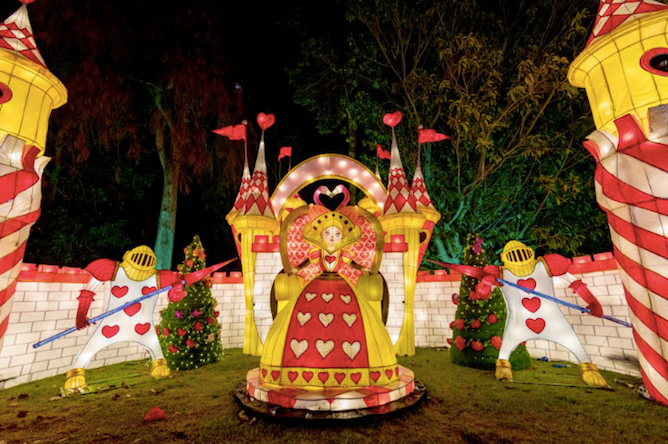 I don't think many people know this but one of my very favourite books of all time is Alice in Wonderland, so for me, one of the best things to do in Porto during Christmas is to visit the Botanic Garden of Porto to immerse myself in Wonderland. I know, it sounds confusing. Let me picture it for you:
Picture yourself entering one of the most beautiful gardens in Porto and finding luminous sculptures of the White Rabbit, the Blue Caterpillar and the Queen of Hearts (my favourite character ='). Imagine walking on a gigantic chessboard, just like Alice in Wonderland. Imagine being surprised by different soundscapes, interactive installations and an augmented reality application that will add vivid memories of one of the most famous books of all time.
It is magical and pretty unique =') And very popular too (especially among couples and families with kids), so I recommend you to book this activity in advance (don't worry, you can make a reservation now but you only need to pay 3 days before the date!).
Check out Porto's Christmas tree!
From December 1st, the magical atmosphere of Christmas will invade the city, bringing the brightness of the lighting to many streets, squares, squares and gardens in Porto, which this year has again erected a giant Christmas tree in front of the City Hall.
With 34 meters high and 15.5 meters wide, the Christmas tree will have a different brightness this year, as it will be covered by 50 thousand leds and animated by video technology.
Moreover, in addition to taking on different tones throughout the day and night, the Christmas tree will display a set of animations, synchronized with music, every 30 minutes.
Visit a secret Nativity scene in Porto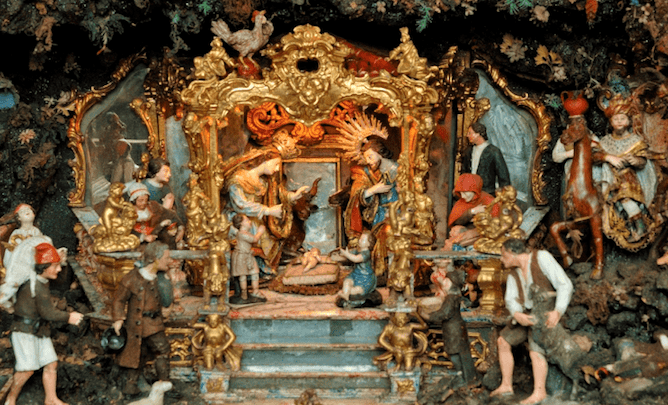 In the area of the last Jewish quarter of the city (near the beautiful Clérigos tower), hides one of the best kept secrets of Christmas in Porto: a beautiful 18th century Christmas nativity scene in the Church of São José das Taipas.
The crib can be visited from Mondays to Fridays, from 11h to 12h30, and from 15h30 to 17h00, with a break for lunch. On Saturdays it opens from 11h00 to 12h30, and it is closed on Sundays.
If it's in the afternoon, accept my suggestion and go down Rua do Dr. Barbosa de Castro to enjoy the sunset at the Virtudes viewpoint. You'll see it's worth it 🙂
Watch a Christmas concert at Casa da Música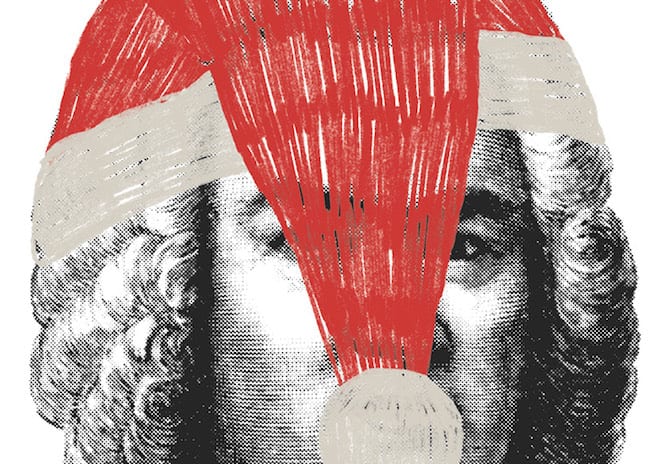 One of the things I love doing during the holidays in Porto is to watch a Christmas concert at Casa da Música. There are so many concerts going on during December that the best thing you can do it to check Casa da Música's agenda for the month and pick your favourite one.
Visit a unique Christmas village!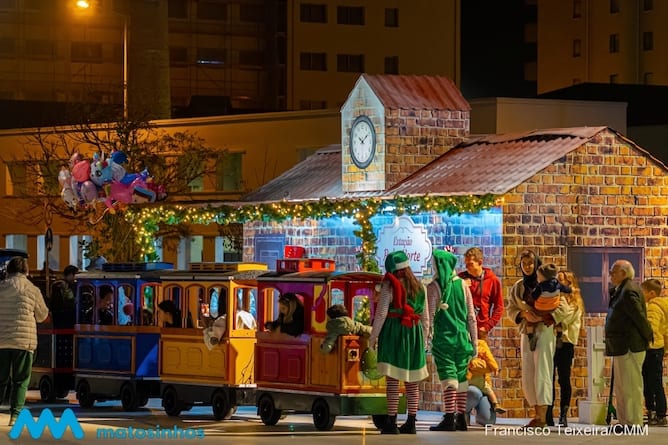 This year Matosinhos, a city neighbouring Porto, decided to set up a Christmas village and oh boy isn't it exciting for the kids!
At the Christmas village kids will be able to ride the train to see Santa's house, the enchanted forest, the elves' workshop and the giant gifts. A giant Christmas tree was also installed in the area.
On the weekends and national holidays (so, on December 3rd, 4th, 8th, 10th, 11th, 17th and 18th) there will be Christmas music and dance, with sessions at 3 pm and 6 pm.
Address: Praça Guilherme Pinto, in Matosinhos.
Schedule: until January 8th at the following times: Monday to Friday from 15h to 19h and Saturdays, Sundays and holidays from 11h to 20h. On the 24th and 31st of December it will be open from 11n to 13h. It closes on 25th of December 2022 and the 1st of January 2023.
How to get there: the subway station Matosinhos Sul is a 10 minutes walking distance.
For families with kids: give your letters to Santa Claus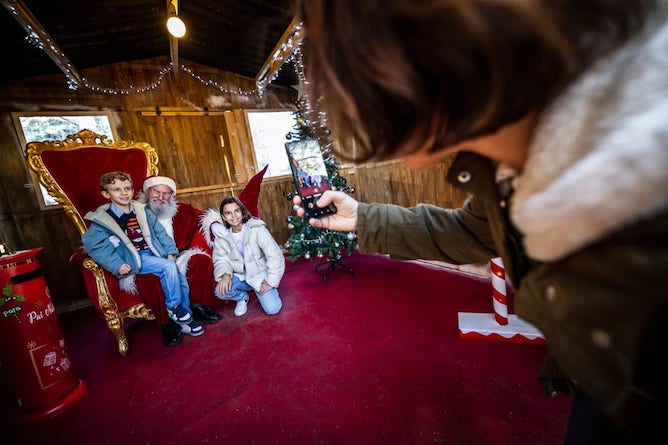 If you're traveling with kids in Porto or you simply want to go down the memory lane, why not meet Santa Claus and personally give him your letters?
The most famous "old man" in the world will be at the Crystal Palace Gardens waiting for the kids to visit him, ready to take note of all their wishes for Christmas. Adults can also enter to listen to their requests, take pictures and feel the magic of the season.
You can find him on Saturdays, Sundays and holidays (December 1st and the 8th) from 16h to 18h.
Christmas markets in Porto
If you love the tradition of going to Christmas markets, get ready because this year there will be many Christmas markets in Porto. Again it is impossible to list them all because there are dozens of them, so the chances are that you will bump into one during the holidays in Porto. Nonetheless, here are a few examples: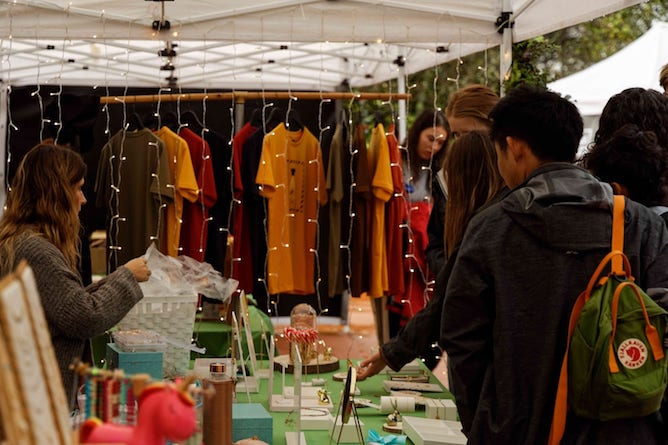 I have written countless times about the Serralves Foundation, which a fantastic contemporary museum surround by romantic gardens. And this Christmas, Serralves gardens will open its doors to the Christmas Market, selling products from national producers and brands.
On December 3rd and 4th 2022, you can buy gourmet products, organic and seasonal foods, creative and sustainable Christmas gifts. You will also discover the latest design news, and participate in workshops and activities for the whole family.
The entrance to the Christmas market is free, but if I were you I would take the opportunity to visit the gardens as well as the contemporary museum – it's wonderful, even during winter!
Address: Rua Dom João de Castro, 210.
Schedule: December 3rd and 4th of 2022, from 11h to 18h.
How to get there: the buses 203 and 207 stop right in front of Serralves.
Christmas Palace at the Crystal Palace gardens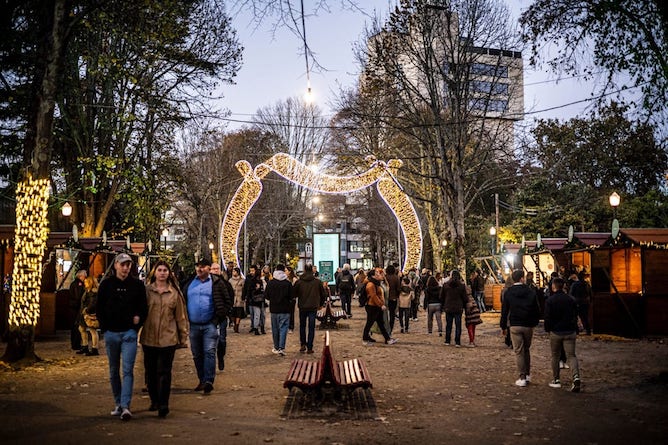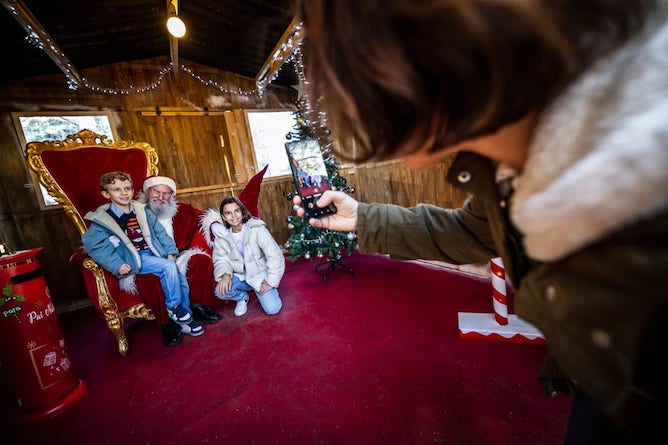 This year a Christmas Market will take place at the lovely Crystal Palace gardens, with a special focus on handicrafts and traditional Portuguese food products, which will be located right next to Santa Claus' home, where the old man with white beards will take note of the children's wishes.
Music will be present everywhere. A capella voices or with musical instruments, popular or classical music, to enjoy in introspection or with your hands in the air, there's a lot to hear (and feel) during this particular Christmas market in Porto.
Address: Crystal Palace Gardens.
Schedule: 1st to 23rd of December 2022. The schedule is a bit confusing this year:
– Mondays to Thursdays: 14h00 to 19h00.
– Fridays: 14h00 to 21h00.
– Saturdays: 10h30 to 21h00.
– Sundays and holidays: 10h30 to 19h00.
How to get there: the nearest subway station, Aliados, is 20 minutes walking distance. It is better to get a bus (there are plenty of them stopping there!) or to call an Uber.
Mercado da Alegria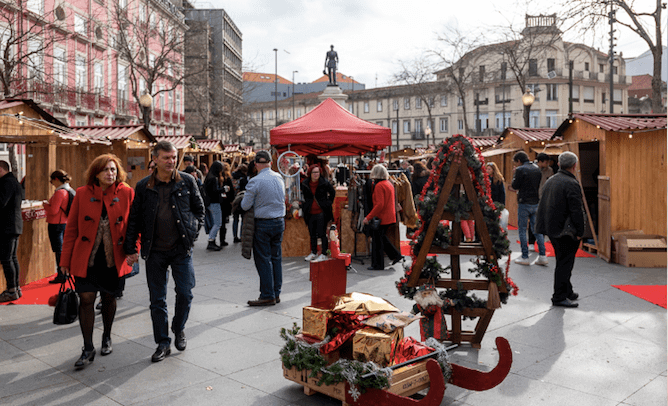 This Christmas market in Porto takes place at Batalha Square and it has dozens of exhibitors selling handcraft, jewellery, handmade toys, clothing and regional food products, that are perfect for gift-shopping.
Over the weekends until Christmas there will be some sort of "street animation" taking place, from DJs to workshops and professional clowns, so it is a nice market to take the kids.
Address: Praça da Batalha.
Schedule: December 1st to December 30th, 2022. Sundays to Thursdays, from 10h to 20h. Fridays and Saturdays, from 10h to 22h.
How to get there: the subway station São Bento is a 5 minutes walking distance.
Urban Market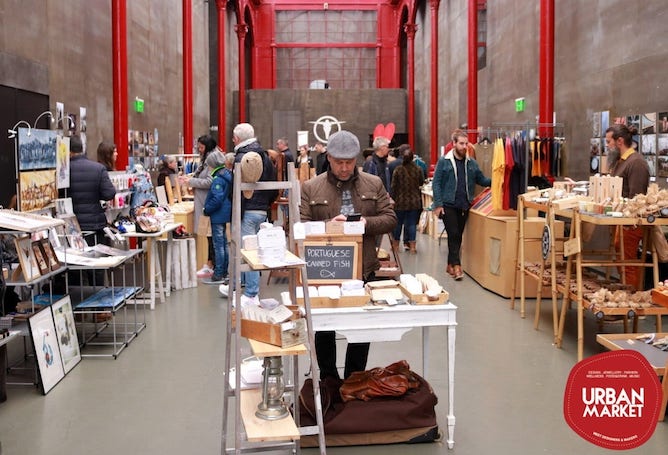 The Urban market is famous for being one of the best markets in Porto to buy urban handcraft such as clothing, jewellery, design furniture as well as food and drinks. In 2022 they are organised two Christmas editions, both taking place at the Hard Club.
There will be vendors of jewellery, illustration, painting and fashion on the Ferreira Borges Market, where the Hard Club is housed.
The only downside of this Christmas market, for me, is that it usually doesn't have food vendors (I am Portuguese, there must always be food options nearby).
Address: Hard Club.
Schedule: on both occasions (December 1st to 4th and then 8th to 11th), from 11h to 19h.
How to get there: São Bento's train AND subway stations are a 10 minutes walking distance.
Christmas market at the WOW (World of Wine)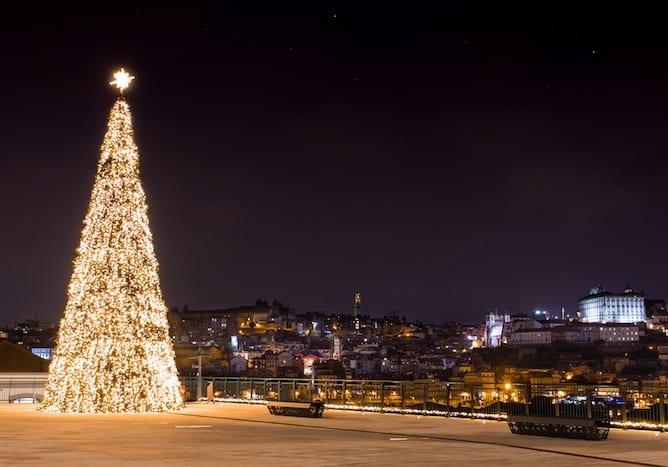 The World of Wine (WoW) is the newest venture of the owners of Taylor's, one of the best Port wine lodges. It consists of five museums and some (pricey) restaurants with outdoor seating with a fantastic view of Ribeira neighborhood.
This year WOW is celebrating Christmas in style, with loooooooads of events (especially for families with kids) and a fabulous Christmas tree.
The Christmas market itself will take place from the 1st of December 2022 to the 8th of January 2023.
Address: Rua do Choupelo 39, in Vila Nova de Gaia.
Schedule: 1st of December 2022 to the 8th of January of 2023. I checked the schedule and it literally changes everyday, but if you head there in the middle of the afternoon, you will be safe.
How to get there: the subway station General Torres is a 15 minutes walking distance.
What about New Year's Eve in Porto?!
There are plenty of people who spend either Christmas or New Year's Eve in Porto OR both occasions, so this year I decided to write a section to those of you welcoming 2023 in my city.
Concert during New Year's Eve in Porto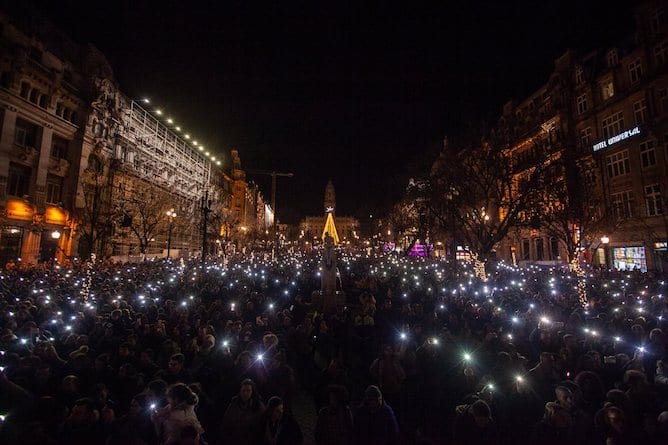 Every single year there is a New Year's Eve concert at the main avenue in Porto, Avenida dos Aliados, before midnight. This year, as our beloved avenue is under construction, they have decided to move the concerts to Queimódromo, which no one is very pleased about because it is located far away from the city centre and not a very pretty location.
But it is what it is, so moving on.
The doors open at 20h, and at 22h30 the first concert of the night begins, with Fernando Daniel, an artist who gained notoriety by winning the television program "The Voice Portugal".
Then it's the countdown to the transition of the year, which will be integrated into an immersive audiovisual show called "Luminous".
Shortly after midnight Diogo Piçarra's performance begins, followed by a big name in Portuguese electronics: Moullinex, who has been rocking dancefloors in our country and abroad for over a decade.
Where does the New Year's Eve fireworks take place?
The usual place is Avenida dos Aliados but again, as it is under construction, they are moving the fireworks to Praça da República.
Where can I have dinner on New Year's Eve in Porto?
I have been getting this question a loooooooooot, so here is what I know:
Most restaurants in Porto are closed during both the New Year's Eve and January 1st.

The ones that are opened are usually the fancy hotels' restaurants. They usually have fixed menus (and are quite expensive) so my recommendation is to:

A) make a short list of restaurants in Porto where you would like to go.
B) check their Instagram accounts because that is usually where they publish new Christmas and New Year Eve's menus.
C) get in contact with them on Instagram, email or website.
Above all (and please don't take me wrong for writing this):
DO NOT contact me asking me for restaurants recommendations because there are THOUSANDS of restaurants in the city, I am a SINGLE person writing on this website and I don't have a way to know which ones have decided to open for the new year's Eve! 😉
Best stores to do Christmas shopping in Porto
Visitor might feel so overwhelmed by the amount of shopping stores in Porto that they wouldn't know where to begin. So we're naming our top five stores for Christmas shopping in Porto:
A Vida Portuguesa and Fernandes Mattos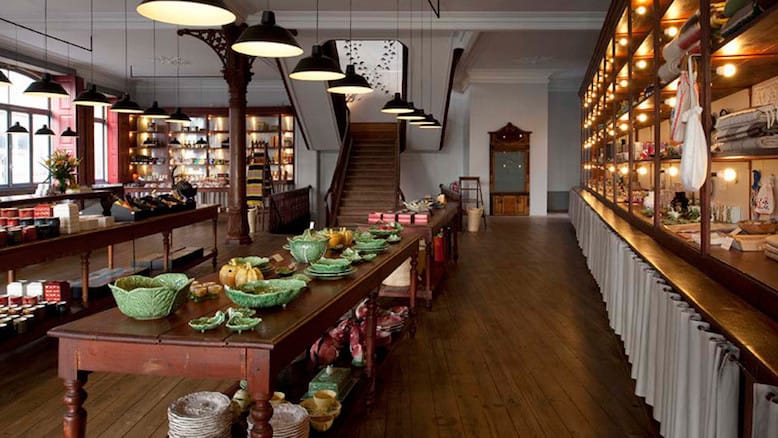 For your holiday shopping in Porto, you'll love A Vida Portuguesa and Fernandes Mattos. These two stores occupy an historical building a few steps from Lello Bookstore.
At A Vida Portuguesa you'll find traditional products from Portuguese brands such as Bordallo Pinheiro's faience, Ach. Brito and Claus Porto's soaps, the traditional embroidery of Viana do Castelo, etc.
There you can also find some Portuguese food products such as Ginjinha de Óbidos, chocolates from Regina and Santa Catarina's tuna cans (trust me, you'll never want to eat tuna from any other brand after you taste the ones from this brand!).
At Fernandes Mattos, you will find a delicious mix of vintage objects and urban design objects. A delight for someone looking forward to do some shopping in Porto. 🙂
Almada 13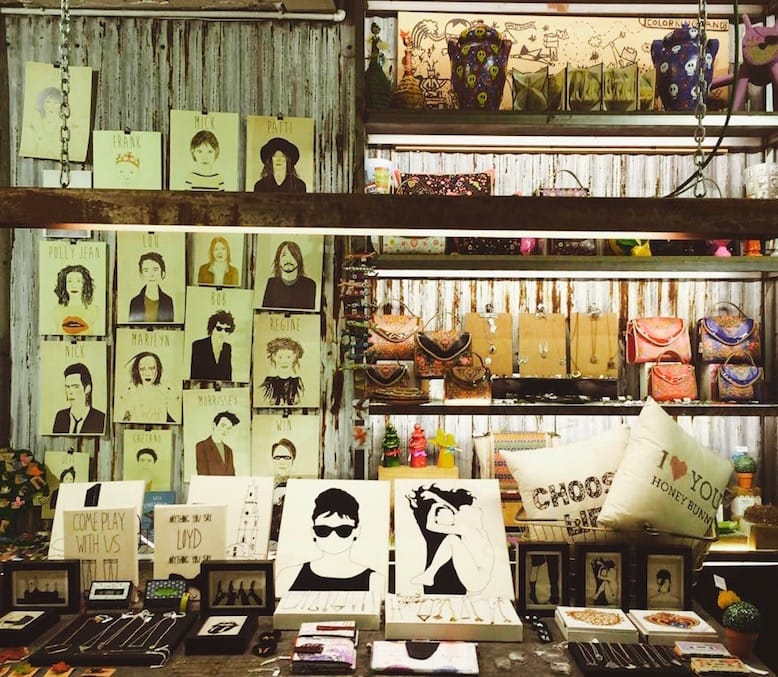 For those looking for Christmas gifts' shopping in Porto with a touch of urban design and a lot of humor, I suggest Almada 13's store. This store gathers five stores in one: the urban design objects from Águas Furtadas Design, the clothing and decoration pieces in burel (A Portuguese handmade fabric made of wool), cork products from Cork & Co, Yellow Boat's maritime products and WE-Rota tea's home decor products and teas.
CRU Cowork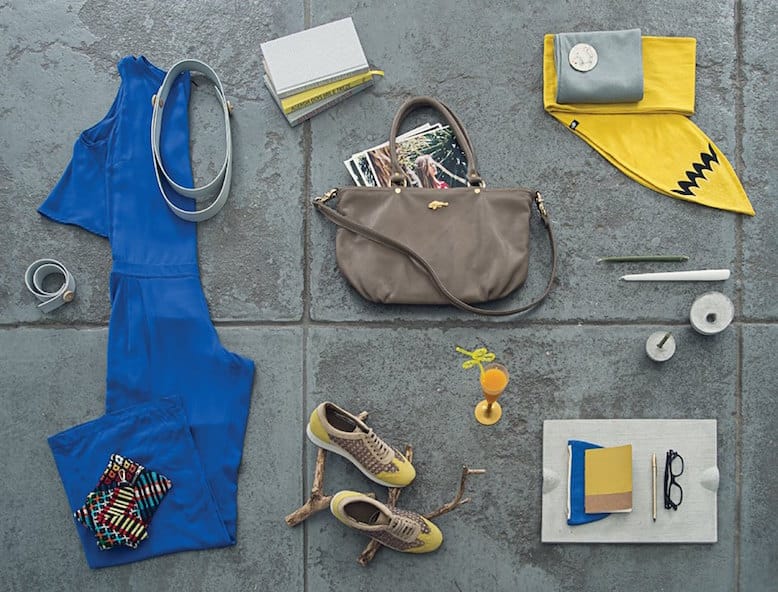 This space combines a coworking office with a concept store which is perfect for Christmas shopping in Porto. At CRU Cowork's store you will find creative Christmas gifts, mostly of urban design applied to fashion, footwear, handmade jewellery and home decor. Not to mention their unique greeting cards that are perfect for the holiday season. It is worth it to stop by!
Fine & Candy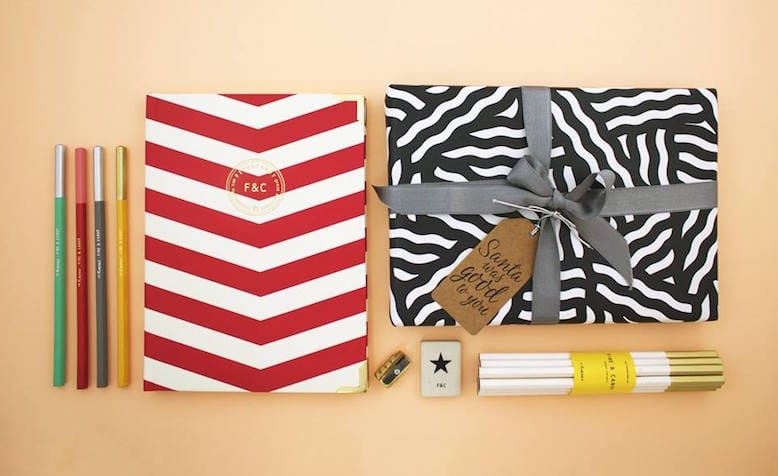 Those who know me well are aware that I always prefer to write with paper and pencil regardless of how many hours I spent typing on the computer on my daily life.
Therefore, whenever I travel I buy stationery and, at each Christmas season, a beautiful agenda for the year coming ahead.
This year will be no exception, and my choice falls on Fine & Candy, a company that already sells its products in the United States, Canada and in several European countries.
So if you're looking to do some shopping in Porto, Fine & Candy has an irresistible store for writing lovers, where you can buy notepads, diaries, pencils and pens, paperweight, among others. If you have friends like me, I strongly recommend you give them a Christmas gift from Fine & Candy! 🙂
Mercado 48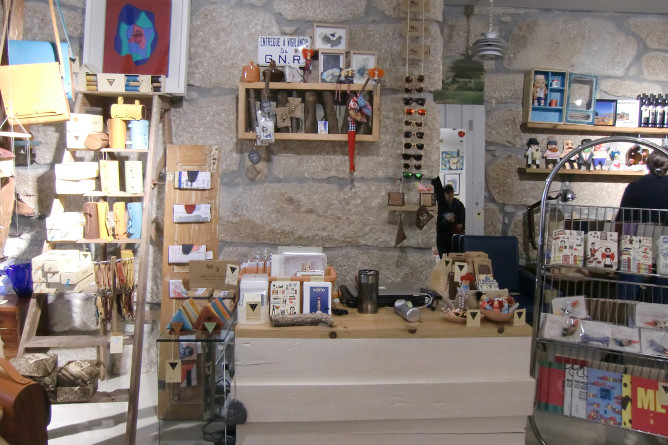 To do some shopping in Porto, try Mercado 48, a store with many vintage and contemporary design objects. It has something for everyone including decoration, furniture, clothing, bicycles and more.
This is one of the best places to shop in Porto if you're looking for unique items made by local designers. It showcases many Portuguese brands like Mud Cycles, Alquimia, Wo Design and Daniela Ponto Final.
The best restaurants in Porto for Christmas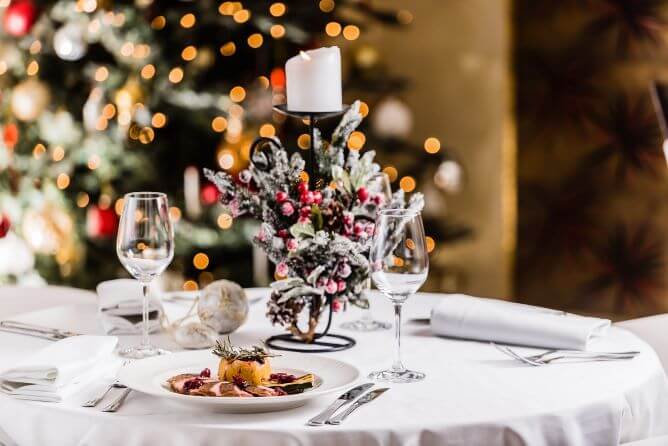 One of the joys of Christmas is to share dinner with your loved ones. Thankfully, Porto has a few restaurants open both on Christmas Eve (24th December's dinner) and on Christmas Day (25th December for lunch), which I have already summarised on my list of the Best Restaurants for Christmas in Porto.

There are not many of them, so if you are spending Christmas in Porto I highly, highly recommend you to book a restaurant as soon as possible, otherwise you risk having to improvise a cold tapas dinner on your hotel in Porto 😛
Moreover, if you are planning to organise a Christmas dinner with your friends or colleagues from work prior to Christmas Eve or after Christmas Day, then read my recommendations of Best restaurants in Porto for groups.
Where to stay in Porto during Christmas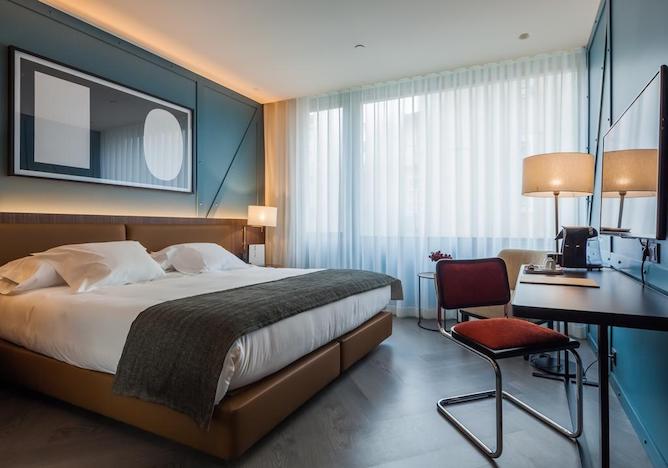 Discovering where to stay in Porto might a tedious task, that's why we pick our favourite boutique hotels, Bed & Breakfast / guesthouses and hostels to stay at during Christmas in Porto. The list starts from the most expensive options to the more budget friendly ones.
I also recommend you to read my article about the best neighbourhoods to stay in Porto as it will help you decide where to stay. You can then proceed to book one of the places I suggest here or go through all my accommodation articles.

Note: if you're visiting Porto, I suggest you make your reservation right away because the city is already getting crowded for the holiday season!
Porto Royal Bridges Hotel
Located at the heart of the city, Porto Royal Bridges Hotel is a great options for those not knowing where to stay in Porto during the holidays. Besides the stunning interior and the great location, the hotel has a daily breakfast buffet.
Vincci Porto
Another suggestion on where to stay in Porto during Christmas is the Vincci Porto., a gorgeous former market in the city. Even though it's located right in front of the river, the hotel is warm and cozy inside with rooms equipped with heating. The breakfast is the best in town.
Torel Avantgarde
If you're looking for where to stay in Porto, how about staying at the 5 star boutique hotel Torel Avantgarde. This breathtaking hotel allows guest to enjoy a breakfast at their in-house restaurant overlooking the Douro river. It's on the expensive side but it's definitely worth it.
Casa dos Lóios by Shiadu
This B & B might be what you need to enjoy your Christmas in Porto. Casa dos Lóios by Shiadu has great breakfast, cozy units with a lot of natural sunlight and a very central location.
Down2Town B&B
Another option is Down2Town B&B. A great view, an amazing location, a breathtaking interior; this place has it all. The prices are also very reasonable.
Oporto Platinum Loft
Oporto Platinum Loft comes with 1 bedroom, a living room, a dining area and a kitchen with an oven. This is perfect for families with kids who are planning on cooking their own Christmas dinner during their stay in Porto.
Bluesock Hostels Porto
Bluesock Hostels Porto's cozy interior, daily breakfast and great location makes it perfect for those looking to stay in Porto during the holidays. It's the highest-rated hostel because it doesn't feel like a hostel thanks to its modern facilities. It is also a great spot for solo travelers looking forward to meeting new people, as it organizes daily social activities.
Rivoli Cinema Hostel
If you're looking for where to stay in Porto, Rivoli Cinema Hostel is a good choice. Inside, you have a free daily buffet breakfast, a shared kitchen, barbecue facilities, a Wii console and a DVD library.
The Passenger Hostel
The Passenger Hostel is a beautiful and perfectly-located hostel for those looking to stay in Porto during Christmas. It has private/shared rooms, shared kitchen and washer/dryer. It can be a bit nosy since it's inside the famous São Bento train station.
Save this article for later: