Complete guide to Christmas in Porto
Guide for Christmas in Porto - Christmas markets & events, restaurants for Christmas dinners, where to go for Christmas shopping and more!
Miguel Nogueira
(This article is updated every single year, at the beginning of December).

The holiday season is one of the happiest times to be in our city, so I wrote this article with plenty of suggestions for you to enjoy during your Christmas in Porto.
Therefore, I did a careful selection of the best things to do during Christmas in Porto, including best christmas markets and events, best restaurants for Christmas Eve and lunch and great stores for some Christmas shopping. I hope you like it!
Moreover, I am available to conduct private tours in Porto and Douro Valley during the entire month, so drop me a line if you're interested! 🙂
Best events during Christmas in Porto
Christmas is not complete if you don't go out and enjoy some fun activities, and usually the City Hall of Porto organizes dozens of free events that are suitable for both adults and children.

However, given the current pandemic situation, our mayor decided (and quite rightfully so) to reduces Christmas activities to a minimum, to avoid getting the situation worse. I know it sucks for visitors, but I am actually proud of being part of a responsible city!
Moreover, there will be plenty of Christmas markets and there are great places to enjoy a cup of coffee or a hot chocolate, so cheer up and keep reading! 🙂
Check out the Christmas tree!
From December 1st, the magical atmosphere of Christmas will invade the city, bringing the brightness of the lighting to more than 80 streets, squares, squares and gardens in Porto, which this year will again erect a giant Christmas tree in front of the City Hall.
With 34 meters high and 15.5 meters wide, the Christmas tree will have a different brightness this year, as it will be covered by 50 thousand leds and animated by video technology.
Moreover, in addition to taking on different tones throughout the day and night, the Christmas tree will display a set of animations, synchronized with music, every 30 minutes.
I can't wait to see it! 🙂
Watch a free concert at the Clérigos church and tower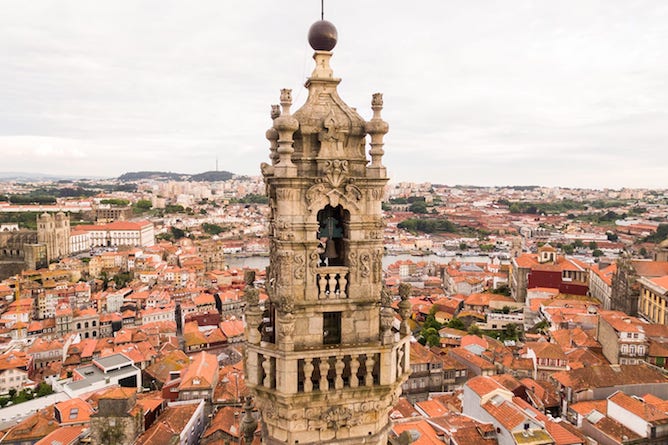 Until the end of the year, the Irmandade dos Clérigos (the religious order that owns the beautiful Clérigos tower and church) will organize concerts of Christmas music played from the carillon in the Tower.
The concerts took place every day at 16h, with the exception of Christmas Day (25th December) and the last day of the year, when they will take place at 11h30.

In addition, there will be extra concerts to mark certain dates:

– December 12th: being the date of the renovation of the Clérigos church (in 2014), carrilhanist Ana Elias will play traditional Christmas songs at 16h.
– December 15: Orfeão Universitário do Porto (a musical group founded in 1912!) will perform at Igreja dos Clérigos at 18h.
– December 18: there will be a solidarity concert, entitled "Christmas Concert for the homeless", at 17h. This Christmas concert will also take place at Igreja dos Clérigos.
The concerts are entirely for free and so is the entrance to the church, but if the weather allows it, climb the Clérigos tower in order to enjoy a magnificent view of the city.
For families with kids: give your letters to Santa Claus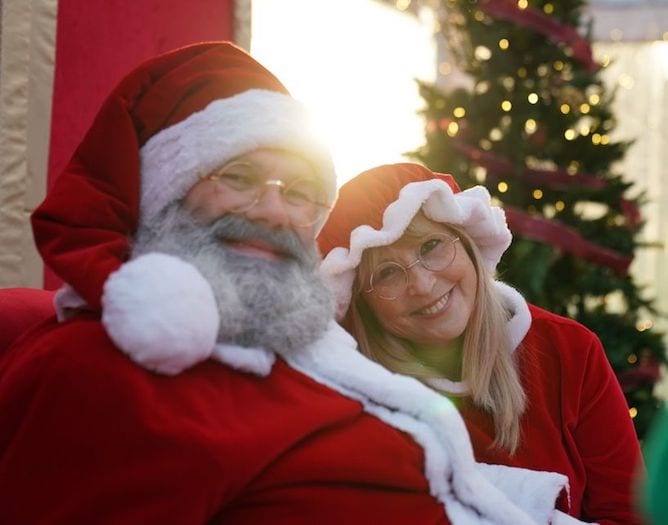 If you're traveling with kids in Porto or you simply want to go down the memory lane, why not meet the Santa Claus at the World of Wine (WoW)? For those of you who don't know WoW: it is a massive complex with five museums, slightly overrated restaurants and an INCREDIBLE view of the Ribeira area.
Santa Claus will be at WoW during the weekends until Christmas, from 11h to 19h. It is also a great opportunity to check their Christmas market and grab something to eat, so you can easily, easily spend the entire afternoon there.
Visit a secret Nativity scene in Porto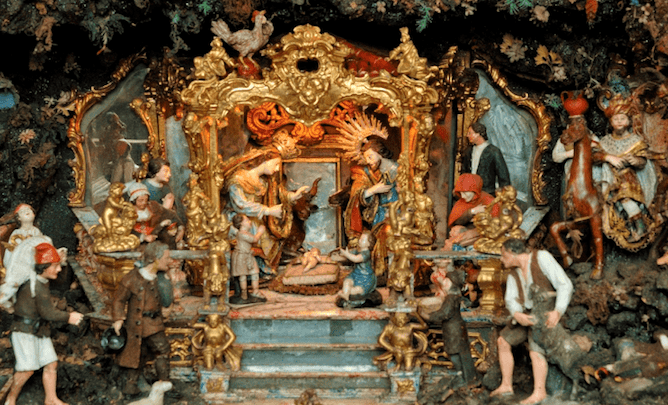 In the area of the last Jewish quarter of the city (near the beautiful Clérigos tower), hides one of the best kept secrets of Christmas in Porto: a beautiful 18th century nativity scene in the Church of São José das Taipas.
The crib can be visited every day in the morning, from 11h to 12h30, and from 15h30 to 17h, with a break for lunch. If it's in the afternoon, accept my suggestion and go down Rua do Dr. Barbosa de Castro to enjoy the sunset at the Virtudes viewpoint. You'll see it's worth it 🙂
Watch a Christmas concert at Casa da Música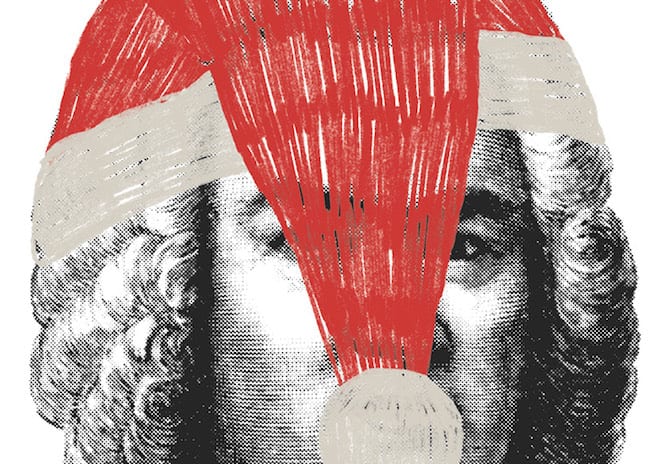 One of the things I'm considering doing is watching the Christmas Oratory, composed by Bach to mark the 13 days of Christmas in the Lutheran calendar. The six cantatas are presented in four nights by the choir of Casa da Música, alternately accompanied by the Baroque Orchestra and by the Symphonic Orchestra,, under the direction of Laurence Cummings and Stefan Blunier.
The concerts will take place on the nights of December 17th, 18th, 22nd and 23rd, 2021 at 21h. Tickets cost 18€, and there are discounts for seniors (15%) and people up to 25 years old (50%).
Something that I must warn, however, is that the last time I went to a concert at Casa da Música I felt VERY uncomfortable – despite the room's capacity exceeds 1000 people, there was no control of vaccination certificates, temperature control , zero alcohol gel dispensers, a complete mess at the end of the concert… anyway, be warned.
Visit one of the Best Christmas markets in Porto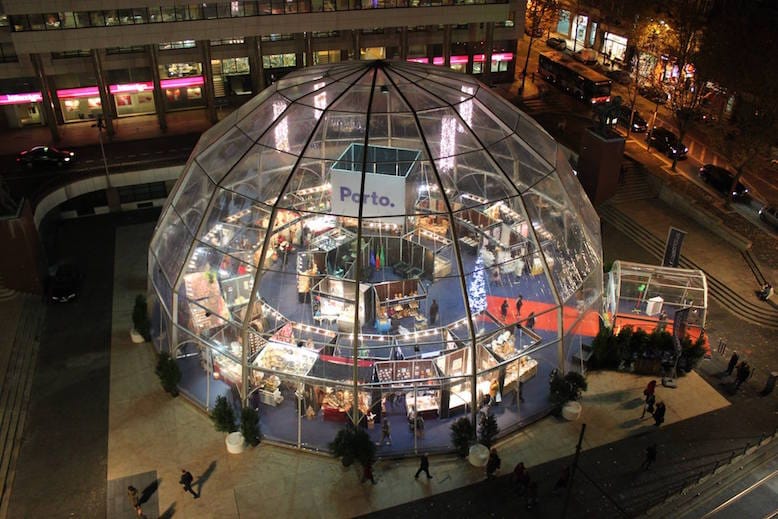 If you love the tradition of going to Christmas markets, get ready because this year there will be many Christmas markets in Porto. Again it is impossible to list them all because there will be dozens of them, so the chances are that you will bump into one during the holidays in Porto. Nonetheless, here are a few examples: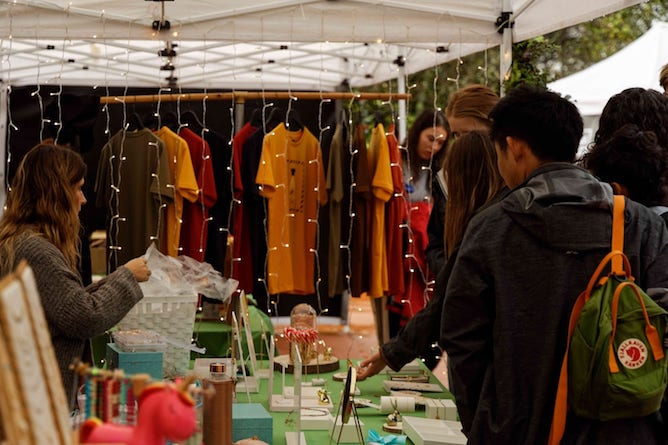 I have written countless times about the Serralves Foundation, which a fantastic contemporary museum surround by romantic gardens. And this Christmas, Serralves gardens will open its doors to the Christmas Market, selling products from national producers and brands.
On the 4th and 5th of December 2021 you can buy gourmet products, organic and seasonal foods, creative and sustainable Christmas gifts. You will also discover the latest design news, and participate in workshops and activities for the whole family.
The entrance to the Christmas market is free, but if I were you I would take the opportunity to visit the gardens as well as the contemporary museum – especially now that it has an exhibition of Mark Bradford, considered by TIME magazine one of the 100 most influential people in the world in 2021. It's really, really worth it.
Address: Rua Dom João de Castro, 210.
Schedule: 4th and 5th of December of 2021, from 10h to 20h.
How to get there: the buses 203 and 207 stop right in front of Serralves.
Mercado da Alegria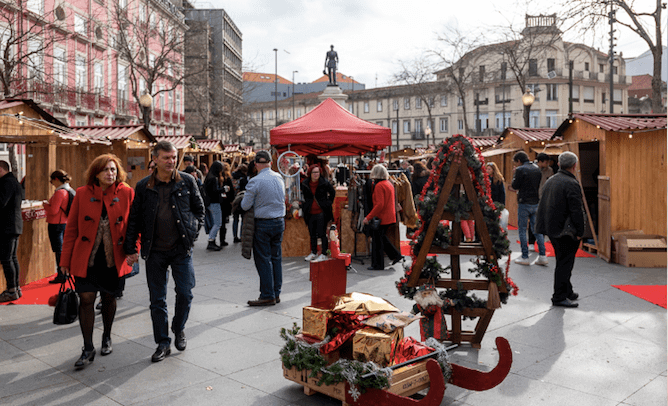 This Christmas market in Porto takes place at Batalha Square and in Praça da Alegria will be the first of its kind in the city. It will have 40 exhibitors selling handcraft, jewellery, handmade toys, clothing, packed regional food products among others, that are perfect for gift-shopping.
Over the weekends until Christmas there will be some sort of "street animation" taking place, from DJs to workshops and professional clowns, so it is a nice market to take the kids.
Address: Praça da Batalha.
Schedule: 27th of November to 31st of December 2021, from 10h to 20h.
How to get there: the subway station São Bento is a 5 minutes walking distance.
Urban Market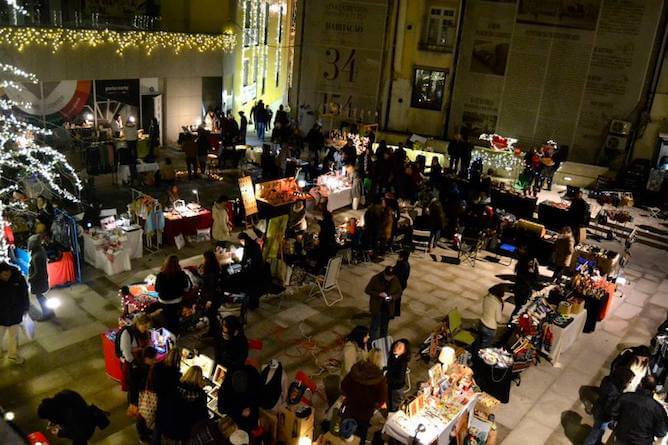 The Urban market is famous for being one of the best markets in Porto to buy urban handcraft such as clothing, jewellery, design furniture as well as food and drinks.
During Christmas it will take place in two different occasions, always on the weekends and in different locations.
The first edition of this Christmas market in Porto will be at Hard Club, focused on the work of Portuguese designers. There will be projects linked to areas such as jewelry, illustration, painting, fashion on the Ferreira Borges Market, where the Hard Club is housed. It's a good opportunity to meet the creators behind each of the brands, on December 4th and 5th, 2021.
A few days later, from the 17th to the 23rd of December, the second Urban Market Christmas edition will take place in Ateneu Comercial do Porto.
The only downside of this Christmas market, for me, is that it usually doesn't have food vendors (I am Portuguese, there must always be food options nearby).
Address: Hard Club AND Ateneu Comercial do Porto.
Schedule: in Hard Club it will take place on the weekend of 4th – 5th December of 2021, from 11h to 19h. In Ateneu Comercial do Porto it will take place from the 17th to the 23rd of December of 2021, from 11h to 20h30.
How to get there: it really depends on the location – make sure to check on google maps!
Christmas market at the WOW (World of Wine)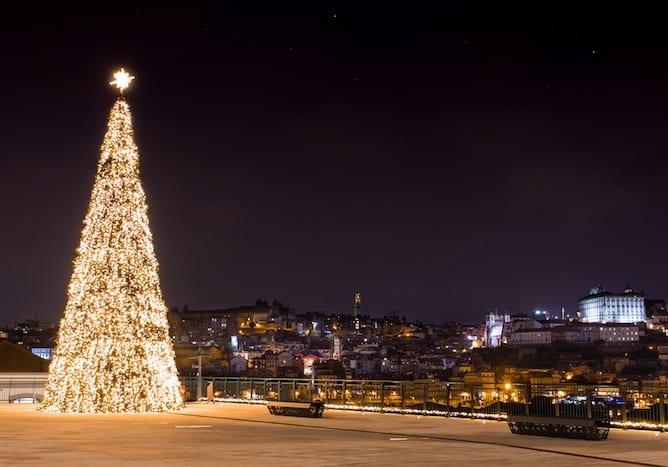 The World of Wine (WoW) is the newest venture of the owners of Taylor's, one of the best Port wine lodges. It consists of five museums and some (pricey) restaurants with outdoor seating with a fantastic view of Ribeira neighborhood.
This year WOW is celebrating Christmas in style, with loooooooads of events (especially for families with kids) and a fabulous Christmas tree.
Address: Rua do Choupelo 39, in Vila Nova de Gaia.
Schedule: 1st of December 2021 to the 9th of January of 2022. I checked the schedule and it literally changes everyday, but if you head there in the middle of the afternoon, you will be safe.
How to get there: the subway station General Torres is a 15 minutes walking distance.
Best stores to do Christmas shopping in Porto
Visitor might feel so overwhelmed by the amount of shopping stores in Porto that they wouldn't know where to begin. So we're naming our top five stores for Christmas shopping in Porto:
A Vida Portuguesa and Fernandes Mattos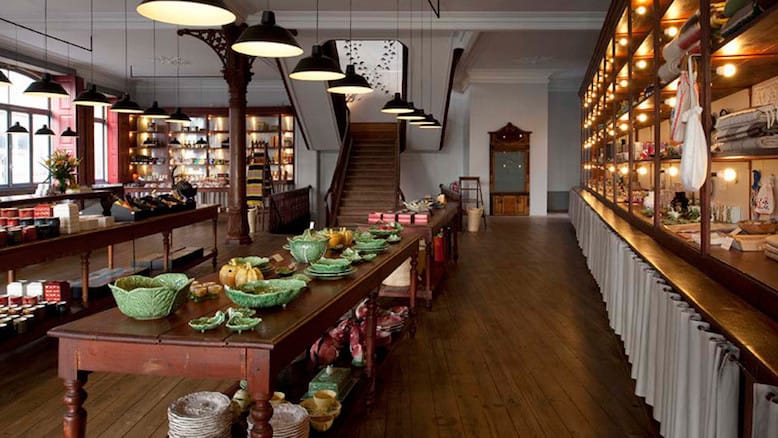 For your holiday shopping in Porto, you'll love A Vida Portuguesa and Fernandes Mattos. These two stores occupy an historical building a few steps from Lello Bookstore.
At A Vida Portuguesa you'll find traditional products from Portuguese brands such as Bordallo Pinheiro's faience, Ach. Brito and Claus Porto's soaps, the traditional embroidery of Viana do Castelo, etc.
There you can also find some Portuguese food products such as Ginjinha de Óbidos, chocolates from Regina and Santa Catarina's tuna cans (trust me, you'll never want to eat tuna from any other brand after you taste the ones from this brand!).
At Fernandes Mattos, you will find a delicious mix of vintage objects and urban design objects. A delight for someone looking forward to do some shopping in Porto. 🙂
Almada 13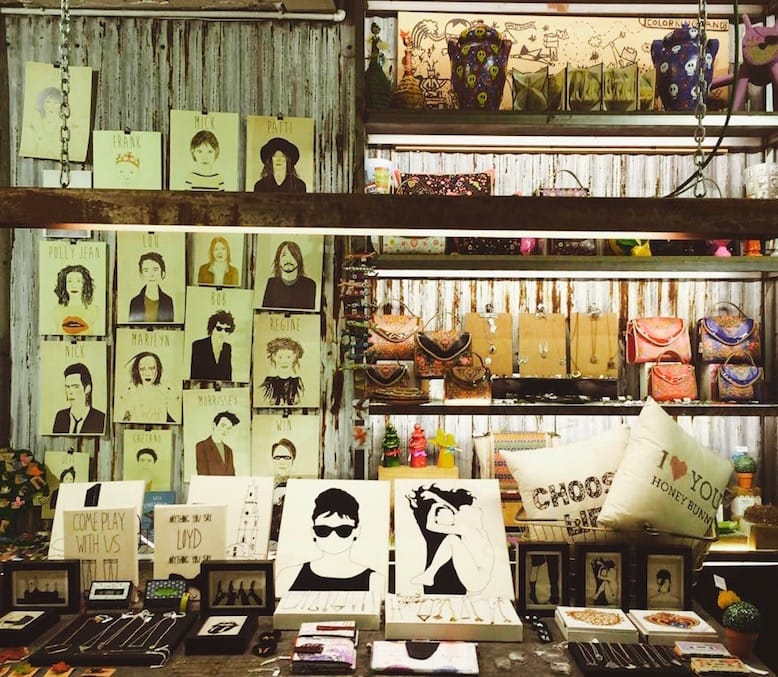 For those looking for Christmas gifts' shopping in Porto with a touch of urban design and a lot of humor, I suggest Almada 13's store. This store gathers five stores in one: the urban design objects from Águas Furtadas Design, the clothing and decoration pieces in burel (A Portuguese handmade fabric made of wool), cork products from Cork & Co, Yellow Boat's maritime products and WE-Rota tea's home decor products and teas.
CRU Cowork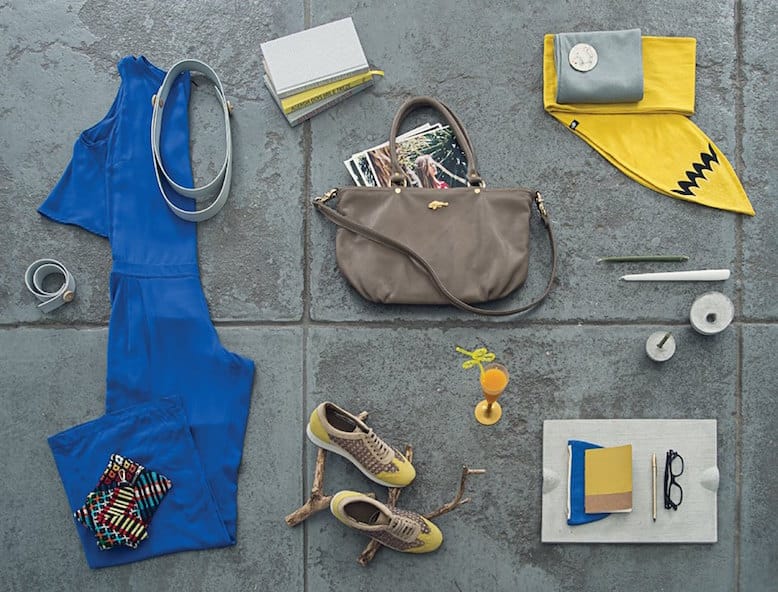 This space combines a coworking office with a concept store which is perfect for Christmas shopping in Porto. At CRU Cowork's store you will find creative Christmas gifts, mostly of urban design applied to fashion, footwear, handmade jewellery and home decor. Not to mention their unique greeting cards that are perfect for the holiday season. It is worth it to stop by!
Fine & Candy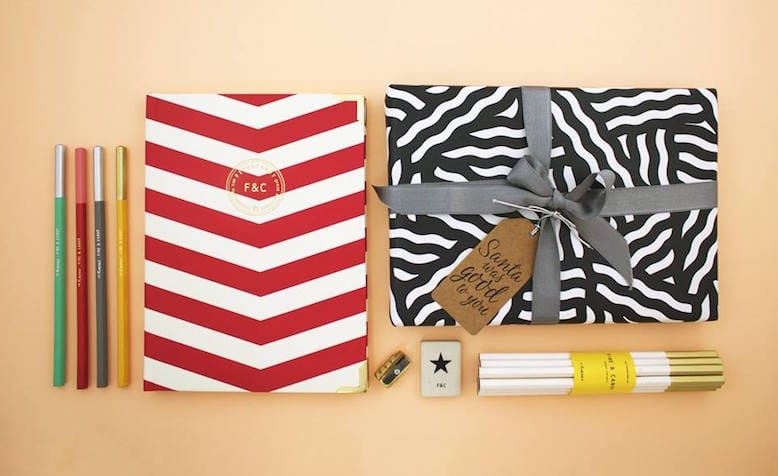 Those who know me well are aware that I always prefer to write with paper and pencil regardless of how many hours I spent typing on the computer on my daily life.
Therefore, whenever I travel I buy stationery and, at each Christmas season, a beautiful agenda for the year coming ahead.
This year will be no exception, and my choice falls on Fine & Candy, a company that already sells its products in the United States, Canada and in several European countries.
So if you're looking to do some shopping in Porto, Fine & Candy has an irresistible store for writing lovers, where you can buy notepads, diaries, pencils and pens, paperweight, among others. If you have friends like me, I strongly recommend you give them a Christmas gift from Fine & Candy! 🙂
Mercado 48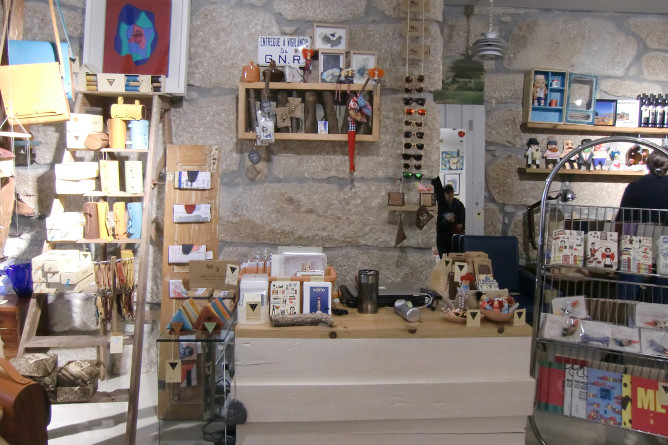 To do some shopping in Porto, try Mercado 48, a store with many vintage and contemporary design objects. It has something for everyone including decoration, furniture, clothing, bicycles and more.
This is one of the best places to shop in Porto if you're looking for unique items made by local designers. It showcases many Portuguese brands like Mud Cycles, Alquimia, Wo Design and Daniela Ponto Final.
The best restaurants in Porto for Christmas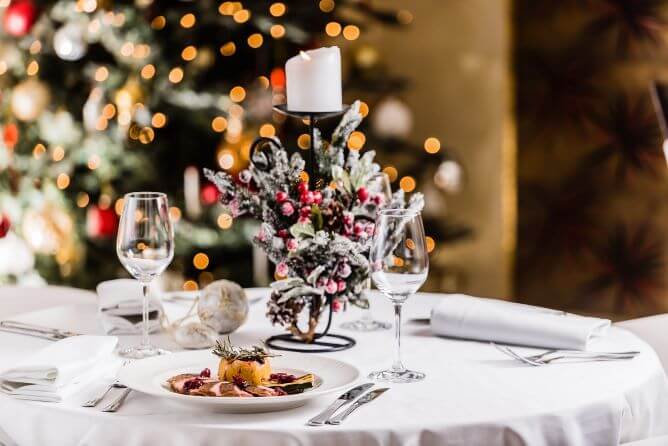 One of the joys of Christmas is to share dinner with your loved ones. Thankfully, Porto has a few restaurants open both on Christmas Eve (24th December's dinner) and on Christmas Day (25th December for lunch), which I have already summarised on my list of the Best Restaurants for Christmas in Porto. There are not many of them, so if you are spending Christmas in Porto I highly, highly recommend you to book one of those restaurants as soon as possible, otherwise you risk having to improvise a cold tapas dinner on your hotel in Porto 😛
Moreover, if you are planning to organise a Christmas dinner with your friends or colleagues from work prior to Christmas Eve or after Christmas Day, then read my recommendations of Best restaurants in Porto for groups.
Where to stay in Porto during Christmas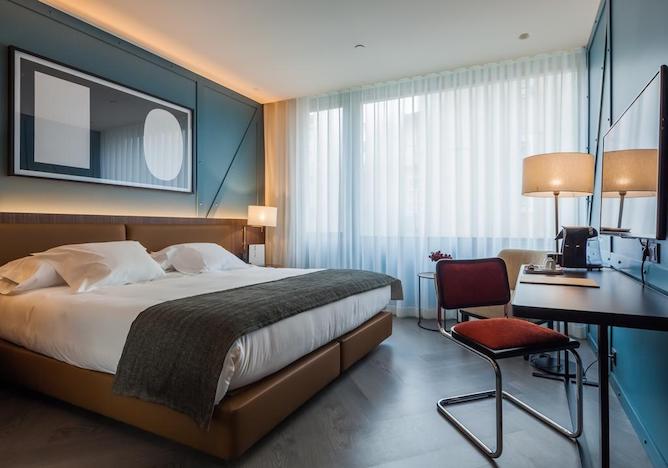 Discovering where to stay in Porto might a tedious task, that's why we pick our favourite boutique hotels, Bed & Breakfast / guesthouses and hostels to stay at during Christmas in Porto. The list starts from the most expensive options to the more budget friendly ones.
I also recommend you to read my article about the best neighbourhoods to stay in Porto as it will help you decide where to stay. You can then proceed to book one of the places I suggest here or go through all my accommodation articles.
Note: if you're visiting Porto, I suggest you make your reservation right away because the city is already getting crowded for the holiday season!
Porto Royal Bridges Hotel
Located at the heart of the city, Porto Royal Bridges Hotel is a great options for those not knowing where to stay in Porto during the holidays. Besides the stunning interior and the great location, the hotel has a daily breakfast buffet.
Vincci Porto
Another suggestion on where to stay in Porto during Christmas is the Vincci Porto., a gorgeous former market in the city. Even though it's located right in front of the river, the hotel is warm and cozy inside with rooms equipped with heating. The breakfast is the best in town.
Torel Avantgarde
If you're looking for where to stay in Porto, how about staying at the 5 star boutique hotel Torel Avantgarde. This breathtaking hotel allows guest to enjoy a breakfast at their in-house restaurant overlooking the Douro river. It's on the expensive side but it's definitely worth it.
Casa dos Lóios by Shiadu
This B & B might be what you need to enjoy your Christmas in Porto. Casa dos Lóios by Shiadu has great breakfast, cozy units with a lot of natural sunlight and a very central location.
Down2Town B&B
Another option is Down2Town B&B. A great view, an amazing location, a breathtaking interior; this place has it all. The prices are also very reasonable.
Oporto Platinum Loft
Oporto Platinum Loft comes with 1 bedroom, a living room, a dining area and a kitchen with an oven. This is perfect for families with kids who are planning on cooking their own Christmas dinner during their stay in Porto.
Bluesock Hostels Porto
Bluesock Hostels Porto's cozy interior, daily breakfast and great location makes it perfect for those looking to stay in Porto during the holidays. It's the highest-rated hostel because it doesn't feel like a hostel thanks to its modern facilities. It is also a great spot for solo travelers looking forward to meeting new people, as it organizes daily social activities.
Rivoli Cinema Hostel
If you're looking for where to stay in Porto, Rivoli Cinema Hostel is a good choice. Inside, you have a free daily buffet breakfast, a shared kitchen, barbecue facilities, a Wii console and a DVD library.
The Passenger Hostel
The Passenger Hostel is a beautiful and perfectly-located hostel for those looking to stay in Porto during Christmas. It has private/shared rooms, shared kitchen and washer/dryer. It can be a bit nosy since it's inside the famous São Bento train station.
Save this article for later: