Me and my fab team have been conducting tours in the Douro Valley for 7 years now (time does fly!), and so we know the region as the palm of our hands. So we feel well equipped to answer a question I get A LOT: Douro Valley: day trip or overnight?
And the answer is: it depends on your profile, mostly! We organise great private wine tours in Douro Valley so of course I am biased, but I tried to be completely impartial when writing this article, by providing you with 3 reasons to do a day trip AND 3 reasons to stay overnight, so that hopefully, you can find YOUR right answer to the question "Douro Valley: day trip or overnight?".
Let's go!
3 reasons do to a Day trip to Douro valley
If you decide to go for a day trip to Douro Valley, you have three options:
You can rent a car in Porto and go on your own, using a price aggregator like AutoEurope, where you can not only get an overview of the cars & prices but also handle the booking. This will give you more freedom to circulate in the region, but keep in mind that in Portugal it is illegal to drink and drive (the legal limit is 0,5 g/ L of blood). Moreover, and trust me on this, most of the roads in Douro Valley are both very windy and narrow, so you don't want to drive in the region unless you're 100% sober.

You can book a group tour in Douro Valley, which will allow you to meet other travellers, and keep your costs relatively low, as these tours cost around 100€ / person. However, you pay what you get for, meaning that you won't be visiting the best wineries in the region, nor get the most knowledgeable guides. I am being super super honest here!

If money is not an issue and you want to take your experience in the Douro Valley to the next level, you will book our private wine tour in Douro Valley. Yes, it is a lot more expensive but you will have access to boutique, family owned wineries that you would never find on your own AND be accompanied by a really knowledgeable guide (unlike in the group tours!).
For the purpose of this guide and to avoid getting things confusing, I will write about the advantages of doing a day trip in Douro Valley with a guide (on a private or group tour).
1. You'll access much more interesting wineries with a guide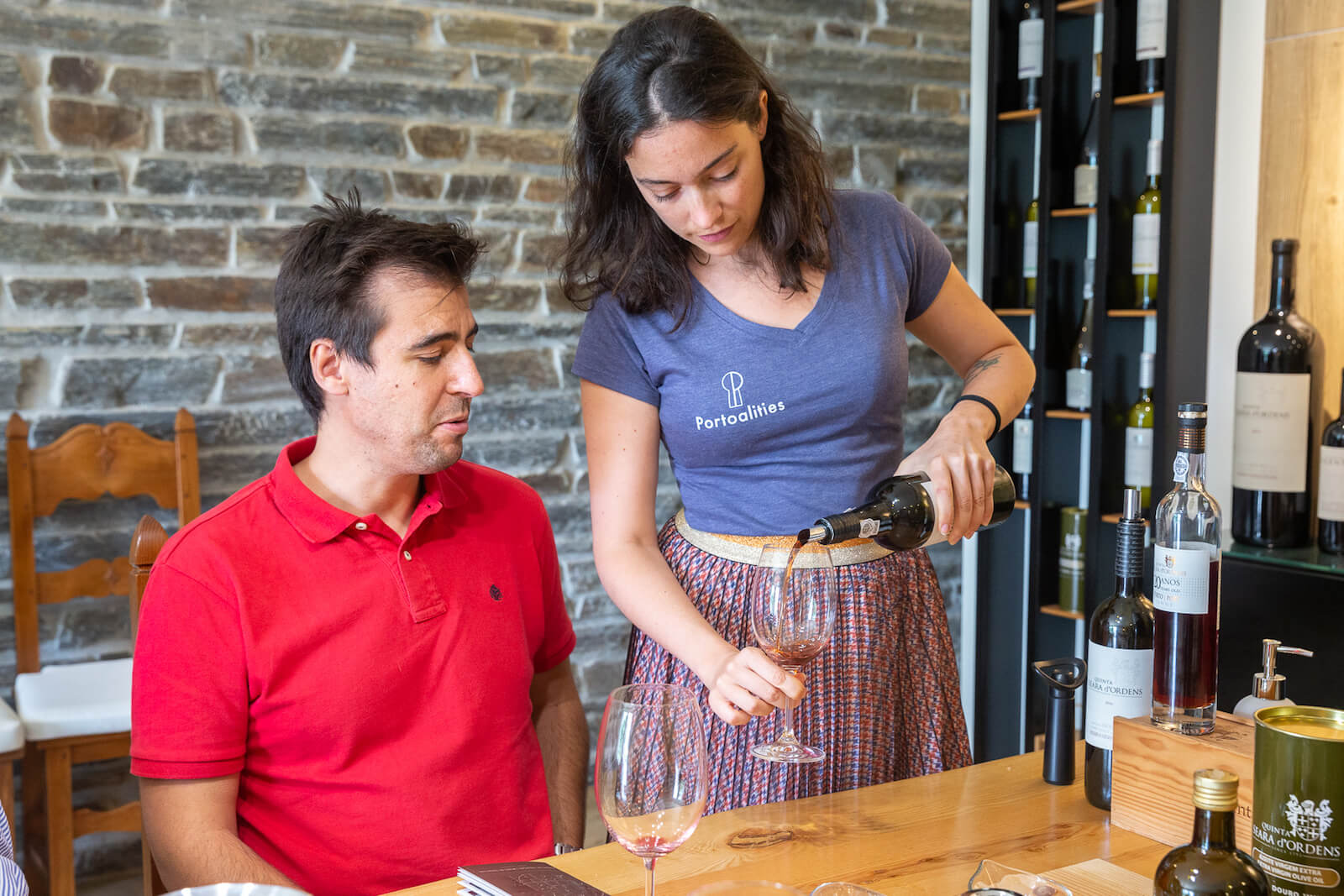 There is no way around it. If you decide to do a day trip to Douro Valley with a guide – and if you choose the right guide -, you will have access to a wider variety of wineries to choose from.
In my experience there are two type of guides in Douro Valley: there are the group tour guides, which usually do the same itinerary over and over again and hence do not grow their knowledge of the region, its wines and winemakers. And then there are private tour guides that, by definition, do tailor-made itineraries depending on the profile of the clients.
So when it comes to knowledge about wines, winemakers and wine making in general, a private guide like us trumps a group guide anytime.
2. You can experience the beauty of the valley without a care in the world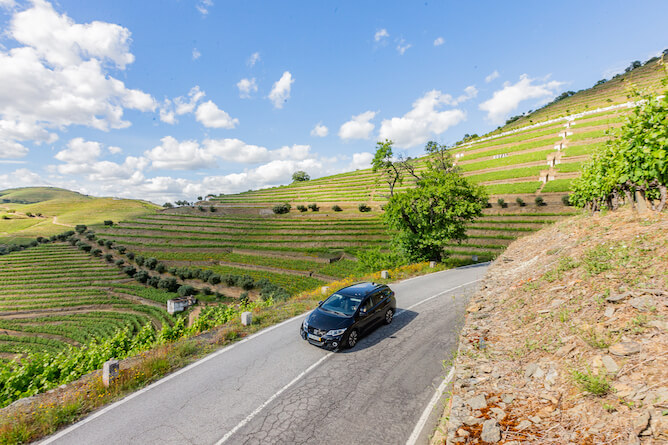 Whether you go for a group tour or for a private tour in Douro Valley, you will be able to relax completely and enjoy the day without a care in the world, as the guide will also do all the driving and his/her tour company will make all the arrangements for your tour. He/she will also make sure that you are on time for every activity. All you need to worry about is to take nice pictures and a good bottle of wine back home 🙂
Moreover, if you decide to go for a day trip in Douro Valley, you will be back in Porto in time to relax before dinner in the city.
3. A day trip in Douro Valley is logistically more simple
If your time in Porto is limited, a day trip to the Douro Valley is ideal because it does not require you to change hotels. Just think about it: you will have to pack your luggage, do the checkout, get the luggage on a car, and do a new check in in another hotel.
Personally, when I travel in Europe (because our countries are usually smaller!), I always use one or two locations as a base to explore the country. No changing hotels every two days – that is very tiring!
3 reasons do Stay Overnight in Douro valley
1. Your stay in Douro Valley can be an experience in and of itself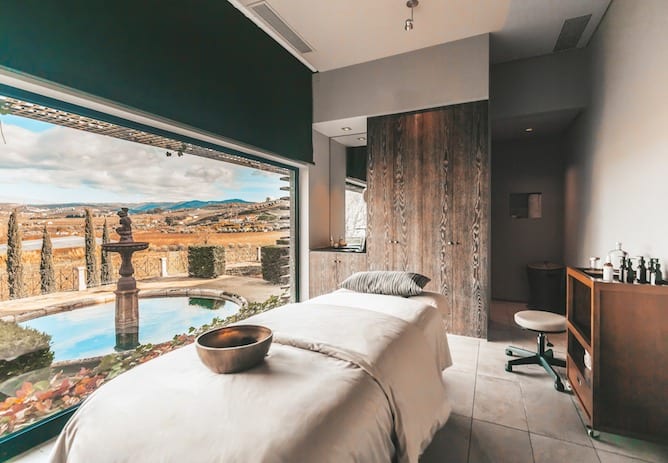 I am not much of a hotel person but I have stayed plenty of times in Douro Valley and I have to say that it is indeed a lovely experience 🙂
There are fantastic spa hotels in Douro Valley, where you can pamper yourself with massages, indoor pools, amazing infinity pools and other treatments. These hotels are ideal for people who are not sooo interested in doing wine tastings all day, or for families traveling with children and teenagers (by the way, if that is your case make sure to read my guide about Douro Valley for families).
Moreover, a lot of the best places to stay in Douro Valley are wineries anyway, so you can wake up to a wonderful view, have an amazing breakfast and literally go downstairs to do a wine tasting 😀
Last but not the least, some wineries have hotel, a swimming pool, guided tours AND fantastic restaurants, like Quinta de La Rosa (great location, in Pinhão), Quinta do Portal (the restaurant has an AMAZING view over its wineries!), or, for a more boutique experience, Quinta de São Bernardo.
A very popular option is also Quinta da Pacheca, where you can sleep inside wine barrels, and, for the most exclusive and unforgettable (and painfully expensive) experience in Douro Valley, the Six Senses hotel.
2. If you stay overnight in Douro Valley, you can take things as slow as you want!
True story. If you are staying overnight in Douro Valley you can wake up at the time that you want, fill the day with activities or do nothing at all. Time is yours and yours alone to enjoy a wonderful region 🙂
3. If you are driving yourself, you can also explore the non-wine related attractions of the valley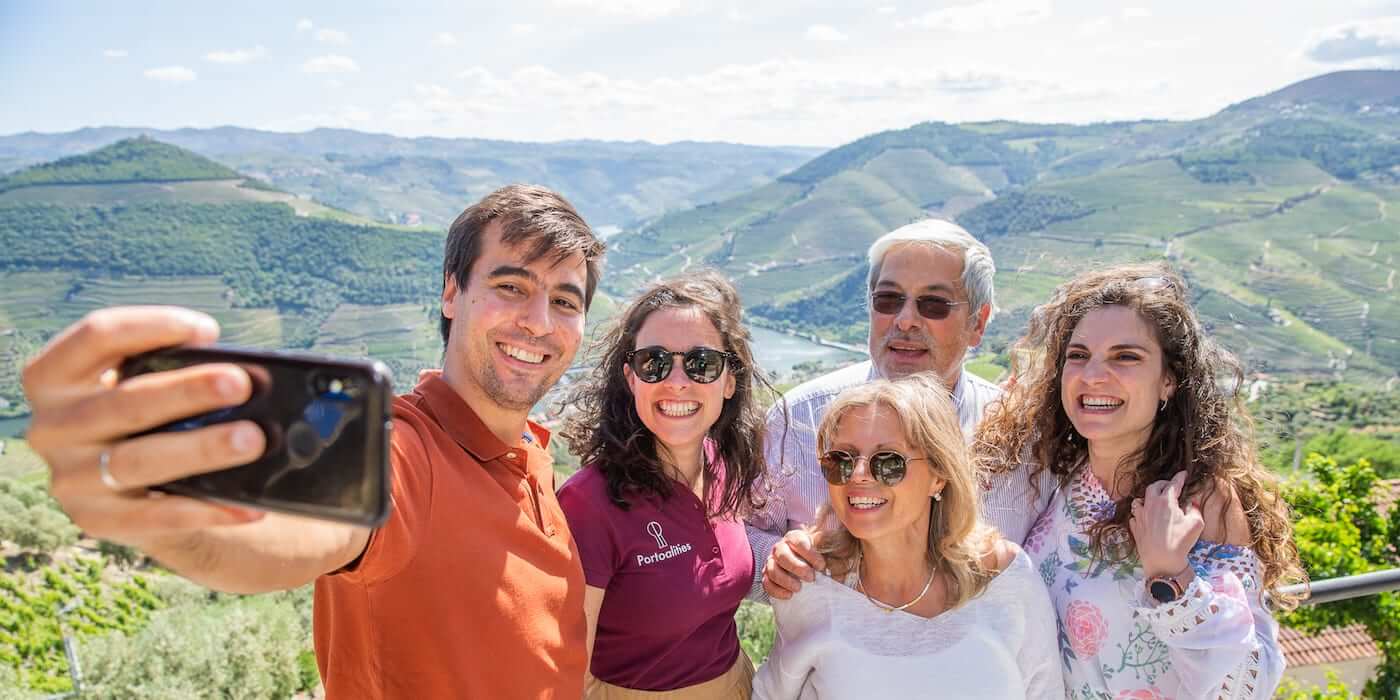 That's true. All tours that I know of in the Douro Valley tend to be vert wine focused, including ours.
So, if you are renting a car in Porto using a price aggregator like AutoEurope, you will be able to explore non-wine related activities in the Douro Valley, like kayaking and visiting different towns and cities like Pinhão, Régua and Lamego.
If your answer to the question "douro valley day: trip or overnight?" is "I'll stay in the region for sure!", I recommend you to read my guide about the best activities to do in Douro Valley besides drinking wine, as well as the list of the most incredible viewpoints in the region.