Ribeira is one of the most famous areas of Porto, known especially for its excellent location, right on the banks of the Douro river, and facing the best wine cellars in Porto. It is also where Palácio da Bolsa and the Church of São Francisco are located, as well as being the last stop of the famous nº 1 tram. This article, however, is about the best restaurants in Ribeira.
It is a tourist area par excellence, with plenty of tourist traps and significantly higher prices than in the rest of the city. It is also a difficult area to park, having only one underground car park in Praça do Infante Dom Henrique.
It was not easy to write this article because most of the restaurants in Ribeira are for tourists: all icing no cake. And expensive too. Reeeeally expensive. But rest assured that all the restaurants on this list, which turned out to be shorter than I would have wanted, have been tested and are worth it 🙂
The best restaurants in Ribeira are:
Taberna dos Mercadores
Rua dos Mercadores, 36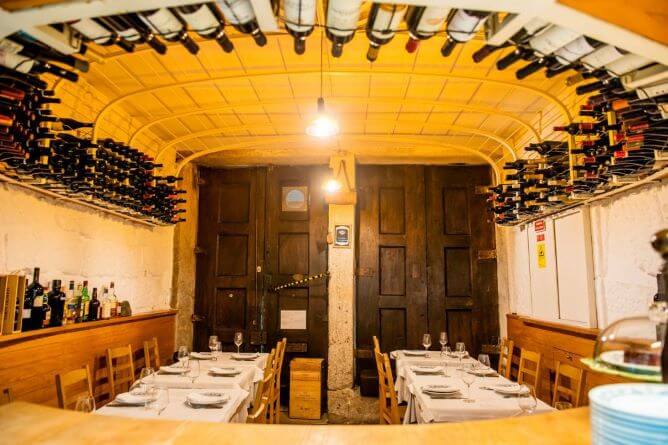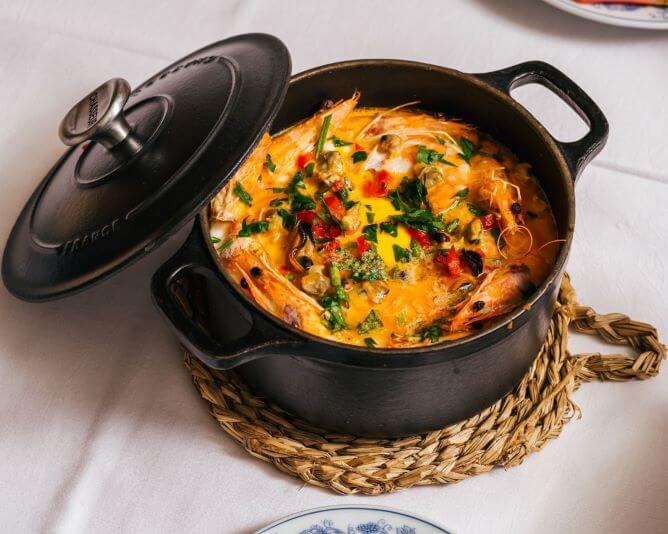 This list of the best restaurants in Ribeira could only begin with Taberna dos Mercadores, one of the best traditional restaurants in Porto. Be warned though, if you wish to eat here be prepared to make an effort – it is a tiny restaurant, with 6 indoor and two outdoor tables.
But if you get a table, what a joy! You can choose some starters (the fish soup is delicious) and then try a fish or meat dish; my favorite dish is perhaps the salted sea bass, which comes straight from the grill to the table. The octopus is also great, and the stuffed partridge, when available, is to die for.
The wine list is mainly composed of wines from the Douro Valley, and the menu is based on traditional Portuguese cuisine: nothing fancy but always great, delicious food.
A meal will cost you around €40 per person, and that's if you don't overdo it with the wine.
Adega de São Nicolau
Rua de São Nicolau, 1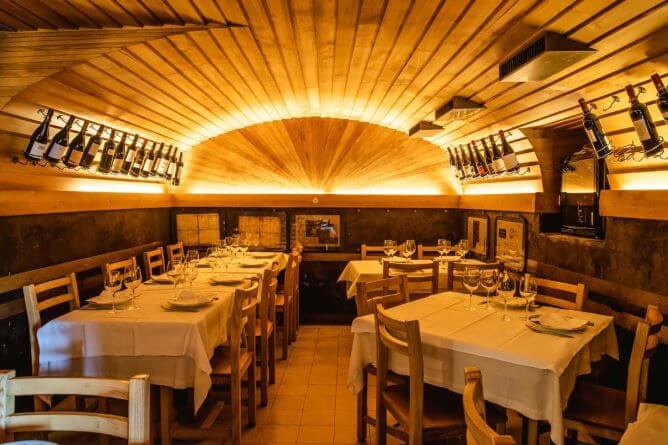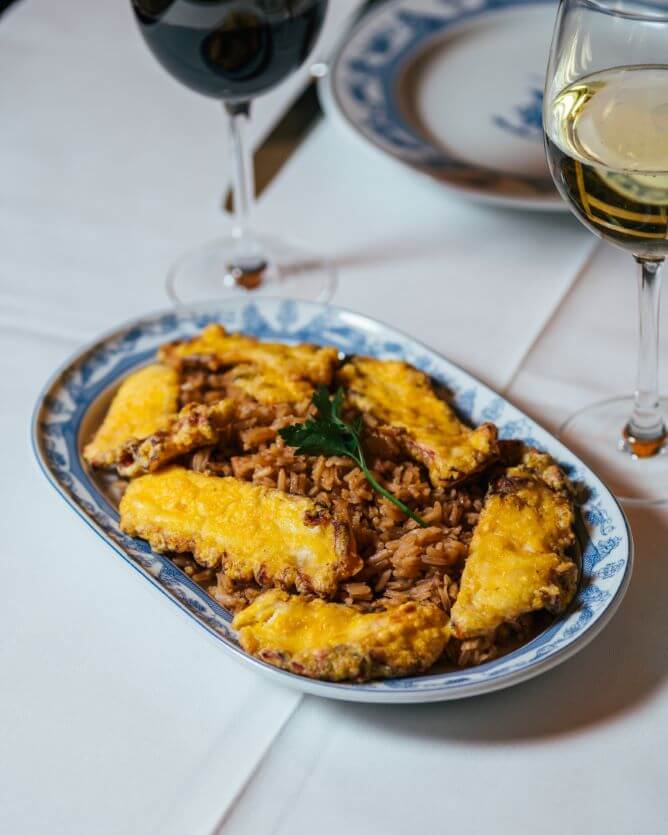 Anyone passing Taberna dos Mercadores and Adega de São Nicolau will immediately notice the resemblance of the two restaurants, and it's no coincidence: they are owned by the same people, an example of Portuguese hospitality.
On the menu you will find many traditional Portuguese dishes, such as bacalhau à Narcisa (17.50€) – fried codfish with onions and french fries – and veal steak from Arouca – a part of Portugal renowned for its meat – (16.50€), but the real surprises are the specials, only available if ordered in advance and depending on the season of the year; dishes such as capelin stuffed with Alheira (a typical Portuguese sausage made of birds, bread and spices), rabbit in red wine and partridge with chestnuts. Dishes that tend to get lost in the modern lexicon but resonate through Portuguese culture.
This restaurant is VERY popular so I suggest you make a reservation, or, if you can't (don't often answer the phone), show up about half an hour before the restaurant opens.
Tapabento
Rua da Madeira, 222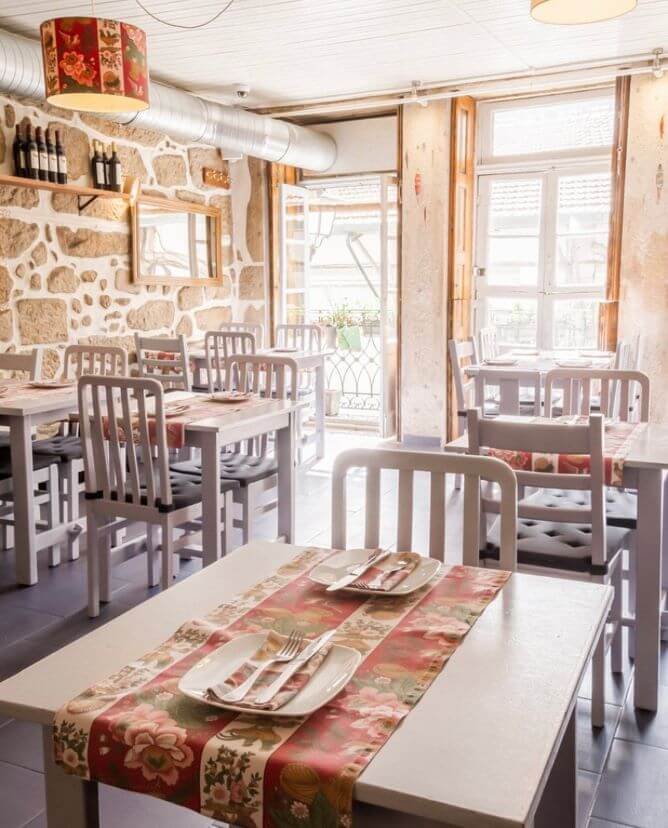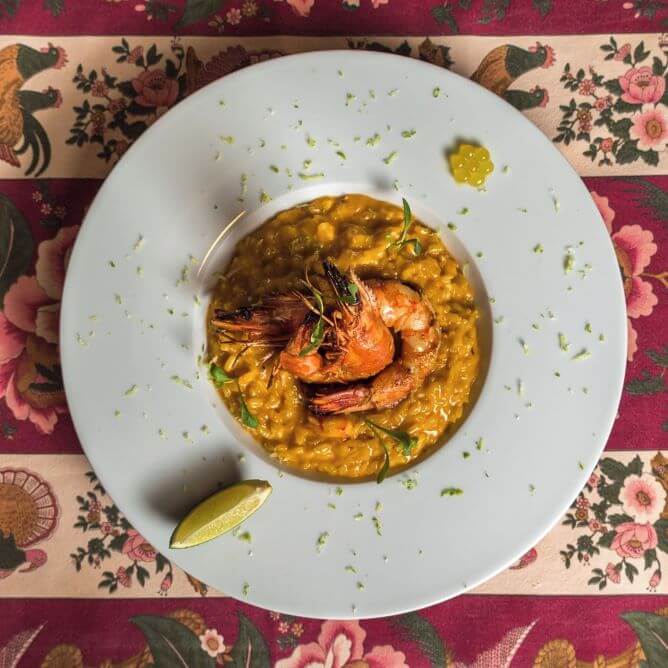 Tapabento is a small restaurant next to São Bento train station. A discreet entrance opens onto a room lined with granite walls and wooden tables, with sparse, unpretentious décor that makes it perfect for a date.
The menu is varied and goes beyond the traditional Portuguese flavors, you can choose to have a tapas dinner (there are soooo many options!), or a main course. Personally, I really liked the wild shrimp risotto (23€) and the fish curry (24€), but the starters are also excellent. Finally, choose one of the surprising desserts like espuma de amendoim (literally peanut foam!) or banoffee Mille-feuille.
The wine list was also a pleasant surprise, both in variety and quality.
It is not an inexpensive restaurant (expect to pay €40 / €50 per person) and you really do have to book a table, but it's worth it 🙂
DOP
Largo São Domingos, 18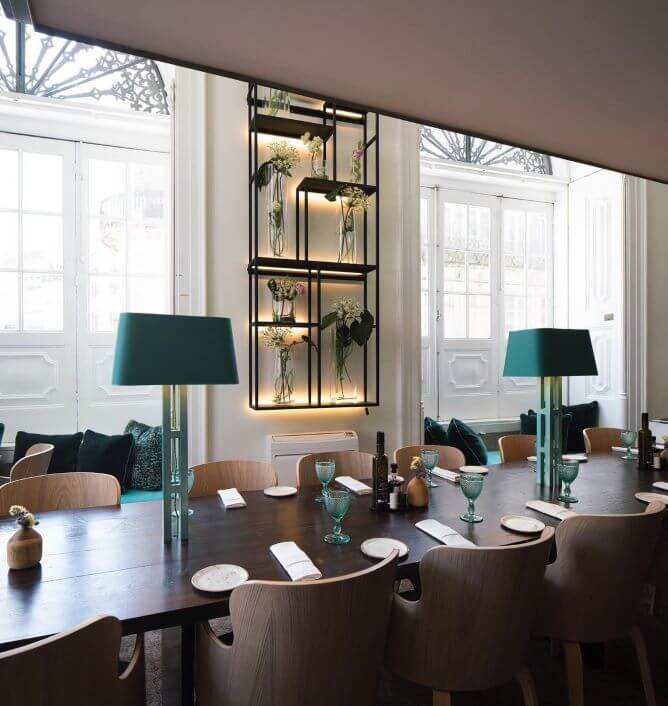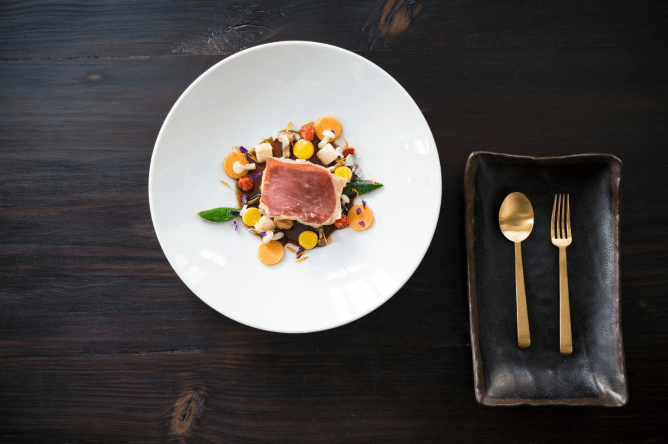 I'm not a big fan of Rui Paula, the renowned international Michelin star chef, essentially because he uses many ingredients that have nothing to do with Portuguese cuisine in his creations.
However, I have to admit that I love the work he did at DOP, without a doubt one of the best restaurants in Ribeira, especially for those looking for Michelin stars in Porto.
At DOP you can order à la carte, with dishes ranging from €16 (starters) to €40 (main courses) per person. You also have two wine tasting menus at your disposal, with two starters, two main courses and dessert, for €175 (including wine pairings).
The only thing left to be desired is the décor; rather impersonal and dated.
Postigo do Carvão
Rua da Fonte Taurina, 24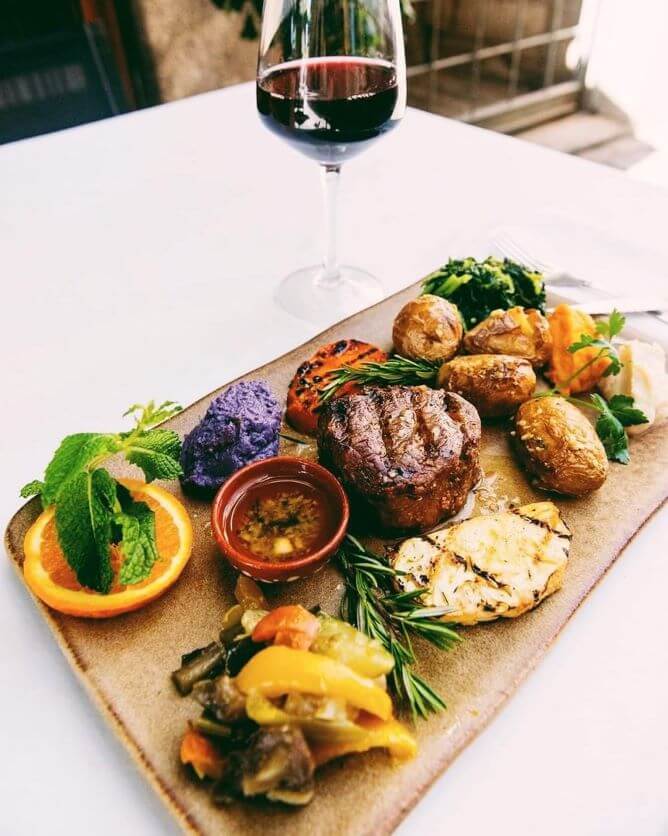 Postigo do Carvão is one of those still relatively unknown places that I want to keep to myself 😛 It's a traditional Portuguese food restaurant, with a very varied menu that features various cod dishes, fresh hake fillets (a rarity in the center of Porto!) and feijoada transmontana (a bean stew from the northeast of Portugal).
The restaurant is very cozy and I even had several dinners there in my college days. Sometimes there's live music, so it's not the best option for those who like peace and quiet.
These days it is aimed more towards tourists, but it remains a pleasant restaurant in what is one of the busiest areas of the city.
Escondidinho do Barredo
Rua dos Canastreiros, 28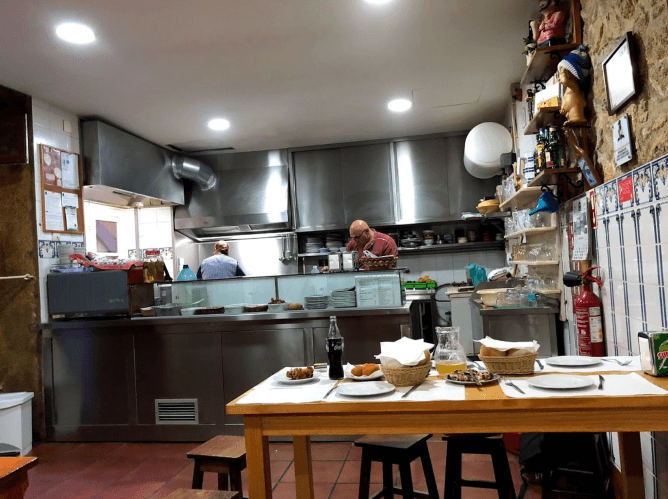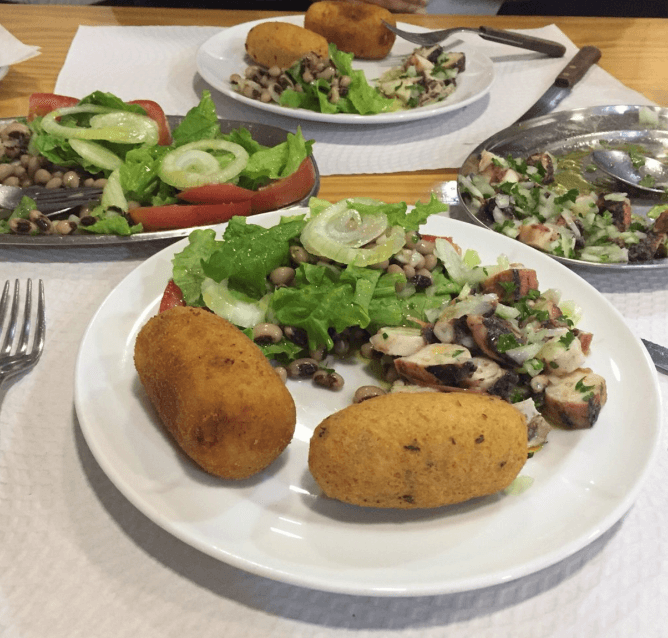 Escondidinho do Barredo is one of the best restaurants in Ribeira for those looking to experience the real Portuguese tasca 😀 As stated in the name (Escondidinho means "little hidden"), it is a small and nondescript tavern, where you are greeted by a lovely couple (Dª Cristina and Mr. Fernando) who will welcome you as if into their own home. It feels like going to grandma's for a meal!
I usually like to order some codfish cakes (they are the best in town!), octopus salad with green sauce, moelinhas (chicken gizzards in a spicy sauce) and íscas de fígado (fried liver). Add an ice-cold beer and that's it, lunch is served 🙂
A Grade
Rua de São Nicolau, 9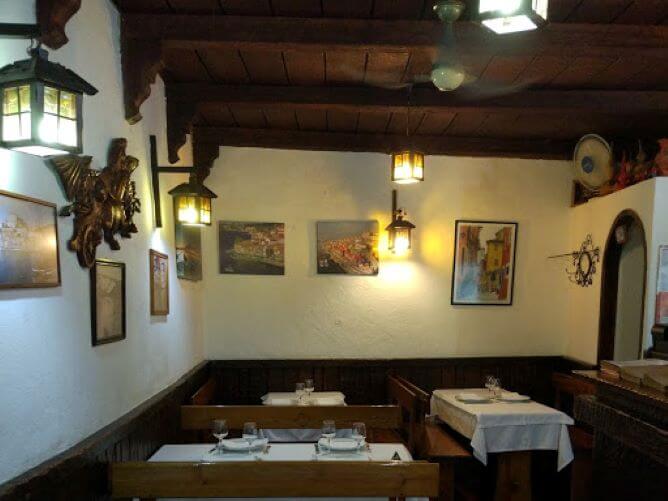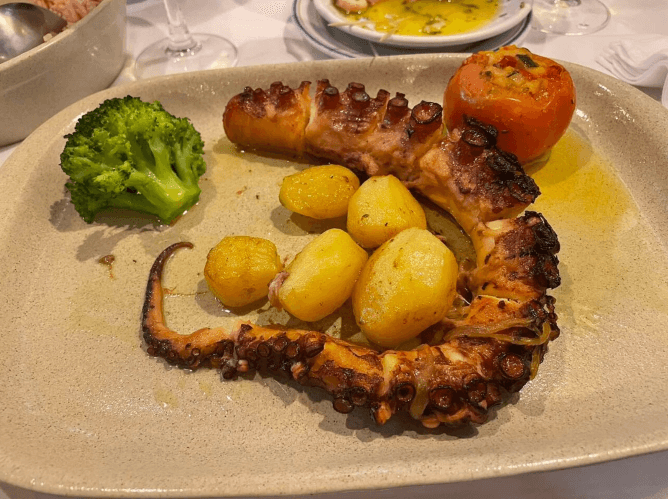 Continuing with the best restaurants in Ribeira, I suggest A Grade – a cozy, nondescript restaurant which resembles your average corner café.
But it would be a mistake not to visit it because the food is excellent: I really the like seafood rice (30€ / 2 pax) and the bacalhau à lagareiro – roasted cod with onions and potatoes – (18.50€), but what keeps me going back are the tripas à moda de Porto – one of the main staples of Porto cuisine consisting of a stew made from tripe and other innards – (12€) and the ox tail (15€), two rarities that are on their way to extinction and thus should be preserved lest we lose them altogether!
Vinhas d'Alho
Cais da Estiva, 139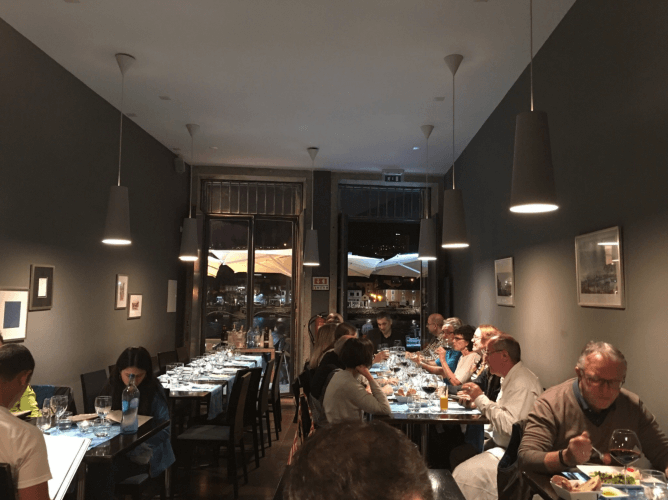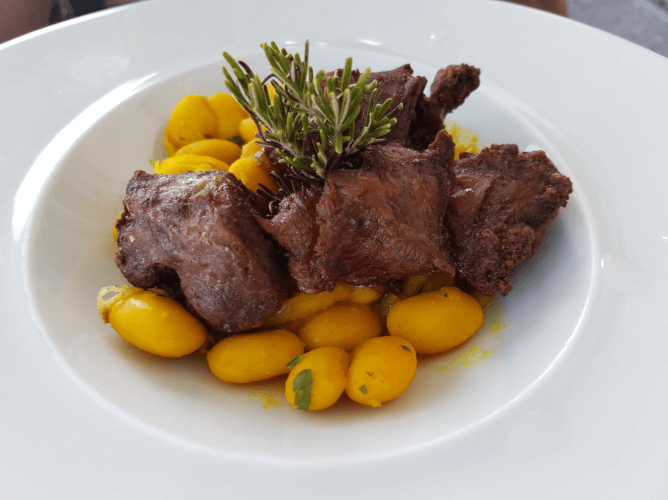 On a warm summer evening you shouldn't miss having dinner at Vinhas d'Alho, one of the best restaurants in Ribeira. It has two interior rooms and a terrace with a wonderful view of the Douro River and the Port wine cellars, making it a very romantic restaurant.
The menu is not extensive but the quality is superb. When we went, we tried the cod with a dry tomato crust (18€) and the duck confit (slow cooked) with celery puree (18€). Both were delicious. It also has a huge list of tapas, as well as several salads (for those on a diet) and a children's menu.
We also appreciated the friendliness of the staff, who calmly explained the menu to us and even gave the couple at the table next to ours some tips about which monuments to visit. A rarity in Ribeira, believe me 🙂
Jimão Tapas e Vinhos
Praça Ribeira, 11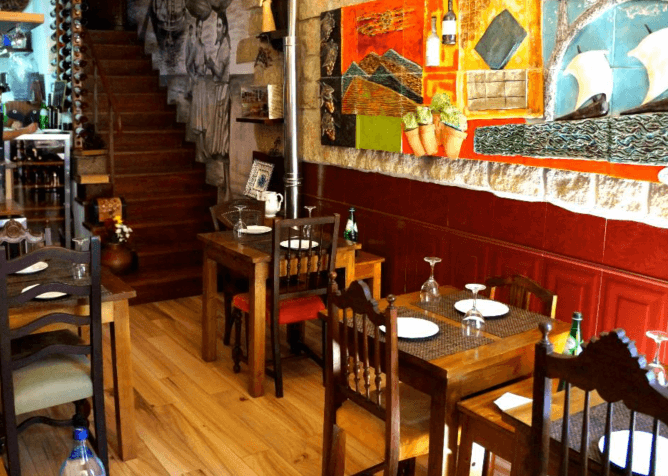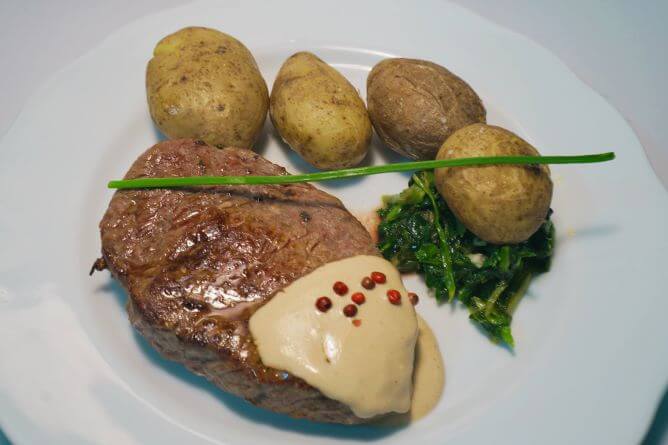 If you like tapas, Jimão Tapas e Vinhos, a small but very cozy restaurant, located in Praça da Ribeira is a must. The interior room is decorated in a typical way, and outside there are tables to enjoy on warmer days.
Though they do have meat and fish mains, what really stands out is the list of tapas: from sardine toasties (for me the best snack of the night), mussels with pepper marinade (4€), and Jimão sausage served with honey sauce (4.50€)… and so many other options! It also has various salads and some vegetarian options, so it is the type of restaurant that has something for everyone.
Even though the prices are affordable, the tapas are small, so you'll probably have to ask for more than you initially expected.
Wine Quay
Cais da Estiva, 111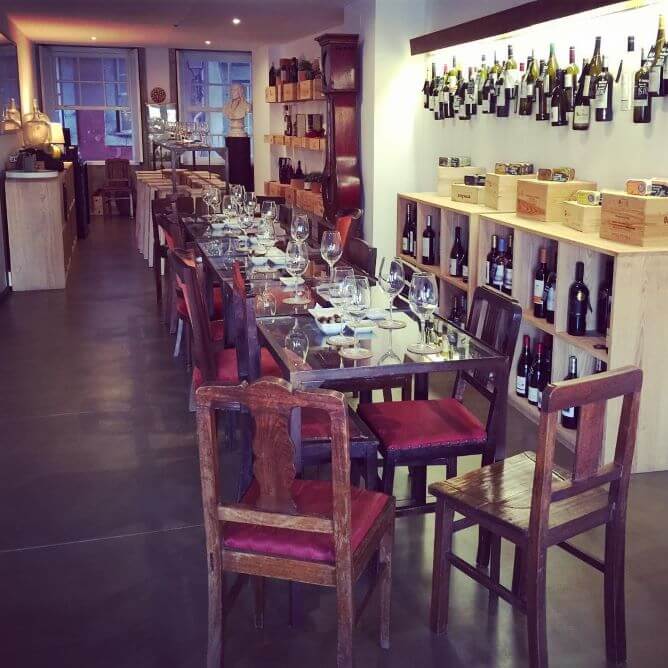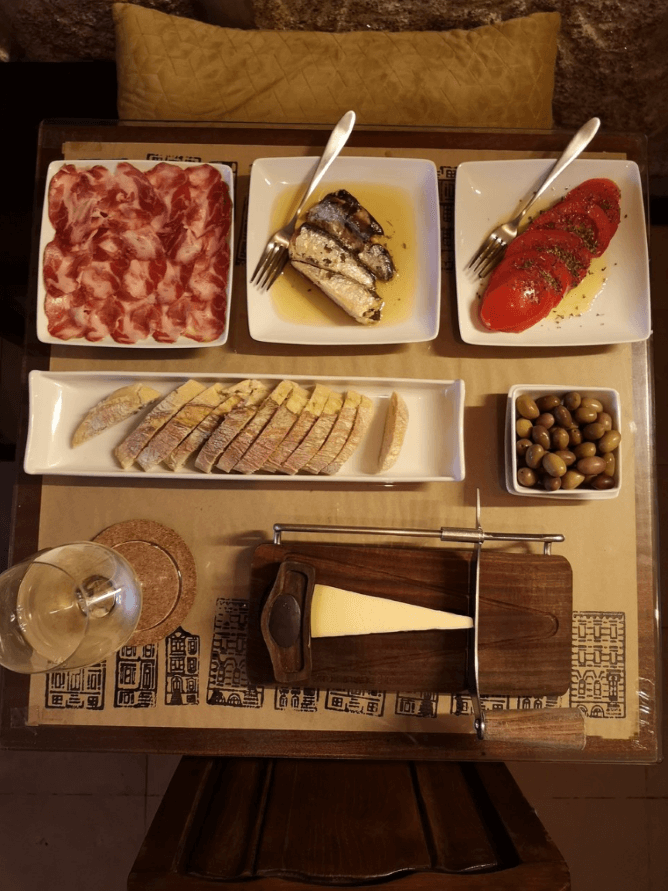 Right next to Vinhas d'Alho is one of my favorite wine bars, the Wine Quay bar. While not technically a restaurant, it has an excellent Portuguese tapas menu, with carefully chosen cheeses, sausages and preserved delicacies. All of them delicious (believe me, I've tried everything on the menu!!).
The wine list is also excellent, sorted by regions and covering the country from north to south. It's a shame it isn't kept up to date because I've tasted almost all of them and would appreciate something new once in a while.
It has two small rooms. To be honest I didn't find them all that cozy, but if you arrive early and you're lucky you can still get a seat on the terrace. Then you're definitely in for a treat 🙂
---
Save this article for later: