With the sharp rise in tourism, Porto has become an increasingly expensive city. It is still fairly cheap compared to most countries in the European Union, but we (the locals) do feel the difference in prices, especially in accommodation and in restaurants.
Therefore, my mission today is to introduce you to the amazing free things to do in Porto, for the budget conscious travellers. Have fun! 😉
Brace yourself: these are the best free things to do in Porto.
Watch the sunset at Serra do Pilar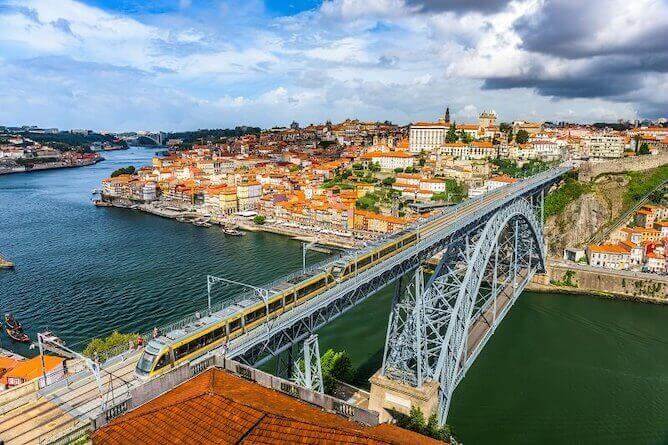 In Porto we say that the only good thing about Vila Nova de Gaia, the city just across the Douro river, is the view towards Porto. (Funny story: once I wrote about the historical facts behind this and I was heavily insulted by random people who clearly did not read the article through. * Sigh * oh, the internet).
The view may not be the only good thing from Gaia, but it is definitely one of the best things. After all, from there you have a very romantic view of Ribeira, the Unesco's Heritage site in Porto, but also of the Douro river and of its bridges.
There are some particularly interesting spots in Gaia to take pictures of Porto, such as Cais de Gaia and the Graham's Port wine lodge, but an all time favourite is Serra do Pilar. Head there by sunset hour, you can thank me later. 😉
How to get there: take the cable car from Cais de Gaia or the subway to the station Jardim do Morro.
Visit a public cemetery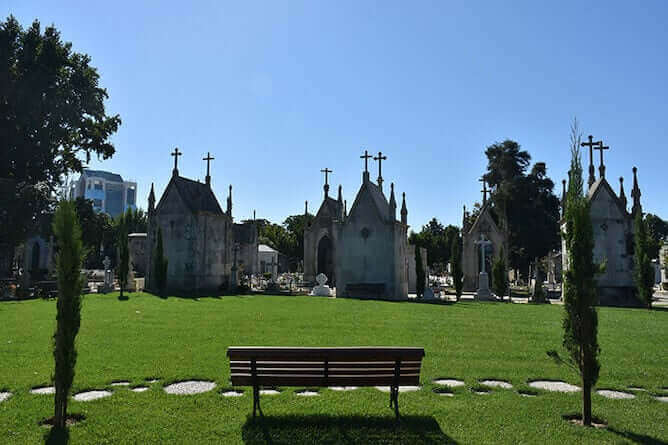 I have already mentioned Agramonte's cemetery in my article about the hidden places in the city. In fact, there are two public cemeteries in Porto that are worth checking, and practically no one does it:
Cemitério de Agramonte: one of the richest cemeteries in Europe when it comes to romantic art, this is where the famous writer Júlio Dinis, the cellist Guilhermina Suggia and the filmmaker Manoel de Oliveira are buried, just to name a few.

Cemitério do Prado do Repouso: this cemetery will always have a special place in my heart not only because it is where my grandparents are buried, but also because it is where Eugénio de Andrade, one of the greatest Portuguese poets, is buried as well. His grave was designed by the

famous Portuguese architect Siza Vieira

and it is lovely.
I know that visiting cemeteries is not something that you would usually do back home, but it is one of the best free things to do in Porto and an opportunity to learn more about Portuguese architecture, sculpture and history.
Go for a walk at a public park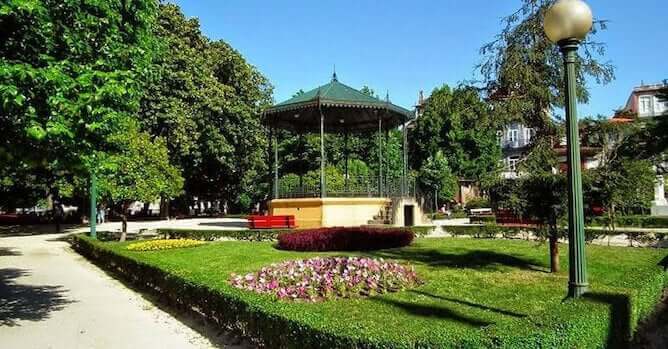 Most of the gardens and parks in Porto are completely free of charge, with the exception of Serralves' gardens (it belongs to the private Serralves Foundation). You can use some simple criteria to decide which one to visit:
If you want to go for a romantic walk:

Crystal Palace Gardens.

If you want to do a picnic or walk the dog: Parque da Cidade or Jardim das Virtudes.

If you are traveling with kids: Quinta do Covelo.

If you want to visit an off the beaten path garden: Parque de Nova Sintra.

If you like tiny parks (like I do):

São Lázaro garden.
Whichever you choose, I am sure it is one of the best free things to do in Porto and that you'll have a great time!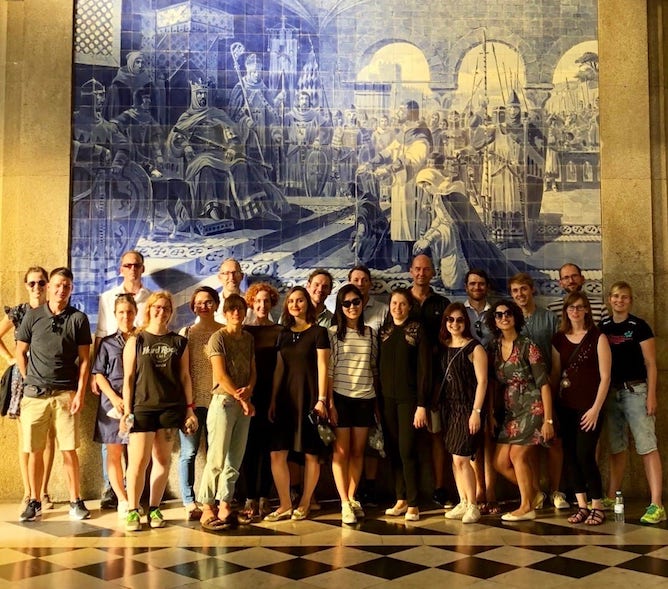 The São Bento train station is one of the highlights of this city. After all, you don't get to see an entire atrium covered in 20 000 handed painted azulejo tiles everyday!
Visiting São Bento train station is definitely one of the best free things to do in Porto but if you want to take the experience to the next level you can join one of our private tours in Porto. During our tours, we will take the time to explain the historical importance of São Bento train station and the significance of each different azulejo tiles displayed on the walls. It is a great experience and our customers are always happy to learn more about it!
How to get there: you can take the train to the train station itself or you can take the subway to the station São Bento, which is literally across the street.
Watch a pipe organ concert at Igreja dos Clérigos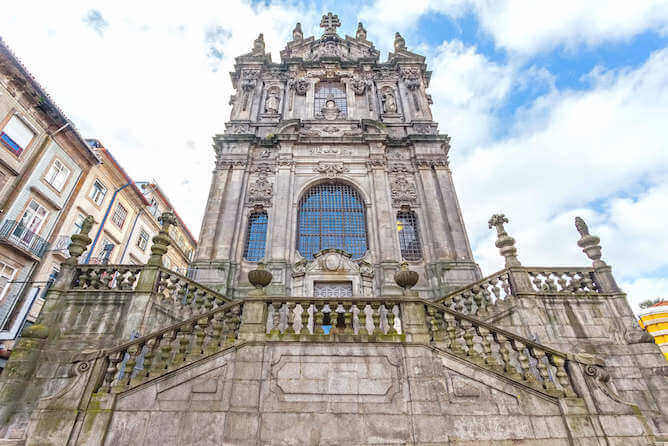 Most tourists have already read about the Clérigos tower, famous for its 225 steep steps that lead you all the way up to enjoy a fabulous 360º view of Porto. But it is not the most pleasant experience, as the steps get narrower and narrower the more you climb, and there are always people going up and down so you have to stop and squeeze against the wall too many times to let people through. And in order to do this, you have to wait in line to buy a 5€ ticket – or you can simply buy the online ticket to the Clérigos tower.
What most people don't know is that the most magnificent part of this entire building is actually the church, not the tower itself. In fact, the Clérigos church was renovated not that long ago and it is one of the most beautiful buildings in the city, lined in pink marble, granite and Portuguese golden leaf.
The cherry on top of this experience is to watch a free concert at the Clérigos church. It takes place everyday at noon and it is definitely one of the best free things to do in Porto.
How to get there: the subway station São Bento is a 10 minutes walking distance.
Visit Igreja da Lapa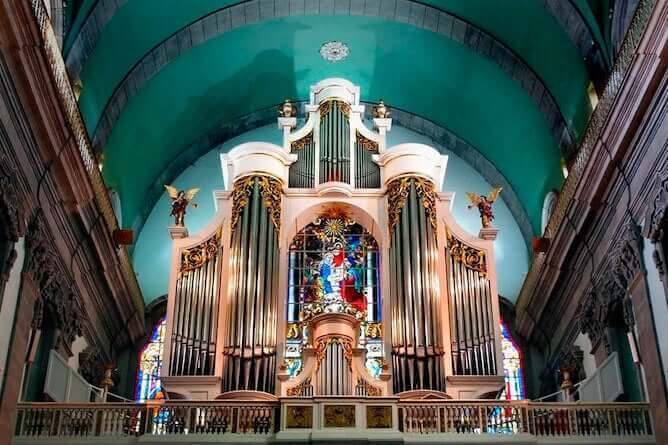 Unfortunately more and more churches in Porto are starting to charge an entrance fee. Such is the case of the cathedral of Porto, Igreja do Carmo, Igreja das Carmelitas and Igreja de São Francisco. The tickets are still fairly cheap – somewhere between 3€ and 5€.
But these are simply the most famous churches in the city – there are still some that are equally pretty but less well known, and these are usually for free. Such is the case of Igreja da Lapa, where the heart of D. Pedro IV, one of the most important kings in Portugal, is kept on a silver urn.
Visiting Igreja da Lapa is one of the best free things to do in Porto because since this church was built over more than a century ago, it features rococo and neoclassical architectural elements.
How to get there: the subway station Lapa is a 15 / 20 minutes walking distance.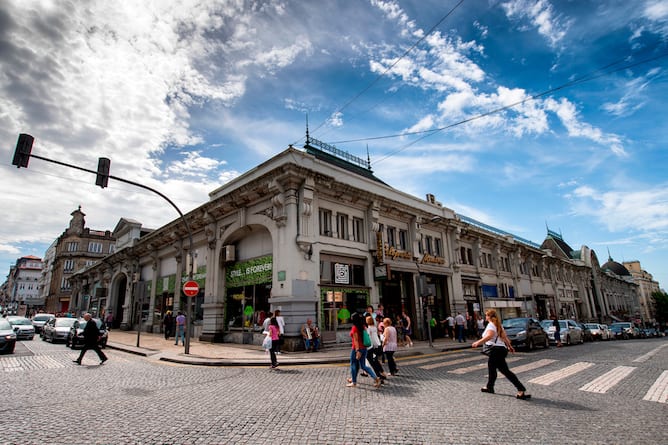 Bolhão is one of the oldest markets in the city, having been built over a century ago. Unfortunately it is currently under renovation (we hope until 2020, if the construction deadlines are met). However, you can visit the temporary Mercado do Bolhão, which is located at a close by shopping mall called La Vie.
I am not going to lie to you – visiting the temporary premises of Mercado do Bolhão is not quite the same as going to the actual market, but it is still worth mentioning as one of the best free things to do in Porto. At least for me it is always nice to buy some fresh fish, fruits and vegetables, talk to the vendors, have a glass of wine and some canned sardines or other appetisers.
How to get there: the subway station Bolhão is just around the corner.
Go for a walk by the beach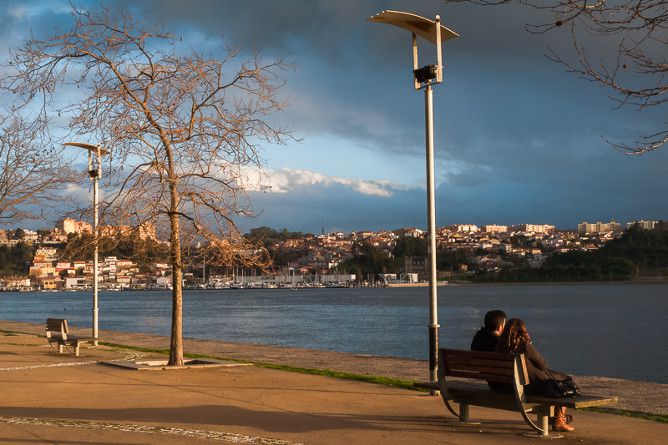 I am not a beach person at all and I am constantly warning people about the dangers of swimming in the beaches in Northern Portugal.
However, I do love to go for a walk by the beach alone or with my friends, especially in Foz or in Matosinhos, as the sidewalk is fairly large so it accommodates a lot of people. It feels nice to enjoy the sunlight and the Atlantic breeze on my face, before heading to one of the closest pastry shops or fancy restaurants.
How to get there: if you go to Matosinhos beach, the subway station Matosinhos Sul is a 5 minutes walk from there. If you prefer to go to Foz, take the bus 500 in front of St. Francis church.
Do some window shopping in Rua de Santa Catarina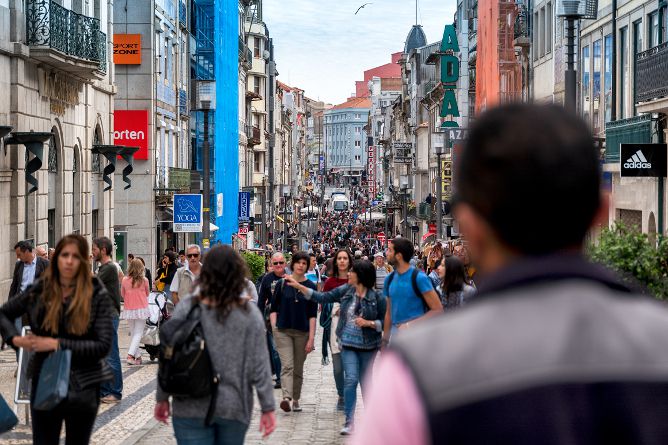 I am definitely not a material girl (it sounds funny but it is absolutely true) so I really avoid shopping malls or going shopping in general. But even I enjoy going to Santa Catarina street to do some window shopping, as it is one of the best free things to do in Porto. There you can find a lot of cheap international brands (such as Zara and Mango) but also plenty of local stores.
There is also Via Catarina, one of the oldest shopping malls in the city centre which has a cute food court with coloured little houses and a glass dome.
The famous Café Majestic is located in Santa Catarina street, but it is terribly expensive so I recommend you to have a pastry at Confeitaria Mengos or Confeitaria Império. They are not for free but they are worth every penny you spent there.
How to get there: the subway station Bolhão is just around the corner.
Save this article for later: