I organize private tours in Porto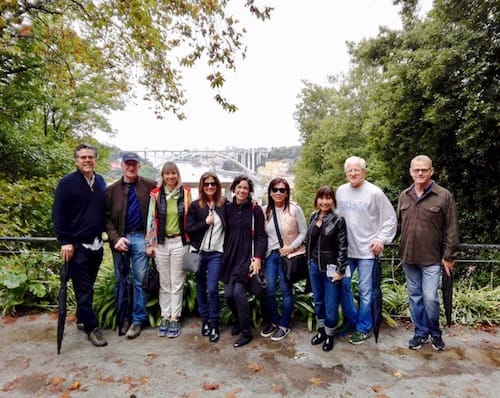 Check this page for more information or send an email to sara@portoalities.com.
There are three lines on the tram in Porto, and on this article you will find not only the trajectories of each tram line, but also its schedules, where to buy the tram tickets, etc.
I hope you enjoy this guide on how to travel by tram in Porto! 🙂
How the tram in Porto works
Believe it or not, he tram in Porto is one of the oldest electrified transport systems in Europe, as it was inaugurated in 1895. It was a very popular transport, but since the 60s it has been slowly abandoned by the locals, that prefer to use faster (and cheaper!) means of transport on their daily lives. Nowadays, there are only three lines on the tram in Porto, that are mostly used by tourists and a few elder locals.
Take a ride on a tram in Porto is a good idea for families with kids, or to simply take a ride to the past 🙂 However, you shouldn't see it as a proper way of transport, as it is rather slow (so many cars / bikes / people get on the rails, you wouldn't believe it!), and it gets full very easily.
With this in mind, let us move on to the lines of the tram in Porto.
TRAM LINE 1: From Ribeira to Foz
Tram line no. 1 is the most well known by tourists, as its trajectory is by the riverside between Ribeira (a neighbourhood protected by Unesco) to the mouth of the Douro River, at Foz.
It's a short trip – about 20minutes, if there are no major interruptions (such as cars parked on the tram rail!) – but a beautiful one. If you decide to travel by tram in Porto, more specifically on tram line #1, I recommend you to do it in the morning, as it is less crowded.
Because it is such a popular tram in Porto, I suggest you to get the tram right in front of Igreja de São Francisco – the famous church of St. Francis, precisely where the tram rail starts – or at the end of the tram rail, at the garden of Passeio Alegre, at foz. If you try and get the tram no. 1 at any other stop, specially during the high season, the probability of not getting a place to seat is really high!
Here is a map with the tram trajectory, as well as the tram schedule (in both directions):

And here is the schedule in the direction Infante to Passeio Alegre (at foz) during week days: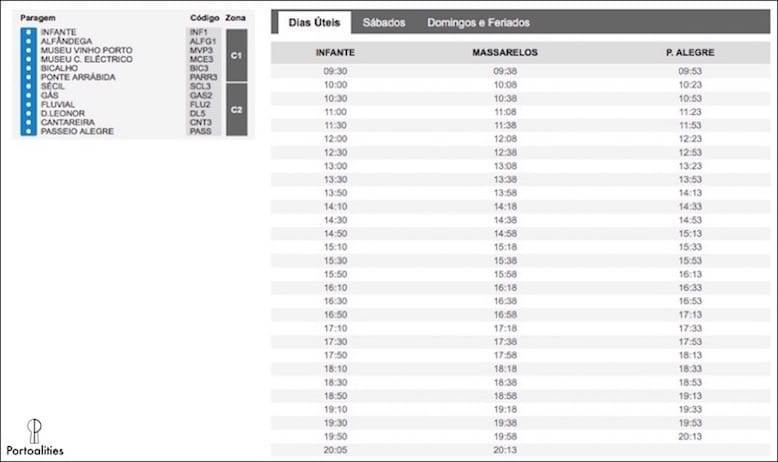 Schedule in the direction Passeio Alegre (at foz) to Infante (at ribeira) during week days: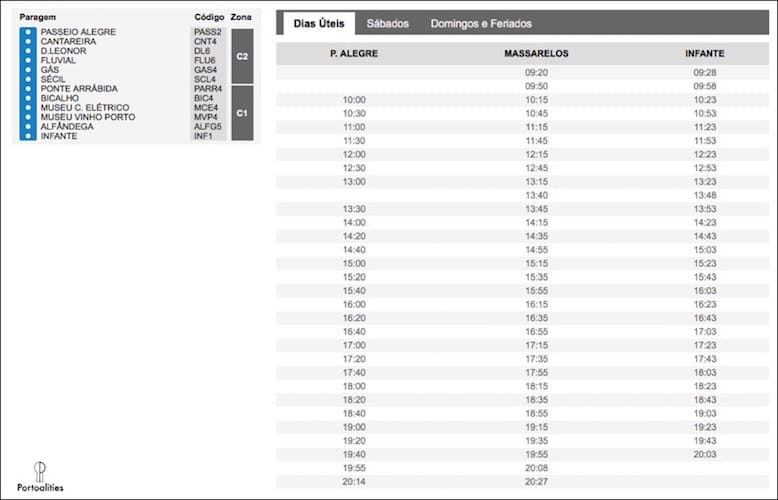 TRAM LINE no. 18: Roundtrip between Massarelos and Carmo
Tram line no. 18 is a circular tram line that starts at the Tram Museum, by the riverside, then goes all the way up to the area around Clérigos's tower – a central area for those who visit Porto, since it is close to the famous Lello Bookshop and Praça Gomes Teixeira (we simply call it the "Lions' square") where the night life of Porto begins.
Then the tram goes down towards the Douro river again, stopping in front of the Vincci Hotel.
You can check the entire trajectory of this line of the tram in Porto on the image below: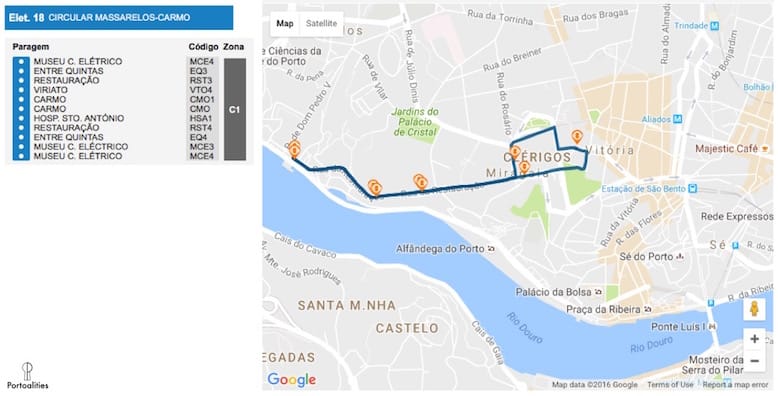 Here is the schedule (during week days). As this is a round trip, there is only this one schedule.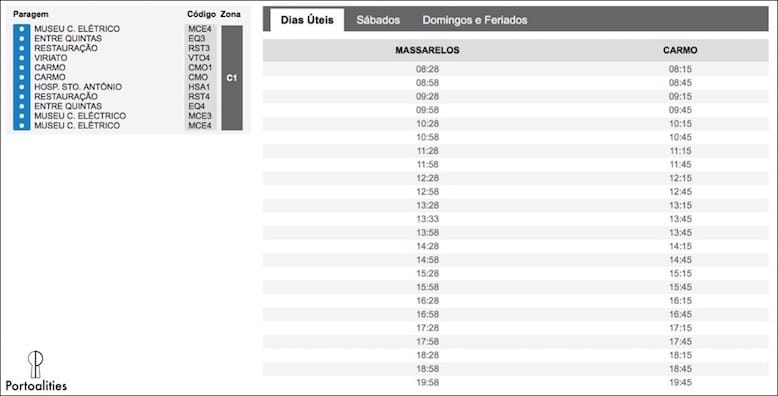 TRAM LINE no. 22: Round trip between Carmo and Batalha
Tram line no. 22 is a circular tram line that starts precisely at Praça Gomes Teixeira.
It is perhaps the least known tram in Porto but it's my favourite one, because it circulates not only in the area around Clérigos, but also on the Avenida dos Aliados (the Allies' avenue, the most important avenue of Porto), then in front of the beautiful São Bento train station and finally in Batalha neighbourhood, one of the most typical ones in the city.
Once you reach Batalha, why don't you get a ticket for Guindais' funicular, which is a fun journey that will lead you to the neighbourhood of Ribeira?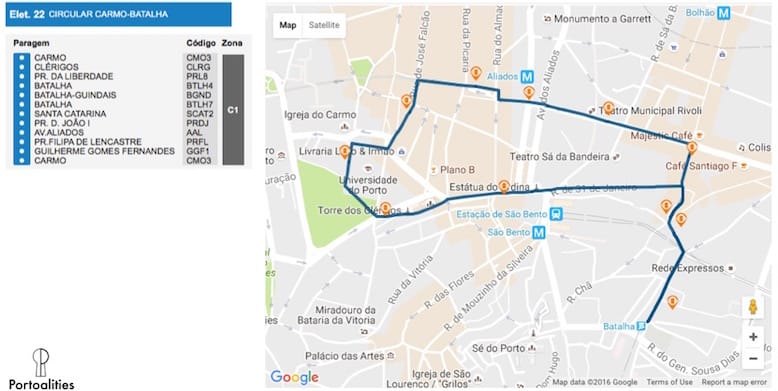 This is the schedule of this tram in Porto (during week days):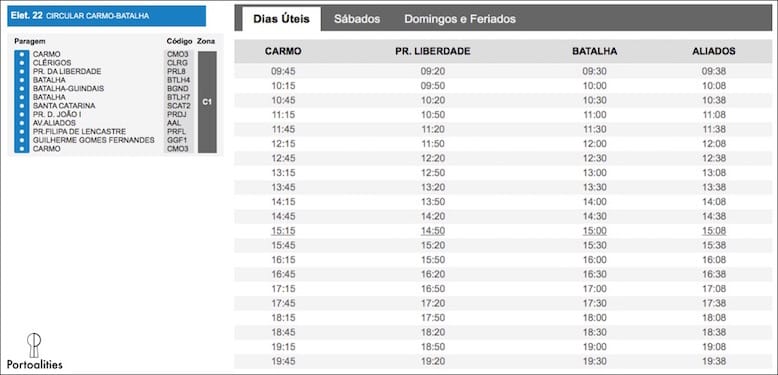 Other useful information on how to travel by tram in Porto:
The tickets for any tram line cost 3€ (each way), and you can buy them inside the tram.
You can also get a two day ticket (10€ – adult and 5€ – kid), which is valid in any tram line during 48h.
You can buy the two day ticket:
Inside any tram
Hotels
Travel agencies
If you're enjoying this post, don't forget to pin it for later: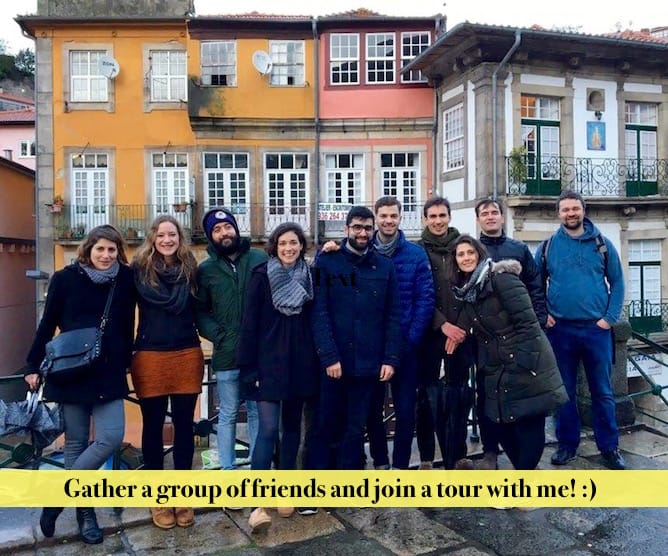 If you would like to make it extra fun in Porto, why don't you join a tour with me? I'll give you a glimpse of Porto, tell you a lot of stories that not even the locals know about, and give many suggestions for restaurants and bars. I am sure we'll have a great time together! 🙂
Check here for more information on my tours in Porto, or simply send me an email to sara@portoalities.com It will be my pleasure to welcome you in Porto! 🙂