Maybe I'm missing something but I have some trouble in understanding people's fascination with pastéis de nata, or the Portuguese egg tart.
Knowing how rich and complex Portuguese pastry is, particularly doçaria conventual (meaning the recipes that originated in Portuguese convents), it baffles me that only the egg tart is recognized worldwide and that there are whole businesses exclusively dedicated to it.
But I know I am part of the minority, so here are my recommendations (all dutifully tested by me, as you can probably tell by the low quality pictures :P) on where to eat the best Portuguese egg tart in Porto.
But before I share with you where to eat the best Portuguese egg tart, I want to let you know the history of this traditional pastry.
The history of the Portuguese Egg Tart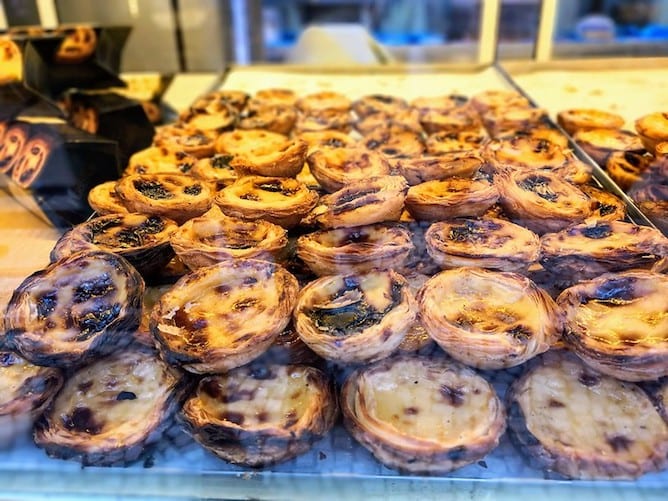 According to Professor Virgílio Gomes (who teaches Food History), the first written recipe of the Portuguese egg tart is attributed to the famous pastéis de leite (milk tarts) by Maria of Portugal, the granddaughter of King Manuel I.
Maria of Portugal married the Duke of Parma, and when she left Portugal she took with her two cooks and a 67 recipes book, which contained a recipe of buttery crust pastries with a filling very similar to the modern Portuguese egg tart.
But the egg tart with puff pastry, as we know it today, came to be almost a hundred years later, at the beginning of the 17th century, from the hands of Philipe II of Spain's cook (at the time, also king of Portugal – not the cook, but Philipe).
Moving on to an important question:
What's the difference between regular egg tarts and Belém egg tarts?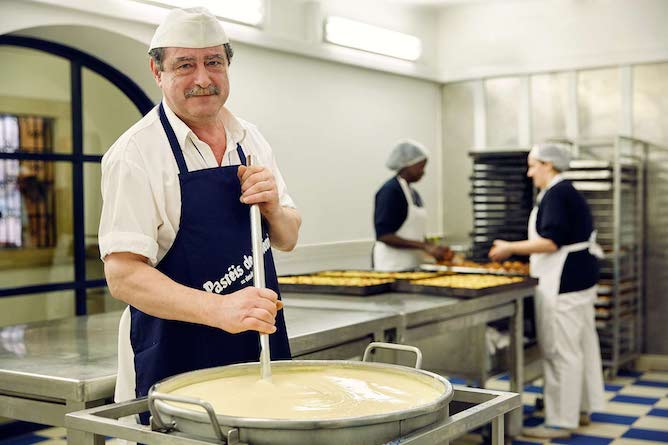 Let me start off by warning you to never say to a lover of this typical pastry that a Portuguese egg tart and a Belém egg tart are the same thing. You will be starting an inglorious discussion you do not want to get into – trust me.
Personally, I could never really understand what sets them apart and so I rely once again in history to help me put this question to rest.
According to the Belém egg tarts company, in the 19th century there was a sugar cane refinery right nest to Jerónimos Monastery, in Belém.
And as we know, in 1834 all convents and monasteries in Portugal were closed and clergy members and workers that lived there were expelled. Therefore, these men brought their convent's egg tart recipes to the streets, in a building next to the old refinery. And so were born in 1837 the famous Belém egg tarts that nowadays sell the modest sum of 20.000 tarts a day (!).
Where to eat the best Portuguese egg tart in Porto
Literally every article I read about this theme mentions only three pastry shops. And that's why I embarked on an epic journey to look for more options, including vegan ones (what don't I do for you guys). Here are the best places to eat Portuguese egg tarts in Porto:
Manteigaria
Rua dos Clérigos, 37 | Porto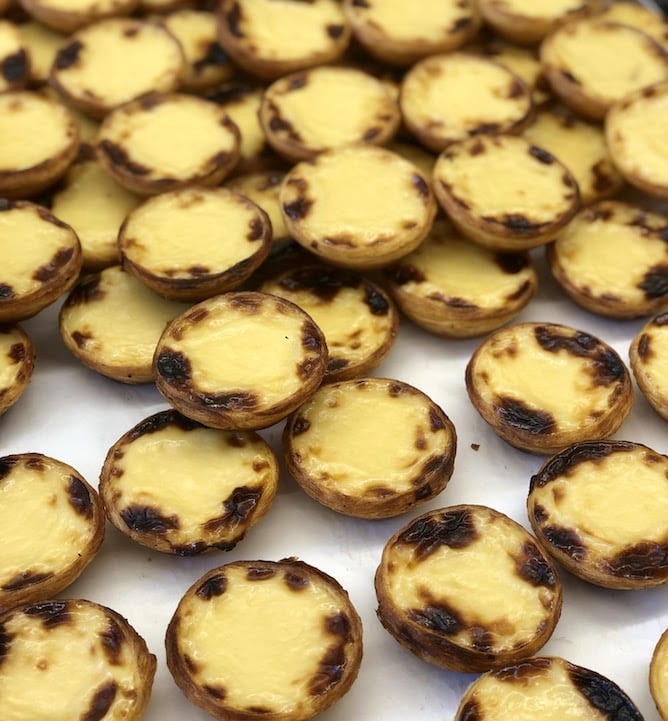 Manteigaria must be the most famous place to eat Portuguese egg tarts in Porto. It's easy to see why: a thin, crunchy crust, topped with the most delicate cream.
On the other hand, it is exclusively dedicated to the production of Portuguese egg tarts, and the whole process happens right in front of the customers, in something resembling a very photogenic aquarium.
There are two Manteigarias in Porto and it is worth explaining its differences:
– the one in Rua Alexandre Braga is an airy space with a café where you can order a variety of things besides Portuguese egg tarts. Their coffee is from Nespresso (which I am totally against; origin coffee all the way for me) and some complaints about the slow service, though I never had that problem.
– the one in Rua dos Clérigos is a sort of hallway with no chairs or tables, so the best way to get the most of it is to buy your egg tarts to go and continue your exploration of Porto.
Nata Lisboa
Rua das Flores, 291 | Porto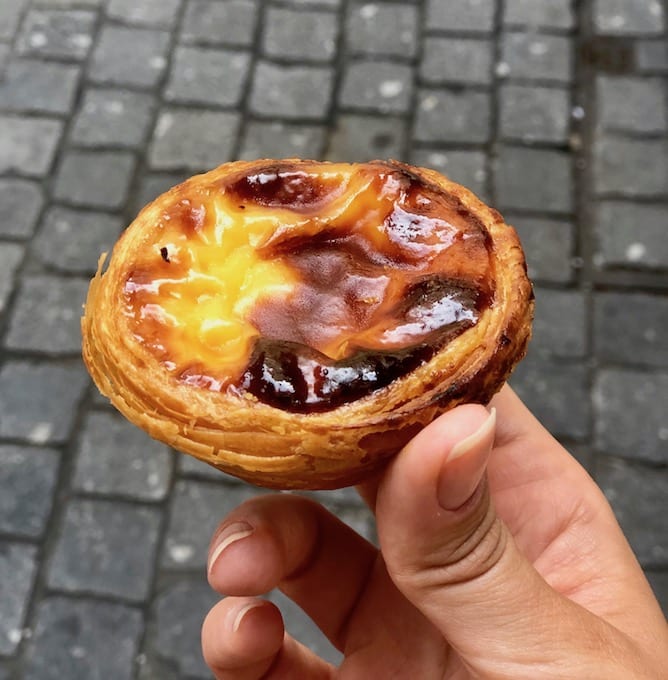 Appearances can be deceiving and you should always give the benefit of the doubt. This was the case for me of Nata Lisboa. I never really cared for this place and the space isn't the most inviting on this list of places where to eat Portuguese egg tarts in Porto. It is a narrow store, painted in black from ceiling to floor and it has a terrace overlooking Rua das Flores.
I went in, not expecting much, but I had to surrender to its Portuguese egg tarts: again that characteristic thin, crunchy crust (though a little too oily for me) and a perfect filling, not too sweet and not too bland either. I became a fan!
Rua de Augusto Rosa, 186 | Porto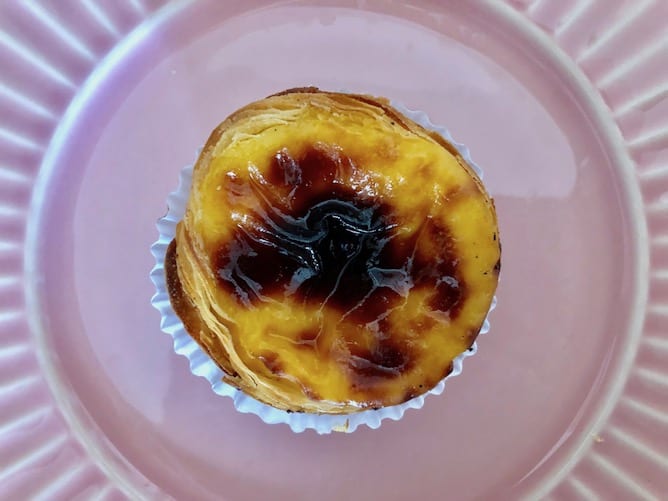 I found out about Neta 3, one of the oldest bakeries in town, totally by chance, on my wonderings through Batalha (a neighborhood in Porto). The Portuguese egg tarts looked absolutely delicious and I took a chance on them which paid off in full.
It was very small, with a really crunchy crust and a wonderful filling. I can't wait to go back for some of their delicious bread and one of the best Portuguese egg tarts in Porto!
Rua de Santa Catarina, 331 | Porto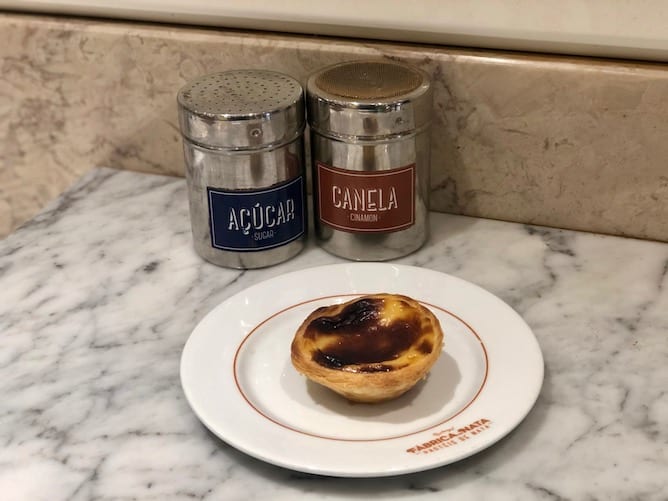 I was very reluctant to go into this store as it really seemed like a tourist trap (in absolutely the worst sense of the word). From the employees dressed to the tees with azulejo tiles themed aprons and hats, to the Fado music and the pre-made funky looking sandwiches. As you can imagine, not a great first impression.
However, I have to say that Fábrica da Nata is one of the best places where to eat Portuguese egg tarts in Porto. These are small pastries with a crunchy but solid crust that doesn't flake on the first gluttonous bite. Delicious.
This place has a small interior terrace and it serves a lot of diverse menus with egg tarts or sandwiches accompanied by hot and cold drinks.
It also has the advantage of being located in Rua de Santa Catarina, one of the most famous streets in Porto.
Natas d'Ouro
Rua Sá da Bandeira, 115 | Porto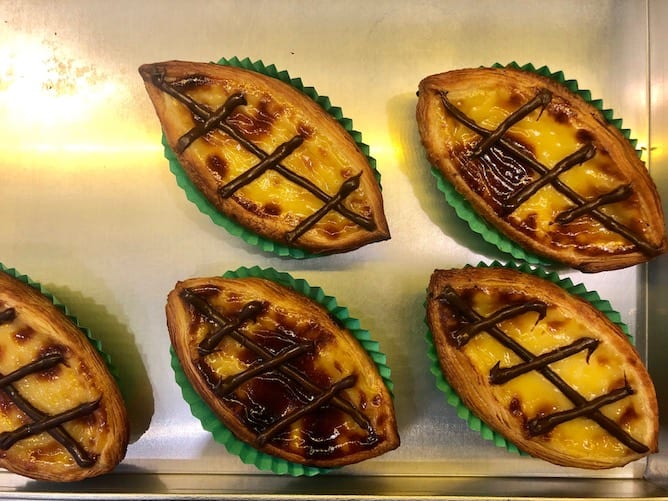 Natas d'Ouro began as a side project by Pastelaria Soares, which already owned six establishments in Braga and in Gaia. The next venture was a terrace in Cais de Gaia, right in front of the Port Wine Lodges, and a while ago they opened a small store in Rua da Bandeira.
What makes Natas D'Ouro the perfect spot where to eat a Portuguese egg tart in Porto is their variations on the original recipe. Here you can find Port wine egg tarts, and with chocolate, caipirinha, orange and lemon.
When I went there I tasted a lemon egg tart, which was the perfect finale to a week dedicated to the Portuguese egg tart. The crust was crunchy and the filling had a subtle lemon taste which created a perfect balance with the traditional sweetness of this Portuguese pastry.
Are there vegan Portuguese egg tarts in Porto?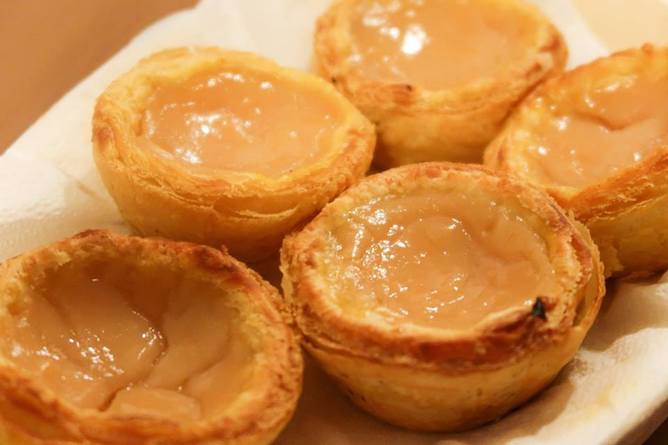 Although I practically don't eat meat I still eat a lot of products from animal sources such as eggs, butter and milk, so I am not really the best person to talk to you about vegan food in Porto.
However, my trustworthy sources tell me that both Vegana by Tentúgal and Moment'um (a coffee shop in Campanhã I have told you about before) have delicious vegan Portuguese egg tarts, and are well worth a try 🙂
Save this article for later: