I am not a huuuuge fan of Gaia, but these days it is so expensive, chaotic and noisy to stay in Porto that staying at one of the best hotels in Vila Nova de Gaia might as well do the trick. Nonetheless, I recommend you to read my comprehensive guide about the best neighborhoods to stay in Porto as it might prove useful before deciding where to book a place to stay.
Why Stay in Vila Nova de Gaia?
There are several reasons to decide to stay in Vila Nova de Gaia (as opposed to staying in downtown Porto):
it is cheaper;
it is less noisy, because downtown Porto is going through an intensive period of construction – not only home renovations but also the construction of several new subway stations, the renewal of Bolhão's market, etc.
it has waaaaaay less traffic;
you will be closer to the Port wine lodges (which is great if you are a wine aficionado);
you will have an unbeatable view of Ribeira, one of the most picturesque neighborhoods of Porto.
Moreover, there are some AMAZING five star hotels in Vila Nova de Gaia, as you'll soon discover on this article.
What is the catch?
There is nothing particularly interesting to do in Vila Nova de Gaia, except visiting the Port wine lodges.
If you stay by the river level, meaning at the Cais of Gaia, you will be in a flat area BUT you will have to climb to visit any monument of Porto, with the exception of the Stock Exchange Palace and the St Francis church, which are also at the water level.
If you decide to stay at the level of the upper deck of Luiz I bridge, you will most likely have a phenomenal view of Porto. You will also have quick access to a subway station called Jardim do Morro, too. However, it is an area PACKED – I mean really packed! – with tourists.
These are the best hotels in Vila Nova de Gaia: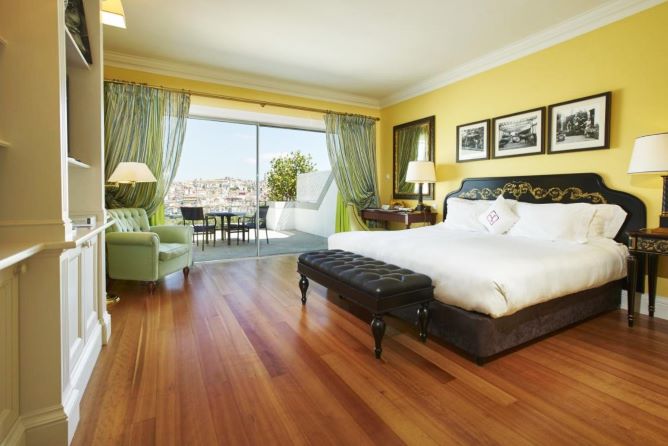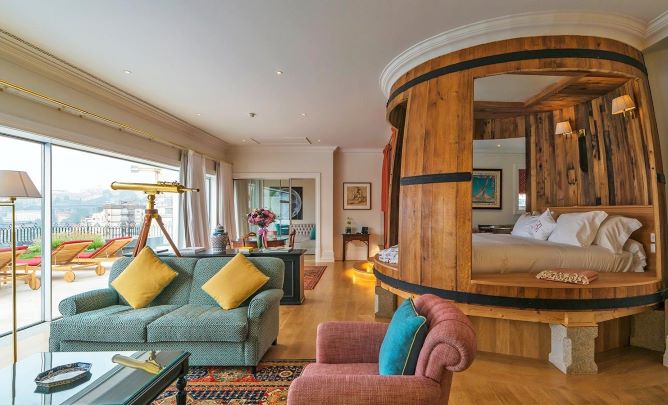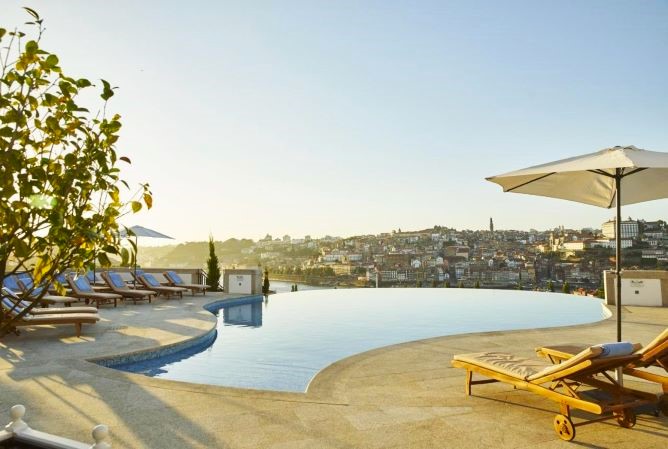 The Yeatman hotel is one of the best five star hotels in Portugal, and no wonder. Among the various bedrooms available, I had the pleasure of staying in the presidential suite (a friend of mine offered a night as a gift to his wife, and they invited us, their friends, to spend the evening with them), and it was truly a fantastic room: with a private pool, and a standalone bathtub built in a wine barrel. But all the rooms are very spacious, with a private terrace with sun loungers and a minibar with the brand's wines.
Furthermore, at The Yeatman hotel you can enjoy an infinity pool with a magnificent view over the Douro River and Ribeira, a spa and a two-star Michelin restaurant. The bar (I believe it's called Dick's bar) is also incredible, and I've spent many nights there drinking wine and chatting.
The only downside to The Yeatman hotel is the location: the magnificent view is paid for by the distance to all the tourist attractions, so you always need a car or an Uber to visit the city.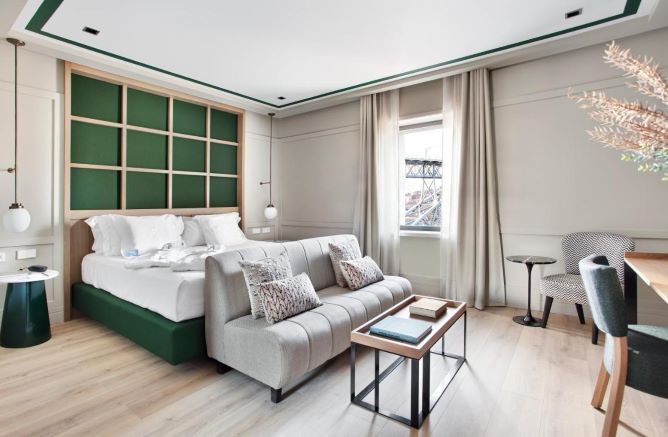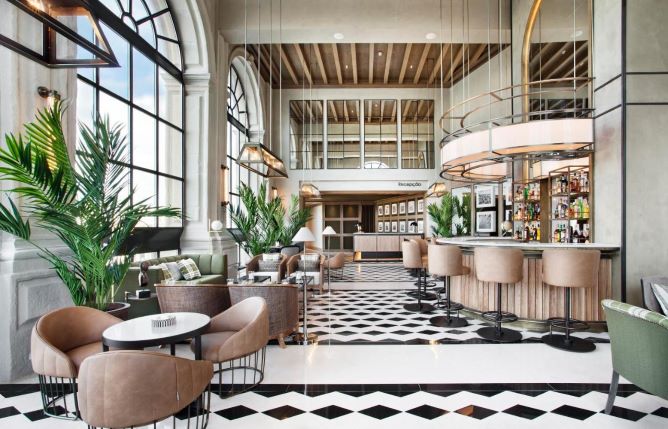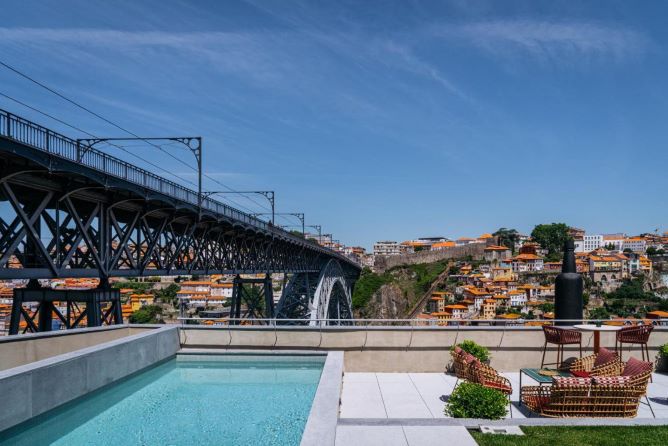 As soon as it opened, Vincci Ponte de Ferro became one of the best hotels in Vila Nova de Gaia. It has a privileged location, right under the Luiz I bridge, so most of the rooms, as well as the corridors leading to the hotel's common spaces, enjoy an extraordinary view of the bridge. It's something really unique!
At Vincci Ponte de Ferro you can also enjoy a seasonal outdoor mini pool, two huge terraces, private parking, gym, a meeting room, restaurant, a bar and also a wine bar. Breakfast is based on the English style, with lots of vegetarian, vegan and gluten-free options.
The idea is that the customer has the minimum motivation to leave, and, in fact, whoever stays at this hotel doesn't need anything else 🙂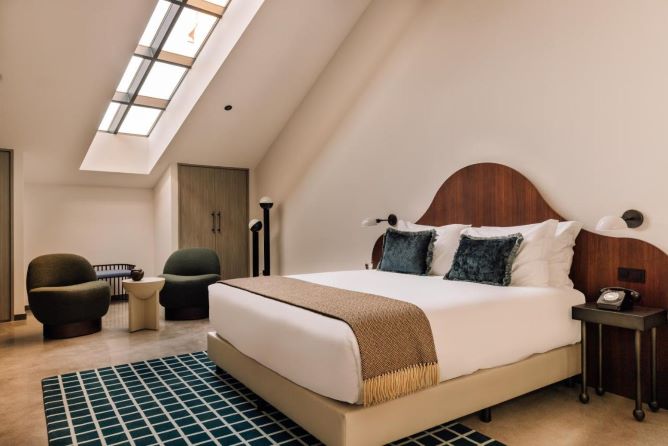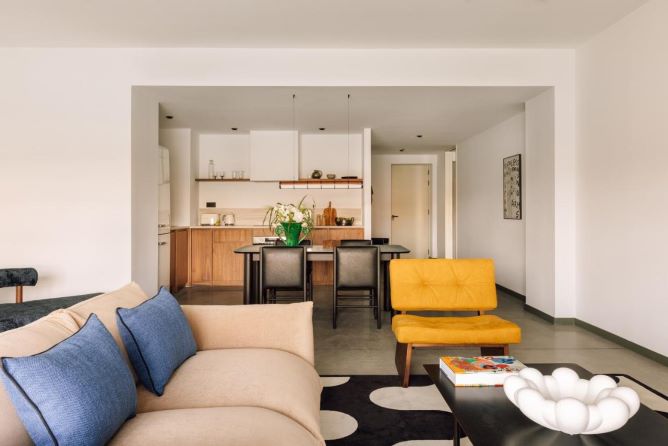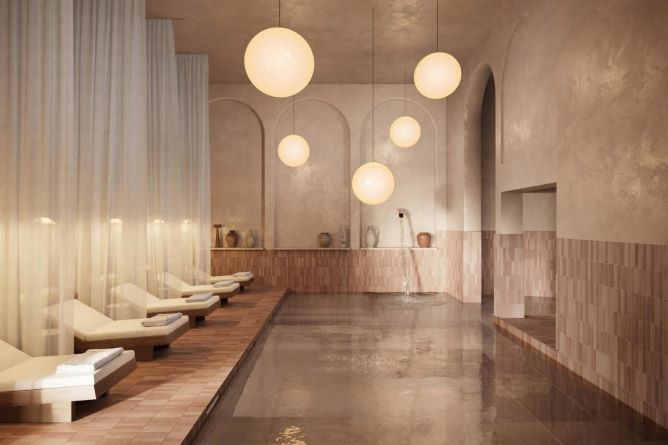 The list of the best hotels in Vila Nova de Gaia would not be complete without the The Rebello Hotel & Spa, a stunning five star hotel with various room types, including rooms equipped with a living room and fully equipped kitchen. Therefore, it is one of the best hotels on this list for families with children or for travelers like me, who like to cook their own meals.
Furthermore, you can enjoy the fantastic common areas of the The Rebello Hotel & Spa: an incredible rooftop bar, a garden, a restaurant, an indoor swimming pool with a sauna (that looks straight out of the Roman Empire), a gym and private parking.
The staff is very friendly and can arrange airport transfers, tours or other local services you may need during your stay.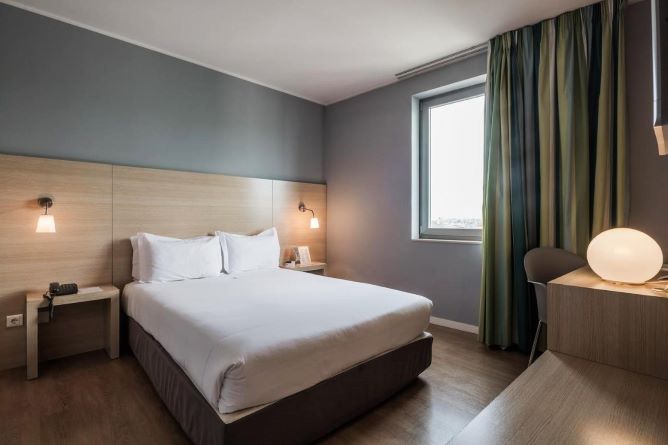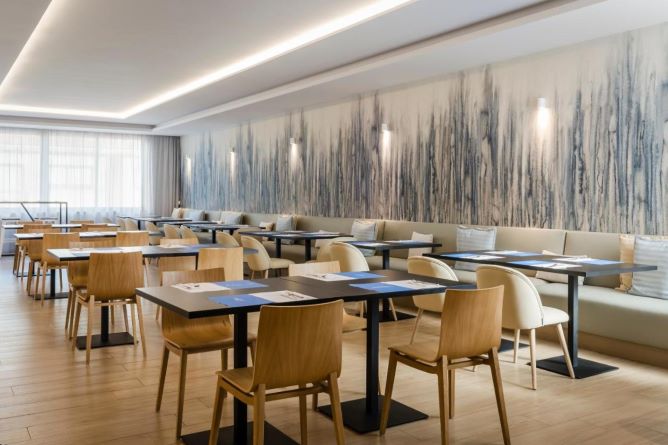 So far I have only written about the 5 star hotels in Vila Nova de Gaia, but naturally there are more affordable options in the city, namely the ClipHotel.
It's a 3-star hotel, perfect for families because it has triple and quadruple rooms, and what's more, it's right next to El Corte Inglés Gaia, one of the biggest shopping centers in the world (and which everyone loves, let's be honest). Not being on the riverfront like most of the hotels on this list, it has the huge advantage of being located just 4 minutes from the São João de Deus subway station, which allows you to easily reach the center of Porto.
The hotel itself, in addition to the modern, clean and spacious rooms, also has a bar and a library and provides 24/7 reception service, laundry services, car rental and even a buffet breakfast.
In terms of price-quality ratio, ClipHotel is a great option.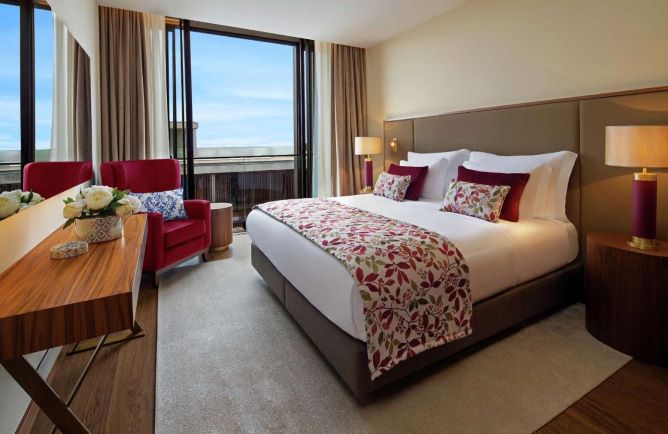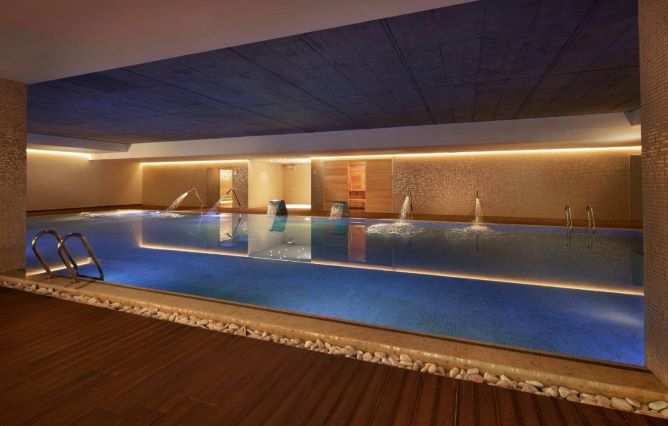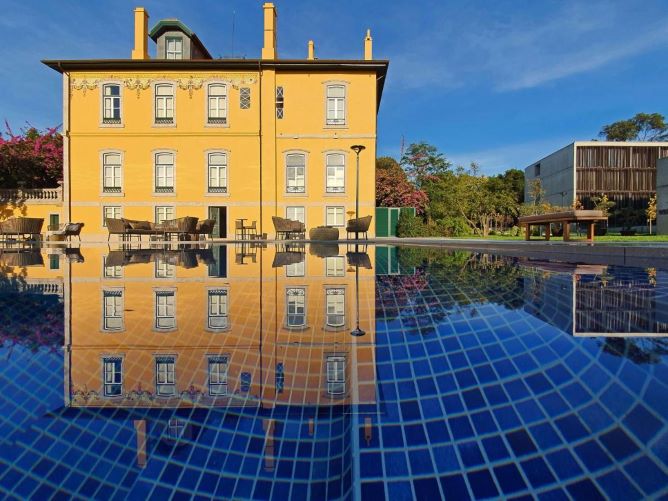 The Boeira Garden Hotel is a 5-star hotel great for families with children, as it has inter-connected family rooms and a children's playground. It also has a restaurant, 2 swimming pools (outdoor and indoor), gym, spa with sauna and a wide range of treatments and massages, thermal bath and Turkish bath; a garden, a playground, several meeting rooms, charging for electric vehicles, and a rooftop bar.
If you are traveling as a couple, the spa may not be as relaxing, precisely because it is a great hotel for children.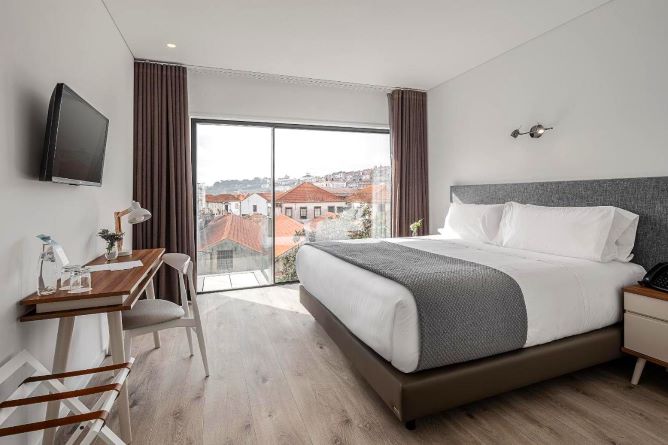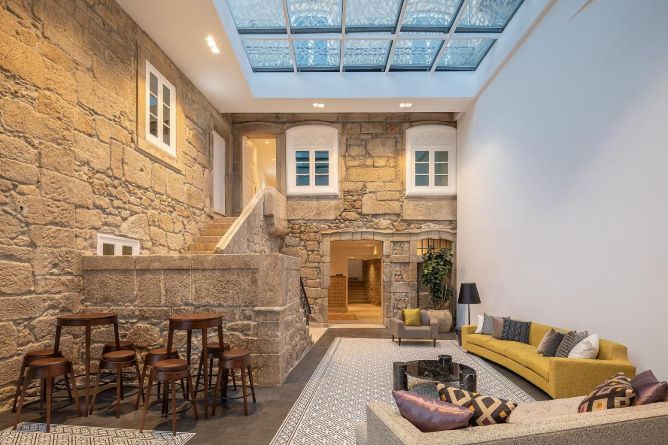 The Caléway Hotel has the particularity of being a blend of old and new, in the sense of being a contemporary hotel within a historic building. This 4-star hotel has a beautiful garden (with a beautiful view, it should be noted), an honesty bar and even a terrace. Despite being pet friendly (I don't understand this recent trend…) it has a very calm and peaceful atmosphere. Furthermore, it has an excellent location, close to the Chocolate Museum, 7g roasters (one of the best brunch places in town) and also to the Port wine cellars. It's impossible to get better than this!
The only thing I don't like about the Caléway Hotel is that breakfast is not included in the general rate.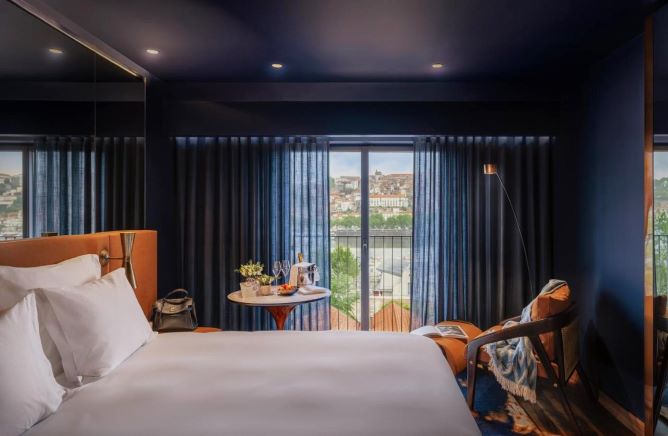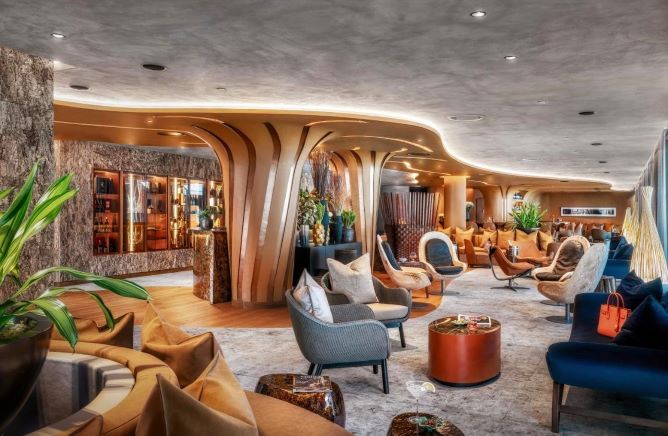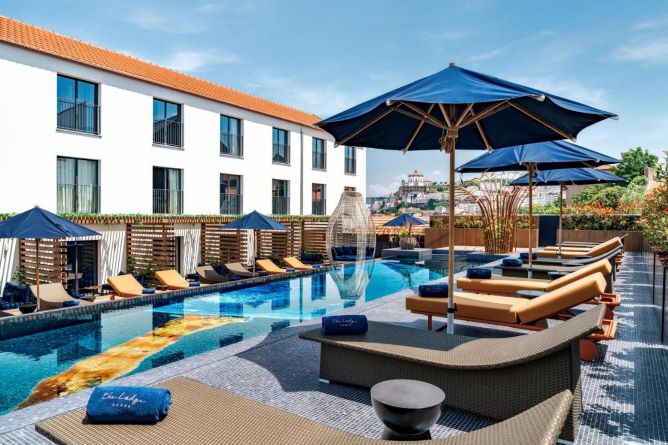 One of my favorite hotels in Vila Nova de Gaia (perhaps even my favorite one) is The Lodge Porto Hotel, all thanks to its luxurious design, combined with an incredible view over the city of Porto.
This five-star hotel has an outdoor pool (beautiful, but a little small for my taste), a small gym, terrace and a restaurant, as well as a 24/7 reception. It also has lots of meeting rooms for private and business events, and it provides private tours in Porto and Douro for their clients.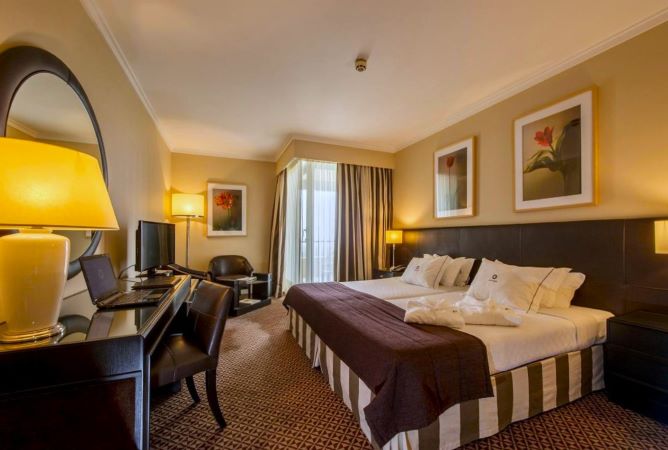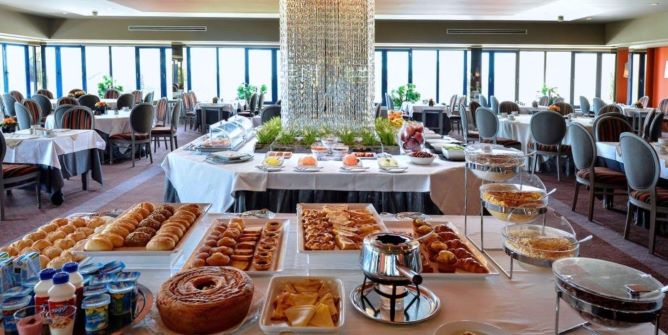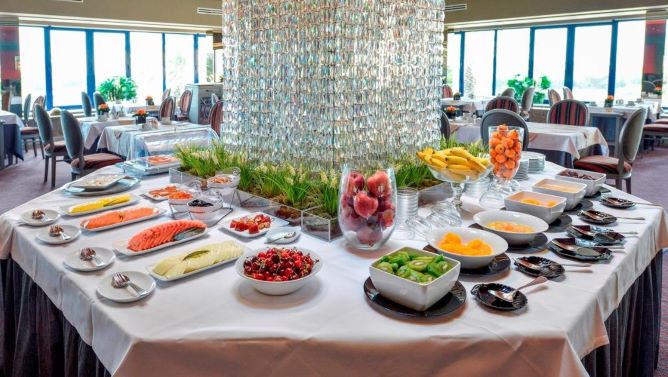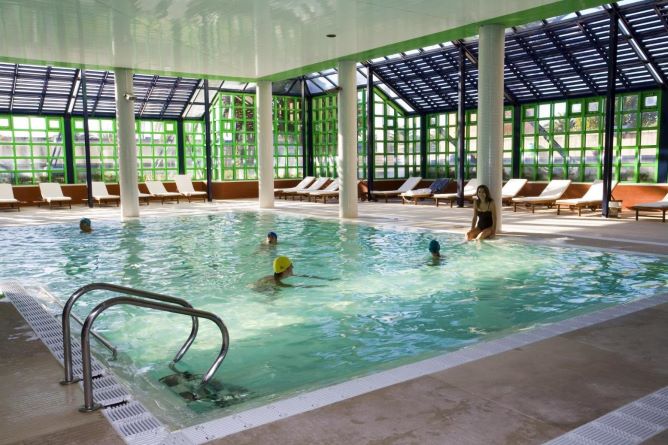 Another of the best hotels in Vila Nova de Gaia is the Hotel Solverde Spa and Wellness. Being another five-star hotel, it has what we are already accustomed to at this level of hospitality: indoor and outdoor pool (large) with heated sea water, gym, restaurant, spa, sauna and massages (available at an extra cost), a helipad and spacious, well-equipped meeting rooms, entrance to the beach, children's playground, as well as tennis courts, mini golf and beach volleyball… in other words, it's a mix between a hotel and an amusement park, especially for families 🙂
Furthermore, the Hotel Solverde Spa and Wellness has the "Jardim" restaurant, with beautiful views, and which provides Portuguese meals, with lactose and gluten-free options, and vegetarian options. On the other hand, the hotel bar offers live piano music on weekends.
With so many things to do, the difficult part is finding the motivation to get out and go to Espinho beach, which is right next door. This hotel is a 15-minute drive from Porto, which may put off some people who want to stay in a hotel with a more central location.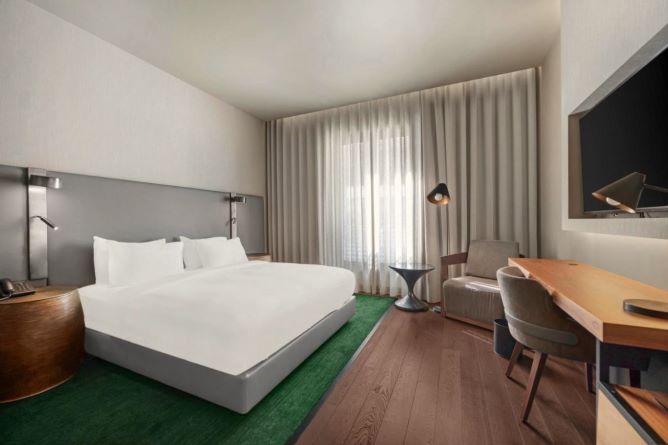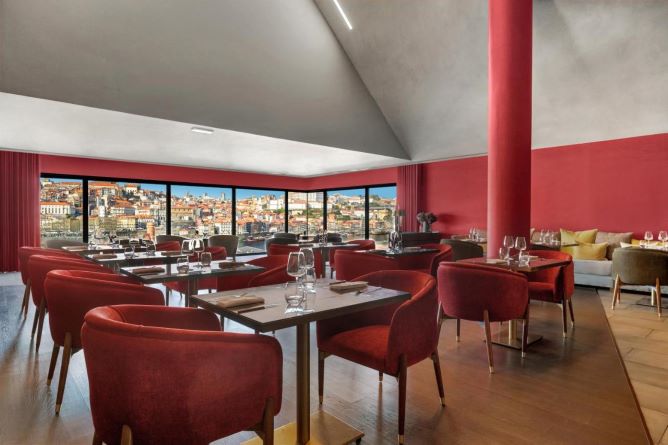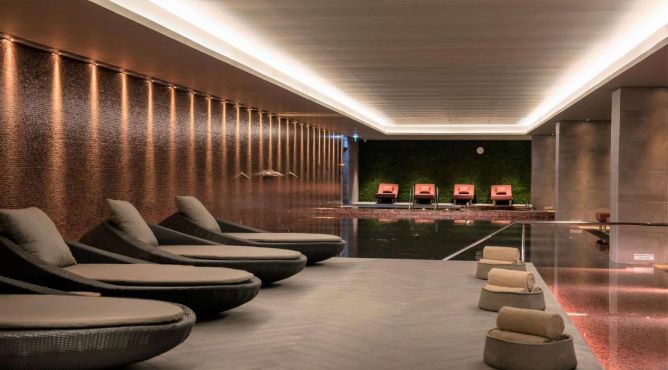 The Hilton Porto Gaia opened very recently and, despite its somewhat demode style (I'm not a big fan of corporate hotels, I confess), it is still a renowned brand and, therefore, deserves to be highlighted in this list of the best hotels in Vila Nova of Gaia.
The rooms are large and comfortable, most of which have views over the Douro River. The Hilton Porto Gaia also has private parking, a large terrace, two bars, a restaurant, a gym, meeting rooms and even an indoor pool with sauna and spa, which I found delightful. On the other hand, it is right next to the best Port wine cellars and the Gaia cable car, which is great for those who want to discover the area on foot.