Best places for Fado in Porto in 2023
Discover the best places for fado in Porto, from the cosiest Portuguese restaurants to secret taverns that only the locals know about!
Ideal Clube de Fado
Full day Private tour in Porto
Even though Portuguese people listen to Fado regularly (I am sorry to break the myths!), I totally understand that you want to watch a live fado show once in Porto. Therefore, I made a list of the best places for fado in Porto.

A little background information on Fado…
What is Fado
When we think of Fado, the image that instantly comes to mind is a shawl, a Portuguese guitar and facial expressions reflecting heartfelt emotions.
The word "fado" comes from the Latin word fatum, which means fate. Fado sings about love, pain, loss and injustice of the society. Fado can be summed up in a single Portuguese word, "saudade", which translates into a feeling of longing, melancholy or nostalgia.
The result is a mournful melody that perfectly matches the personality of Portuguese people, very deep and romantic.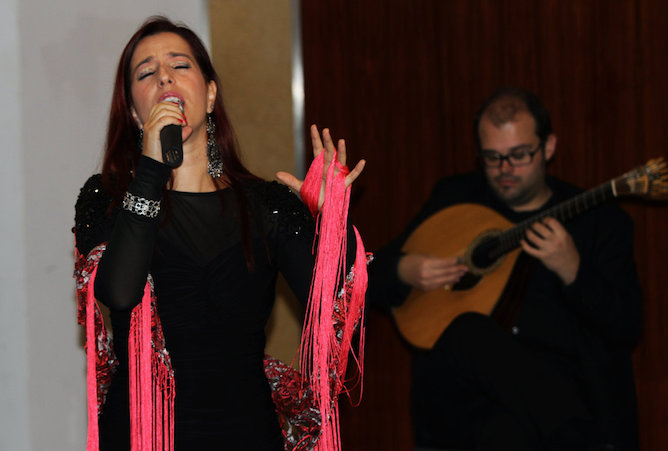 Roots and traditions
There are different theories about the origin of Fado. Some say that Fado evolved from the black slaves singing inside the boats that transported them from Africa to Brazil and that it was introduced in Portugal during the reign of D. João VI, when he returned from Brazil, in 1831.
Whatever its origins, Fado started to be noticed on the streets of Lisbon, particularly in the neighbourhoods of Alfama, Mouraria and Bairro Alto, in the early 19th century. It soon emerged in Coimbra and Porto.In Coimbra, Fado is related to the academic tradition. It is sung by students in the streets of the city.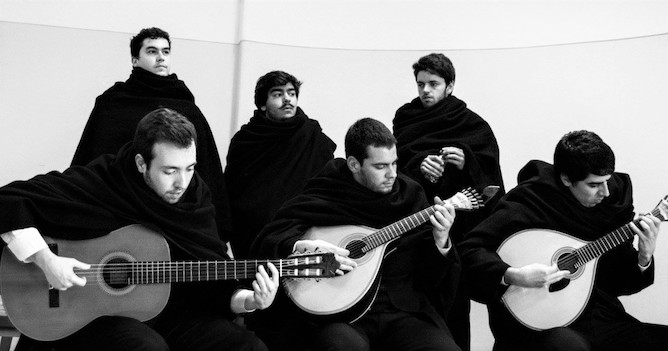 You certainly recognise some of these names. Amália Rodrigues, the most famous female Portuguese fado singer from the 20th century, was responsible for giving Fado to the world, and making it a Portuguese symbol when it was recognised by UNESCO as Heritage of Humanity.
Nowadays Mariza, Carlos do Carmo and Ana Moura work in keeping Fado's immortality.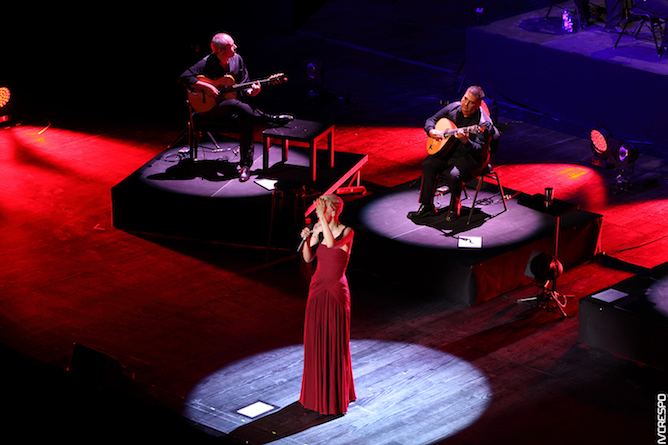 Some would say that the real tradition of Fado remains in Lisbon, but in the last three decades we could assist at a strengthening of Fado in Porto, with the opening of houses where you will find a perfect combination of traditional dishes with the favourite music of the Portuguese people.
Singers like Beatriz da Conceição, Fernando Maurício, Gisela João, Joana Amendoeira, José Fontes Rocha, Lenita Gentil, Maria da Fé, Tony de Matos and the poet Pedro Homem de Mello show that Fado can also be born in Porto.
Where can I listen to fado in Porto?
If you are staying in the city for a few days, you can't miss the opportunity to attend a show of Fado in Porto.
You can choose between a Fado show with no dinner, which is the more affordable way of watching Fado in Porto (around 15€ per person), or watching Fado at a restaurant (around 30 / 40€ per person).
I will first start with the most affordable options, as most people prefer them: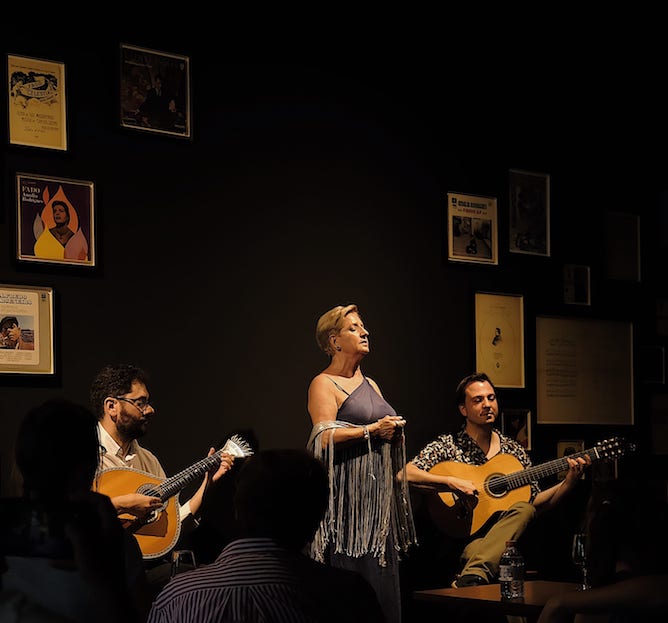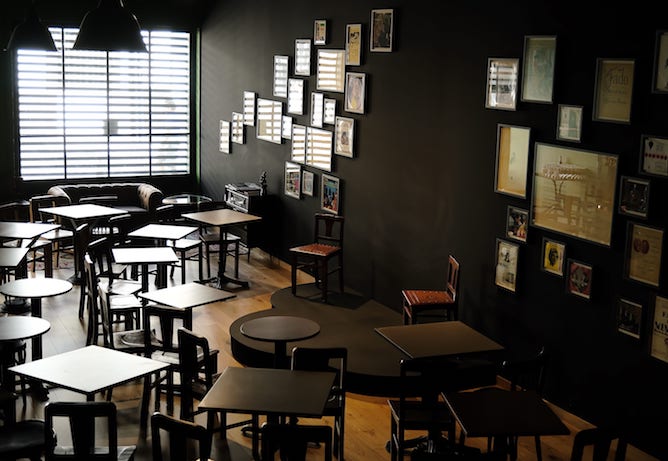 At Ideal Clube de Fado you are going to enjoy an intimate concert dedicated to preserving the pure Fado and honouring Fado's historical figures. They have some of the most experienced and respected Fado musicians in the city, such as the a-ma-zing Portuguese guitar player Mário Henriques.

One thing that I particularly like about this Fado show in Porto is that they play real Fado and not marches, folklore and songs. Most Fado places in Porto mix all these different styles without informing its customers so they end up playing less Fado (and you, my dear tourist, are innocently unaware of this).
So when it comes to real Fado in Porto, this is as authentic as it gets! 🙂
Moreover, before the show starts the guests meet with the musicians; it is your chance to ask any question you might have regarding Fado.
You can get an online ticket to Ideal Clube de Fado for only 19€, which includes a glass of Port wine or a bottle of water, in case you don't like Port (what? We need to take care of that once you get here!)
Ideal Clube de Fado hosts three concerts a day, which gives you plenty of flexibility to adjust your schedule at your will.
Schedule: three concerts at day, at 18h, 19h30 and 21h.
Price: Adults: 19€ | Youth (6 to 17 yo) and students: 14€ | Children < 6yo: free.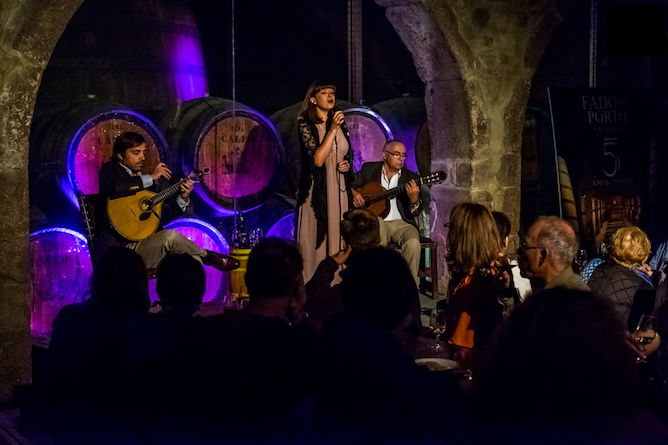 A really creative – and affordable – way to listen to Fado in Porto is to get a combo ticket for a Fado show + wine tasting at Calém, that allows you not only to visit one of the best Port wine cellars in Porto but also to enjoy the tasting Part while listening to fado played in front of the wine barrels. How does that sound?! 🙂
This is a really good deal because a visit and wine tasting at a Port wine cellars costs around 18€, and if you go to a traditional Fado show (in a restaurant) you will never pay less than 30€. Therefore, by getting a combo ticket for a Fado show + wine tasting at Calém you are saving a lot of money, as it only costs 23€.
Don't forget to book this activity in advance as it sells out fast – no need to print the voucher.
Schedule: only one concert at day, at 18h30.
Price: 23€, which includes a Fado show + guided tour & wine tasting at Calém.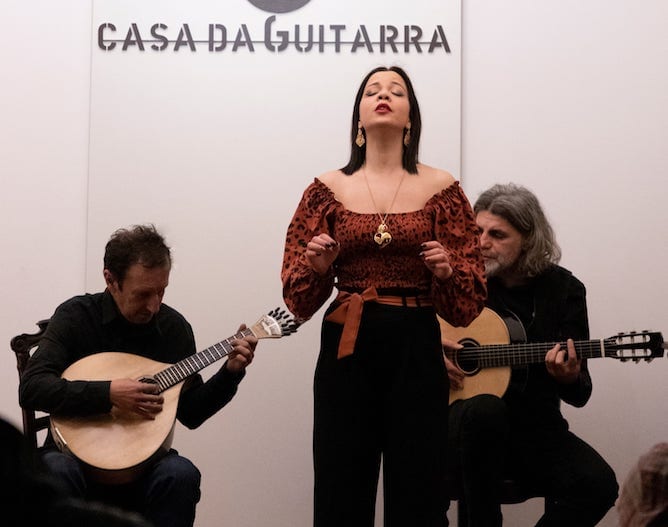 This is a good option for the budget conscious travellers as it is the cheapest way of listening to Fado in Porto. As it does not include dinner, you can get an online ticket to watch a Fado show at Casa da (Guitarra for 18€, which includes a glass of Port wine. Teenagers (13 – 18 years old) pay 16€, and children (3 – 12 years old) pay 15€.

This show lasts for one hour during which the melody of the Portuguese guitars will certainly take you on a journey into the Portuguese culture 🙂
Casa da Guitarra hosts two concerts a day, one at 18h and another one at 19h30, so choose the one that is most convenient to you.

I recommend you to get the online ticket to Casa da Guitarra as it is a very popular show and it gets sold out very easily. You do not need to print it, just show it on your mobile phone at the entrance.
Schedule: two concerts at day, at 18h and at 19h30.
Price: Adults: 18€ | Youth (13 to 18 yo): 16€ | Children (3 to 12 yo): 15€.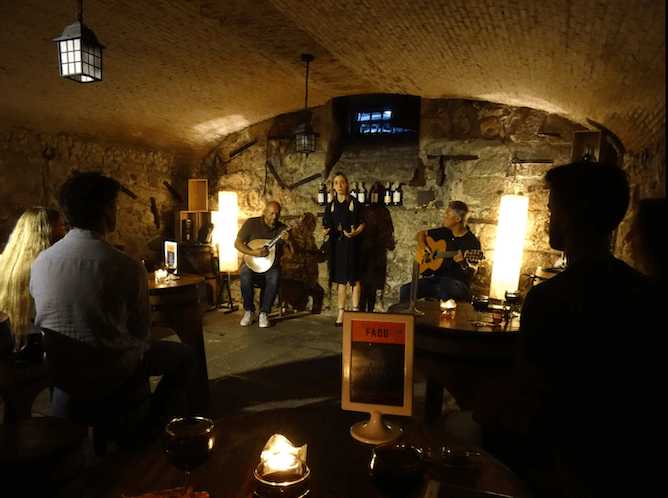 Casa de Fado's show takes place in two different concert halls, one in Ribeira and the other in Sé (the most typical neighborhoods of Porto, where you can still feel the soul of the city). Personally, I love the Ribeira room because it feels like I'm entering a cave full of local secrets 🙂 It's an old cellar with a beautiful arched ceiling , all lined with granite walls and with great acoustics, where you'll hear the musicians play and sing fado while having a drink at tables made from old wine barrels. It's a really cool place!

(If you are claustrophobic, you might prefer to book a fado show at another place).
Schedule: only one concert at day, at 19h.
Price: Adults: 17€ | Children (up to 12 yo): free.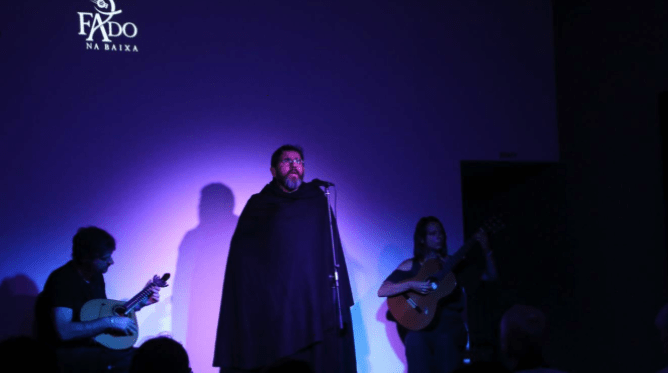 Fado in Baixa is different from the rest as it is divided into 5 moments (Traditional Fado, Portuguese Guitar, Coimbra Fado, Amália Rodrigues and Contemporary Fado). Each moment is preceded by a documentary about Fado and testimonies of famous musicians and singers.
Some people like the format because it is more informative, some consider it a bit touristy and get annoyed with the documentary interruptions to the music. It is up to you to decide if it suits your preferences or not!
The show starts at 18h and it lasts an hour. It is preceded by a glass of Port wine, much like the other options in this article.
It is advisable to book the online ticket to Fado in Baixa, as it is one of the most popular fado options in Porto. Usually this Fado show in Porto costs 19€ / person, but sometimes they have discounts.
Schedule: only one concert at day, at 18h.
Price: Adults: 19€ | Youth (13 to 18 yo): 16€ | Children (3 to 12 yo): 12€.
How to book the tickets: as they only makes one show per day they sell out super fast, so make sure to get your online ticket to Fado in Baixa.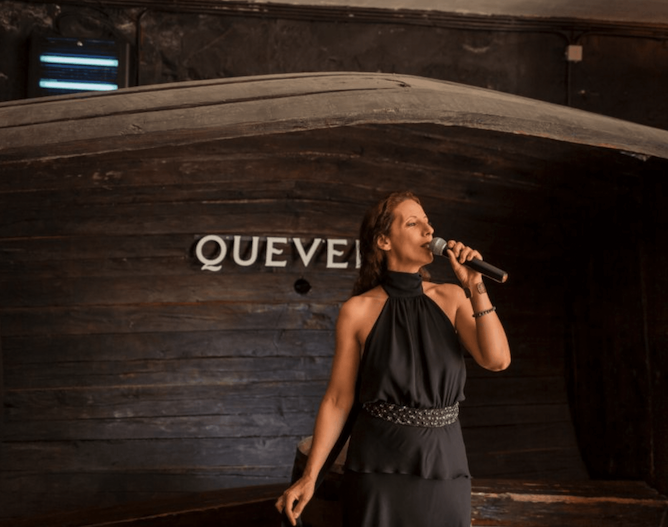 I have already mentioned Quevedo on my article about the best Port wine lodges in Porto but I am mentioning it again because they also provide Fado shows at its wine tasting room. The experience at Quevedo is not so much focus on the fado itself, but rather on experiencing different Port wines while listening to Fado.
In that regard, booking a fado show at Quevedo wine tasting room is a good option for those of you who are curious about fado but don't necessarily want to make it a priority, because you will combine it with a proper wine tasting, of three different Port wines.
Schedule: Quevedo has four short concerts per day, at 15h, 15h30, 16h and 16h30.
Price: Adults: 17€, which includes the fado show and THREE glasses of Port wines.
Restaurants to listen to Fado in Porto
As I wrote before, you can also watch Fado in restaurants. Some restaurants have a fixed price & menu, some let you choose à la carte. These are the best options:
Taberna Real do Fado
Rua do Dr. Barbosa de Castro, 58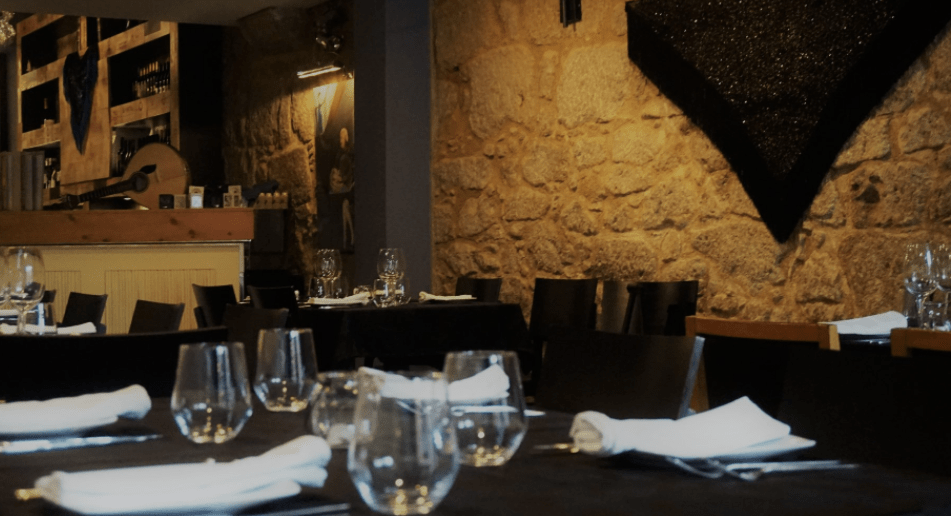 You can come in this cozy yet elegant place, located at the heart of downtown Porto, for a snack or a full meal. In addition to the main course (which is Fado :), the menu includes several options of Portuguese traditional gastronomy.
The menu also has several vegetarian dishes, so if you are in a group of friends with different diets, we would say that this is the best option.
If you decide on this place to hear Fado in Porto, it happens from Mondays to Saturdays starting at 20h30.
I recommend you to make a reservation beforehand.
How to get there: the subway station São Bento is a 10 minutes walking distance.
Rua de São Sebastião, 25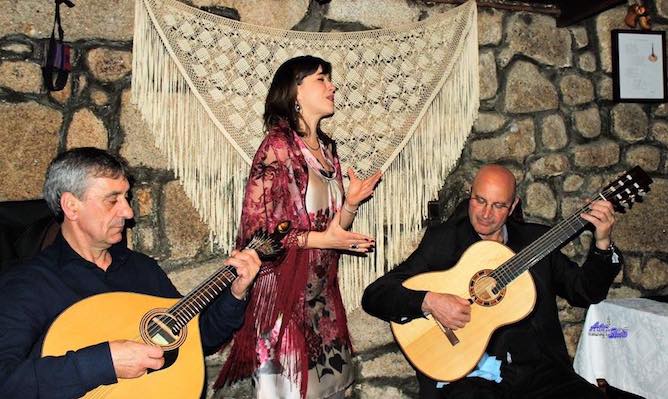 If you are looking for a way to experience Fado in Porto on a budget, this is not the place because bookings are subject to a minimum consumption à la carte of 40€ per person.
Nonetheless, it is really worth trying this restaurant! Upon entering you will feel like you are in someone's living room due to its intimate atmosphere, which makes it a perfect place to feel the true "saudade" of Fado. For most of the locals, Casa da Mariquinhas is the number one place in town to watch fado!
The live fado nights are from Wednesday to Saturday, starting at 21h. The usual Fado singers are Ana Pinhal, Paulo Cangalhas and Miguel Xavier. The first two were born in the city 🙂
How to get there: the subway station São Bento is a 5 minutes walking distance.
Largo São João Novo, 16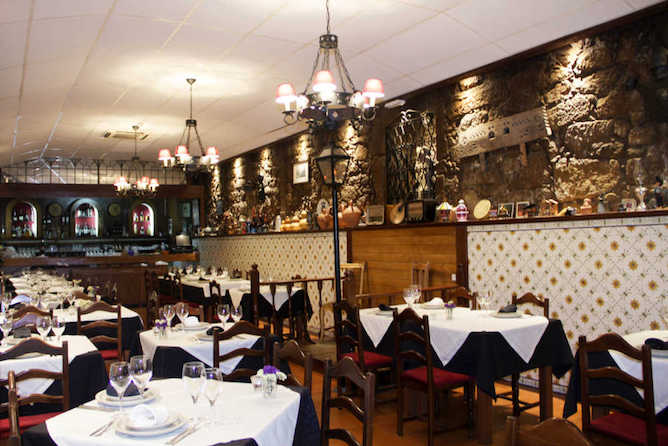 O Fado restaurant is a reference to hear Fado in Porto. No wonder. The interior in stone from this family run establishment offers an enjoyable and homely evening every time.
The price is around 40€, which is quite fair given the quality of the service.
Every day (except Sunday) you have the opportunity to appreciate the voices of Patrícia Costa, Paulo Carvalho e Samuel Cabral in keeping the tradition of Fado in Porto alive.
How to get there: the subway station São Bento is a 10 minutes walking distance.
Mal Cozinhado
Rua do Outeirinho, 13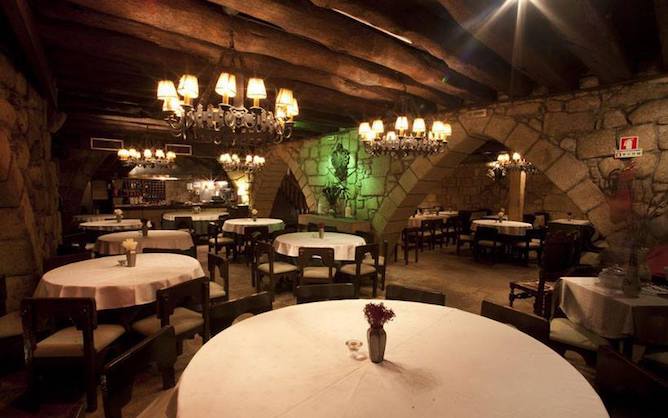 In this place you will find an amazing view over the river. Mal Cozinhado is located in the historical centre of Ribeira, by the riverside, and part of its building has more than 600 years of existence!
Some of the most renowned Portuguese artists have been here before, including the amazing Amália Rodrigues. Nowadays, we can delight ourselves with the mournful tunes of Valdemar Vigário, Rosinda Maria, Sandra Cristina e João Moutinho.
The menu doesn't have many options but if you are craving for a traditional Portuguese dish, this is the place to try the well-known codfish dish: "Bacalhau à Brás" for 20€.
The show takes place from Monday to Saturday, starting at 8.30pm.
How to get there: the subway station São Bento is a 10 minutes walking distance.
Avenida dos Aliados, 85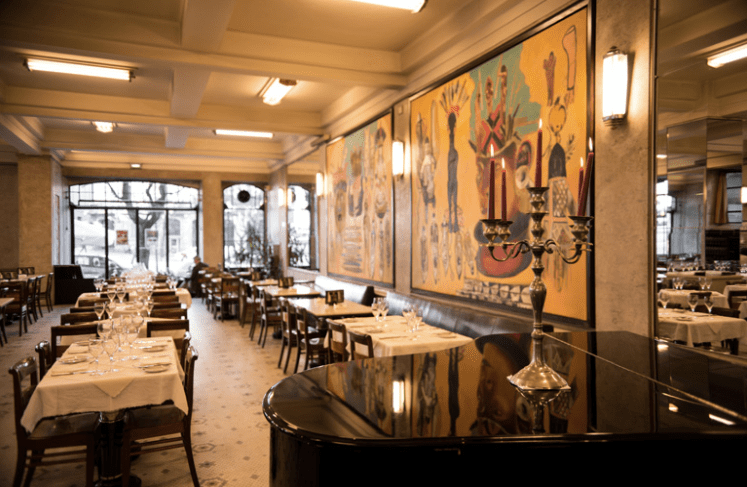 Café Guarany is one of the best coffee shops in town, where you can indulge in traditional "rabanadas" with egg custard. In my opinion, it's the best excuse to pick this place to hear Fado in Porto!
The fado shows take place on Thursdays and Saturdays at 21h30. There's no need to buy a ticket, our only advice to make the reservation for dinner.
How to get there: the subway station Aliados is literally in front of this cafe.
Adega Rio Douro
Rua do Ouro, 223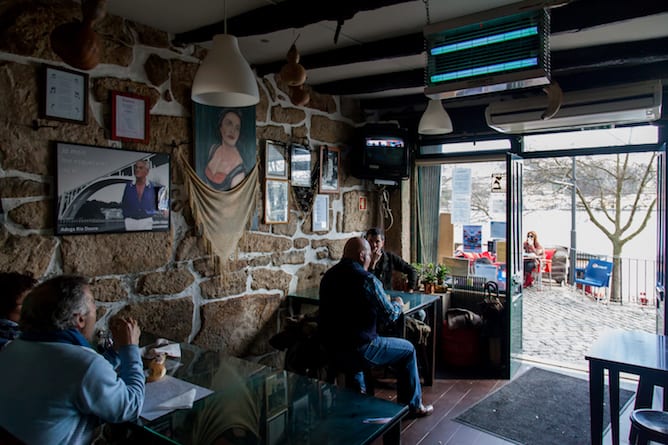 Upon arrival, the yellow canary will welcome you with the promise that in Adega da Piedade, the name for which this restaurant is better known, you will only breathe music.
The place has a breath-taking view over the Douro. Better is impossible! Actually, it is possible, but only if you are treated "Meu amor" or "Meu querido" (my love or my dear, respectively) by Dona Piedade, the owner of this tasca in Porto.
On Tuesday afternoons, you can find a bunch of people listening to Fado vadio while delighting themselves with the famous pataniscas de bacalhau (fried codfish cakes) from Dona Piedade.
It is, without a doubt, the best experience to get to know the soul of Porto, and for a very small budget. Each patanisca de bacalhau costs 1,50€ and the other items of the menu are around 1-2€. Hard to believe, isn't it?
How to get there: take the tram #1 or the bus 500.
Save this article for later: