Roaming the streets of Porto provokes a lot of curiosity. Like most, I find myself wondering about the name of a street or its history. I see a stunning historic building or an old church and I want to know the story behind it.
That's why I am writing about the most famous streets in Porto, those with commercial riches, historic heritage, breathtaking architecture and even ones with interesting and hidden stories. Trust me, the more you learn something new about a street in Porto, the more you'll fall in love with this Northern city.
As Porto is quite a hilly city, you may consider exploring its streets on a segway tour (they are quite popular these days!) or on an electric bike tour.
[getyourguide ids='30740,181475′ data-gyg-cmp='famous-streets-porto' data-gyg-placement='content-top' data-gyg-locale-code='en-EN']
These are the most famous streets in Porto:
Rua Escura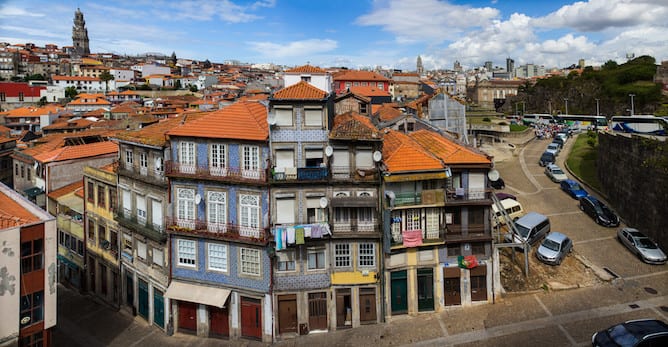 You can find the street off of Porto's cathedral, on the back stairs. The name Rua Escura literally means the Dark Street. If you're curious about the name, we've written an article about why is Dark Street called that way.
Rua Escura is a short narrow street, but with an interesting character and a deep history. The buildings are 2-3 stories long and they don't get much sun exposure.
Historic records show that the street was called Rua Nova – "the New Street" – because it was one of the first streets to be built outside the city walls. The street was in the back of the old city, hidden away. People were scared to go out because it was thought of as unsafe, as Rua Escura was the backstreet of the city where people thought bad things occurred.
This hidden aspect of the street is why it later became the place for drug sales and consumption. However, the City Hall tried to solve this by opening up the space to link it to richer areas like Viela do Anjo. It turned out, rich people didn't want to mix with poor people and vice versa. So it became isolated again. Nowadays, the growth of tourism and movement in the area allowed for an organic improvement.
Rua Escura is one of the most famous streets in Porto for its deeply rooted history. When I go in there, there's something different about the way of life: there's humility and a sense of community. So get some company and visit Rua Escura, get to know the history and the surroundings of this ancient street.
How to get there: São Bento train station is a 4 minutes walking distance.
Rua das Flores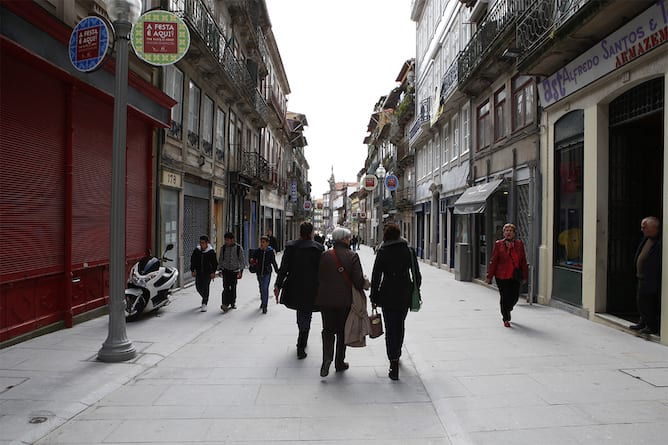 Rua das Flores extends from São Bento station all the way to Largo de São Domingos. The name of the street literally means Flowers' Street because the land it was built on had plantations of flowers and some vegetables.
The street used to connect many religious buildings like the 1521 Igreja da Misericórdia, the 1245 São Domingos Convent and the 1518 Avé-Maria de São Bento Convent (it doesn't exist anymore, São Bento train station was built in its place).
The history of this street dates back to 1521 when King Dom Manuel ordered the construction of Rua das Flores on a land owned by the Bishop. The street was the affirmation of the monarchy presence in the religious Porto. It was built in a time where Porto was undergoing an image alteration and the religious order thought that building more Christian buildings would force the Jews out.
The decision to open Rua das Flores was to expand the overgrowing medieval city and connect its exit doors to the Ribeira area. The street helped the immigration beyond the 18th century wall. It also lessened pedestrians and merchants' traffic from Rua da Bainharia.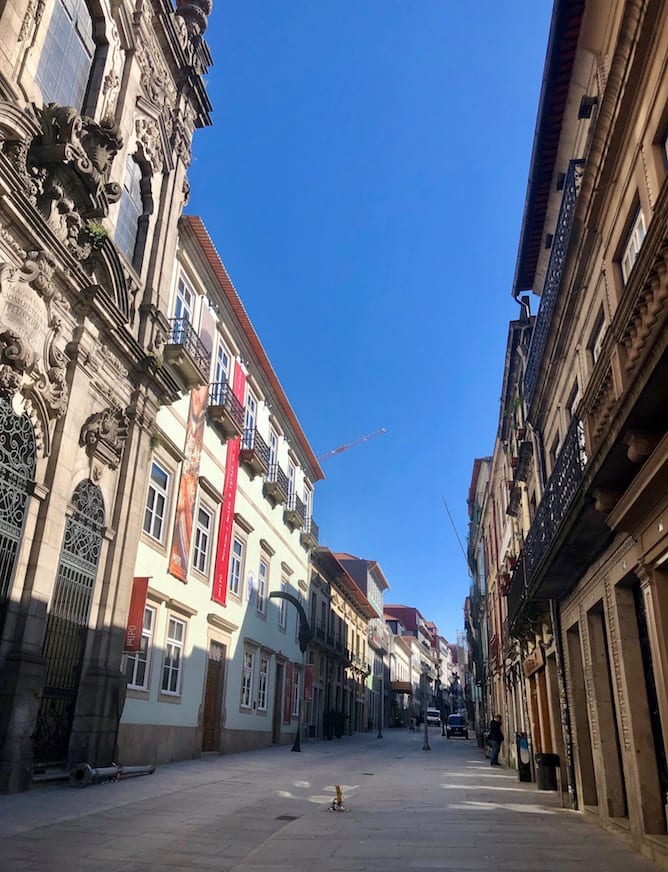 Previously frequented by Jews for commerce before its opening, Flores became the street of noblemen and merchants. That's why the image of the street as The King's street gave it its value. In later years, it became specialized in gold, diamond and jewelry stores. Moreover, the most important avenue in Porto, Avenida dos Aliados, opened in 1917 and that helped reinforce Rua das Flores's commercial importance.
At the end of the 20th century, beginning of 21st century, Rua das Flores has lost the prestige it once had, a phenomenon that wasn't unique to the 16th century street. Many streets on the center of Porto lost residents, commerce and pedestrians. It got to the point that people were afraid of walking in the dark abandoned streets. This downward spiral came from the change in consumer habits and the opening of big shopping centers.
However, thanks to "The Society of Urban Rehabilitation of Oporto" created by Municipality of Porto, Rua das Flores become, once again, one of the most famous streets in Porto. The street faced a floor intervention which pushed a lot of hotels to open in the area.
If you're wondering how the nobles used to live in 16th century Porto, check out Casa dos Ferrazes. You can also see what is now Flores Hotel & Spa which used to be an 18th century Casa dos Constantinos.
There are great places to eat and drink including, Chocolataria das Flores, Puro 4050 and Paladar. Also check out Chaminé da Mota, a rare second hand book store, and Claus Porto, a cool gift shop. Whenever I am in Rua das Flores, I always see street performers as well.
How to get there: São Bento station is a 1 minute walking distance.
Rua de Santa Catarina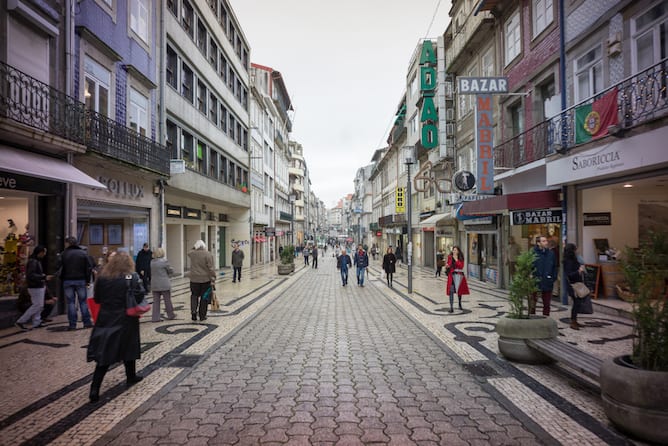 Rua de Santa Catarina starts at Praça da Batalha and goes all the way to Praça Marquês de Pombal. The name Santa Catarina emerged from the famous blue-tiled 18th century Capela das Almas, where Saint Catarina de Alexandria is celebrated.
Santa Catarina is a street specialized in retail trade, and it's not only one of the most famous streets in Porto but one of the most important commercial ones. It's a relatively straight street with a bit of a curve around the middle.
Santa Catarina wasn't always this length. Documents show the street being registered in 1748 under Rua Nova de Santa Catarina. And in 1771, it underwent works to get it more aligned. In 1784, João de Almada e Melo was the one responsible for extending the street all the way to Praça Marquês de Pombal.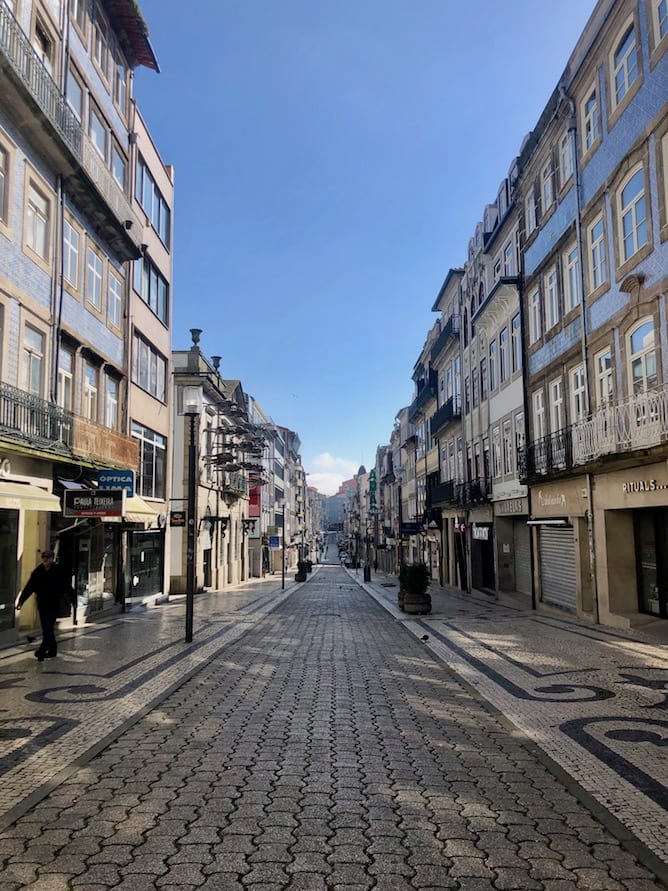 Rua de Santa Catarina is one of those streets that changed its dynamic over time. For example, during the 70s, Santa Catarina had many ready-to-wear fashion and shoe stores. There were also costume jewelry and luggage stores. And in 1988, the street was the home for the first Zara store to ever open outside of Spain. Nowadays, Santa Catarina is a mix of high-end and small retail stores, restaurants, hairdresser and more.
There is plenty of stuff to do in Santa Catarina. But number one is to shop, shop and shop! Many food options are available in the area as well including the famous Majestic Café. Also, don't forget to stop by at the famous Capela das Almas to take great pictures of its stunning exterior.
How to get there: the subway station Bolhão is a 5 minutes walking distance.
Rua de Cedofeita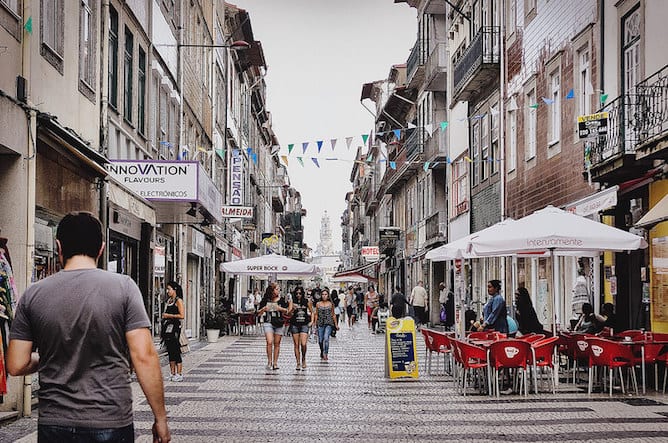 Porto was always the big brother of commerce, even today with tourism – and Rua de Cedofeita proves it. The street goes from the famous Praça de Carlos Alberto all the way to Rua da Boavista.
At first, the street was called Rua da Estrada (the road's street) because it used to take people to Póvoa de Varzim and Viana de Castelo. Later on, it inherited its name Rua de Cedofeita from the Roman church of São Martinho de Cedofeita.
Shape-wise, Rua de Cedofeita was built with the logic of continuity so it is very straight. The logic of Porto as a scenery was another goal, as the street was created to be in-line with Torre dos Clérigos.
Rua de Cedofeita opened in 1762 with the goal of connecting the high Porto area with Ribeira. The person responsible for the work was João de Almada e Melo through the Public Works Board since there were no private projects at the time. The only people that could construct streets were architects and the military.
Rua de Cedofeita is one of the most famous streets in Porto due to the diversity of commercial and retail services it offers. You can see Rua de Cedofeita 395, a house where Dom Pedro IV lived during the Porto siege. He used to live in Palácio dos Carrancas (Soares dos Reis museum today) but he moved after attacks from his brother's army. My favorite things to see in the street are the buildings. There are also tons of new and cool stores open.
How to get there: the subway station Lapa is a 5 minutes walking distance.

Rua de São João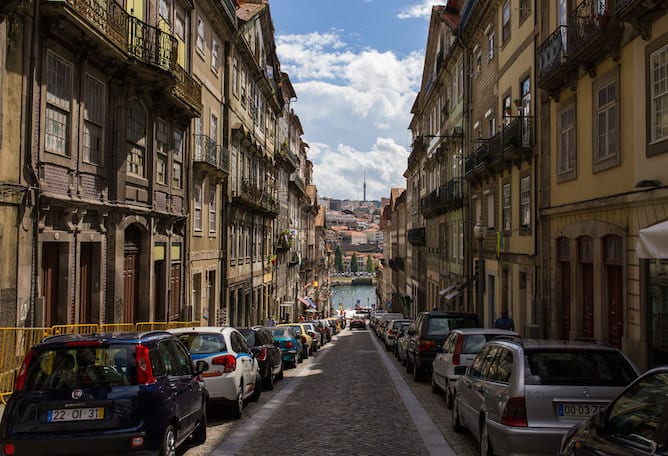 At Ribeira neighborhood and connecting the river to Rua dos Mercadores, you'll find one of the most important, culturally relevant and famous streets in Porto. Named after Saint John, the street is one of those streets that come to life around June 23rd, where São João festival celebrations take place.
The street was designed by João Almada e Melo, the Marquês de Pombal of Porto. His design had an Italian influence. You can also see the unique 18th century Portuguese architecture called Pombaline style where windows are all on the same level, even the ones with balconies.
The reason this street was opened in the 18th century was to build an alternative to Rua dos Mercadores which was getting too small to transport goods. It was really done in an industrial way by putting the street above the river.
I love walking on Rua de São João and getting to the riverside. I think the architecture is mesmerising. You can have traditional Portuguese food at Tapas 65 or sit down, eat and have a drink at Ribeira Lounge Restaurant & Cocktail Bar.
How to get there: São Bento train station is a 9 minutes walking distance.
Largo de São Domingos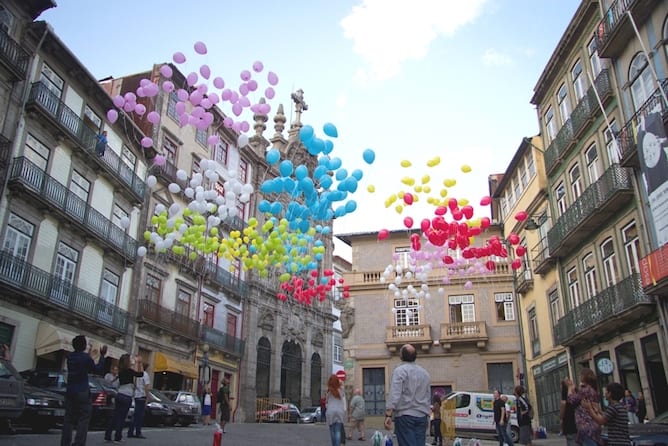 Largo do São Domingos connects many famous streets in Porto from different eras: medieval (Rua dos Mercadores), 16th century (Rua das Flores) and 19th century (Rua Mouzinho da Silveira). The name comes from the São Domingos Monastery which was there before the Largo do São Domingos was built.
This street was built to answer the questions of accessibility and connection. The street made it possible to go north or to Torre dos Clérigos. It connects to Ribeira, and it ends literally on the side of the famous Palácio da Bolsa.
The gothic São Domingos Monastery which was built between 1239 and 1245. It was destroyed by fire in 1832 and only the façade survived. Later on, it became the place where the municipality would get together for important meetings. At one point in time, Banco de Portugal opened, making Largo do São Domingos financially important. Now the Monastery is a youth foundation.
When you're in Largo do São Domingos, you can eat at DOP, shop at Ideal&Co or rent a bicycle at Lopes & Lopinhos.
How to get there: São Bento train station is a 7 minutes walking distance.
Rua de Sá da Bandeira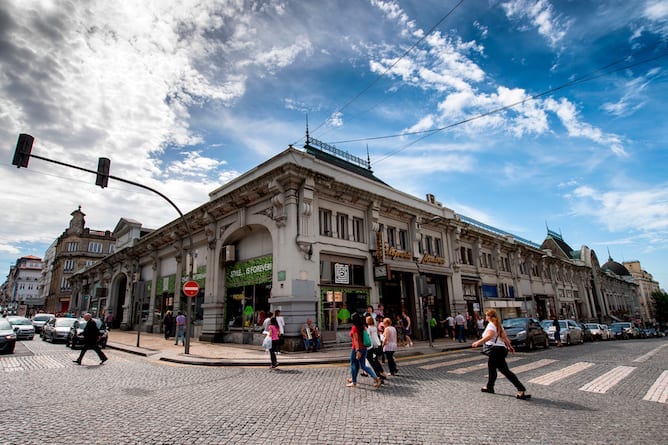 Close to Aliados and Bolhão, you can find one of the most famous streets in Porto, Rua de Sá da Bandeira. The street was named after Bernardo de Sá Nogueira de Figueiredo, a politician who was involved in the Siege of Porto.
The street has one of the most unique and memorable aspects of a street. It makes a cool curve near Sá da Bandeira theater. For some reason, when I think of Sá da Bandeira, I think of an art district.
The street opened in 1836 when the land was abandoned by priests who ran away when D. Pedro IV entered the city, leaving the convents behind. The goal of opening Sá da Bandeira was to create a fast connection between Praça de Dom Pedro (now Praça da Liberdade) and Rua do Bonjardim.
Houses in Sá da Bandeira began appearing in 1843, 7 years after the street opened. The first houses were the ones facing the old abandoned convents.
Prepare for a good time when you're visiting Rua de Sá da Bandeira. Besides Sá da Bandeira theater, you have the famous Café A Brasileira and Mercado do Bolhão's western entrance, as well as many stores and restaurants.
On this street you'll also find two of the best luxury hotels in Porto: Teatro Hotel and Pestana Porto – A Brasileira.
How to get there: the subway station Bolhão is a 3 minutes walking distance.
Rua de Mouzinho da Silveira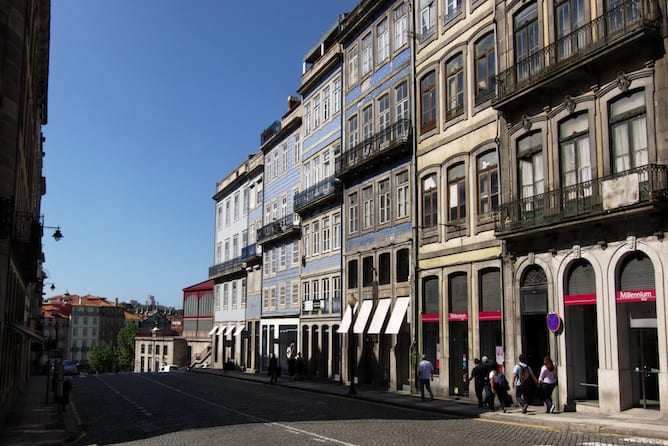 Rua de Mouzinho da Silveira is parallel to Rua das Flores. The street was named after José Xavier Mouzinho da Silveira, one of the most important political figures in the Liberal Revolution of 1820 that started in Porto.
The street is straight with a bend towards the end. It took the route of Rio da Vila, concealing the river in a subterranean tunnel which helped solve one of the main public health concerns in the urban center at the time.
Planned in 1872 and opened in 1875, Rua Mouzinho da Silveira serves the same purpose as Rua das Flores, connecting the old city's interior with Ribeira. In the 1870s, there was intense commercial traffic in Ribeira making it difficult to drive in the narrow streets of the old medieval city structures. So, a need for a link between the riverside and the city center to connect São Bento with Rua de São João was urgent.
With Luís António Nogueira asthe layout designer, buildings were put down as part of the sanitation efforts. Areas with smelly tanneries and even the entire river plumping system were all gone. It wasn't an easy project due to the dimensions of the street and the quality of the land which required significant drilling.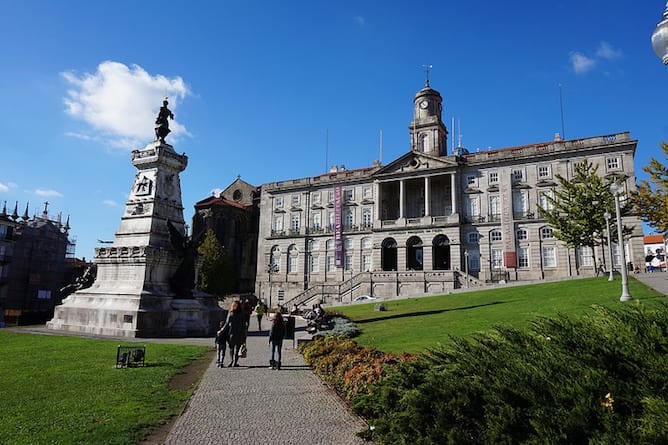 Just like Rua das Flores, Rua de Mouzinho da Silveira witnessed an economic growth thanks to its shops until the 21st century where it was followed by a period of stagnation. The area lost its economic glory and there were fewer residents, fewer shops which addressed the need for an immediate intervention. It is hard to imagine the street we see today, full of life, full of movement being deserted and abandoned.
The new life given to the street was a consequence of the same urban intervention that Rua das Flores have gone through. When the intervention started in the Porto center, there were only 23% of buildings in good condition. 30% were in a reasonable state, 42% were in poor state and the rest were in ruins. The idea of the urban intervention was to increase building's livability standards, improve parking and fix pavements.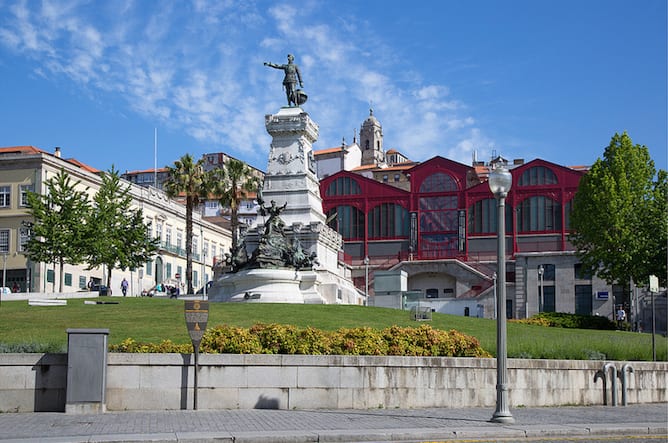 One more fascinating thing about the area is that during the urban intervention, there were many archaeological discoveries and one of them was a cemetery on Rua Ferreira Borges. Furthermore, the Municipality of Porto announced in 2015 that it will have a subterranean museum in a section of the Rio da Vila river after the amount of history they discovered down there.
I encourage you to visit Rua Mouzinho da Silveira and see the São Francisco gothic convent with baroque cravings which shares a wall with the Stock Exchange Palace. There is also Casa do Infante, a historical archive and a museum. Nearby, there's Ferreira Borges market and tons of places to shop and eat.
How to get there: São Bento train station is a 1 minute walking distance.
Save this article for later: