What better goal as a couple that than by discovering a city together?
If you are on a romantic getaway, the first thing you should do is book a romantic hotel in Porto. Then you should read this list of the most romantic things to do in Porto.
This is a personal choice but I have done all of them, so trust me. 😉 Enjoy them with your better half!
Drums, please. These are the most romantic things to do in Porto:
Watch a Fado show

Even though Fado is not traditional from Porto (it is originally from Lisbon and Coimbra), it is one of the most romantic and traditional things in Portugal. Imagine yourself listening to some beautiful Portuguese guitars while sipping some Port wine – how could you get more romantic than that?
Usually the Fado shows run during dinner, and I've already written about the best Fado houses in Porto. As it usually includes dinner it ends up being an expensive activity (about 30/40 € per person).
However, if you are only interested in listening to Fado, I recommend that you to buy the online ticket for the Fado show at Casa da Guitarra, which is very cheap – only 14€ / person.
If you want to listen to Fado in a beautiful space, I recommend the Fado show at Galerias de Paris. They have some of the best musicians in town and the bar is beautiful, with an intimate decor.
[getyourguide ids='168071,320588′ data-gyg-cmp='romantic-things-to-do-porto-widget-1′ data-gyg-placement='content-top' data-gyg-locale-code='en-EN']
Go on a romantic visit to a Port wine cellar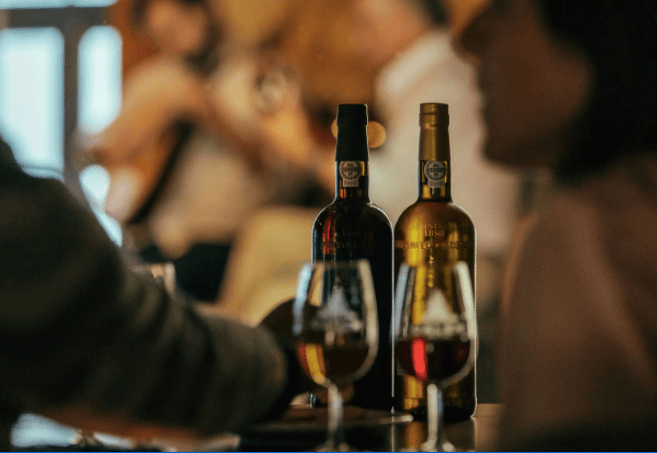 There are plenty of Port wine cellars but when it comes to romance, none beats Croft's and Graham's.
The visit to the cellars of Calém is preceded by a small interactive museum, which I personally liked a lot – mainly due to a table where you can test your ability to identify aromas, together with your better half 🙂
If you buy the online ticket online to Calém cellars you will also be entitled to a Fado show at the end – and what's more romantic than drinking a glass of Port wine to the sound of Portuguese guitars?

Graham's is another great choice as it is very elegant and spacious. The tasting room has a romantic view as well and the staff is as discrete and friendly as you can imagine.
You can book your visit to this Port wine cellar at grahams@grahamsportlodge.com.
Take a tram ride by riverside
This is such a lovely thing to do if you are on a romantic getaway in Porto, as in many countries there are not tram lines. In Porto we have three, and I strongly recommend you to take tram #1 by riverside, which will lead you from Ribeira (Unesco World Heritage neighborhood) all the way to Foz, by the ocean.
If you want to save some money, buy the combo ticket for the Porto tram + Hop On Hop Off Bus + Guindais Funicular, which gives you access to ALL the Porto trams for 24 hours. This combined ticket pays off immensely because if you buy each ticket individually, it is much more expensive.
Go for a romantic walk at the Crystal Palace Gardens
Walking at the Crystal Palace gardens is definitely one of the top romantic things to do in Porto!
There is nothing not to love about it: the gardens are stunning and filled with beautiful creatures such as peacocks. It has a stunning romantic view over Porto (more specifically, the Arrábida bridge). And it is free of charge!
Take my suggestion and keep going down the stairs as you'll find plenty of romantic, hidden spots at the Crystal Palace gardens.
Have a picnic at Serralves' Park
Serralves' contemporary art museum has a large park that was designed in such a way that there is always some tree blooming throughout the year. Moreover, it has large flat and even fields close to the lake where you can easily make a romantic picnic in Porto.
My suggestion is for you to buy sausages, cheeses and bread at one of the typical grocery shops of Porto, a bottle of wine and some glasses and go enjoy the company of your better half at Serralves' parks. It is definitely one of the top romantic things to do in Porto!
The ticket to Serralves costs 20€ (garden + museum). You can buy the online ticket to Serralves, and this way you skip the queues, which are usually quite long!
Enjoy the sunset at Serra do Pilar
We say that the only good thing in Gaia is the view towards Porto, and I bet my chances that it is because of the splendid view over Luis bridge and Ribeira that you get from Serra do Pilar.
You can simply get the yellow subway line to JARDIM DO MORRO and from there it is 5min walking distance.
As it is a viewpoint there is not much to do rather enjoying the view, so I not take a bottle of wine and some glasses to give an extra romantic boost to it? 🙂
Go on a private sailing tour
I thought river cruises were not for me until I tried a private one departing from Afurada, a small fishermen village just across Porto.
For 2h we had the opportunity to see not only Ribeira, the picturesque riverside neighborhood of Porto but also Foz, where the river meets the ocean.
In the middle of the ride we were surprised with an amazing tasting of Portuguese sausages and cheeses and a glass of Portuguese sparkling wine. We felt so relaxed and in such a private environment that we even sunbathed on the boat!
I really think this is one of the most romantic things to do in Porto, and it might even be the perfect step for that romantic proposal that you have been planning 😉
If you want to have a similar experience just email our sailor, Tomás, on tomassilva@flyfishinginportugal.com. Don't forget to use the code PORTOALITIES5 to claim your 5% discount on any experience provided by him. I am sure you will not regret it as I am surely looking forward for my next trip there!
Have a drink at The Yeatman Hotel bar
I am so in love with The Yeatman Hotel's bar that it couldn't be missing on the top romantic things to do in Porto!
This five star hotel has a wonderful bar decorated in classical style with a magnificent view over the douro river and Ribeira. On warmer days, you can be on the large terrace on the outside.
It is quite an expensive bar but you can simply have a glass of wine or some hot tea and stay there for a couple of hours as no one will bother you.
And trust me, such a romantic view, enjoyed with the company of your better half, is definitely worth it!
The schedule is: Sun – Thu: 9h – 1h. Fridays, saturdays and holidays: 9h – 2h30.
Watch a concert at Casa da Música
I honestly think that going to a concert at Casa da Música is one of the top romantic things to do in Porto!
Casa da Música has a gorgeous concert room that combines baroque and contemporary architecture and the acoustic is terrific. It hosts concerts of several music styles and for different prices so I am sure you can find some that interests you. You can check Casa da Musica's agenda.
Have brunch on a Sunday morning
Seriously: is there something non romantic about having brunch?! 🙂 I thought so! Which is why I included it on the top romantic things to do in Porto.
I have already extensively written about the best places for brunch in Porto, but the places I go the most are Rosa et Al, a lovely boutique hotel, and Casinha Boutique Café. The brunch at Rosa Et Al is more expensive (~20€) and it requires reservation. At Casinha Boutique Café the brunch menu costs 10,95€ and you don't need to make reservation.
If you are not really a brunch person, then you should consider going to one of the most romantic restaurants in Porto.
Walk by the Atlantic Ocean at Foz
Foz, the ocidental neighborhood of Porto, is ideal for a romantic walk. There, you'll be surrounded by fishermen and bike riders, while you walk gently by the water front. You can stop for a drink and a Portuguese dish at Casa de Pasto da Palmeira, it is a lovely spot at Foz.
If you are not really a brunch person, then you should consider going to one of the most romantic restaurants in Porto.
Have a cocktail at a rooftop
There are plenty of rooftops in Porto. Some of them are quite sophisticated and located at the best luxury hotels in Porto, others are more humble and relaxed. Whatever you choose, I am sure you will find it pretty romantic.
Save this article for later: