Most people don't realise how much there is to know about wine tasting in Porto. Besides the famous Port wine cellars, there are some amazing wine bars in the city waiting for you, and great wines at very affordable prices that you can buy at supermarkets. Come and take a look at this amazing wine world! 🙂
1. Go for a wine tasting at the Port houses in Porto
If you are in Porto for a couple of days you shouldn't miss the opportunity to visit one of our famous Port houses in Porto. There, you will be able to only to learn about the entire production process of Port wine, but also to taste different Port wines. The wine itself in produced in the Douro Valley, but the major brands age its Ports at the Port houses in Gaia, and hence you'll be able to see the large vats and the smaller wine barrels… it is magic! 🙂
I've already written about the best Port houses in Porto. Nonetheless, let me give you a handful of advices:
Where to go: Usually, the Port houses by the riverside are full of people. The groups can take up to 30 people, which, in my opinion, decreases the overall quality of the experience. You won't be able to make a lot of questions or pause to take pictures. Therefore, I always prefer to go to the furthest Port houses, as the tours are more intimate and personal.
What to taste: In most cellars, the standard tasting is very poor, consisting of a fine tawny, a fine ruby and a young white Port. In my opinion, it is really worth it to pay a little extra to taste better Port wines, specially because the differences between rubys and tawnies are easier to spot the older the wines get. Better wine tastings allow you to get a proper introduction to Port wines and to better understand your particular preferences, so go for it! :)In my opinion, you should try at least a 10 years old Tawny, an LBV and a White Port.
How many Port houses: This is a very personal choice but in my opinion, you should focus on quality rather than quantity. It is more than enough to visit two Port houses with informative and well structured tours, rather than visit five with awful wines and scripted tours. In that regard, I find Graham's Port house particularly good.
Audio guided visits: If you already know a little bit about Port wines, then you might find the visit to Taylor a rather interesting one. The visit to Taylor is completely automated (no guides, only audio guides), which is great for people like me, who prefer detailed information at my own pace. However, it is not the best Port house for groups of friends, and there will be no interaction among you!
Be careful with free tastings! This might seem a stupid advice, but it certainly isn't. If you buy a cable car ticket, go for a hop on hop off tour or have the 6 bridges cruise you'll get a free Port wine tasting at one of the Port houses. Don't expect good quality wines in there!
2. More wine tasting in Porto: the best wine bars
For those of you who are not so found of Port wine (maybe you just haven't found the right one… ;), there are some other cool options. Slowly but steadily wine is becoming increasingly popular and respected in the country, with proper wine bars opening in the city.
These are perfect places to have a glass of wine to go along with some petiscos, such as creamy sheep cheese, Portuguese prosciutto or the traditional canned sardines.
And the best wine bars in Porto are…
The Wine Quay Bar is definitely one of my favourite spots at the moment, as it is one of the few places for a proper wine tasting in Porto. It is a cozy wine bar, very close to D. Luiz bridge, and facing the Port houses on the other side of the Douro river.
There you can find a short yet careful selection of wines from several wine regions, such as the Douro Valley, the Green Wine Region, Alentejo and some more. The prices for a glass of wine range from 2,50€ to 7€, which is fairly reasonable, if the wines are good (which they are). You also have the opportunity to buy bottles of wine, to either drink at the bar or simply take back to your hotel.
At the Wine Quay bar you have many petiscos to go along with your wine, such as a nice selection of Portuguese cheeses and Portuguese canned fish (sardines, mackerel, codfish and anchovies) and, naturally, our amazing smoked meats.
Capela Incomum is the cosiest wine bar in Porto, and it has a rather unusual location: after all, it is built inside an old chapel that hasn't been used for the past 50 years.
Given it's intimate atmosphere, with candle lights and blues' music, Capela Incomum is the perfect spot for a romantic date, and for those willing to go on a first wine tasting in Porto.
This wine bar has a short – and a bit predictable – wine list, mostly focused on wines from the Douro Valley. Here you can also find a few sparkling wines, green wines and also Port wine (even though from a single main stream brand – what a pity). To go along, you can pick some home made bruschettas, cheeses and sausages.
Capela Incomum may not be the best spot for wine connaisseurs, but it's definitely a great choice for a wonderful night in Porto.
Prova is yet another perfect wine bar for an intimate date in Porto.
Located right next to the red ironed Ferreira Borges market, this beautiful and discrete wine bar offers a small yet careful selection of wines (ranging from 3€ – 10€ / glass), as well as a superb cheese board.
At this place you can really ask the waiter for an advice on what wine to drink according to your palate, something that unfortunately is not that common in the city. For this particular reason, Prova is definitely one of the best spots to make an introductory wine tasting in Porto.
I have mixed feelings about Mirajazz, the latest wine bar to open in Porto.
It has a great location, with a large terrace facing the Douro river, where you can watch a beautiful sunset with the sound of Jazz music.
However, the wine list is rather short – 10 white wines and 9 red wines, as well as a couple of Ports from Graham's -, and there are not many options to go along with the wines (only a couple of toasts, a cheese option and a smoked meat one).
Therefore, I would say that this is a good spot to grab an easy drink after work, with your friends.
If you're enjoying this post, don't forget to pin it for later: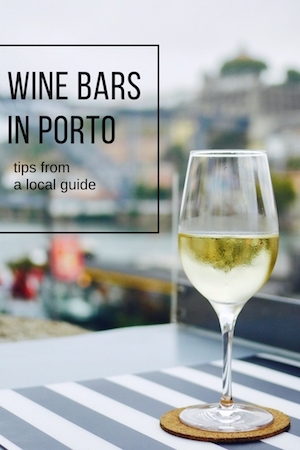 3. What about buying wines in Porto?
If you would like to do a more unpretentious or intimate wine tasting in Porto, you might as well just buy a good bottle of wine at a wine store or at the supermarket.
Regarding wine stores, you can find good Portuguese wines at the traditional groceries stores in Porto, as well as at wine stores such as Gota a Gota or Universo Carmim.
If you don't want to take the time to go to a wine store, you can simply go to the supermarkets – fortunately, it is possible to find some really good value for the money wines! And, of course, I am here to help you pick some 🙂
But before I make some suggestions, let me tell you that I am both a wine snob and a Douro Valley girl. I prefer good quality wine than go for the cheapest wines you get.
As for Douro wines that you can find in the supermarket, these are some red wines that you can easily find in the supermarket for 4€ – 10€: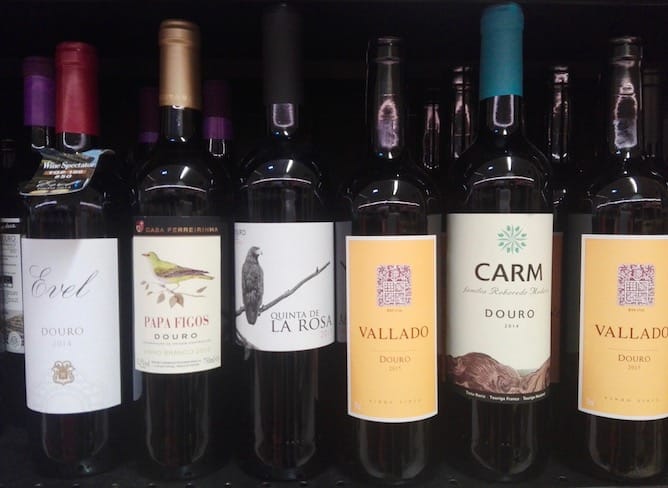 As for Green Wines, my recommendations are:
RUN AWAY from the most popular brands such as Gazela, Muralhas de Monção, Mateus Rosé, etc. These are not wines, they're rubbish.
Definitely go for wines from these producers: Quinta do Soalheiro, Palácio da Brejoeira, Quinta do Ameal, Anselmo Mendes. Yes, they are more expensive, but definitely worth it.
Above all, forget about the nonsense that Alvarinho is the best grape in the Green Wine Region, and that Touriga Nacional is the best in Portugal. Those dogmas make no sense. Be brave enough to try new flavours, new grape varieties, new regions: discover your own palate, go for great wine tastings in Porto, discover the amazing world of the Portuguese wines! 🙂
Join a private tour in Porto with me!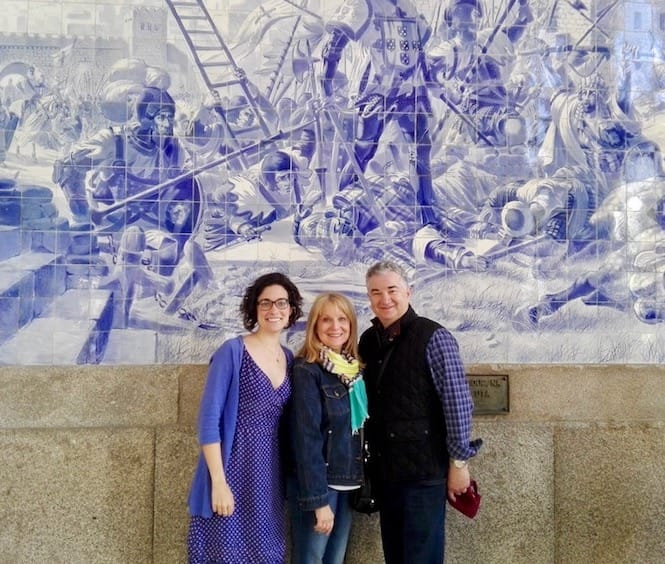 The best way to get to discover Porto is to join me on a private tour!
To know more about my private tours in Porto, simply send an email to sara@portoalities.com telling me the dates you'll be in Porto, and what would you like to see & do. You can also read the feedback of people who took a tour with me here.
It will be a pleasure to welcome you in Porto! 🙂