Porto, a city with a unique identity, offers many cultural and gastronomic experiences that you won't find anywhere else.
Even as a resident of Porto, I am fascinated by this city every day.
But is Porto expensive?
In this article, we'll take a closer look at the cost of living/traveling to Porto. We'll go over transportation, food, activities, housing and healthcare. I promise you, the answer will not be it depends.
So, is Porto expensive? Read to find out!
Transportation in Porto
For long distance travel in Porto, the best options are metro, buses, tram, Uber and car rentals. The question remains, is Porto expensive when it comes to mobility? Let's find out.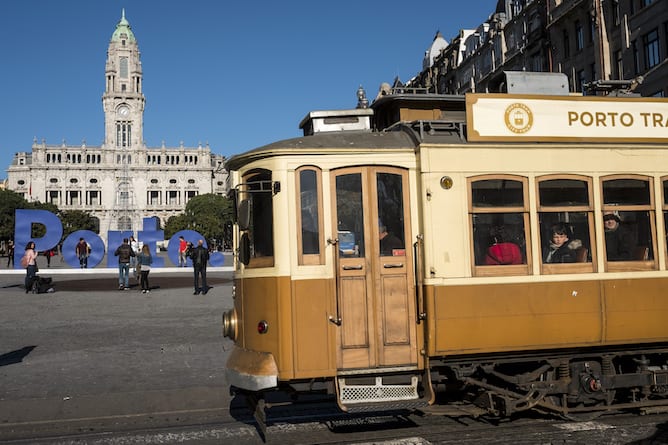 Metro
Porto has one of the most beautiful metro systems in the world – it even won multiple design awards! Not to mention, using the metro in Porto is easy once you get the hang of it and it's quite cheap too.
If you're not sure how to use the metro, read our guide on riding Metro do Porto where we explain zones, lines, subway etiquette, purchasing and validating tickets.
You can check all the metro prices, but we've written down some of the most important ones:
Metro of Porto: prices / person
| Andante (rechargeable) card | 0.60€ |
| --- | --- |
| Z2 | 1.20€ |
| Z3 | 1.60€ |
| Z4 | 2.00€ |
Bus
Buses use the same rechargeable Andante card as the metro. They follow the same zone concept and they have the same price, except for buses you can buy an onboard ticket.
Buses in Porto are affordable, accessible and almost all of them have WiFi. As of now, buses in Porto don't have bike racks, unlike Metro do Porto which allows you to bring bicycles in.
If you're not sure how to ride the bus, you can read our complete guide on using the bus in Porto.
Bus in Porto: prices / person
| Type of ticket | Price |
| --- | --- |
| Onboard ticket (1 use only) | 2€ |
| Z2 | 1.20€ |
| Z3 | 1.60€ |
| Z4 | 2.00€ |
Tip: I recommend you to use Moovit for all public transports whereabouts in Porto. It's available for Android and iOS. I find Moovit more accurate and easier to use than Google Maps.
Tram
The tram is a fun way to ride around Porto – however, in peak season, the waiting queues can get long. That's why we don't recommend the tram for daily transportation.
If you're new to the tram system, read our guide on how to travel by tram in Porto.
Tram in Porto: prices / person
| Type of ticket | Price |
| --- | --- |
| Single ticket | 3.00€ |
| 2 days adult ticket | 10.00€ |
| 2 days child ticket (ages 4 to 12): | 5.00€ |
Uber
I have ridden on Uber many times around Porto, and it's hard for me to imagine using anything else. Uber is cheaper than taxis, and the experience in Uber vehicles is more pleasant too.
Uber prices in Porto
| Base fare: | 1€ |
| --- | --- |
| Price/km: | 0.65€ |
| Price/minute: | 0.10€ |
| Minimum fare: | 2.50€ |
| Cancellation fee: | 2.50€ |
Car rental in Porto
Driving a car is not our top choice for transportation in Porto as there is a lot of traffic, and it is very hard to find a place to park (and when you find it, you will pay for it!).
However, renting a car is definitely the best solution if you are planning to visit the stunning Douro Valley, the medieval cities of Guimarães and Braga and other hidden gems in Northern Portugal.
If you're looking into car rentals, we have a detailed article on everything you need to know when you rent a car in Porto.
Tip: To find out about parking prices and free parking spots, go to Parkopedia.
Prices of Accommodation in Porto
Housing in Porto will take most of your budget. If you don't know where to start your search for accommodation, read our guide on Porto's best neighborhoods. So is Porto expensive when it comes to accommodation? Let's find out!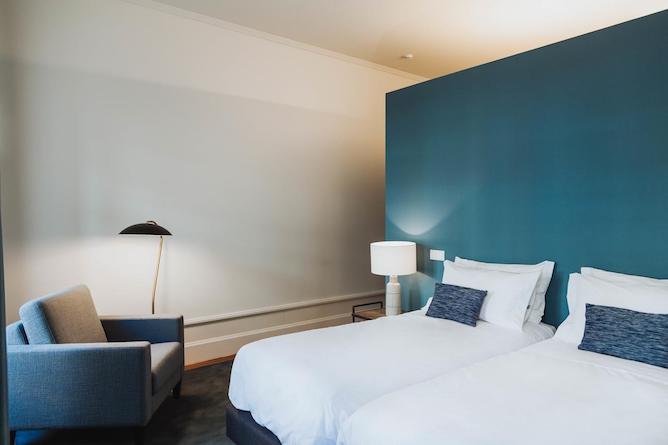 Hotels in Porto
Hotels in Porto offer convenience and luxury, but they're expensive (for Portuguese standards). If you're staying in Porto for short-term, you can find a nice hotel without spending too much. And you can always go the premium route by booking one of Porto's luxury hotels.
Hotel prices / double bedroom
| Type of hotel | Price / night |
| --- | --- |
| 5-stars | around 380€ |
| 4-stars | around 150€ |
| 3-stars | around 90€ |
Apartments
Staying at an apartment is great for privacy and comfort, especially if you're traveling with family. To see for yourself, check out the best apartments to stay in Porto.
Tip: If you're planning on using Booking.com, book in advance because places fill up quickly during the high season.
Hostels
For students and solo travelers, hostels are probably the best option. Not only are they affordable, but they also allow cultural exchange. You can check our recommendations for best hostels in Porto.
Hostel prices
| Type of room | Price / night |
| --- | --- |
| Dorm | 9€ – 20€ |
| Private room | 35€ – 100€ |
Purchasing a home in Porto
Some of our readers are interested in the process of buying a home in Porto. But buying a home in Porto is not that different from other places. The price depends on the location, the construction year and the size. You'll be surprised to know that the price of existing houses in Porto is below the national average.
Buying a house in Porto: prices
| State of preservation | Price / m2 |
| --- | --- |
| New dwellings | 1120€ |
| Existing dwellings | 860€ |
Tip: Talk to an engineering company to assess the house for problems before purchase. Also, contact a lawyer to oversee legal matters before signing.
Food
When it comes to food, is Porto expensive? Well, compared to other European cities, food in Porto is not pricey at all. Let us analyse the prices of supermarkets, grocery stores and eating out in Porto.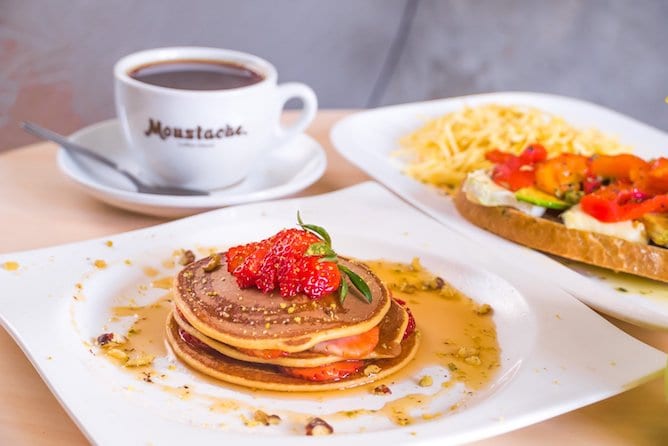 Supermarkets
For those staying at apartments, shopping at the supermarket will save you money that you can invest in other experiences.
Chain supermarkets in Porto include Continente, Jumbo, Pingo Doce and Lidl. Even though these are convenient and are great for those who cannot eat meat, dairy or gluten, there's still something missing.
Not all their fruits and vegetables are national or in season. In that regard, I prefer to buy locally sourced fresh produce from local grocery stores. Same goes for meat: when in Portugal, never buy packaged meat, there're many butchers around selling fresh meat!
Prices of supermarkets in Porto
Type of goods
Price (€ /kg)
Fruits and vegetables
0.99€ – 2.50€ (local produce)
3€ – 6€ (tropical fruits)
Protein
Meat 4.95€
Fish all the way from 2.50€ to 20€ / kg
Tofu 4,80€
Eggs 1.39€ / doz
Carbohydrates
Rice 1.14€
Pasta 1.82€
Potatoes 1.50€
Local grocery stores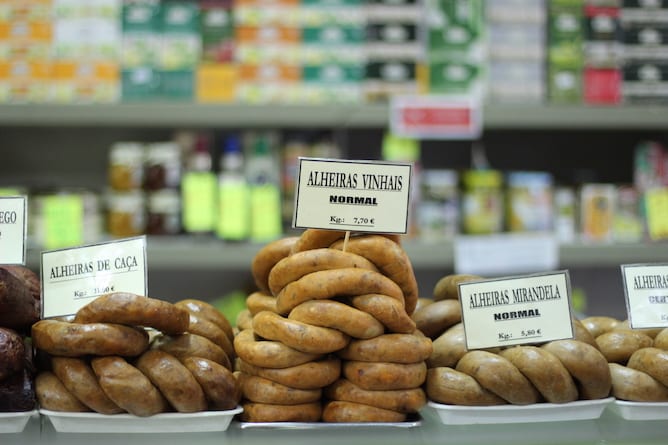 In Porto, local stores include grocery stores (mercearias), fruit shops (frutarias), bakeries (padarias) and butchers (talhos).
Shopping in these stores is an authentic way of experiencing Portuguese culture and way of life, you will be able to buy products that you could not find otherwise, such as traditional breads coming from all over the countries and Portuguese sausages (they are to die for). Read our guide to the Portuguese grocery stores in Porto to see why local stores are so special.
Prices of grocery stores in Porto
| Type of goods | Price (€ / kg) |
| --- | --- |
| Fruits and vegetables: | Average 2.88€ / kg |
| Poultry & meat: | 3.99€ /kg – 5.49€ / kg |
| Fresh bread: | 0.10€ / roll |
Cost of Eating Out in Porto
Eating out is a great way to get to know Porto's culture and cuisine, but it could get expensive if you're not paying attention to where you're eating.
During lunchtime, you can order a menu do dia which usually includes soup, dish of the day, drink and coffee ranging from 7.50€ to 12.50€. Naturally, there are more expensive options, but these are the standard prices.
For dinner, expect to pay between 20 / 25€ for a regular meal with starter, main dish and dessert. If you choose to drink wine the prices will rise: wine bottles in restaurants start at 10€ and can go all the way to 90€.
For people following no-meat or no-gluten diets, don't worry, there are many places to eat in the city – just check our survival guide for vegetarians in Porto.
Eating out in Porto: Prices / person
| Type of meal | Avg price / person (€) |
| --- | --- |
| Breakfast | 3€ – 5€ |
| Lunch | Min. 7.50€ (full meal) |
| Dinner | Min. 20€ (full meal) |
| Beer | Min. 1.20€ / 20cl |
| Wine | Min. 3€ / glass |
Tip: If you're in the city of wine, please drink high quality Portuguese wine! Read my guides on wine tasting in Porto and the best Port wine lodges.
Sightseeing Activities in Porto
There's so much to do when you arrive in Porto including sightseeing, sports activities, arts, museums and of course, shopping. But is Porto expensive when it comes to cultural activities? Let's find out.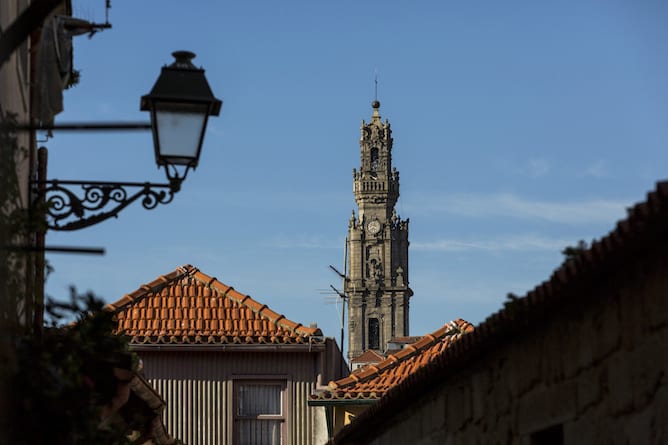 Best activities in Porto
Sightseeings can be inexpensive if you choose the right activity. You can visit the most famous monuments like the Clérigos Tower, Porto's Cathedral and all of Porto's bridges without the need to break the bank.
Most importantly, don't forget to visit the amazing wine cellars in Vila Nova de Gaia. And if you want free activities, visit the best parks and gardens in Porto.
For those who love sports and outdoor activities, especially in Porto's nice weather, you can rent a bicycle, take some surfing lessons or watch a football game in one of Porto's biggest football clubs, FC Porto and Boavista F.C.
Prices of the best activities in Porto
| Type of Activity | Price / person (€) |
| --- | --- |
| Hop on hop off Bus tour | 15€ |
| 6 bridges cruise | 15€ |
| Visit to a Port lodge | 15 – 18€ |
| Bicycle rental | 6€ / 2h |
| Surfing lessons | 20€ |
Local Tip: there are combo tickets that allow you to save money on the best activities in Porto.
You can, for instance, get a combo ticket for the 6 Bridges Cruise + Hop On Hop Off Bus tour + Port wine lodge. There is a similar combo ticket, but instead of the Hop On Hop Off bus tour, it includes a city train ride.
Another deal that I particularly like is the one that combines a visit to Calém wine lodge with a Fado concert.
As you can see, there are endless combinations of different activities that allow you to save some money.
[getyourguide ids='14872,49588′ data-gyg-cmp='is-porto-expensive-widget-1′ data-gyg-placement='content-end' data-gyg-locale-code='en-EN']
Monuments and museums
My most profound travel memories are of my family and I, visiting museums. So if you're traveling with kids, museums are an affordable way to learn about Porto andto build memories.
If you love music, Casa da Música has free outdoor acts and affordable indoor concerts. There are also music festivals in different times of the year.
Prices of Monuments & Museums in Porto
| Type of Activity | Price / person (€) |
| --- | --- |
| Serralves contemporary art museum + gardens | 20€ |
| Stock Exchange Palace | 10€ |
| Casa da Música | 10€ |
| Igreja de São Francisco | 5€ |
| Lello Bookstore | 5€ |
Tip: if you buy Porto's city card, you will get up to 50% discounts on ALL the monuments mentioned above and a lot more!
Shopping in Porto
Shopping in Porto is fun. Many people ask me if Porto is expensive for shopping and my answer, as someone who lived in a North American city is, no!
There are the obvious (and, in our opinion) boring shopping centers, but the real star here are the little local stores with individuality, personality and quality including 43 Branco on Rua das Flores and Loja da Burel on Rua Mouzinho da Silveira. Read our best shops in Porto guide for more store suggestions.
Prices of Healthcare in Porto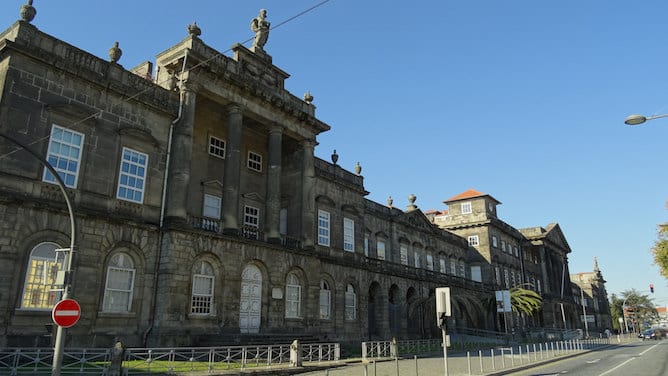 Is Porto expensive for medical care? I have already explored this question on article about Living in Porto: what is it like?, but I'll post some information here as well.
Getting a European Health Insurance Card before coming to Portugal allows European nationals to receive treatment at the same cost as a Portuguese citizen – in most cases is free. They're also eligible for discounts on medicine.
If you're from a non-European country, you can be seen by an ER doctor, but you'll pay out of pocket. That's why it's wise to travel with health insurance. Temporary residents and people staying in Portugal for more than 90 days can receive health care at a discounted price.
Public hospitals
For European nationals, the cost of attending a public hospital in Porto is close to none. However, non-European travellers might have to pay a large fee to see a doctor.
The major public hospitals in Porto are Hospital de São João and Hospital de Santo António. They both have emergency care, but I find that São João has longer waiting times than Santo António.
Prices of Public hospitals in Porto
| Type of service | Price (€) |
| --- | --- |
| Emergency (EHIC) | Min. Free |
| Emergency (non-European) | Min. 100€ |
| Ambulance/km | 0.48€ – 1€ |
Tip: Anyone can call the national Health Line called "Saúde 24" on (808 24 24 24) to ask for medical advice. This phone line works really well and provides effective support.
Private hospitals
For foreigners, private hospitals in Porto may not seem expensive, especially if they're going in for something minor. For us, they are outrageously expensive, which is why more and more Portuguese citizens are getting private insurance.
The top private hospitals in Porto are Lusíadas and CUF. They both have a 24 / 7 urgent care and the ability to make an appointment with a general doctor or a specialist.
Prices of Public hospitals in Porto
| Type of service | Price (€) |
| --- | --- |
| Lusíadas urgent care | 70€ |
| CUF urgent care | 96.50€ |
| CUF specialist | 80€ |
Tip: Try doctors on demand app called Knok for Android and iOS. You pay around €40 for a doctor to see you at home.
Conclusion: is Porto expensive or not?
After going over expenses from hotels rooms to cultural adventures, is Porto expensive? The answer is, no! Porto is not that expensive. That's why it has been a tourists' favourite in the last few years. Yes, hotels are expensive, and eating out can be costly, but you can always find cheap alternatives.
We're talking about visiting the Best European Destination of 2017 with a fraction of the price of cities like Paris or Barcelona. So save up some money for your next trip to Porto. We promise you won't regret it.
Save this article for later: