It's always hard to rent a car in a foreign country, where we usually don't know the language, the legal system and sometimes even the driving rules.
Therefore, I decided to write this complete guide on how to rent a car in Porto. If you have any further doubts, just write on the comment section – I have rented many cars in the city myself, so I might be able to help you out!

As it is a long article, use this Table of Contents to navigate it:
[toc]
Things to have in mind when you decide to rent a car in Porto:
1. Should you rent a car in Porto?
The first thing to do is to understand if you should rent a car a car in Porto.

If you are already sure that you want / need to rent a car in Porto, you can skip the next paragraph and immediately start looking for one at a price aggregator like AutoEurope, where you can compare cars & prices, make the booking and get a free cancelation policy.
Going back to where I was. I recommend you to rent a car in Porto if:
You're planning to explore other cities around Porto, such as Braga and Guimarães, Aveiro and Coimbra. There are good train connections to these cities, but you'll have to stick to a schedule – a car gives you more flexibility.
You're planning to go visit the vineyards in Douro Valley. The public transports in Douro Valley are very limited, with only a few train connections a day. Moreover, almost all vineyards are only accessible by car, so you either rent a car in Porto or you hire a private guide to take you around.
If you or someone you're traveling with faces some mobility issues.
If you have too much luggage to carry around.
If you're just planning to stay in the city for a couple of days, then there is no need to rent a car in Porto. There is a lot of traffic and it is quite hard to park, specially during the high season. Therefore, you can simply use the subway of Porto, the trains that arrive in São Bento train station and in Campanhã, or use UBER – it's pretty well established here.
2. If you decide to rent a car in Porto, don't leave it for last minute!
This might seem quite an obvious thing, but the fact is that most people care about the flights and the accommodation and leave the car rental for last minute.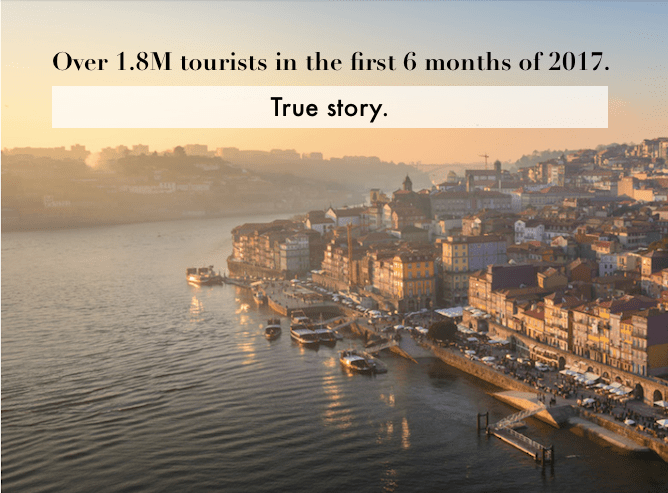 I strongly recommend to not leave your car rental in Porto for last minute. Our city is one of the top tourist destinations in Europe, and we have thousands of visitors every month. Therefore, the likelihood of finding a car rental with free cars just before you arrive is very low.
Moreover, the price of the rented cars vary according to the demand. This means that the more people looking for cars to rent the higher the prices will be.
Fortunately, I am here to help you to book a car in Porto and avoid hidden costs (extra insurances that you don't really need, etc) on the way 😉
3. Use a price aggregator like AutoEurope to get the better deals
I personally like to use AutoEurope as I find the website very user friendly. You can filter the final results according to Supplier Rating & Location, Special Features (if you are coming from North America you might want to check the Automatic Transmission option as most of the cars in Portugal are manual ones), Deposit at Pick Up (if you don't want too much money being locked on your credit card!), etc.
Moreover – and this is very important – AutoEurope offers free cancellation if you cancel with 48h in advance – which comes in handy if you change your plans or if something unexpected happens.
4. Decide where to rent a car in Porto
From my experience, there are three options for car rental in Porto:
If you're arriving at Aeroporto Sá Carneiro – the International airport of Porto -, them you'll have plenty of car rental options. It is also the most convenient option since you will most likely be arriving in Porto by plane. However, it is always more expensive to rent a car in airports than at the city centres (this applies to any city in the world).
I always recommend you to best car rental deals for the airport of Porto before you commit to a specific company.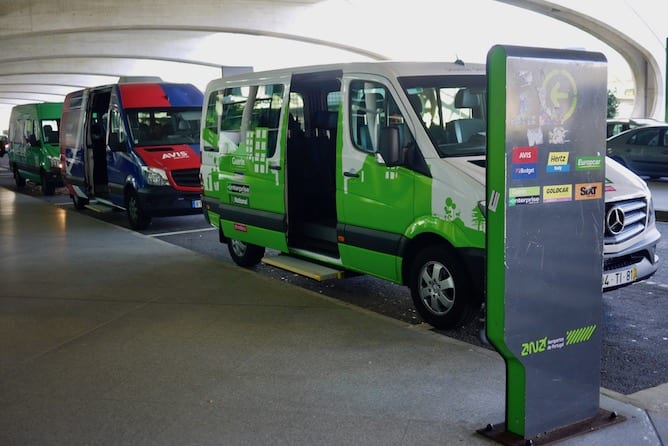 Whatever rent a car company you choose at the airport of Porto, you'll have a free shuttle to where the rented cars are. Each rent a car has its own minivan with its printed logo painted all over, so they're easily identified.
These minivans departure every 5 minutes from the Arrivals (in Portuguese it's written "Chegadas") gates. They take no longer than 5 minutes to arrive at the rented cars, so don't worry, you don't need to rush
The schedule of all the rent a car companies at the airport of Porto is everyday from 7h – midnight.
If you're arriving at Campanhã train station, you have fewer options, but it might be the best solution if you are arriving by train from Lisbon. You can rent a car with Europcar or with Avis & Budget. Both offices are located in front of line 1 in Campanhã train station, as you can see on the picture below.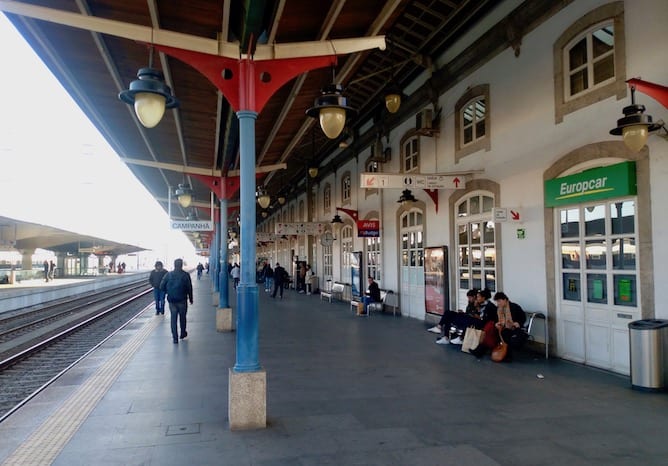 You can also choose to rent a car in Downtown Porto, but this would be my last option, because there is always a lot of traffic so you'll end up wasting too much time. Moreover, don't forget that these stores have a more limited schedule than the ones at the airport or in Campanhã train station. I cannot provide you with a least of ALL the car rentals in Porto – downtown, but here's a few of them:

SIXT – Avenida da Boavista, 1203
Guerin – Rua de Passos Manuel, 176
Hertz – Rua de Santa Catarina, 899
5. Watch out for hidden costs when renting a car in Porto
There are so many hidden extras when you are renting a car that it is hard to know where to start from. But from my experience, these are the most common ones:
Automatic Transmission: this is a real problem for most North Americans! As in Portugal practically all cars have manual gear, this means that renting a car with automatic transmission can get really, really expensive.
How to save money: Using AutoEurope you can look for the best car deals with automatic transmission – simply tick the "Automatic Transmission" option on the "Car Specifications" on the left bar.
If you think that the price difference between an automatic car and a manual one is more than you are willing to afford then try to practice driving manual cars at home, or ask the people who are traveling with you if they can drive a manual car.
Fuel: if you return the car without filling the deposit you have to pay a fee that is the equivalent to a full deposit.
How to save money: this is an easy one! Every car rental company has a Full to Full fuel policy – basically they give you the car with a full tank and you just need to return it full as well.
Driver: Even though you only need to be 18 years old to rent a car in Porto, younger drivers (aged less than 25 years old) pay an extra fee (between 5 – 10€ A DAY). Moreover, an additional driver – besides the person who is legally renting the car – also pays an extra fee.
How to save money: Simply decide beforehand who is the designated driver and, if possible, make sure that he / she is over 25 years old.
6. What protections should you take when you rent a car in Porto?
When you rent a car you have the base price and then all the protection options. You can decide which protection options to take both online or on the spot.
Premium Protection that covers the car, the passengers and the luggage and reduces the excess to 0€. In short terms, the excess (called "franquia" in Portuguese) is the value that you'll pay for activating the insurance in case something happens. It's a fixed value that depends on the car category, that usually ranges between 950€ – 5000€.

Medium Protection that covers that covers the car, the passengers and the luggage and reduces the excess to a certain amount.

PAI protection covers only the passengers.

Tires & Glass protection is exactly what it means: a protection only for tires and glasses.

RSP protection provides an extended travel assistance for negligence occurrences, like when you put the wrong fuel in the car, or when you forget the keys inside the car, when the battery dies because you forgot the lights on, etc.
Expert tip: I cannot tell you which protections to take because that is a personal decision, but I can tell you the ones I usually take when I rent a car in Porto.
I always go for Premium Protection and PAI protection, as accidents can happen and I want everyone in the car fully covered. However, I usually don't take tires & glasses protection, as this protection covers very unlikely events.
7. Understand the toll system in Portugal
Once you arrive at the rental car in Porto, they'll ask you the usual stuff about insurances and if you'd like to Activate the Via Verde – the electronic toll Portuguese system.
Via Verde is a technology that allows you to pay all the tolls on the road by an automatic debit on your credit card. It pretty much consists of a little white box that is glued to the car window.
I strongly recommend you to activate the Via Verde system in your rented car. It costs around 1,50€/day + VAT, and it will save you a lot of time in tolls – when you see them, you just need to drive through the lanes with the Via Verde symbol painted on the floor, like on this picture: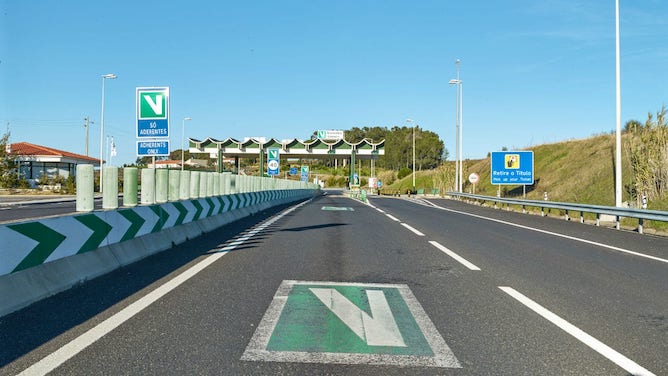 Moreover, on some tolls you simply DON'T have an option to pay if you don't have the Via Verde system activated: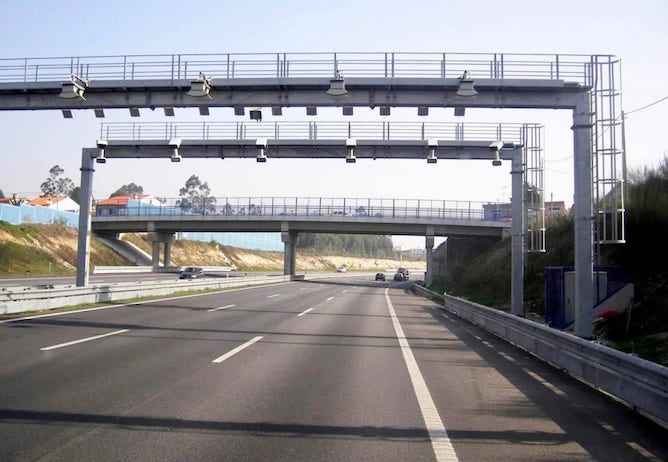 So basically, if the Via Verde system is not active, you'll have to stop by a mail office to pay these tolls – it's so inconvenient that everyone uses Via Verde these days!
8. Important information about driving in Portugal
Our highways are extremely safe – the pavement is usually in perfect condition and the lanes are rather large and numerous.
Most people drive off speed limit and make bold manoeuvres, specially in the highways. You really shouldn't freak out about this and rather accept it as a cultural trait (which is exactly what I did when I first drove in Romania and realise that they drive completely off hand!).
Save this article for later: