Top Vineyards in Douro Valley
Get to know the top 10 vineyards in the Douro Valley. It includes information on the wine tours, the location and photos of each vineyard.
Wine tour in Douro Valley
There are wonderful activities that you can take at the Douro Valley, one of the best wine regions in the world. One of them is to take a relaxing 2h Douro river cruise, a great way to enjoy a sunny day with your family and friends.

Another great thing you can do is to visit one of the best vineyards in Douro Valley, where the famous wines are produced.

As usual, this is a very detailed guide, so use this Index to jump to a specific section if needed:
How to get to Douro Valley
We should start this guide to the best vineyards in Douro Valley by explain how to get to them. I already published a comprehensive guide about How to Get to Douro Valley, that you should read before moving on. But in general, there are three practical ways of getting there:
There are train connections from Porto to the major cities in Douro Valley: Peso da Régua and Pinhão. You can check the schedules on CP website.

However, if you are planning to visit the best vineyards in Douro Valley you most definitely need a car as none of them is accessible otherwise. A great alternative is to hire a private guide like myself or, worst case scenario, use taxis from one place to another – but because the vineyards are far away from one another, you will end up loosing a lot of time in the process if you choose this last option!

Another option is to use a price aggregator like AutoEurope to rent a car. But if you do so, you won't be able to drink at the vineyards – bummer!
Top ways to explore the best vineyards in Douro Valley
Unless you are a seasoned wine traveler, the best way to explore the region is to join a tour in Douro Valley. There are two types of tours in the region:
Group Tour that includes a Wine Tasting, a boat Cruise and Lunch for just 90€ / person. This is one of the most affordable ways to get a glimpse of the region, and it will also be a good opportunity to meet like minded travellers.

If you prefer to have a more exclusive experience, with premium boutique wineries and the best restaurants in the region, you should consider our Private Wine Tour in Douro Valley.
This is more suitable for the premium, wine traveler who prefer to have a premium, private experience with a professional guide specialised in wines.

By the way, NONE of the wineries we take our premium clients to is listed on this article.
Last but not the least, you can explore the region on your own, using both public and private transports – but if you are planning to drive, take into account that the roads in Douro Valley are very windy and narrow, and that you shouldn't drink and drive!
The Sub regions of Douro Valley
The Douro Valley is divided in three sub regions: Baixo Corgo, Cima Corgo and Douro Superior, going from West (the Atlantic Ocean) to East, as pictured below.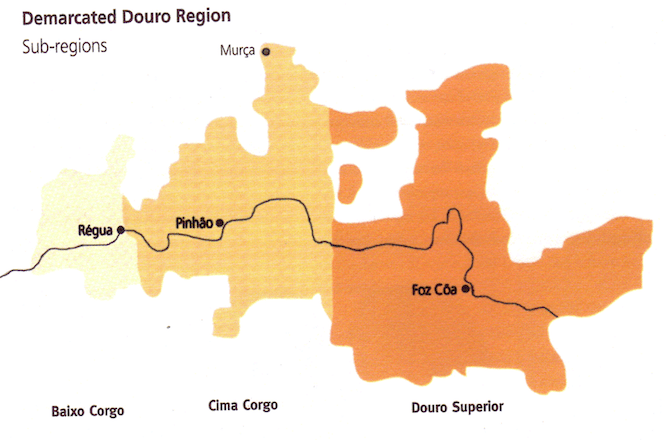 I could write articles dedicated to each specific sub region in Douro Valley, but for the purpose of this article let me give you a general idea of all of them:
The more you move to East the less rain you get and the temperature range gets more extreme, with warm Summers and cold (yet dry) Winters.
Baixo Corgo is the closest sub region to the Atlantic Ocean and hence it is the fresher one. Over a third of this sub region is planted with vineyards, and hence you can find some amazing producers of both still wines and Ports. The heart of this sub region is the city of Peso da Régua, where you can find a good selection of amazing Portuguese traditional restaurants and tapas places. This sub region is the most accessible from Porto (it is 1h30 driving distance).
Cima Corgo is usually considered the best place for Port wine producers and hence it should be on the top list for the true appreciators of this type of wine. Here you can find some famous large scale producers such as Croft (Quinta da Roêda), Real Companhia Velha (Quinta das Carvalhas) and Dow's (Quinta do Bomfim). The heart of this subregion in Douro Valley is the tiny city of Pinhão, which is 2h driving distance from Porto.
Douro Superior is the one further apart from Porto (2h30 driving distance). It is the subregion with least area of planted vineyards, but I particularly like it because it produces some amazing red wines.
Top vineyards in Baixo Corgo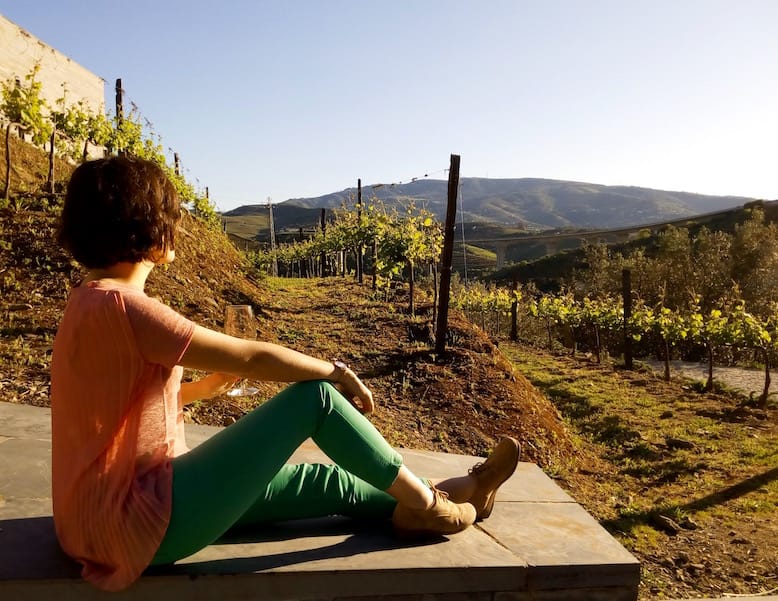 Quinta do Vallado, one of the oldest ones in the Douro Valley, is a pleasant surprise for someone who is looking for an informative and very well structured tour. Its wine tours are masterfully led young professional guides, most of whom have previously studied Oenology and hence truly understand the wine production processes.
At the end of the wine tour you'll be treated with a tasting of superb red wines – in such way that I ended up with a suitcase full of them!
I strongly recommend this as one of the top vineyards in the Douro Valley for anyone looking for a detailed and informative wine tour, that runs every day at 11h30 or 15h in English and French.
For reservations, send an email to reservas@quintadovallado.com.
Quinta da Pacheca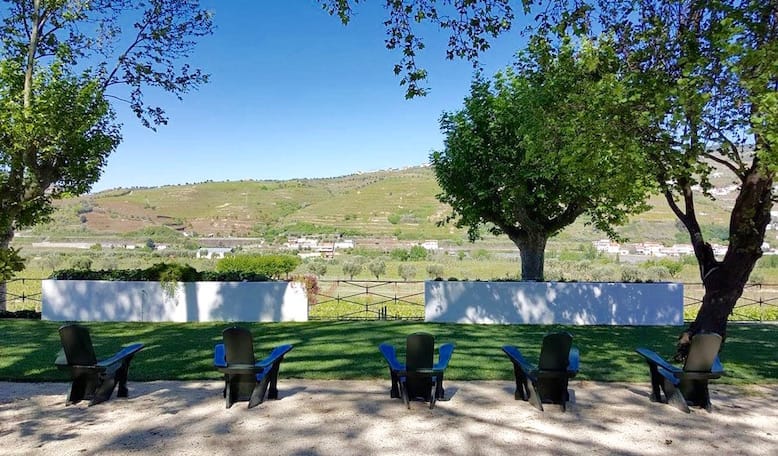 Quinta da Pacheca is one of the top vineyards in the Douro Valley because, in addition to wine tastings, it organises weddings, cooking classes, picnics,… the limit is the will of its customers!
This vineyard is particularly well suited for someone looking for a relaxed tour followed by a generous wine tasting (it usually includes one white wine, two or three reds and some old Ports – usually an old Vintage and a 30 or 40 years old Tawny) at a lovely porch overlooking the vineyard.
Wine tours take place from 9h to 18h and you can book through reservas@quintadapacheca.com emails or enoturismo@quintadapacheca.com.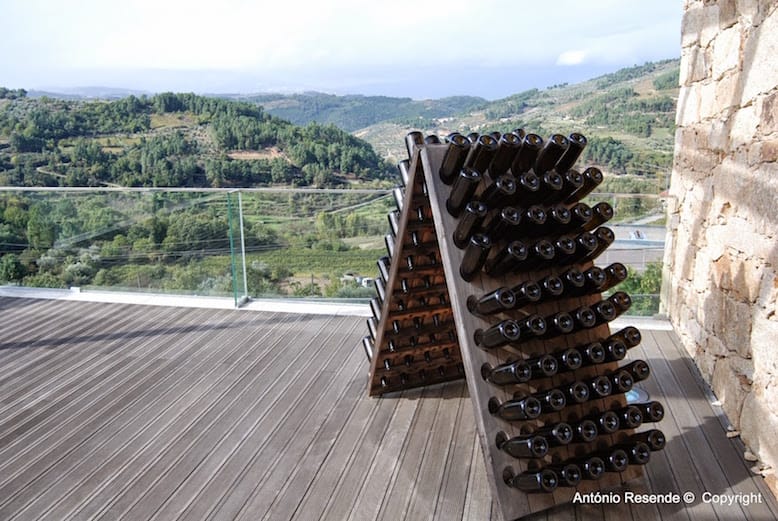 I must confess I am not a huge fan of sparkling wine, but nothing like a visit to the Douro Valley to demolish any prejudice, mainly through wonderful free wine tours at the cellars of Murganheira.
During the visit, you will learn the production process of sparkling wine.
At the end, a tasting of sparkling wine, to convince you of the beauty of this product. You don't need to make reservations, just show up at the hours of visits: 10h, 11h, 15h and 16h.
---
Since we're talking about the Douro Vineyards, I thought I could give you some tips on how to better enjoy your trip there. It's a great experience to visit the vineyards, but to see them from the river is an amazing experience.
I have taken many readers on private tours with boat rides in Douro and it's always a very rewarding experience. Everyone enjoys it – couples, families with kids, friend groups – so I thought I'd give you the best options to do just that.
For example, you can join a rabelo boat ride departing from Pinhão. You can buy your ticket for a 1 hour ride in Douro for only 10€ (which is an absolute bargain!).
You can also try out a longer ride and enjoy a complimentary glass of Port wine on your journey for only 20€ –  buy your ticket for a 2 hour boat ride.
Top vineyards in Cima Corgo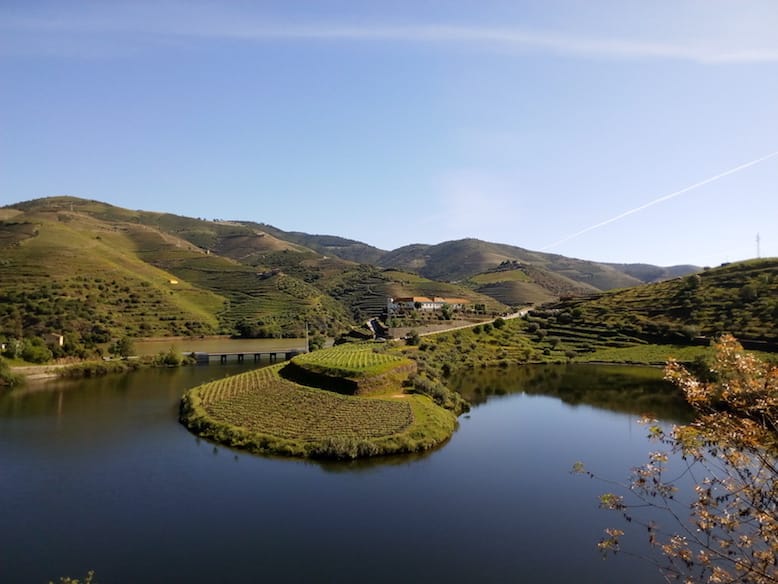 Quinta do Tedo, from the lovely Kay and Vincent Bouchard, has the perfect location, where Tedo river meets the Douro river, making this estate ideal for taking breathtaking pictures.
Moreover, Kay is from California and Vincent is a seasoned winemaker from Burgundy, and together they bring together the knowledge of French and American winemaking to Douro Valley.

Quinta do Tedo welcomes you with an impeccable wine tour, very professional yet warm at the same time, on the production of their fantastic red wines. I liked it so much that I ended up staying there for the night!
The price of the Wine tour and Tasting at Quinta do Tedo ranges from 12€ to 35€ per person, depending on the wine tasting that you choose (personally I love the Tawny experience, but I am a Tawny girl all the way!).

Wine tours are available in English, French, German and Spanish and it is one of the very few vineyards in Douro Valley where you can book the wine tasting online (personally I find that very convenient!).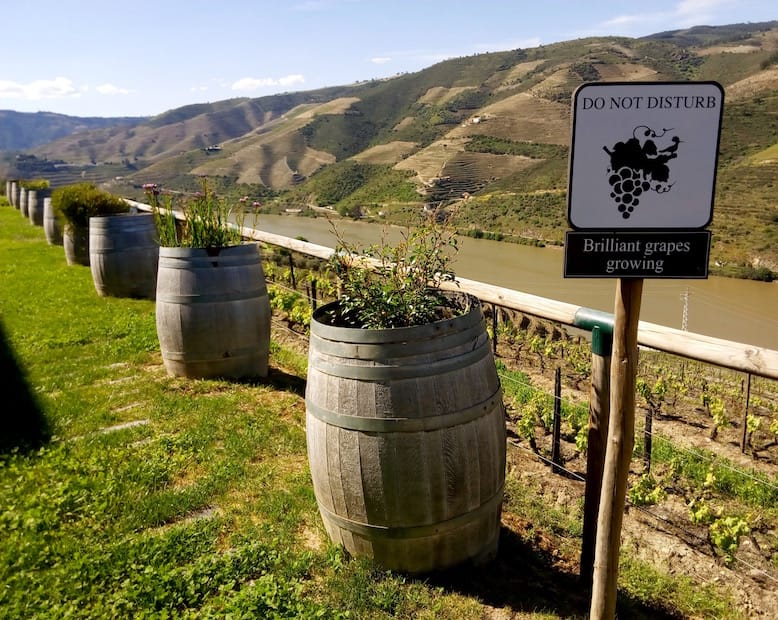 I already loved Quinta do Pôpa's wines, so I visited this vineyard with high expectations. Leila, the guide on my wine tour, fully corresponded with an informative yet not boring tour, during which I learnt the story of Mr. Pôpa, who had the dream of having his own vineyard in the Douro Valley.
What I particularly enjoy at Quinta do Pôpa is its extraordinary marketing skills which are able to introduce great wines to younger consumers.
There you will be able to drink nice entry level wines (such as its amazing Rosé), some great single varietal wines (from Tinta Roriz, for instance) and the great Quinta do Pôpa Homenagem 2011, which was considered the best wine of the Year 2016 by the "Wine Oscars" organised by Revista dos Vinhos.
At this vineyard you can also treat yourself with a picnic at the vineyards or with a Portuguese lunch at the lovely porch.
Given its superb location, overlooking the Douro Valley, and its very informal mood, I suggest this vineyard for young couples or families with kids.
Quinta do Pôpa is definitely one of the top vineyards of the Douro Valley. Make your reservation at turismo@quintadopopa.com.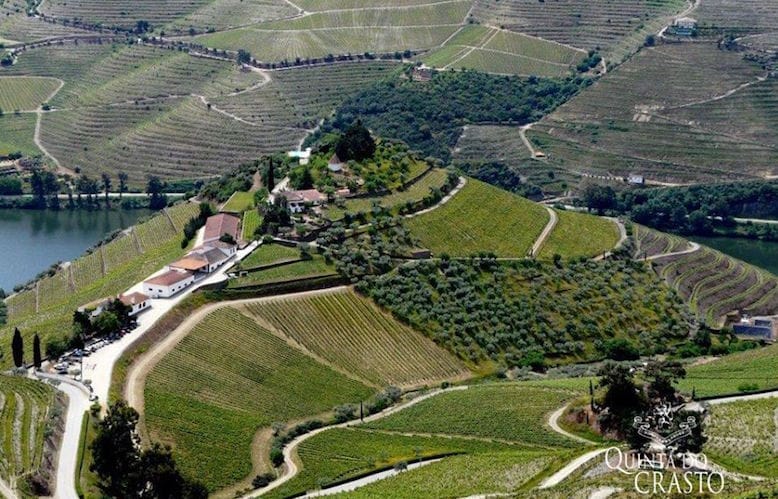 Quinta do Crasto well deserves to make it to the top vineyards of the Douro Valley. It is a bit difficult to get there, because of the curves all the way from Pinhão, but well worth it: the view is magnificent, and the wine tasting takes you on a first class trip to some of the best wines produced in Portugal.
However, I must warn you that the tour is very sloppy and that they really pressure you to buy wines, which I find very inelegant.
When you book a wine tour it is entirely yours (they won't put more people on it), so it is a fantastic gift for a couple on a romantic weekend.
Bookings through andreia.freitas@quintadocrasto.pt email or +351 254 920 020.
Quinta Nova de Nossa Senhora do Carmo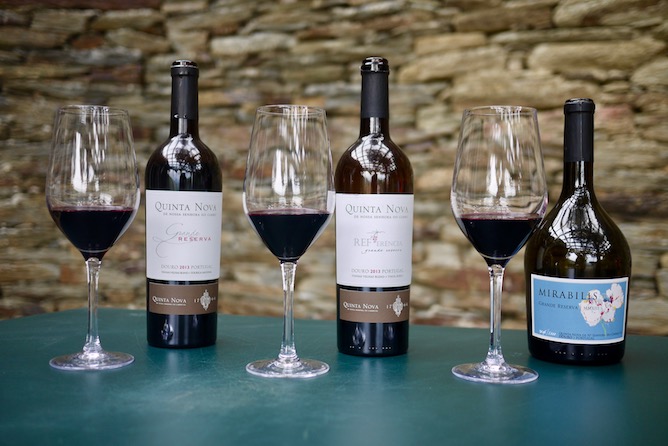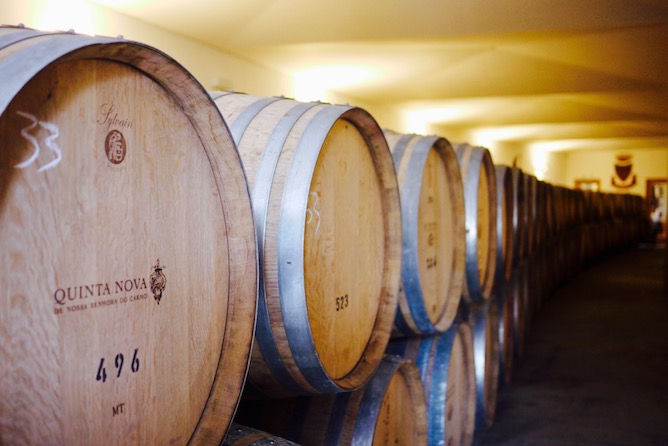 Right next to Quinta do Crasto is Quinta Nova, one of the best vineyards in Douro Valley, and the house of the famous Mirabillis wines.
It is a property of unquestionable beauty, where you can find one of the best hotels in the region. It also has a restaurant, a picturesque chapel and free, short hiking trails.
For wine lovers, I suggest you make the visit and enjoy a wine tasting on the porch with a fantastic view. The wine tastings start at €16 / person, but if you have money available, I suggest you take the Robert Parker Icon wine tasting (€85 / person), that includes wines that have received a score of at least 94 points. It is wonderful.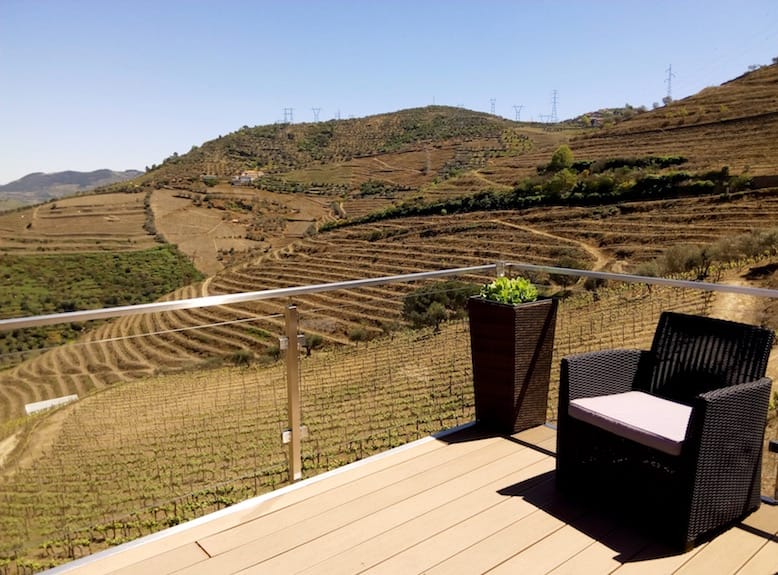 Quinta de Santa Eufémia immediately seduces you with its beautiful view over the vineyards, where we can sit down and have a glass of port wine.
It is a smaller, intimate vineyard, where you can see the entire production process in a small space, often accompanied by family members who manage it with so much love.
At the end of the wine tour, a tasting of some fine Port wines accompanied by homemade marmalade. Given its informality I believe that this vineyard is a great place for someone looking for a more down to Earth and authentic experience at a small scale producer on the heart of the Douro Valley.
You can book the wine tour at this top vineyards in the Douro Valley at quintasantaeufemia@sapo.pt.
Quinta de La Rosa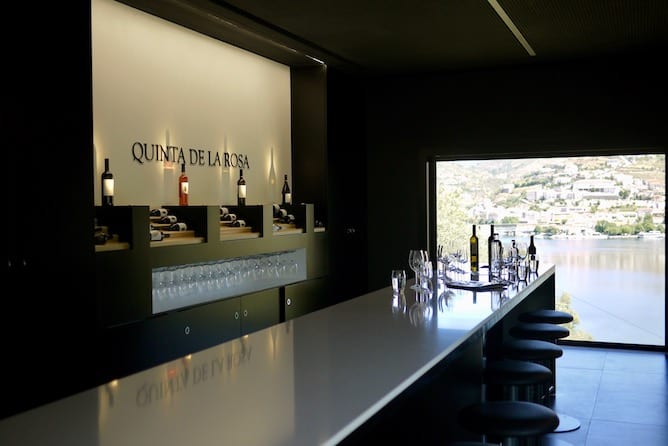 Quinta de La Rosa is a wonderful producer with a well structured tour that ends on a lovely tasting room overlooking the Douro river and Pinhão. Moreover, at this vineyard there is one of the best restaurants in Douro Valley, Cozinha da Clara.
The entry level wine tasting is not worth mentioning, but things get more interesting if you choose the Poeira wine tasting, which is a display of the amazing work of the oenologist of this vineyard, Jorge Moreira. He created a rather interesting wine called Pó de Poeira which combines Alvarinho (the queen grape of the Green Wine region) with Gouveio, a grape variety that is typically used in Douro Valley.
The tours at Quinta de La Rosa usually take place at 11h30, 14h30 and 17h.
Top vineyards in Douro Superior
I recently got the opportunity to finally meet the remote vineyards of Douro Superior, and I was pleasantly surprised to discover that there are fantastic wine experiences available to the public.
Quinta do Vale Meão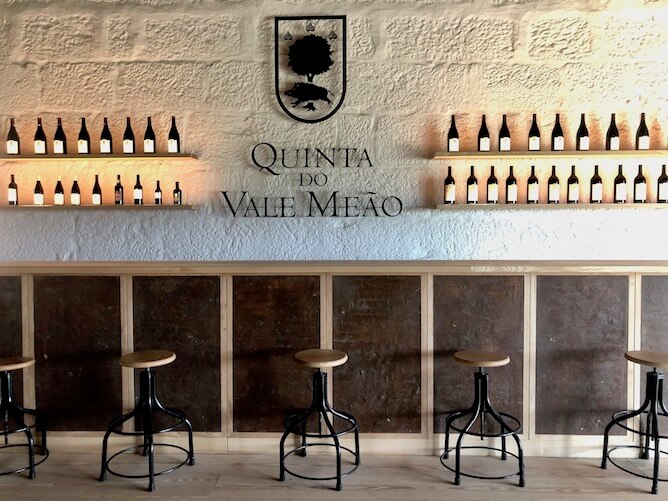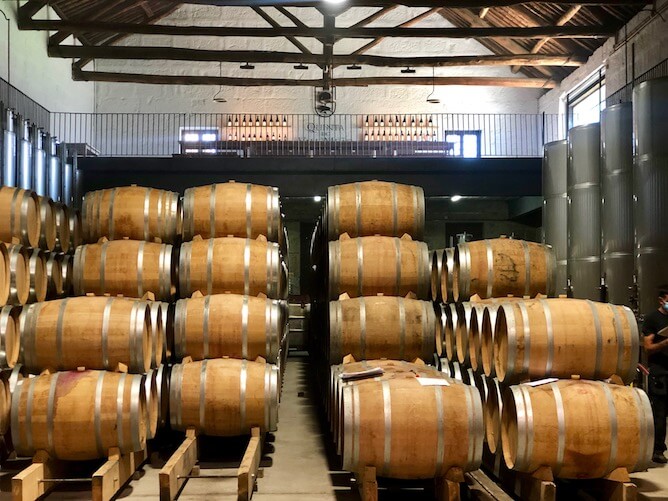 Quinta do Vale Meão is one of the five visionaries that created the Douro Boys, the association that was created in 2003 in order to represent those five producers in wine events around the world. Since then, Quinta do Vale Meão has won countless wine medals for its fantastic red wines.
I was warmly welcomed by the bubbly personality of Maria, who took me to the cellar to introduce me to the philosophy of Quinta do Vale Meão's wines – namely, that they stomp all the grapes by foot, and also that they only mix the different grape varieties once each one has been vinified individually.
Then, I was taken to the wine tasting room, which has a marvellous view of the property.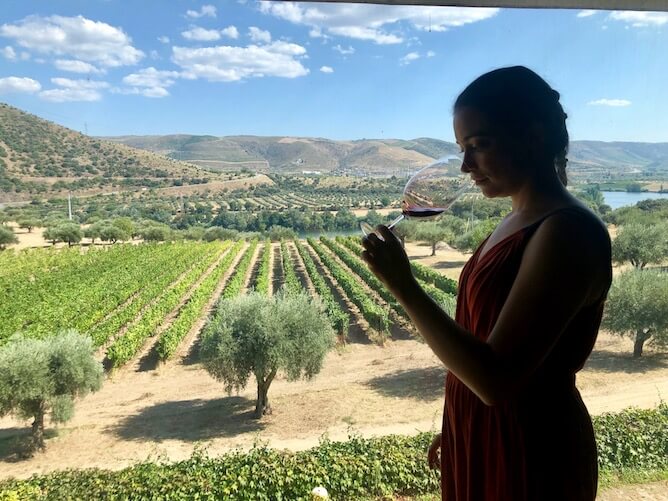 I found the tastings to be quite expensive at Quinta do Vale Meão – they range between 30€ / person (4 wines – 2 entry level ones) and 55€ / person (5 wines, which include a Vintage Port). But it is a great place and it was worth my time.
Quinta de Ervamoira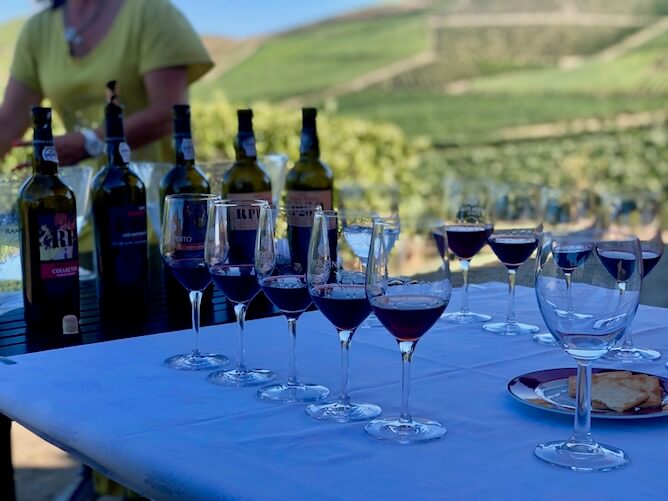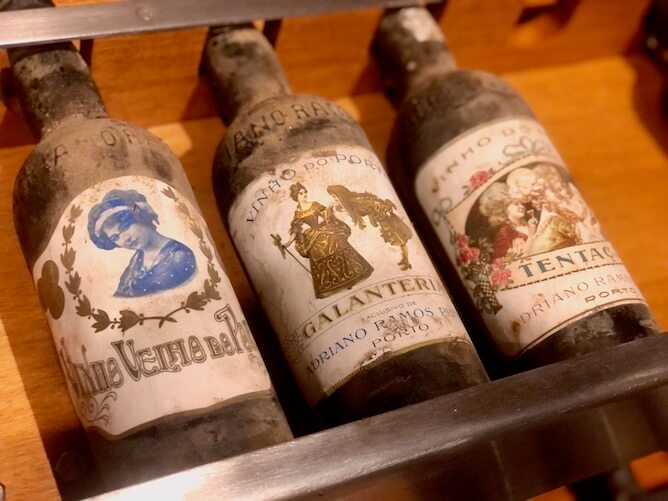 As soon as I arrived to Quinta de Ervamoira, one of the best vineyards in Douro Valley, I was warmly welcomed by Ema, who guided us inside a small museum mostly dedicated to the history of Adriano Ramos Pinto, the founder of this brand of Port wines. She also showed us some interesting archaeological artifacts that were found in the property.
But what really stole my heart was a room with super old bottles designed by Adriano!
After the museum, we had our wine tastings outside, on a porch with one of the best views I have ever seen in Douro Valley. Photos don't make it justice; you need to go there yourself!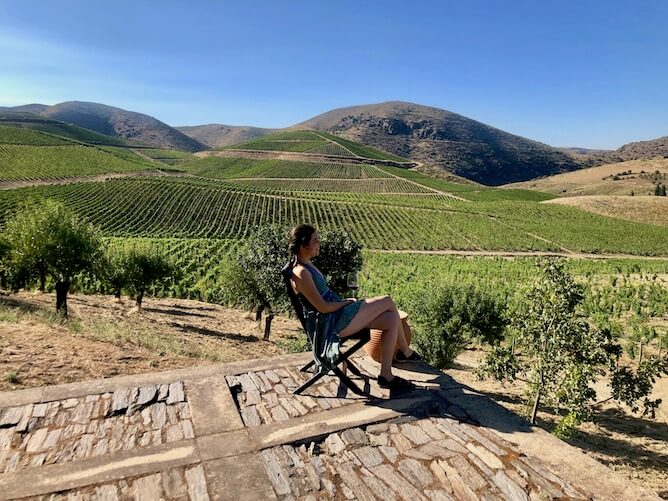 One thing that I noticed is that they charge a ticket to the museum (10€) and the wine tasting separately (10 – 20€, depending on the wines you choose), so keep this in mind when booking your visit. You can also order by the glass, if you prefer.
Rumo: a great wine shop in Douro Valley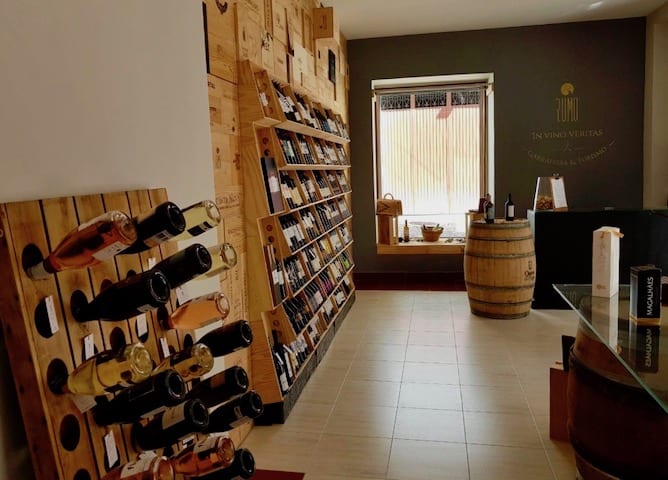 I recently found out an amazing wine shop in Douro Valley called RUMO.
You might be wondering why on earth would you visit a wine shop on a wine region, where you can get the wine directly from the producers. The thing is that once there you'll only have time to visit maybe 2 or 3 producers, and there is no guarantee that you will actually enjoy the wines you will taste.
With RUMO, however, you'll be pretty safe because as I found out, the store is owned by Sérgio Soares, one of the top agricultural engineers of Real Companhia Velha, one of the major producers in Douro Valley. Therefore, the wines you find on the store have already been carefully selected by someone who is not a simple retailer but actually knows a lot about wines. And that is a great advantage when you are buying wines outside your comfort zone!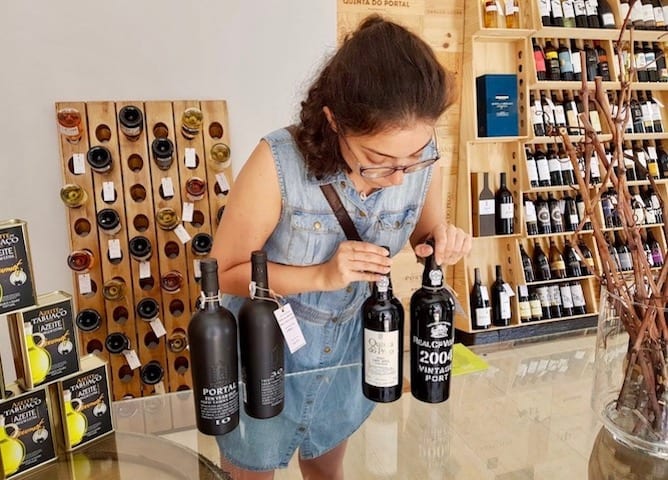 Once I entered this wine shop I noticed that even though it is a small space it has a great portfolio of the wines from Douro Valley, such as the unique Series collection of rare grape varieties from this wine region. There you'll also find robust examples of other wine regions such as Soalheiro (from the Green Wine Region) and Ribeiro Santo (from Dão).
Besides wines, RUMO sells products from local producers and artisans, such as honey, olive oil, handmade jams and the most adorable straw purses.
I felt in love with this place and I think you might as well do. Thank you Sérgio, from having such an amazing place in Douro Valley!
Save this article for later: