Here at Portoalities, we thrive to have all aspects of your trip to Porto sorted out. From the most romantic getaways (a.k.a. the "before") to the best museums for families (a.k.a. the "after"), we've got you covered!
Everyone has been in that situation where dinner is but a distant memory, your clock looks like it might fall asleep any minute now and you're wandering the streets of Porto with the company of a very grumpy stomach.
It's time for some late night bites in Porto!
Either you had a late flight into the city, suffer from severe jet lag, forgot going shopping or quit the beer drinking, we have the just right prescription for you. Let's dig in (pun intended) into the late night bites in Porto, shall we?
These are the best late night bites in Porto:
Espaço 77
Travessa de Cedofeita, 22 | Porto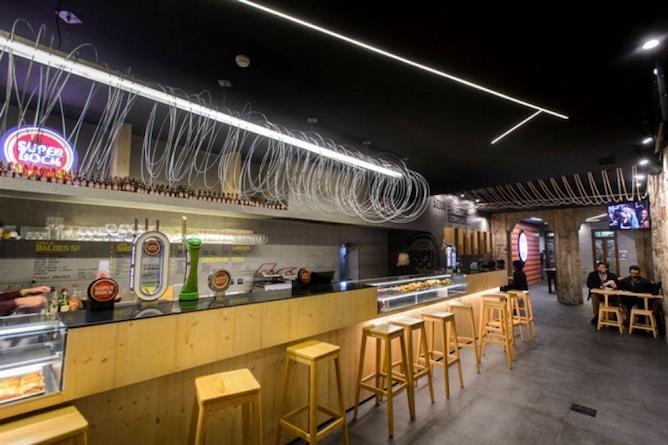 Most locals might balk at the first item of this late night bites in Porto list, but the truth is that, in our collective minds, the sheer mentioning of the number – 77 – is enough to induce thoughts of warm and golden "pain au chocolat" or greasy-looking alcohol-absorbing pizzas.
The reputation is due: located in an unsuspecting, albeit recently refurbished, downtown alley, this equally unsuspecting and recently refurbished bar is the flagship of Porto's night scene. New looks might be in, but coming out of the oven are the same comforting pastries that 77 was serving when it became one of the first bars to serve late night bites in Porto, about 15 years ago.
Don't expect anything fancy, as 77 boasts about boasting absolutely nothing gourmet on their menu. The appeal is not only about the food though, because when it comes to 50-cent beer… Wait, what? That's right, their Super Bock minis are part of the reason this bar's reputation reached epic proportions.
77 closes at 4h – how cool is that?
How to get there: the subway station Trindade is a 10 minutes walking distance.
Restaurante Pajú
Rua de Faria Guimarães, 309 | Porto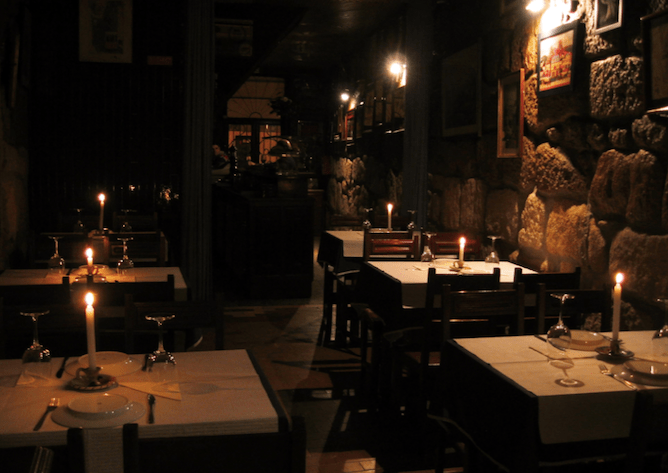 You and your partner are running around trying to find some late night bites in Porto, it's 2h and you are just about to throw the towel in and say "No way we'll find something nice and comforting at this hour, better just have a kebab and…"
Stop the presses!!
We are all in luck. In for the rescue, introducing the magnificent "Pajú" (pah-JOO) restaurant, the royalty of late night bites in Porto since 1996. Open from 9pm until 5am, there is really no excuse not to go (except if it's Sunday, of course).
Settle in to a cosy and relaxed atmosphere, and start off with their trademark "green eggs", "codfish fritters" or "gizzards in tomato sauce" before even thinking about getting around to the rest of the menu: "Creamy Codfish", "Rojões à moda do Minho", "Tripas à moda do Porto", "Sirloin steak", etc. Is your head spinning around?
You can be sure it's not a sugar breakdown. Because portions come generous, the decoration itself is eye-candy and the sympathy of the waiters is endless. How can you top that? With an extensive list of wines from all demarcated regions of Portugal, of course!
Pajú is opened from Monday to Saturday, from 21h to 5h.
How to get there: the subway station Faria Guimarães is a 5 minutes walking distance.
Travessa de Cedofeita 56 / 59 | Porto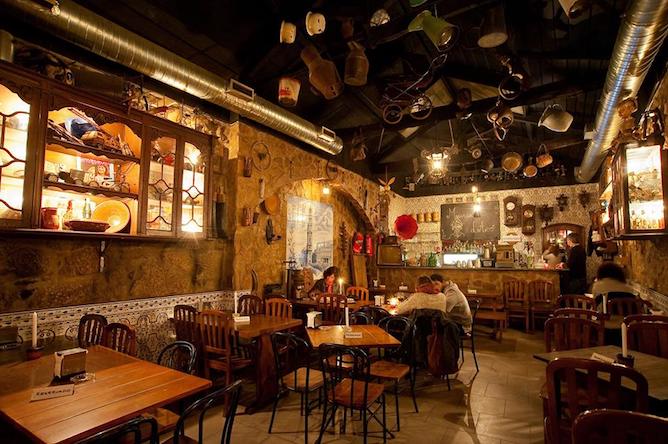 Going back to the bars area, follow us down the rabbit hole and into "Grandma's Museum". Renowned as one of the top "tapas" restaurant in the city center, it becomes especially inviting on the way home from a night out. Although we assure you, we would never snub this restaurant no matter the time of day.
A little note: when we say "tapas", we don't really mean "Spanish tapas", but rather small shareable portions of typical Portuguese cuisine that we call "petiscos" (puh-TEESH-koosh).
So, what about the food? Start off with a "Caldo Verde", a simple potato soup with shredded kale or cabbage (mostly unsuitable for vegetarians because of the slice of chorizo thrown inside), and move on to the "Octopus in green sauce", "Raw Codfish salad (i.e. Punhetas de Bacalhau)" or the famous pork-steak sandwich called "Bifana".
The candle-lit atmosphere and the delicious food is guaranteed to fill your belly and mind, along with their excellent wine you'll surely be asking for more "puh-TEESH-koosh" instead of tapas, at the end of these late night bites in Porto.
Important warning: smoking is allowed throughout most of the restaurant. If you are a non-smoker, please ask to be taken to the non-smoking section.
Museu d'Avó is opened from Monday to Sunday, from 20h t0 4h.
How to get there: the subway station Aliados is a 5 minutes walking distance.
Adega do Quim
Rua da Madeira, 226 | Porto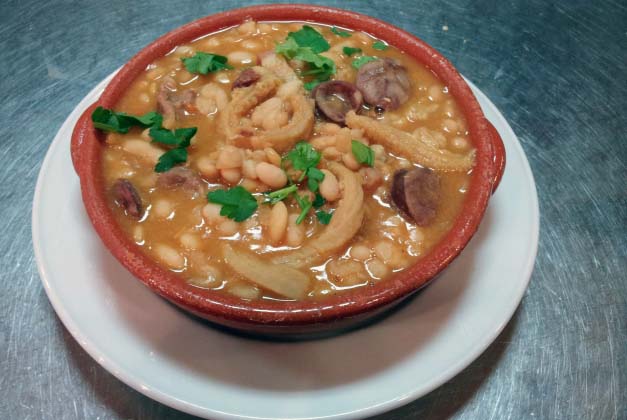 When it comes to late night bites in Porto, this "Adega" opens its doors so early that it falls into the category of late late night bites. Indeed, Adega do Quim is opened from 6h to 22h every single day of the week.
Whether your stomach is still running on Pacific Time, have a very early and long-haul flight or just realized that you accidentally stayed out dancing until the sun came up, this is the place for you.
There's a lot in its name, "Adega". It's a no-frills, over-the-counter eatery. We can't stress the lack of linen enough, or of anything fancy for that matter. You're hungry at 6 am, and they serve tasty food at 6 am. This is all that's expected it, and we love them for it.
We recommend their "Octopus in green salad", "Rojões" (stewed pork cubes), "Tripas" and mainly "Iscas de bacalhau" (floured-codfish rolls) or "Panados" (very similar to Schnitzel) in bread.
Aside the food, this "Adega" is attended by early-birds, on their way to work, and the late-night clubbing crowd alike. We do warn you: striking a conversation with the latter might give you enough material to write that contemporary surrealistic screenplay you never knew you wanted to make.
How to get there: the subway station São Bento is a 2 minutes walking distance.
Having said this, we wish you safe travels and all the best to your nocturnal dwellings. May they never be punctuated by hungry bellies.
Come and join us on our tours, we are more than happy to talk endlessly about food and gastronomy 🙂
Now, with the permission of the dear reader, this writer has become quite hungry himself!
Save this article for later: