Traveling during winter in Porto is a great option for those of you looking to save money and to avoid the Summer crowds. Hopefully it will be sunny once you arrive in town, but if not, worry not! There's plenty to do even when it's cold, rainy or foggy in Porto 🙂
[toc]
How is the Weather during Winter in Porto?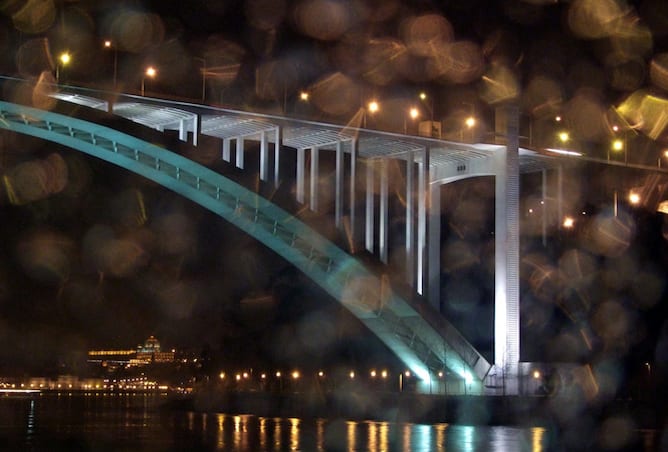 The first thing you should know is that the weather in Porto is… temperamental. It can be rainy in the morning and sunshine in the afternoon, and the temperatures dramatically drop and rise from one day to another.
We also have our fair amount of wind throughout the year, which is why I don't even bother to use an umbrella during the Autumn and Winter's months.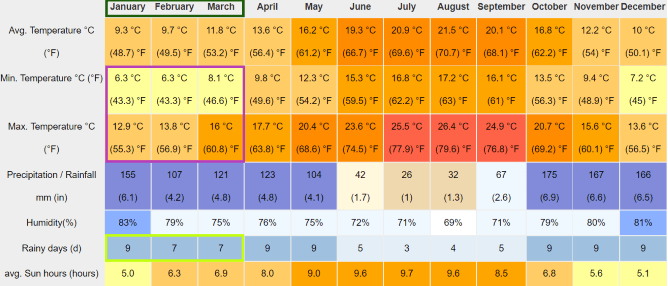 The temperatures, however, are usually pleasant even during Winter in Porto – at least compared to other European countries! We (the Portuguese people) like to complain a lot about the cold, but the truth is that in December we rarely get below 10º C / 50º F during the day and absolutely no snow ever (thanks God, or I'd migrate to another country).
Therefore, there is no excuse for not planning a trip during Winter in Porto, and on this article you'll discover the best things to do in the city even if it's rainy and (moderately) cold. Don't worry, I got you covered 🙂
What to do during Winter in Porto?
The answer is… shopping malls! 😀 (I AM KIDDING, ok? Everyone knows I hate shopping malls).
There are actually plenty of things to do during Winter in Porto, and these are my recommendations:
Visit a Port wine lodge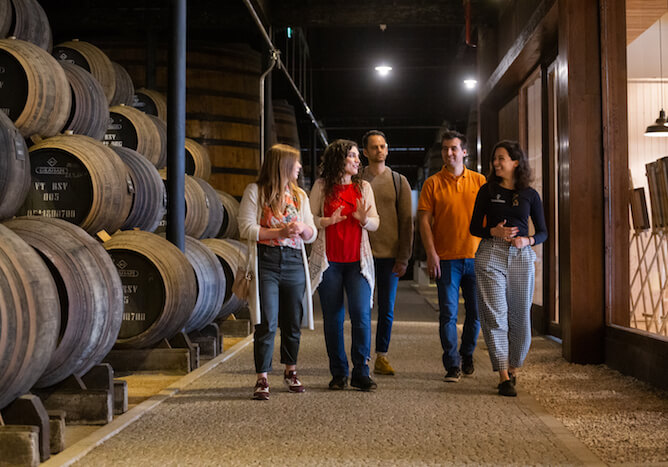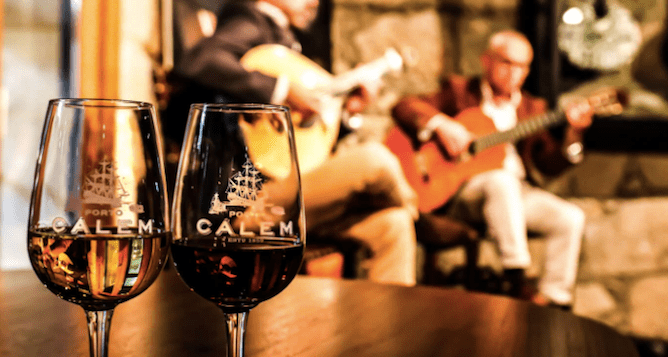 It would be a pity to visit Porto and don't go to the Port wine lodges. Whether you're a wine connoisseur or a humble appreciator, you should go there because a visit to a Port wine lodge is much more than about wine. It's about an industry that shapes an entire Portuguese region, that tells a lot about our history and hence is worth to know.
Usually a visit to a Port wine lodge includes a guided tour in the lodge itself, where you'll hear about the production process of the famous wine and see the beautiful barrels, followed by a wine tasting.
There are many, many Port Wine lodges. These are my recommendations:
Graham's has by far the best wine tour. It is well structured and the guides are very knowledgeable. At the end, you enjoy a Port Wine tasting in a lovely room with a view over the Luiz I bridge.
Calém's lodge is mostly aimed at families as it features an interactive museum with fun activities for all ages. I am not the biggest fan of its tasting room. The other room where they have a live Fado show, on the other hand, is more welcoming and cosier. As such, in this particular lodge, I recommend that you book a visit and wine tasting with a traditional Fado show
If you would rather support a local Portuguese producer, then I think Poças lodge is the place for you 🙂
Listen to a Fado show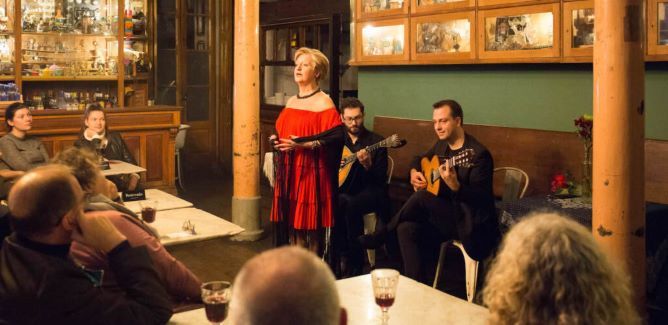 Another great thing to do in the winter in Porto is listening the the "music of the people". Fado is an UNESCO Intangible Cultural Heritage and one of the most intrinsically Portugueses things you can experience.
Why not kill two birds with one stone and watch a Fado show and visit a Port wine cellar at the same time?
Fado concerts usually last an hour and start around 6pm, so it's a great activity to do before dinner, or while waiting for the rain to stop.
You get an online ticket for a Fado show at a Port wine lodge, which is a very interesting way to experience the music and you get to visit the cellar as well and a complimentary glass of port wine. 😉
I also recommend a more traditional experience – listening to Fado at a Fado house. You can buy the online ticket for the Fado show at Casa da Guitarra, which is very cheap – only 15€ / person. Casa da Guitarra is a proper Fado house, where the experience is at its absolute purest.
Visit the Stock Exchange Palace (Palácio da Bolsa)
Rua Ferreira Borges | Porto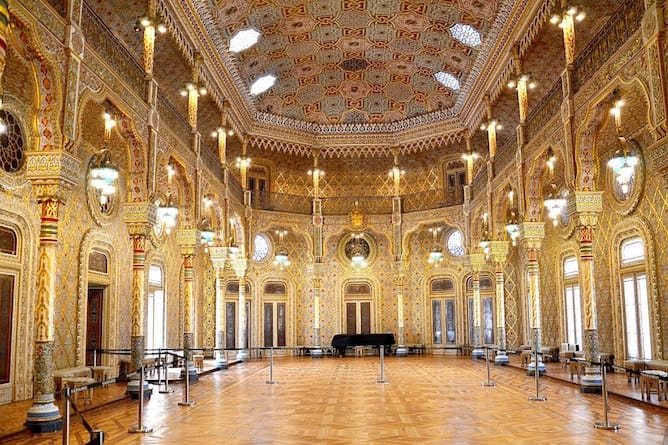 Palácio da Bolsa is not only one of the most beautiful buildings in Porto, but also one of the few that you can visit whether it's rainy or sunny. The guided tour is relatively quick but informative and you will have the opportunity to visit fabulous spaces, namely the Arab Hall. For security, I always recommend that you buy an online ticket to Palácio da Bolsa, securing your visit.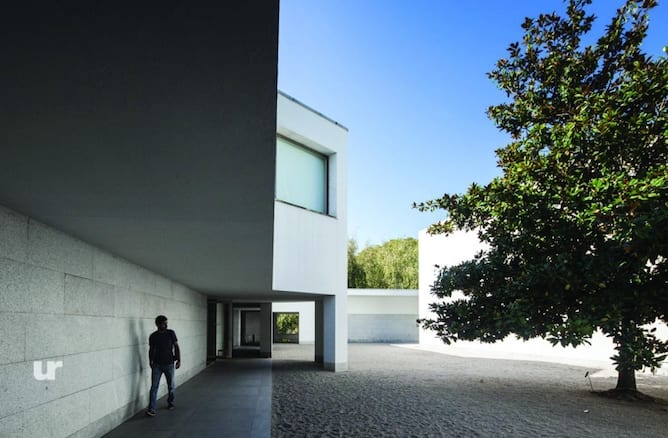 Now, this is just me saying this but I love museums and don't mind spending a winter afternoon there. But the Serralves Foundation is a very important cultural complex, as it encompasses the contemporary art museum, the Manoel de Oliveira Cinema House, wonderful gardens, a spacious restaurant and a wonderful shop.
The gardens are always worth visiting (stop complaining and put on your wellies, it's not that cold!), as well as a library with "hanging tears", which are very cute.
As I'm forward thinking, I like to buy the online ticket for the Serralves Foundation, but if you're on a budget, you can always just visit the store and the library, which are free 😛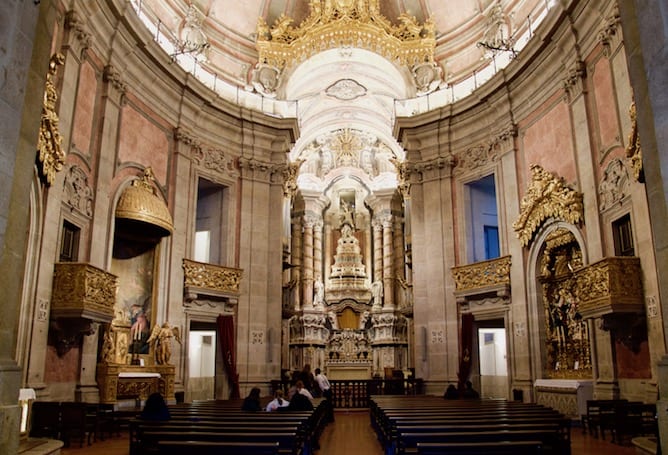 There are many churches in Porto (36, to be precise), but in my opinion there are three that easily stand out:
The cathedral of Porto – located precisely where the city started to be founded many centuries ago. It's free of charge.
The Clérigos church – it's simply stunning, in its pink marble and golden leaf tones, and plenty of natural light. The church is free of charge. You should try to get there at noon, as it has a free pipe organ concert every day. It's superb!
The St Francis Church – the only gothic building left in Porto. It's a remarkable example of gothic structure combined with a baroque decor. You can also visit the catacombs – don't forget to look down and see all the skeletons down below!
Watch a concert at Casa da Música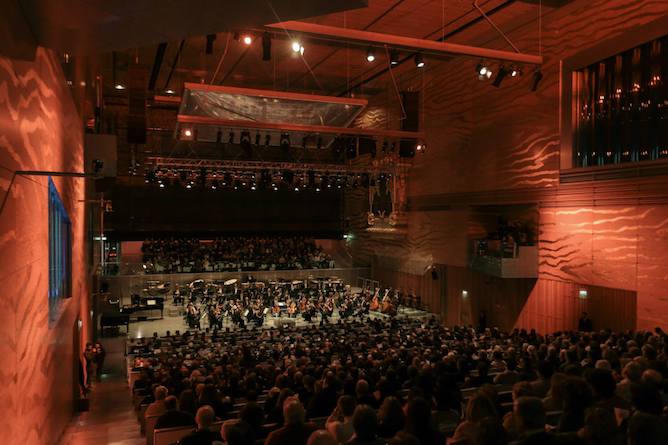 Casa da Música, designed by the Dutch architect Rem Koollhaas, it's a perfect combination between traditional elements (those blue tiles!) contemporary architecture. In my opinion you should try to watch a concert there as the acoustic is superb. Otherwise you can always go for a guided tour on the building, as they are very well structured and informative.
Try a Rabanada in Café Guarany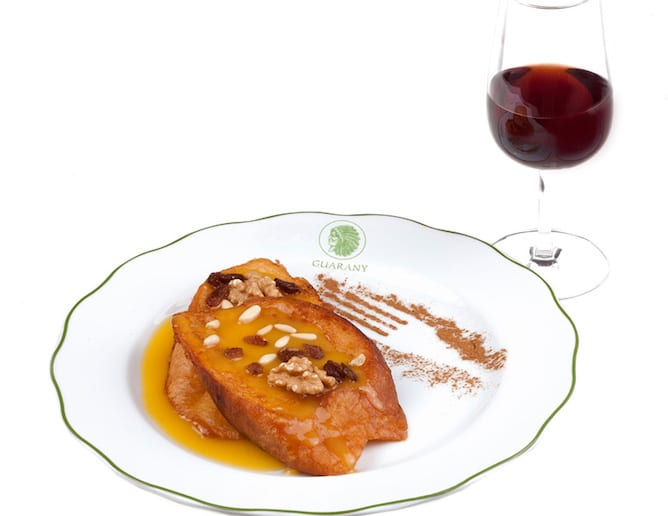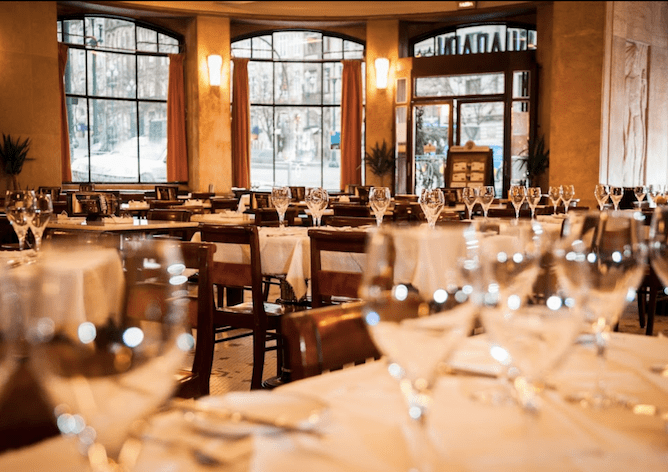 Don't tell me otherwise: the best Rabanadas (basically Portuguese French toast) in Porto are from Café Guarany FULL STOP! Made with a baguette instead of bread rolls (it makes all the difference!) and served with a syrup consisting of eggs, jam, raisins, walnuts and pine nuts, they are a real treat on a rainy day. Order some tea and quietly enjoy what is, without a doubt, one of the most elegant cafes in the city.
Take a Porto food tour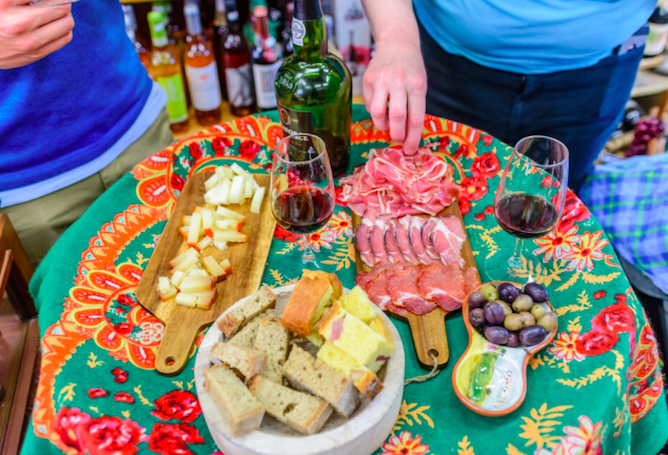 Most people don't know this about be but I started my career in tourism guiding food tours in Porto. They are an excellent way to get to know a city better and make new friends and, really, as we always spend time inside restaurants / cafes, it is an excellent activity to do during winter in Porto.
I do not organize food tours anymore and actually had some difficulty recommending one. However, I recently found a food tour in Porto that meets all my standards, because it takes people to really good places (namely, the sublime Comer e Chorar Por Mais grocery store) and the guides are friendly and very knowledgeable.
It is a very popular activity and, as the amount of food served on these food tours depends on the number of participants, you even have to buy your ticket online.
Go on a day trip near Porto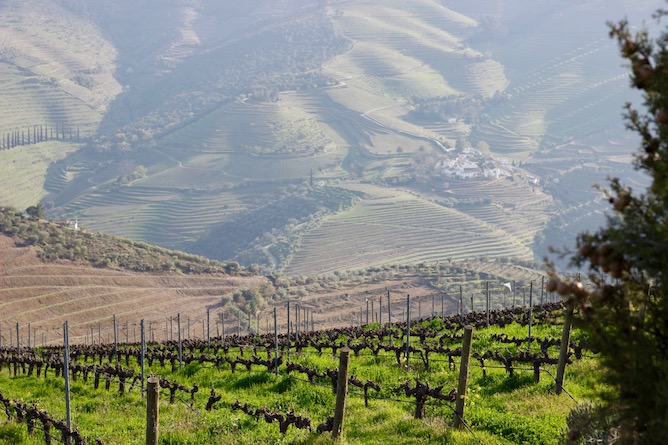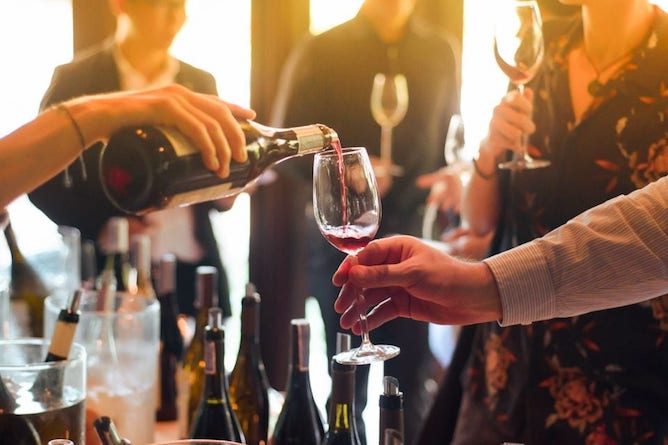 Put this way it seems obvious, but if the weather in Porto is really bad then you can always seek refuge elsewhere. Truth be told just 1 or 2 hours away from the city you can find beautiful destinations where the weather might be a bit nicer on any particular day.
Right off the bat one region that I highly recommend is the Douro Valley. The temperature is usually cooler there, but it rains a lot less. Either way, you'll be sheltered from the cold and too busy tasting some of the region's best wines to notice the weather outside 😛
We organize private tours in Douro Valley which have been very well received. These are personalized tours, completely safe, in which you have your own exclusive guide.
However, if you are on a budget and are looking for a more accessible round trip tour, I suggest you join a group tour in the Douro, as they are cheaper and will allow you to meet other travellers.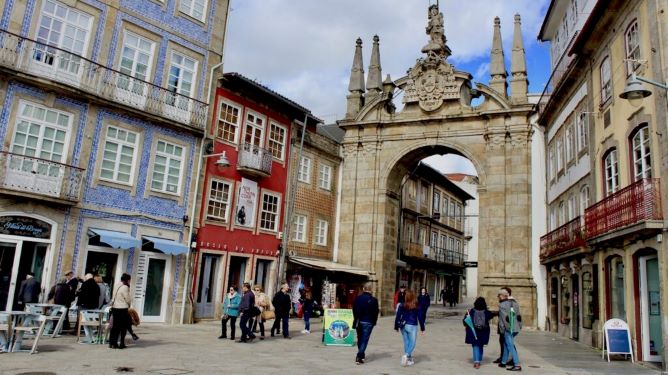 Other nearby cities that I really like to visit in winter are Guimarães, Braga, Amarante and Ponte de Lima. If you would prefer to visit these places on your own, read my guide on the best cities near Porto.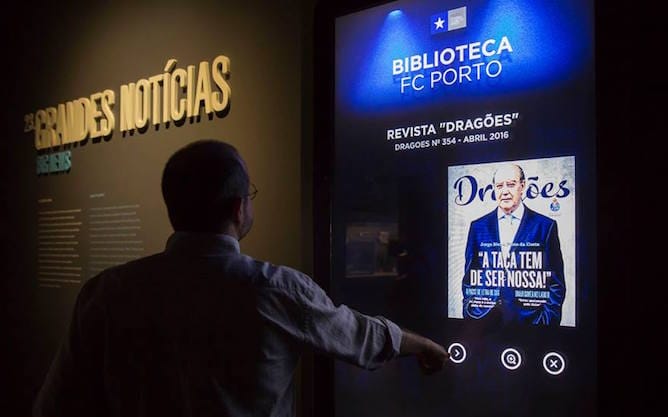 If you are football-mad then why not visit the Estádio do Dragão museum and football stadium? It features interactive exhibits with information about the history and victories of FC Porto. You can also visit the club's impressive trophy room, a testament to the club's glorious past. And while you can also visit the stadium itself, I honestly haven't had the opportunity to do so 🙂 I worked there during the Euro 2004 tournament and can confirm that it's really worth it (by the way, Estádio do Dragão was awarded with 5 stars by none other than UEFA!).
Purchase your ticket for the Estádio do Dragão museum online. You won't regret it.
If you're travelling with kids during Winter in Porto
Watch the penguins and other sea creatures in SEA Life Porto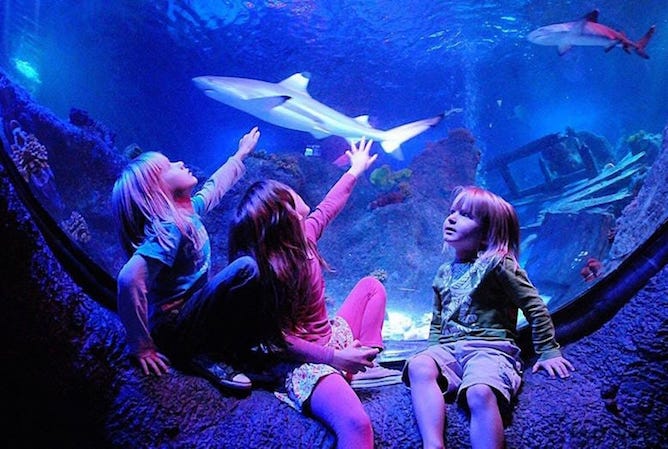 A friend of mine just became a mother about a year and a half ago and when she took her child to SEA Life Porto for the first time she was like: "if I had known that it was that good, I would have taken my kid there – I think I'll go alone too!". You can understand the temptation: it's that SEA Life Porto, besides being a great destination for families with kids they also have a large outdoor area with benches for people to sit and "view" the "lake" where the penguins are fed, much to the delight of the kids (and the families).
Unlike other attractions in the city, SEA Life Porto is quite popular even in winter, so I advise you to purchase your SEA Life Porto ticket online.
Learn about the age of discoveries in World of Discoveries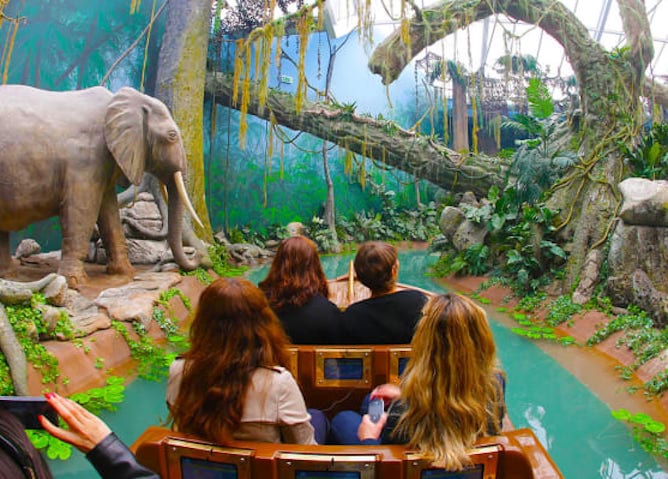 If you are in the Ribeira area with your family, you can easily combine an attraction for grown-ups (Such as the Stock Exchange Palace or the Saint Francis Church) with activities for children. The World of Discoveries is an interactive museum about the Portuguese age of Discoveries and it is less than 5 minutes' walk from the aforementioned monuments 🙂
The museum is aimed at children featuring actors dressed as historical figures, educational exhibits and a small boat trip (as seen in the photo) which passes through various exotic scenarios evoking the former colonies of Portugal.
For some reason I've never quite understood, it's cheaper to buy World of Discoveries tickets online than it is to buy over the counter, so I would advise you to do so.
Visit the Galeria da Biodiversidade (Gallery of Biodiversity)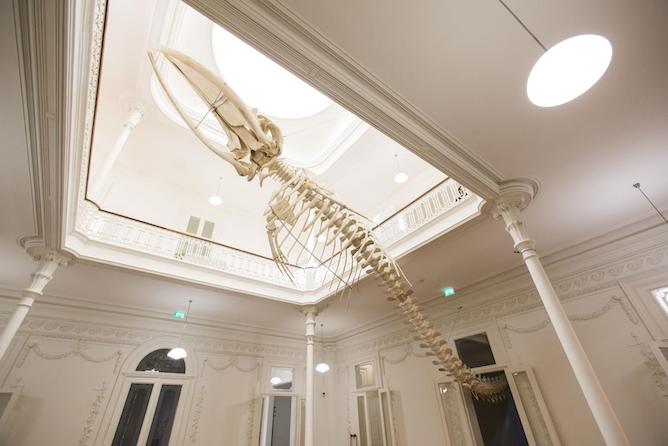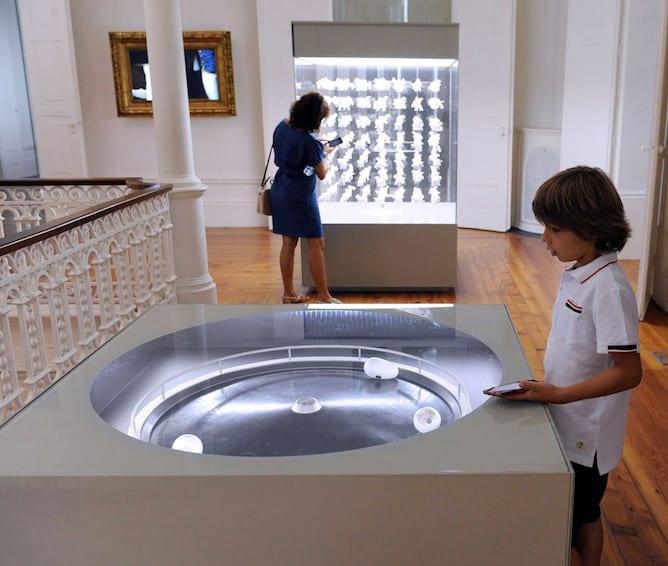 If your kids are already in elementary school, take them to the Biodiversity Gallery. Seriously. In my opinion, it is one of the best museums for families with children in Porto, featuring entertaining scientific experiments which can be enjoyed by the whole family. It's really cool, because kids learn physics, biology and chemistry concepts in a way that's fun, – and we adults can get something out of it too 🙂
If it's not raining, why not take a walk to the Botanical Garden? It's right next door.
What to AVOID doing during Winter in Porto
There are things in Porto that I would definitely skip if it's raining or too windy. Please note that I specifically wrote raining, not cold. Naturally these are very personal thoughts, based on my experience, but I believe I should share them with you: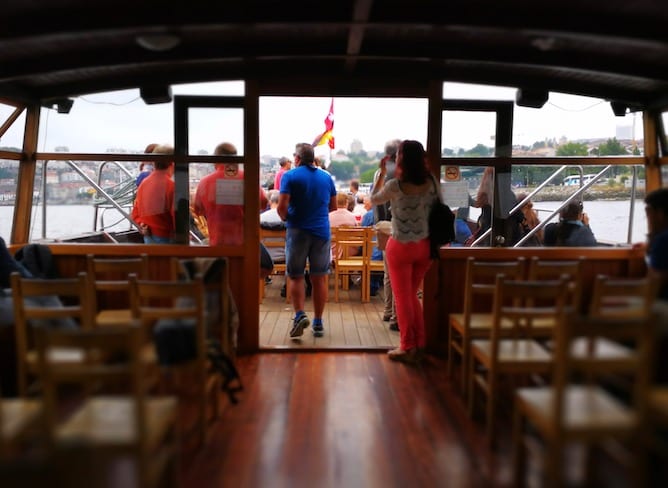 Don't go for the 6 bridges cruise! If it's rainy, foggy or windy them simply skip this activity in Porto as it will be very unpleasant. Yes, the boats have a covered deck, but it's very uncomfortable to stay inside and you'll miss most of the views, which is the main reason to take this cruise anyway.
Don't cross the upper deck of Luiz I bridge – yes, it's super cute on warm days, but up there it's VERY windy and it can be a bit scary during Winter days.
Don't go all Indiana-Jones-like trying to take National Geographic pictures on Felgueiras lighthouse. It's dangerous people. The waves are gigantic and every year people are dragged into the water.
If you are short on ideas to face the rain, read my article about what to do in Porto during rainy days.
What to wear during Winter in Porto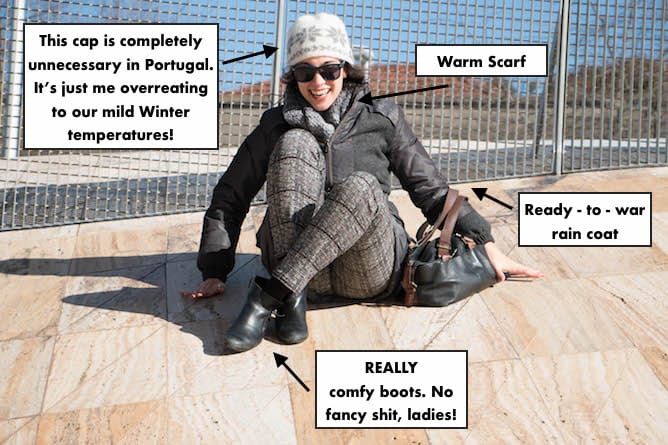 I like to keep it very simple: bring water proof shoes (no high wheels, ladies!), a warm scarf and a pretty rain coat. No umbrella, unless it's VERY resistant – trust me on this, the bad ones won't last a couple of hours in moody-rainy-Porto. Above all, have fun! 🙂
Save this article for later: