Aveiro, also know as the Venice of Portugal, is one of the best day trips from Porto. I used to live in this city when I was studying to become an engineer (it seems like a life ago!) and hence my memories are filled with memorable dinners with friends, folk festivals and dangerous amounts of ovos moles (a local delicacy).
It is a tiny city with a lovely city centre where you can do several activities which are listed below, together with a list of the best hotels in Aveiro. I hope you enjoy visiting Aveiro as much as I did to live there 🙂
These are the best things to do in Aveiro:
1. Check the stunning Art Nouveau Buildings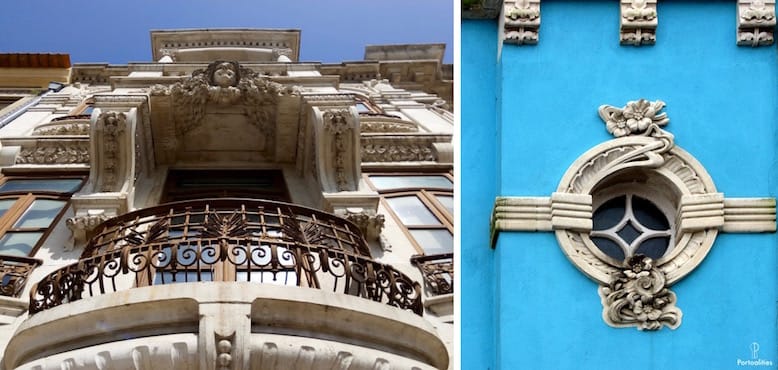 The Art Nouveau style had its golden age in Portugal in the early twentieth century, reaching Aveiro by the hands of a new, enriched bourgeoisie coming from Brazil. They built shops and houses of Art Nouveau in Aveiro, incorporating traditional Portuguese decorative elements such as tiles.
Even though Art Nouveau lasted for a very short time in Portugal it left a strong presence in Aveiro, one of the few cities included in the Réseau Art Nouveau Network, a reputable network of European cities in which this architectural style is most evident.
In pursuit of this inheritance I went searching for the Art Nouveau in Aveiro. Here you have some photos, and a map with all the official buildings of the Art Nouveau route in Aveiro so that you can take this beautiful ride on your own 🙂
In case you arrive at one of the points on the map but are wondering if you are at the right building, look at the floor – all the official buildings of the Art Nouveau route in Aveiro have an indicative plate like this one: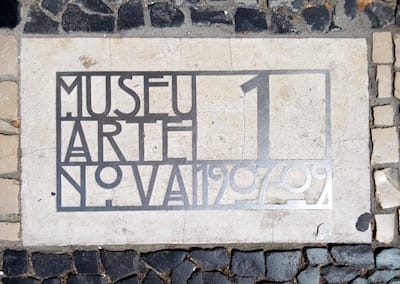 2. Go for a boat ride on a Moliceiro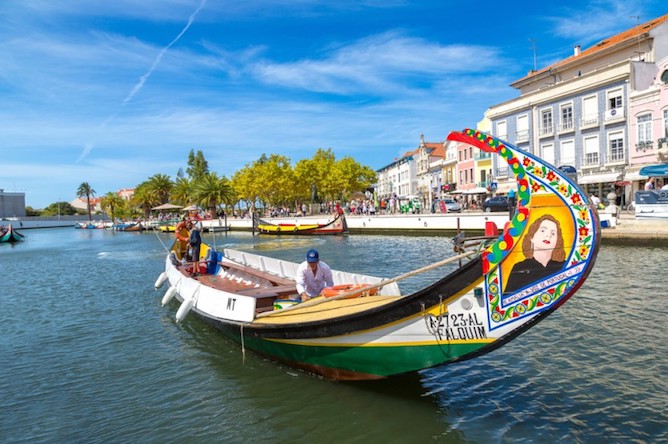 One of the most popular activities is to go for a boat ride on a moliceiro in Aveiro. (In case you are wondering, moliceiro are the famous colourful flat boats from this city. The word moliceiro comes from the word moliço, which are some aquatic plants that fishermen used to catch to be used as fertilisers in agriculture).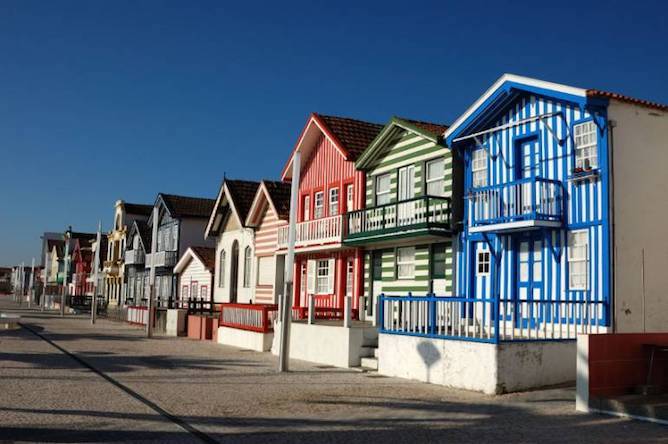 You can buy the tickets straight at the "deck". Another option, which I find particularly interesting for those who are spending one day in Aveiro, is to book a half day tour in Aveiro and Costa Nova, that combines a boat ride on a moliceiro together with a visit in the city centre and a quick stop over at Costa Nova, a picturesque coastal village (see the picture below).
Another great option is to take a full day tour in Aveiro and Coimbra. I believe it is best to spend a day in Aveiro and two days in Coimbra, but if you are short on time, this tour is a wonderful solution.
3. Try ovos moles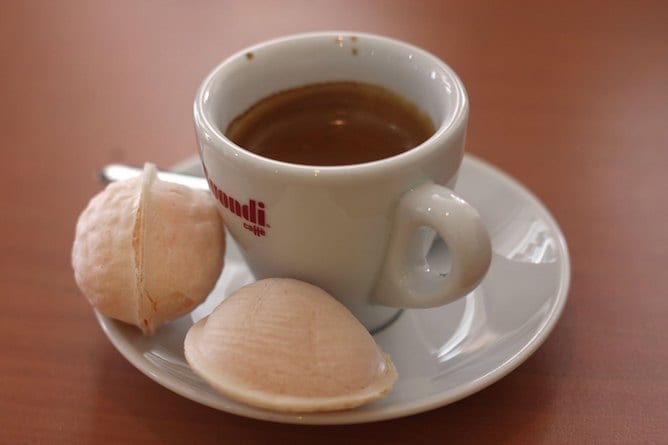 OK, I think we can all agree that ovos moles – a delicacy made from rice paper filled with egg yolks mixed with sugar – scores very high on any caloric standards you might have. But for once leave all the diets behind and try even a tiny ovo mole served with an expresso or with a hot tea – it feels so good after lunch!
If you think that is too much for you, you can simply go to Gelados de Portugal as it has a super list of homemade ice creams made from traditional Portuguese ingredients such as pineapples from Azores' islands or, precisely, ovos moles from Aveiro 🙂
Where to Stay: Best hotels in Aveiro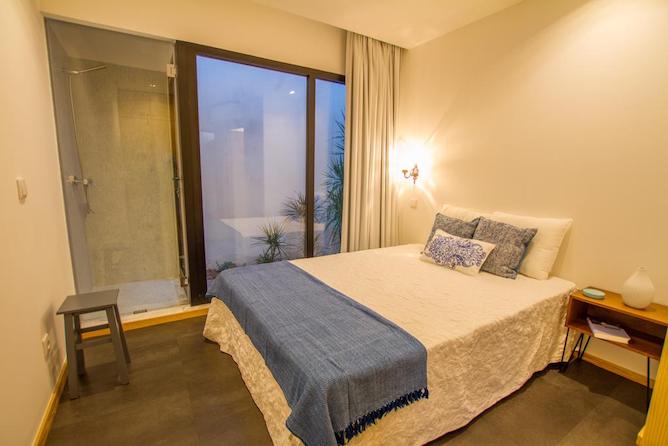 I am going to be completely honest with you: precisely because I used to live in Aveiro, every time I go there (which I do quite often) I stay at friends' places.
Nonetheless, I complied this list of the best apartments and hotels in Aveiro which is based on my own friends' recommendations and my own personal stay in two or three or them. I hope you find it useful!
Apartaments in Aveiro
SaberAmar Charme
Cais das Falcoeiras, 13
SaberAmar Charme is a spacious apartment located at the city centre in Aveiro. It is fully equipped and it has room for 4 people, hence being perfect for families with kids.
Family
Rua José Augusto
What I love about this apartment is the natural light that shines in its very cozy décor. It is located close to the only train station in Aveiro, which is 10min walking distance from the city centre.
Casa dos Mercanteis
Cais dos Mercanteis, 30
This cute little apartment is located at one of my favourite canals in Aveiro, just a few street away from the fish market, where a lot of nice bard and restaurants are located. It has such a romantic atmosphere that even though it is suitable for 4 people, I would actually only share it with my boyfriend 🙂
Hotels in Aveiro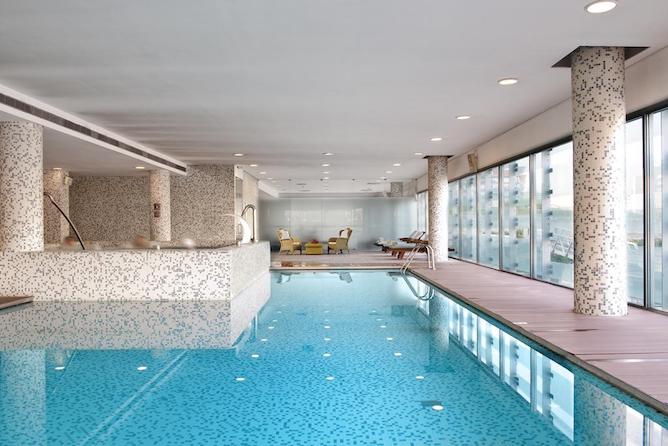 Melia Ria Hotel & Spa
Cais da Fonte Nova, 5
If you want to splurge yourself then this is the right hotel in Aveiro to do so. I stayed in this hotel when I went to a friend's wedding in Aveiro and I took my time to enjoy the pleasant indoors swimming pool and spa. It was fabulous and I can only recommend it!
Hotel Moliceiro
Rua Doutor Barbosa de Magalhães, 15/17
I just love this hotel in Aveiro – from its perfect location to the exotically decorated bedrooms and the opulent breakfast, there is nothing bad to point out!
Hotel das Salinas
Rua da Liberdade, 10
One of the thing I love most about this hotel in Aveiro is it's super location at a large canal in the city but close to the city attractions as well as the bus stops. Besides that, and if my memory is right, breakfast is rather nice and served at a beautiful patio 🙂
Save this article for later: