I organize private tours in Porto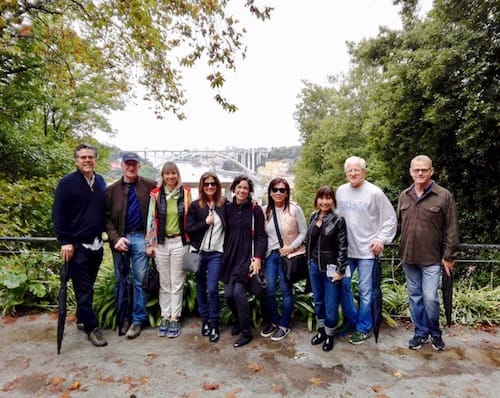 Check this page for more information or send an email to sara@portoalities.com.
On this article I will go through the basics of the system, the purchasing and validation of tickets, the schedule as well as some platform etiquette of the metro of Porto.
After reading it, you'll know how to use the metro of Porto, my favourite public transport to fight the minor struggles of walking in Porto. Let's go!
Before reading this article: have you already decided where to stay? If not, read my article about the Best neighborhoods to stay in Porto! There I give you plenty of recommendations of great hotels and apartments in Porto.
Let's learn how to use the metro of Porto!
The basics: You're in the Zone
Before learning how to use the metro of Porto, it is important to understand its concept. The metro of Porto works with zones that start precisely on the metro station where you first validate your ticket. As a lot of people get confused with this concept, I made a very simple gif just for you to understand it. It's genius (the concept, not my gif)!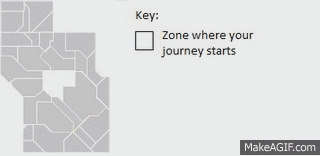 So, for instance, a Z2 trip means that you can travel to all the zones that are in direct contact with the zone where you first validated your ticket, pretty much like an onion ring. A Z3 trip means that you can travel not only to the first onion ring, but also to all the zones on the second onion ring (so, the zones in direct contact with the zones of the first onion ring). And so on and so on.
Now that you got it, here's a map of all the lines of the metro of Porto.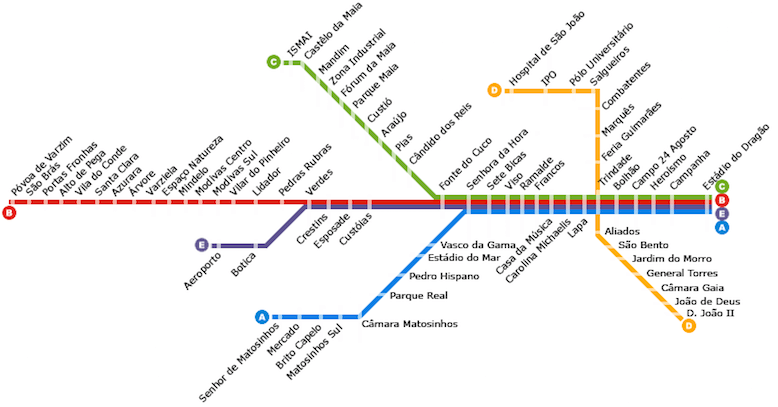 Before I explain you how to get the tickets for the metro of Porto, you might want to save this article for later: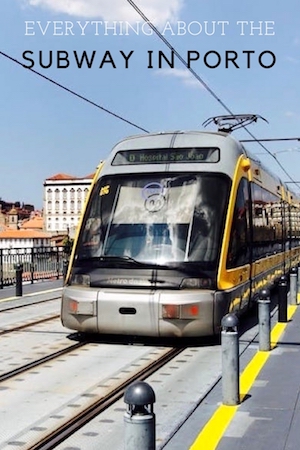 ---
And since we're talking about how to get around Porto, I thought I could give you some tips of a few other ways you can travel the city and discover all its nooks and crannies. Most of these are really awesome and very inexpensive.
An amazing option is this ticket of a city train tour, river cruise and wine cellar visit. It is a great combo if you want to get the most of a single day and it's very cheap – only 22€. I absolutely recommend you buy the combo ticket because if you buy separately you will be paying double that price (over 40€). The city train and the river cruise are wonderful to wind down and relax.
If water is not really your thing, you can get a similar experience by getting a ticket to the magic train tour and Port Wine tasting. The magic train is a really quaint way to see the city and everyone loves it. 😉
Another great deal is to get a combo ticket for the Hop On Hop Off Bus, river cruise and Port wine cellar for 25,20€. This is incredibly cheap because the river cruise costs 15€, a visit to a Port wine lodge around 15/18€ and the Hop on Hop off Bus around 18€ / day. Save yourself some bucks by buying this online ticket.
Do you want a really cool way to get around? Segway! You can go on a 3 hour tour of the city with a guide on a Segway! I mean, what's funkier than that. You can buy the ticket to the Segway tour here.
---
Shall we go for a trip in the metro of Porto?
1. First, you need to purchase an Andante Card (cost:0,50€), which you can charge at any time. The Andante card is a personal card, so if you are travelling with 3 people you need to buy 4 Andante cards, instead of one Andante card charged with 4 tickets.
You can use your Andante card in bus (STCP) and on some train trips as well, but not on the Guindais' Funicular nor on the trams.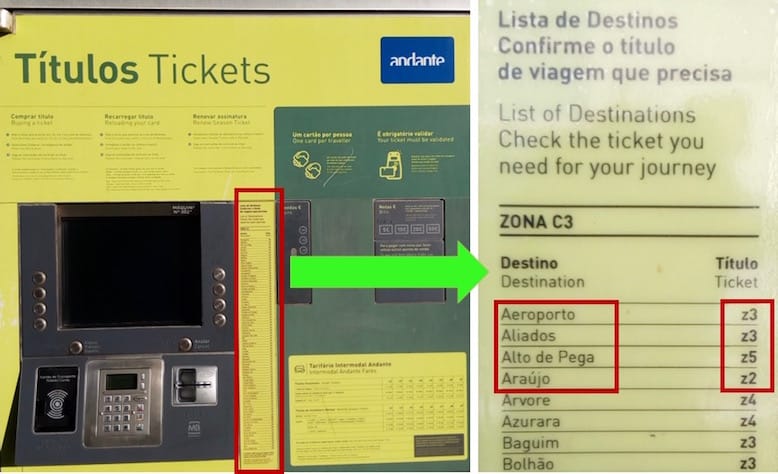 Given what I explained before about how to use the metro of Porto, you buy your Andante card charged with the zone where your destination is. For instance, you can see on the picture that on the metro station I am at, I need to buy a Z3 ticket to get to AEROPORTO metro station.
On each metro station, on the right hand side of the machine, there is a list of all metro stations and the ticket you need to buy to get there.
You can purchase and charge your Andante card at:
– All metro stations
– The post office at the airport (everyday from 08am – 11pm)
– Loja da Mobilidade (Address: Rua Clube dos Fenianos, 25. Mon – Fri: 9am to 5.30pm)
– Pay Shop agents
You can pay with cash or using your credit card.
Expert tip: I advise you to charge your Andante card with some trips at the airport. This will save you some time on your way back. If you purchase 10 trips at once, you get an extra one for free.
BUT keep in mind that you can only charge your Andante card with ONE type of trip (Z2, Z3, etc), so you need to use all the trips you purchased before you are able to charge the card with a different type of trip!
Expert tip 2: If you are planning to use the metro of Porto A LOT, you might consider the ticket Andante 24, which basically is a day ticket that is valid from 24h since the moment you first validate your ticket.
2. Now that you are ready to travel, you must validate your Andante card. In most metro systems that I've used you need to validate the ticket in order to get access the platform, but that is not the case in Porto. Here, you must validate your ticket on the black & yellow machines before you go to the metro platform. You don't need to validate again when you leave the metro.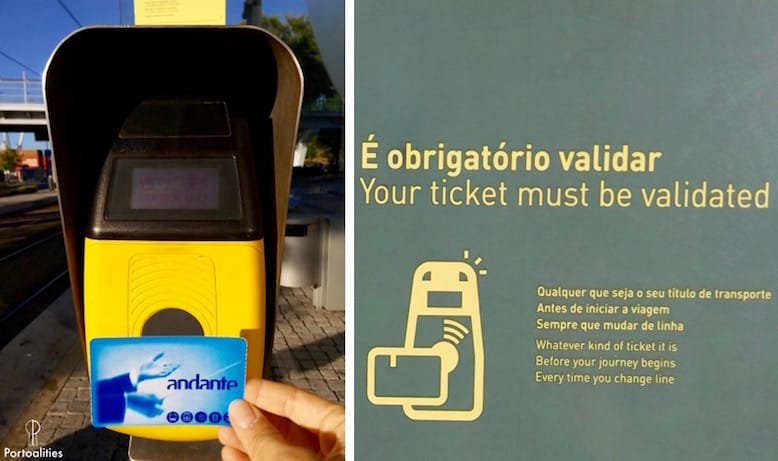 Expert tip: Every time you change lines, you must validate your ticket again!
Platform Etiquette (we are not savages, you know)
Common sense should apply when using the metro of Porto, but as a friend of mine says, common sense is the most precious asset in a company and it's quite hard to find, so I am leaving you with a few simple rules:
Always let the people go out before you go in.
Upon entering the train, near the doors, you will find pull down seats.  Anyone can sit on these, however during peak hours, you are obliged to stand up and make room near the doorway.
It is possible to carry your bike, surf / body board and baby carriage for no extra fee, but please do it either on the first or last metro carriages.
I hope you found this article useful and that you learned how to use the metro of Porto. Keep tuned for more info on Porto! 😉
Extra: Go on a private tour in Porto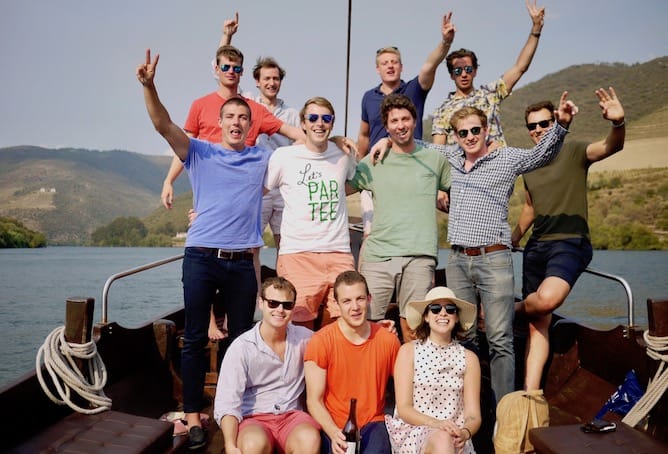 The best way to get to know Porto is to go on a private tour with me!
Check this page to learn more about my tours in Porto, or simply send an email to sara@portoalities.com. I will shortly get back to you with a tailor made tour designed specifically for you.
It will be a pleasure to welcome you in Porto!