If you are travelling by plane to Porto, you arrive at the only airport in the city, "Aeroporto Francisco Sá Carneiro".
I know it can be quite stressful when you first land in a country you don't know, so I am here to help you with all the information you might need when you first arrive at Porto Airport.
Here is all you need to know for your first 30min in Porto!
Porto airport: facilities and services
Porto Airport is a modern building with stunning architecture.
The terminal building has three levels. In the ground floor are Arrivals, baggage claim and all the rental car counters.
On the second floor, there is a shopping area and the Boarding Lounge.
Finally, on the third floor, you'll find Departures, some restaurants, banks (where you'll be able to exchange currency), a pharmacy, a post office, a children's playground, and a baby changing room.
There are ATM machines on every floor, as well as a full-service bank where you'll be able to exchange money. "Nova Câmbios" (where you can exchange currency) is open on the ground floor from 7am until midnight and on the third floor from 5am until 9h30 pm.
In the shopping area, you will find bookshops, jewellery shops, alcohol and tobacco kiosk, fashion points, and electronics stores.
There are also duty-free shops which make for affordable shopping especially for those travelling to non-EU countries.
There is also a cute store called Portfolio where you can buy Portuguese souvenirs and eat your last pastel de nata (we know you'll miss it back home!).
Unlimited Wireless access to the Internet is available in the entire airport free of charge!
Restaurants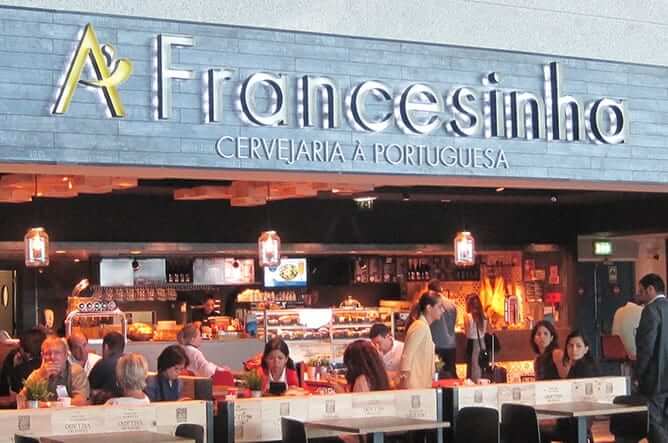 There are several restaurants in Porto, most notably Francesinha (that serves the most famous dish of Porto), a Burger King, a sushi bar, a pizzaria, and several cafés such as Costa Coffee. There is no vegetarian restaurant, which I find a bit depressing, but I'm sure you can manage.
There is also a little café called Deli & Cia which I particularly love, because I can get there some delicious oatmeal, salads and natural juices.
Disabled Travellers
If you are a disabled traveller, don't worry! The airport follows all the European Union standards. There are specially fitted toilets, adapted lifts, ramps and easy-to-operate telephones.
For more information on this, please contact the airport's information desk (+351 229 432 400).
Transportation: getting to and from Porto Airport
The airport is approximately 20 minutes by car from Porto's most central point (Boavista), and 30 minutes from Avenida dos Aliados (downtown).
It isn't the most central airport, so you will need to either get to your hotel by transfer, taxi/uber (prices might differ depending on which one you choose), or metro and bus.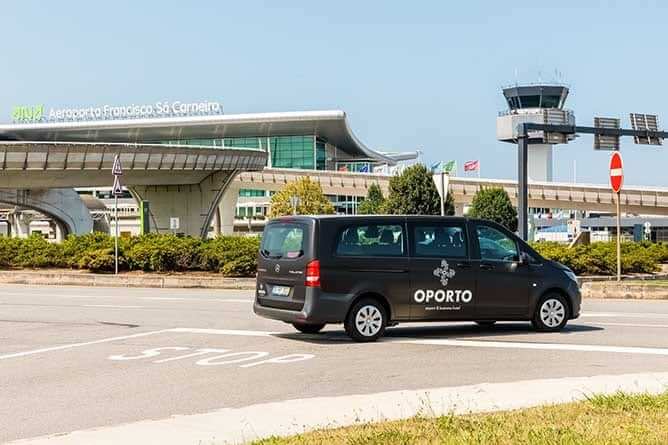 Firstly, let's consider transfers. Transfers are an easy and affordable way to travel, and completely hassle free. And, depending on the size of your group, they can get cheaper than taxis, so I recommend them for families and groups.
There are a multitude of Porto airport transfer's options, but the most popular ones are the shared transfers (for around 10€, which is a bargain and cheaper than taking an Uber!) and the private transfers, which cost 20€ for a group of four people.
What I particularly like about both services is that, as soon as you arrive, you will have the driver waiting for you at the entrance, so you avoid an unnecessary waste of time looking for your driver (which happens with Uber and similar services).
Car Rental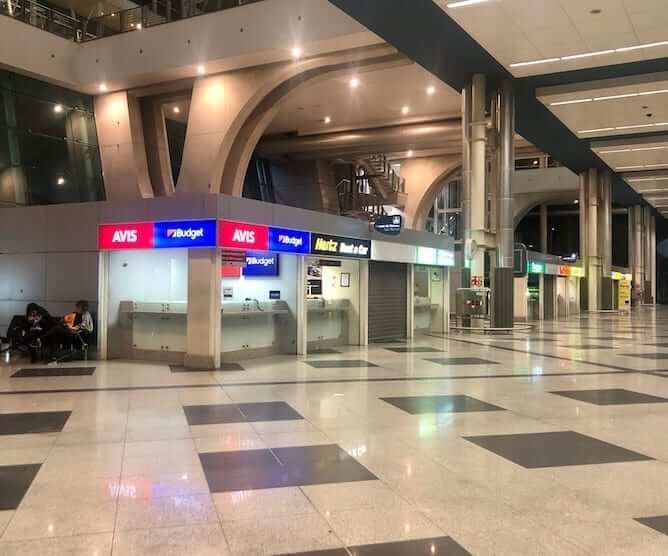 If you wish to rent a car and explore the city behind the steering wheel, Porto Airport has many car rental companies for you to choose from.
Normally when I travel, I book everything in advance as I find very stressful to arrive at a new country and figuring out on the spot what is the best car rental deal.
I recommend you to use a price aggregator such as RentalCars or AutoEurope, where you can compare the prices of different car rental companies, make a hassle free booking and guarantee a free cancellation, in case you change your travel plans.
Metro

Metro is the cheapest way to travel, and the most environmentally friendly!
Firstly, you'll need an Andante card and depending on where you need to go, you load it up with trips according to the zones you'll travel through (at the same machine you bought your Andante card).
For example, to get from Porto Airport to downtown Porto, you need a 3 zone (Z3) trip which costs 1,60€. The trip takes around 35 minutes.
Line E (purple line) has a frequency of approximately 20 minutes. For more detailed information read our article about the metro of Porto.
Bus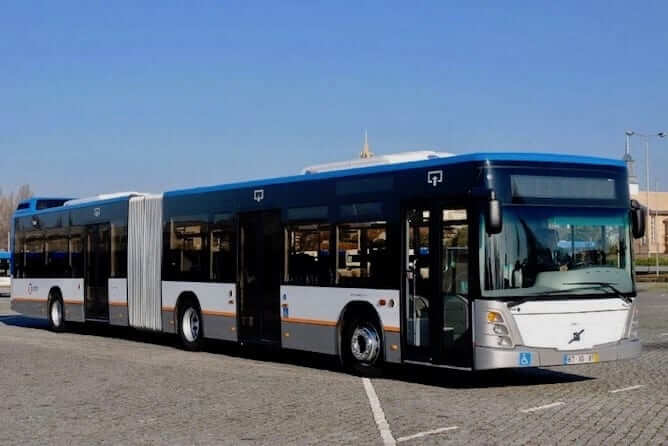 You can also catch a bus in Porto, although this is the least comfortable option and its destinations are more limited.
There are 3 STCP (Porto Collective Transport Company) Buses, line 601 (Cordoaria – Airport), line 602 (Cordoaria – Airport -via Padrão de Moreira), and line 604 (S. João Hospital – Airport – via Crestins).
Services are scheduled on a 25 minutes frequency, although there might be delays. For more information, check STCP's website.
Taxi / Uber
When exiting the building, you'll find taxis parked just outside. This is the most convenient way to get to your hotel, but you can also opt to travel by Uber / Bolt / Kapten etc (by the way, so far Kapten is the cheapest option, followed by Bolt).
You may be asking yourself, "how much is a taxi from Porto Airport to Porto city centre?" If you choose to travel by taxi, you'll pay around 25€ to get from Porto Airport to Aliados. However, if you opt to call an Uber, you'll pay around 16€.
Still, due to the price fluctuation of these apps and to the fact that we have to find them, I still prefer to request a transfer.
Hotels near Porto Airport
On our website you can find numerous articles on the best hotels in the city. However, if you need a hotel close to Porto Airport, we have some suggestions with varying price ranges.
All the hotels listed below have a 24h reception service.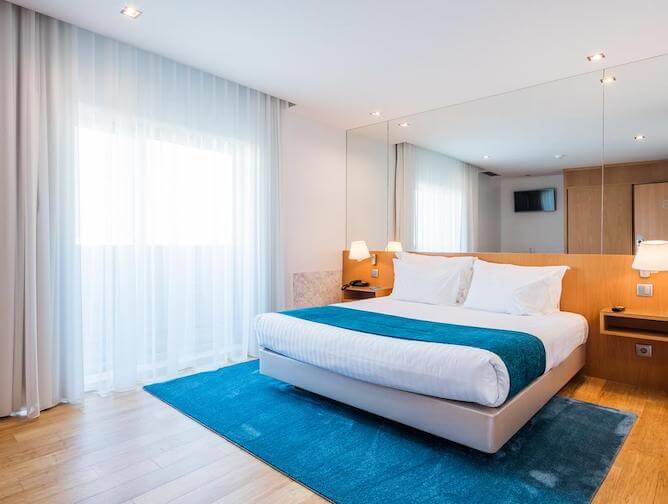 Firstly, OPOHOTEL Porto Airport (4 stars) is 7 minutes walking distance from Porto Airport and has a free transfer service. A double bedroom costs 70€ per night with breakfast.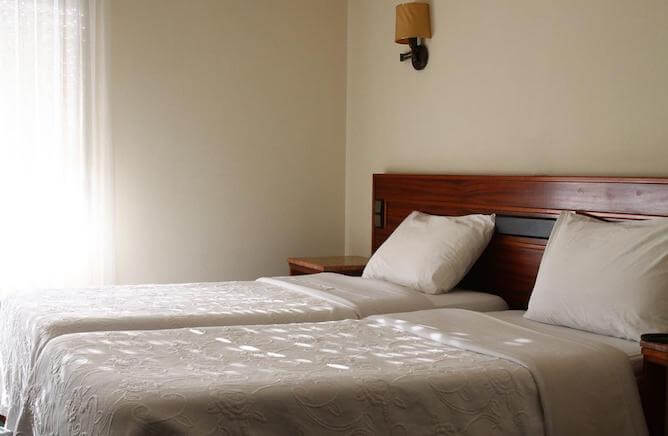 Secondly, Hotel Aeroporto (3 stars) is likewise very close to the airport and a double room costs 50€ per night, although the price doesn't include breakfast.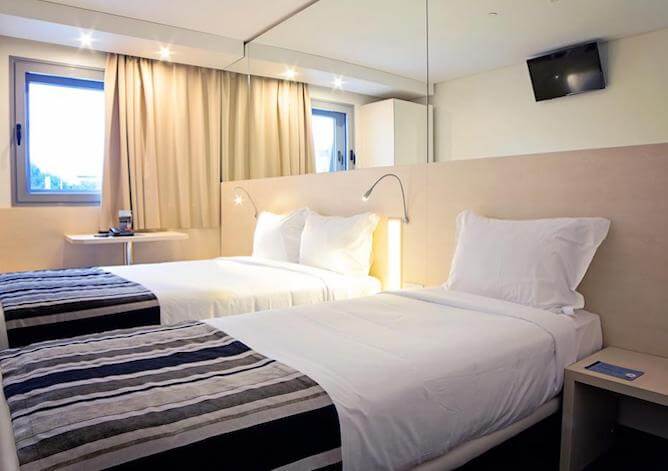 Thirdly, Park Hotel is the best option if you wish to enjoy your breakfast. For a double room with breakfast, you'll pay 70€, but the serving hours go from 04:30 to 11 o'clock. You'll have plenty of time to enjoy the most important meal of the day.
If you are on a tight budget (I feel you!), then AirPorto Hostel is the best place to stay near Porto airport. You can get a bunk bed in a dormitory for as cheap as 17€ / night, which already includes breakfast. I bet you will never consider sleeping on the floor of our airport again after checking this hostel!

Finally, Oporto Airport & Business Hotel (4 stars) is ideal for families. This is the furthest of the 3 from Porto Airport (1,4 km) but features a pool and an esplanade. A double room here costs around 60€ euros, and 70€ with included breakfast.
As you can see, there are many options to choose from, but you'll definitely get your money's worth.
With all this useful information, you can now book your trip to the magical city of Porto.
Some of the main airlines that travel to Porto include Iberia, Lufthansa, Luxair and Ryanair.
However, the airport welcomes many more airlines . Here is a list of all the operating airlines of Porto Airport (2020): Aegean Airlines, Air Canada, Air Europa, Air France, Air Transat, Azores Airlines, AZUL LINHAS AEREAS, British Airways, Brussels Airlines, Easyjet Airlines, Emirates, Eurowings, Finnair, Iberia, KLM, Laudamotion, LEVEL, Lufthansa, Luxair, Ryanair, Swiss International, TAAG, Tap Portugal, Transavia, Royal Air Maroc, Turkish Airlines, United Airlines, Volotea, Vueling Airlines, WIZZ AIR HUNGARY.
I hope that this article was useful and that you'll make the most of your trip to Porto!
Save this article for later: