Although Porto is a city notoriously inclined, the tendency to use bicycles is increasing. From the occasional bike rides, to bike tours, to people who adopt the bike as a fundamental part of a healthy lifestyle, there are tastes – and places – for everyone here in Porto.
So I made a list of bike tours, places for bike rental in Porto and the main bike lanes of Porto district. Enjoy the ride! 🙂
1. Bike tours in Porto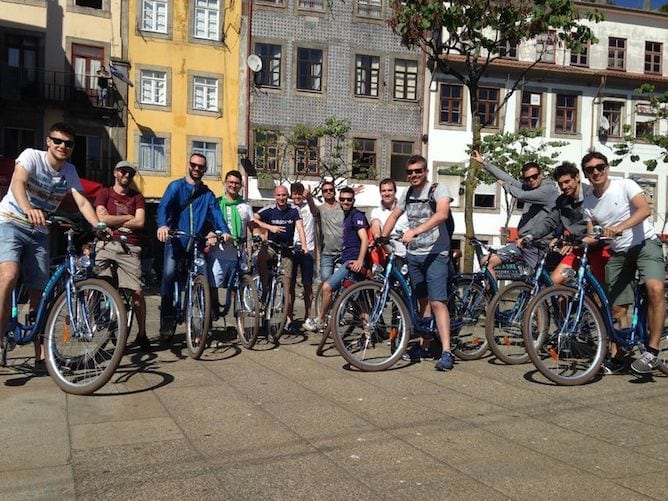 Even though I organise private tours in Porto I do not venture into bike tours because I am the clumsiest bike rider I know.
Therefore, I took the time to discover the best bike tours in Porto for you – they are highly rated and not expensive at all! You can get the online ticket to the most popular electric bike tour in Porto to make sure that you'll have a great time (and very little effort :P).
If you prefer to use conventional bikes, then join this bike tour in Porto.
[getyourguide ids='181475,149129′ data-gyg-cmp='bike-rental-porto-widget-1′ data-gyg-placement='content-middle' data-gyg-locale-code='en-EN']
2. Bike rental in Porto
You can rent a bike for 15€ / day, as it has great reviews. They provide you with a bike, helmet, lock, city map and plenty of recommendations.
There are also several stores for bike rental in Porto. I am going to start with two concept stores that I particularly like, and then move on to the most generic ones.
DouroBike
Rua Coronel Raúl Peres, 100 | Porto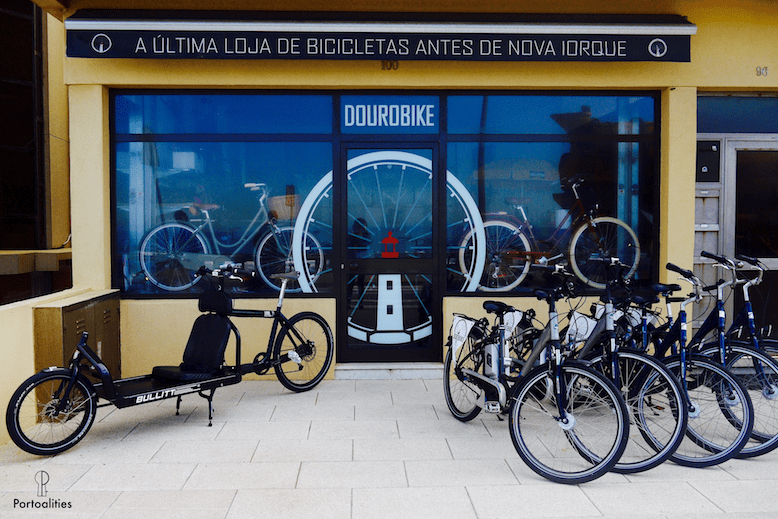 Speaking with one of the founders, Steffen Wollmann, one quickly realizes that DouroBike is not just a bike shop, it is a urban mobility concept store. A pioneer in cargo bikes in Porto, as well as electric and folding bikes, DouroBike's mission is to rethink – and reposition – the use of bikes in the urban environment, so that they become not only an object of "recreation" but an integral part of our daily lives.
In this sense, DouroBike rents electric bikes, it develops mobility solutions both for companies and individuals, and it will soon introduce the concept of leasing of electric bikes – for a monthly rent, the customer is entitled to a customised bike, its maintenance, insurance and accessories. I was very impressed with the work of DouroBike – well done, boys! 🙂
Urban Cicle Café
Rua Bom Sucesso, 18 | Porto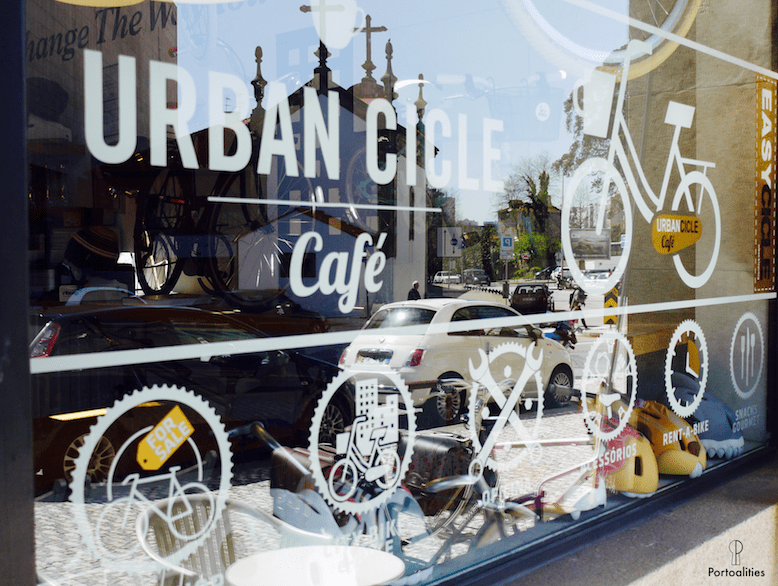 Right next to Mercado do Bom Sucesso, Urban Cicle Café has a funny concept that ranges from bikes' construction and repair services, bikes' sale (brands like QWIC – electric bicycles, Pashley, Csepel, Cinzia, etc.) and cafeteria. The best of all is the "Cicle Urban Picnic", a bike rental service that includes a picnic basket filled with goodies 🙂
Hungry Biker Cafe
Rua das Taipas, 68 / 72 | Porto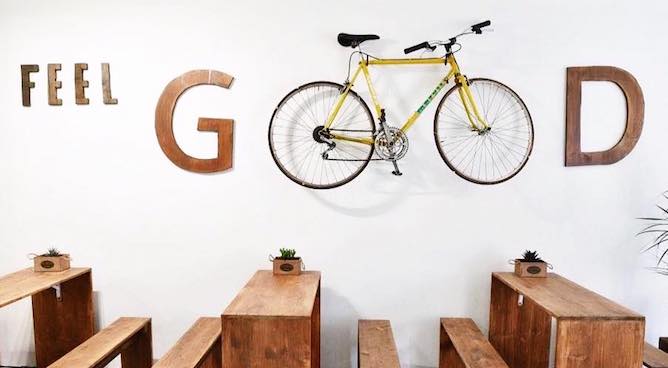 There is another great place for bike rental in Porto called the Hungry Biker Cafe. The photo says it all: it is a concept store that combines a coffee shop with a bike rental service. They rent a bike for 11€ / 24h (a bargain, right?!).
I cannot say specifically which types of bikes they have for rental, but you can contact them on facebook. You can also shop up on the store – worst case scenario, you get a good coffee and a great oatmeal bowl 🙂
As for other stores for bike rental in Porto, I suggest:
3. Bike lanes in Porto
Now that you have a list of the best places for bike rental in Porto, there's something you should know: it is not safe to ride in downtown Porto. The traffic is chaotic and Portuguese drivers are not exactly known for strictly complying to the road diplomacy. Moreover, there are simply too many tourists wondering around.
But don't worry! Outside the city centre there are numerous possibilities for those who want to take a relaxed bike ride.
For example, the bike lanes of Vila Nova de Gaia, with a total of 16 km. You can start your bike ride in Cais de Gaia, proceed to Marina da Afurada, a beautiful fishermen village with traditional Portuguese restaurants.
Then continue parallel to the beach, almost to Espinho. Along the way, besides the wonderful landscapes (including the chapel of Senhor da Pedra, built on the sand!) you can enjoy a snack in one of the numerous restaurants on the seaside.
How to get there: Simply by riding! You can also do it the other way around: take the train at São Bento train station in Porto, all the way to Espinho, and get back riding your bike 😉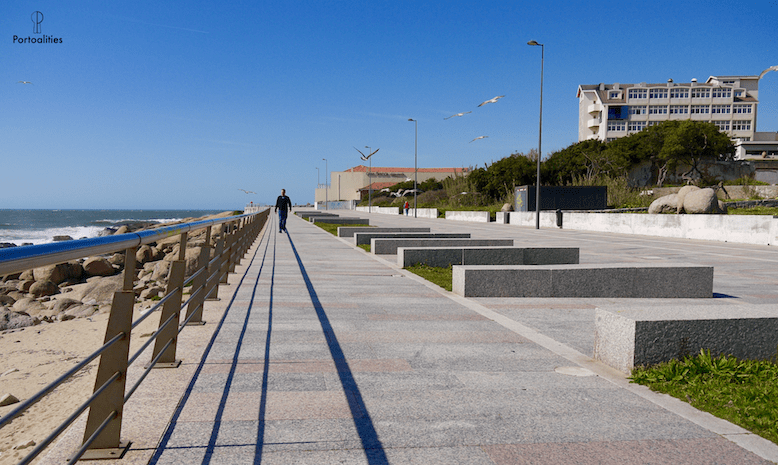 The cycle lane alongside the beach of Matosinhos is also a good option, because in addition to being spacious, it is easily accessible via the blue line of the subway.
On the other hand, at the end of the beach, right next to the transparent building, there is an entry to Parque da Cidade, the largest urban park in Portugal, with 83 hectares where you can easily ride a bike!
How to get there: simply take the subway to the station Matosinhos Sul, on the blue line, and you'll be at the beach.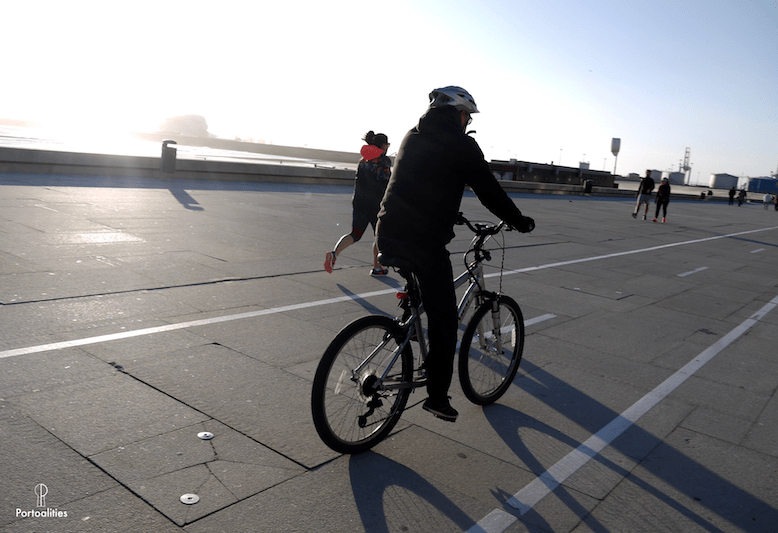 Finally, the sidewalk on the beach of Leça da Palmeira is also an excellent choice. It is spacious, it was fully renovated in 2006 by the famous Portuguese architect Álvaro Siza Vieira, who also designed the amazing Piscinas das Marés, ideal for families with kids, and the Tea House of Boa Nova, in the same place, that holds an amazing restaurant.
How to get there: this is the least accessible beach for tourists. I usually take the subway to the station Mercado, on the blue line. From there, I cross the bridge of Leça da Palmeira – it's right in front of the subway station! -, and ride until the beach at Leça da Palmeira (it takes around 20 minutes).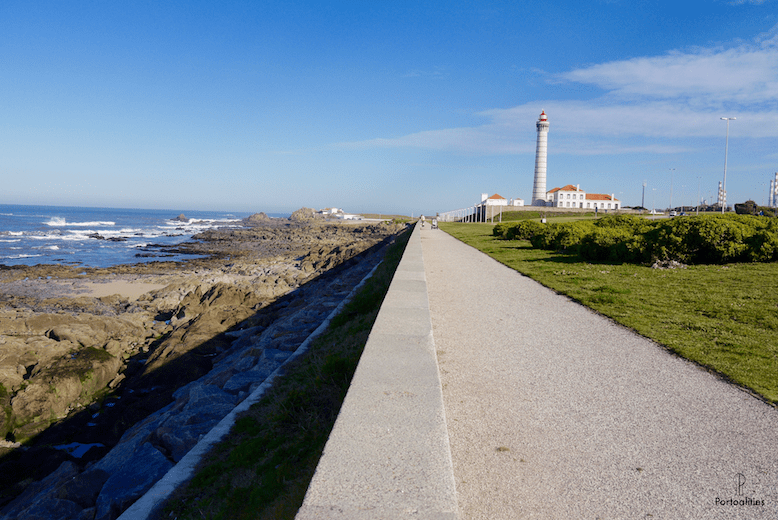 4. Transport of bikes on public transports in Porto
You can take your bike for free inside the urban trains of Porto. Please bare in mind that there are other people using the train, so you should take your bike to the last carriage and avoid occupying unnecessary space.
The same rule applies for the transport of bikes within the subway of Porto. How great is that?! 🙂
I hope you enjoy your bike ride in Porto! 🙂
Save this article for later: