Where to stay in Porto: Best neighborhoods
Discover the best Porto neighborhoods for short stays. It also includes suggestions of best hotels & apartments of where to stay in Porto.
Eugene Zhyvchik
Soooo. You've already booked your flight to Porto, and maybe even a couple of really cool activities like watching a Fado show at a Port wine cellar or the ticket to the Hop On Hop off bus tour + 6 bridges cruise + Port wine cellar. But you are still missing the accommodation part – and this is where I come in, with this article about the best neighbourhoods to stay in Porto.
Where to Stay in Porto: the best neighborhoods
I used this map where the neighborhoods in Porto are clearly marked. I am going to write about seven neighborhoods in Porto: Ribeira (light blue), Baixa (orange), Cedofeita (yellow), Bonfim (green), Foz (pink, on the lower left corner), Marquês (pale pink, top corner) and Boavista (red).
Unfortunately, a lot of other bloggers decided to copy the structure & content of this article – people that have never even lived in Porto! But this one is the real deal, so keep reading 🙂
I recently decided to also include Cais de Gaia – technically it is not in Porto, but it is just across the river (so, 5 minutes walking distance) and it also a great location.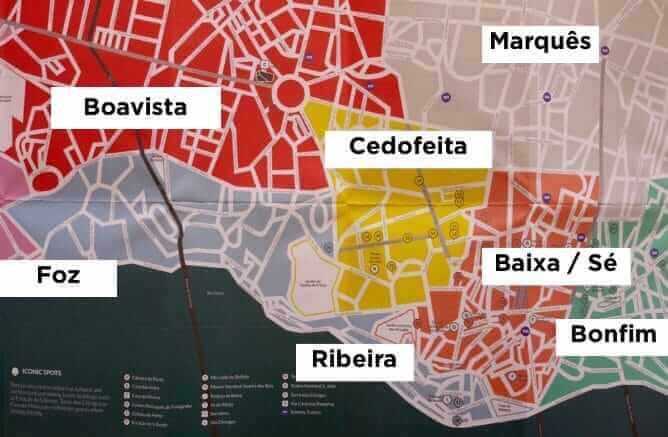 Whether you are on a romantic getaway in Porto or on a party weekend with friends, on this guide you can find useful info about the best neighborhoods in Porto!
#1 Best neighborhood in Porto: Ribeira
Why stay in Ribeira?
Ribeira is probably the most famous neighborhood in Porto, due to its picturesque houses painted in colourful tones. It is located by the riverside, right next to the beautiful iron bridge Luiz I, so it is one of the most photogenic areas in Porto.
Some of the most famous monuments in Porto, like the Stock Exchange Palace and the St Francis church, are located in Ribeira. You are also close to the Port wine lodges, which are just 10 minutes walking distant.
Moreover, from Ribeira departures the most famous tram ride in Porto, the tram #1, that goes all the way to Foz neighborhood.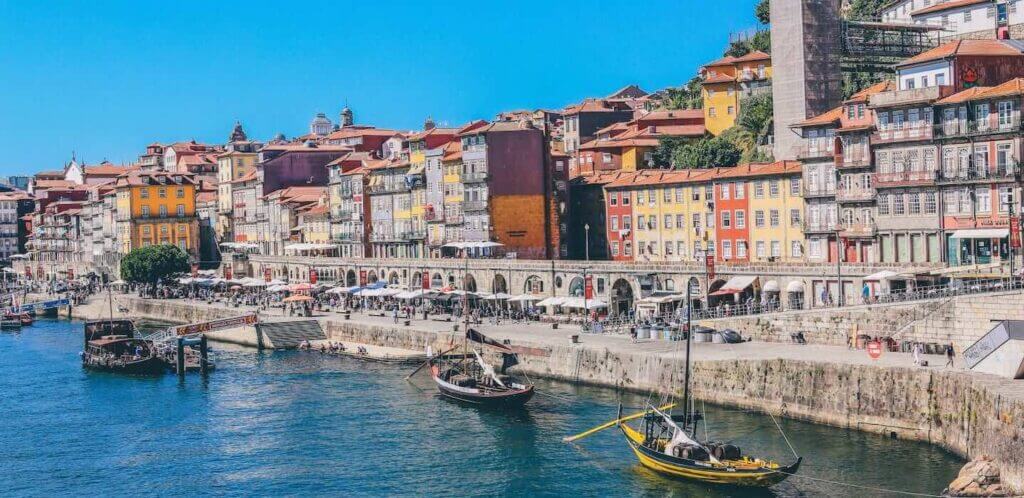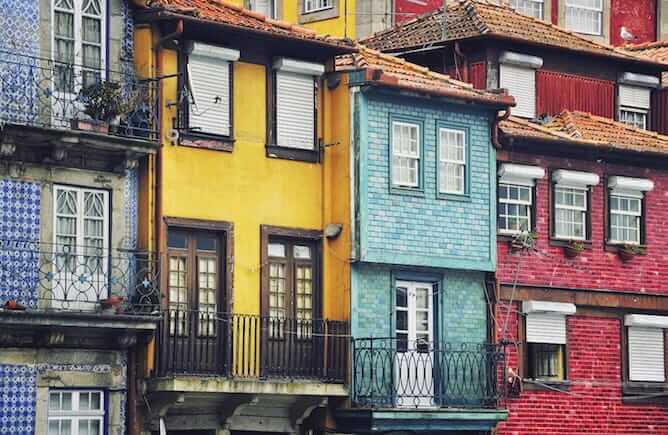 Because of this, Ribeira is the most touristy neighborhood in Porto. It has many hotels, restaurants and above all souvenir stores, so it is quite busy and noisy during the day. During the night it is very pleasant to walk by the riverside, especially during Summer nights.
Ribeira is the best neighborhood in Porto for elder travellers (as it is a flat area) and for travellers who don't mind crowds and confusion.
What is the catch?
The major downside of staying in Ribeira is that it is near the riverside, so to go to Downtown you need to climb Rua Mouzinho da Silveira or Rua das Flores. It only takes around 15 minutes, but it it very steep. The area itself is flat, but to visit the city attractions in Downtown Porto it is not so comfortable.

Moreover, as Ribeira is very touristic, it is not the best neighborhood in Porto when it comes to eating out as the prices are quite high.
But if you still want to stay in Ribeira, then I suggest you to stay east of Luiz I bridge as it has way less tourists around. In there, you have two great options available: Eurostars Porto Douro (a 4 stars hotel with a killing view) or, if you prefer to stay in an apartment, Oporto Trendy River is the best choice.
Where to Stay in Porto – Ribeira: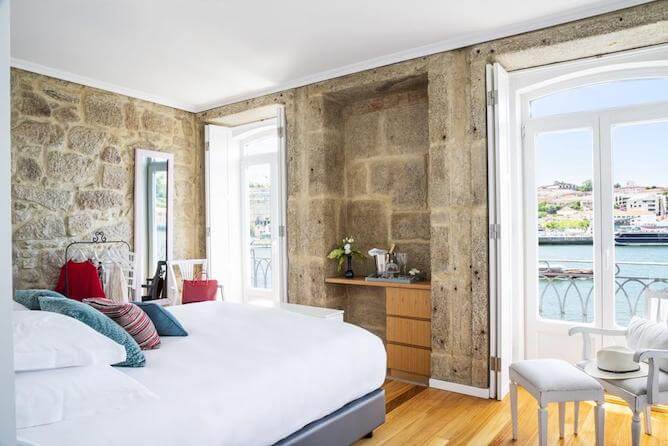 There's plenty of accommodation at this neighborhood in Porto. If you are looking for a superior experience I recommend you Pestana Vintage Hotel. It has spacious rooms with a fabulous view of the Douro river and the Port wine cellars.

Other amazing options but at slight lower prices are Descobertas Boutique Hotel and House Ribeira Porto Hotel.

Another great place for you to stay in Porto is 1872 River House, one of the best boutique hotels in Porto. This guesthouse combines the traditional granite stones of Porto with elegant decor. It's 500m away from D. Luis bridge, so it is very peaceful at night. 1872 River House is ideal for couples on a romantic getaway in Porto 🙂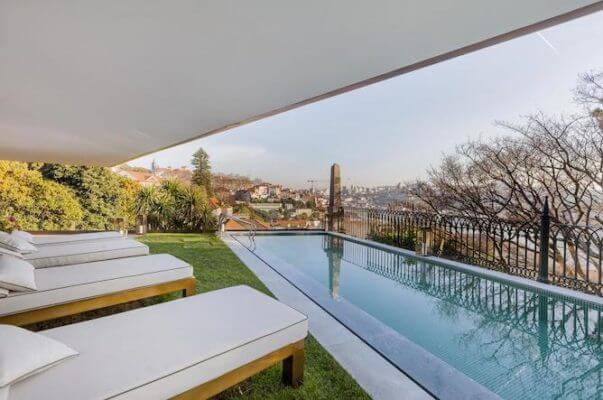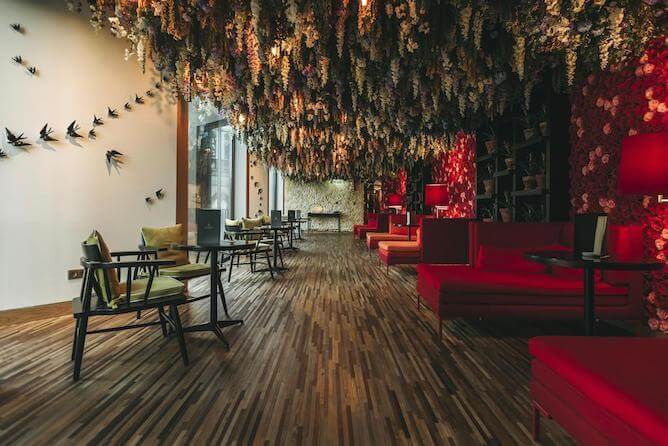 But if you want to stay at a truly special place, take a look at Torel Avantgarde. This 5 star hotel opened just a few years ago to quickly steal our hearts with its infinite pool overlooking the Douro river and its Instagram-worthy terrace. The breakfast, I've heard from my clients, is divine.

Recently I fell in love with an amazing guesthouse called Mo House. It has fantastic double bedrooms but also family bedrooms, and despite its amazing location and overall quality it is rather affordable!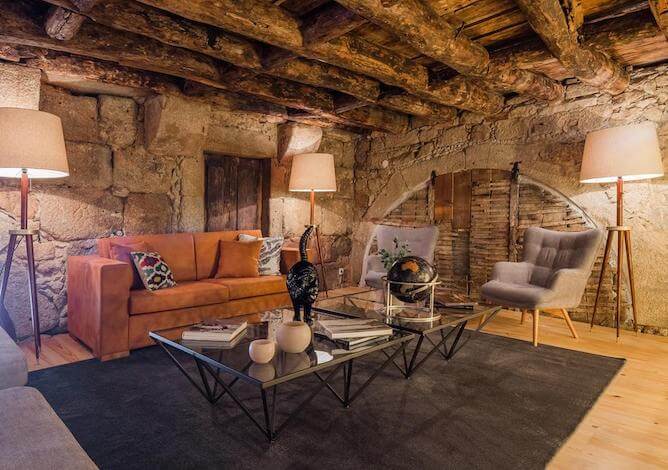 If you'd rather stay in an apartment, I suggest you Porto River as it has the most charming atmosphere you can imagine. Each bedroom has its own kitchenette so that you can prepare your meals if you want to. It's simply perfect!
Other great apartments in Porto Ribeira are Guest Ready and Oporto Chic & Cozy – this last one has air conditioning, which is VERY RARE in Porto!

One of the best places to stay in Porto for solo travellers is the Bluesocks Hostel – it is certainly one of the best hostels in the city and a great place to make new friends. But, if you prefer a more private and quiet place, I suggest you to rent a room at the lovely Maria Muralha Guest House – it is great value for the money, and the internet is very fast (I stayed recently there and was impressed).
If you want more recommendations, read my article about the Best Hotels in Ribeira.
#2 Best neighborhood in Porto: Cedofeita
Why stay in Cedofeita?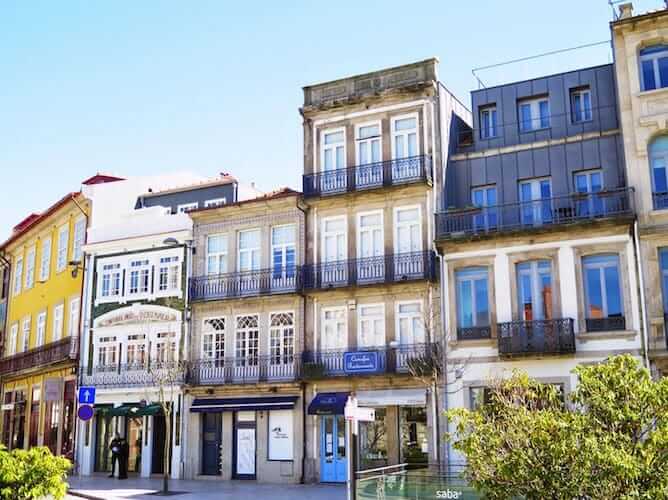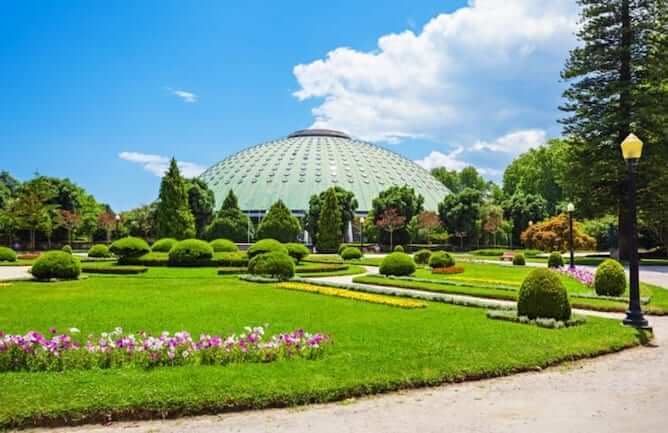 Cedofeita is the trendiest neighborhood in Porto as it has an art district at Rua Miguel Bombarda, full of interesting art galleries and concept stores (particularly at Rua do Rosário). For me it is also the most romantic neighborhood to stay in Porto.

Besides the art district, Cedofeita has some lovely brunch cafes like O Diplomata and Rosa et Al. It also has the cutest shopping mall, with concept stores and an organic market on Saturdays, called Centro Comercial Bombarda.

Cedofeita is particularly interesting because it is right next to Baixa, where most monuments are located (as well as great bars and restaurants), but "far away enough" for a quiet time in Porto.

At this neighborhood in Porto you can go for a romantic walk at the Crystal Palace Gardens, located in front of Museu Nacional Soares dos Reis, one of the best museums in Porto. If you want to experience the Portuguese culture, you can enjoy a Fado show at Casa da Guitarra.

Cedofeita is the best neighborhood in Porto for family with kids, travellers who want to be close to the main city attractions but on a quieter location and for couples on a romantic getaway in Porto.
What is the catch?
There is none, to be honest! It is a great neighborhood with an amazing vibe. I usually avoid it on Fridays and Saturdays night because some of its streets, like Travessa de Cedofeita, get impossibly loud. But that is an exception, not the general situation in this area.
Where to Stay in Porto – Cedofeita:
Cedofeita is the best neighborhood in Porto for a romantic getaway as it has superb hotels for couples, so let me suggest you my favourite ones.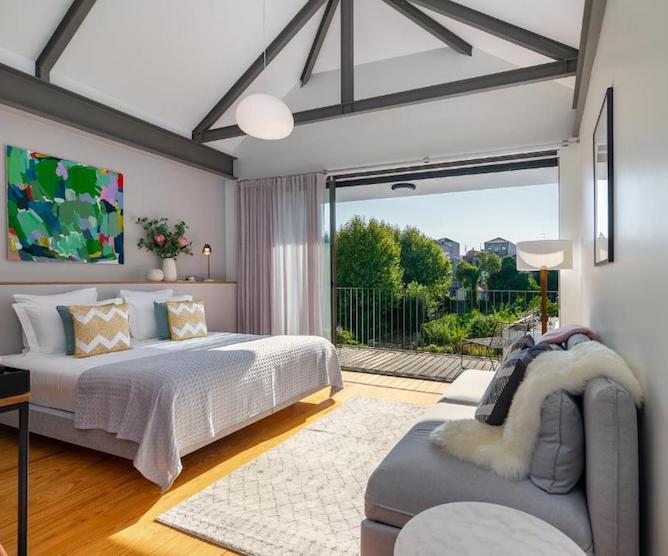 One place I recently fell in love with is Canto de Luz – a fantastic boutique hotel with a clever use of skylights and wide indoors windows, resulting in spacious rooms full of natural light. Some units have a kitchen, equipped with a dishwasher, microwave and fridge. Some suits include a dining area and a seating area with a flat-screen TV with Netflix. They even give you popcorn, for Christ's sake!
But what I really LOVE about Canto de Luz is the breakfast – it is one of the best ones I ever had, with creamy omelets, amazing waffles and fresh fruits… I don't remember the last time I had such a great breakfast in a hotel!
Honestly, you really can't go wrong with this hotel in Porto! 🙂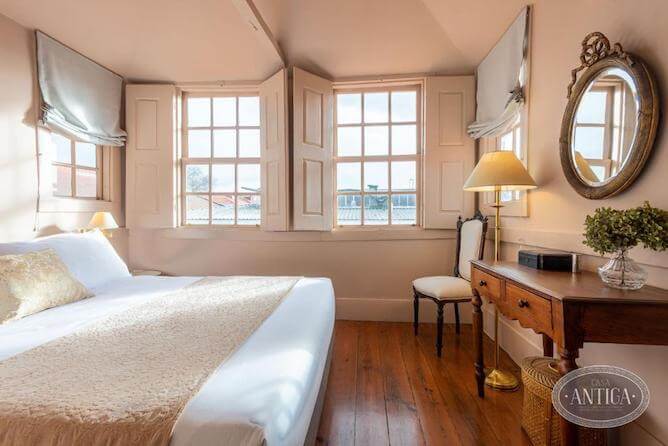 Another great place is Casa Antiga. It is a lovely guesthouse that has been decorated with vintage furniture selected by Amacau, one of the best antique stores in Porto. The rooms have lots of natural light, something that I love, and many overlook the private garden, where you can take your breakfast. It really is a special place in Porto!
Indeed, one of the things that I like the most about Cedofeita is that it is home to some of the most living guest houses in the city, such as Casa Carolina (with its bright and spacious rooms) and Pensão Favorita, famous for its restaurant.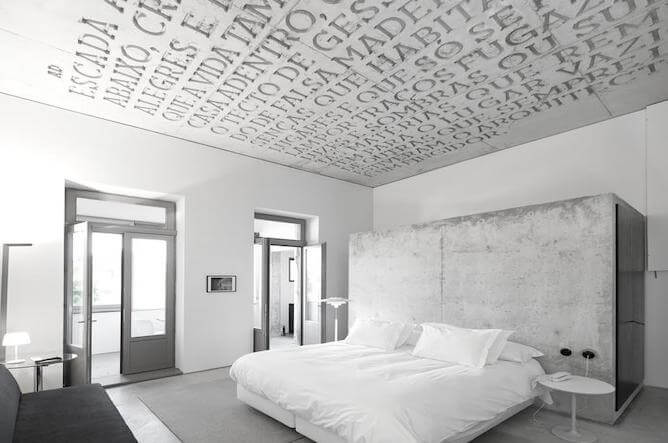 Another option is a sophisticated hotel, which is a landmark of contemporary architecture in Porto, is Casa de Conto & Tipografia. Its sober rooms of exposed concrete with poems carved on the ceiling are already famous in international design magazines.
If you prefer a more conventional hotel, I strongly suggest you Exe Essenzia – personally, I love its common areas, perfect to relax after a busy day in the city.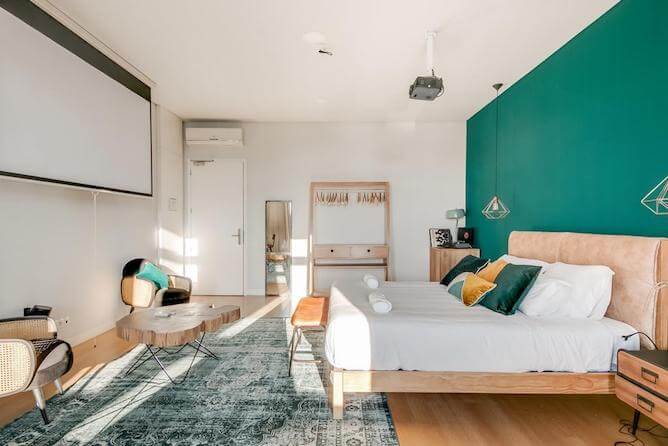 If you prefer to stay in an apartment, I suggest you Oporto Serviced Apartments 1858. The apartments are very large and can easily accommodate families with kids, or two couples. Below the apartments there is a nice restaurant with a terrace facing the street, where you can enjoy a drink after a day walking in Porto.

Another suggestion for apartments at this neighborhood in Porto is bnapartments Carregal, a hole on the wall! These 16 apartments on a seventeenth century building have a perfect vintage decor and access to a large swimming pool. Bnapartments Carregal are superbly located on a tiny alley close to the nightlife district, but it is very quiet.
Other fantastic options are Predicados do Douro Palace (the ceilings, made of decorated plaster, give a vintage touch to the rooms) and Apartments Porto Historico.

If you want to stay in a trendy place, then choose Selina. It is not only one of the best hostels in Porto but it also has a huge garden / lounge where it organizes music concerts, yoga classes, etc.
If you want more recommendations, read my article about Where to Stay in Cedofeita Neighborhood in Porto.
#3 Best neighborhood in Porto: Baixa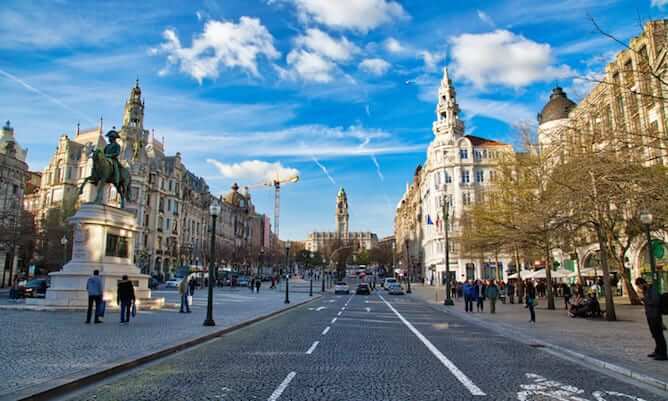 Why Stay in Baixa?
Baixa, commonly known as Downtown Porto or simply as "Baixa", is the neighborhood just above Ribeira.

It basically consists of two hills: one around the cathedral of Porto, where the city was founded, and one where the famous Lello bookstore and the Clérigos tower are located. To move from one hill to the other you have to cross the most important avenue in Porto, Avenida dos Aliados.

A lot of the best luxury hotels in Porto are located in Avenida dos Aliados, but don't worry because there are plenty of affordable apartments to rent in this area. This is also where we celebrate new Year's Eve, the exciting São João festival, major sports events and music concerts.

In Downtown Porto you can find loads of restaurants and ice cream shops. It is a great neighborhood in Porto to do some shopping at the traditional grocery shops, where you can find the best Portuguese food products.

Baixa is also one of the best neighborhoods in Porto for partying – check my guide to drink on the cheap, as well as the best bars of Porto.
This is where you can find the most important monuments of Porto, such as the Clérigos tower and Lello bookstore, just to name a few.

Moreover, São Bento train station is right there, which might be useful if you are planning to do some day trips from Porto.

Baixa is the best neighborhood in Porto for solo travellers looking for some fun, young couples and for group of friends travelling together.
What is the catch?
Baixa or Downtown Porto is a phenomenal area but it is also where the nightlife district is located, more specifically the streets Galerias de Paris, Rua Cândido dos Reis, Praça Guilherme Fernandes and Rua José Falcão.
Moreover, in Portugal we like to drink on the streets, especially if the weather allows it. Therefore, Baixa or Downtown Porto is a very loud neighborhood to stay in Porto during Thursdays, Fridays and Saturdays nights.

You should definitely take this into consideration if you are a light sleeper like me!
Where to Stay in Downtown Porto:
There are many options at this neighborhood in Porto, so I will name the ones that I enjoy the most.

Starting with the hotels: Intercontinental Porto – Palácio das Cardosas is magnificent! This five star hotel, located at an eighteenth century building, is 5 minutes walking distant from the nightlife district and the main attractions of Porto. It has two subway stations just across the street, as well as São Bento train station. Besides the spacious rooms, it has a fitness centre, a spa and a trendy bar.
More recently, three spectacular hotels opened: the Monumental Palace, the unusual Hotel Teatro (built at a former theatre) and Pestana Porto – A Brasileira.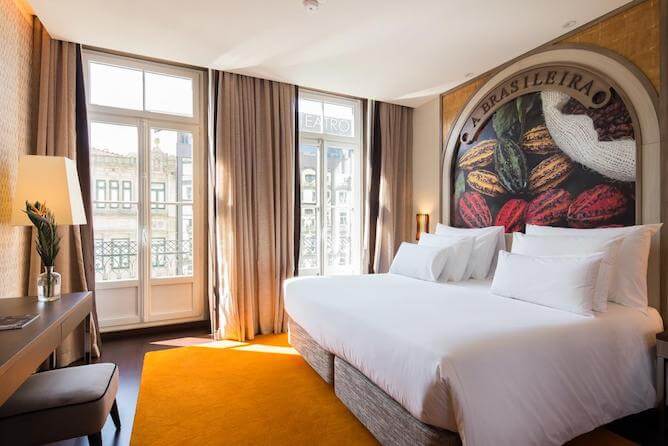 Another very different and very cool hotel in downtown Porto is Yotel, the first high-tech hotel in the city. You can control everything from the hotel's app: the lights in the room, the TV remote control, and… you can order room service which will be immediately brought to you by a robot. That's right: Yotel is the first hotel in Porto that uses robots – affectionately nicknamed Yolinda and Yogiro – to bring towels to customers, meals, etc. I personally love the idea! 😀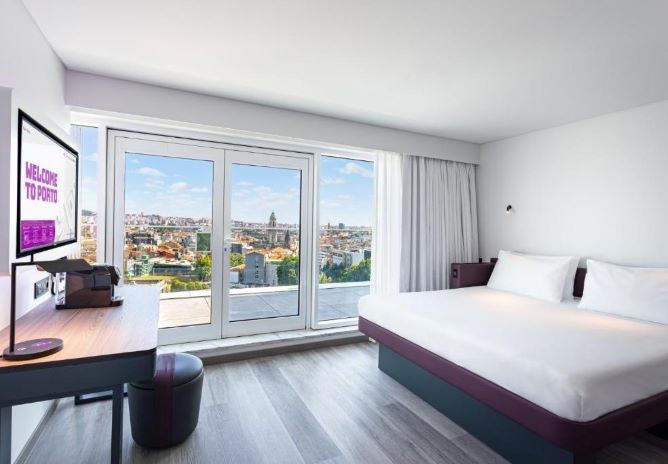 Also, there are USB chargers in every corner of Yotel, and I've even seen some wireless chargers for the phone.
Rooms are uncluttered, reminiscent of Abu Dhabi airport lounge areas. The WC has a particularity that I really liked: the washbasin, the shower and the toilet are separate, so you can use the washbasin while another occupant of the room uses the shower, for example.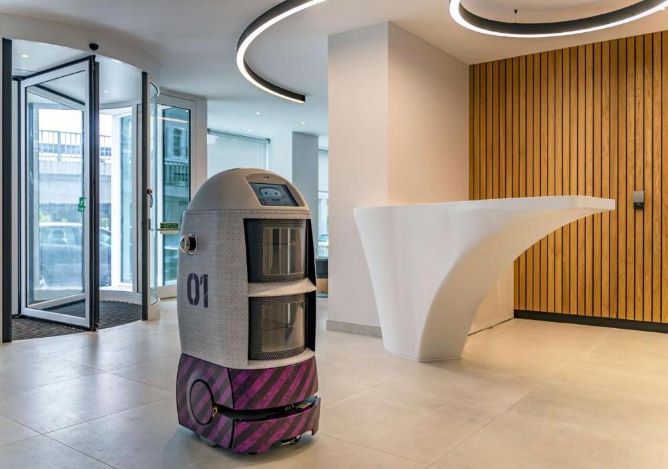 All and all, I loved the experience of staying at Yotel Porto and I highly recommend it, especially if you are tech savvy 😉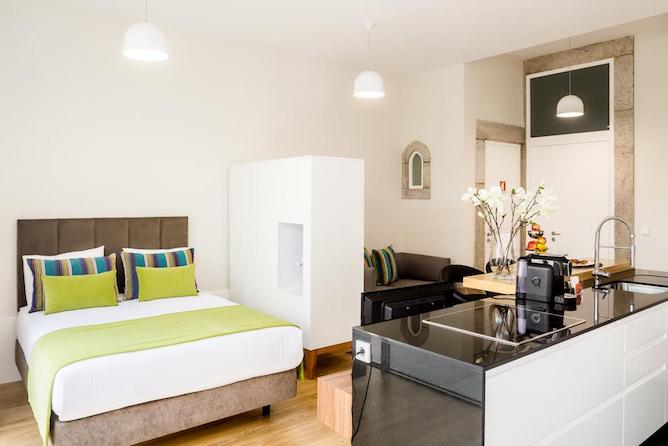 If you are looking for an accommodation for the best value, I suggest B The Guest Downtown. The decor is very elegant and the location is quite convenient.

If you are looking for an independent apartment in this neighborhood in Porto check Bolhão Nobre apartments, BO – Almada 346 lofts and studios and Oportolazaro apartment as they are all great places.
#4 Best neighborhood in Porto: Bonfim
Why Stay in Bonfim?
Bonfim has a special place in my heart since it is was there that my grandparents first settled in Porto, and it is still where I live today (and hence I already wrote a cool article about what to do in Bonfim).
It is an interesting neighborhood in Porto as it combines hipster coffee shops (like Combi) and craft beer pubs (hello Letraria and Armazém da Cerveja!), with businesses catered for the locals.
It is the neighborhood of Porto with the finest balance between locals and tourists and I love it for that. So if Cedofeita is the artistic neighborhood in Porto, Bonfim is definitely the hipster one.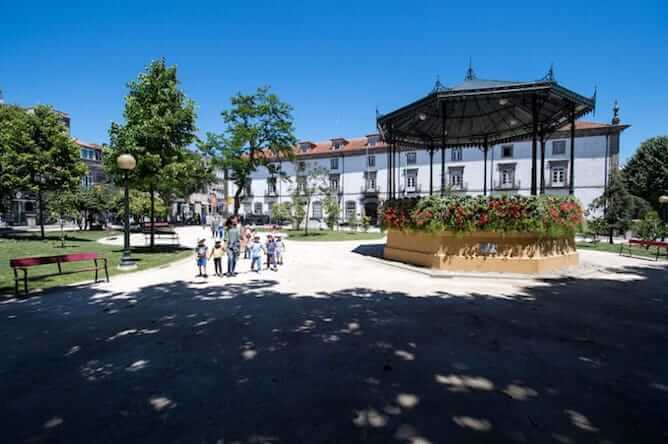 Bonfim is not a touristic hot spot because none of the important monuments of the city are located there. However, here you can find hidden gems like the first public garden in Porto and the first public cemetery, among others.
Moreover, if you decide to stay in Bonfim you will be just 15 minutes walking distance from the city centre, but without all the noise and the traffic, which is perfect.
Bonfim is the best neighborhood in Porto for everyone except young people who want to party and meet new people.
What is the catch?
I think Bonfim is perfect really, but if you prefer to be "close to where the action takes place", particularly when it comes to the nightlife, you should consider Baixa / Sé or Cedofeita neighborhood.
Where to Stay in Porto – Bonfim: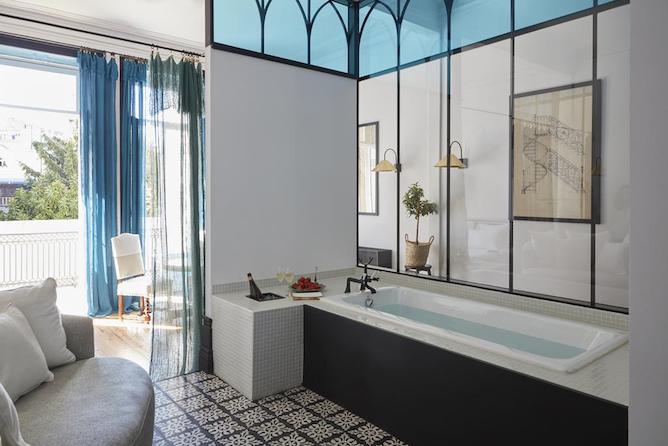 Bonfim has some of the best hotels in Porto, such as Cocorico Luxury Guest House. What I love about this hotel is its particularly large and bright rooms. It also has a nice patio where you can enjoy a cocktail in the evenings. Right next to it is one of my favourite specialty coffee shops in town, The Bird of Passage.
More recently, NH Porto Jardim, Catalonia Porto and Eurostars Heroísmo opened, which are corporate hotels, perfect for large groups, that never fail to impress.
If you are looking for a cheap hotel in Porto, you will be able to find it in Bonfim – more specifically, Moov Hotel, My Stay Porto Batalha and Legendary Porto Hotel are what you are looking for. They all have the same location (the iconic Batalha square) and the same vibe, so just go for the cheapest option.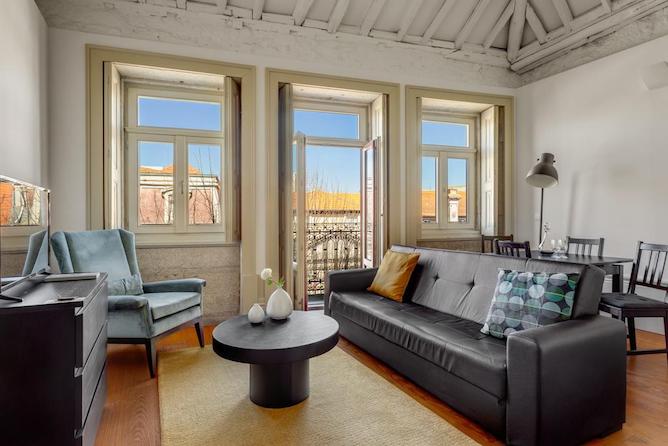 If you prefer to stay in an apartment, Bonfim has plenty of great options such as B.Arts, Trait Houses (perfect for small groups of friends), The Gallery Studios (with an exquisite decoration) and Home Made Guest Studios.
If all of these are taken (you should book as early as possible as our city is becoming increasingly popular!), you can try one of this under the radar apartments in Porto: Nomad's Boulevard Flats or Lusitania Garden Apartment.
#5 Best neighborhood in Porto: Marquês
Why Stay in Marquês?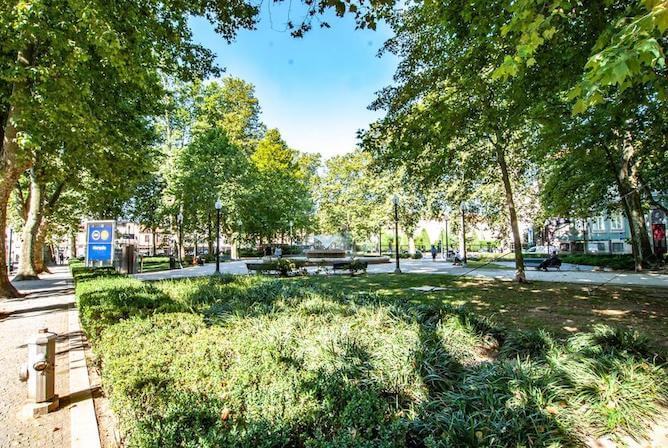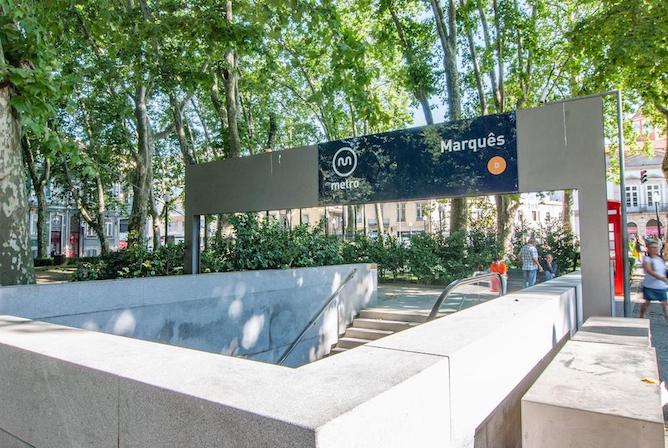 Marquês might not seem the most obvious neighborhood to include on this list of best neighborhoods in Porto. In fact, if you ask locals what they think about Marquês, they will tell you that it is a shady area of to street prostitution.

However, I couldn't disagree more, as the area is perfectly safe. Marquês is a quiet neighborhood in Porto with a subway station that will put you in the heart of Porto in – literally – 5 minutes. Therefore you are completely away from the touristy area, and yet close enough.

And, because there is nothing touristy around, the prices of cafes, bakeries and restaurants are catered to Portuguese pockets (aka, they are cheap).

Marquês is very close to the highway (which is perfect if you are planning some day trips from Porto). You are also walking distance from two recently renovated parks: Quinta do Covelo (particularly suitable for kids) and Jardim da Arca d'água.

You are also very close to a great Art Foundation called Fábrica Social. To get there, simply go down Rua de Santa Catarina, one of the most popular streets in Porto.
Marquês is the best neighborhood in Porto for families with kids, travelers on a budget and for people who want to be away from touristy areas.
What is the catch?
The only thing I don't particularly like in Marquês is that there is nothing going on at night. There are no bars there, and very few restaurants.
Where to Stay in Porto – Marquês: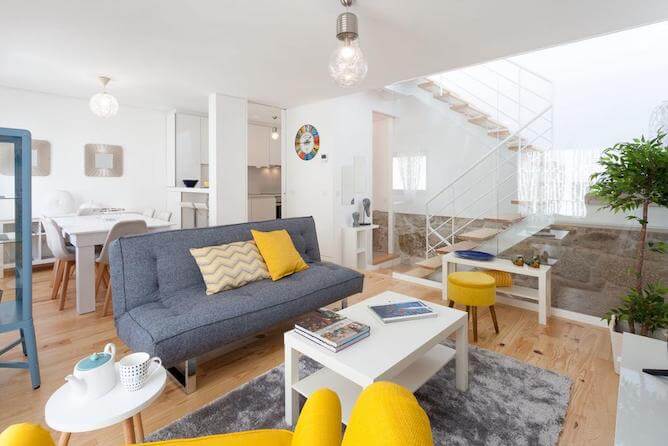 One of the perks of staying at a non-touristy area is that you can find really nice accommodation for an affordable price. I particularly like Charming House and Castelo Santa Catarina, as these guesthouses have lovely balconies and terraces right in the middle of the city!

Another popular place in Marquês is Lounge Inn Guest House. If you prefer an apartment to stay in Porto, then I highly recommend Urban Views Townhouse, as this two bedroom apartment is large, beautifully decorated and it has a parking spot (this is really rare!).

Other great apartments to stay in Porto are the Oporto Square and the modern Love Porto – Marquês.
#6 Best neighborhood in Porto: Foz
Why Stay in Foz?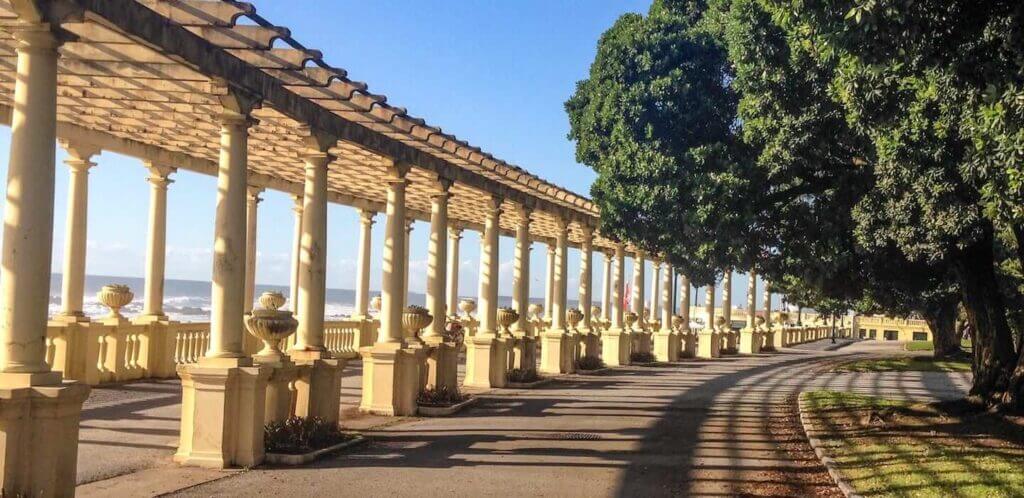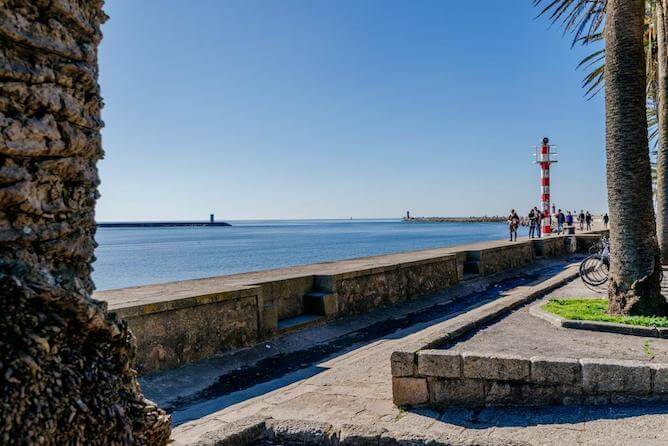 Foz is the most ocidental neighborhood in Porto, located on the west side of Ribeira.
As the city grew in circles around the cathedral, Foz was one of the last neighborhoods to be inhabited. It used to be a fishermen village, and people from Porto used to go there only during Summer. So in Foz you can still find beautiful mansions and fishermen houses that are just lovely.

In Foz you can find the best beaches in Porto, as well as a big promenade that gets full of people jogging or simply walking on warmer days. There is also a nice garden called Jardim do Passeio Alegre, that has a mini golf.

A lot of people will tell you not to stay in Foz because it is not in the city centre nor near any important city attraction. But I think it really depends on what you are looking for on your trip to Porto. If you wish to spend some relaxed days by the beach, and not surrounded by tourists, then Foz might the the right place for you.
Foz is the best neighborhood in Porto for people who want to spend the days by the beach.
What is the catch?
Foz is indeed a bit far away from the city centre (20min by car, a bit more by public transports), so if you want to visit monuments or stay close to the nightlife district, this might not be the best neighborhood for you.
Where to Stay in Foz: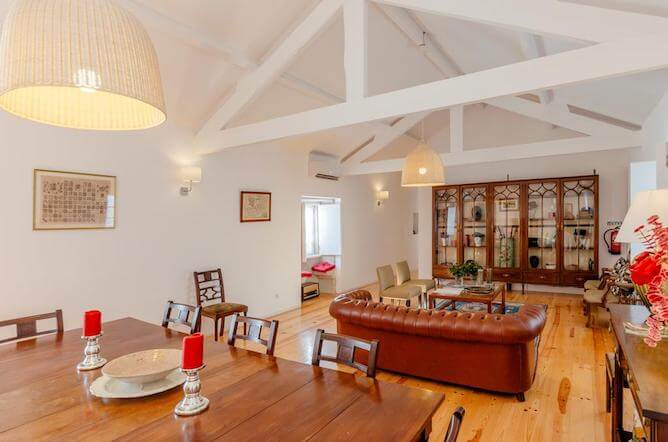 As Foz is not a touristy area it doesn't have as many options as the other areas mentioned in this areas. Nonetheless, there are some really good apartments and hotels in Foz, near the beach.

My favourite one is definitely Casa das Laranjas, a guesthouse with an inviting living room where you can mingle with other guests. You can also share a kitchen so it is really a great place to meet people while enjoying some privacy.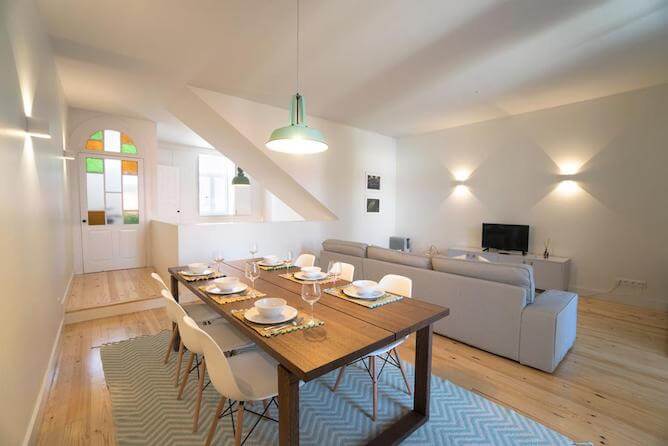 There are also a couple of apartments that I particularly like, called Casa da Belavista (it looks like a pirate museum, it is so cool!).

If you want to upscale your experience, then I recommend you to stay at Vila Foz Hotel & Spa, a renovated manor house with a large garden and a proper bar. This 5 star hotel in Porto also has restaurant, fitness centre and a stunning indoor pool.
There is also a new, moderne corporate like hotel called Neya Porto Hotel. The rooms are exactly what you would expect from a corporate hotel but what really seduced me is its fan-tas-tic rooftop and a lovely (and secret) garden.

Hotel Boa Vista is a more modest, old school hotel but it has such a fabulous rooftop overlooking the Atlantic ocean that you will spend no time on the inside anyway.
#7 Best neighborhood in Porto: Boavista
Why Stay in Boavista?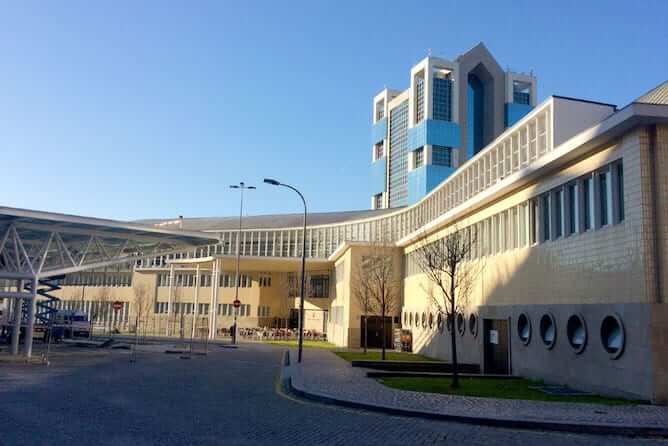 Boavista is considered the business / posh neighborhood in Porto. This is where wealthy families live, and where corporate companies have their offices. So during the day you can expect to see a lot of white collar workers, particularly during lunch time.

During the night there is nothing particularly interesting to do, besides having dinner at Bom Sucesso market an a beer at Casa Agricola.
Boavista is around 10 minutes away (by car) from the city centre, but you have a subway station nearby as well as plenty of bus lines, so you are really well connected there.

Despite being a bit away from the city centre, you can still find great places to visit in Boavista such as the contemporary art museum Serralves, modern Casa da Música, and the synagogue of Porto.

Another great spot is the Gallery of Biodiversity, the best museum for children in Porto.
Boavista is the best neighborhood in Porto for travellers who want to be close to the main city attractions but on a quieter location and for businessmen visiting the city.
What is the catch?
Boavista is a bit upscale and lacks a little in charm and history when compared to the other neighborhoods.
Where to Stay in Porto – Boavista: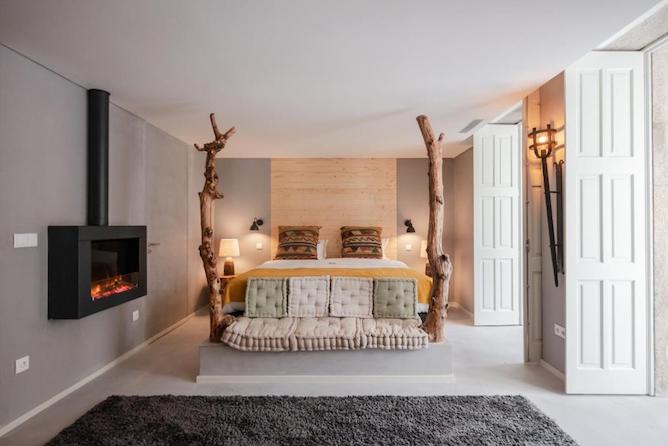 Boavista is famous for having the best corporate hotels in town, such as the stunning Sheraton Porto – Hotel & Spa, the Crown Plaza Porto and the Porto Palácio – Congress, Hotel & Spa. And speaking of Boavista, this is where the only kosher hotel in Porto is located, called Hotel da Música.
But personally, my favourite place to stay in this neighborhood of Porto are the Porto Deluxe apartments (which, contrary to what you might think, are actually very affordable!). These are large, beautifully decorated apartments with private parking and just 5 minutes walking distance from Casa da Música subway station.

You can also take a look at the LoftAbroad Premium Apartments (more suitable for families or for large groups) or BessApartments – beautifully decorated departments ideal for couples.
#8 Extra neighborhood: Cais de Gaia
Why stay in Cais de Gaia?
If you ask people from Porto what they thing about Gaia, the city just across the Douro river, they will tell you that the only good thing from Gaia is the view towards Porto. But this is not true!
Gaia, and more particularly Cais de Gaia, by the riverside, is home to the best Port wine lodges, as well as plenty of restaurants (including my favourite brunch place), a fantastic wine hotel and yes, a great, great view of Porto.
Moreover, it is well served by public transports, including the subway, a cable car and plenty of bus to go to the best beaches in the region. You can also take the famous 6 Bridges cruise from Cais de Gaia.
What is the catch?
The major issues with Cais de Gaia are exactly the same as Ribeira, the first neighborhood mentioned on this article: it is very touristy and, because it is by the riverside, you have to go up to visit most the famous monuments in Porto.
However, and unlike Ribeira, if you don't feel like going up, you can simply take the cable car from Cais de Gaia to the upper deck of Luíz I bridge and then walk from there to the cathedral of Porto or simply take the subway to the city centre. Easy!
Where to Stay in Cais de Gaia:
If you are looking for a fancy place to stay, I have two great recommendations for you:
One is the Yeatman hotel, the best wine hotel in the country (after all, it belongs to the Fladgate Partnership, the owners of Taylor's Port!) and home to a fantastic wine bar.
But today what I REALLY want to write about is the new Vincci hotel because it has the most MESMERISING view of Porto. And you can enjoy it while having a drink at the terrace or at the swimming pool. It is truly, truly a unique experience and one that you don't want to loose.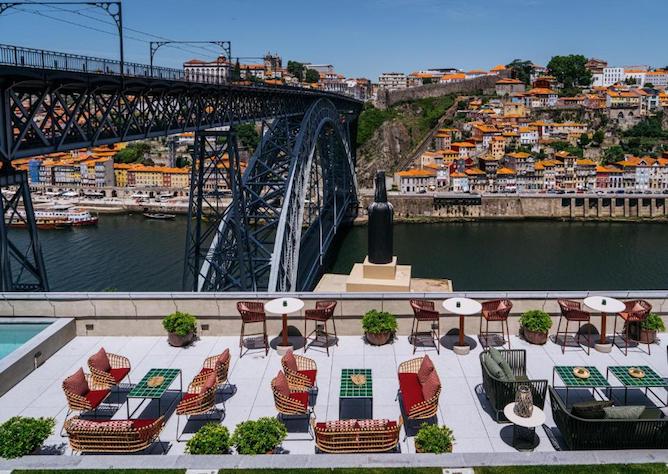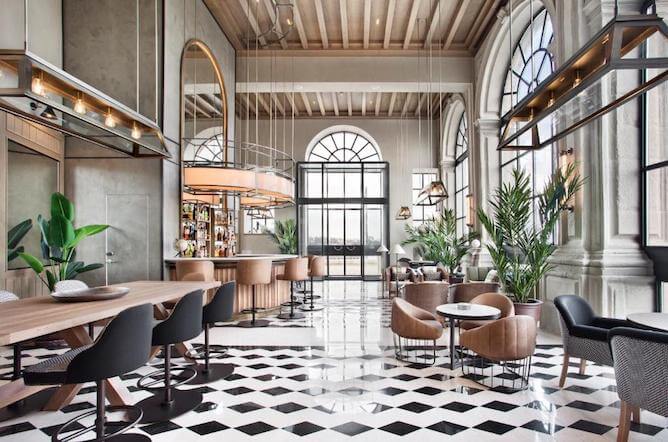 Cais de Gaia is also home to great apartments, many of them with fantastic views of the river and cute little terraces.
I particularly like 296 Heritage Apartments, Your Opo Apartments and Porto View by Patio 25, given their locations, views and decor (they are quite similar).
If you are a foodie like me then I strooooogly recommend you 7 Gaia Roaster Apartments, because they are owned by my favourite brunch place in town, 7groaster – so you will be able to enjoy THE BEST breakfast in Gaia. Trust me 😛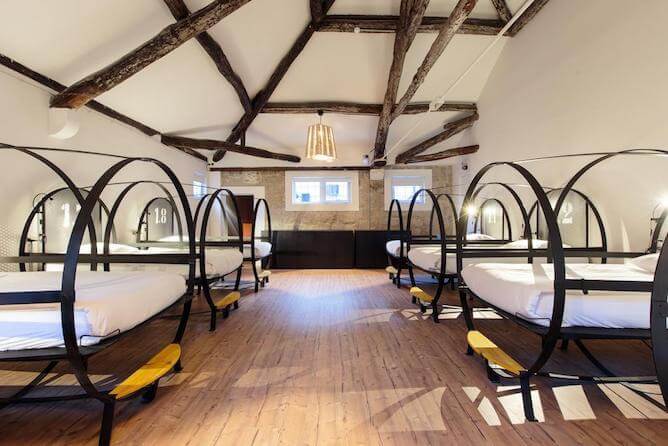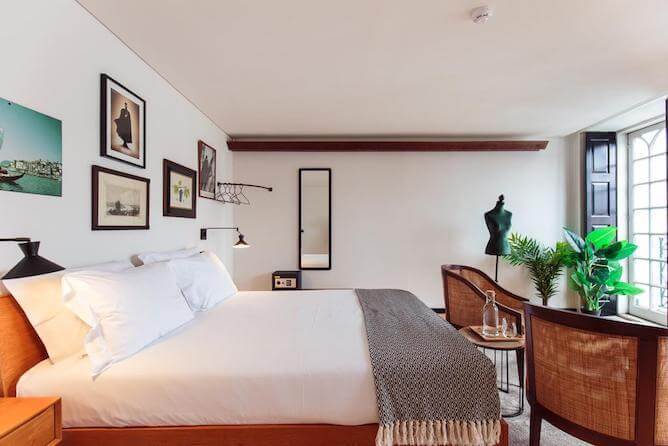 If you feel like making new friends then I can only recommend you The House of Sandeman – Hostel & Suites. As the name says, it is owned by Sandeman (the Port wine producer) and it has erm, dormitories and private suites 😛 The common areas are really pretty and the best place to mingle with other guests.
Another great possibility is the Bed and breakfast Bridge It.
Save this article for later: