It seems like everywhere you look, there're tons of luxury hotels in Porto. For travelers, this could make the booking process a bit challenging.

That's why I listed THE best luxury hotels in Porto, taking into consideration, the location, noise level, experience, design and amenities.
To make it extra helpful, I decided to include a map, so that you have an idea of the locations:
As usual, this is not a list of all the luxury hotels in Porto, but rather the best ones according to my personal experience: I stayed in some and I got the direct feedback of the clients of our private tours.
These are the best luxury hotels in Porto!
Avenida dos Aliados, 151 | Porto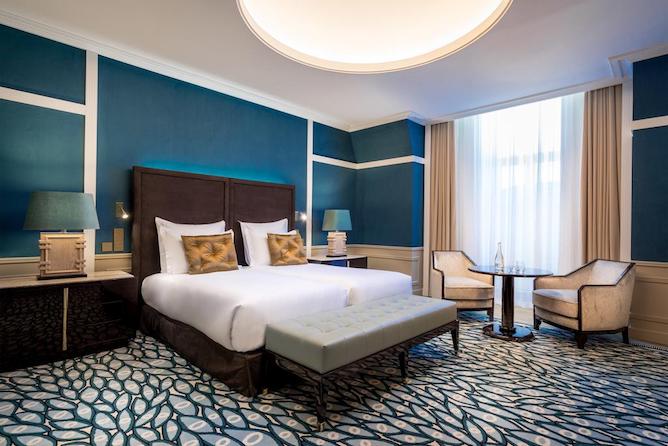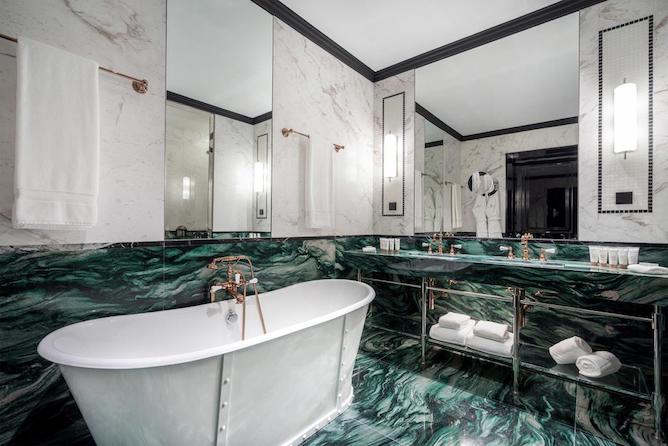 For those who want to have a luxurious hotel experience and at the same time, make the most out of their stay in Porto, the Le Monumental Palace Hotel is the best option.
The hotel is located in Aliados' avenue where guests are at walking distance from many must-see things in Porto like Rua de Santa Catarina, São Bento station, Torre dos Clérigos and more.
The 5-star hotel has the original façade of a 1920 neoclassical building that existed there. The interior is inspired by the 1930s decor combines Art Deco with Art Nouveau in an elegant way.
Amenities: indoors pool, sauna, spa and a tiny gym.
Rua do Casino da Ponte | Vila Nova de Gaia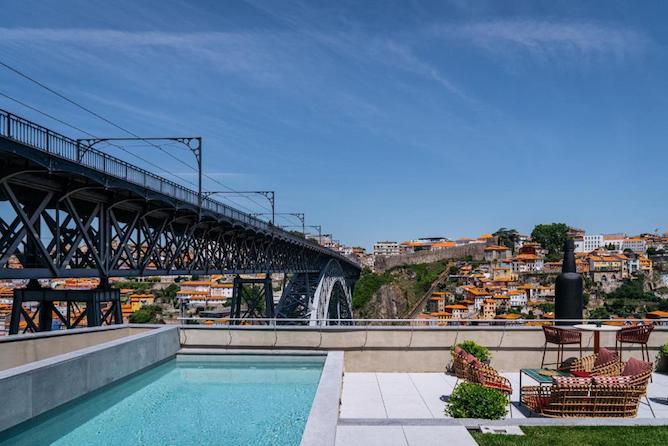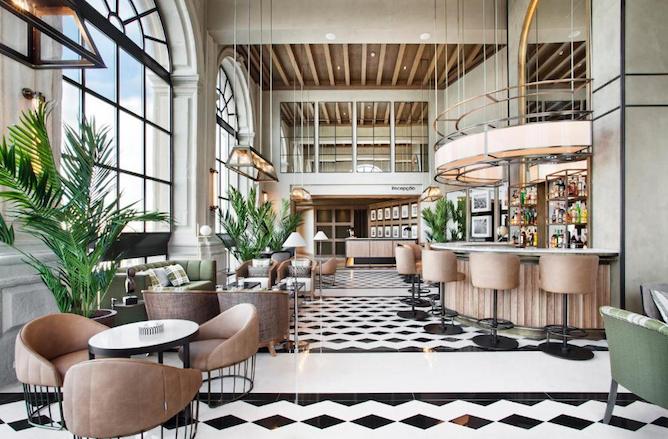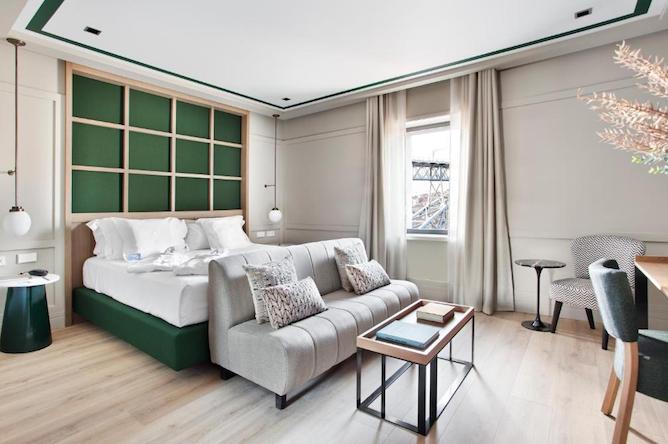 I have to start this article of the best luxury hotels in Porto with the newest sensation in town – Vincci Ponte de Ferro. No wonder everyone is talking about this hotel: it was build right next to and underneath Luiz I bridge, with an incredible rooftop (with a swimming pool) with a fantastic view of Ribeira neighborhood.
Moreover, the location of Vincci Ponte de Ferro is second to none –– the benefit of having an entrance and exit on both the upper deck and the lower one of the bridge is very unique in Porto, and quite useful! This way, you get quick access to Ribeira neighborhood and Cais de Gaia (on the lower deck), and to Serra do Pilar's viewpoint and Downtown Porto (on the upper one).
Everything else is exactly what you would expect from a Vincci hotel: fantastic service, elegant common areas and a diverse breakfast. I just can't get enough of it.
Amenities: restaurant, outdoor pool, fitness centre and a bar.
Praça da Liberdade, 25. Porto | Porto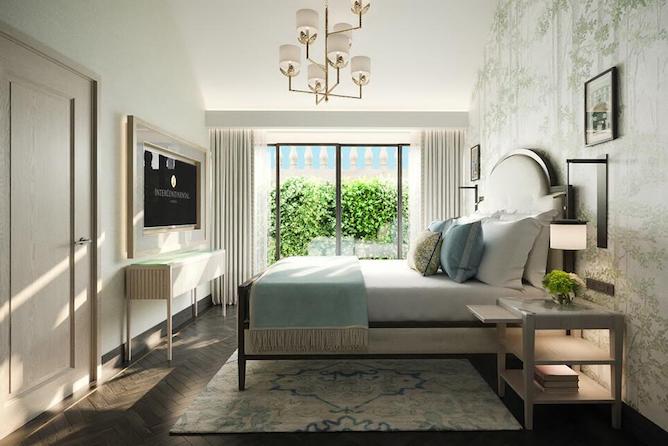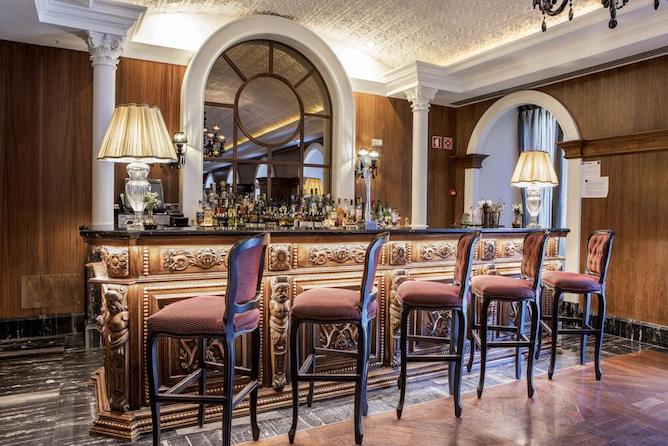 InterContinental Porto – Palácio das Cardosas, is perfect for those who love luxury and history: the building used to be a convent during the 18th century. Then it was sold and converted into a palace, after the expulsion of the religious order from Portugal.
Palácio das Cardosas is decorated in neutral colors, providing a relaxing experience. It has an elegant English-style bar, which organizes, among other events, Fado concerts and an afternoon tea.
It is located in Praça da Liberdade, at the heart of Downtown Porto and close to important sites, including São Bento train station. Therefore traffic, pedestrians and buses are to be expected. If you prefer a calmer area, consider another hotel.

Amenities: No spa, no garden.
Rua do Choupelo | Vila Nova de Gaia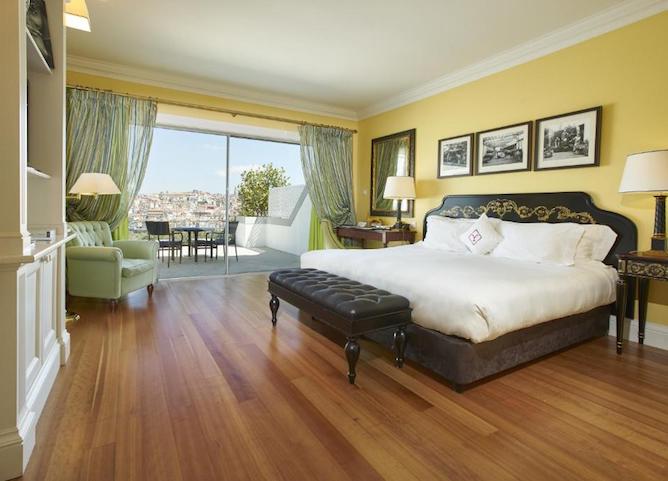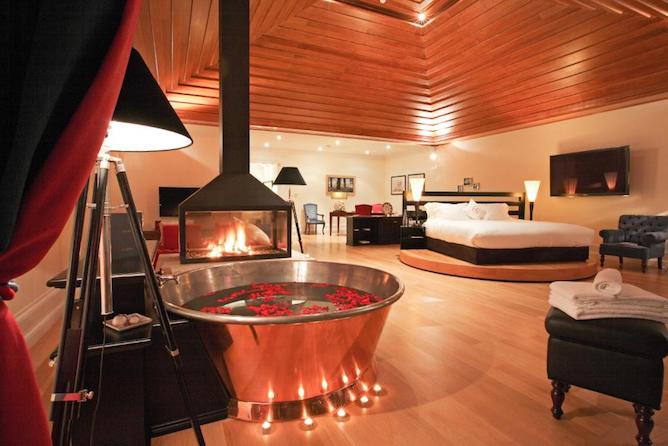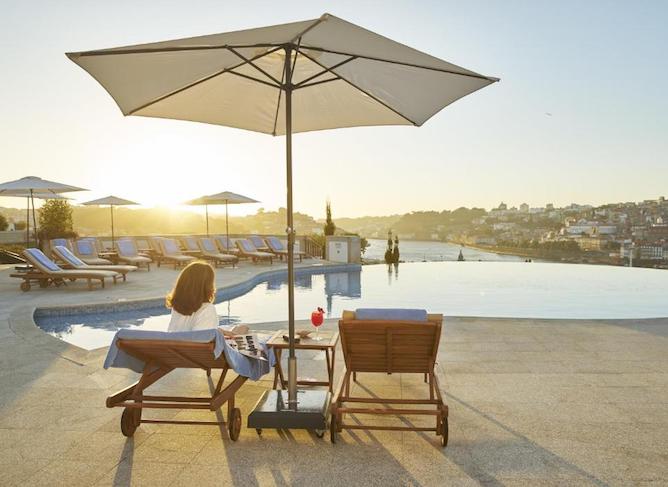 Across Porto, you'll find the The Yeatman in Gaia. If you love gastronomy, wine and a spectacular view, this hotel is your best bet. Ricardo Costa, a two Michelin star chef, is the executive chef at the hotel and he helped it reach its international recognition.

Wine is heavily engraved in this hotel's identity, something that can be seen in its interior design. The suits are assembled with luxurious furniture with a Victorian-like design. The spa has a wide variety of luxury wine based experiences, and the rooftop pool has a fabulous view overlooking the Douro river. Oh, and let's not forget about its wine bar, where I have spent countless nights drinking Port.

The only problem of The Yeatman is, ironically, its location: you definitely need to call a cab to get to the city centre. But hey, at least you will be close to the best Port wine lodges 🙂

Amenities: It has a beautiful outdoor swimming pool as well as an indoors one. The rooftop is to die for!
Rua da Restauração, 336 | Porto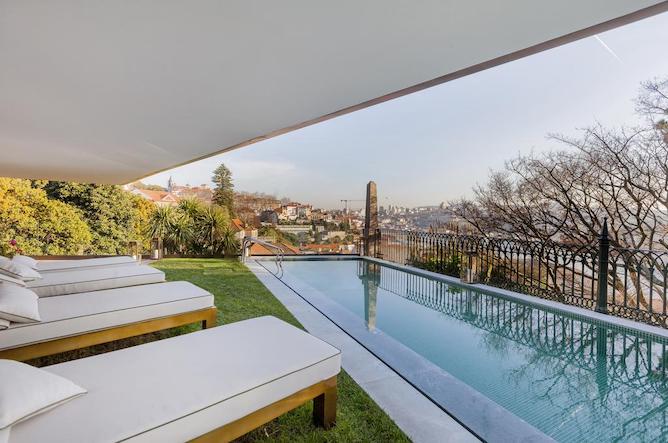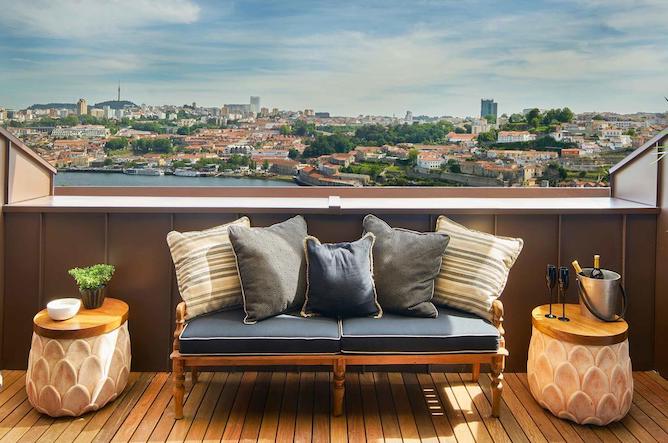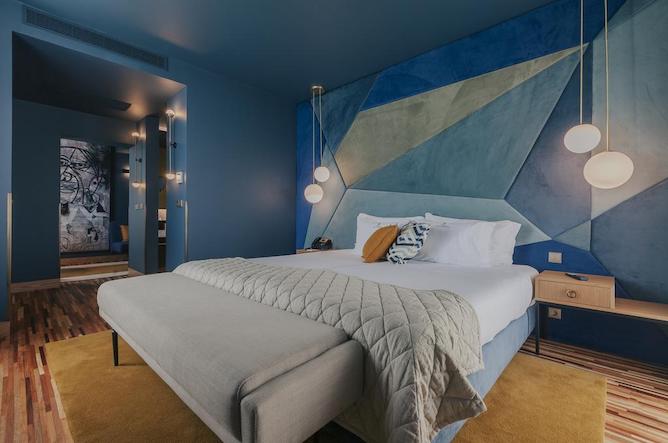 Torel Avantgarde is a luxury 5-star boutique hotel that celebrates art. The building is simple and clean on the outside, but vibrant and artistic on the inside.
Some luxury hotels in Porto can feel formal and old-school, but this is not the case at Torel Avantgarde. Everything, from the lights to the furniture, gives you a happy, young vibe.
At Torel Avantgarde you can enjoy a fabulous view of the Douro river, as well as a terrific breakfast.
This luxury hotel in Porto has a perfect location, just a short walk from everything historic and interesting about Porto's center. You will be 15 minutes walking distant from the city centre, as well as from the famous Crystal Palace gardens. At night there is barely any traffic on this street, which makes it a very quiet place.
Amenities: outdoor pool, a fitness centre and a (small) garden.
Largo São Domingos, 74 | Porto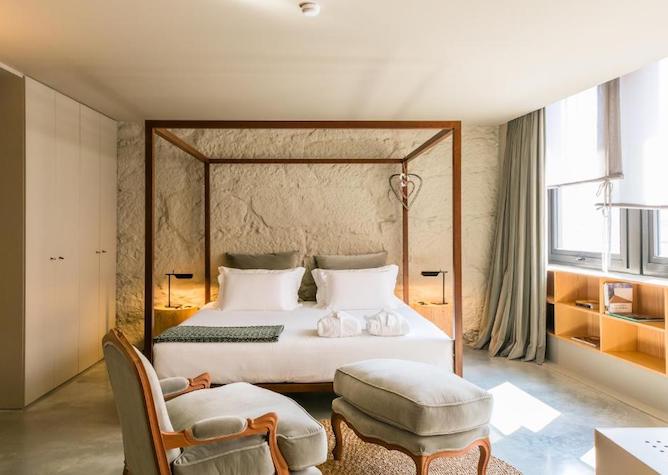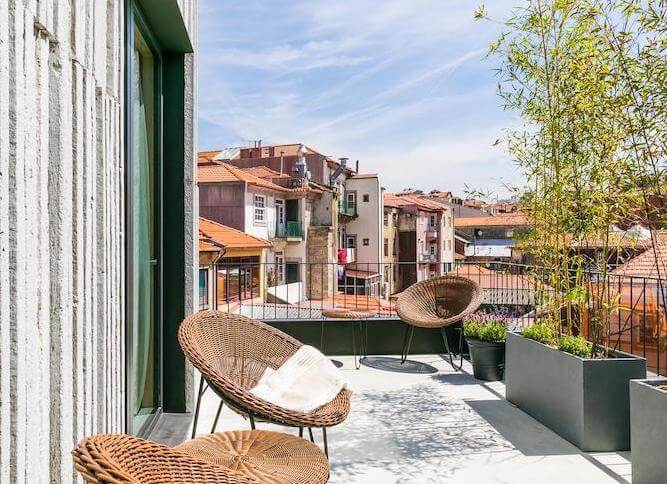 I fell in love with Armazém Luxury Housing in Porto a loooooong time ago, when I first saw the photos online. But I had to see it with my own eyes, and fortunately, it did not disappoint: in fact, Armazém Luxury Housing is as pretty as it looks!
I particularly like the sobriety of its decor, that combines the neutral tones of granite and light wood furniture, in elegant contrast with some Moroccan inspired carpets. The rooms are quite spacious, something that my American readers will particularly appreciate for sure 🙂
The location is superb, in Largo de São Domingos, half way through Ribeira neighborhood and Downtown Porto.
Rua de Serpa Pinto, 60 | Vila Nova de Gaia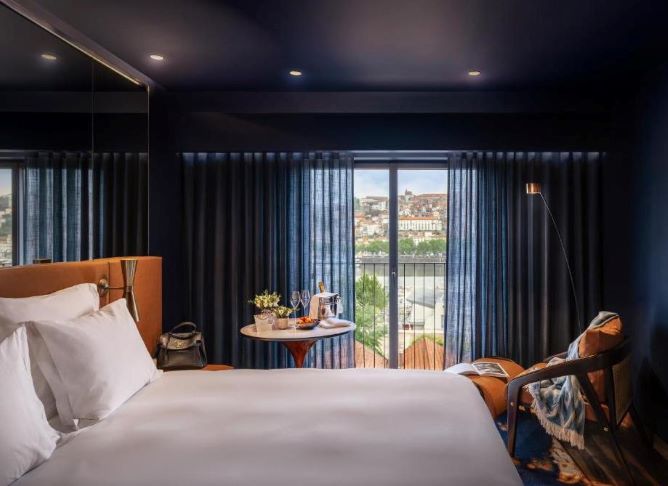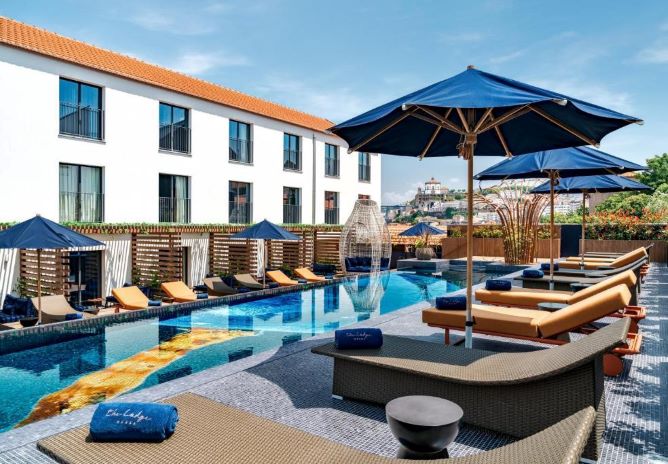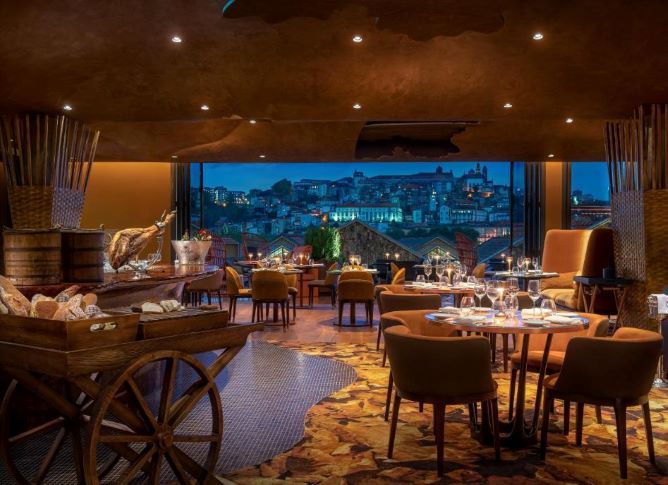 In Porto we all make fun of gaia 😛 but the truth is that this city, located right in front of Porto, offers some of the best in the Hotel business.
Not long ago, The Lodge Wine & Business Hotel opened, in an old wine cellar – and what a dazzling hotel, where every corner reminds us of a fine, aged wine. From the furniture, in the exact tones of a wine cellar, to the staircase, covered in wooden boards that originally belonged to aging barrels, everything evokes the name of this new luxury hotel in Porto.
The rooms are also very elegant, in shades of red grape and wood. The outdoor pool is very pleasant (and beautiful too), with very comfortable chaise longues.
And to complete the package, a restaurant with a fabulous view of the Ribeira: another reason to choose The Lodge Wine & Business Hotel for your stay in Porto.
Avenida dos Aliados, 211 | Porto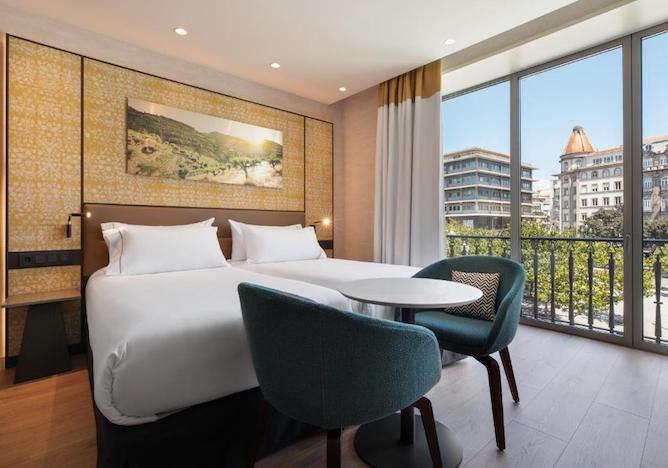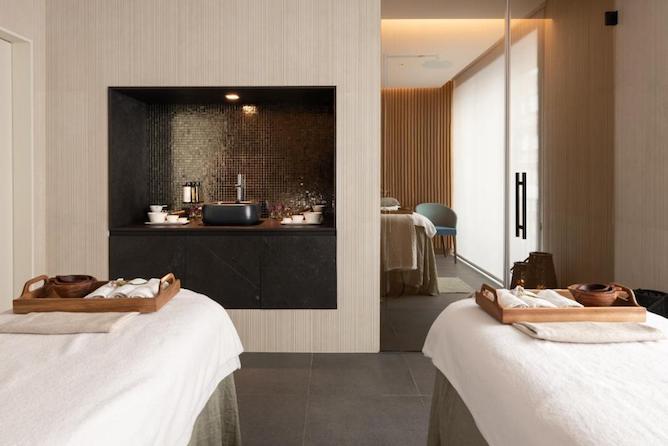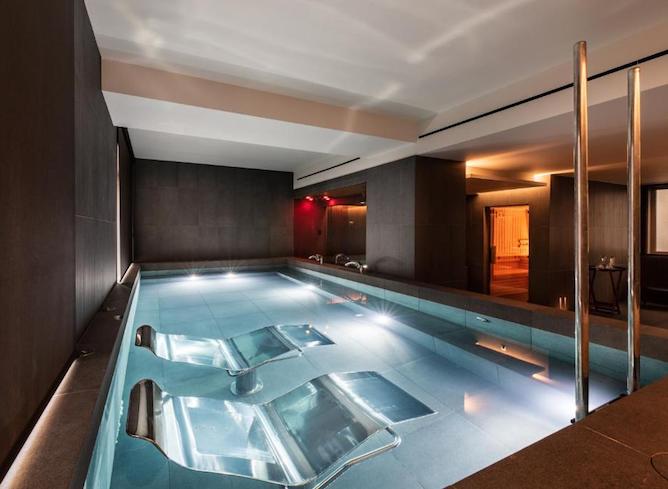 A new star is born in Avenida dos Aliados, the most important avenue in Porto. Located in a stunning (and recently renewed) building, Eurostars Aliados is definitely one of the best luxury hotels in Porto.
I honestly cannot think of anything bad to say about Eurostars Aliados: besides its fantastic location, this hotel has spacious rooms (with extra large beds) with an incredible view. Moreover, it is very well equipped with spa facilities, an indoor pool, sauna, a small gym and a great outdoor terrace.
It does not have an outdoor pool, so if that is crucial to you, consider another hotel in this list.
Amenities: great indoors pool, bar, restaurant, fitness centre.
Rua das Flores, 94 | Porto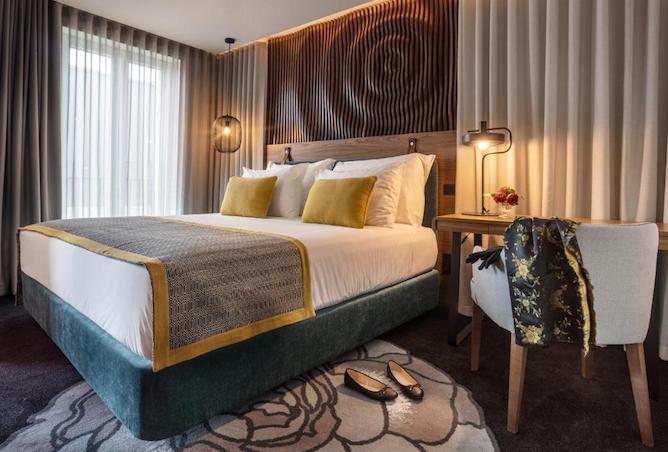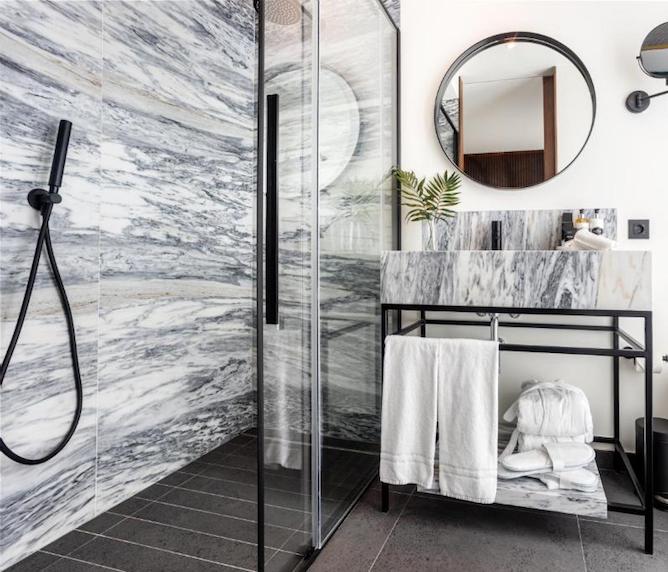 Yet again the Pestana Group hit the jackpot, by opening Pousada Porto Hotel right after the pandemic.
It is an incredible luxury hotel in Porto and, in my opinion, there are two things that really stand out in Pousada Porto Hotel:
Even though it is located in a very lively street (Rua das Flores), the windows are soundproof which guarantees a good night of sleep.
The strategic location, just 5 / 10 minutes walking distant from important monuments like São Bento train station, the Clérigos tower, the Stock Exchange Palace, etc. It is also near Ribeira, so you just need to go down the street to take the 6 bridges cruise, the famous tram or just have a drink by the riverside.
Amenities: (small) indoors pool.
Rua Mouzinho da Silveira, 228 | Porto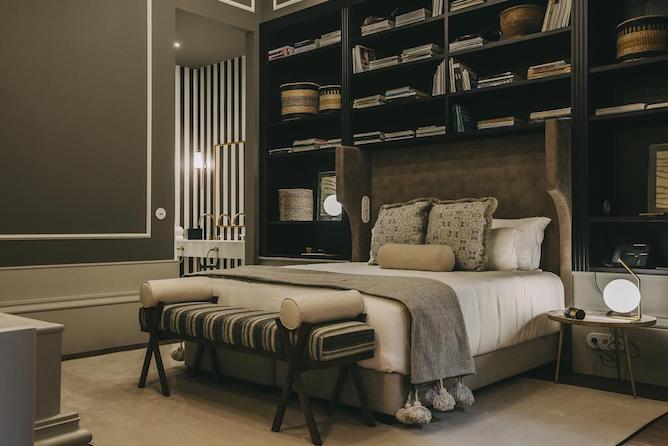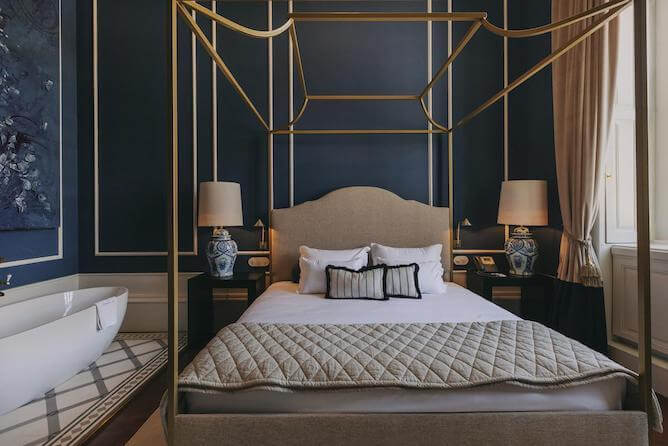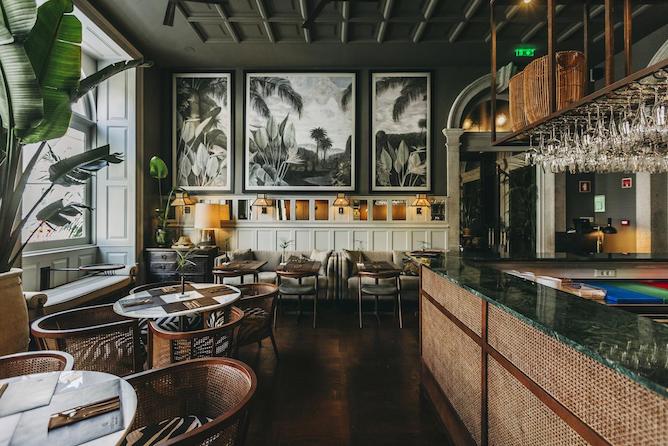 It is really hard not to fill this article with all Torel's luxury hotels in Porto (there are three in total) because they keep opening new ones, and I keep falling in love with all of them!
Therefore I decided to include Torel 1884 Suites & Apartments because a) it is absolutely stunning, with a refined decoration b) all my clients have been raving about its breakfast (and who doesn't want to be happy in the morning) and b) it has a strategic location close to São Bento train station.
Despite the name, none of the apartments and suites are equipped with a stove, so you do need to go out for meals.
Amenities: restaurant.
Avenida de Montevideu, 236 | Porto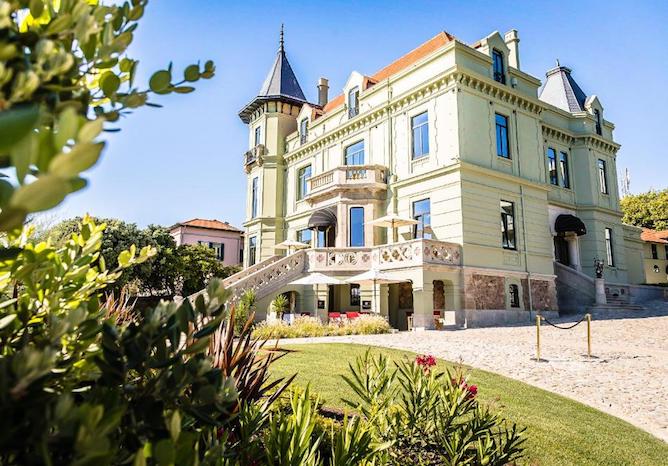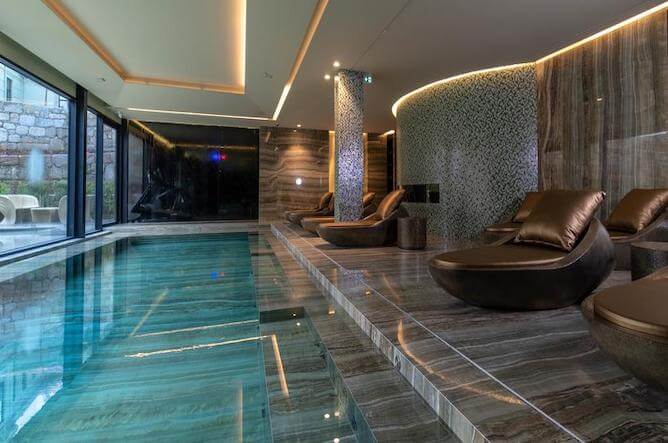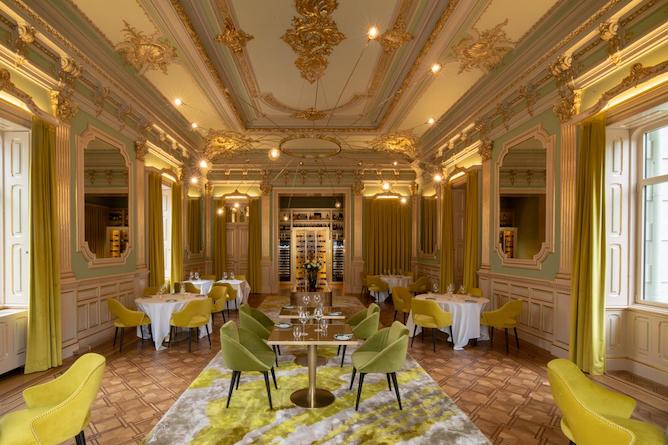 If you want a hotel that resembles a castle in France, then I highly recommend you to stay at Vila Foz Hotel & Spa, one of the very few luxury hotels in Porto located at Foz neighborhood.
Vila Foz Hotel & Spa has a splendid location, right in front of the Atlantic Ocean. It also has a magnificent garden where you can enjoy a glass of wine.
I am not particularly found of the bedrooms' decor (I am being completely honest here!), but the location, the amenities and common areas largely compensate for it.
Amenities: Garden, indoors pool.
Rua das Flores, 69 | Porto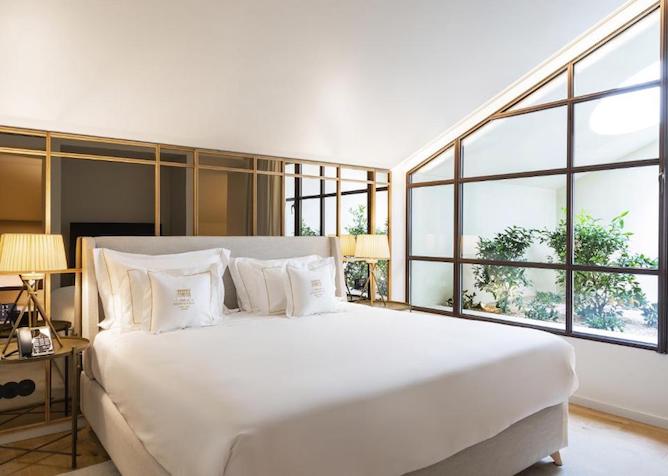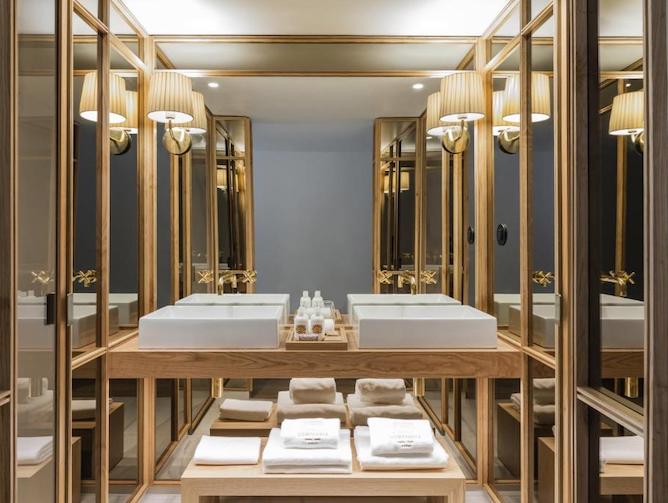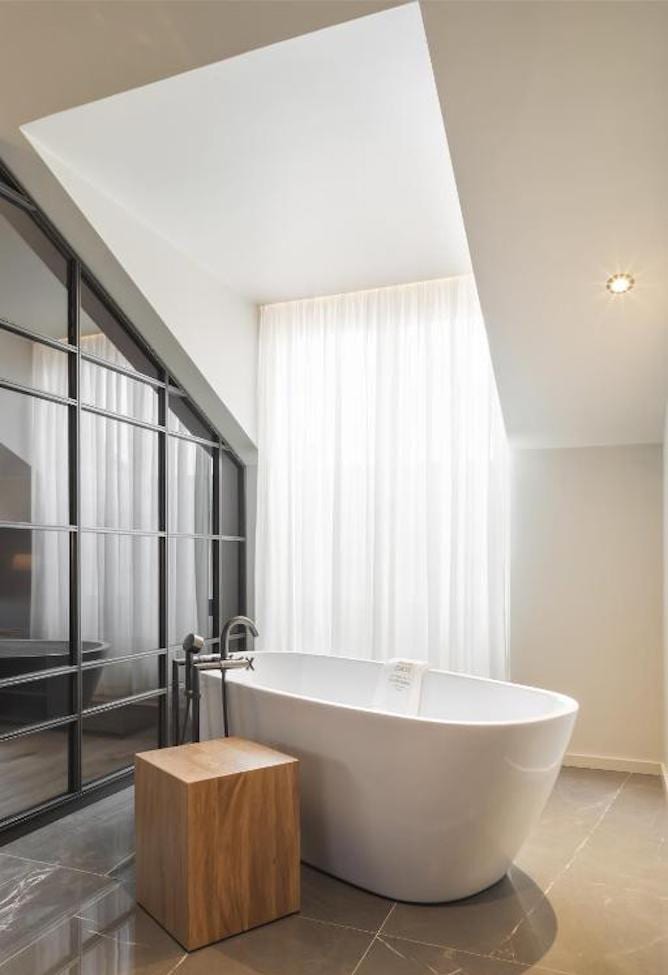 I am aware that most people don't share my appreciation for bathrooms, but can you honestly look me in the eyes and tell me that these bathrooms scream elegance and sophistication?! They are one of the things I most like about Casa da Companhia, one of the brand new luxury hotels in Porto.
In fact, Casa da Companhia's bedrooms are brilliant – elegant but simple, with a glassed window overlooking a tiny garden. They are perfect.
Moreover, this hotel has a superb location, and a small outdoor pool with a fantastic view of the cathedral of Porto.
Amenities: outdoor pool.
Rua da Estrada Nacional, 108 | Porto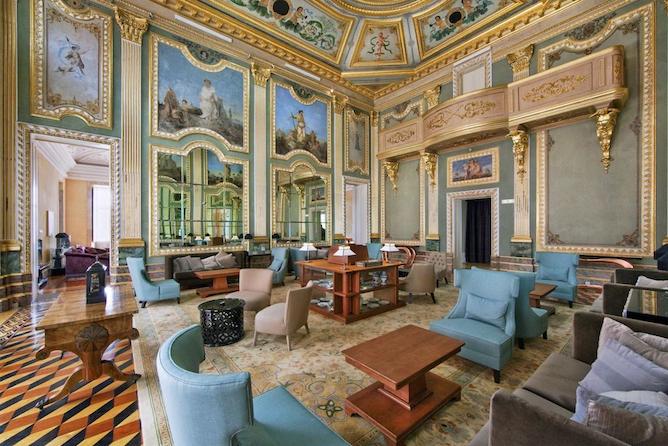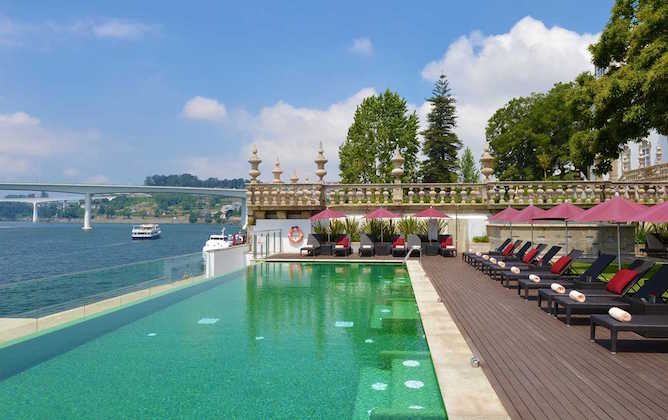 What is more luxurious than staying at an 18th century palace overlooking the Douro River? You're right, nothing, which is why Pestana Palácio do Freixo is one of the best luxury hotels in Porto. Sometimes I go there to enjoy a cocktail in one of its luxurious rooms, as the service is divine.
Pestana Palácio do Freixo hotel is located in Campanhã, a bit further than all the other hotels on this list. Therefore, if you are not staying in Porto for long and you would prefer to take advantage of every minute without wasting time commuting, this hotel might not be for you.
Amenities: It has a beautiful outdoor swimming pool as well as an indoors one. It also has Turkish bath and sauna.
Rua de Sá da Bandeira, 91 | Porto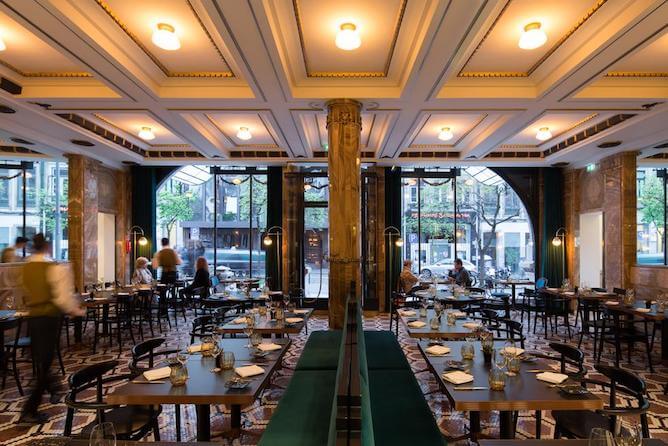 Pestana Porto Brasileira is a new 5-star hotel located at an historical sight.
The hotel was originally a café called "A Brasileira", the first place in Porto to ever serve coffee in a traditional coffee cup (chávena). The building has recently been transformed into a hotel with 90 rooms, but it kept the original coffee shop on the group floor.
Another great thing about Pestana Porto Brasileira is its location, near Bolhão market, São Bento train station and Avenida dos Aliados, the most important avenue in Porto.
If you love coffee, shopping and arts, Pestana Porto Brasileira should be on your top lists of luxury hotels in Porto.

Amenities: It has a gym and a lovely patio.
Rua Canos | Vila Nova de Gaia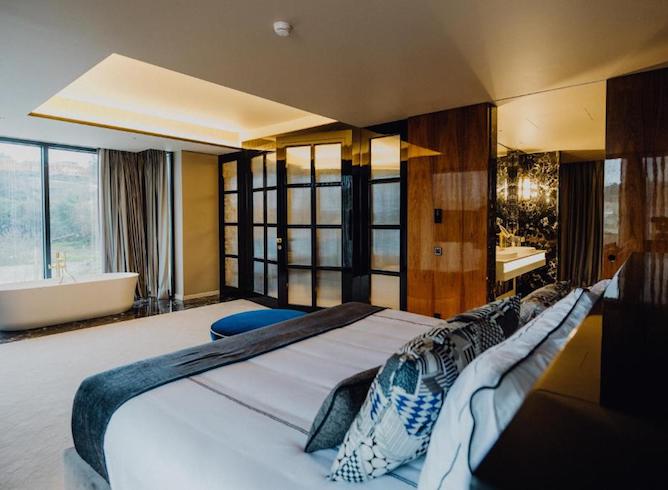 Vinha Boutique hotel is the newest addition to this list. This 5 star luxury hotel is splendid really, with a luxurious decor that beautifully contrasts with its fabulous views of the Douro river and the hills in front.
Vinha Boutique hotel also has a beautiful terrace and a great spa – one of my best friends is crazy about massages and she loved this hotel for that!
The only bad thing about this luxury hotel is that it is in Gaia, and it takes 20 minutes by car (or 1h walking) to get to Downtown Porto.
Amenities: restaurant, free private parking, outdoor swimming pool, spa and a fitness centre.
Praça D. Filipa de Lencastre, 62 | Porto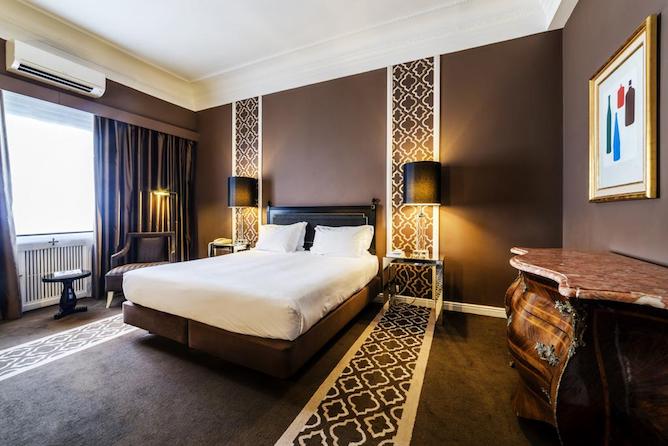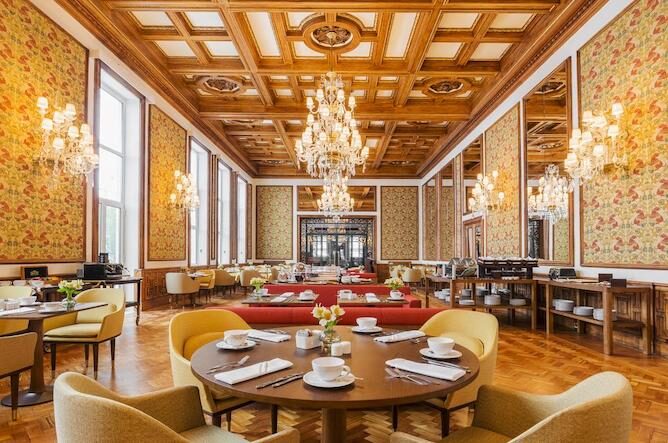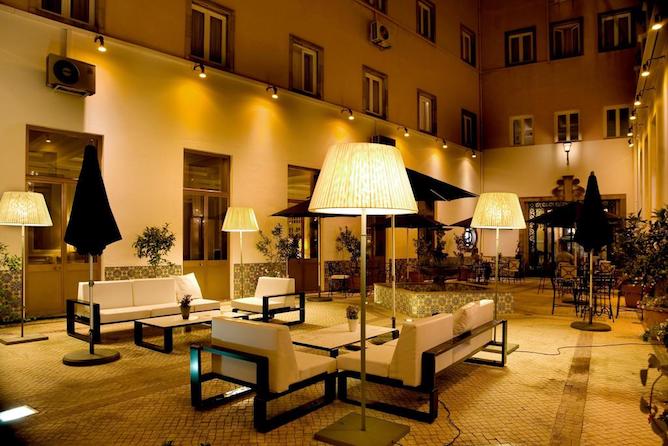 Hotel Infante de Sagres was the first 5-star luxury hotel in Porto. The building is massive and it's painted in pastel pink so it's hard to miss. The hotel hosted many public figures including Bob Dylan, Catherine Deneuve, John Malkovich and Dalai Lama.
Its suites are decorated with genuine antiques, and there is a famous vitral, by the central staircase, that is a famous Instagram spot in Porto.
From the hotel's windows, you can see Luíz I Bridge, the Douro River and the Clérigos tower.
The street is full of restaurants so you'll have plenty of options to choose from. Also, there are bars that are open until 4 am and some days they're open 24h. The hotel is steps away from Avenida dos Aliados.
Amenities: Vogue café (great for brunch and to take silly Instagram photos).
Haven't found your top luxury hotels in Porto yet? Check out these 8 boutique hotels in Porto (that no guide will tell you about). While in Porto, don't forget to explore these luxury stores.
Save this article for later: