I organize private tours in Porto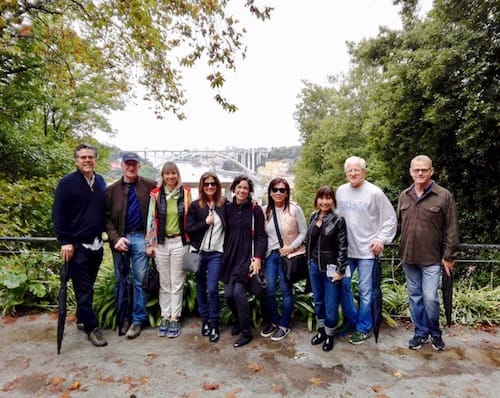 Check this page for more information or send an email to sara@portoalities.com.
In the latest years, Porto has proven itself to be one of the best touristic destinations in Europe. Part of this success is due to the city's celebration of antiquity and modernity. In Porto, there's always something for everyone – especially those who love luxurious travel experiences.
It seems like everywhere you look, there're tons of luxury hotels to stay in Porto. For travelers, this could make the booking process a bit challenging.
That's why we are listing some of the best luxury hotels in Porto, taking into consideration, the location, noise level, experience, design and amenities.
These are the best luxury hotels in Porto:
Avenida dos Aliados, 151 | Porto
For those who want to have a luxurious hotel experience and at the same time, make the most out of their stay in Porto, the Le Monumental Palace Hotel is the best option.
The hotel is located in Aliados' avenue where guests are at walking distance from many must-see things in Porto like Rua Santa Catarina, São Bento station, Torre dos Clérigos and more.
The 5-star hotel has the original façade of a 1920 neoclassical building that existed there. The interior is inspired by the 1930s decor combines Art Deco with Art Nouveau in an elegant way.
This luxury hotel in Porto is equipped with an interior swimming pool, a sauna, massage services and a tiny gym for those who want to keep in shape during their stay in Porto.
Praça da Liberdade, 25. Porto | Porto
This hotel is perfect for those who love luxury and history. It is located in Praça da Liberdade, ar the heart of Downtown Porto. InterContinental Porto – Palacio das Cardosas is right in front of a statue of King Pedro IV of Portugal.
History matters when talking about InterContinental. The building used to be a convent during the 18th century. Then it was sold and converted into a palace after the end of the religious order in Porto.
The hotel's interior is designed with neutral colors, delivering a relaxing experience. It's close to important sites, including the São Bento train station. So traffic, pedestrians and buses are to be expected. If you prefer a calmer area, consider another hotel.
Amenities: No spa, no garden.
Rua da Estrada Nacional, 108 | Porto
What is more luxurious than staying at an 18th century palace overlooking the Douro River? You're right, nothing, which is why Pestana Palácio do Freixo is one of the best luxury hotels in Porto. Sometimes I go there to enjoy a cocktail in one of its luxurious rooms, as the service is divine.
Pestana Palácio do Freixo hotel is located in Campanhã, a bit further than all the other hotels on this list. Therefore, if you are not staying in Porto for long and you would prefer to take advantage of every minute without wasting time commuting, this hotel might not be for you.
Amenities: It has a beautiful outdoor swimming pool as well as an indoors one.
Rua do Choupelo | Vila Nova de Gaia
Across Porto, you'll find the The Yeatman in Gaia. If you love gastronomy, wine and a spectacular view, this hotel is your best bet. Ricardo Costa, a two Michelin star chef, is the executive chef at the hotel and he helped the hotel reach its international recognition.
Wine is heavily engraved in this hotel's identity, something that can be seen in its interior design. The suits are assembled with luxury-looking furniture with a minimalist Victorian-like design. The spa has a wide variety of luxury experiences and the swimming pool has a fabulous view overlooking the Douro river.
There's plenty of things to see in Gaia, such as El Corte Inglés, a luxury department store. There's also two shopping centers nearby, Arrábida Shopping and GaiaShopping. Most importantly, Gaia is mostly known for hosting the best Port wine lodges.
You still can discover Porto and its historic center, as the city is one bridge away from Vila Nova de Gaia. I highly recommend you to cross Ponte Dom Luís I on foot as the view is splendid.
Amenities: It has a beautiful outdoor swimming pool as well as an indoors one. The rooftop is to die for!
Rua da Restauração, 336 | Porto
Torel Avantgarde is a luxury 5-star boutique hotel that celebrates art. The building is simple and clean on the outside, but vibrant and artistic on the inside.
Some luxury hotels in Porto can feel formal and old-school, but this is not the case at Torel Avantgarde. Everything, from the lights to the furniture, gives you a happy, young vibe.
At Torel Avantgarde you can enjoy a fabulous view of the Douro river as well as a terrific breakfast.
This luxury hotel in Porto has a perfect location, just a short walk from everything historic and interesting about Porto's center. You will be 15min walking distant from the city centre, as well as from the famous Crystal Palace gardens. At night there is barely any traffic on this street, which makes it a very quiet place.
Amenities: No spa, no garden.
Rua Mouzinho da Silveira, 228 | Porto
It is really hard not to fill this article with all Torel's luxury hotels in Porto (there are three in total) because they keep opening new ones, and I keep falling in love with all of them!
Therefore I decided to include Torel 1884 Suites & Apartments because a) it is absolutely stunning, with a refined decoration b) all my clients have been raving about its breakfast (and who doesn't want to be happy in the morning) and b) it has a strategic location close to São Bento train station.
Despite the name, none of the apartments and suites are equipped with a stove, so you do need to go out for meals.
Amenities: No spa, no garden, no pool.
Praça D. Filipa de Lencastre, 62 | Porto
Hotel Infante de Sagres was the first 5-star luxury hotel in Porto. The building is massive and it's painted in pastel pink so it's hard to miss. The hotel hosted many public figures including Bob Dylan, Catherine Deneuve, John Malkovich and Dalai Lama.
Its suites are decorated with genuine antiques, and there is a famous vitral, by the central staircase, that is a famous Instagram spot in Porto.
From the hotel's windows, you can see Dom Luís I Bridge, Douro River and Torre dos Clérigos.
The street is full of restaurants so you'll have plenty of options to choose from. Also, there are bars that are open until 4 am and some days they're open 24h. The hotel is steps away from Avenida dos Aliados.
Amenities: No spa, no garden.
Rua das Flores, 139 | Porto
Flores Village Hotel & Spa is one of my favourite luxury hotels in Porto, as it has a fabulous spa, a swimming pool and a private garden.
It is located at Rua das Flores, a pedestrian street with restaurants and wine bars, second hand bookstores and the Misericórdia do Porto museum (ticket prices are on its website). The Stock Exchange palace, São Bento train station and the cathedral are just a few minutes walking distant, so it has a strategic location to explore the city
You can get a double bedroom or you can rent an entire loft with a kitchen, making it a great option for families.
Amenities: It has a beautiful spa as well as a garden.
Praça da Ribeira, 1 | Porto
Yet again, it's another Pestana luxury hotel in Porto, but this time it's in Ribeira area overlooking the river. The hotel consists of 18 different rehabilitated houses where the guest rooms are located. They have a restaurant called RIB BEEF & WINE led by Chef Rui Martins, who won the Best Chef Award in 2016.
I would describe the interior of Pestana Vintage Porto Hotel as cozy, comfortable and warm. The area is lively during the day and romantic at night.
This hotel is located in front of Praça da Ribeira, a square always full of performances, fun activities and events. People are always sitting there having a drink, enjoying the city's reflection in the water. A walk down the riverfront and under the Dom Luís I Bridge is a must do in Ribeira neighborhood.
Amenities: No spa, no garden.
Rua de Sá da Bandeira, 91 | Porto
Pestana Porto Brasileira is a new 5-star hotel is in Rua Sá da Bandeira. It's in front of Sá da Bandeira theatre, so you will have time to enjoy some Portuguese plays.
The hotel was originally a café called "A Brasileira", the first place in Porto to ever serve coffee in a traditional coffee cup (chávena). The building has recently been transformed into a hotel with 90 rooms but it kept the original coffee shop on the group floor.
Pestana Porto Brasileira includes a fitness center. If you love coffee, shopping and arts, Pestana Porto Brasileira should be on your top lists of luxury hotels in Porto.
Amenities: It has a gym and a lovely patio.
Avenida da Boavista, 1269 | Porto
Corporate hotels are not my cup of tea but I couldn't end this list of the best luxury hotels without including one.
I choose Porto Palácio Hotel & Spa because it has a fabulous rooftop with one of the best views of the city. Moreover, it has a luxurious spa with massage rooms, squash court, an indoor pool and fitness centre for those of you who want to exercise during your next business trip to Porto.
This hotel is not in the city centre but rather near Casa da Música, which helps to explain why it has lower prices than most 5 star hotels in Porto.
Haven't found your top luxury hotels in Porto yet? Check out these 8 boutique hotels in Porto (that no guide will tell you about). While in Porto, don't forget to explore these luxury stores.
Extra: Go on a private tour in Porto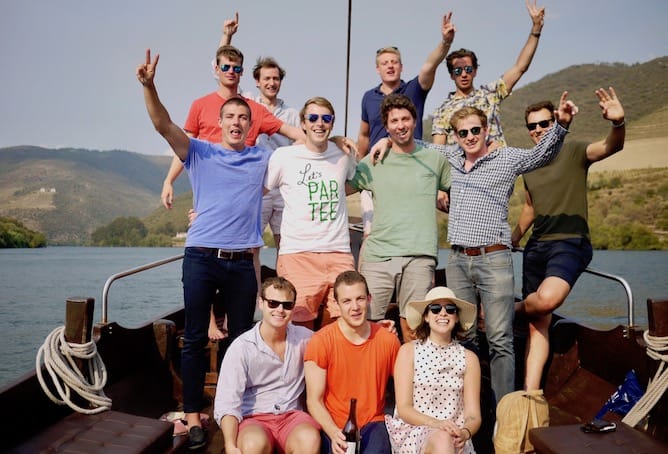 The best way to get to know Porto is to go on a private tour with me!
Check this page to learn more about my tours in Porto, or simply send an email to sara@portoalities.com. I will shortly get back to you with a tailor made tour designed specifically for you.
It will be a pleasure to welcome you in Porto!
---
Save this article for later: