These are the top markets in Porto
There are dozens of markets in Porto - but these are the best ones, picked by a local guide. Prepare your wallet and your bargaining skills!
Alina Kovalchuk
Portugal has a huge open market culture, be it permanent or periodical markets like the Christmas markets in Porto, antique or food markets – there's a huge variety all over the country.
And there are literally dozens of markets in Porto. They are great places to kick start your vacation in Porto, or simply to look for an original and affordable souvenir to take back home.I invite you to explore the markets of Porto with me. Let's go!
So, here's the list of the awesome markets in Porto:
Porto Belo
Praça de Carlos Alberto | Porto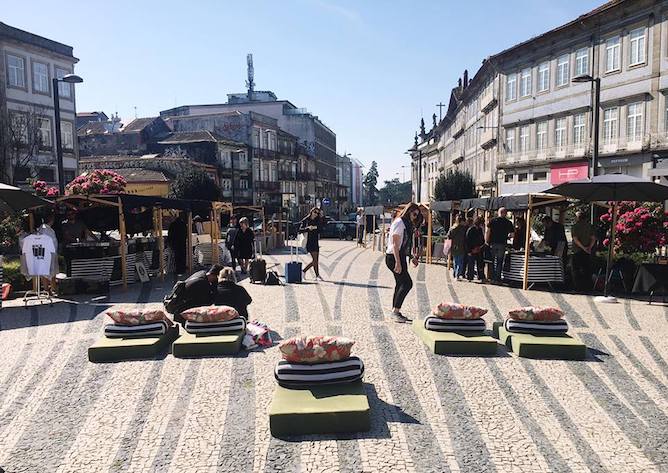 Porto Belo is probably the most popular market in Porto. No wonder! It has a superb location, between the romantic neighbourhood of Cedofeita and the nightlife district of Porto, and close enough to main city attractions such as the Lello bookshop and the famous Clérigos tower. It's also close to some of the best boutique hotels in Porto.
You can find pretty much anything at this Saturday afternoon market, from vinyl records, vintage clothing and accessories, antique cameras and film material, stamps and coins, illustrations.
But if you're not so much into antique stuff do not worry, as Porto Belo is also a great place to find design pieces and organic products like olive oil, teas and jams.
If you've just been dragged by your better half into this market, worry not: there's good music, an inviting puff and plenty of sun to enjoy while you wait!
How to get there: São Bento train station, which also has a subway connection, is a 10 minutes walking distance.
Clérigos market
Rua de Cândido dos Reis | Porto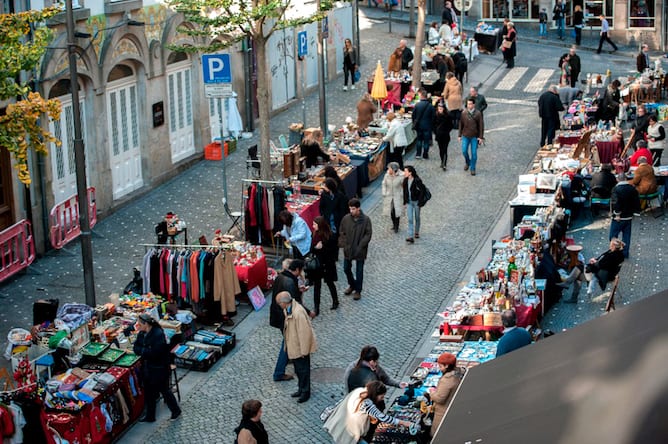 Clérigos market is pure street temptation for a gal like me. As you know I am very found of antiques, so it's very hard to walk down this particular street without emptying my pockets with old chandeliers, comic books, scratched wood boxes, cork souvenirs… and an old white and red bag from a flight attendant that I tried to bargain for hours without succeeding (it happens, once and a while, that I don't get my way in bargaining :P)
The Clérigos market takes place every second and last Saturday of every month, from 10am to 8pm.
How to get there: São Bento train station, which also has a subway connection, is a 10 minutes walking distance.
Urban Market
Praça das Cardosas OR Hard Club | Porto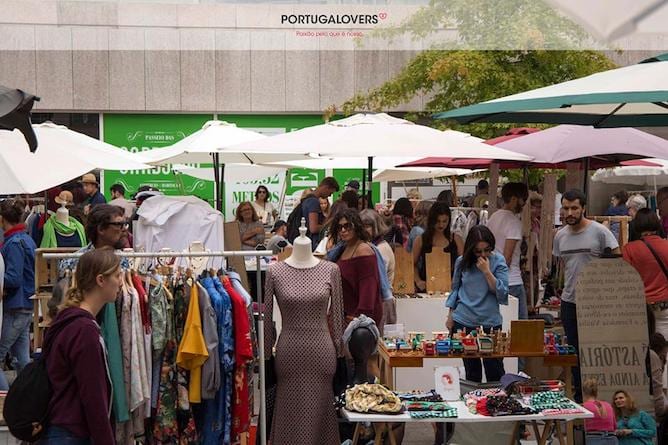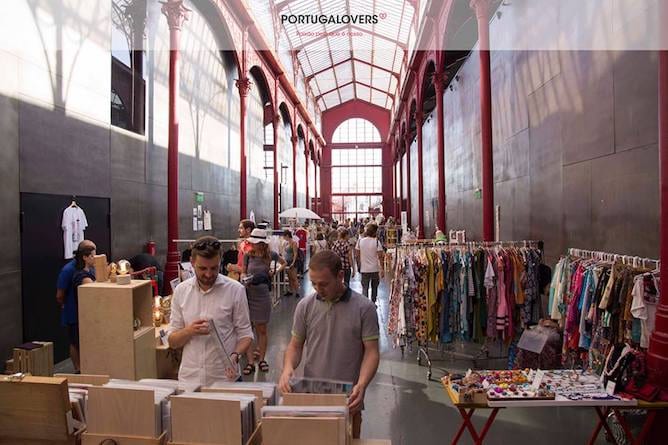 Another market I avoid going when I need to save money is the Urban Market because everything is so pretty over there.
Everything screams urban design at this particular market: the jewellery, the clothing, the home & decor objects. You can even take the time to enjoy a quick shiatsu massage or get a funky hair cut – yes, these are services that have been provided in previous Urban Markets! 🙂
Therefore, this is a great market to find modern souvenirs and stuff to wear / decorate your home, but not the place to find typical souvenirs from Portugal.
Usually the Urban Market takes place either at Praça das Cardosas (first picture) or at the Hard Club (second picture).

How to get there: It depends, as the Urban Market takes place in different locations. If it is located at Praça das Cardosas, you just need to cross the street from São Bento train station. If it takes place at the Hard Club, you must also get to São Bento and then walk down Rua Mouzinho da Silveira.
Feira da Vandoma
Avenida 25 de Abril | Porto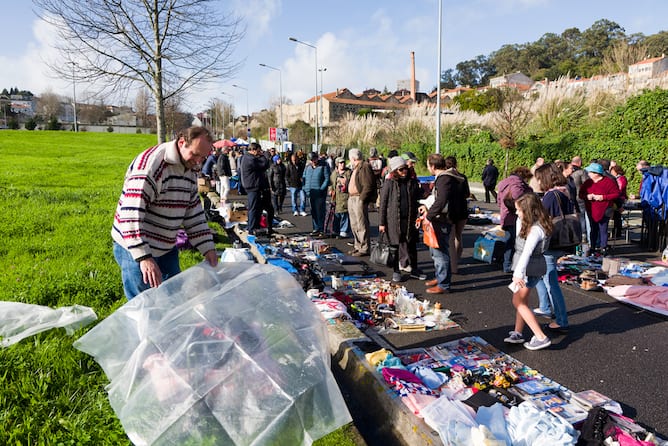 Feira da Vandoma is one of the oldest markets in Porto as it started many decades years ago by the hands of students who used to sell their old books.
There, you can only find second hand objects such as clothes, dishes, furniture and decorative items, discs, books, electrical and/or electronics (I cannot promise they are in good shape! :P), household and working utensils.
This traditional second hand market of Porto is held every week on Saturdays, from 8am to 1pm.
How to get there: It is a 10 minutes walking distance from the subway station Estádio do Dragão.
Bolhão's temporary market
Rua de Fernandes Tomás, 506 – 508 | Porto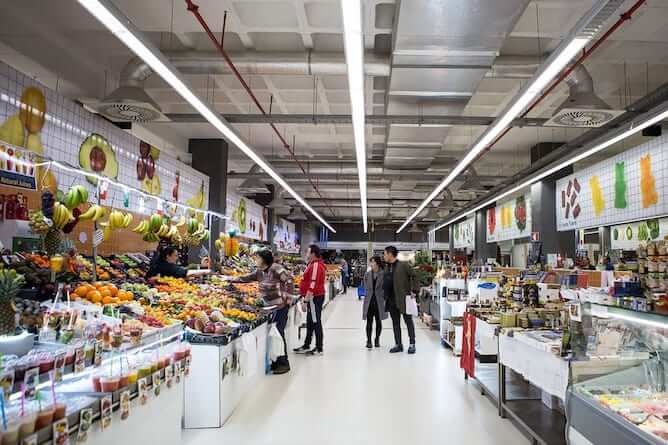 Besides these beautiful outdoors markets in Porto, there is also the magnificent Bolhão's market.
This is the last "fresh" market in Porto, where you can find not only fresh vegetables and fruits from nearby farms, but also delicacies such as home baked bread (it is sooooo goooooood), Portuguese sausages and cheeses. This is also the place where I usually buy fish and seafood as well as dried fruits.
Unfortunately Bolhão's market was closed for renovation at the beginning of 2018, but the vendors moved to a close by shopping mall called La Vie. It is not quite the same as the old market, but at least you'll be able to meet the vendors and taste their products while we wait for the renovation of the former building 🙂
The Birds Market
Alameda das Fontaínhas | Porto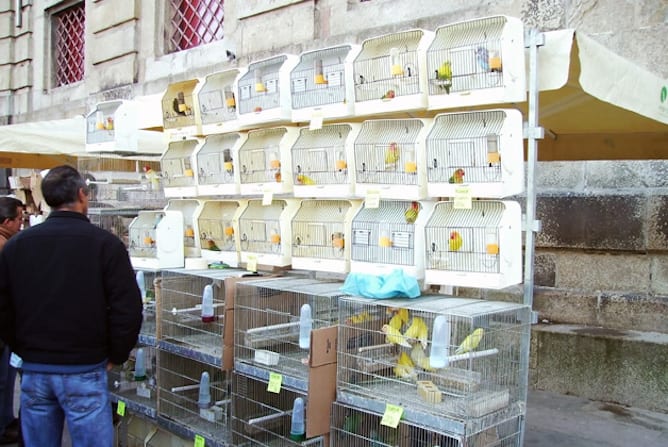 If you are looking for something rather unusual and very typical from Porto, I suggest you to try the Birds Market, which takes place every Sunday from 7am to 1pm.
The name of this market in Porto says it all: it's literally an open air fair where you can find all kinds of birds that are there for sale.
There are parakeets, canaries, ducks, roosters from Japan, mandarins … all kinds of winged animals, and some without them, for there are also rabbits, fish and even crickets. There are also cages and accessories, vegetables, and bags of food for sale.
Moreover, the view from this market is simply breath taking, as you are staring from the best viewpoint in Bonfim neighborhood!
Note: if you are very sensitive to animals' conditions you might not want to go to this market. Don't get me wrong – the animals are all well taken care of and you can see that the people that go there really care about them. But it's still dozens and dozens of birds inside the same cage!
How to get there: It is a 10 minutes walking distance from the subway station Campo 24 Agosto.
Flea Market
Several locations | Porto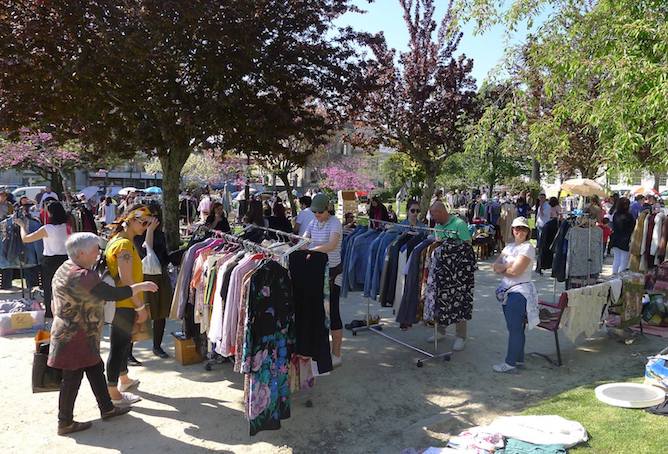 I have held the flea market of Porto very close to my heart ever since during my student days I spent my Saturday afternoons there selling my old stuff. I would spend hours in my parents' garage, digging some saleable objects, that I would clean up, load in the car and then cheerfully sell on the flea market.
Nowadays, I like to go to the flea market as it is one of the best markets in Porto to find antiques, vintage clothing, vinyls and tons of homemade sweets (true story!).
How to get there: It depends, as the flea market takes place in different locations every time!
Numismatics, Philately and Collections' Fair
Praça de Dom João I | Porto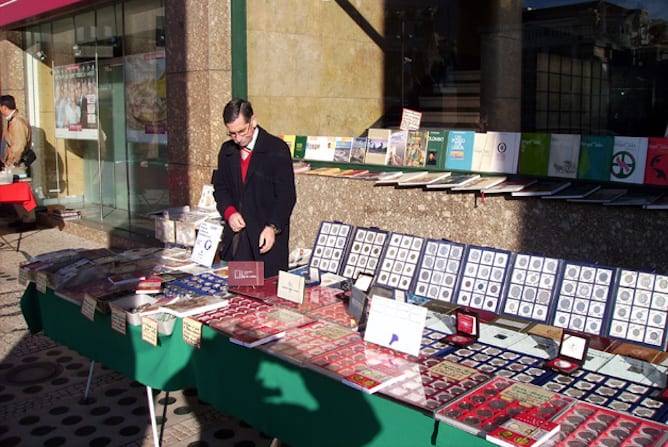 My father used to collect old stamps, and now that I am growing older I can see the magic beyond those beautiful pieces of illustrated paper that can capture so much of the essence of a country, a region or a particular product.
Therefore, once and a while I visit the numismatic, philately and collecting fair of Porto, where you can find mostly stamps, old coins and ancient medals, all in excellent conditions.
People over there, both vendors, buyers and voyeurs are truly passionate about what they are doing, which makes this one of the most engaging markets of Porto.
How to get there: The subway station Bolhão, Aliados and São Bento are all 5/10 min walking distance.
---
Local tip: There are two very touristic markets that take place in Ribeira, in Porto, as well as in Cais de Gaia, in front of where most Port wine cellars are.
I don't particularly like those markets in Porto as they mostly sell the so called "traditional Portuguese souvenirs", such as printed tiles' napkins (!), fado shawls (seriously people, no one wears those anymore!), and cloth sardines (aaaaargh, the tourists' obsession with sardines!).
The only good thing about these markets is that they sell lots of little things in cork, which are cheap, light and work perfectly as a souvenir.
---
What about food markets in Porto?
In Porto we don't have those mouth watering food markets like you see in Madrid and in Barcelona. Nonetheless, we do have two places that used to be real markets that were renovated – now they both have many little food stores where you can have a meal.
To be completely honest I don't usually go to any of these food markets as I find them a bit too touristic, and are both off-track from my daily routines. However, I thought you might want to know about them, so here they are:
Mercado do Bom Sucesso
Praça Bom Sucesso 74-90 | Porto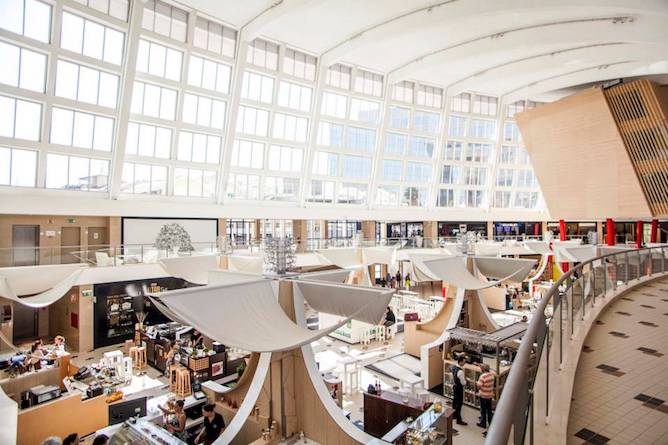 This huge market is by far the most beautiful one, as it has a beautiful natural light and plenty of space.
It has many different food stores, so it's perfect if you're traveling with a group of friends and you cannot agree about where to have dinner! At Mercado do Bom Sucesso you have pizzas, sushi, suckling pig, risottos, vegetarian and tapas like, just to name a few.
There are also plenty of places to get a cocktail or a decent cup of wine, so it might be also a good option to have a drink after dinner.
This food market is very close to both Casa da Música and the synagogue of Porto, so it might be a strategic place to have lunch if you're planning to visit these monuments.
How to get there: the subway station Casa da Música is a 10 minutes walking distance.
Mercado Beira Rio
Avenida de Ramos Pinto, 148 | Gaia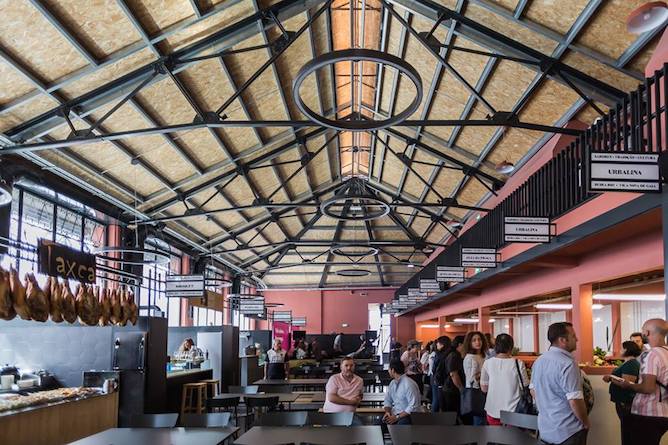 This food market in Gaia is a bit small and dark, so I don't go there very often.
On the other hand it has some really nice restaurants, such as Barriga Negra (amazing traditional petiscos!).
Another great advantage of this market is that it's very close to some of the best Port wine lodges, so it's a great place to have a bite after you've paid a visit to the lodges
Talking about the Port wine lodges – I get asked a lot for recommendations and these are your best options if you're considering taking one:
One is to get a combo ticket that allows you to visit Calém Port wine lodge followed by a Port wine tasting while watching a Fado show. This ticket saves you a LOT of money, as a visit to a Port wine lodge costs 15/18€, and a Fado show with dinner costs around 30€. By getting this combo ticket you pay only 21€ – this is really cheap!

Another great deal is to get a combo ticket for the Hop On Hop Off Bus, river cruise and Port wine cellar for 25,20€. This is incredibly cheap because the river cruise costs 15€, a visit to a Port wine lodge around 15/18€ and the Hop on Hop off Bus around 18€ / day. Save yourself some bucks by getting this online ticket.

You can swap the bus and get this ticket of a city train tour, river cruise and wine cellar visit. It is a great combo if you want to get the most of a single day and it's cheap – only 22€. I recommend you buy the combo ticket because if you buy separately you will be paying double that price (over 40€).
How to get there: the cable car is right in front of this food market. Otherwise just take an Uber/taxi.

Are there farmers' markets in Porto?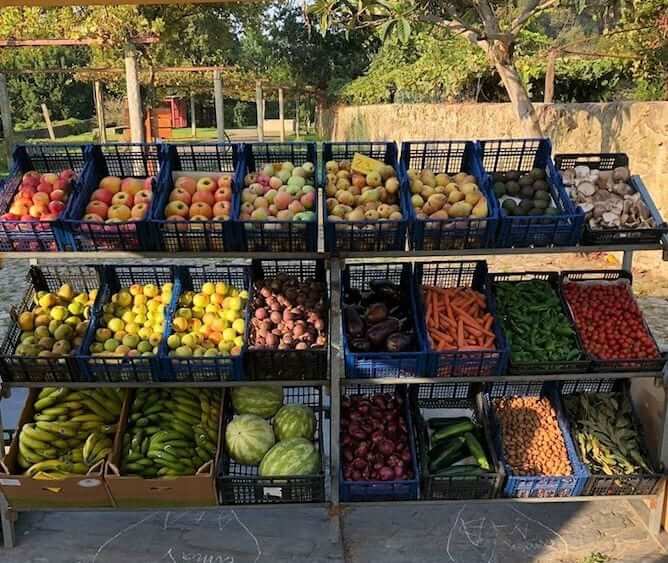 Thank God the answer is YES! And these markets make me such a happy person since I stopped eating meat!
My favourite one takes place at Parque da Cidade, the largest city park in Portugal, on Saturday mornings until 1pm.
There you can find around a dozen of certified organic producers that sell the most fantastic seasonal products – from vegetables to fruits, eggs and dairy, cheeses and sausages, and even aromatic herbs, lentils and grains.
How to get there: as far as I know there are no public transports there so simply take an Uber – type in Soundwich. The farmers' market is just behind it.
Save this article for later: