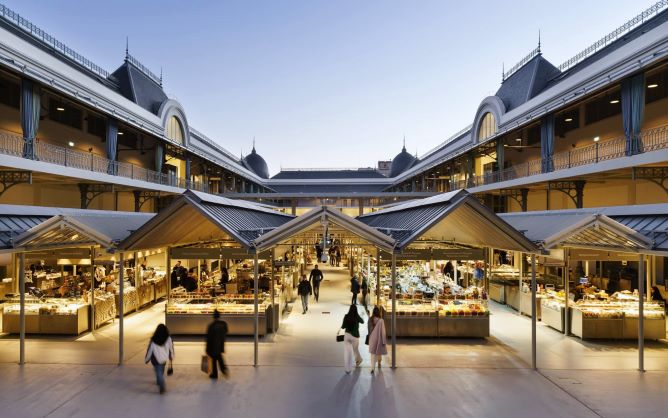 It doesn't matter if you're from the US, Portugal or Australia, there's one thing we all like to do: shopping! We've already told you about the best shops in Porto, but there's one place that's synonymous with shopping in our city: the Bolhão Market. And the best way to explore it – if you're a foodie like me! – is to join a Food tour in Porto. They are not expensive at all (only 59€ / person) and they'll allow you to deep dive in Portuguese cuisine.
Shopping isn't the end of it, though. There are so many things to do in Bolhão market that I decided to share the best ones with you!
Bolhão market: useful information
Let's start at the end, with the important information:
Here's how you can get to the market: the Bolhão subway station has an exit directly inside the Bolhão Market. You'll know you're in the right spot when you can smell the fresh fish.
When is it open: the market is open Mondays to Fridays from 8am to 8pm. On Saturdays it's open from 8am to 6pm. It closes on Sundays and national holidays, like October 5th, December 25th and January 1st. The restaurants on the top floor are open from Mondays to Saturdays from 8am to midnight.
The best things to do in Bolhão Market
Buy canned sardines the right way
If you spend a few hours in Portugal, you're going to notice that we LOVE our canned fish. You have tuna, sardines, mackerel, codfish… Our canned sardines have become so popular that there's even a shop entirely dedicated to them in Times Square!
Times Square comes nowhere near the Bolhão Market. The right way to buy our canned fish is to walk into the Bolhão Market, hear a few fishmongers shout around you and then by browsing the stalls entirely dedicated to the Portuguese canned fish. You have a lot of brands to choose from and Minerva, one of the most famous, even has a store of its own on the outside of the market.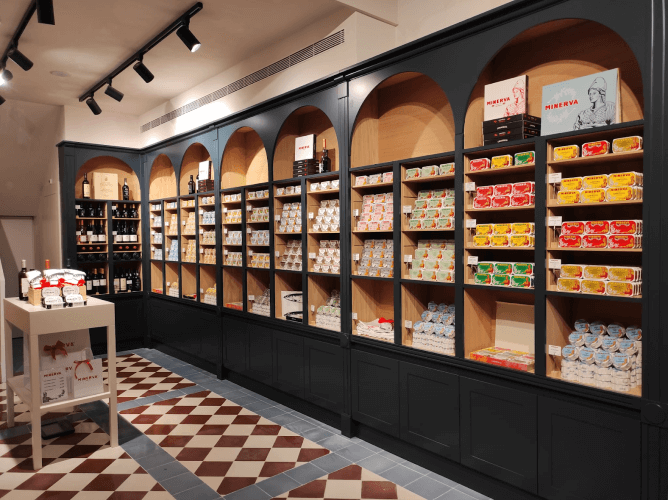 You can use the fish you buy in a lot of ways, but for me the way to go is with a can of tuna mixed with some black eyed peas, a diced onion, some parsley and some great olive oil!
Try the best snacks Porto has to offer
I don't know about you, but (like any Portuguese) I'm a huge fan of snacking. This immediately makes me a massive fan of the Bolhão Market.
Besides buying canned fish to eat later, one of the best things to do in Bolhão Market is to eat something right there. The market has options for all tastes spread through all its corners.
It helps that the market is divided by sections. So, on its northern side you'll find all the fish and seafood. If you think the oysters on display look good, you can just have them right there and then, coupled with some giant boiled shrimps. It's soooooo good!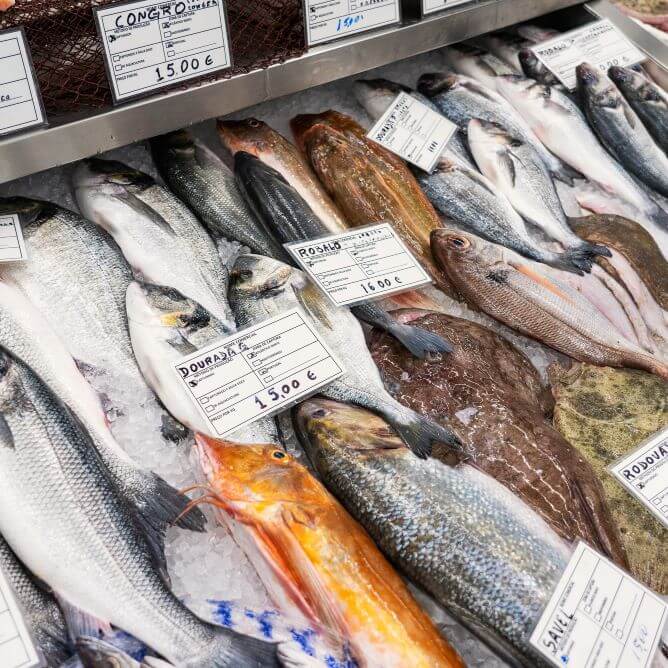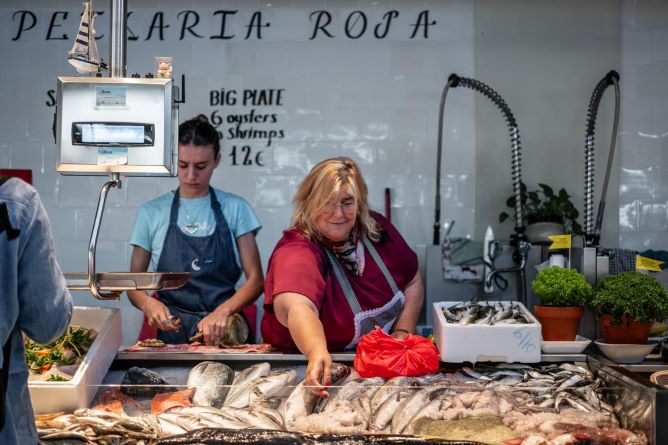 If you want something sweeter, the fruit stands on the opposite end of the market will be your favorite spot. I like the great variety of fruit they have all throughout the year, but during the summer I almost feel like there's only one thing to do in Bolhão Market: drinking the freshly made fruit smoothies!
The market also has some very nice options if you prefer some meatier snacks. You have the smoked ham hanging from some walls and on display at the butchers which you can try on the spot. On top of this, during our private walking tours in Porto we'll even show where to get the best pies in the market!
Experience Porto and our people all in one spot
One of the best things to do in Bolhão Market is to just walk through it. I'm not kidding!
Firstly, because that's the only way you can find all the stalls and snacks I've mentioned. Secondly, because you're basically walking through living history.
The market has changed during its long history, especially after it reopened in 2022. It became cleaner and more organized, but it still managed to keep the character that a place like this should have. The walls were repainted, but the people stayed the same.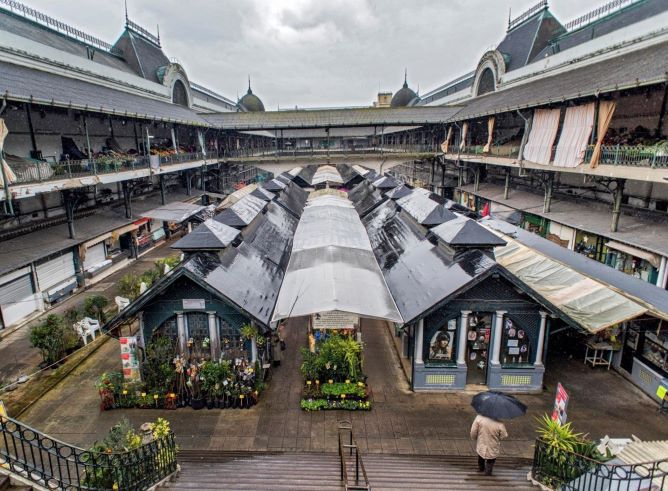 You're still going to hear the shouting fishmongers, and if you're a regular customer the sellers will recognize you and they're happy to strike a conversation with just about anyone. Chatting with the sellers is truly one of the best things to do in Bolhão Market!
You also get to see what we eat on a daily basis. You'll see the vegetable stalls with enough garlic to scare a vampire, massive bull's heart tomatoes and, close to the fishmongers, you have dried and salted cod.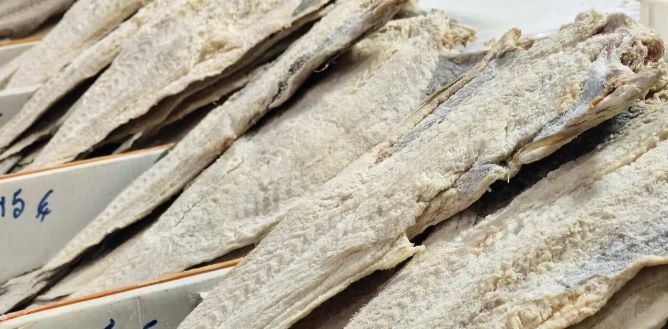 Walking though the market you also get something I bet you weren't expecting to see on a list of the best things to do in Bolhão Market: a geography lesson about Porto. Each corridor in the market is named after a street in Porto. You even have Rua da Vitória, Victory Street, which is very important on our Jewish Heritage Tours of Porto!
Try to find all the stalls dedicated to one unique product
This seems like an easy task at first, but believe me, I know from personal experience that it's not.
The Bolhão Market's website has a list of all the stalls and even the stores outside, but to me it just seems wrong to use it. That would take half the fun out of the market. There's a reason why I think this is one of the best things to do in Bolhão Market: by just walking through it you're going to be surprised by the new amazing things you find.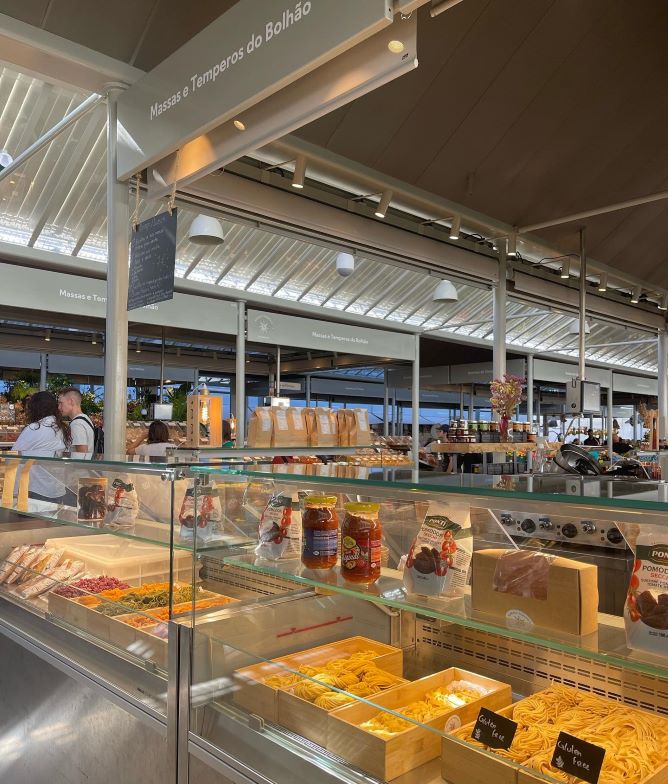 Just picture this: you're on the east side of the market, admiring some of the best sausages and smoked meats you'll find in Porto. Then you turn around and find something that brings tears of joy to the eyes of any Italian: a stall dedicated entirely to pasta, "Massas e Temperos do Bolhão".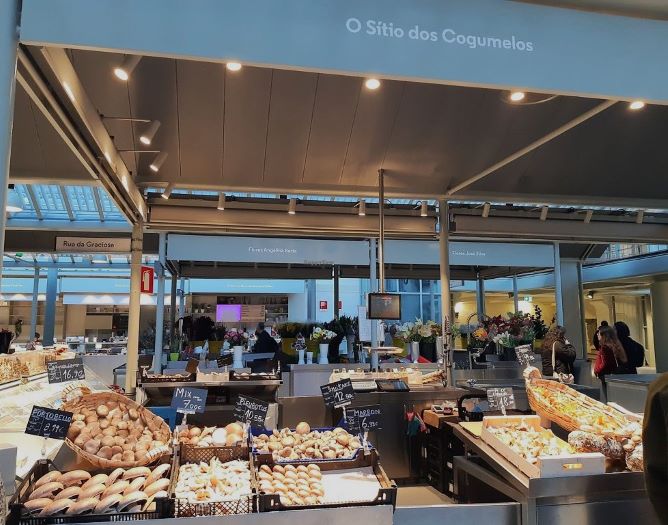 Then, right next to this stall, you have "O Sítio dos Cogumelos", literally the Place of Mushrooms. This place is heaven on Earth for mushroom lovers like me! Do you want shiitake mushrooms? They have them. Do you prefer the giant portobellos? Just next to the shiitakes. Are you looking for dehydrated mushrooms ? You guessed, they have it!
You can spend hours searching for and browsing all these unique stalls and it will be some of the best fun you'll have!
Be surprised by great events
Everybody loves a good surprise, so, sometimes, one of the best things to do in Bolhão Market is to just walk into a surprise event! I've lost count of the amount of times I went to the market and was surprised by one activity or another.
Every once in a while you'll find a food-related workshop going on in the market's kitchen. You also have the regular "Chef à moda do Bolhão" showcooking events -the first one after the first birthday of the market's reopening was focused on the king of all Portuguese ingredients, codfish!
These events aren't all about food, though. The Bolhão market also makes for an excellent concert venue! The structure that surrounds the market and especially the top of the stairs on the north end make for a perfect stage.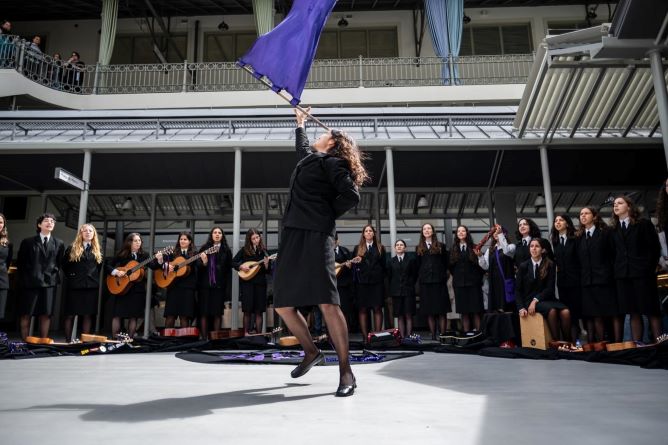 We've explored the best places for fado in Porto, but, if you want to get a small taste of my favorite style of Portuguese music, you can do it right here. Besides this, one of the best things to do in Bolhão Market is also something you should have on your Porto bucket list: see a Harry Potter choir sing.
If you come here in June, going to the Bolhão Market also gives you the chance to see one of our traditions related to Saint John's Festival: the "Cascatas de São João", literally Saint John's waterfalls. They're representations of scenes that show us iconic spots in Porto along with the lives of our people. You'll find them all over the city, including in the Bolhão Market.
And here's the kicker about these events: they're all free!
The best things to do in Bolhão Market: outside version
Some of the greatest things to do in Bolhão Market aren't even inside the market, because the Bolhão Market is much more than the market itself! It's also the streets that surround it and the amazing stores and monuments you can find in them. Here's what you can do in these streets: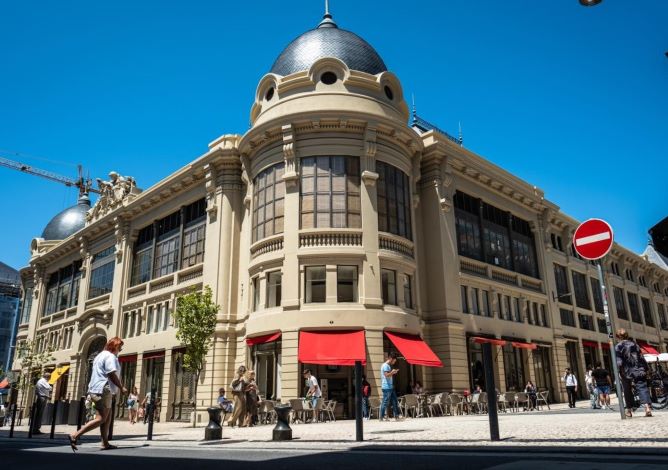 Shop at Porto's best grocery stores
The streets surrounding the Bolhão Market have names related to famous Portuguese historical figures, but you can't get much more historical than the grocery stores on these streets. Of all the best Portuguese grocery stores in Porto, only one isn't on one of the streets that immediately surround the market.
I'm particularly a fan of the two you have on Formosa Street. Every time I walk past "A Pérola do Bolhão" I need to make a conscious effort not to look inside, because I know that if I see all their amazing sausages and cheeses I will go inside. "Comer e chorar por mais" is also very good and its name is even better: You'll eat and you'll cry for more!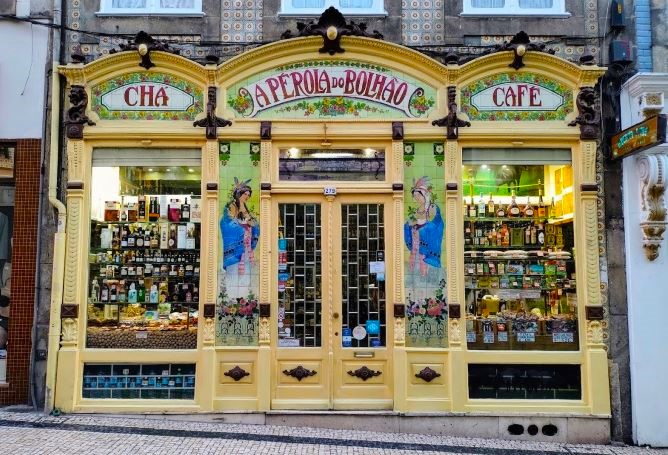 These grocery stores are incredible because you have access to some of the most traditional Portuguese products (tell me where else you can find smoked pig's ear) and they have great prices compared to a regular supermarket.
Try the best sweets in Porto
Around here we all have a sweet tooth, so, when in Rome Porto… one of the best things to do in Bolhão Market is to have a sweet pastry!
Right across the street from the market's southern entrance you have a spot that I'll never get tired of mentioning: Confeitaria do Bolhão. It's the oldest pastry shop in Porto (it opened in 1896), so they combine sweets and History, two things I love!
Facing the market's eastern edge, you have another place I adore: Manteigaria. We've already told you about where to get the best Portuguese egg tarts in Porto, and Manteigaria is among them! They have another location dedicated exclusively to the tarts, but here next to the Bolhão market they also have some other sweets and a wider variety of coffees.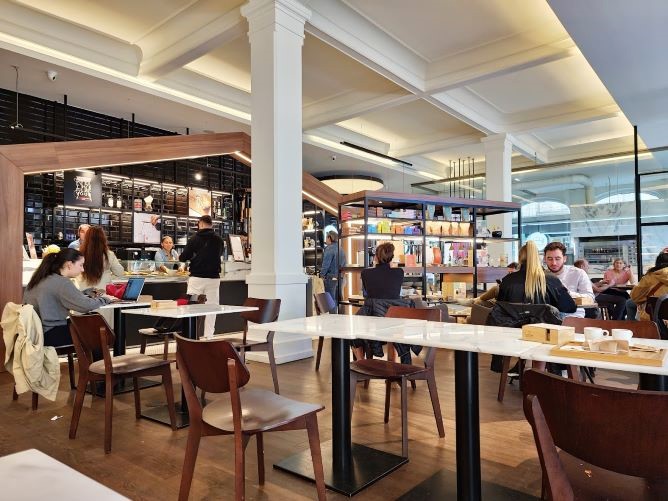 Finally, you have another one of the best spots to have breakfast in Porto: Leitaria da Quinta do Paço. If you're not a fan of the egg tarts, you have the perfect alternative just across the street. Here you can find THE BEST eclairs that I know of.
Their whipped cream filling is light and fluffy and I'm a very big fan of the caramel covered eclairs. I felt like a kid on Christmas morning when I saw they had finally opened outside the Bolhão Market!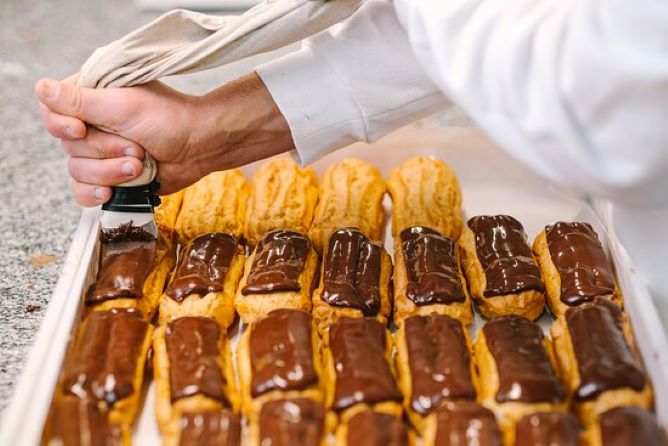 See beautiful azulejo tiles while you eat the best roasted chestnuts
If you just walk up the street from the Bolhão Market you'll find one of Porto's most famous streets: Rua de Santa Catarina. This is where you'll find all the biggest stores and also where you can find one of the best things to do in Fall in Porto.
Just as Fall starts we also have the start of chestnut season. Especially around the end of October and the start of November, we have chestnuts in all ways you can imagine, but the most common way to have them is roasted. That's how you should have them!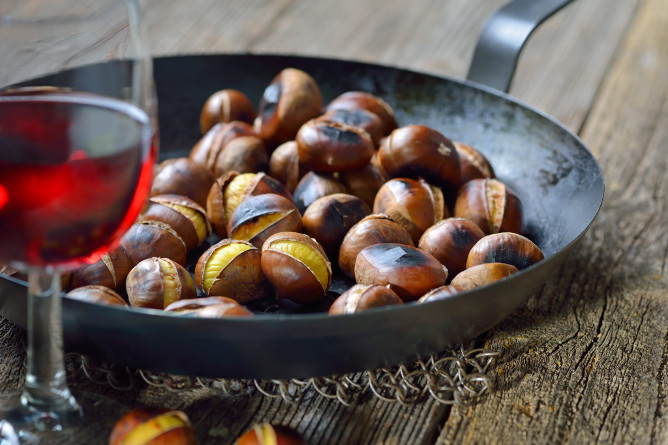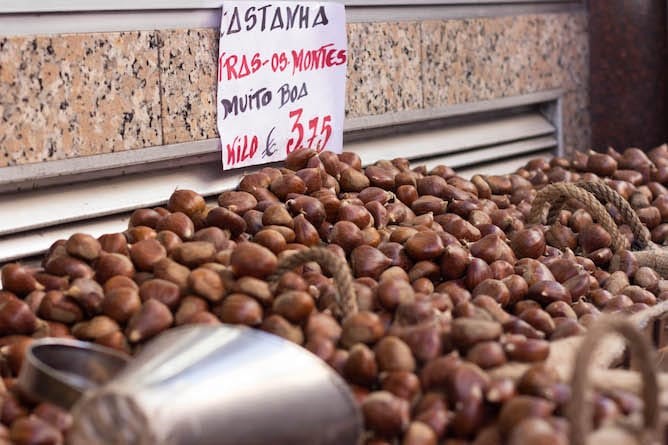 You'll see roasted chestnut sellers all over the city, but the ones in Rua de Santa Catarina deserve a place among the best things to do in Bolhão Market precisely because of their location. They're right in front of one of Porto's most beautiful buildings!
A few dozen steps away from the market, you have Saint Catherine's Chapel. This is among the best places to see azulejo tiles in Porto. While you eat the chestnuts, you get to see almost 16.000 beautiful blue and white tiles which show you Saint Catherine's life.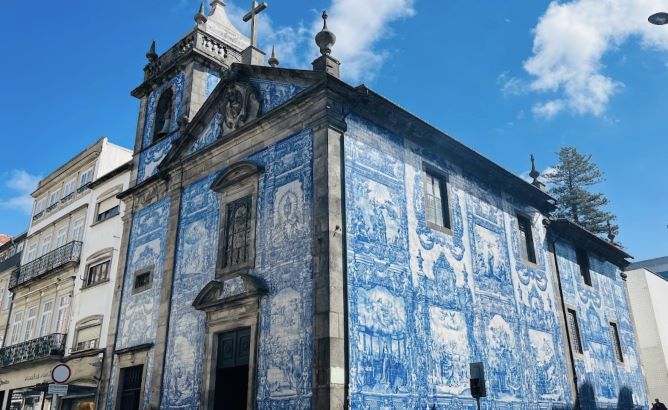 Once you see these tiles you'll find this hard to believe, but there are some tiles in Porto that are even more beautiful (and even some that are secret!) Those are saved for our private walking tours in Porto!