I have already written an article about the best hotels in Douro Valley, but it was missing one about the best spa hotels in Douro. So here it is, my friends! A couple of important notes before I present you my list:
One thing I realised when researching for this article is that most hotels in Douro Valley use the word spa erm, a bit too freely – meaning that they consider themselves a spa hotel if they have an indoors pool, period. But I think that is just not good enough for you so in order to be included on this list of the best spa hotels in Douro, the hotels had to have at least a hot tub; and most of them have a proper spa, with massage treatments.

Usually on my hotels' articles I focus a lot on the decor / design of both the rooms and the common areas, but on this article I am focusing specifically on the spa facilities. If you want to see the hotel themselves, I suggest you to follow the link to each hotel 🙂
These are the best spa hotels in Douro Valley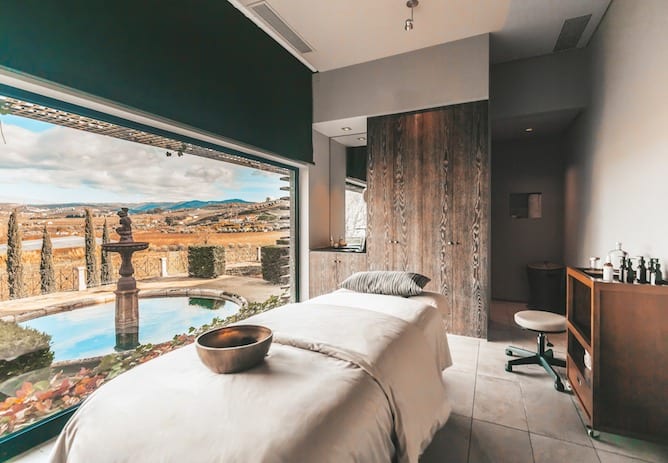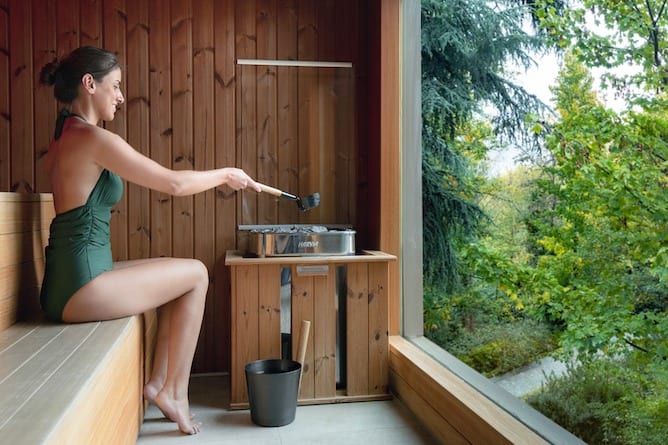 The Six Senses Douro Valley is probably the best spa hotel in Douro, not only because it has the best spa facilities but because it has the best treatments and the best practitioners available.
This five star hotel has dozens of treatments available, from detox massages to shiatsu and several face and feet massages (my favourite – I find them so relaxing!). The prices range from 80€ to 240€, depending on the treatment you choose and on its duration. You can book it directly at the hotel reception upon your arrival.
Moreover, you can head out to the Six Senses Douro Valley lavish spa, the heated indoor pool (overlooking a beautiful forest) with water jets or the outdoor pool.
Yes, it is a very expensive hotel – oh but so, so worth it.

How to get there: take the train to Régua, then take a 10 minutes taxi ride to Six Senses Douro Valley.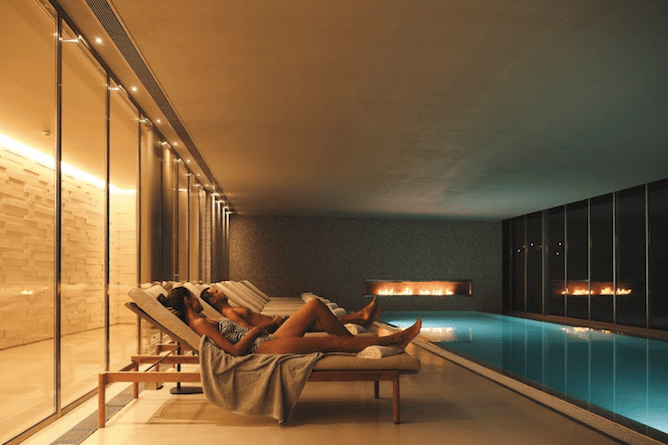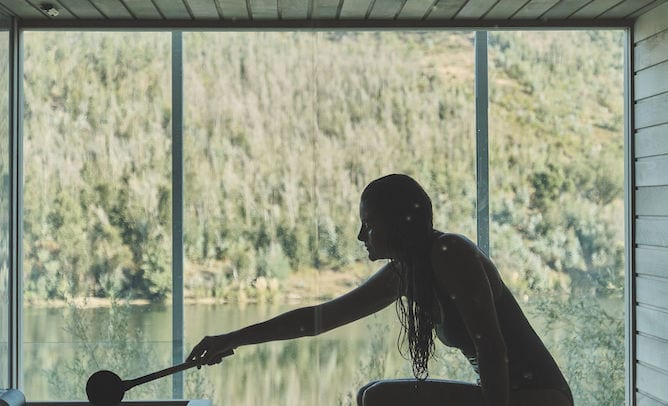 Here's the thing: one of my best friends has a house near Octant Douro, a great spa hotel in Douro, so one day we decided to treat ourselves to a spa day. The moment I arrived in Octant Douro I was pleasantly surprised to hear that they are 100% cruelty free, only using vegan, organic products on its spa.
Then we were offered the spa menu and it was really hard to choose because they have so many diverse treatments available, ranging from river stones' face massage to bath salts.
Octant Douro also has couples' massages available (220€ / 50 minutes), as well as stress release / quiet sleep massages, to help you relax and thoroughly enjoy your experience at Douro 41 Hotel & Spa.
How to get there: the best way is to use a car to get to this hotel – it is only a 45 minutes drive from Porto.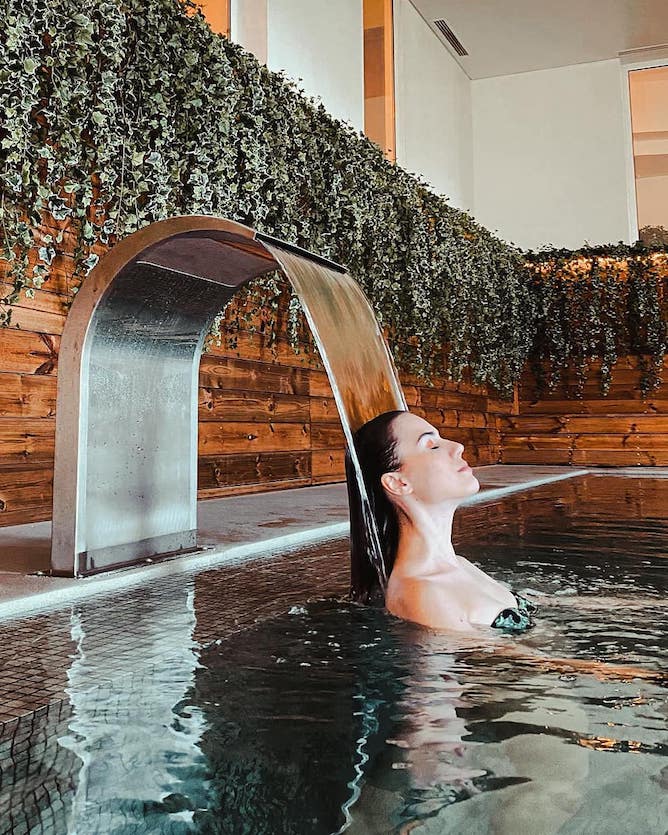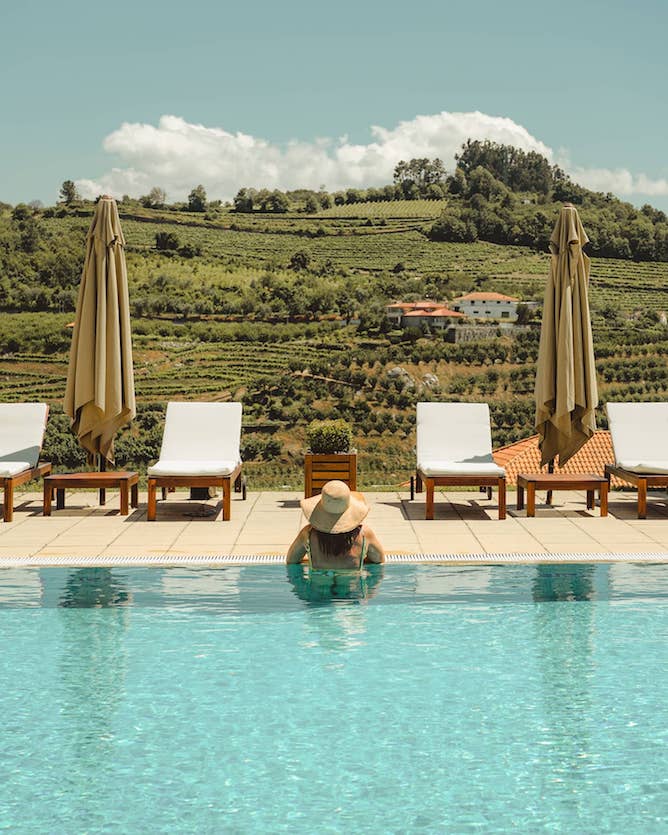 Lamego Hotel & Life is one of my favourite hotels in Douro Valley due to its strategic location and gorgeous decor. But not only that: it also has a fantastic spa, with different treatments available:
Sensory massages, that range from 58€ / 50 minutes to 98€ / 70 minutes.
Therapeutic massages, that include muscle recovery (84€ / 60 minutes) and lymphatic Drainage (79€ / 70 minutes).
Face treatments, that include detox, SOS Moisturising, Deep Lifting, etc. The prices range from 46€ / 30 minutes to 84€ / 75 minutes.
But my favourite option is to simply do an entire Spa Day at Lamego Hotel & Life, that includes three different treatments and a light lunch at the hotel's restaurant. This option costs 190€ and it lasts for 6 very pleasant hours.
You can also enjoy the heated outdoor pool, the indoor pool, the jacuzzi, the Turkish bath or the sauna.
How to get there: take the train to Régua, then take an 18 minutes taxi ride to Lamego Hotel.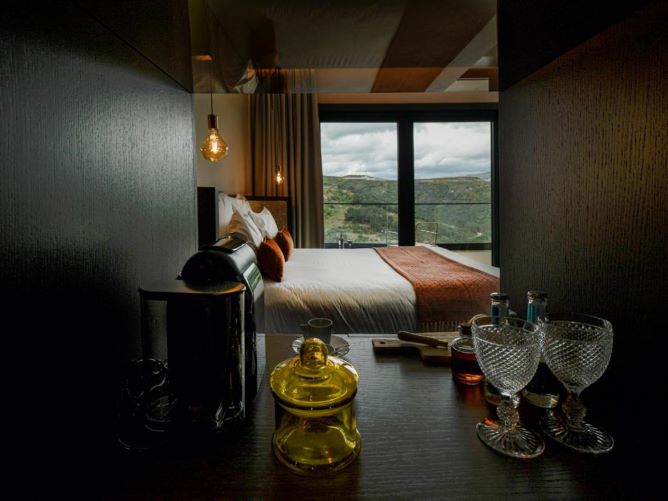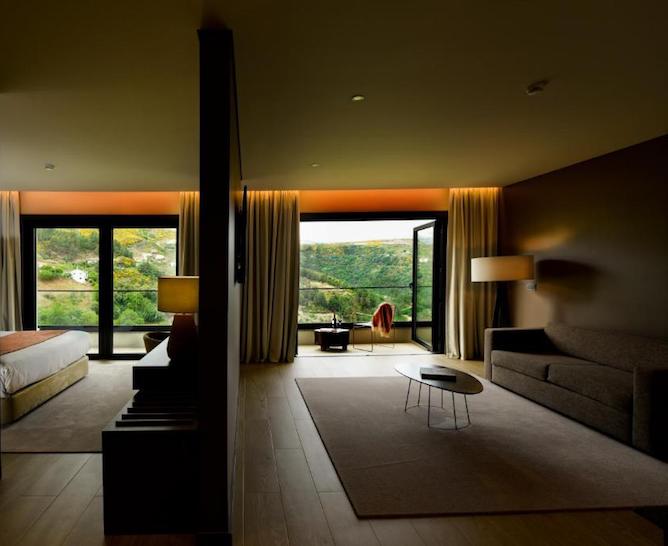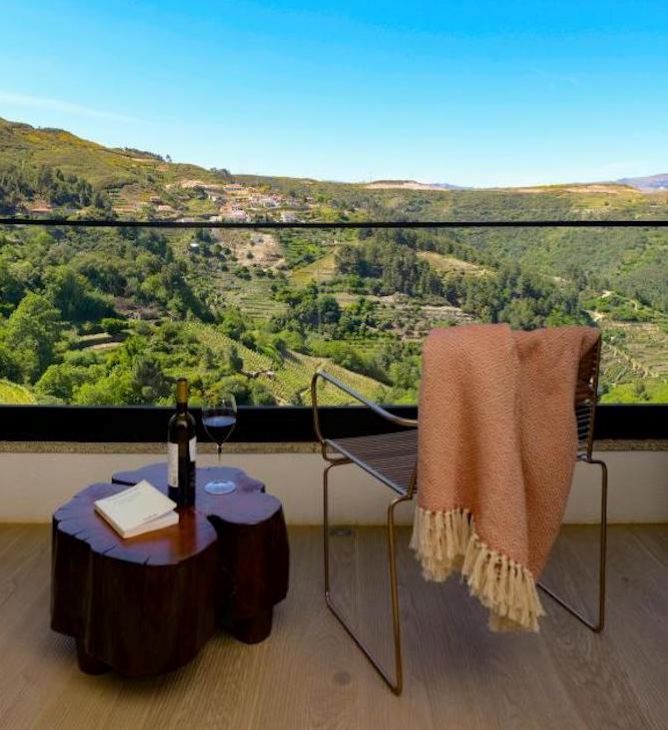 A luxury hotel in the Douro was recently renovated – a 12 minute drive from Régua, so really close! – and, of course, I had to take a look and tell you about my experience 🙂
At MW Douro Wine & Spa you will find the discreet comfort of rooms in subtle tones, perfectly framed in the surrounding landscape, over which they have a privileged view, by the way.
The bathrooms are luxurious and discreet, with CastelBel products (for those who don't know, the best Portuguese company for body products).
But best of all, MW Douro Wine & Spa has an excellent spa, with an indoor pool, Turkish bath and sauna, which is quite unusual in the best hotels in Douro. And to top it off, the massage rooms have a delightful view of the region's vineyards.
If the weather is nice, be sure to make the most of the outdoor pool, overlooking the largest bridge in the region.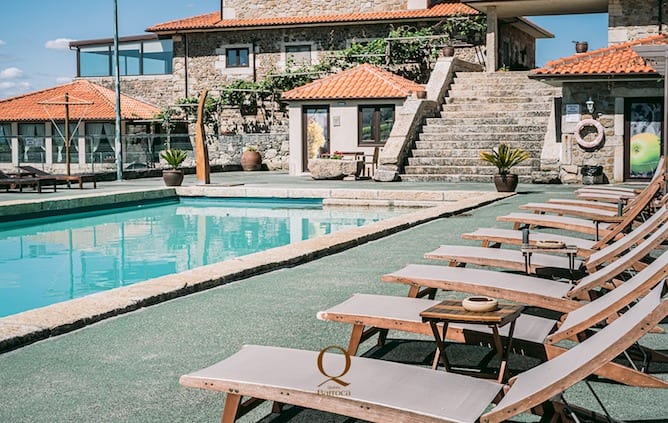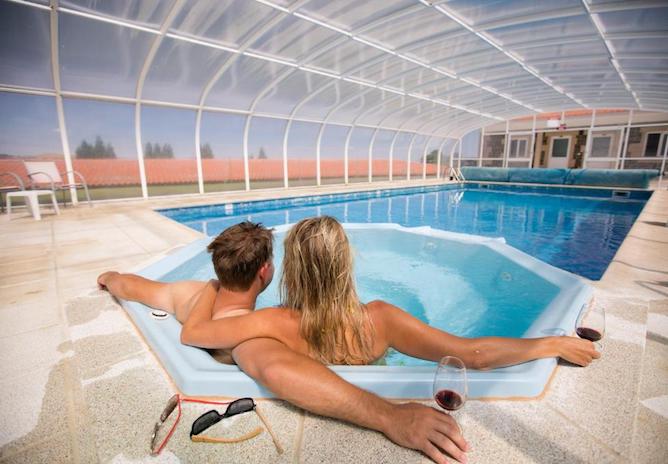 As far as I know Quinta da Barroca, a lovely wine estate in Douro Valley, does not provide massages, but honestly WHO CARES when you can enjoy its lovely hot tub with your loved one. It is right next to the indoors pool, that has a 360º glass cover. You can also enjoy the sauna on its premises.
But my favourite area of Quinta da Barroca is its outdoors pool, surrounded by the lovely granite houses of this ancient estate. So if you prefer a traditional setting, the spa hotel in Douro is definitely the right place for you 🙂
How to get there: take the train to Régua, then take a 20 minutes taxi ride to Quinta da Barroca.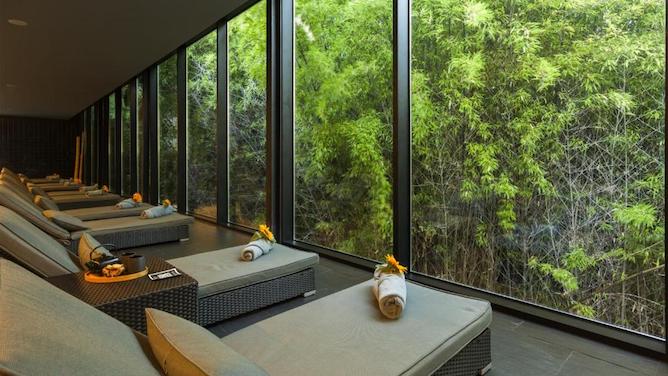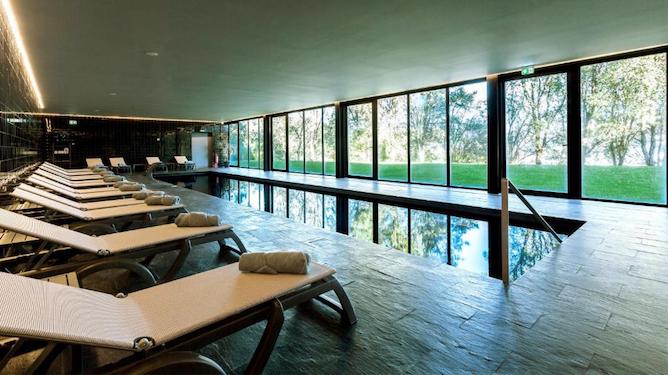 Douro Palace Hotel Resort & Spa is yet another option of you are looking for spa hotels in Douro Valley. Even though its spa lacks the sophistication of other options on this article, its practitioners are known to give good massages.
This spa hotel in Douro also has indoors and outdoors swimming pools, both of them with fantastic views of the region.

How to get there: take the train to Aregos, then take a 4 minutes taxi ride to Douro Palace Hotel Resort & Spa.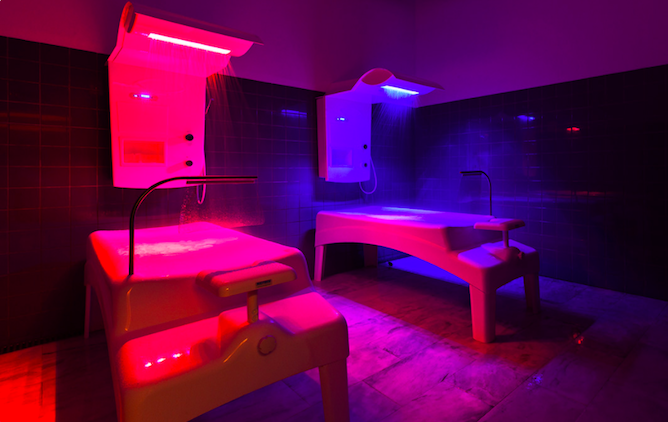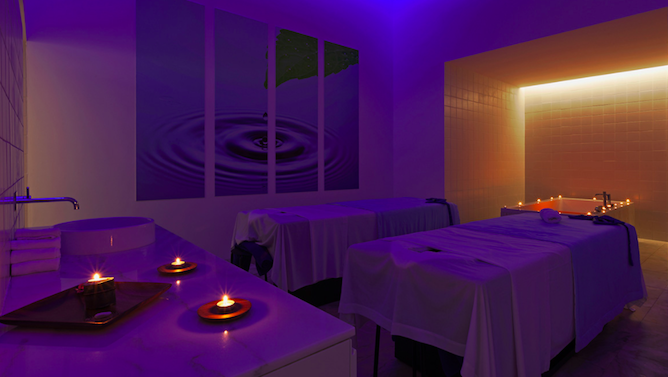 Douro Royal Valley Hotel & Spa has quite a complex spa "operation", that comprises 4 treatment rooms, 2 indoor relaxation areas and 1 outdoor area, an indoor jet pool, a double Vichy shower room, a Scottish shower room, a Sauna and Hammam (mixed) and a fitness club.
Moreover, what I particularly love about this spa hotel in Douro is that it provides sooooo many different massages and therapies, from hot candles massage to wine therapy rituals, Vichy and Scottish showers and an entire array of couple's special treats.
Douro Royal Valley Hotel & Spa also provides massages for bachelorette parties, pregnant women and new mums, following the life cycle of most women 🙂
How to get there: you can take two trains to get there but it takes 2h30, whereas if you drive from Porto it only takes 1h.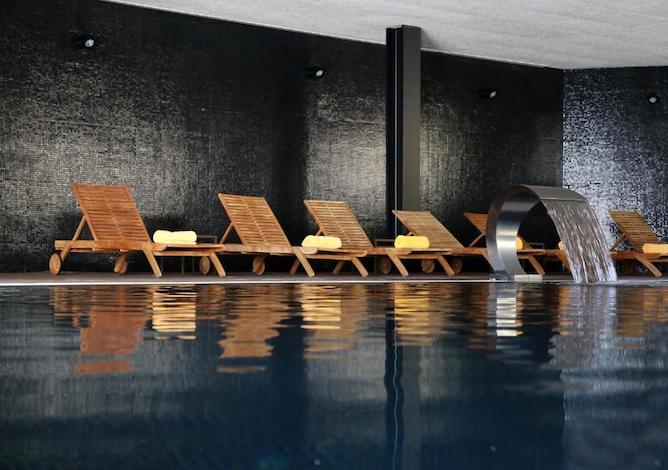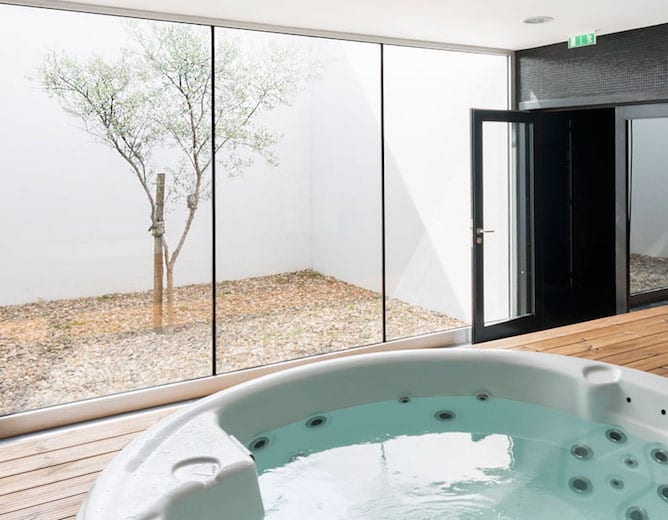 Douro Scala is quite a large hotel with several spa facilities: 3 treatment rooms, an indoor heated pool, sauna, Turkish bath, Jacuzzi and even a small gymnasium for workout addicts.
Besides that, the view from the outdoors pool is ab-so-lu-te-ly breathtaking and it is definitely worth visiting this spa hotel in Douro just for that.
How to get there: take the train to Rede and then call a taxi – it is a 7 minutes ride to the Douro Scala hotel.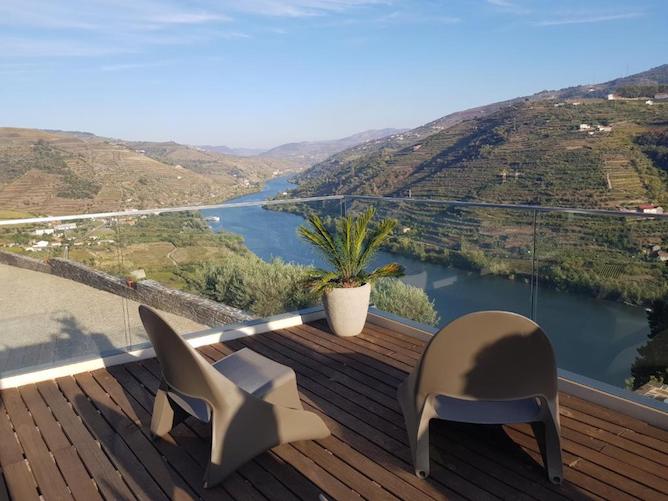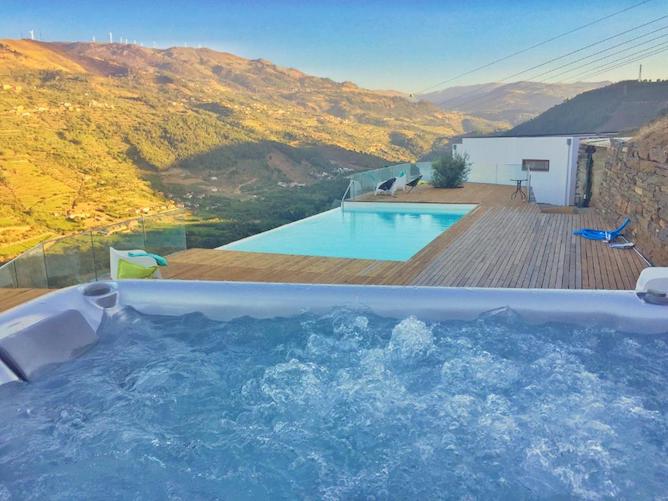 Imaginário D'El Rei has the most fabulous view of the region and you can enjoy it from the comfort of its outdoors bubbly hot tub and for that alone I consider it is a good spa hotel in Douro. It is also very close to Porto – just 1h10 driving distance. The bedrooms are quite humble (but sparkling clean), but honestly who cares about that when you have a terrace with a breathtaking view of the Douro river.
How to get there: take the train to Rede and then call a taxi.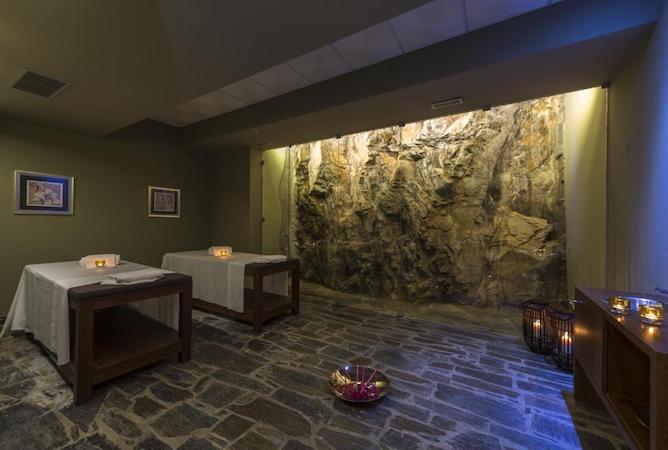 I have to say that I am not entireeeeeeeely convinced by Vila Galé Collection Douro, but the truth is that there are few spa hotels in Douro so I decided to include this one and let you decide if it is worth it or not.
Besides having heated indoors and outdoors pools, Vila Galé Collection Douro also has spa packages catered mostly to couples or to bachelorette parties (true story), so it might be just what you need for a thematic getaway 😛
I also particularly like the location of this hotel, just a short 5 minutes driving distance from Régua's train station. Nearby you can find some of the best restaurantes in Douro Valley.
How to get there: take the train to Régua, then take a 5 minutes taxi ride to Vila Galé. You can also walk, it is not the end of the world – 18 minutes.
Save this article for later: