It is not very easy to pick the most romantic restaurants in Porto.
Downtown Porto is bustling with life, with restaurants opening and closing every week (true story!). But I always have the feeling that despite all of this I always end up going to the places where I have been truly happy sharing a special moment with someone. I hope you enjoy my suggestions! ☺
(Pst! If you are planning a romantic getaway, don't forget to read my articles on the most romantic things to do in Porto and the best romantic hotels).
Here are the most romantic restaurants in Porto:
Flor dos Congregados
Travessa dos Congregados, 11 | Porto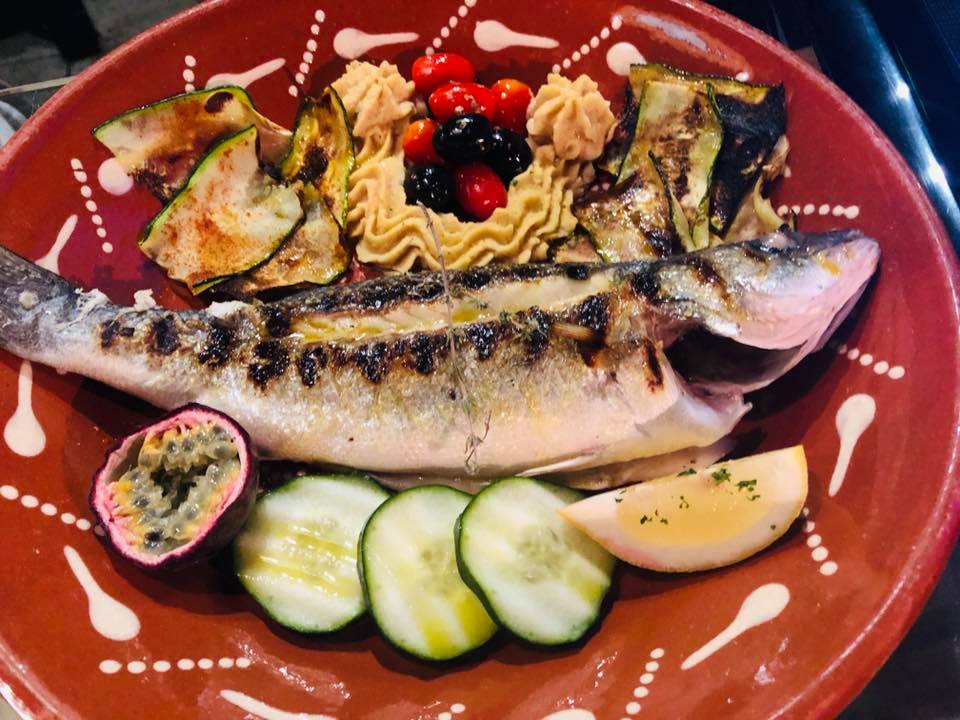 Flor dos Congregados is a small family restaurant located in an old house, right in the center of Porto and practically behind the McDonalds at Avenida dos Aliados. Its atmosphere definitely makes it one of the most romantic restaurants in Porto.
This restaurant was renovated a few years ago and is the meeting point of several generations of the same family: the mother prepares sardinhas de escabeche (a Portuguese delicacy which consists of deep friend baby sardines preserved in vinegar), the daughter prepares the desserts (you have to try sericaia, a traditional dessert from the South of Portugal) and the son-in-law makes a fantastic pork loin cooked at low temperature.
There are also other snacks, namely Portuguese cheeses and sausages – but the best thing is to sit down, loose track of time and take the suggestions of who manages the house with so much love
Flor dos Congregados is a tiny restaurant – it can fit twenty people at a time, perhaps, and spread out in two tiny rooms – so I recommend you to book a table.
How to get there: Aliados and Trindade subway stations are a 5 minutes walking distance.
Bocca
Rua do Passeio Alegre, 3 | Porto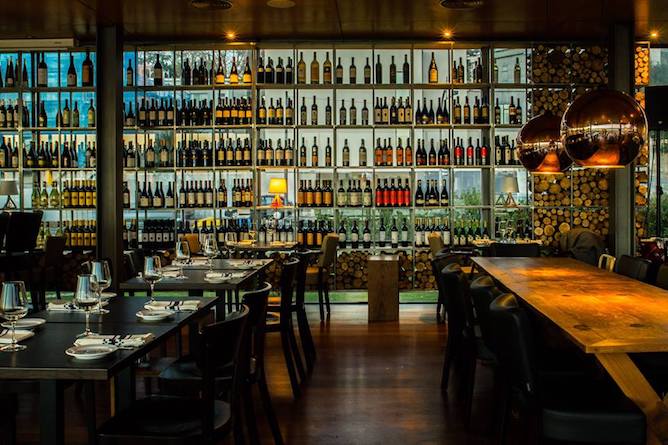 Bocca is a recent acquisition on my list of the most romantic restaurants in Porto.
Even though I am not very found Italian food, surrendered to Bocca's pizzas made in the wood oven (which is inside the dining room, it's really nice to see). But there are more dishes to choose from, including Italian delicacies, various meat and fish dishes, artistic desserts (not the strong point of the house though) and a solid wine list.
When you make your reservation (you really should, because it is a busy restaurant) ask for a table by the window. You won't regret it, because the sunset at Foz is worthy of note.
How to get there: take the tram 1 and get out at the stop D. Leonor.
Esquina do Avesso
Rua de Santa Catarina, 102 | Leça da Palmeira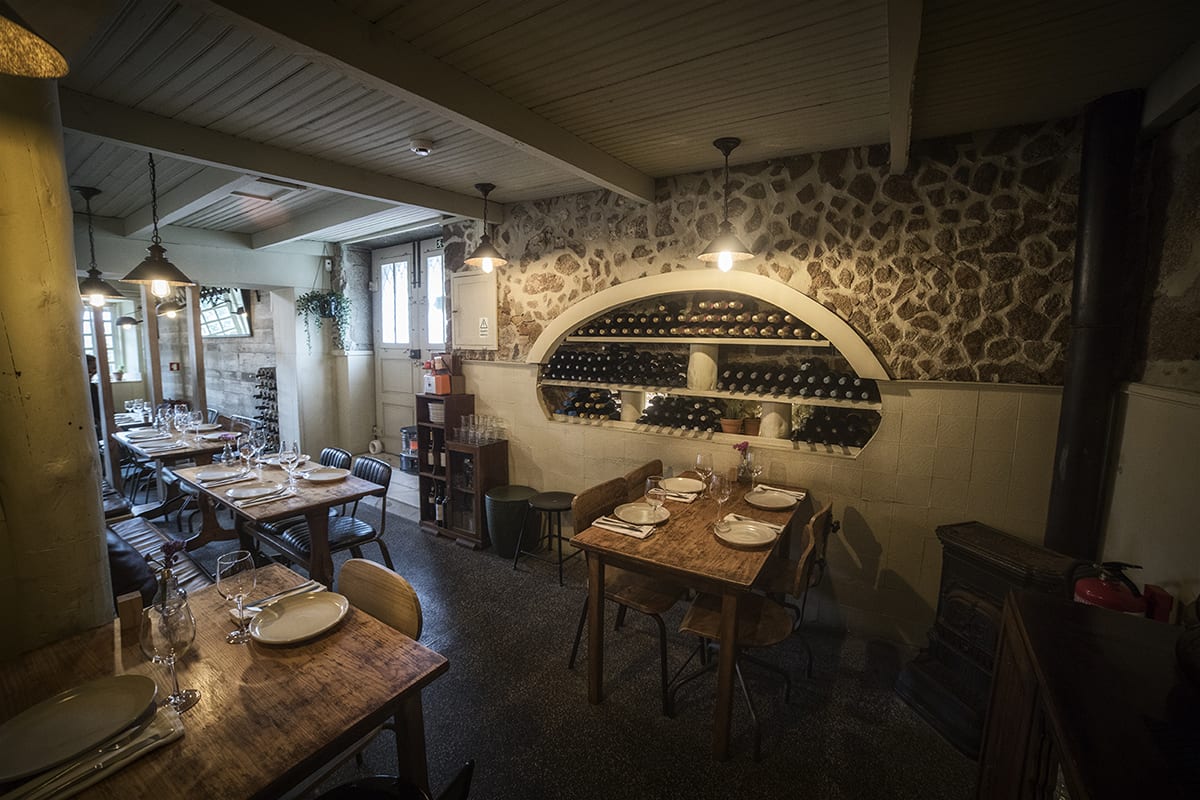 All the restaurants owned by Ricardo Rodrigues are worthy of note for its creativity, boldness and quality of the food. Thus, it is only natural that one of them, Esquina do Avesso, is included on this list of the best romantic restaurants in Porto.
At Esquina do Avesso I always ask for several dishes to share (at least three for two people, because the portions are small) – right now I really like "Scallops, Shrimp and Cauliflower" as well as "Truffled Mushrooms, Egg and Gnocchis". But they have more suggestions, in a menu that excels in boldness and elegance.
Another thing I like about this restaurant is the fact that its wine suggestions are less known. For those who do not appreciate the nectar of the gods, there are more drinks to choose from, such as gins, cocktails and several sangrias.
The only thing I do not like about this restaurant is the fact that the tables are all quite close to each other – so it's not the most appropriate setting to tell the story of our life to someone.
If you arrive early, take a walk on the beach of Leça da Palmeira all the way to the lighthouse of Boa Nova, where a beautiful chapel seems to be saying goodbye to the ocean.
How to get there: if you don't have a car, you can either get bus 507 or simply take the subway to the station Mercado and from there take an Uber.
Belos Aires
Rua de Belomonte, 104 | Porto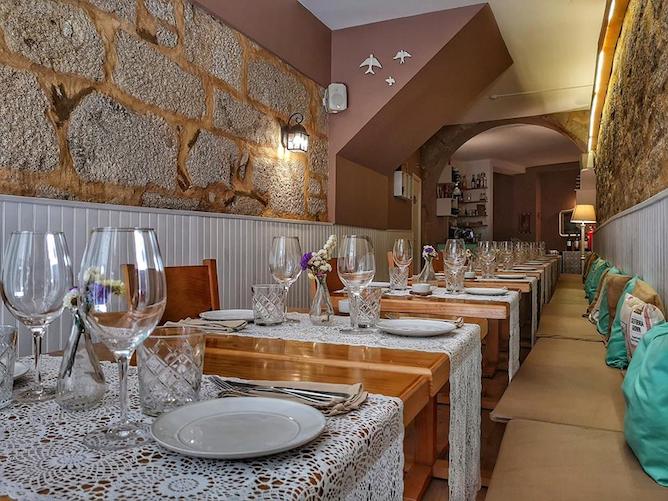 I'm not really into steak houses – I don't even cook meat at home! – but I really like the atmosphere of Belos Aires, an Argentinian restaurant in Porto. And after all, what can be more romantic than an Argentinian who, for the sake of a Portuguese woman, moved to Portugal?
In Belos Aires you can taste some empanadas for starters (who doesn't like that) or some alheira croquettes (a traditional Portuguese sausage). Then there are several cuts of steak to choose from as well as several side dishes (I personally love the polenta from Belos Aires, which is very creamy and comes with tomato sauce on top).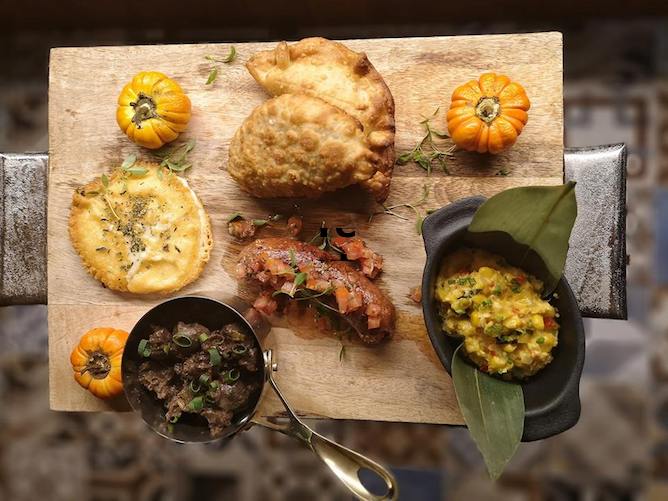 Admittedly the restaurant is small and we pretty much stumbled on the tables close to ours, but there is a certain familiarity in the way we are greeted, a disarmingly relaxing way the chef talks to you that makes you feel immediately at ease. It is so good.
I suggest you to have dinner at Belos Aires, one of the romantic restaurants in Porto, and then go down the street and have a glass of wine at Pausa or Wine Quay. Trust me, I know what I am talking about.
How to get there: the subway station São Bento is a 10 minutes walking distance.
Wish Restaurante & Sushi
Largo da Igreja, 105 | Porto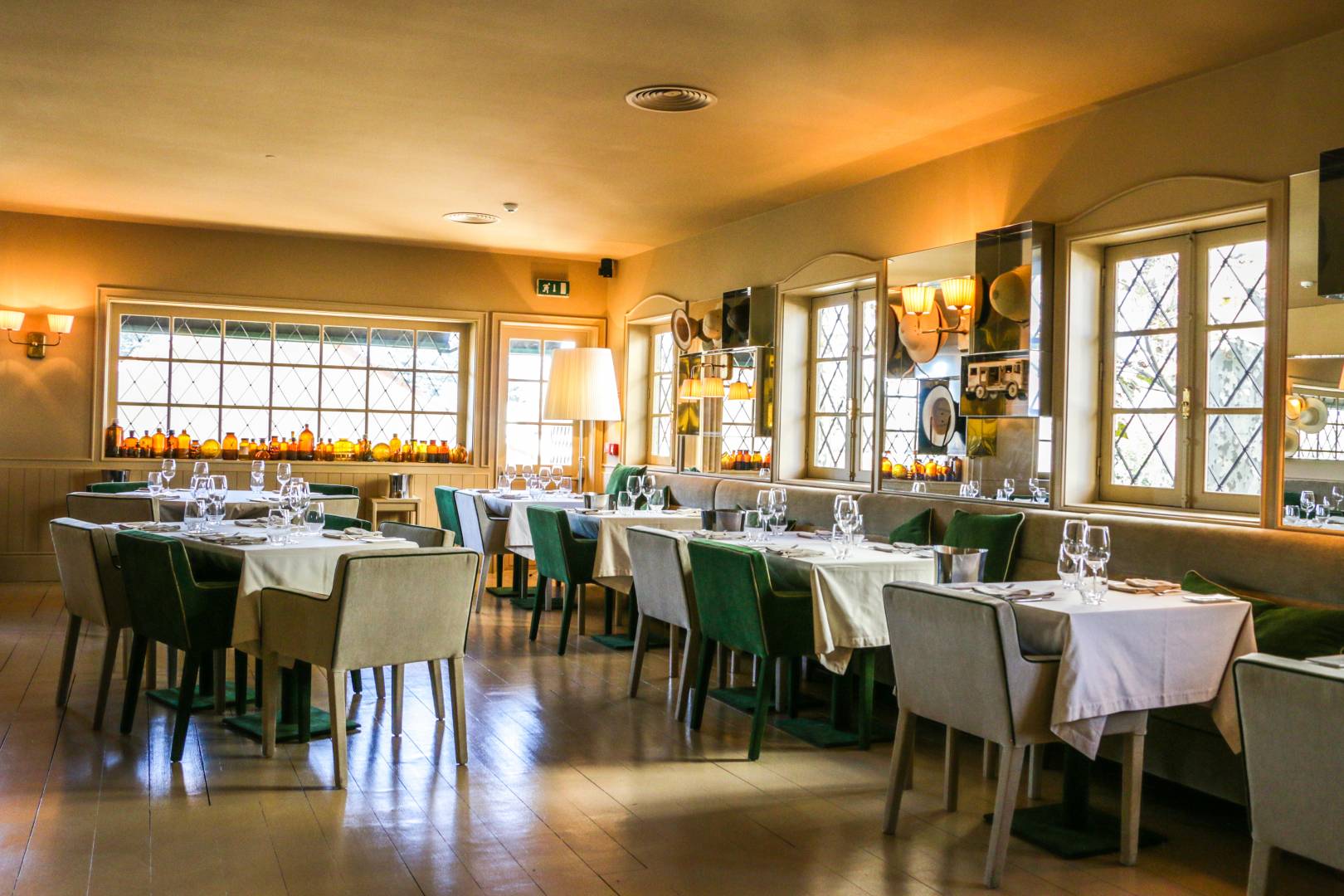 I eat sushi practically every week so I could not fail to include a restaurant with Japanese food on this list of romantic restaurants in Porto.
One of the great advantages of Wish is its versatility, because in addition to the classic dishes of Japanese food there are also lots of fish, pastas and risottos' suggestions on the menu. Therefore, it can be a good choice if the you and your loved one have completely different culinary tastes. This is also true for vegetarians, since the menu has several vegetarian options, including a free style sushi ☺
The restaurant is beautiful – a large but intimate room where we can be at ease despite being surrounded by people. On the other hand, it is located in Foz Velha, where I always like to take a ride to two ☺
By the way, you can smoke in this restaurant, which can be a deal breaker for you.
How to get there: take the tram 1 and get out at stop Passeio Alegre.
Camafeu
Praça de Carlos Alberto,
83 | Porto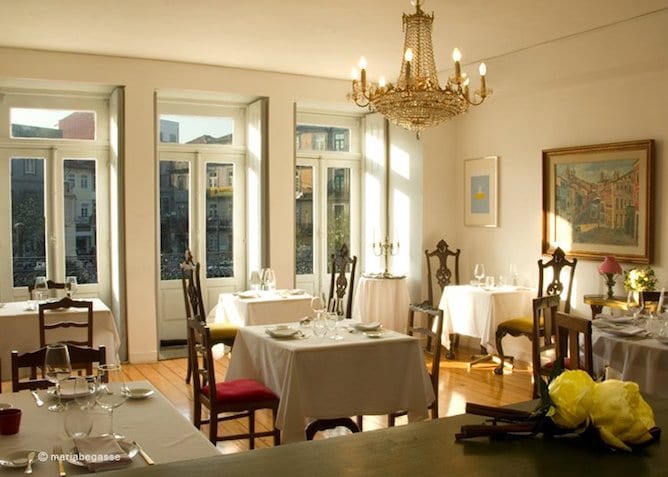 Even though Camafeu doesn't have an exceptionally good kitchen, it has two characteristics that make it perfect for a romantic dinner:
– As there is no entrance to the street, only those who know the restaurant go there. To get there, you enter a discrete door in Carlos Alberto Square, climb unsuspecting stairs and arrive in a beautiful room in pastel and dry green tones, with gold frames where you can spy the smiles of other couples. It's really beautiful!
– On the other hand, the cash register and the coffee machine are not in the dining room. Why does it matter? Because those looking for romantic restaurants in Porto certainly want intimate conversations – and this is only possible in rooms where the noise volume is tamed, which happens in Camafeu.
In this restaurant you can find traditional Portuguese food without great features of originality other than the visual presentation. The wine list is timid but well behaved, as my grandmother would say.
How to get there: Aliados and Trindade subway stations are a 10 minutes walking distance.
Enoteca 17.56
Rua de Serpa Pinto, 44B | Vila Nova de Gaia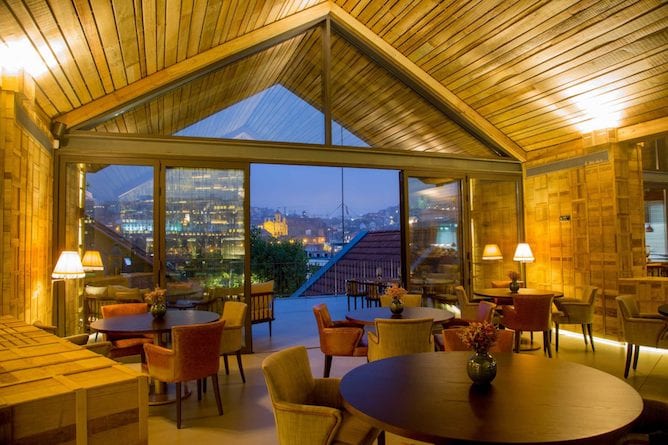 I have written several times about Enoteca 17.56 because it is a truly special space. Although it is not really a restaurant, it has an ambience that invites to romance and therefore could not be missed on this list of romantic restaurants in Porto.
Enoteca 17.56 is a kind of wine bar with several "stations" where various appetizers from Porto's famous restaurants are prepared: Reitoria assures gourmet sandwiches, charcuterie and steakhouse, with a wide selection of matured meats; while the Japanese-inspired Raw Bar is run by Shiko Tasca Japonesa.
There are also several boards of national and international cheeses (I always choose one, they are a temptation!).
Another wonderful reason to go to Enoteca 17.56 is the distribution of space: you can sit at the counter of each station, at proper tables or in one of the inviting areas with sofas and lounge chaises. The terrace has a view of Porto Cathedral which is especially beautiful in the late afternoon. Ask for a bottle of wine and enjoy!
How to get there: Take the cable car from Gaia to Cais de Gaia, which is a 10 minutes walking distance.
Save this article for later: