You can't visit Porto without exploring Foz, one of the most intriguing areas in Porto's bounds where the Douro river enters the Atlantic Ocean. The area is famous for having gorgeous beaches, good restaurants and diverse architecture.
It is also where some of the best beach hotels in Porto are located.
So grab your favourite sun hat and let's head out to the beach!
If you want to know what to do in Foz, read on!
Go on a private sailing tour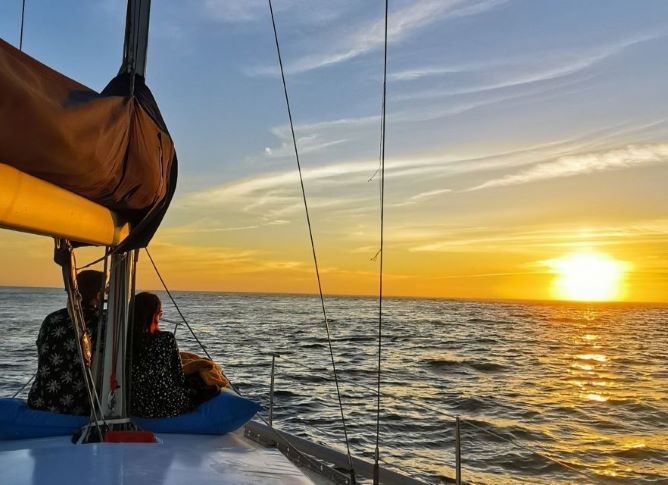 I thought river cruises were not for me until I tried a private one. For 2h we had the opportunity to see not only Ribeira, the picturesque riverside neighborhood of Porto but also Foz, where the river meets the ocean. In the middle of the ride we were surprised with an amazing tasting of Portuguese sausages and cheeses and a glass of Portuguese sparkling wine. We felt so relaxed and in such a private environment that we even sunbathed on the boat!
I really think this is one of the most romantic things to do in Porto 🙂
These are the best options for:
If none of them is available, make sure to read my article about the best river cruises in Porto.
Ride the tram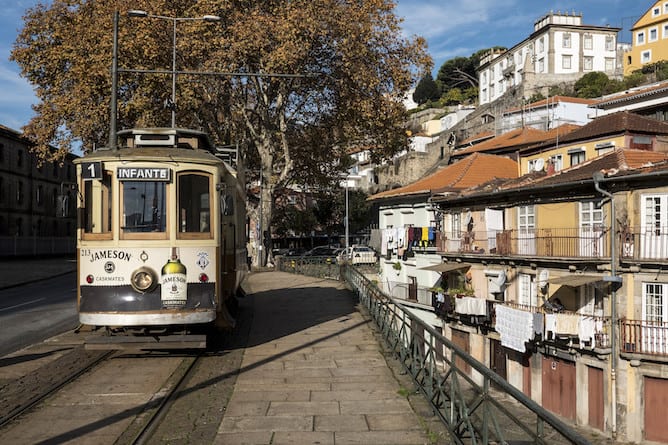 Riding the tram will not only answer the "what to do in Foz" question, but it will also answer the "how to get to Foz" question. It's a fun way in which you get to experience Porto through a different lens. And most importantly, it's a fast way to get to the beach!
The tram line 1 will take you from the historic center of Porto, near the Stock Exchange Palace, all the way to a street called Passeio Alegre in Foz. If you want to learn about how the tram works, read my guide on how to travel by tram in Porto.
You'll ride along the Douro River and pass many important stops including the Porto Wine Museum, the Tram Museum and the Arrábida Bridge, which connects Porto to the neighbouring city, Vila Nova de Gaia.
The starting point of the line is the Infante stop (in front of St Francis church) and it ends at Passeio Alegre stop, but you can hop on or get off at any of the stops in between.
You can get your tickets onboard. But if you want to really discover the city (including the riverside) using several transports, then I suggest you to get the combo ticket Tram + Hop Off Hop On bus + Guindais' Elevator, valid for 2 days. It costs 35€ / adult (kids from 4 – 10 years old pay 13€). It includes a 24 ticket for ALL the tram lines, 2 complete bus rides and 1 ticket to the historic Guindais elevator.
How to get there: São Bento subway station is a 9 minutes walk to the Infante tram stop.
Visit the Felgueiras lighthouse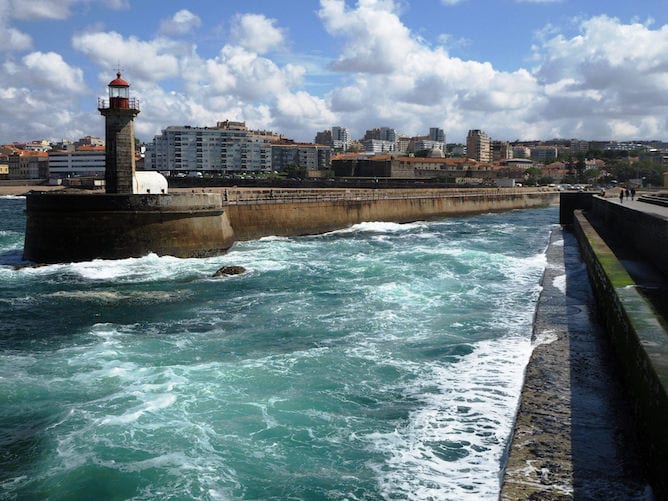 I had to include my favorite lighthouse, Farol de Felgueiras in my "what to do in Foz" list. This beautiful granite lighthouse was constructed in 1886. Measuring 17-meters-long, Farol de Felgueiras was deactivated in 2009 with only the emergency sound working.
The pier to get to Felgueiras lighthouse is open for public. However, you have to be careful, especially with the high tide because the area is full of rocks. Yes, every year some idiot falls into the ocean because they were too careless!
How to get there: take the tram Line 1 to Passeio Alegre, the lighthouse is an 8 minutes walk from there.
Mercado da Foz
Rua de Diu, 365 | Porto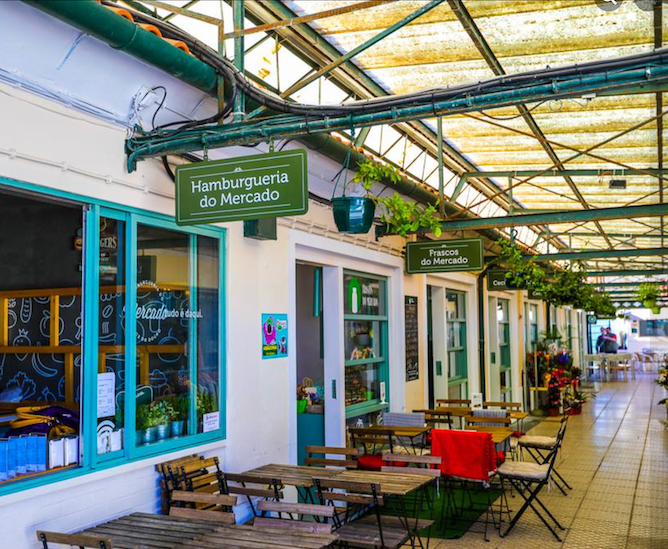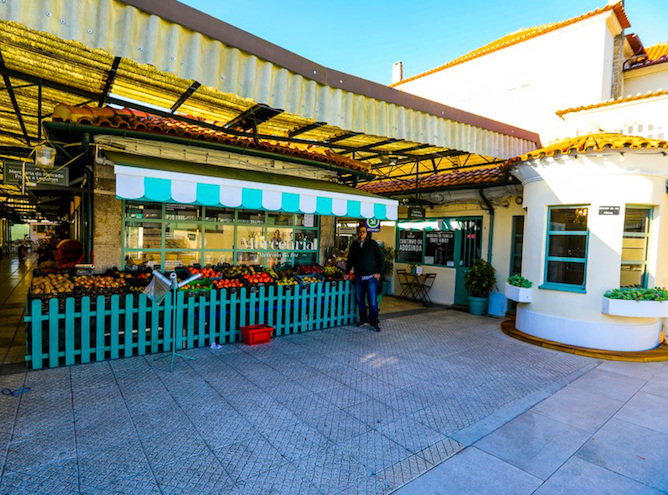 Mercado da Foz is a small, covered neighborhood market, where you will find some fruit, vegetable and flower vendors but, essentially, small cafes and very friendly restaurants. It also has a fantastic bakery, called PAO, where you can have a decent coffee while eating some toast. It's a covered market (that is, it doesn't rain inside), but it's not heated, so I avoid going there in winter.
Since this market is in Foz neighborhood and it takes around 20 minutes to get there from the city centre, I'd recommend that you take the opportunity to do one of the best activities to do in Foz, to optimise your journey.
Opening Hours: Mercado da Foz has a veeery strange schedule! It is open from 7h onwards, but the closing time depends on the day of the week. On Monday it closes at 17h, from Tuesday to Thursday it closes at 22h and on Friday and Saturday it closes at midnight. It is closed on Sunday.
How to get there: unfortunately there is no subway station nearby, but the buses 203 and 207 stop nearby, at Praça do Império.
Have some cookies at A Bolacheira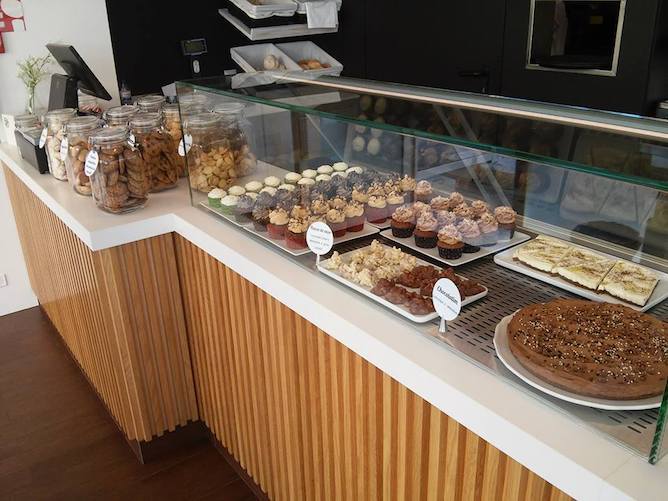 If you're further away from waters and don't know what to do in Foz, you should visit a cute little spot called A Bolacheira. It is specialized in cookies and cupcakes. What I love about them is that their products often change so it makes it possible to try out new things.
They have cupcakes that cost 1.90€ each, but if you want a cupcake with a drink, it's 3€. You can also get a cookie assortment for 1€ or some coffee with a cookie for the same price. They also have cakes, tarts, light sandwiches and salads all at a reasonable price with gluten-free options available.
I suggest you go earlier to A Bolacheira because they ran out of many things towards the end of the day.
How to get there: take bus 504 from Casa da Música subway station. Get off at Campo Pasteleira bus stop and the store should be an 8 minutes walking distance.
Ride the Hop On Hop Off Bus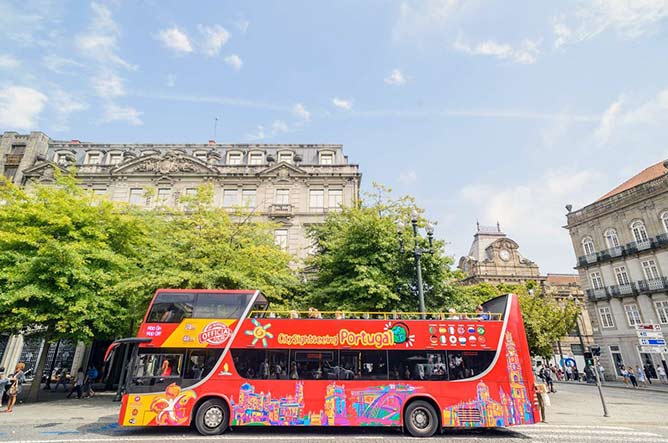 A great way to experience Foz is to take the Hop On Hop Off Bus tour. This way you can travel through Foz (and many more places, if you feel like it!) and relax in the open upper deck of the bus. It's a great way to get some wonderful pictures of the area!
You can get the online ticket to Hop On Hop Off Bus tour and be sure to have your camera ready for the trip!
Now, I should warn you: I am a sucker for a good deal. When I think about travelling in Porto, the first thing that comes to mind is how to simplify (no fuss, no worries!) and get great quality for a great price. If you're visiting Foz, I'm sure you'll love to ride a boat in the river and of course you can't forget Port Wine.
A great deal is to get a combo ticket for the Hop On Hop Off Bus, river cruise and Port wine cellar for 35€.
How to get there: you can get on the bus in any of the stops throughout the city – it is Hop On Hop Off bus after all.
Mercado da Alegria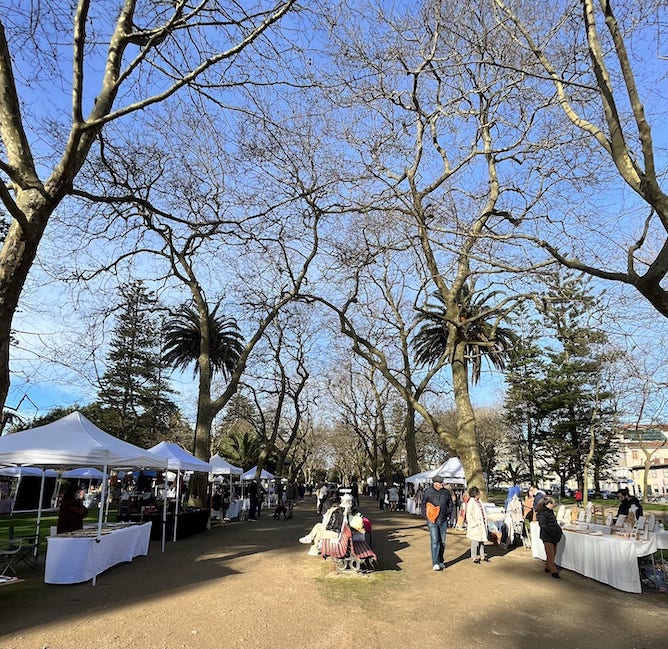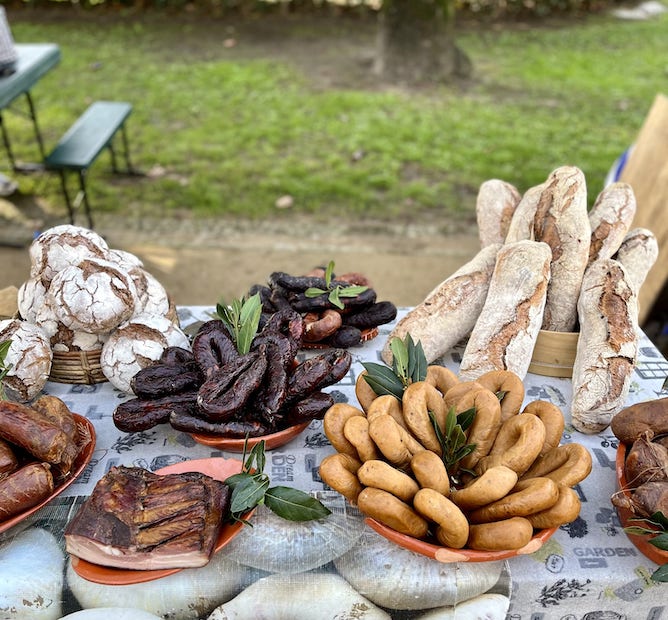 For those who don't quite know what they're looking for, the best market in Porto is the Alegria market. In this market you will find a very eclectic mix, from Portuguese sausages and cheese, second-hand clothes, spices, textiles and wooden handicrafts… the difficult thing is to choose! It also has two food vendors – one of them is Farina, which sells sourdough bread.
Mercado da Alegria is located right in front of the sea, I avoid going to this market on windy days.
Opening hours: every second and fourth Saturday of every month, from 10h to 19h.
How to get there: take the iconic tram no. 1 and get out at the last station.
Get lost in Foz Velha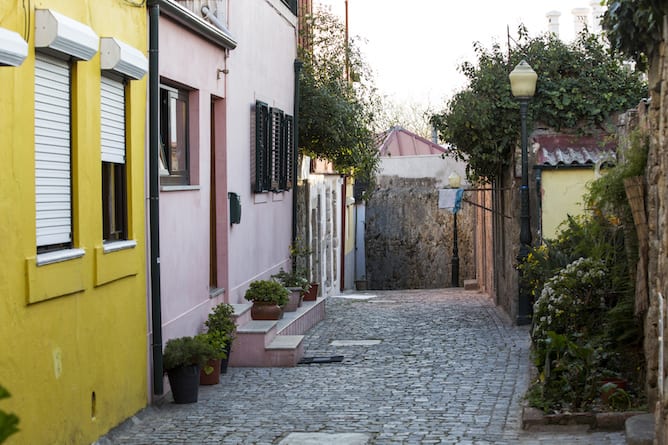 Foz Velha is an old neighbourhood in the southern half of Foz. The area began as random settlements near the sea where settlers took up fishing and raising cattle as means of living. Foz Velha is compact and the buildings are mostly low-rise, giving the area an antique persona that the "New Foz" doesn't have.
If someone asks me about what to do in Foz, I would highly recommend going to Foz Velha. I could walk tirelessly on its narrow streets. The locals are friendly and the atmosphere is calm and inviting. The area has interesting traditional houses with vibrant colors and tiles.
Plus, it's not a site frequented by tourists so you get to explore Foz Velha away from the crowds. And if you go high enough, you will see an amazing view of the water.
There you can also find Wish, a nice sushi restaurant in Porto.
How to get there: take the tram Line 1 to Passeio Alegre and go through the 2nd street on the right called Largo da Igreja.
Discover the Foz beaches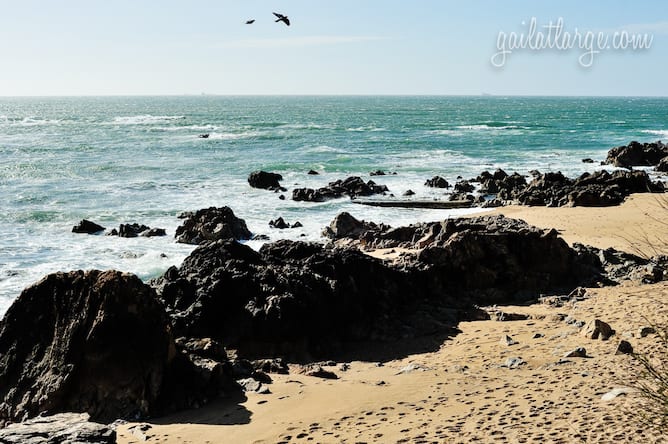 I've written a guide to the best beaches in Porto and I would like to go over my favourite ones to guide you through what to do in Foz.
You can find a beach called Praia dos Ingleses. It is one of the beaches in Foz where many people lay down for a nice tan. It has a good-sized sand area and it has some beautiful rocks where people like to climb and take pictures.
This beach also features a bar/restaurant with the same name. It offers gins, cocktails and lemonades.
How to get there: take the bus 204 and stop at Foz bus stop. Ingleses beach is a 2 minutes walking distance.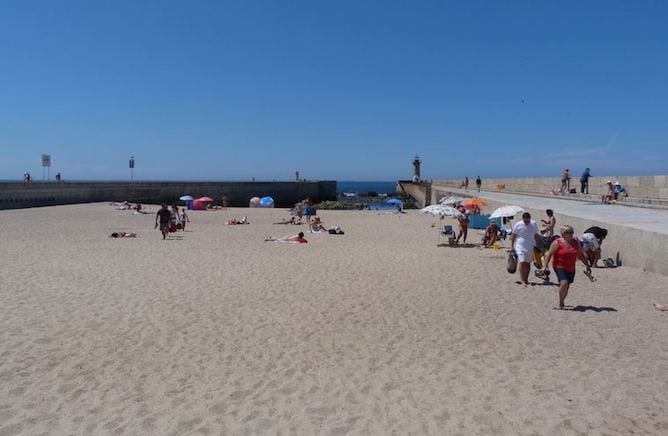 With rocky shore and a location right next to the Felgueiras lighthouse, Praia das Pastoras has won me over. This beach is in the point where the Atlantic Ocean waters mix with the Douro River.
Praia das Pastoras is a good place to sunbathe while avoiding the winds thanks to the two piers on each side. The beach is also close to Passeio Alegre garden, where there's a cool mini-course golf.
How to get there: take the tram Line 1 to Passeio Alegre. The Pastoras beach is a 6 minutes walking distance
Ride a bike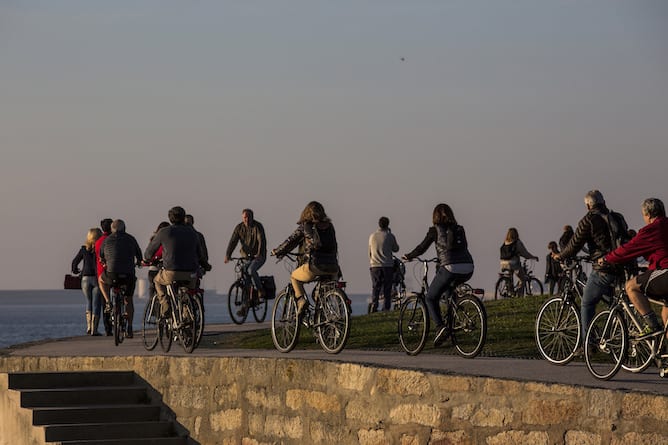 What to do in Foz when you want to see many things at the same time? Riding a bike is one of the best ways to get to know the area and its beaches since walking can get pretty exhausting.
If you want to rent a bike in Porto for the whole day, then I recommend you to book this particular vendor as it has very low prices (13€ for the entire day!) and great reviews. They provide you with a bike, helmet, lock, city map and plenty of recommendations to explore Foz.
How to get there: take the bus 202 and get off at Praia dos Ingleses. The shop is a 2 minutes walking distance from there.
Have a romantic dinner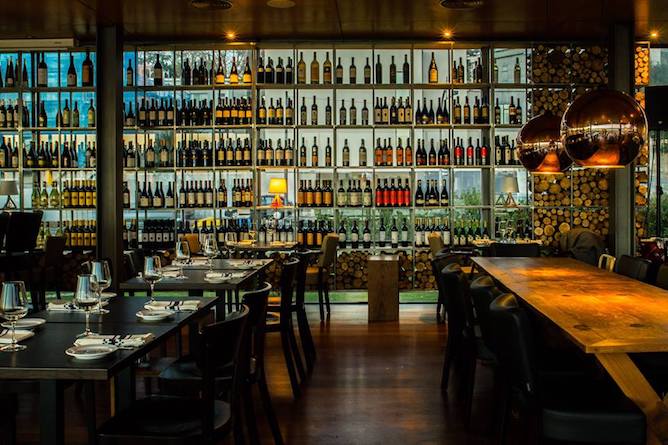 I have already written about the best restaurants in Foz and some of them are pretty romantic. Probably my favourite one is Bocca, a pizzaria overlooking the Douro river. The food is pretty good and it has a decent (albeit) short wine menu. The best time to head there is by sunset.
How to get there: take the tram Line 1 to D. Leonor stop. The restaurant is close to the shore.
Have a drink at Foz terraces
It's like a tradition to go to the beach and drink beer with friends when the weather allows it. So, if you're thirsty, hungry and don't have a clue what to do in Foz, here are a few of my favourite Foz terraces you can check out: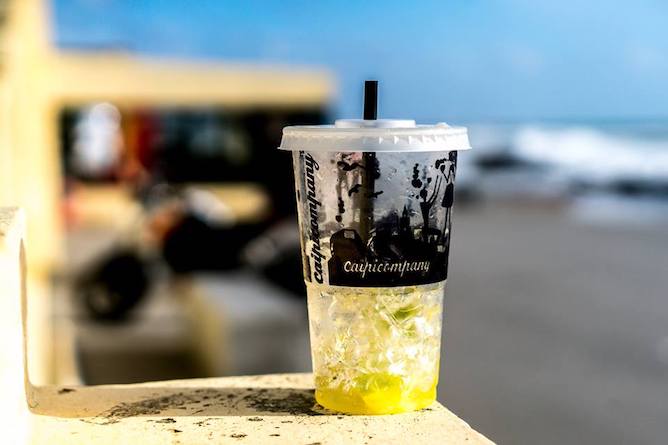 For a delicious and fresh caipirinha, you must head out to CaipiCompany. They serve one of the best caipirinhas in Porto. For around 6€, you get to choose your cocktail flavor (mango, pineapple, watermelon…etc). They also serve a variety of sandwiches.
How to get there: take the bus 500 and get off at Molhe bus stop. The bar is a 2 minutes walking distance.
I also like iBar (Avenida de Montevideu, 516) because it's sheltered from the wind and it has a beautiful view of the ocean. Truly, its outdoor area is like no other. At iBar, you can get a beer, a glass of wine or a sangria and if you're hungry, they have some snacks like a ham sandwich or a crab stick sandwich.
How to get there: take bus 502 and stop at Malaca bus stop. The bar is a 7 minutes walking distance.
Walk on Pérgola da Foz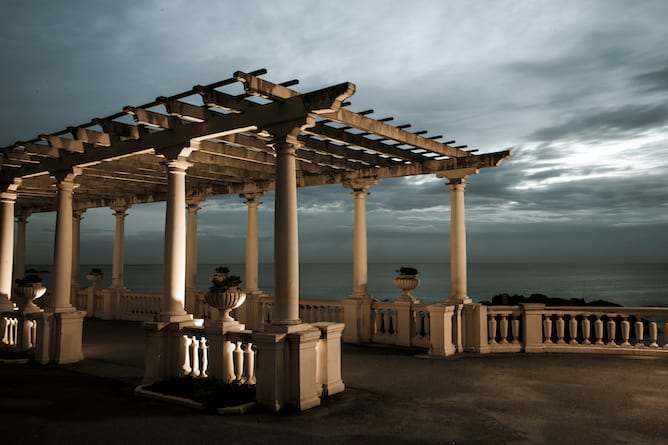 Are you looking for something romantic and don't know what to do in Foz? I suggest you visit Pérgola da Foz which we've included in my top 9 romantic things to do in Porto.
Pérgola da Foz is basically a shaded walkway along the Atlantic Ocean. Designed by António Enes Baganha, the walkway is one of those things that pops into my head when someone brings up Foz. This structure was built around the 1930s as part of Porto Municipality's efforts to improve Avenida do Brasil where the Pérgola is located. Pretty cool, huh?
How to get there: take bus 203 and get off at Crasto. This beautiful tourist attraction should be a 3 minutes walking distance.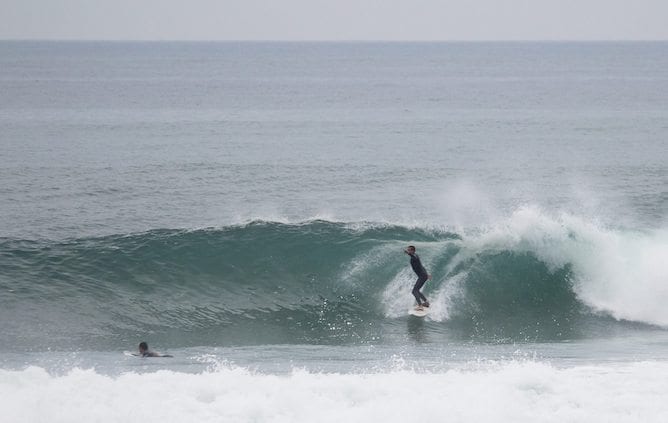 If you're wondering what to do in Foz with kids, a great activity would be to take a fun surf lesson. In small groups of 6 or fewer, get some hands-on experience on a surfboard, with the assistance of a certified coach who's been surfing for 25 years. They also take kids, so it is a perfect family activity as well!

How to get there: take the bus 202 and stop at Molhe. The surf school should be a 2 minutes walking distance.
Try Portuguese pastries at Tavi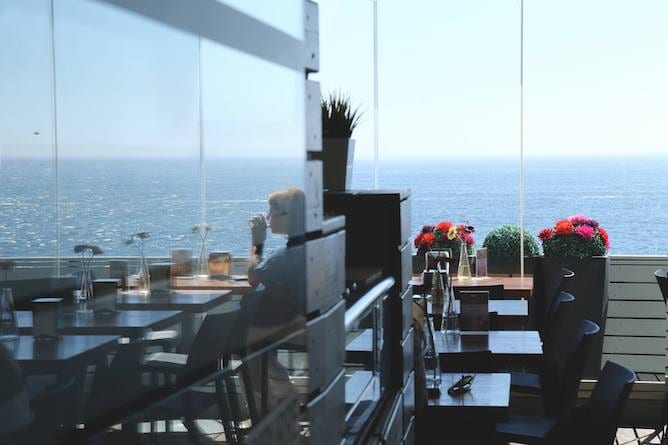 Foodies, here's what to do in Foz. There's a charming bakery called Tavi. It dates back to 1935 and it's one of the most popular hangout places in Foz.
Tavi serves breakfast, lunch and traditional desserts. It's a great place for couples, groups and kids. I love their bolo de bolacha "cookies cake". They also serve delicious savoury crepes like the mushroom one which I can eat all day! Time to go enjoy some scones on the waterfront 🙂
How to get there: take bus 202 and stop at Foz bus stop, the bar should be a 1 minute walking distance.
Do some shopping
Along the seaside, there are some of the best shops in Porto, some expensive and some more affordable. You can even find unique items from Portuguese designers. Here are three shops you can visit if you don't know what to do in Foz:
Fashion Lovers Boutique. It has many Portuguese fashion brands like Sahoco (casual artsy) and Glüen (urban chic). The store also carries Italian brands including Kocca (sophisticated casual) and Koralline (relaxed casual).
How to get there: take the bus 202 and get off at Jacinto Nunes bus stop. Fashion Lovers Boutique should be a 2 minutes walking distance.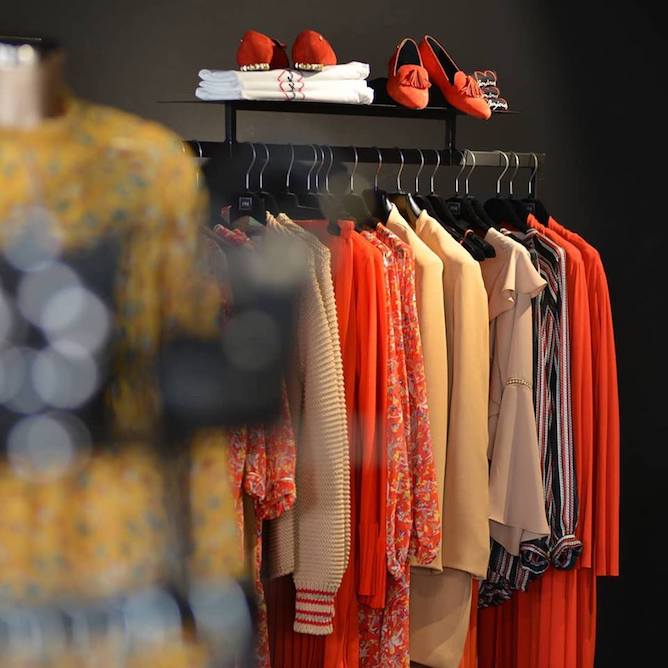 You can find cute heel sandals, comfy boyfriend jeans and flowy dresses at P&M Fashion Loft (Rua do Faial, 40). The urban chic store carries clothing items with unique and interesting patterns that you won't see anywhere else.
How to get there: take bus 204 and stop at Foz bus stop. The store should be a 4 minutes walking distance.
For men, you can find a preppy-style store called Nuno Miranda Pronto a Vestir (Rua do Farol, 11). They carry brands like the Portuguese Mike Davis (casual sport), Meyer-Hosen (professional trousers) and Green Coast (nautical fashion).
How to get there: take bus 204 and stop at Foz bus stop. The store should be a 1 minute walking distance.
Go clubbing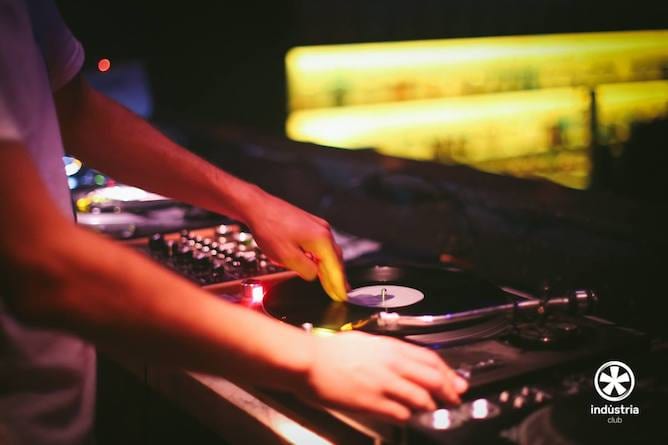 If you're a fan of nightlife and not sure what to do in Foz, Industria Club is your best bet. They have a handful of national and international DJs playing house, tech house, deep house, alternative dance and more.
They are normally open on Fridays and Saturdays, but make sure you check their event page on Facebook to see what acts are performing and at what time.
How to get there: take the bus 202 and stop at Molhe. Industria Club should be a 4 minutes walking distance from the bus stop. You can also take an Uber!
Save this article for later: