I organize private tours in Porto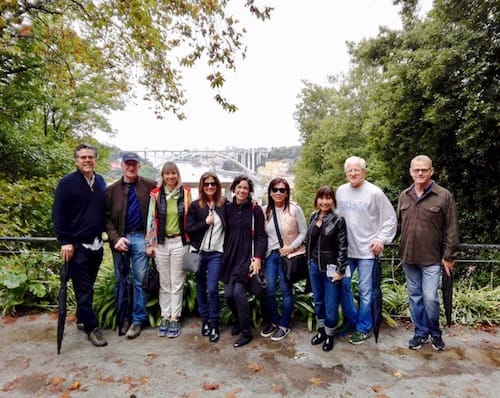 Check this page for more information or send an email to sara@portoalities.com.
You're up for drinks tonight? Check the best bars in Porto:
Rua da Galeria de Paris, 85 | Mon – Sat 5pm – 4am
Casa do Livro is definitely one of the best bars in Porto. Its name – casa do livro means the house of the book – relates to the fact that it used to be a bookshop. Some books are still there, giving this bar an intellectual atmosphere, which almost takes you back to some old movie of Sherlock Holmes.
The music selection is taken care with attention and good taste, usually more into jazzy or blues, but also passing through others styles.
It is a place which you should really not miss if you want to start the night with a good digestive drink, together with a fabulous environment which will surely catch your better spirit.
Rua da Galeria de Paris, 56 | Mon – Sat 9am – 2am Fri – Sat until 3am
Galerias de Paris is also one of the best bars in Porto. The environment is so mutable that it is always a surprise of what will you find there.
To begin with, it has amazing breakfasts which are perfect to start the day at such an emblematic neighbourhood of Porto. Then, at lunchtime, you can find some delicious menus. When the night arrives, Galerias de Paris turns into a dancing floor, where people from all ages share the vibe of music from the 80's, all night long.
If you want to dance like a pro, there are some gatherings on the top floor (sometimes you need to pay the entrance) for dancing lessons such as tango, lindy-hop, salsa or World dances (check their agenda for these events).
Rua da Galerias de Paris, 113 | Tue-Thu: 11am-2am Fri: 11am-4am Sat: 7pm-4am Sun: 7pm-2am
This relatively new bar in Porto, mostly known as "Harley Davidson" is quite a sensation in Porto. The name says it all, but you'll be surprised when you get inside and see the space organization and decor. I particularly love the old school jukebox, where you can choose your favourite (rock) music.
Harley Davidson has a beautiful mezzanine, offering quite a comfy and different environment. This is one of the best bars in Porto for smaller groups, as it is quite hard to get a lot of chairs or tables free…
Rua José Falcão, 137 | Wed – Thu 9.30 pm – 2am. Fri – Sat 10pm – 4am. Sun – Tue closed

I really love Lusitano, as it takes me back to my college years. For many years it was considered one of the few gay friendly bars in Porto, but its intimate decor (that has some elements of the graphic studio that used to occupy the space as well as some from the Belle Époque from Parisian cafes) and its not – so – crowded dance floor (where you can enjoy classy music from the 80's / 90's to the most elegant selection from nowadays greatest hits) make it perfect for everyone, really. Moreover, in recent years it opened an indoor terrace that is just perfect.
Lusitano is definitely one of the best bars in Porto with an easy going environment, where you can start your night with a drink or two before practicing your dance moves at the dance floor.
If you're enjoying this article, don't forget to pin it for later: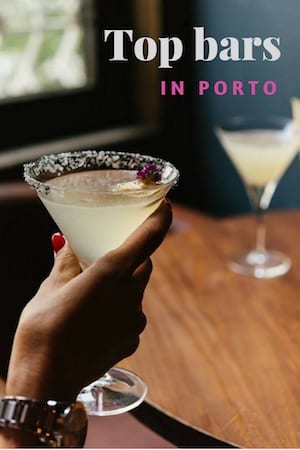 Rua das Oliveiras, 75 | Everyday from 6pm – 4am

Pipa Velha is an oldie in Porto's nightlife. Open in 1981, it has a cozy atmosphere perfect for a friendly chat or a happy group gathering. For decades it has been been the perfect spot, where different generations cross along, always with the same intention: feel welcome and well served in a special place.
Pipa Velha has a classy decoration, and it is has 3 main room: the entrance hall, the main room with the bar, and the outside on the back, which is open during Summer and closed during Winter. There are vast options to drink but also to snack, which is always pleasant in late night going outs.
Personally my favourite time to go to "Pipa Velha" is on a Winter Sunday night, sitting with friends around the stone table, savouring some "pimentos padrão" (grilled green peppers), roasted "chouriço" or cheese, while having a glass of red wine. Winter is never grey and sad on nights like these!
Largo Mompilher 1/2 | Mon – Thu midday – 00.30am. Fri – Sat midday – 2.30am

For all champagne's lovers out there: in Porto there's a bar specially dedicated to you! 🙂 It opened its door in 2012 to quickly win our hearts over with its carefully selected list of champagnes (and let's not forget about its champagne's cocktails for the most curious palates).
It has a sophisticated atmosphere on the inside, but it also has some tables on the outside, perfect for you to enjoy your champagne during hot Summer days. Everyone is welcome as there is no perfect age to enjoy champagne, as Champanheria da Baixa has been teaching us during the past years. Definitely one of the best bars in Porto!
Rua Ferreira Borges, 86 | Wed – Mon 5pm – 1am. Closes on Tuesday
Prova is quite a new acquisition to the nightlife of Porto and it is not close to the other bars on this list, but it is well worth to include it as it is one of the few wine bars in the city.
Everything there breathes elegance: from the wines carefully selected by the owners, to its jazzy atmosphere. If you want to dance this is not the appropriate bar for you; but if you are just looking for an intimate place for a lazy wine right after dinner at one of the amazing restaurants at Rua das Flores (the most popular street in Porto), then you hit the spot.
Oh, and one last suggestion: if you decide to go to Prova, why not end the night with the most stunning view over D. Luis bridge, at Ribeira, just 5 min going down the street? It is my personal definition of romance and well worth it at the end of your stay in Porto.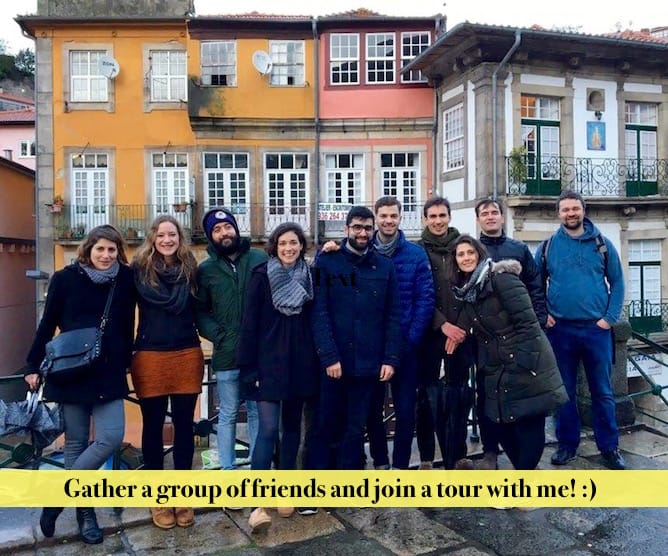 If you would like to make it extra fun during your party weekend in Porto, why don't you join a tour with me? I'll give you a glimpse of Downtwon Porto, tell you a lot of stories that not even the locals know about, and give many suggestions for restaurants and bars. I am sure we'll have a great time together! 🙂
Check here for more information on my tours in Porto, or simply send an email to sara@portoalities.com It will be my pleasure to welcome you in Porto! 🙂
Note: This article was co – written by Fernando Ribeiro, the best guide to Porto's nightlife and Sara Riobom, blogger at Portoalities.
Extra: Go on a private tour in Porto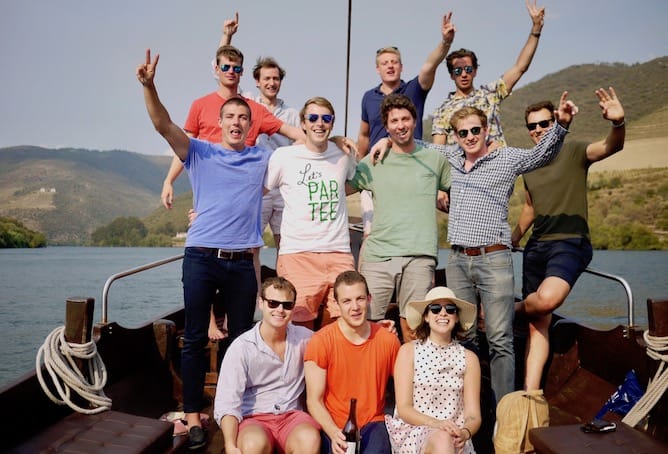 The best way to get to know Porto is to go on a private tour with me!
Check this page to learn more about my tours in Porto, or simply send an email to sara@portoalities.com. I will shortly get back to you with a tailor made tour designed specifically for you.
It will be a pleasure to welcome you in Porto!