I get a lot of emails asking me what are the best neighbourhoods in Porto for solo travellers, family with children, or couples on a romantic getaway in Porto.
The big question is: where to stay in Porto?
As there is so much to say about each neighborhood in Porto, I decided to write several posts, with recommendations of what to see, where to stay and where to eat at each one of them.
This one is about Cedofeita, in my opinion the best neighborhood in Porto for short stays. I hope you like it!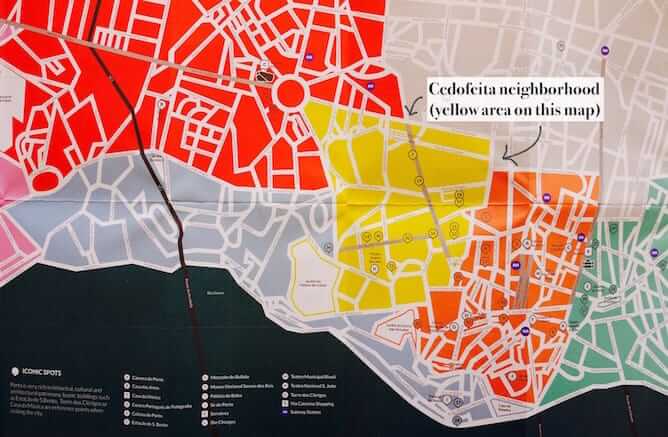 Why Stay in Cedofeita?
Cedofeita is the trendiest neighborhood in Porto and it surely deserves this recognition. But even more importantly, it has a strategic location close enough to the most important monuments of the city and to the nightlife district yet far away enough to ensure a good night of sleep.
It is the art district of Porto, because of the art galleries in Rua Miguel Bombarda. There are also some amazing concept stores in the surrounding streets, particularly at Rua do Rosário.
In Rua de Cedofeita there are loads of traditional stores as well as some nice restaurants and bars, like O Consulado (amazing pancakes!), Catraio (the first craft beer pub in Porto) and Bao's (for Taiwanese burgers).
In this neighborhood of Porto you can also go for a romantic walk at the Crystal Palace Gardens, located in front of Museu Nacional Soares dos Reis, one of the best museums of Porto.
If you want to experience the Portuguese culture, you can enjoy a Fado show at Casa da Guitarra.
On Saturdays there are two markets in Cedofeita: one in Praça Carlos Alberto, called Porto Belo, where you can find great handcrafted souvenirs. The other one is an organic market that takes place inside Centro Comercial Bombarda, the only cool shopping centre in the city.
Another interesting spot is Igreja de S. Martinho de Cedofeita, the oldest church of Porto. Usually tourists don't go there, but it is worth to take a look if you are staying at this neighbourhood of Porto.
Where to Stay in Porto – Cedofeita
For me Cedofeita is the best neighborhood for a romantic getaway in Porto as it has superb hotels for couples.
It is also a great place for those of you who want to be close to the nightlife district and to the main monuments of the city and yet in a quiet area.
I made a list of the 10 best places to stay in Cedofeita, which includes a couple of affordable hotels, lovely guesthouses, amazing apartments and even one hostel.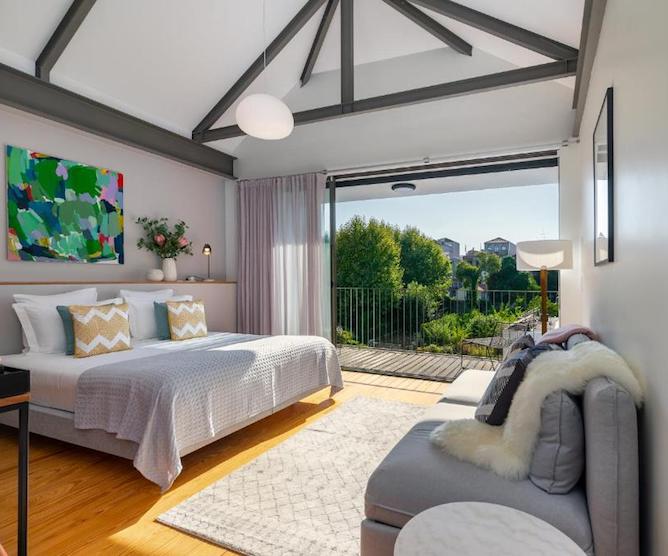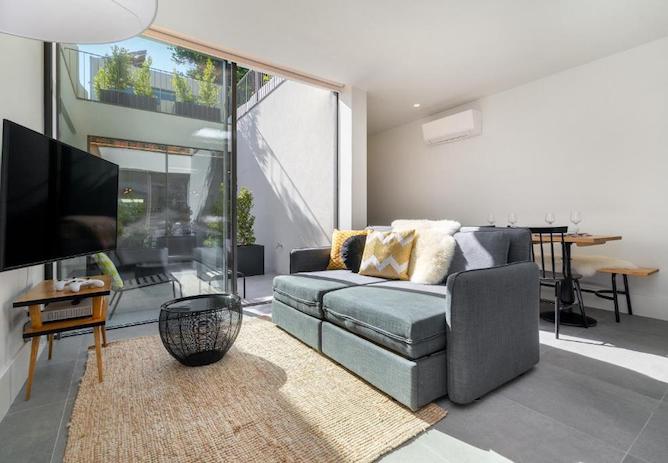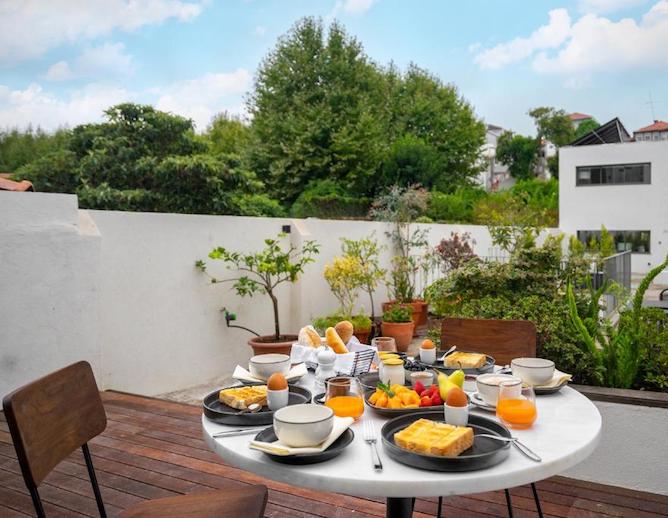 I have to start this article of the best places to stay in Cedofeita neighborhood in Porto with Canto De Luz – a luxury boutique hotel of impeccable design, in an old building within walking distance to restaurants, shopping and historical sites.
Canto de Luz cleverly takes advantage of skylights and wide indoors windows, resulting in spacious rooms full of natural light. Some units have a kitchen, equipped with a dishwasher, microwave and fridge. Some suits include a dining area and a seating area with a flat-screen TV with Netflix. They even give you popcorn, for Christ's sake!
But what I really LOVED about this hotel in Cedofeita is the breakfast – it is one of the best ones I ever had, with creamy omelets, amazing waffles and fresh fruits… I don't remember the last time I had such a great breakfast in a hotel!
Another thing I really liked about Canto de Luz is that it has a WhatsApp function, where you can request recommendations or assistance with bookings, taxis, etc, and they are fast to respond and very helpful.
Honestly, you really can't go wrong with this hotel in Porto! 🙂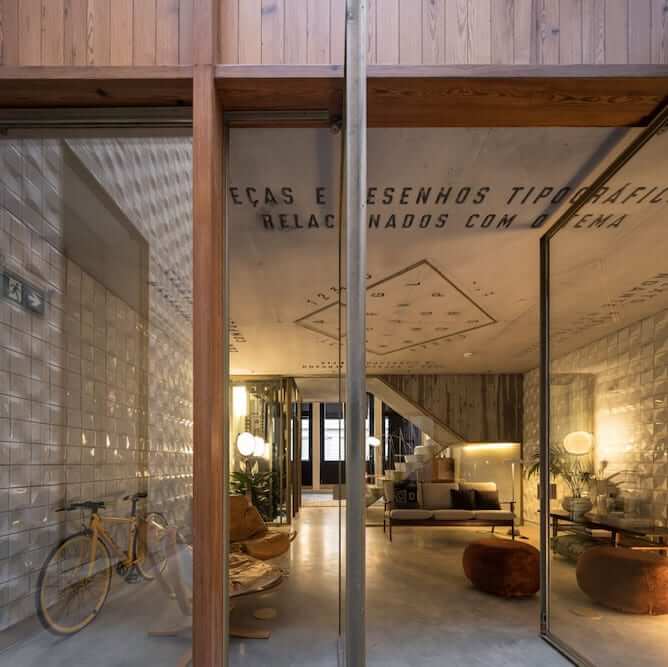 Unfortunately there are no pictures that can show you how elegant and sophisticated Casa do Conto – Tipografia, a boutique hotel in Porto, is.
This hotel is located at a former typography, and it incorporates a fabulous bar where acoustic concerts take place, a garden and a lovely (albeit small) swimming pool in the backyard. It only has six bedrooms, which much contributes to its charm and intimacy.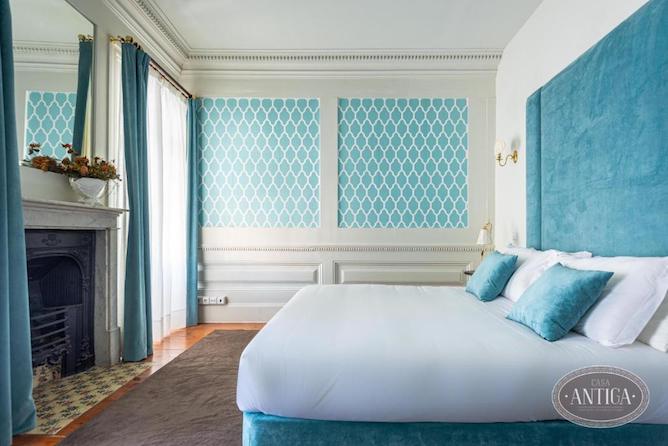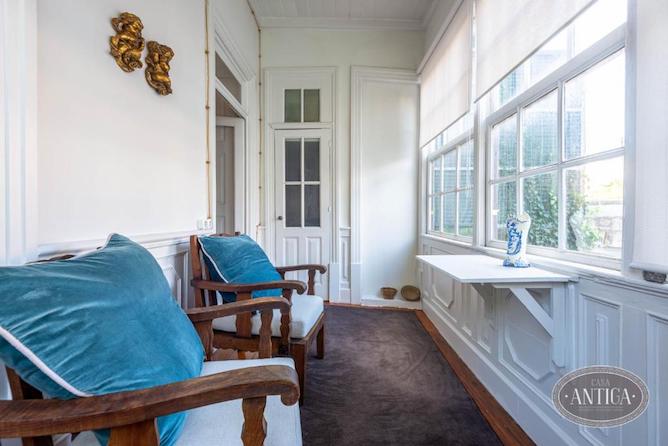 Casa Antiga is another interesting place to stay in Cedofeita neighborhood in Porto.
The rooms are large and uniquely decorated with vintage furniture, and some even have a gorgeous writing section in it, overlooking the communal garden, which I really appreciated it. (By the way, the sunset light, in the garden, is amazing!).
There is a living room full of antiques (some of which are available for purchase) and an 'honesty bar' – little things that make you feel immediately at home 🙂
Casa Antiga is in a quiet street full of art galleries and concept stores, and a short walk from the major sightseeing spots in the city, so it has a superb location.
The one thing I wasn't particularly fond of was the breakfast – it was good, but not very rich -, and the room where it takes place is very small and quite dark.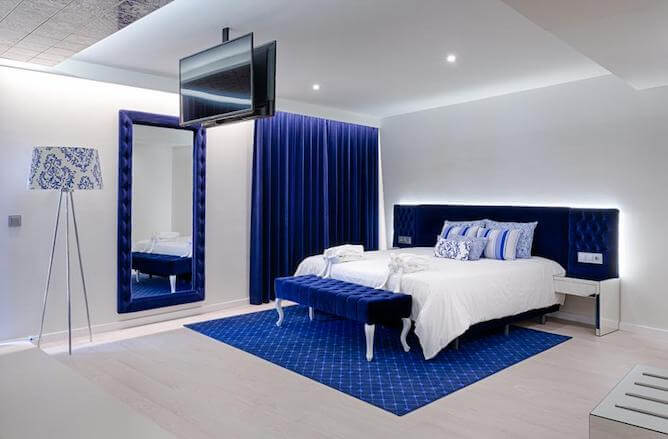 If you love the traditional Portuguese azulejo tiles, then Hotel Cristal is definitely the right place for you to stay in Porto.
The bedrooms of this 4 stars hotel are decorated in blue and white, with some azulejo tiles on the walls.
Moreover, it has a big garden on the backyard which is the perfect spot to relax.
Hotel Cristal is also famous for its breakfast, that includes plenty of gluten free options.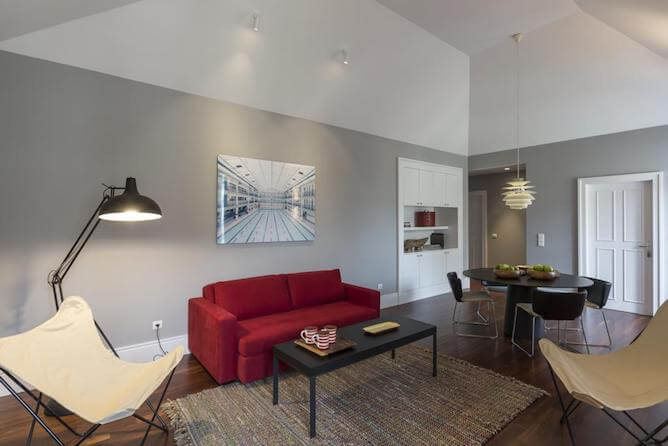 Oporto Serviced Apartments bbgourmet are large and modern and can easily accommodate families with children, or two couples as well. They are equipped with a kitchenette, a dishwasher and an oven.
Below the apartments there is a nice restaurant with a terrace facing the street, called BB Gourmet 1858, where you can enjoy a drink after a day walking in Porto, as well as a delicious brunch on the weekends.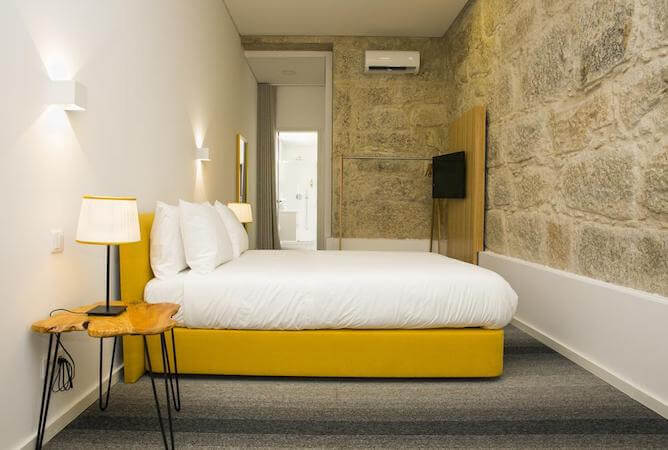 Álvares Cabral Guesthouse is such a lovely place to stay in Porto! The bedrooms are decorated in mustard tones that go very well with the granite walls. The breakfast room, shared among guests, is decorated in turquoise blue, to cheer you up in the morning.
On the backyard there is a lovely patio with some chairs, where you can soak some sun. It is truly a magical place.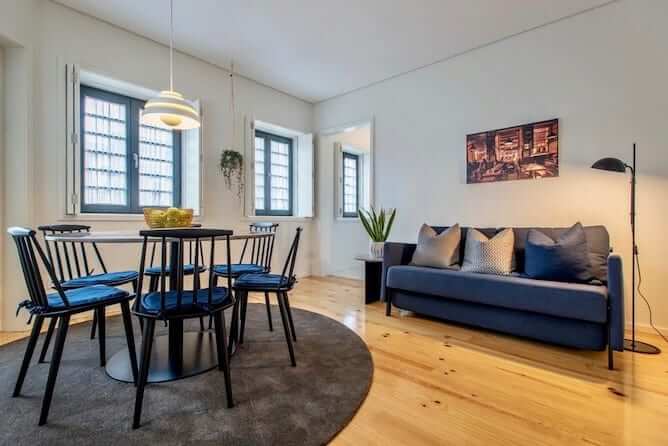 I love the style of Oporto Serviced Apartments Cabral, in dark blue and grey tones combined with a wood floor.
These apartments in Porto are quite large and can accommodate up to six people, so they are perfect for large families or for groups of friends.
The kitchenette is fully equipped (including a dishwasher) and a continental breakfast is served everyday (it is included in the price).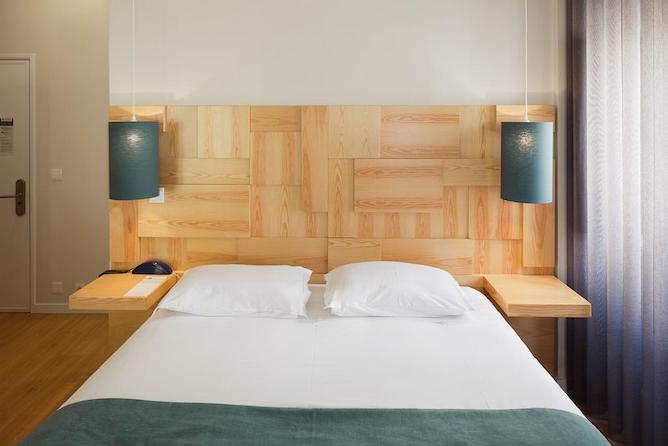 Boavista Guesthouse has a fabulous location in between two subway stations, Lapa and Carolina Michaelis.
The bedrooms are modestly decorated, but they have a cute little backyard with some chaise longues where you can enjoy lasy sun baths.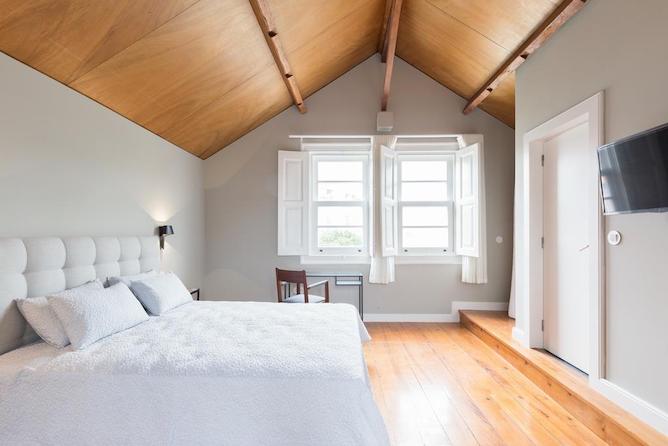 These apartments in Porto are exactly my style: minimalistic bedrooms with wood elements and an abundance of natural light.
The bedrooms are large but they are not equipped with a kitchenette – instead, you have to share a kitchen with other guests.
Moreover, Oporto City Flats have a swimming pool (which is extremely rare in Porto). Honestly, I cannot think of anything better after a day walking in the city!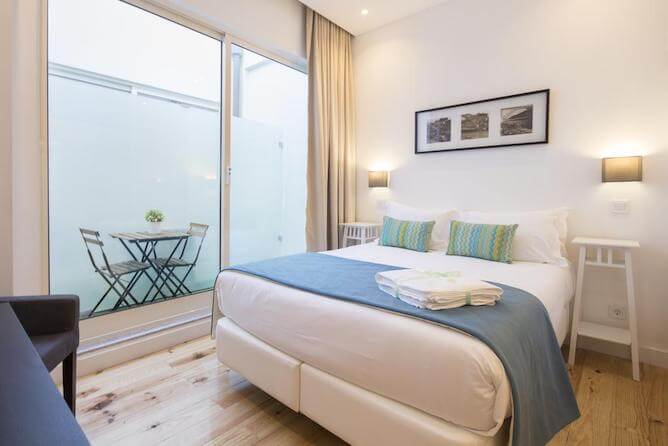 MyStay Porto Centro is one of the most popular guesthouses in Porto. The bedrooms are simple and some of them have a balcony or a terrace surrounded by walls, so with plenty of privacy.
The location is really good, right next to the nightlife district but on a quiet street. If you are planning to party during your stay in Porto, this is a good option!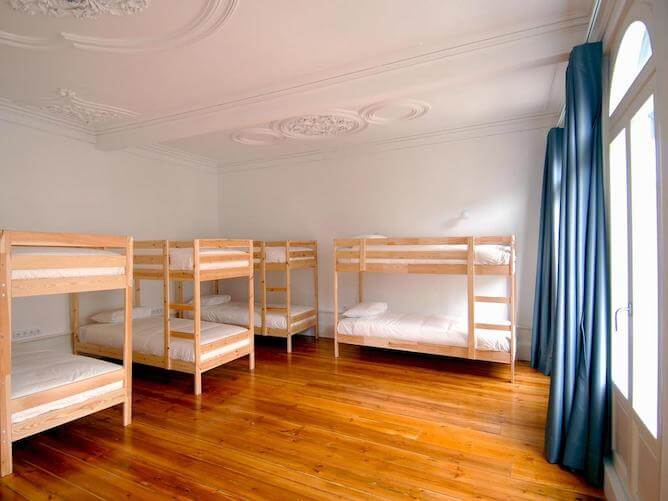 I am waaay passed the age of staying in hostels but I used to do it a lot when I was in my early twenties as it is a great way to meet people, so I decided to include the So Cool Hostel Porto on this list of places to stay in Porto – Cedofeita neighborhood.
This hostel has a great living room and a lovely garden on the outside. The ceilings of the bedrooms are spectacular, as you can see on the picture.
However, the beds don't have curtains, therefore bye bye privacy and welcome 6am sunshine.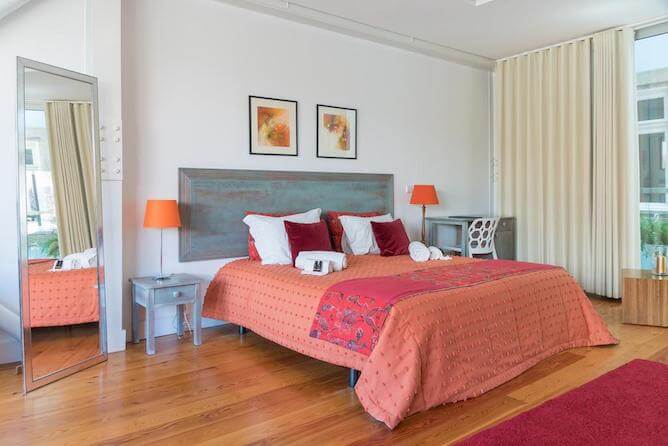 These apartments in Porto are named after a famous Brazilian restaurant that lies below (it belongs to the same owner).
Capim Dourado Apartments are large, open space studios that can fit four people very comfortably.
The location couldn't be better, close to several restaurants, two brunch cafes, a laundry shop and a craft beer pub. The subway station Lapa is 5 minutes walking distant and the Clérigos tower, Lello bookstore and the Crystal Palace gardens are 10 minutes away.
Save this article for later: