We organize private tours in Porto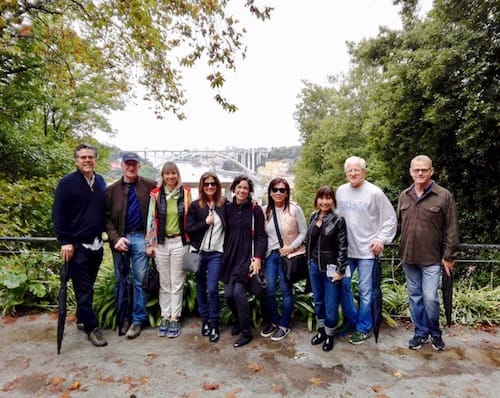 Check this page for more information or send an email to sara@portoalities.com.
One of the most popular tours in Porto is the 6 Bridges Cruise.
On this post I describe the tour, including the terms and conditions of the companies providing this service and answer the big question: is it worth to take the 6 Bridges Cruise?
Before reading this article: have you already decided where to stay? If not, read my article about the Best neighborhoods to stay in Porto! There I give you plenty of recommendations of great hotels and apartments in Porto.
What is the 6 Bridges Cruise in Porto:
It is a 50min boat trip, starting either at Ribeira's quay (in Porto), or in Vila Nova de Gaia's quay (depending on the company you choose), and it shows the amazingly beautiful 6 bridges in Porto.
The 6 bridges Cruise is ideal for:
Families with kids – it is actually one of the activities we like to include on our private tours in Porto, whenever there are children in the group. During the 6 bridges cruise the kids get to see many exciting things, from natural elements to buildings on both margins, and hence they never get bored.
If you need a break in between activities – as the 6 bridges cruise is rather short, you can use it as a relaxing moment in between a tour and a visit to a Port wine cellar, for instance
If you are in need of a relaxed time – there's nothing for you to do once you're on board, just enjoy the sun and take great photos of Porto 🙂
If you would like to have a better idea of the main buildings of Porto, as from the river you have a much nicer and complete perspective of them
Naturally, if you're curious about the 6 bridges of Porto 🙂
How to take the 6 bridges cruise:
There are several ways. Here at Portoalities we always prefer to buy the tickets online as we hate to wait in queues (specially during summer time!).
Then, you just need to print the tickets and show it at any boat departing from Ribeira, in Porto. We recommend you to arrive 10min earlier, in order to ensure that you are one of the first to enter the boat – this way, you'll get a spot at the bow, rather than on the inside.
If you're enjoying this post, don't forget to pin it for later: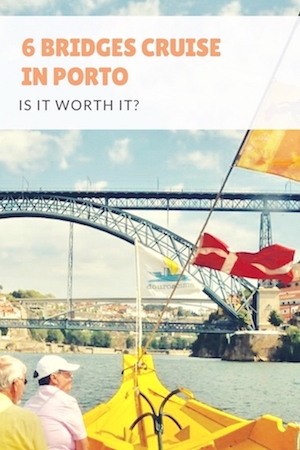 What does the 6 bridges cruise in Porto consist of?
We have already extensively covered the history of the 6 bridges of Porto, and hence we are not going to do the same on this article.
Instead, down below you'll find some pictures taken from inside the boat during the cruise – they might actually help you to decide to either take it or not! 😉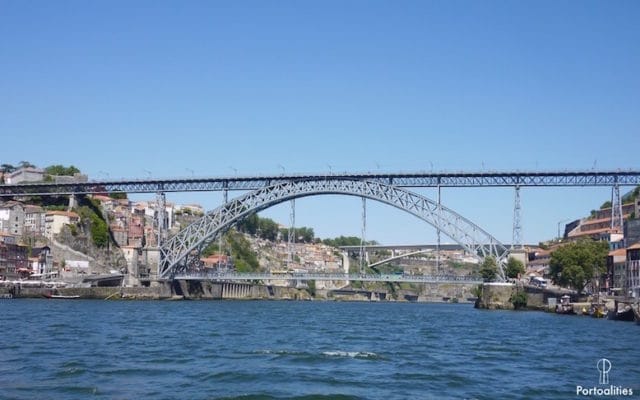 The 6 bridges cruise starts at Luiz I bridge, designed by Théophile Seyrig – no, this is NOT Eiffel's bridge, unlike what many tour guides in Porto will make you believe!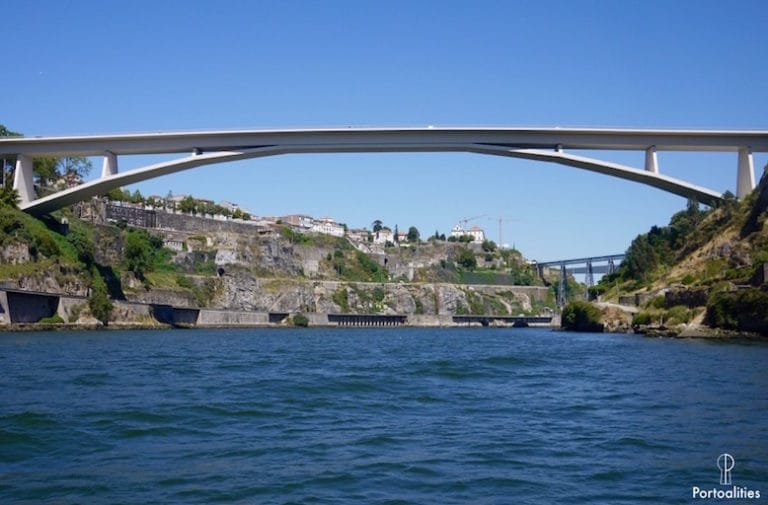 Afterwards, you'll see Infante Dom Henrique's bridge, launched in 2003. It was the last bridge to be built in Porto, and it is a remarkable example of how engineering can present elegant solutions to difficult challenges.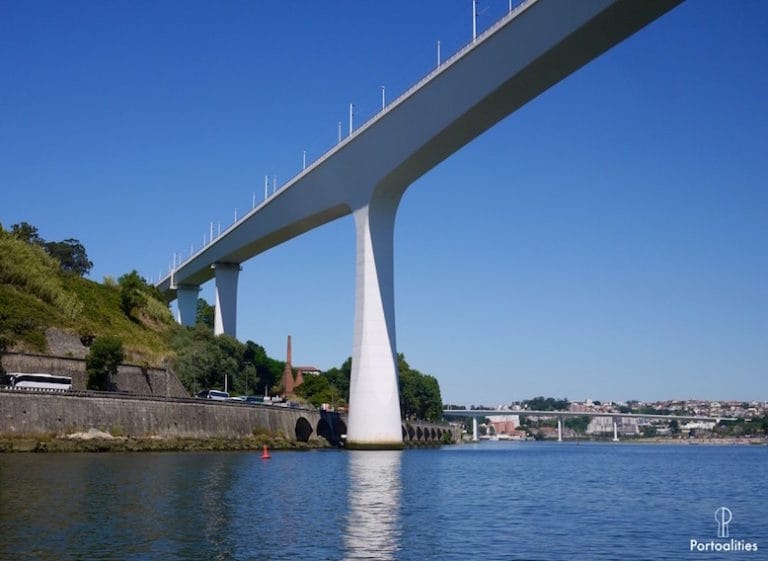 Behind São João bridge, looking very tiny on this picture, is Freixo bridge, launched in 1995.
There is a high way called "VCI" that surrounds the city in between Freixo bridge and Arrábida bridge. If you're renting a car at the airport of Porto, you'll most likely take this highway when entering the city.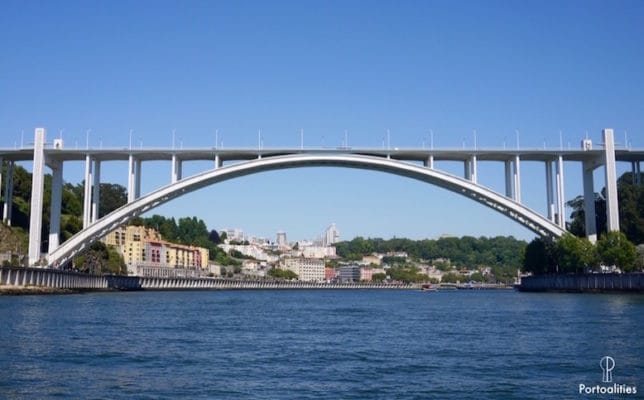 It's time to go peek my favorite bridge of Porto, the Arrábida Bridge. What a superb piece of engineering – it is actually my favourite bridge in Porto!
Nowadays you can climb the arch of the Arrábida bridge from the inside, but to be honest it's nothing special because, unlike what you might thing, the view from the top is not spectacular.


During the 6 bridges cruise, you can admire the wonderful views of both Porto and Afurada, the magic fishermen village that will appear on your left hand side.
Important notes regarding the 6 bridges cruise in Porto:
Don't forget to bring both sunscreen and a light scarf, as it gets very sunny and windy at the same time.
Please remember that the online tickets are valid for all the boats that depart from the deck in Ribeira, in Porto, and not on the boats that depart from Gaia.
Remember that this is one of the most popular activities in Porto and hence you should book your tickets in advance – at least 3 / 4 days.
Once inside the boat, please be reasonable and don't put yourself in danger by climbing to the edges to take photos, as the staff will come to take you down!
If you're travelling with children, make sure they behave inside the boat, by not screaming and running around other people.
We hope you enjoy the ride! 🙂
Extra: Go on a private tour in Porto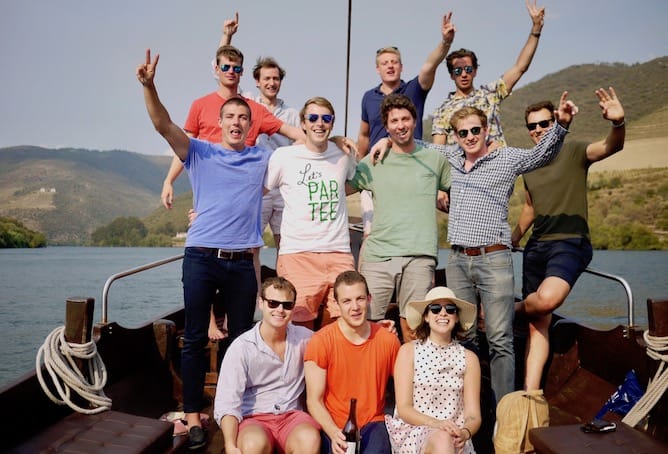 The best way to get to know Porto is to go on a private tour with me!
Check this page to learn more about my tours in Porto, or simply send an email to sara@portoalities.com. I will shortly get back to you with a tailor made tour designed specifically for you.
It will be a pleasure to welcome you in Porto!