One of the many reasons why I fell in love with Porto is the diversity of its geological character. It has the Douro river, the Atlantic ocean and green spaces. This makes the city the perfect place for outdoor activities regardless of the time of year and it gives visitors plenty of things to do.
What is great about outdoor activities in Porto is: (a) they barely cost any money – most times they are free; (b) they are fun for everyone – especially for families with kids.
The best outdoor activities in Porto are:
Biking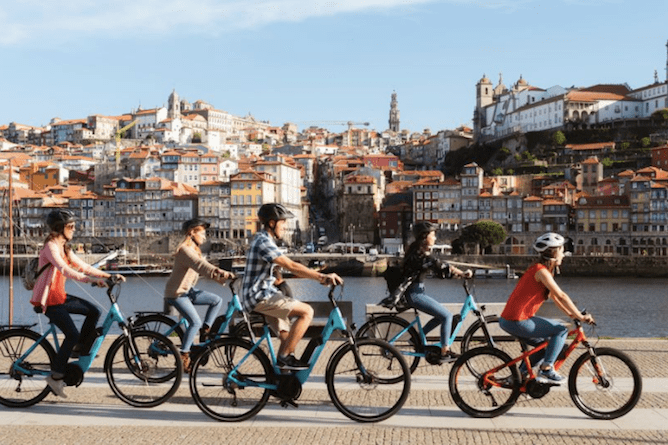 Biking is one of my favorite outdoor activities in Porto. When it's a sunny day in Porto, there are few things as pleasant as taking a nice bike ride all the way from Ribeira to Foz.
If you prefer to take a tour on your own, just rent a bike in Ribeira – you can rent for a period of time ranging from 10 hours to 5 days, depending on your preference.
If, however, you prefer to take a tour with a small group, then you can take a 3 hour electric bike tour (because no one deserves to go up and down the streets of Porto only with the power of your legs, right? 😉
Where to bike in Porto
I don't recommend biking in downtown Porto as it is very hilly. A better option would be by the river or in spacious parks like the Crystal Palace gardens or Parque da Cidade. There are great lanes in Foz's beaches, but Matosinhos' beaches are my favorite place to ride because the lanes are spacious.
Price: 16€ / day, and the price goes down if you rent the bike for more than one day. The electric bike tours costs around 36€ / person for a 3h tour.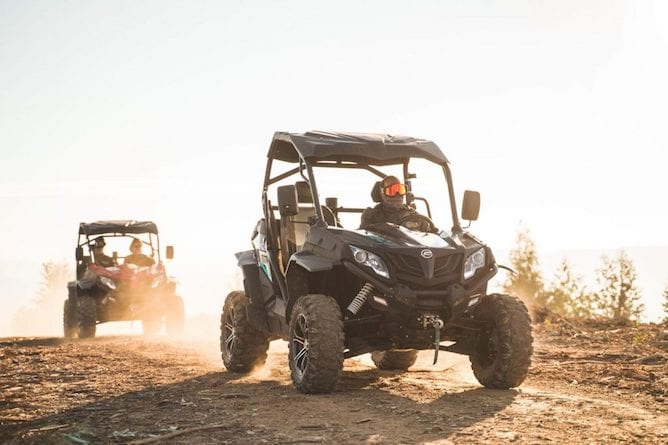 Recently I tried to ride a Buggy at Serras do Porto Natural Park and I had SO MUCH FUN 😀 I was a bit worried about safety but 1) the guides are very professional but 2) the equipment is new and in good conditions.
Once I got it out of my head I got into our buggy and enjoyed the ride – we crossed some rivers and some bumpy courses with holes, always enjoying the most beautiful panoramas of the region.
We also got to see Quintandona, a picturesque village, as well as the incredible Roman ruins of Castro Mozinho.
All and all, a really well spent afternoon especially in a world pos pandemic 🙂 If you want to give it a go, just get your online ticket to the Off Road Buggy Adventure!
Go Karts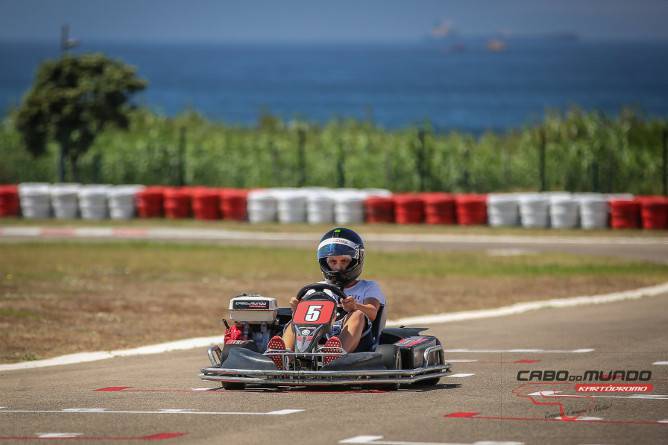 If you bring your kids here, they may not want to get out (at least I don't whenever I go!). This is a great outdoor activity in Porto for those who love racing and may not ride Karts where they live. It is also fun for people of all ages.
Where to ride Go Karts in Porto
In Matosinhos, you will find one of the best and well maintained Go Karts facilities. Kartodromo Cabo do Mundo's laps go up to 30 minutes. You will feel like a legit racer here – no kidding.
Price: 15€ / person / 10 minutes, 28€ / 20 minutes and 40€ / 30 minutes. There are also special prices for kids between 7 and 12 years old and for one adult riding with one kids under 10 years old.
Surfing and Bodyboarding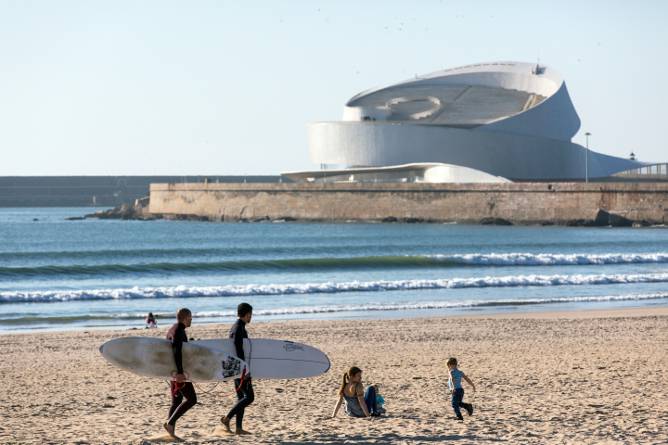 Surfing is one of the most fun outdoor activities in Porto especially when you're traveling with teens. Even if you don't know how to surf, there are many schools readily available to give you lessons and surfing gear. But heads up, the water here is freakin' cold!
Where to surf in Porto
A great place for beginner surfers is Matosinhos, which has lower tides. Espinho is one of the most famous surfing spots in Northern Portugal with swells reaching more than 3 meters (10 feet) high. However, the waters are known to be polluted. So Azurara (a famous beach 30 minutes drive from Porto) is your best bet. To learn surfing, there are countless surfing schools in Matosinhos like Salty Wave Surf and Linha de Onda. You can also find Surfivor in Foz. And in Azurara, you can find Surf In for some bodyboarding/surfing lessons and activities.
Price: 25€ / person for a 1h30 lesson.
Beach sports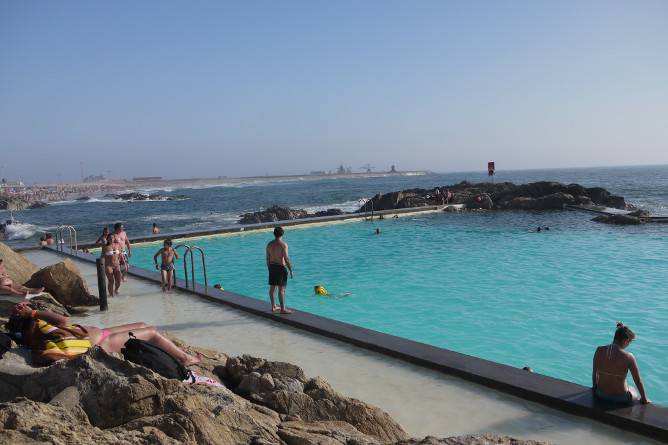 You can practice beach outdoor activities in Porto in many of its beaches. There are places with nets for football, volleyball and badminton. There are even outdoor pools which are a great option when you want to avoid the ocean's cold water.
Where to do beach sports in Porto
Almost everywhere you go, you will find places to play beach sports. There are many volleyball nets close to the giant fishnet sculpture, Anémona in Matosinhos which are awesome to use for badminton. For swimming, read our article about the best beaches and swimming pools in Porto.
Price: All free except for Piscinas das Marés pool, which costs 6€ / adult and 3.5€ / child <12 years old during weekdays. On the weekends, it's 8€ / adult and 4€ / child <12 years old. However, Piscina das marés is closed for renovation until Fall 2020.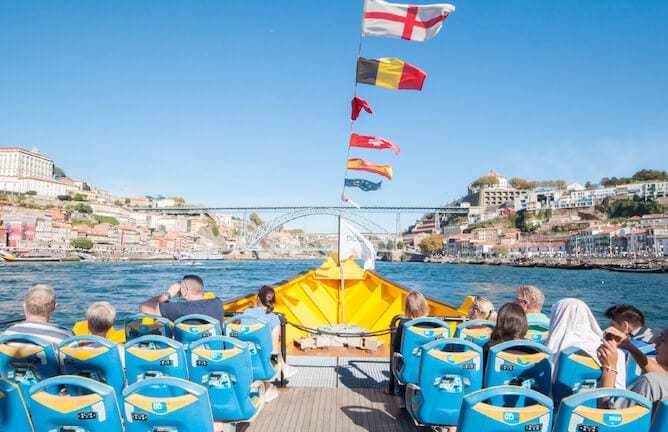 Taking a cruise to get to know Porto's famous 6 bridges is one of the best outdoors activities in Porto, specially on hot summer days.
There are many operators that will accommodate you, but it's always best to take the trip in non busy hours like early morning or after 15h to avoid large crowds on-board.
Price: The trip lasts 50 minutes and costs around 15€. As the 6 bridges cruise is a very popular tour in Porto, we recommend you to get the online ticket to the 6 bridges cruise.
However, there are cleverer ways to take the 6 bridges cruise, as combo tickets are way cheaper.
Namely, you can get a combo ticket for the Hop On Hop Off Bus + 6 bridges cruise + Port wine cellar visit, as you only pay 25,20€.
You can also buy the ticket to the city train tour + 6 bridges cruise + Port wine cellar visit for 25€.
Climb the Arrábida Bridge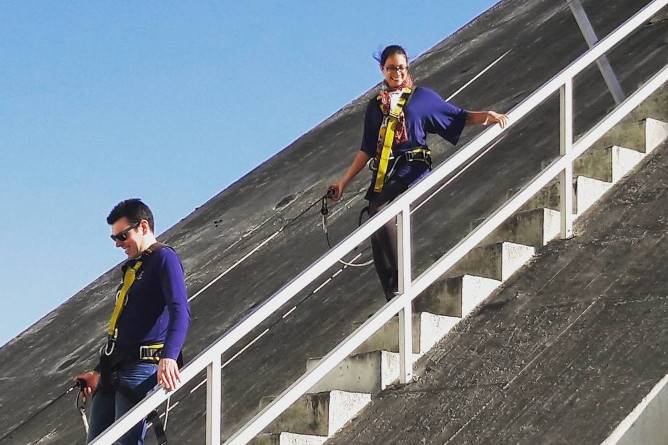 Climbing the arch of the Arrábida Bridge might be another activity in your bucket list of things to do in Porto. The climb takes about 30 minutes of easy climbing. At the top you will be greeted with a Port wine served in chocolate cups while you appreciate a fabulous view over the Douro river.
However, and to be completely honest with you, I find this outdoor activity in Porto waaaaaay to expensive for what it is. Moreover, the price is increasing every single year which doesn't make much sense to me.
How to climb the Arrábida bridge
You can buy the ticket there or you can make an online booking.
Price: 17,50€ / person (15€/ person for groups >5).
Scuba Diving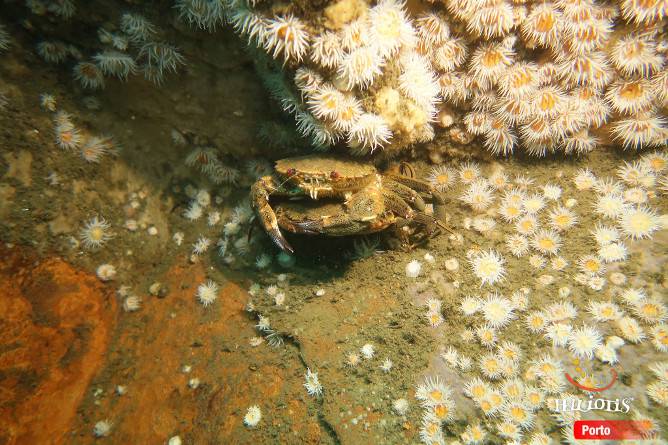 For some fun underwater outdoor activities in Porto, scuba diving is a must. You will get to see some different species like congers, octopi, pouts, and sea anemones. And you might even get to see the shipwreck of a 1945 German submarine near Porto de Leixões..
Where to scuba dive in Porto
It's hard to recommend any other place to scuba dive in Porto but Haliotis. It offers lessons for beginners and experienced divers in multiple languages. Its customer service is wonderful and its teachers and staff are lovely. And trust me, when you dive once, you'll want to do it again 🙂
Price: The price start at 29€ / dive / person. You can also simply rent equipment – check Haliotis' page for more information.
Kayaking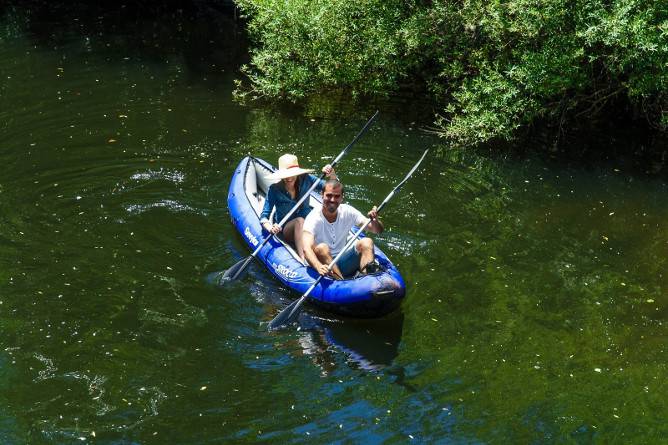 If you've already done a cruise and want more, this outdoor activity in Porto takes it to the next level. You don't have to go far for this activity because the Douro river is right here in Porto, allowing you to enjoy some rowing action. n.
Where to do kayaking in Porto
The best places to go kayaking is off the Cais de Gaia where it's easier to hop on and off.
Price: 29€ for 1h / person (Gaia).
Mini golf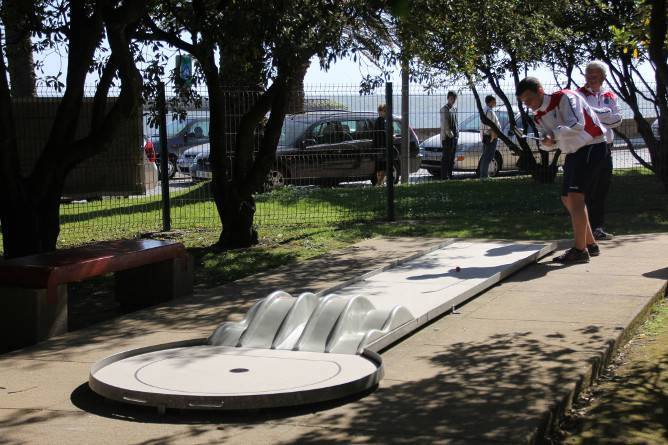 From my experience, you don't need to be a pro-golfer to enjoy mini-golf. That's why this is one of the best outdoor activities in Porto for kids (with a minimum effort required for adults).
Moreover, it is a very cheap activity and it takes place at one of the cutest neighborhoods in Porto, Foz, by the Atlantic Ocean.
Where to play mini golf in Porto
The best place for mini golf is Passeio Alegre in Foz, right in front of the beach. Not only is it affordable, but it's also very versatile with 8 holes and different types of obstacles.
Price: 1,50€ / kids under 13 years old and 2,50€ for everyone else.
Camping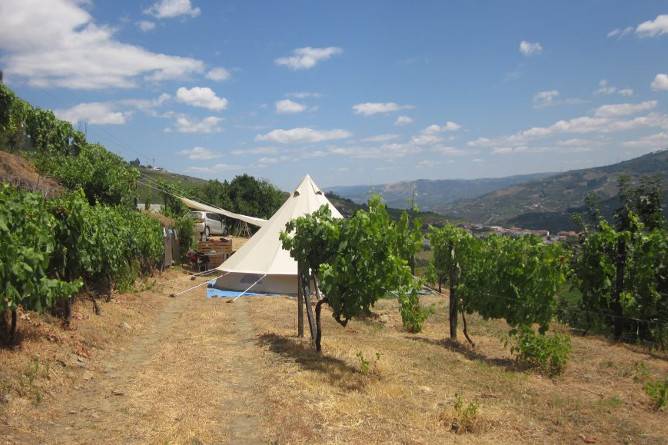 When we talk about outdoors activities in Porto, I immediately think of camping. So for camping lovers out there like myself, you might need to rent a car to drive to the best spots. For example, Vila do Conde is known to be a great spot for campers that allow you to stay in a tent, a cottage or a camper. But you will have to drive 35 minutes from Porto.
Where to camp in Porto
You can camp next to the beach in Vila Chá or Camping Árvore, but these sites always have too many people, no privacy and not much interaction with nature.A better option would be to camp in the Douro region between the vineyards. You can stay in Quinta das Corujeiras which has sites with great prices and several rental options.
Price: Starting at 4€ /adult / night and 2€ / child / night.
Horseback Riding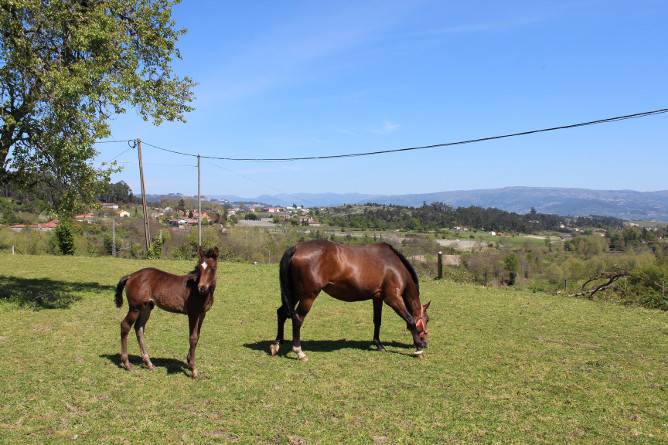 In my opinion, this outdoor activity in Porto is one that cannot be missed. There are many horseback riding schools that reinforce the importance of taking care of animals. They also give classes and allow people to go horseback riding.
Where to go horseback riding in Porto
In Matosinhos there's the Centro Hípico do Porto e Matosinhos, a horse riding school with many fun activities for kids. There is also a school in Gaia called Centro de Equitação de Valadares that has the option to take classes, go horseback riding or even host a kids' party. Quinta de Gatão in Penafiel allows its residents to ride horses around the vineyards.
Price: It starts at 12.50€.
Hiking and nature walks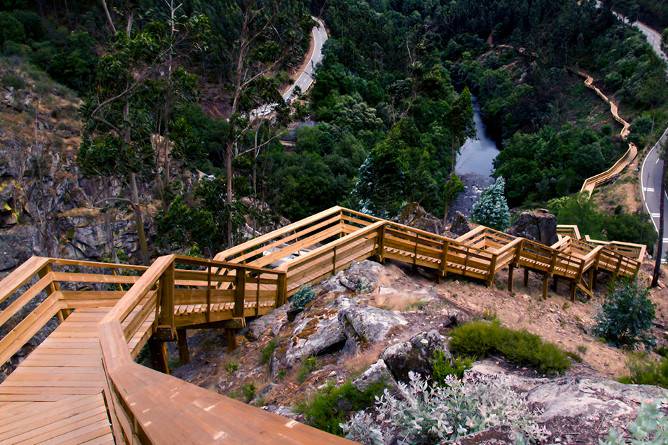 "Everyday in Porto is like going on a hike", said my out-of-breath sister when she came to visit me in Porto. It is true! The city itself has challenging trails – making hiking one of the best outdoor activities in Porto. But if you want to get away from the noise of urban centers, you will find many hiking spots alongside nature.
Where to hike in Porto
In Porto, a well-known easy hike trail is one that starts at D. Luís I Bridge and ends at Felgueiras lighthouse in Foz. A more challenging trail would be to start at Gaia's riverfront till you get to the beach, from there, you can walk south till you get to Espinho.For nature walks, Parque da Cidade is a jungle within a city, which is quite extraordinary.
Outside of Porto, there are amazing walking and hiking trails in Valongo (Serra de Pias), Maia (Novo Rumo) and Arouca (Passadiços do Paiva, also know as Paiva Walkways).
Price: Free unless you're doing it in a private quinta or with a tour provider.
Outdoor Yoga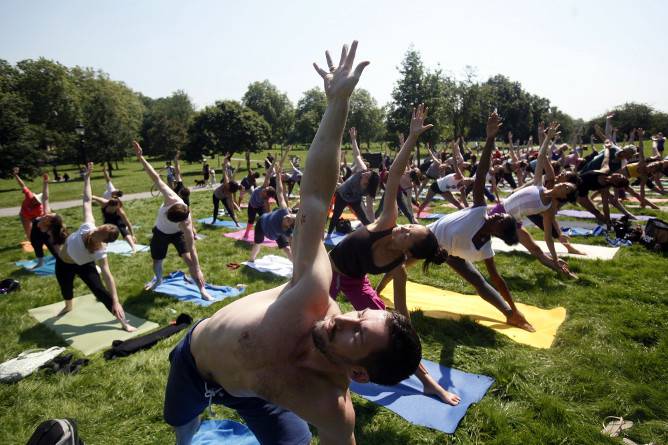 There are many amazing places within Porto to practice yoga. You can spend a quiet morning in one of the city's parks or next to the beach doing yoga on your own or joining a class.
Where to do outdoor yoga in Porto
The most fitting spot for outdoor yoga is Parque da Cidade, one of the best parks in Porto. Parque da Pasteleira is also a nice park for some peace and quiet – other than the roosters that you might encounter along the way.
The City Hall organizes free yoga classes during the summer time, which you can join for free – but obviously the classes are in Portuguese.
I also suggest you search "Parque da Cidade do Porto" in Facebook events and you'll find many free classes held by yoga instructors.
Price: Free.
Save this article for later: