I organize private tours in Porto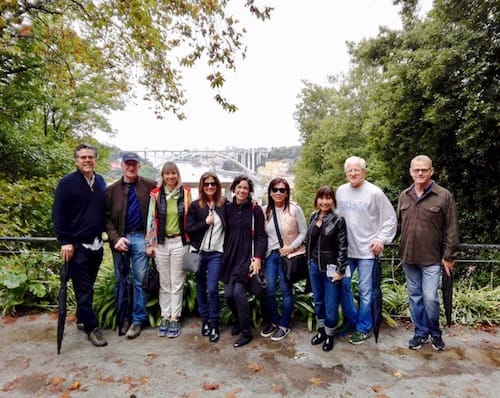 Check this page for more information or send an email to sara@portoalities.com.
Porto, with its tiny colourful houses built on hilly terrains and the six bridges over the Douro river, is indeed a city prone to good photos.
There are some spots already rather well-known, whilst some are still unknown… so go grab your camera, put on your best outfit and let's go for a photo shooting at the best views of Porto! 🙂
1. Sé (Porto's cathedral)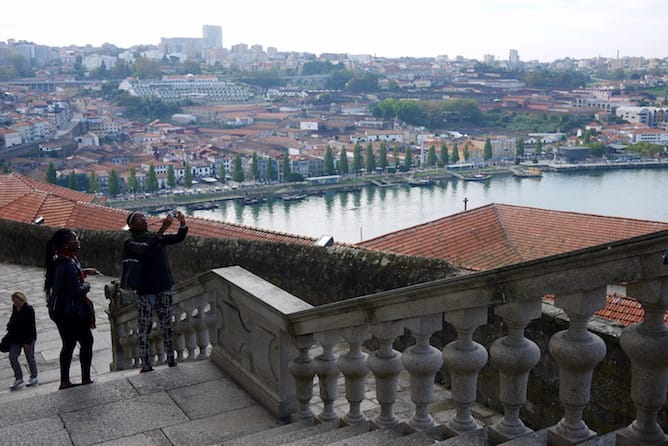 The cathedral of Porto was its birthplace more than 900 years ago. So besides enjoying one of the best views of Porto, you can also take the opportunity to visit the cathedral (built during the XII century) and the episcopal palace.
There is a tourism office there nearby the cathedral, so it's a good starting point to discover Porto. If you take the narrow streets you'll find yourself immersed on ancient neighbourhoods that will lead you all the way to the douro river – an experience I highly recommend!
Ideal for: Historical visits, discover the medieval Porto
Opening hours: All day long
Address: Terreiro da Sé. 4050-573 Porto
2. Igreja e Colégio de São Lourenço (Igreja dos Grilos)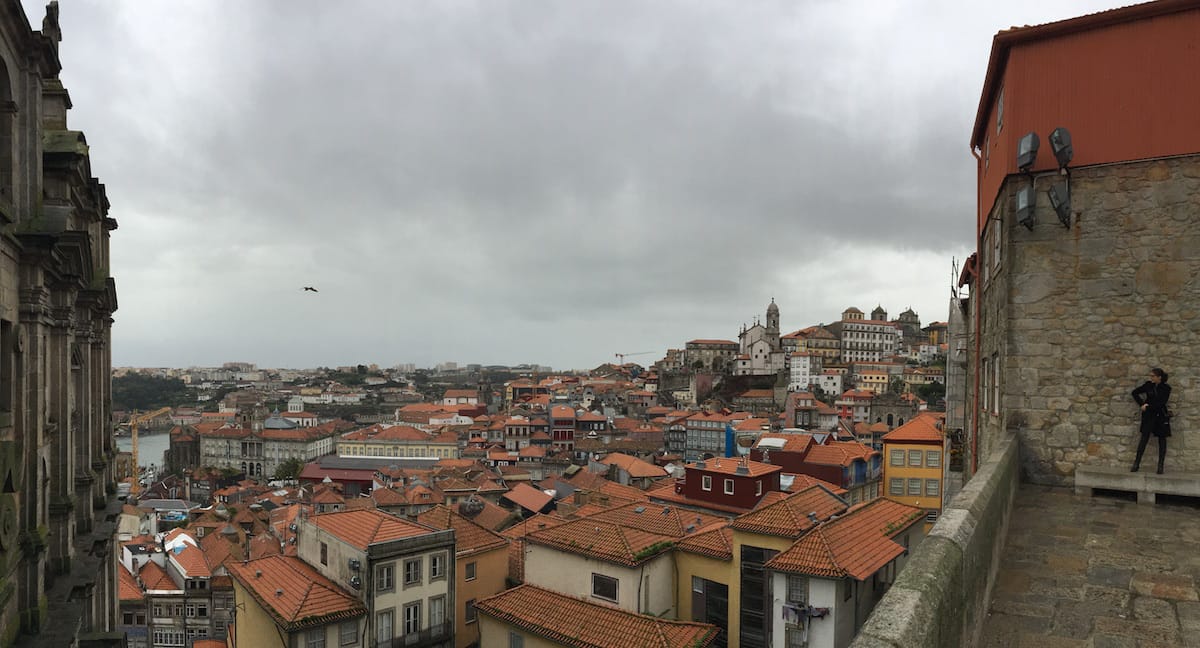 Quite often people visit the cathedral of Porto and miss Igreja dos Grilos (it translates to crickets' church!), from which you can get a magnificent view not only of the river but also of the city center. When you get there, take a moment to visit this unique church, which combines both baroque and neoclassical styles.
Ideal for: Historical visits, discover the medieval Porto
Opening hours: Tue – Sat 10am – 1pm + 2.30pm – 5pm. Guided visits on request
Address: Largo do Colégio. 4050-208 Porto
3. Torre dos Clérigos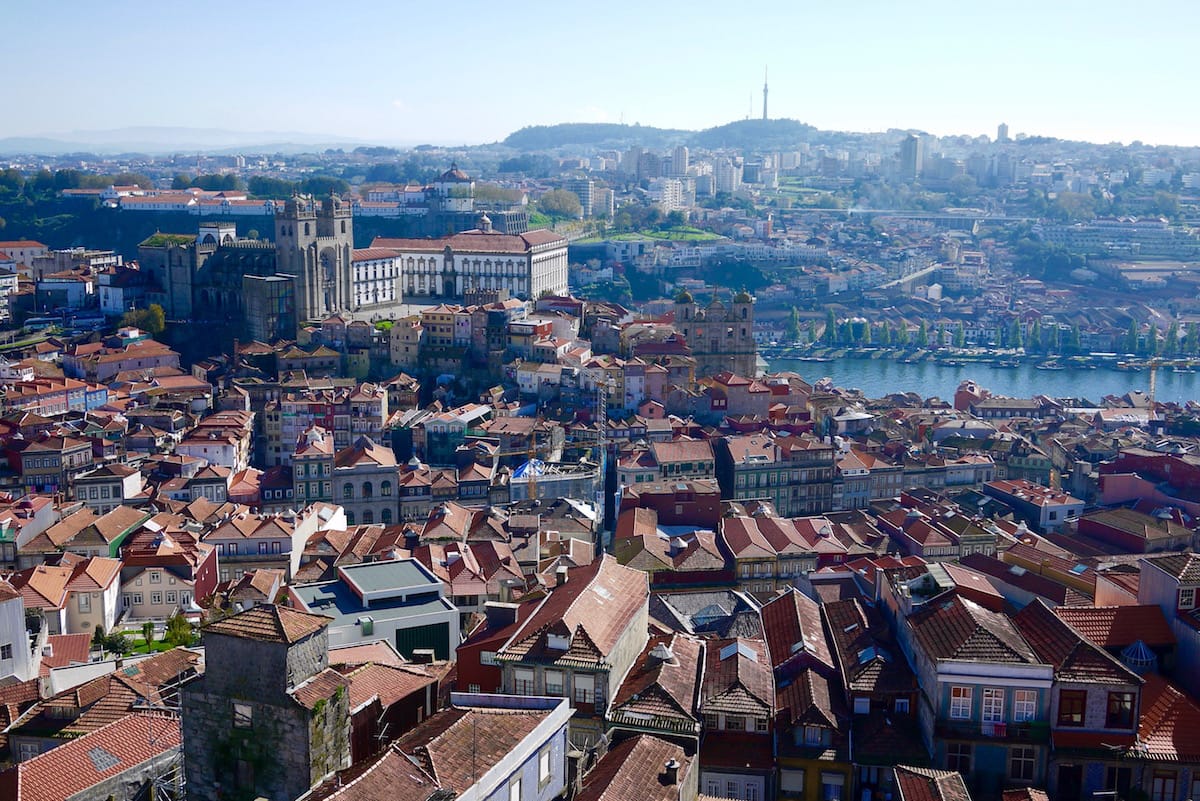 Clérigos tower needs no introduction as it is the ex-libris of Porto. Almost 76m high, it is the perfect place to have a 360º view of the city, so from there you definitely get one of the best views of Porto.
It is well located, close to the famous Lello bookshop – considered an inspiration for Harry Potter's books, as well as the nightlife district. I hope you have good knees though, as you'll need to climb 240 tiny stairs to get to the top…
Ideal for: Get a 360º view of Porto, feel the king of the world!
Opening hours: Everyday from 9am to 7pm (tickets cost 3€)
Address: Rua de São Filipe Nery. 4050-546 Porto
4. Serra do Pilar
If you're enjoying this article, don't forget to pin it for later: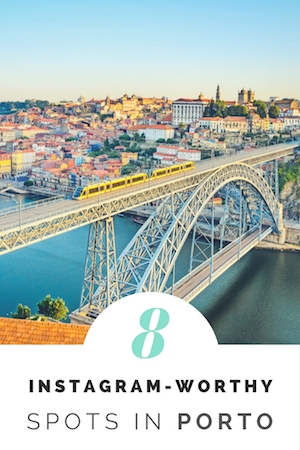 In Porto we say that "the only good thing in Vila Nova de Gaia is the view towards Porto" – and I was almost eaten alive when I wrote about it 😛 Whoever said this was probably thinking about the view from Serra do Pilar, which is absolutely breathtaking.
When you walk through the superior deck of D. Luis bridge (you can also take the yellow subway line and leave at the station JARDIM DO MORRO), you'll see a steep street on your left hand side all the way up to Serra do Pilar. On the top there is an ancient monastery from where you can enjoy a beautiful view of the river and of Porto.
There is not much to do there other than enjoying one of the best views of Porto, so I suggest you to take a bottle of red wine from the Douro Valley, two glasses and good company 😉
Ideal for: Enjoy a romantic sunset
Opening hours: All day long
Address: Serra do Pilar. 4430-999 Vila Nova de Gaia
5. Miradouro da Vitória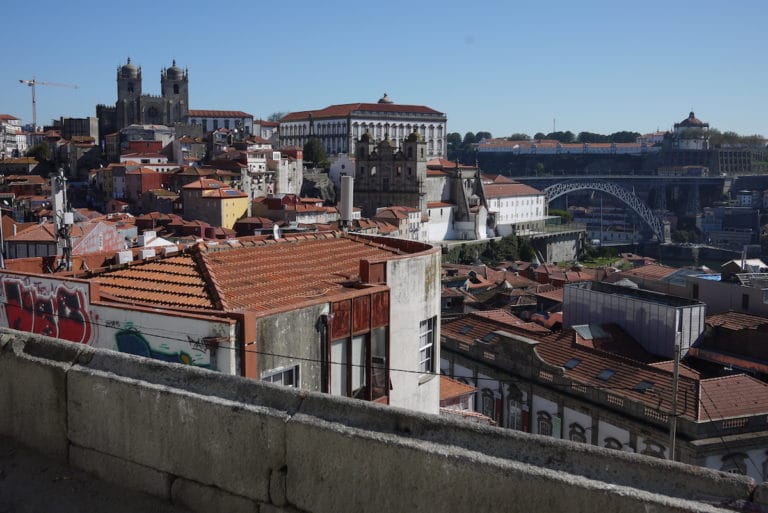 Right in the middle of the Old Jewish neighbourhood lies a hidden gem with one of the best views of Porto from Porto. From there you can see some of the main sights of Porto (the cathedral, the Stock Exchange Palace, etc), but also the douro river and the Port wine cellars. If you continue down the road, on your right hand side, you'll get yourself very close to Mercado Ferreira Borges.
Ideal for: Sneak pick both Porto and Vila Nova de Gaia, discover the Old Jewish neighbourhood
Opening hours: All day long
Address: At the end of Rua de São Bento Vitória. 4050 Porto
6. Jardins do Palácio de Cristal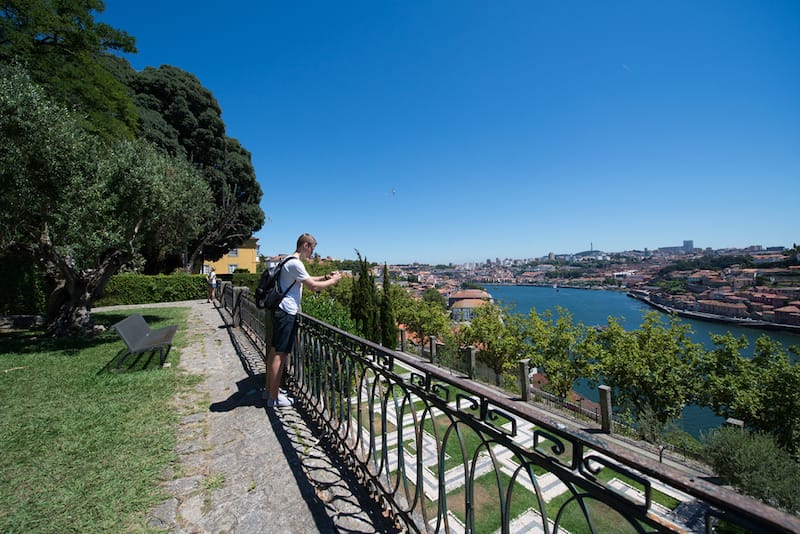 Jardins do Palácio de Cristal, or the Crystal Palace gardens, owe its name to the Crystal Palace that was constructed in the XIX century to host the International Exhibition of Porto.
Even though the Palace itself was demolished, it is still possible to enjoy these romantic gardens in the centre of Porto, that hold a magnificent view to Ponte da Arrábida (Arrábida bridge). It is not only one of the best views of Porto, but definitely the most romantic one as well 🙂
Ideal for: Picnics with a view, romantic walks
Opening hours: 1st Apr – 30th Sep 8m-9pm 1st Oct – 31st Mar 8am – 7pm
Address: Rua de D. Manuel II. 4050-346 Porto
7. Miradouro das Virtudes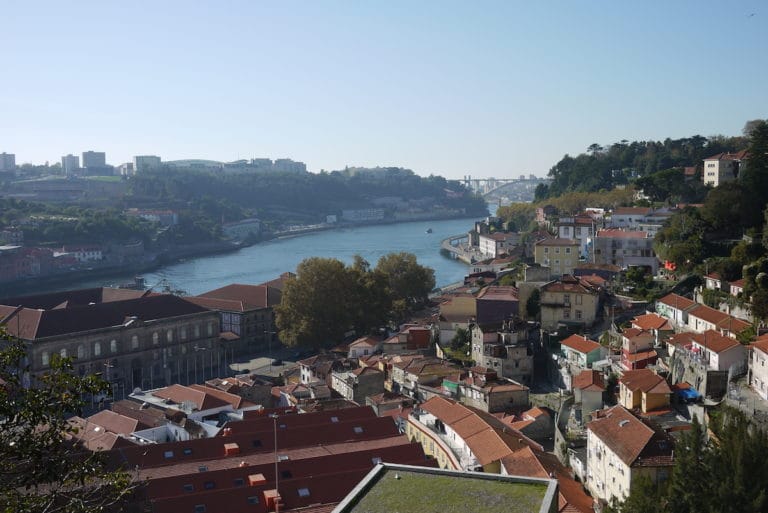 Probably the most popular spot among the locals as, due to the wind coming from the river and the shadows of the trees from the nearby garden, this is one of the coolest places during Summer days. We go there to grab a beer (there are some nice restaurants nearby), read a book or simply chill out with friends.
And, out of curiosity, Virtudes means virtues in Portuguese: this viewpoint was given that name because when you look down below through the iron bars you'll see a fountain which water was believed to cure all the diseases!
Ideal for: Chill out on Summer days, enjoy sunset views
Opening hours: All day long
Address: Passeio das Virtudes. 4050-629 Porto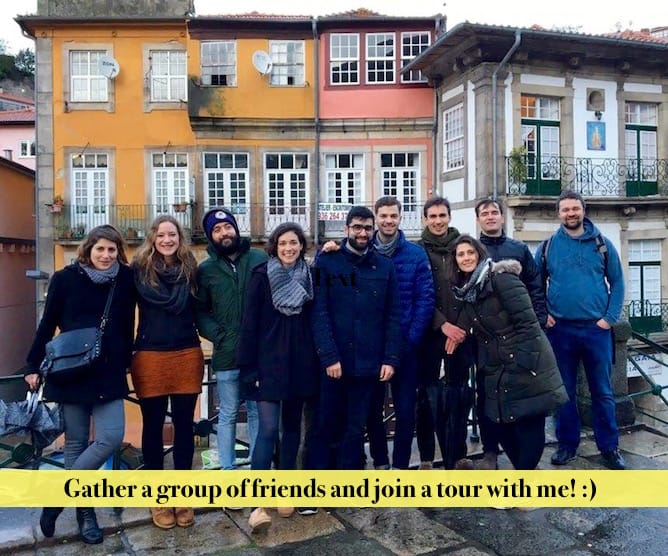 If you would like to make it extra fun during your party weekend in Porto, why don't you join a tour with me? I'll give you a glimpse of Downtwon Porto, tell you a lot of stories that not even the locals know about, and give many suggestions for restaurants and bars. I am sure we'll have a great time together! 🙂
Check here for more information on my tours in Porto, or simply send me an email to sara@portoalities.com 🙂