Though I am a little biased, I think we can all agree that Porto is a wonderful place.
You can find beauty in every little nook and cranny of the city and history seeps through the cracks of Invicta's walls.
Built upon its banks, the crowning jewel of the city is undoubtedly the Douro river. This is probably the reason why Ribeira, the picturesque neighborhood by the Douro river, is most visitors' favorite neighborhood to stay in Porto.
Is Ribeira the right neighorbood for you to stay in Porto?
Like most things in life the answer is… it depends 🙂 Ribeira is a very charming neighborhood with a strategic location. In it are located some of the most important monuments in Porto such as the St. Francis church and the Stock Exchange Palace, but it is also walking distance from Luiz I bridge and, more importantly, the famous Port wine lodges.
However, it is very touristy (aka it is always crowded) and it is impossible to park there (an important factor to consider if you are renting a car in Porto). At night it is fairly silent though, because most tourists go to bed way before we do, and Ribeira is not a party area like Cedofeita.
I believe this already gives you such useful criteria to decide if Ribeira is the right neighborhood for you to stay in Porto, so let's move on to…
These are the best hotels in Ribeira: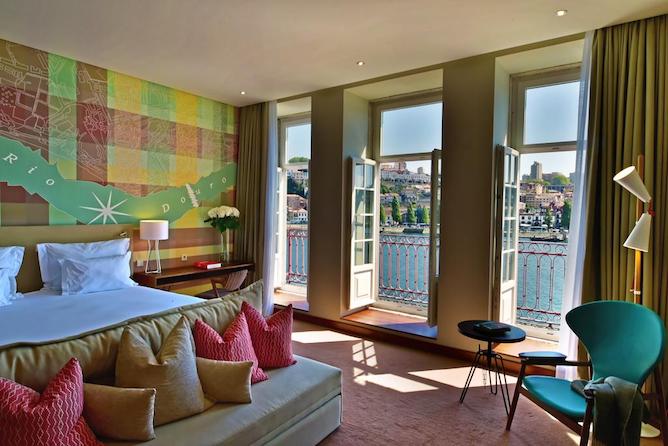 Are you looking for a place that has everything? Then Pestana Vintage Porto is for you.
It is a five star hotel with comfortable and spacious rooms, great decor, spa and wellness centre, restaurant, bar and a great view.
The Douro River is definitely the main attraction and it comes in through the windows of the Pestana – it is the most perfect good morning the city has to offer.
If you are wondering where to stay in Porto, Pestana Vintage is truly one of the cleverest choices because it is one of the best hotels in Ribeira. Don't forget to try out their stellar breakfast and to visit Rib restaurant with their famous juicy steak dishes.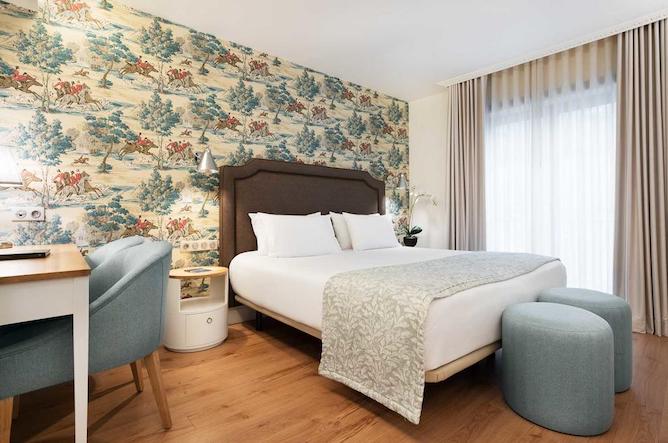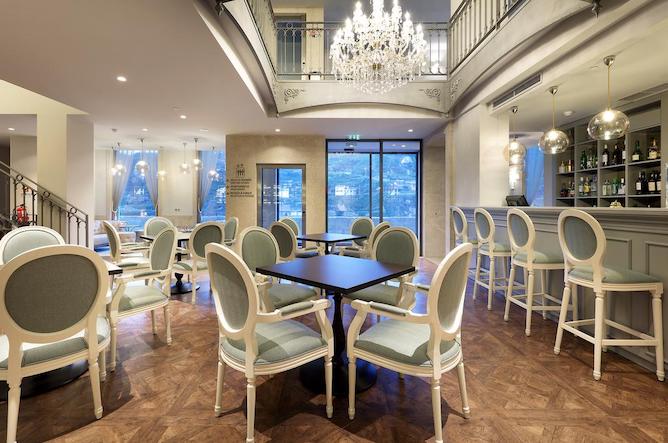 Eurostars Porto Douro is another great choice for the best hotels in Ribeira. With a great view of the Luiz I bridge and obviously the Douro, this hotel is in a gorgeous building that emerges from the stone inclines on the margins of the river.
Its subdued color scheme and accommodating furniture is perfect if you are looking for a peaceful environment for your vacation. It is perfect for families, especially with kids because the rooms are quite spacious.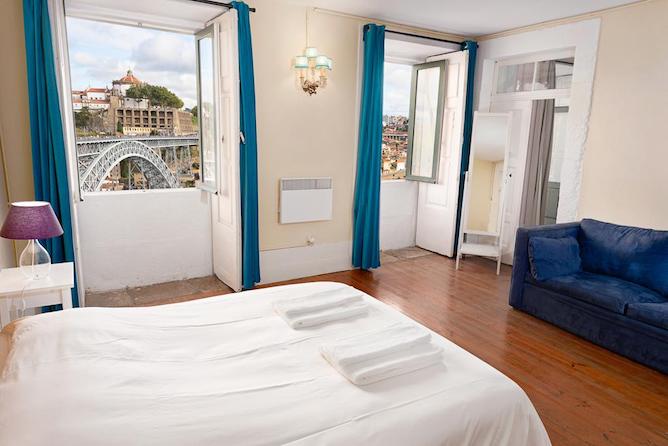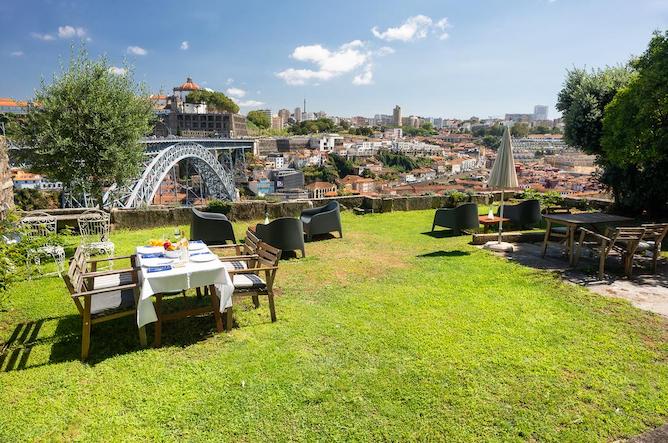 If you want a truly privileged view of the Luiz I bridge, then Manor House Porto was made for you.
The house is in an old stone building close to the superior deck of the bridge and its garden is in the perfect place to sunbathe and people watch.
The garden has some gorgeous fruit trees – the oranges are magnificent! – perfect for some shade in the summer months.
The stone house and beautiful garden create a rustic atmosphere that is not easily found in the city. It's a little piece of slow living in the fast paced Invicta. If you are wondering where to stay in Porto, look no further! This is the place for you.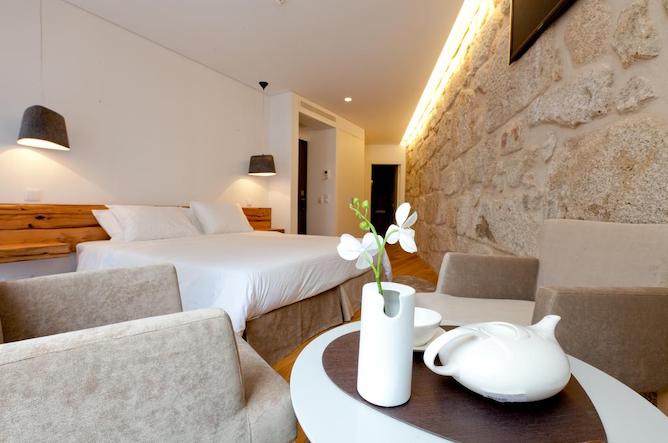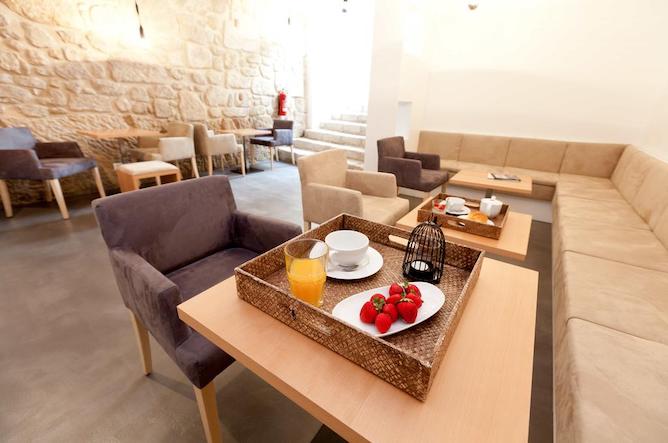 I don't think that a lot can be said about InPatio Guest House – I truly believe it has to be experienced. A night at this guesthouse is worth more than a thousand words (excuse the cliché – but it is just a stunning place).
The humor which can be found in the décor of this guesthouse is amazing. I think it is so quirky with the cork motifs and the little crow statues lurking about the place like sneaky omens.
You absolutely have to stay at one of the quirkiest hotels in Ribeira.
Mo House – Hotels in Ribeira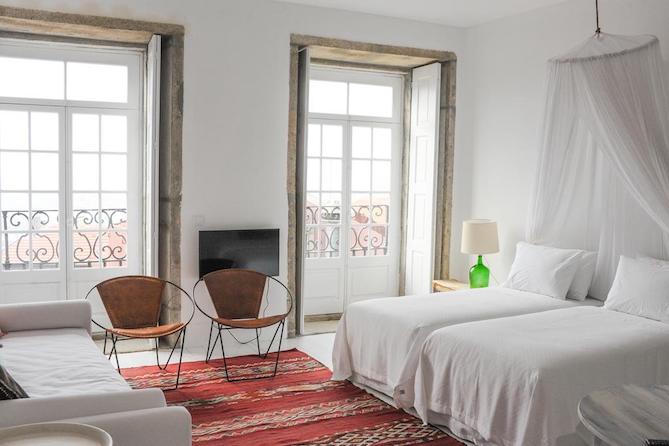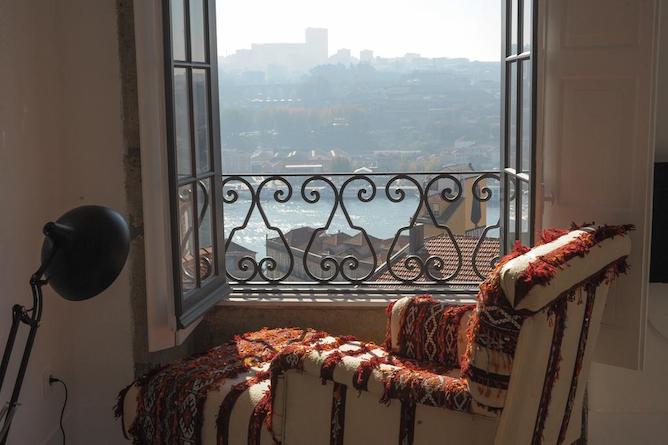 Mo House is one of the favorites amongst our readers. I can't exactly pinpoint why, but I think it is its classic design and spaciousness that draw so many people to it.
The abundance of white in the walls and furniture make the place so appealing and clean, it is the perfect accommodation to wind down and recover from a day of exploring and learning about Porto.
Consider this my suggestion for those in desperate need of some quiet vacation time. 😉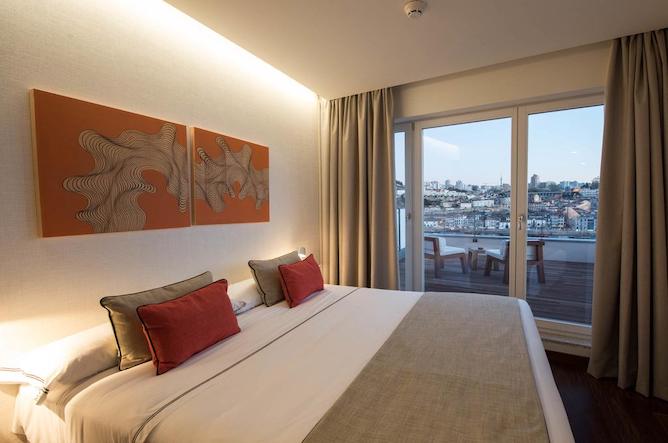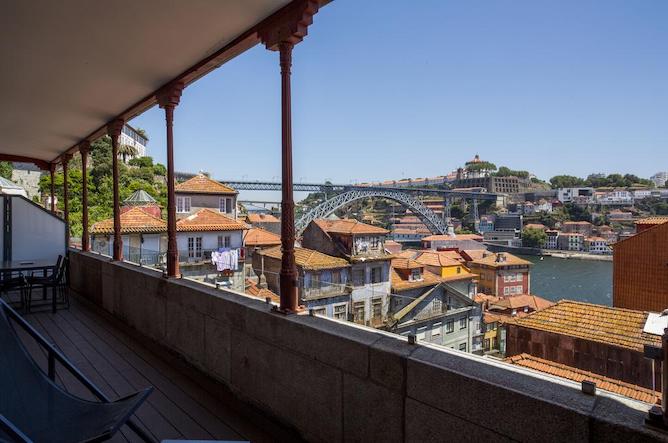 Hotel Carris Porto Ribeira is a four star hotel set in a renovated historical building in a great location in Porto's Ribeira. Besides having a beautiful early 20th century façade, Carris' interior design is to die for.
The majority of the common spaces and lounges still have the original walls of the building exposed. This creates a sort of medieval effect to the rooms because they are these incredible slabs of rock beautifully complimented with some almost surrealist furniture.
The rooms are quite spacious and comfortable, though not as interesting as the shared spaces. There are many options to choose from: they have double and triple rooms, various suites and some great rooms with balconies turned to the Douro river.
Waking up to a view like that is the perfect beginning of a day of exploration.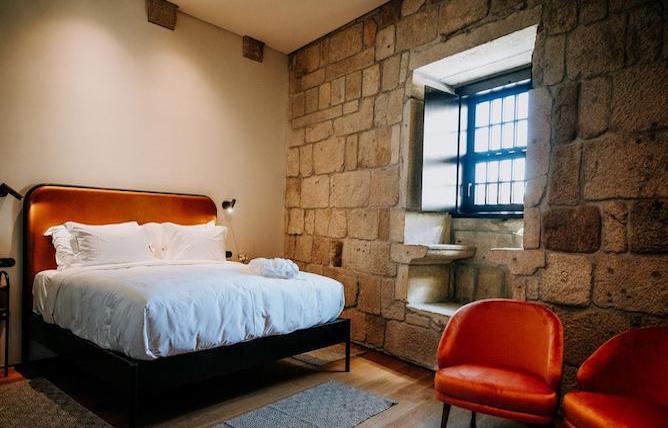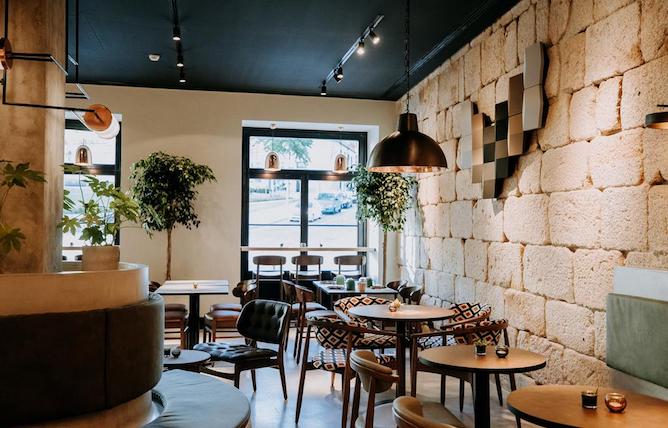 Another four star and another one of the best hotels in Ribeira. Though Exmo. Hotel has smaller rooms than Hotel Carris, it is my unwavering choice between the two. Its coziness and astonishingly brilliant decor is just my style.
Another similarity with Carris is the old stone walls that serve as foundations for Exmo hotel. In some places you almost feel like you are in an old monastery or castle with some hidden passage that will lead to another time!
There is also an industrial vibe to the decorations. The furniture has black metal accents and the rooms are styled in whites, browns and popping oranges.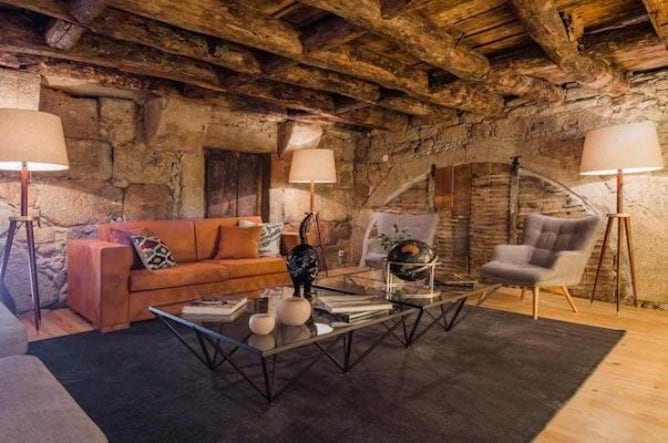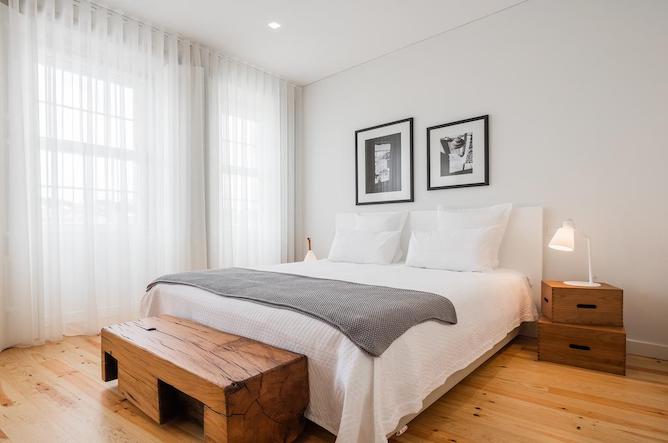 A great thing about all the entries on this list of the best hotels in Ribeira is their location.
Due to its status as one of Unesco's World Heritage Sites, Ribeira is not only a great place to find preserved historical buildings, but also a great place to stay in Porto.
There are many accommodation options very close to the most important monuments and restaurants and bars you just can't miss.
Porto River is one of those amazing options because it converges old and new so well. A perfect place for couples and smaller families and groups of friends, this Aparthotel is just plain cool.
It is decorated simply but very modernly, and it's very cozy.
The wood pieces give it a natural but subdued touch and you will find a typical Portuguese decoration in every room. Any tourist who's been in Portugal for more than 10 minutes will certainly be able to recognize our very own Rooster of Barcelos. Porto River has several beautiful renditions of this Portuguese symbol.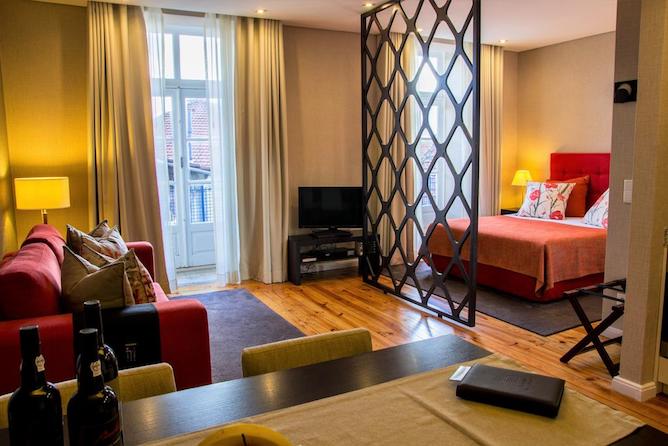 Casas do Porto is great for those who like visiting monuments. It is very close to the Stock Exchange Palace, Saint Francis Church, the Arts Palace and the Puppets Museum. Besides, Casas do Porto is a sight in itself, don't you agree?
While at Casas do Porto why don't you take some time to visit the Vitória Viewpoint. It is a wonderful spot to take some perfect Instagram pictures and to really see what Porto is all about. One of the best places to get the best view – most people will probably say the best place is the Clérigos tower and they would not be wrong – of Porto and the Douro river, the Vitória Viewpoint is very close to Casas do Porto.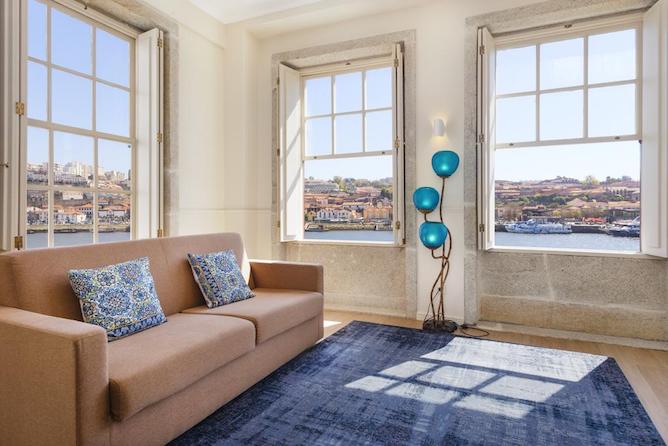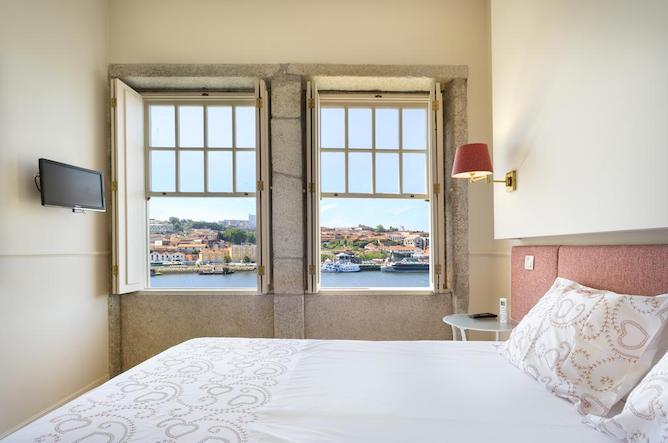 As the name implies, these apartments are right in front of the river – you can't get much closer than this unless you sleep on a boat IN the river! 😉
With a simplistic décor and very spacious rooms, Oporto Home – River Front is one of the best hotels in Ribeira. The big, ceiling to floor windows open to a view of the Douro River and the Gaia bank on the other side. The sun comes in from dawn to dusk and just imagine the delight of watching the sunrise and the sunset though those windows with a rich Port wine glass and a multitude of memories to share.
Speaking of Gaia and drinking: from those windows you can also see the Port Wine Cellars. Head over to our article about the best Port Wine lodges to get some suggestions and find out exactly why the Port Wine cellars are in Gaia and not in Porto.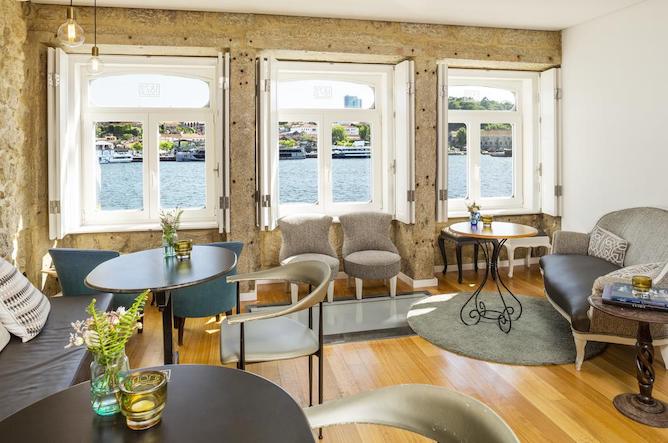 I have to say that 1872 River House is straight out of a fantasy for me. Like many of the houses in Ribeira, this guesthouse is in a renovated historical building and you would think this makes it ordinary – but it is far from that.
Not only is it RIGHT in front of the river, but it is a stunning house. The walls are entirely in stone and it is almost as if you are staying in a really cozy castle.
Not only that but it also draws inspiration from churches and their stained glass windows. There are some incredible hallways with blue, gold and white stained glass panels that are crazy beautiful in the sunlight.
We also have to talk about their breakfast. Actually, I think I will just let experience it for yourself. Take the hint and try 1872 River House, one of the best hotels in Ribeira, on your visit to Porto.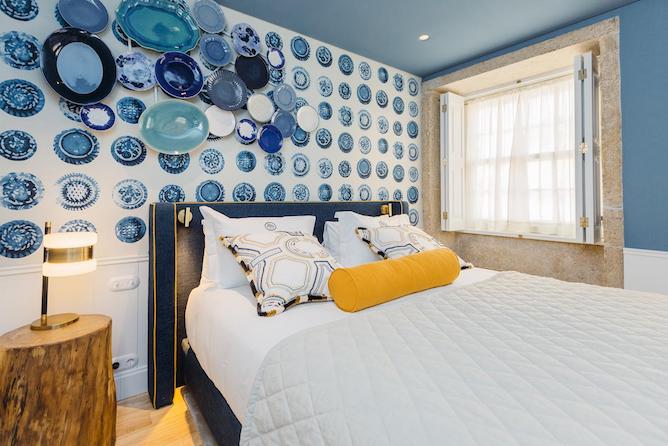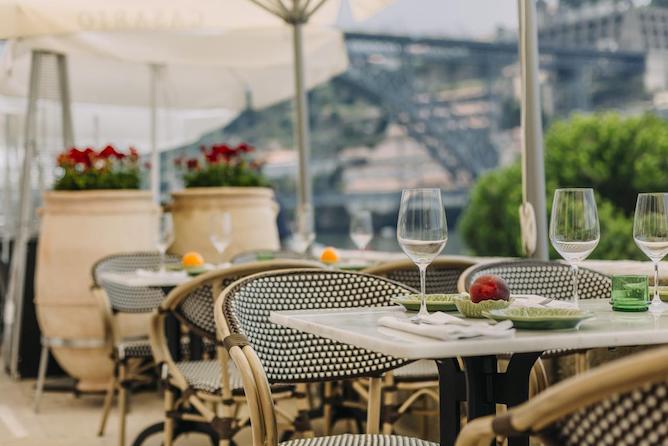 If you are thinking you have heard that name before, you are probably right. Gran Cruz is actually a Port wine variety from Porto Cruz. The brand opened the Gran Cruz House to give those visiting Porto the ultimate Port Wine experience. So, if you are a wine lover coming to Porto in search of the perfect experience, this is my suggestion for you.
The house is beautifully decorated in a refined but homey way. The bedrooms are not huge but quite comfortable. I have to mention something that fascinates me about the rooms: there are seven in total and all of them have portraits of the Woman in Black, the brand's symbol. Each was created by a different artist and evokes a very Portuguese feeling in a very colorful way.
It's a great place to enjoy your time in Porto and besides being one of the best hotels in Ribeira, Gran Cruz House also boasts a wonderful in house restaurant called Casario. It has a varied menu with gourmet choices and many Portuguese delicacies as well as more than sixty different varieties of wine.
Save this article for later: