I already told you the best vineyards in Douro Valley for wine tastings, but now you'd like to see more of the region.
Maybe a short Douro river cruise, maybe some physical activity, maybe a lit bit of history… here's a list of the best things to do in Douro Valley, besides drinking wine. Enjoy it!
Don't forget to also read these useful articles:
These are the best things to do in Douro Valley: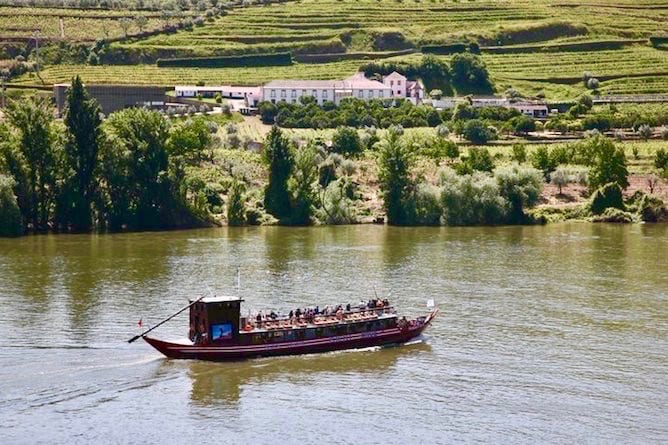 One of the best things to do in Douro Valley is to take a short Douro river cruises departing from Pinhão, the main city of the sub region of Cima Corgo. I really enjoy this river cruise in Douro Valley because it is short (1h or 2h) and hence you can combine it with a wine tour & tasting at a vineyard and a lunch in Pinhão. If you have a rented car you can simply park it in Pinhão and walk to the deck.
Moreover, whether you opt for a 1h river cruise (Pinhão – Romaneira – Pinhão) or for a 2h one (Pinhão – Tua – Pinhão), the views from the boat are simply stunning.
There are several tour operators making this Douro river cruises. I personally recommend Magnífico Douro as the boats rides are very affordable and the staff is very friendly. They organise both 2h and 1h boat rides departing from Pinhão. You can simply buy the online ticket for the 2h Douro river cruise or the online ticket for the 1h Douro river cruise, depending on your availability.
Go on a picnic at a lovely vineyard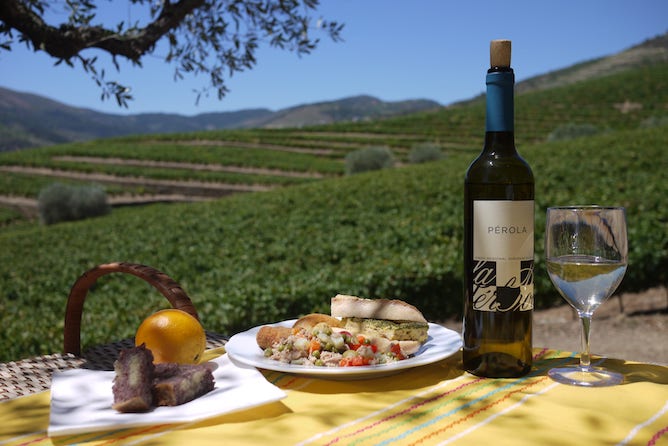 In Douro Valley there are some really good restaurants, both in Régua and in Pinhão. But if you travelling with kids, or if you want to surprise your partner with a lovely setting, then I believe that going for a picnic is one of the best things to do in Douro Valley!
This way you will have a lighter meal served in the middle of the vineyards and probably with an amazing view.
There are several properties that organise picnics in Douro Valley, but my favourite one (and most affordable as well!) is the picnic at Quinta do Tedo. The picnic basket includes local cheeses and charcuterie, homemade jam, marinated olives, fresh salad with organic veggies, traditional codfish cakes, bread, fruit (or a proper dessert, if you have a sweet tooth), orange juice and a bottle of wine.
The picnic at Quinta do Tedo is very affordable because it costs 30€ / person and it includes the picnic, a winery Guided Tour and a wine tasting. Oh, and if you bring a kid < 8 years old, you don't need to pay an extra ticket, it is for free!
Moreover, this winery has one of the loveliest viewpoints in the region, so don't wait any longer and grab your ticket for the picnic at Quinta do Tedo!
There are also two other picnics in Douro Valley that I tried:
Quinta da Roêda, where the picnic is served at a lovely table under some olive trees. They serve sandwiches, cold salads, fruit, some Portuguese finger food, etc. Currently they have two picnic baskets, one for 30€ / person (the classic one) and the other one for 48€ / person (the premium one). Kids pay the picnic as well: 15€ / kid. Now even though the adult price of the picnic at Quinta da Roêda is the same as at Quinta do Tedo, please keep in mind that Quinta da Roêda is very big and touristy, whereas Quinta do Tedo is a cute little winery 🙂

Quinta do Pôpa, where the picnic basket consists of Portuguese cheeses and sausages, olives, marmelade, etc. This year the picnic costs 40€ / person.
Both properties have "standard" and "premium" baskets, both require prior booking and both change the prices every single year, so make sure you get in contact with them in advance. The only one that allows direct online booking is Quinta do Têdo.
Check a great viewpoint of the Douro Valley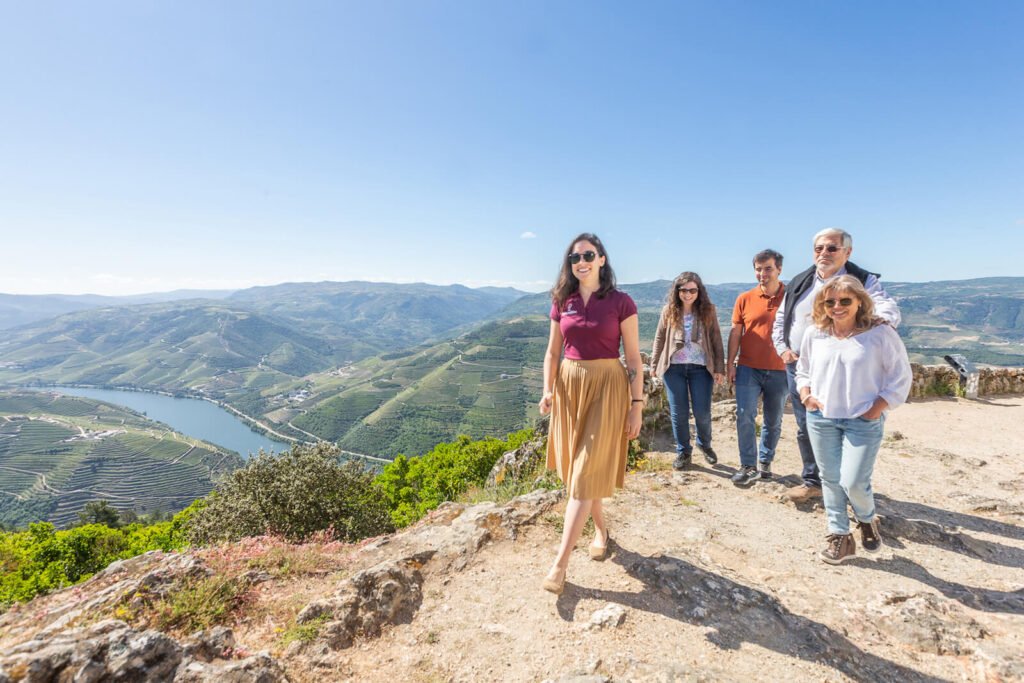 One of the things I like to include on our customised private tours is a visit to one of the best viewpoints in Douro Valley. There are several of them, but probably my favourite one is the viewpoint of São Leonardo da Galafura. It is absolutely stunning (as you can see on the picture above!), and, if possible, try to get there at sunset hours.
Check the azulejos tiles at Pinhão train station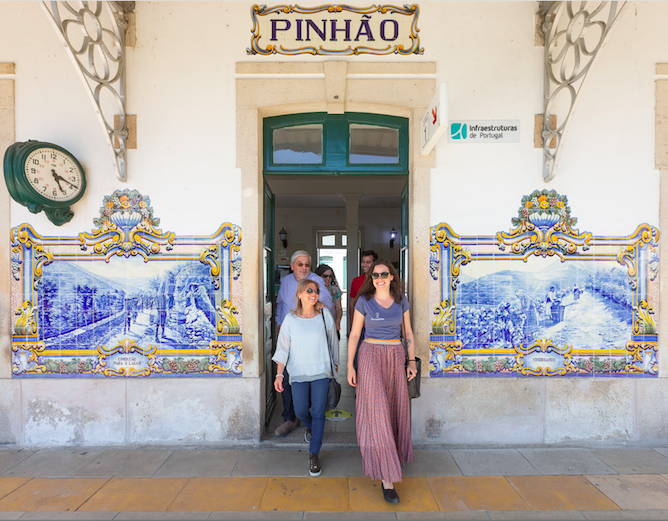 Unlike what other people write online, Pinhão is NOT an interesting place to visit and you should only go there for a) take a river cruise or b) have lunch. But if you already happen to be there, then I recommend you to visit Pinhão's train station in order to check its lovely azulejos tiles. They are nothing compared to the azulejos tiles of São Bento train station in Porto, but they are quite lovely as they depict daily scenes from the region.
Visit a traditional wine village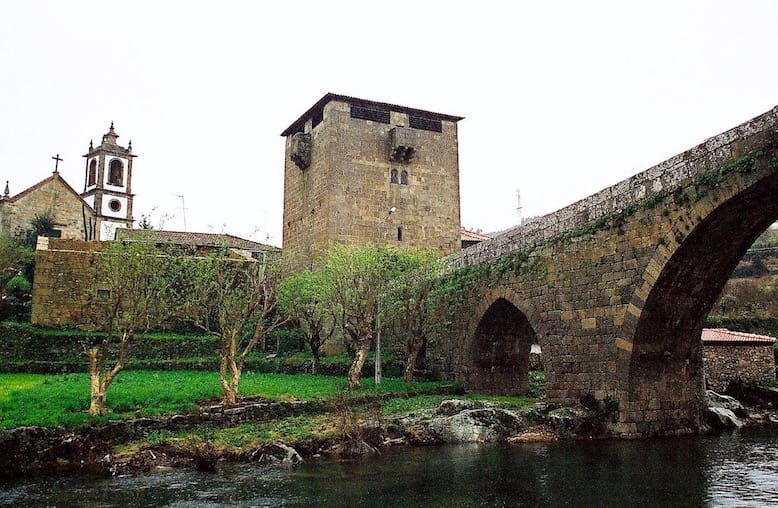 Paying a visit to one of the interesting villages is definitely one of the best things to do in Douro Valley and a great activity to do after some wine tastings.
I highly recommend you to visit Ucanha, a small village that has one of the first medieval tolls in Portugal – yes, you read that right! It is a tower at the beginning of a bridge, that the monks used to control (and charge) those entering its territory. The tower has an interesting exhibition and it is really worth seeing. If it is closed, don't give up just yet – talk to the people in the village, they are very nice and I am sure they'll find a solution!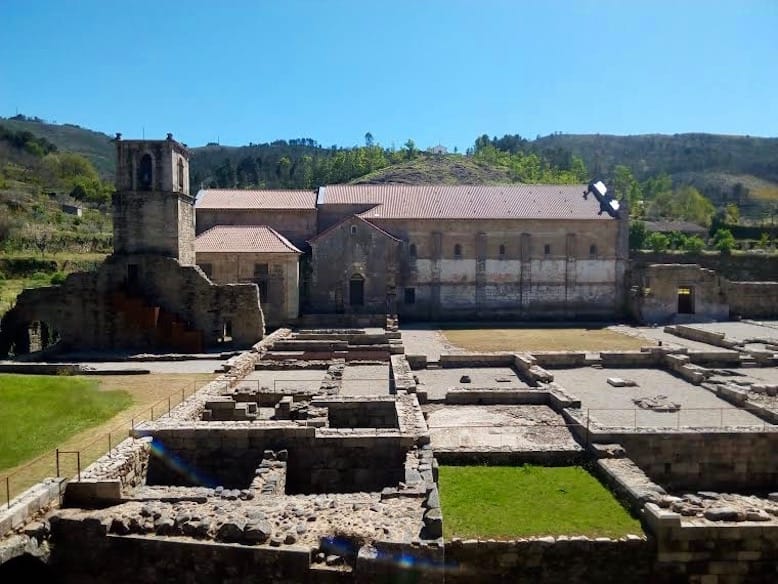 Another interesting place to visit is the Monastic Garden built on the ruins of the Monastery of São João de Tarouca, where more than 30 species of aromatic herbs are grown and sold. You can ask for a tour to visit both the ruins of the convent and the garden itself, where you'll be able to try some edible flowers and buy aromatic herbs!

Another cute little place to visit is Tabuaço, where you can find the most complete clock in the world – yes, you read that correctly. I am not going to explain it any further in order not to spoil the surprise but I can tell you that it is definitely worth it if you have a couple of days in Douro Valley.
One thing you should know about Tabuaço though is that the road to get there (from the famous road N222 that connects Régua to Pinhão) is very windy and narrow. I love it, because it provides some of the most spectacular views over the region, but it is definitely not for the fainted hearts!
Visit the amazing Côa museum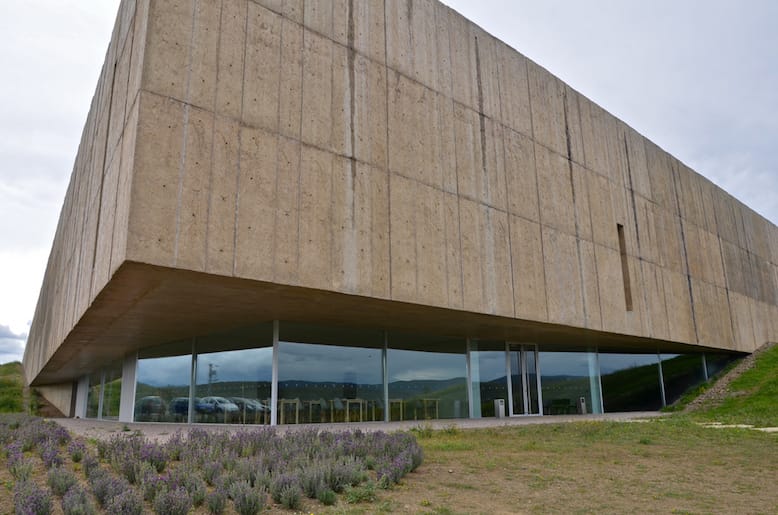 Much further East is the famous Côa Museum, designed by the famous architect Álvaro Siza Vieira. The Côa Museum displays exhibitions on the hundreds of Palaeolithic engravings along the Côa Valley Archaeological Park, which was declared a World Heritage Site by UNESCO on 1998.
It is rather inspiring to think that thousands of years ago our ancestors had the same creative instincts as we do now, and I left the Côa Museum with a great feeling. I highly recommend that you get the guided tour as it is very informative (and not boring at all!).
Do kayak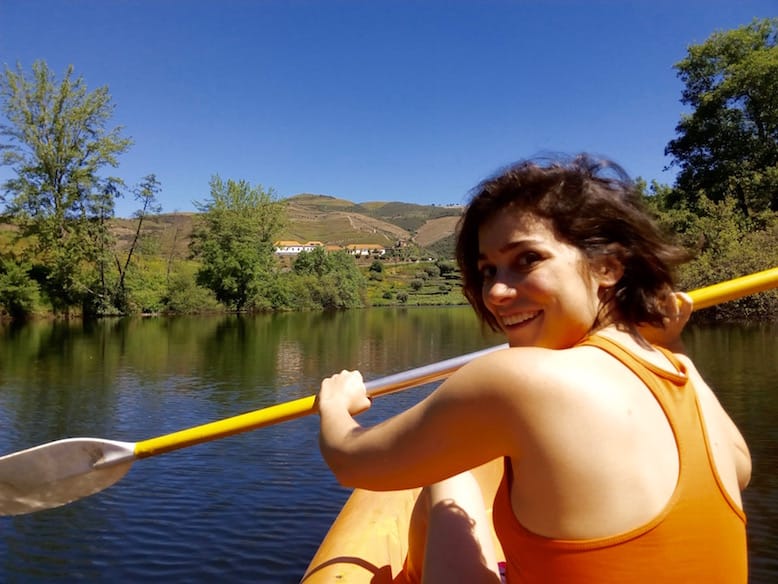 One of the best things to do in Douro Valley is a physical activity. Personally, and because I think that (due to the high temperatures) hiking / biking in Douro is for lunatics, I enjoy kayaking in the Douro river 🙂 It is fresh, it is perfectly safe (I am not wearing it on the picture because I am an idiot, but of course you are given a life jacket!) aaaaaand it is SO CHEAP. Basically, you can rent a kayak in Douro Valley for FOUR hours (4h) for 35€ / 2 people. So, basically, 8,75 € / hour – each person pays 4,37€ per hour. It is absurd (don't go around telling everybody that I told you this, ok?).
You can get the online ticket for kayaking in Douro Valley – no need to print the voucher, you just need to show up at Magnifico Douro Pier in Pinhão. (It is near the iron bridge, in front of the Vintage House Hotel garden gate).
Visit the cathedral of Lamego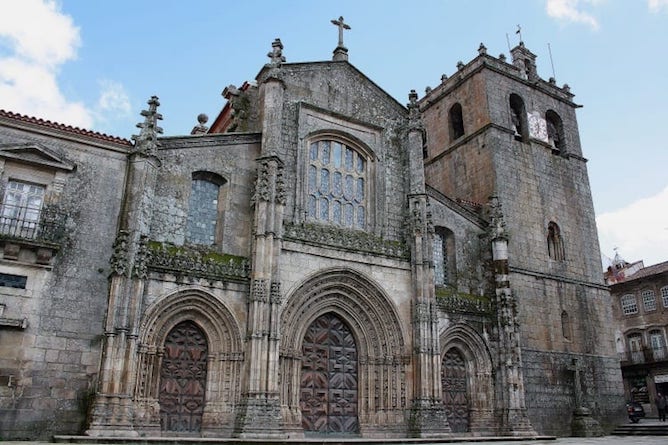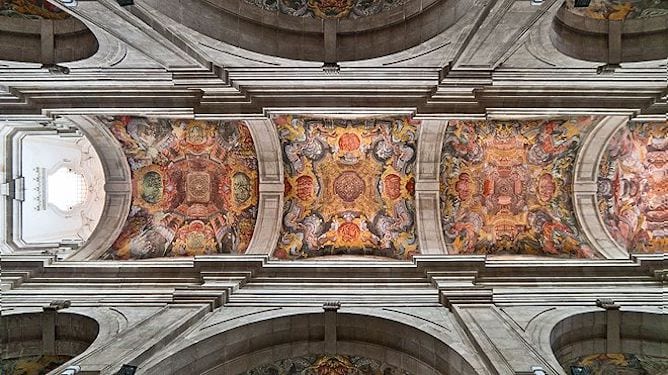 One thing I was not expecting the first time I visited Lamego, a city in Douro Valley, was to fall in love with its cathedral. After all, I am Portuguese and, as such, I spend my life tripping over churches, so they have lost their appeal over the years.
But visiting the cathedral of Lamego is an entirely different thing because a) it was founded in the XII century, so it is one of the very few gothic cathedrals in Portugal b) it has fantastic cloisters from the XVI century and c) the painted ceilings are to die for. Really. So do yourself a favour and stop there because it is definitely one of the best things to do in Douro Valley!
Ride on the panoramic road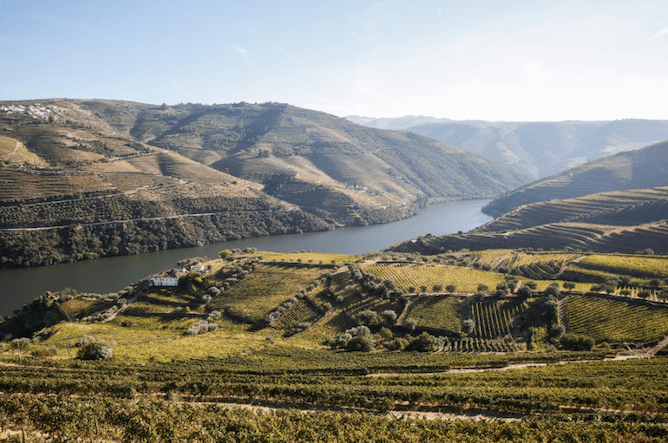 Everyone likes to complain about how windy the roads in the region are, but there was one particular road that I have to ride quite often (because of our Douro Valley private tours) that I found to be particularly unnerving, which was the old EM 323 road from Sabrosa to Pinhão.
However, we have just (re)started our tours after the pandemic and oh boy, riding on that road is now one of the best things to do in Douro Valley! They basically converted and old and slightly unsafe road into a panoramic road with 11 fantastic viewpoints. It is truly, truly the most beautiful road in Douro Valley (yes, a lot more beautiful than the popular N 222 by the river!) and a wonder for people who love riding, like myself 🙂
Take a train ride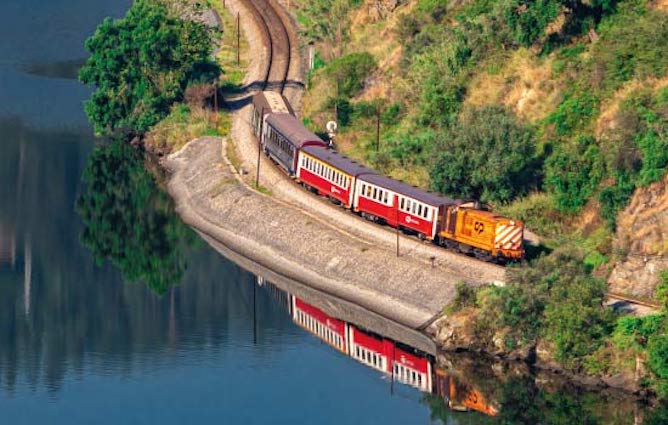 You probably already read in countless blogs that you should take a train ride in Douro Valley on the historic train but what NO ONE told you yet is that there is a more beautiful ride for a fraction of the price. But I am here, my friend, to help you make rational choices on your trip to Douro Valley. There are two trains you can take to Douro Valley:
the famous historic train from Régua to Tua, using steam locomotive and five historic coaches. This train ride in Douro Valley costs A FORTUNE (Adult – €45 and Children – €20, roundtrip) and cover such a small area. I only recommend this particular train ride for those of you who have a thing for trains and old engines.

But if you follow my advice, you will simply take the

MiraDouro train that rides from Porto to Pocinho, and vice versa, that costs 27€ the roundtrip. This is SO MUCH BETTER – not because the ticket is cheaper, but because the most beautiful stretch of the route is between the Tua and Pocinho stations, not the ones afterwards (so, closer to Régua!). So, take my word for it and, if you have the time, ride from Porto to Pocinho (it takes around 3h / 3h30). It is worth it.
Splurge yourself with a massage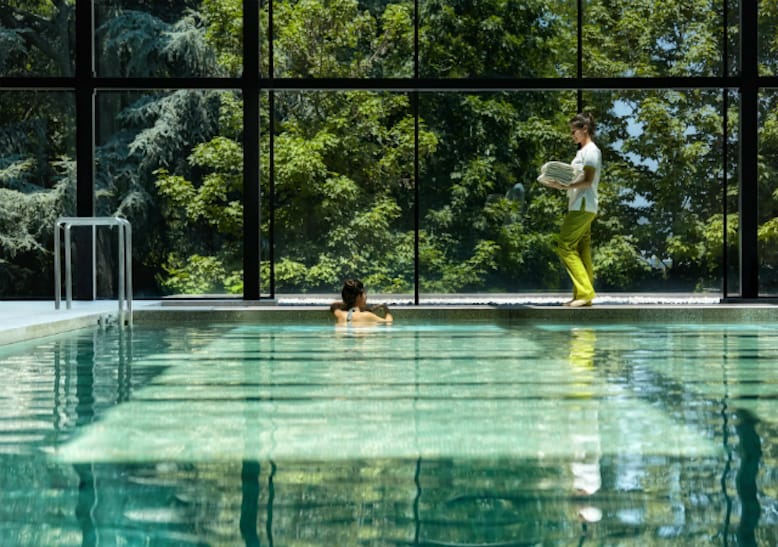 In case you are not so much into sports or history, or if you are feeling a bit lazy, then one of the best things to do in Douro Valley is to indulge in a spa therapy on one of the best hotels in the region.
The hotels Six Senses Douro Valley and Vila Galé Douro provide spa services for their guests, but you can call them in advance to check for services available for tourists as well. A relaxing massage or a swim on a beautiful pool surrounded by nature – could it possibly get any better?
Join me on a private Douro Valley tour!
Instead of wasting time organising your day trip to the Douro Valley, just send an email to sara@portoalities.com with the date you want to visit the region.I will create a Douro Valley tour that includes transport to & from Porto, tastings in the best vineyards in the region, lunch at a typical Portuguese restaurant and some surprises along the way 🙂
Save this article for later: