One of the most emblematic representations of Porto's history are the beautiful azulejo tiles we see all over the city which are known as azulejos.
So what is the history of azulejo tiles? Where are the best places to see azulejo tiles in Porto? And where can you buy them?
On this article I will share with you my answers to these burning questions but if you want to really dive deep into the most secret azulejo tiles in Porto, then you should book our private half day tour in Porto. We'll share with you tiles you'll never find on your own (nor with the help of this article 😉
These are the best places to see azulejo tiles in Porto:
Porto's cathedral (1729 – 1731)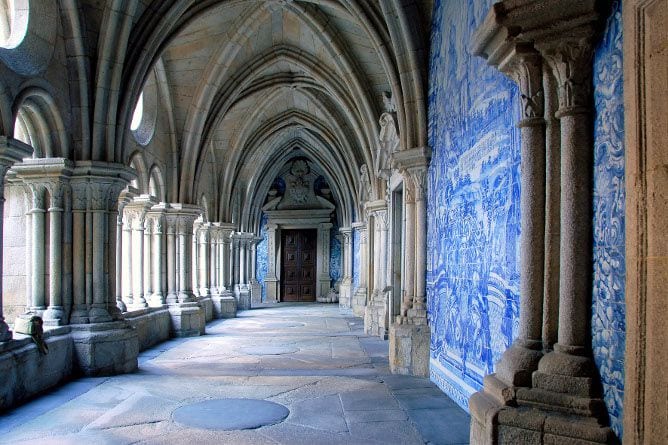 Within the dark and gothic cloisters of Porto's cathedral, you can't help but be taken back by the blue and white work of the azulejos art.
It took researchers some time to discover who was the true artist behind the 5.56m by 3.50m azulejo tiles in Porto's cathedral. After looking at shipping documents, they realized there was a high volume of azulejos ordered from Mocambo, Lisbon between 1729 and 1731. Mocambo neighborhood, which is now called Madragoa in Lisbon, is known to be one of the first places to have pottery and ceramic ovens.
With that information in mind, the art has been attributed to painter Valentim de Almeida because his name came up in the shipping documents and he even lived in Mocambo neighborhood.
The painting was inspired by the Song of Solomon from the Old Testament which gave researchers an idea about the political and religious climate when the piece was painted.
How to get there: take the subway to São Bento station. The cathedral is a 5 minutes walking distance.
São Bento Station (1903)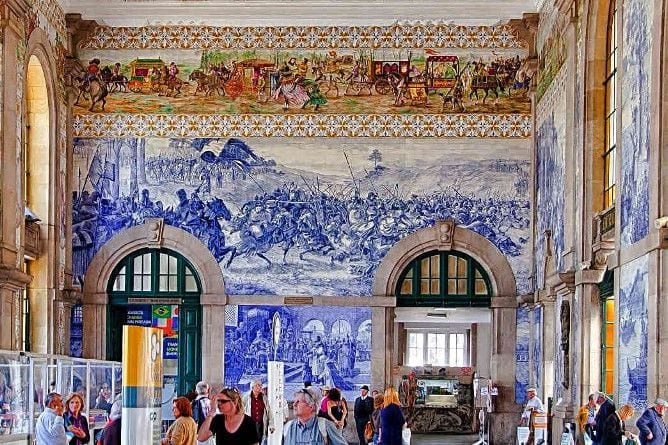 We've written about the history of São Bento Station and the stubborn ghost that hunts it. Indeed, visiting São Bento Station is one of the top things to do when you're in Porto.
Upon entering the station, you'll see the extraordinary hall covered in 20,000 azulejo tiles in Porto, courtesy of Jorge Colaço. Colaço's work, which covers an area of 551 m2, is truly one of a kind. The tiles tell a story as if we're being transported through time.
Jorge de Colaço wanted to depict important moments of Portuguese history (mostly the foundation of the Portuguese kingdom and the Portuguese overseas empire) as well as daily life moments from the North of Portugal. But within the São Bento train station you can also find the seasons of the year, professions and muslim inspired azulejos tiles.
A really great way to explore this train station is to book a tour with us, as we can explain with detail the significance of each panel in display 🙂
How to get there: take the subway to São Bento. The railway station is a 1 minute walking distance.
Igreja do Carmo (1910)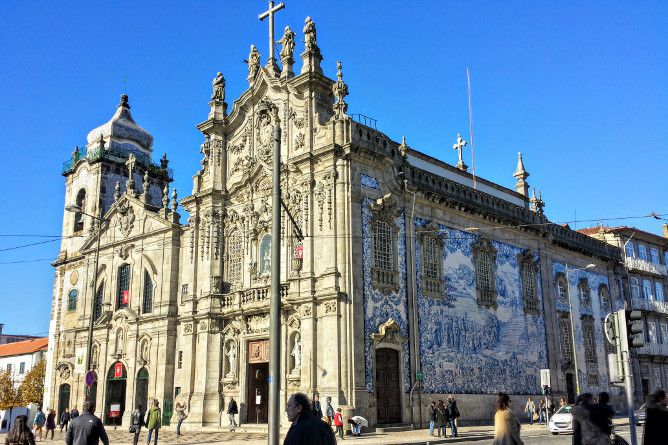 Igreja do Carmo is not only one of the best places to see azulejo tiles in Porto, but it's also one of the most beautiful churches in town.
This 18th century baroque church had its tiles installed in 1910. With intricate details in blue and white colors, the painting was designed by Silvestre Silvestri and painted by Carlos Branco.
The illustrations refer to the founding of Carmelites religious order on Mount Carmel.
How to get there: take the subway to Aliados. Igreja do Carmo is an 8 minutes walking distance.
Capela das Almas (1929)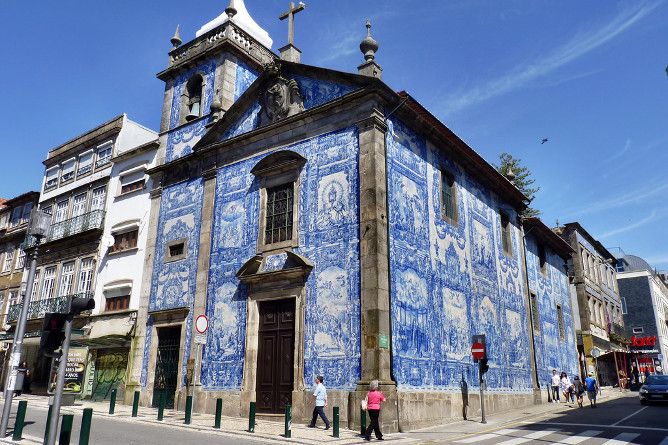 Capela das Almas is a chapel located in one of the most important commercial streets in Porto. It also sits next to Bolhão subway station which was designed by the famous Porto architect Souto de Moura.
This chapel is a great example of the use of azulejo tiles in Porto during the 19th and 20th century. During those times in the North, especially in Porto and Aveiro, it was common to use azulejo tiles with religious figures on the exterior of churches.
The paintings portray the life of St. Catherine of Alexandria and St. Francis of Assisi, as the chapel is devoted to them.
How to get there: take the subway to Bolhão station. Capela das Almas is a 1 minute walking distance.
Igreja de Santo Ildefonso (1932)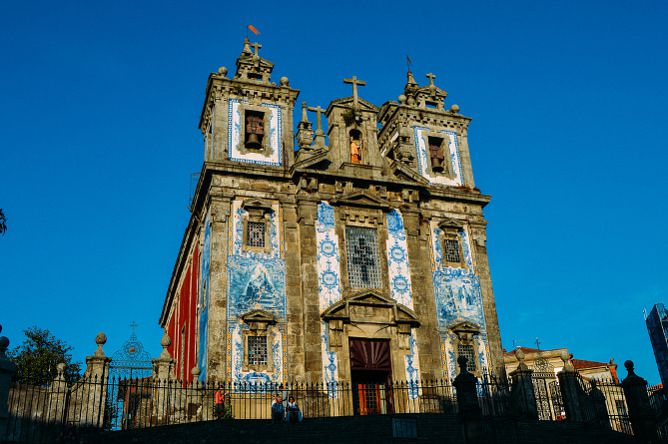 Santo Ildefonso is an underrated place to see azulejo tiles in Porto. The artist behind the 11,000 tiles covering Santo Ildefonso church is Jorge Colaço, the same man behind the São Bento Station tiles.
Even though this baroque church was built in 1739, the tile work was on the exterior was only done in 1932.
The art represents the life of Saint Ildefonso and images from the gospel.
How to get there: take the subway to São Bento. Santo Ildefonso church is a 7 minutes walking distance.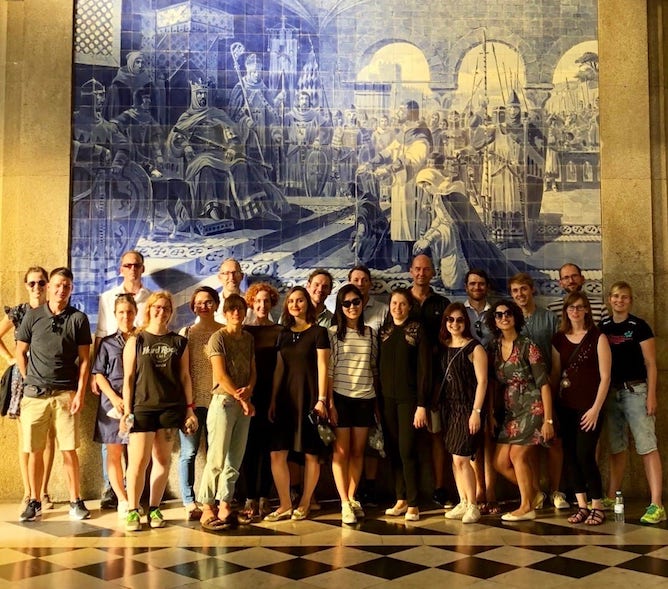 If you want to check out all of these locations, I can help you with that! I make private tours in Porto that include places with the best azulejo tiles works and my tours are custom-made for you, so you can choose all the spots you want to discover and learn about.
I strive to provide the best experience and knowledge – and you all know I'm a massive history nerd so there'll be no lack of historical facts and lore.
You can read the reviews of our tours on TripAdvisor and then simply send an email to sara@portoalities.com telling us when you are coming to Porto and how many people are travelling with you. It will be our pleasure to guide you!
Ribeira Negra Panel (1987)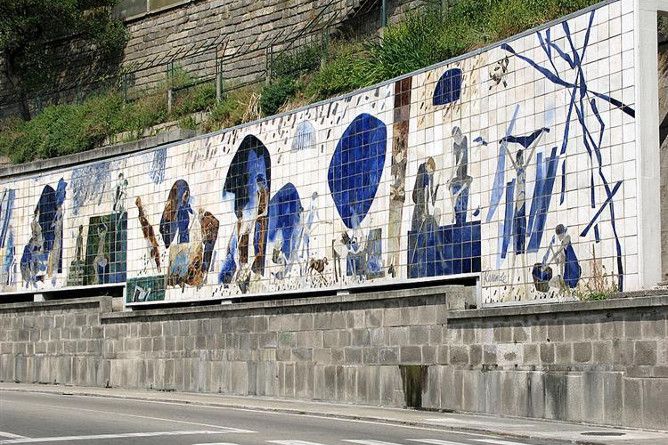 This 40 meters long canvas by Júlio Resende (1917 – 2011) is considered one of the best example of contemporary azulejo tiles in Porto. In 1987, the painting was created on 40 pieces of ceramic and can be found at the Ribeira tunnel entrance, right next to the famous Luiz I bridge.
Resende's painting was dedicated to his hometown, Ribeira. It depicts "the magnificent history of misery and grandeur of the population living along the waterside in Porto." (Nasoni Gallery, 1989).
How to get there: take the subway to São Bento. The panel is a 10 minutes walking distance.
Casa da Música (2005)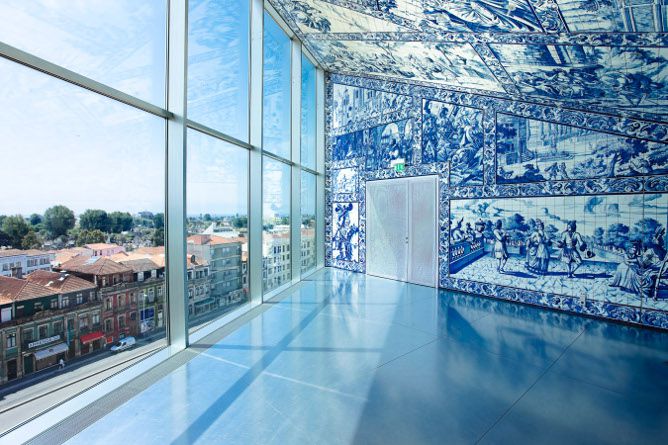 An unusual, but equally interesting place to see azulejo tiles in Porto is in Casa da Música. Rem Koolhaas, the Dutch architect behind the contemporary building, created the VIP room as an attempt to merge two cultures together; the Dutch and the Portuguese.
The style of the tile painting resembled that of the 16th century tile art in Portugal and the European Renaissance.
From outside the building at night, you can see into the VIP room with its amazing tiles. I recommend you to take a guided tour inside the building, as they will show you a room entirely covered in azulejo tiles (the one on the photo above). It takes place twice a day and you can learn more about here at Casa da Música's website.
How to get there: take the subway to Casa da Música. The building is a 5 minutes walking distance.
Banco de Materiais (2010)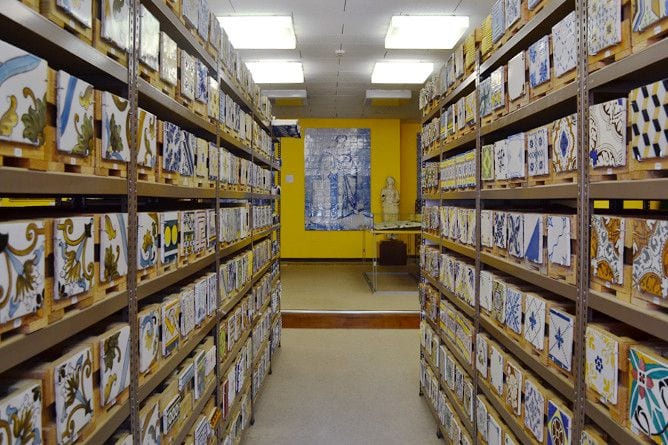 At one of the top historic places in Porto, you can find Banco de Materiais, also called the Bank of Materials, created by the City Hall of Porto in 2010.
The idea was to preserve and display many of Porto's decorative and construction pieces that tell the story of Porto and its architecture. It also aims at helping building owners to be able to restore their beautiful azulejos tiles facades in the city.
At Banco de Materiais you'll find many azulejo tiles, iron pieces and decoratives stones that used to be on the facades of Porto's buildings, and hence visiting this place is a journey into the past.
If you love history and want to see more azulejo tiles in Porto, you'll enjoy this place.
How to get there: take the subway to Aliados. Banco de Materiais is a 7 minutes walking distance.
Where are best places to buy azulejo tiles in Porto?
Before we jump into the topic of buying azulejo tiles in Porto, there's something our readers should know. When shopping, always ask for the source of the azulejos. Unfortunately there are some unscrupulous salespeople that sell azulejos tiles that have been stolen from private property or even from monuments in the city.
The best option is to go for handmade azulejos tiles that have been painted by local artists. This way you can assure that your purchase is not lapidating the local patrimony.
These are our suggestions:
Prometeu Artesanato
Rua de Mouzinho da Silveira, 136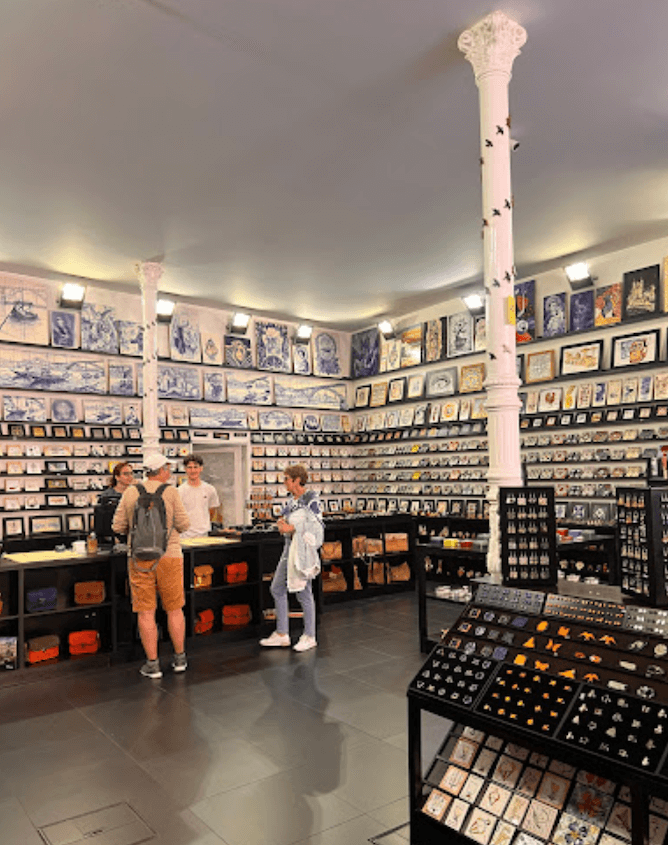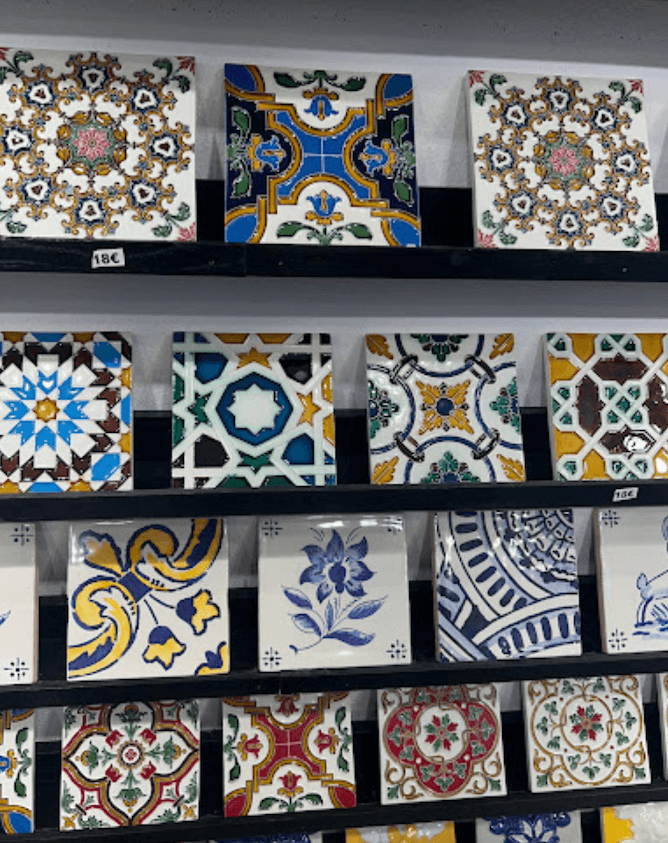 Prometeu Artesanato is one of the best places to buy azulejo tiles in Porto. It's a store that took a traditional art and turned into something new and creative. Its azulejos tiles are made and painted in-house. They carry the old-school geometric tiles, the religious figures' tiles and some funny tiles that would make a great gift – like a cat drinking wine!
Watch this video to see how azulejos tiles are made in Prometeu Artesanato.
How to get there: take the subway to São Bento station. Prometeu Artesanato is a 5 minutes walking distance.
Fleurdelis
Rua das Taipas, 63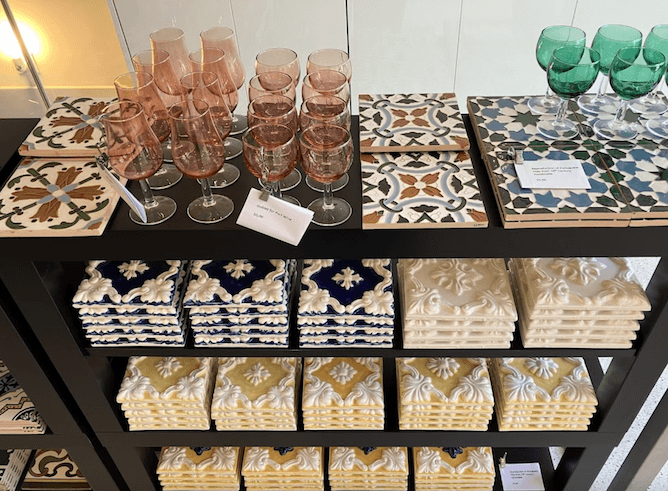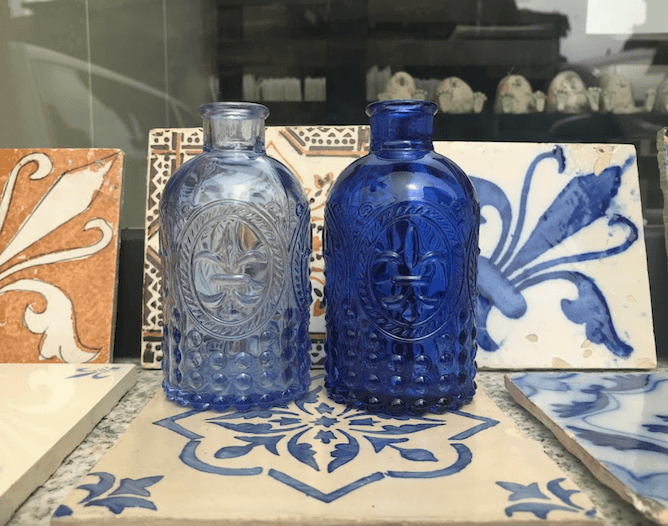 Fleurdelis is a small store that sells restored tiles and new hand-painted tiles inspired by the old ones, many of them painted by the owner herself. They also sell decorative objects (such as coffee cups), some made of blown glass. The store is run by a charming woman, who crafts some of the things she sells. Furthermore, she is very friendly and takes great care in packaging the products purchased to ensure that they do not end up in hand luggage during the flight. These tiles are indeed a unique souvenir from Porto!
How to get there: São Bento train station is a 10 minutes walking distance.
Zinda Atelier
Rua de Ferreira Borges, 63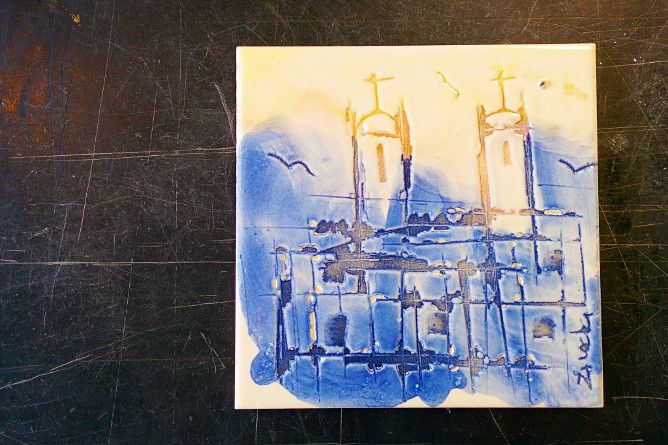 Near the Stock Exchange Palace and Ferreira Borges Market, you'll find a cute little ceramic store by artist Adosinda Pereira. Adosinda has a degree in Heritage Historical Sciences and she's been working with ceramics since 1990.
In the store where she develops her work you can find some of the most unique azulejo tiles in Porto. Her technique with ceramic and azulejo tiles is something I have never seen before. So if you want to buy some azulejo tiles to remember your visit to Porto, Zinda Atelier is a great place to shop.
How to get there: take the subway to São Bento station. Zinda Atelier is a 7 minutes walking distance.
Are there azulejo tiles workshops in Porto?
The answer is Yes, there are and it is SUCH a great activity to do in Porto! These are the places where you can do an azulejo tile workshop in Porto:
Gazete Azulejos
Rua Duque de Palmela, 230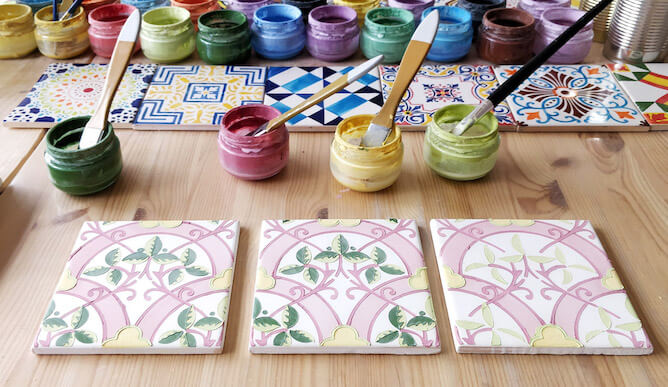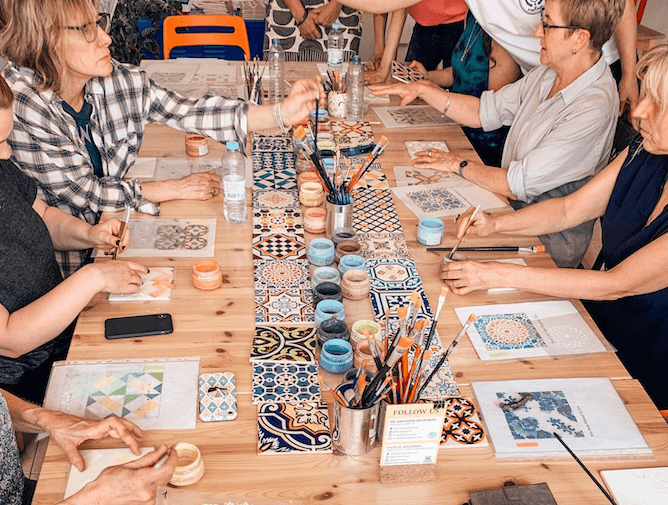 Gazete Azulejo is owned by two women who are dedicated to documenting all the disappearing tiles in Porto. Along the way, they organise fantastic 2-hour manual tile painting workshops. In these workshops, we learn about the History of Tiles in Portugal at the same time as we can put into practice the techniques that were used in the past. Diana is fantastic: she introduced us to the history of Portuguese tiles, helped us with painting and made really good jokes the whole time, which made the process even more adorable! A good time spent and beyond the usual of what can be done in the city of Porto.
Make sure to book ASAP with a day to spare as you'll need to collect your tiles the next day after it's been glazed. The workshop lasts for 2h and it costs 33€ / person.
Even if you can't attend the workshop you can buy handmade tiles and support them by cataloging the various tiles you see in your travels.
How to get there: the subway station Heroísmo is just around the corner.
Tile Painting Workshop
Rua de Coelho Neto, 96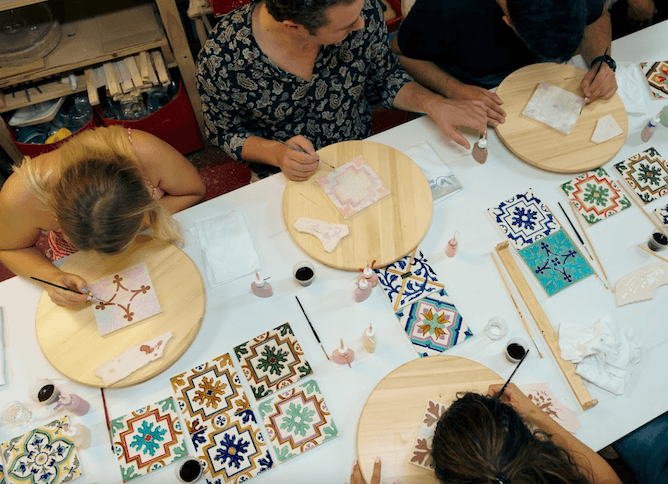 My boyfriend and I wanted to do a tile painting class in Porto and most classes didn't have space. On a whim I gave Agostinha a call (the owner of the Tile Painting Worshop) and she was able to fit us in same day and we had the most amazing experience!
Her studio is beautiful and not too far from the city center. She took the time to share her vast knowledge about how the titles are made, the different types of materials used and the history of tiles in Portugal. The tile painting was a blast, with beautiful different designs to choose from and her instructions are very clear (good for us novice artists like me and my boyfriend :P). Not to mention the absolutely gorgeous ceramics she makes and that are on display for purchase – there was no way we could leave without a few of her pieces to bring home. Really cannot say enough good things! If you are looking for an amazing tile painting experience in Porto this is the spot!
How to get there: the subway station Campo 24 de Agosto is a 5 minutes walking distance.
BrâmicaRua de Santo Isidro, 181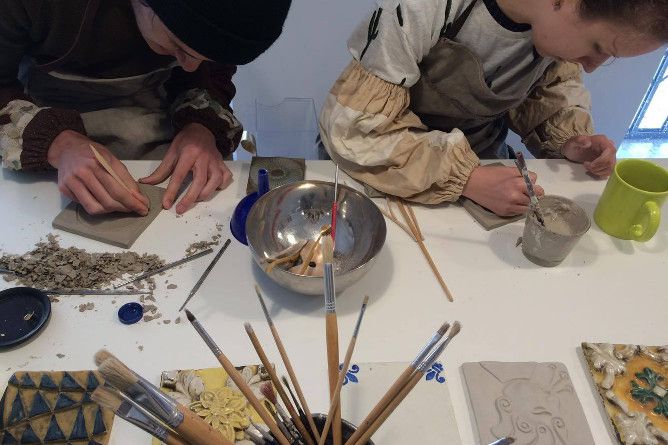 I think the best way to learn about azulejo tiles in Porto is to make some yourself! Brâmica has great workshops taught by people with over 20 years of experience. Not only will you be learning how to make azulejo tiles, but you will also learn about their history.
This is a great place if you want to make a special gift for someone or if you want to make your own souvenir. This is a great couple's activity and it is even be a fun activity for kids.
How to get there: take the subway to Marquês. Brâmica is a 9 minutes walking distance.
Save this article for later: