Musically, Portugal is known for the beautiful sorrowful tones of Fado music. And while our traditions are deeply set in this genre, our musical taste is wide and far reaching.
From rock to pop, reggae and metal, you can find all kinds of genres being listened to and played in Porto. There is always something for everyone!
Today though, I want to share with you the best places to listen to jazz music in Porto.
Find below the best jazz clubs in Porto
Casa do Livro
Rua da Galeria de Paris, 85 | Porto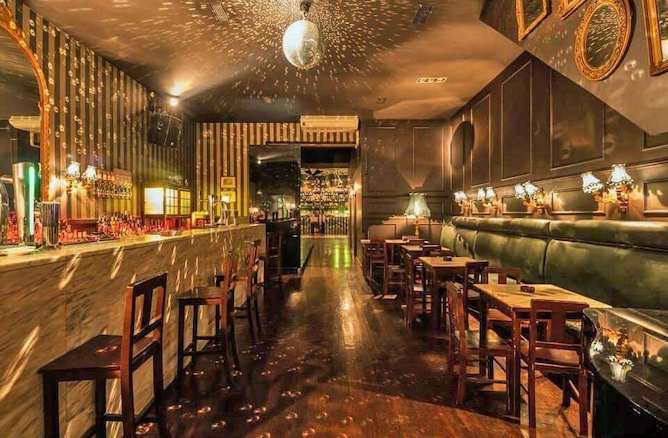 Casa do Livro is an incredibly versatile place. As the name implies – Book House, in English – it is a place dedicated to the celebration of the written, bound word. But is it so much more than that.
Tripling up as a bar and nightclub, Casa do Livro has live music very often and in the most varied genres. Jazz is a staple, of course. Oh, and the booze! You need to try out their selection of spirits and hard whiskeys. You'll certainly have a night to remember.
How to get there: most buses go to bus stop Guilherme Gomes Fernandes (you can check the routes on a bus stop or on www.stcp.com) and the closest metro station is Aliados, about 5 minutes walking distant.
Embaixada do Porto
Praça de Carlos Alberto, 121 | Porto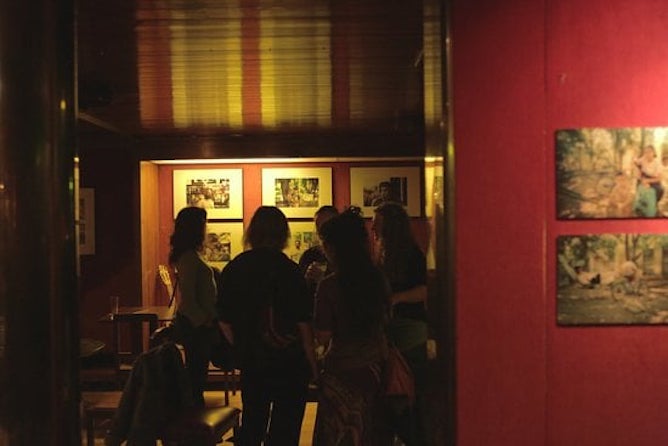 Sunday is Jazz day at Embaixada do Porto. A store / bar / café / workshop venue, this jazz club in Porto has everything. Marketed as THE place for lovers of photography, music and retro style, Embaixada has a store on the first floor and a bar and music lounge on the second floor.
They sell all kinds of products from music gear, cool vintage cameras, vinyl records and players, and so much more. They also do monthly photography workshops which are great (they even lend you the gear to do it!). Occasionally, they also have photo exhibitions.
The crowning glory of this bar is the live music sessions that happen everyday. And each day is dedicated to a specific genre. I have a soft spot for the Mondays and Sundays – the Blues and the Jazz. I definitely recommend you visit Embaixada, one of the best jazz clubs in Porto.
How to get there: Embaixada is right next to Igreja do Carmo and has a great view of its azulejo covered walls. The closest metro station is Aliados, less than 10 minutes away on foot.
Prova • Wine, Food & Pleasure
Rua de Ferreira Borges, 86 | Porto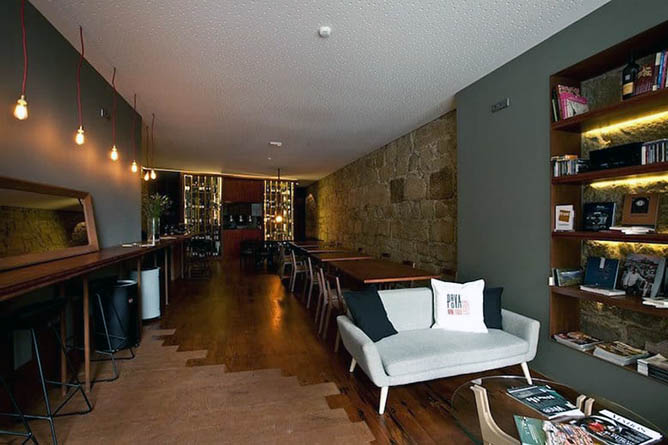 As far as jazz clubs in Porto go, Prova is the one that serves the best wine. Well, it is one of the best wine bars in Porto by definition. Open from 17h to one in the morning, Prova is a delightful place to taste a varied selection of wines, eat some Portuguese tapas and listen to some jazz from their live band.
In my humble opinion, there are very few things that can top a nice meal accompanied by some jazz music and a good conversation.
Prova is helmed by Diogo, an expert sommelier that has the most interesting approach to wine tasting. Beyond the focus on the experience and the conjugation of wine and food, Diogo aims to show Porto's art through its wines.
How to get there: take the ZM bus to Palácio da Bolsa bus stop – Prova is less than a minute away.
Mirajazz
Escadas do Caminho Novo, 11 | Porto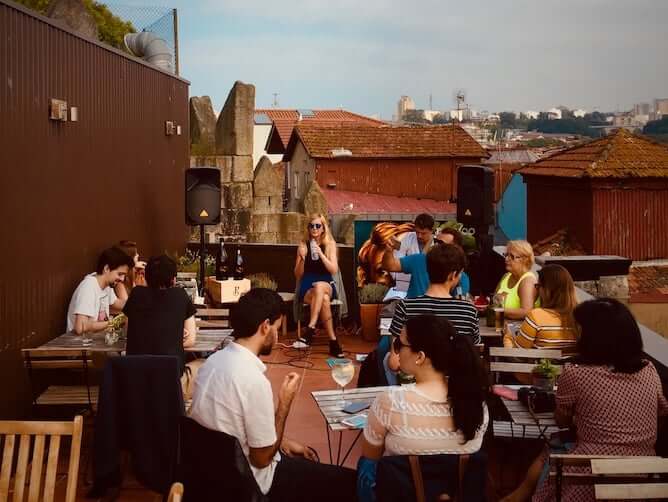 The name says it all. Mirajazz is a wine bar with amazing jazz music and a wonderful view of the Douro river (mira could come miradouro which means viewpoint, though I'm not actually sure that's the origin of the name).
A place away from the touristic hustle and bustle of the city, Mirajazz is perfect for an evening watching the sunset and drinking wine accompanied by some great music.
It has a wide selection of wines but also beers, gins and a badass homemade lemonade.
Cheese, ham, sausage and a wide variety of tartines are also on offer. For a nice time watching the sunset, with friends or alone, I recommend a lemonade, with a tomato and chèvre tartine. Absolutely to die for… As for the music: you can completely trust their taste in it. It is stellar.
How to get there: take the 1M, 500 ZM or ZR bus to the Miragaia bus stop. Mirajazz is less than 5 minutes away.
Hotfive Downtown & Uptown
Largo Actor Dias, 51 • Rua de Guerra Junqueiro, 495 | Porto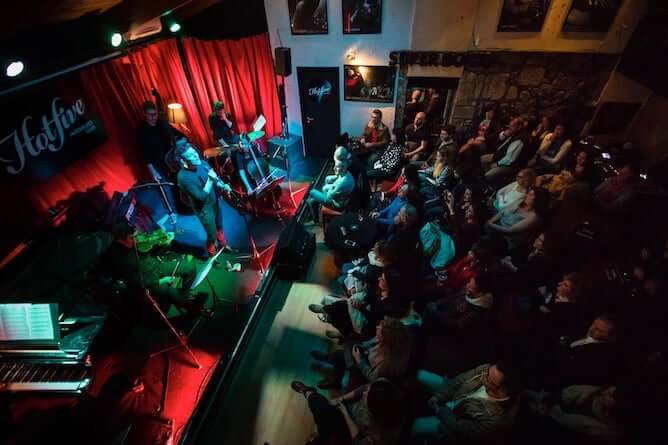 Hotfive is a classic spot for jazz lovers and a must visit among the jazz clubs in Porto. You have two bars to choose from: Downtown and Uptown. In both, jazz and blues are the reigning genres and live music is the main attraction.
The uptown branch recently opened its doors and promises to create quite a stir. Located in the newly refurbished Cinema Nun' Alvares, a cult city spot, it is also near another landmark of the city – Porto's Synagogue.
This club prides itself in hosting mainly local artists and in being "the oldest, most charismatic and genuine live music club in town".
Stylishly decorated, Hotfive is reminiscent of American jazz bars of the 1950's, with the red and blue lighting and a superb stage. I am a sucker for details – and the thoughtful and funny decor of both bars is so interesting! Black and white pictures of the old blues and jazz masters, a saxophone that doubles as a beer tap and every little piece of furniture that help create a unique and unforgettable experience.
How to get there: you can take the 201, 203, 502, 503 or 504 bus to Agramonte bus stop on Avenida da Liberdade – you'll be 5 minutes away from Hotfive Uptown. For Hotfive Downtown, you can take the Guindais funicular and get out at Batalha stop.
Porta-Jazz
Rua João das Regras, 305 | Porto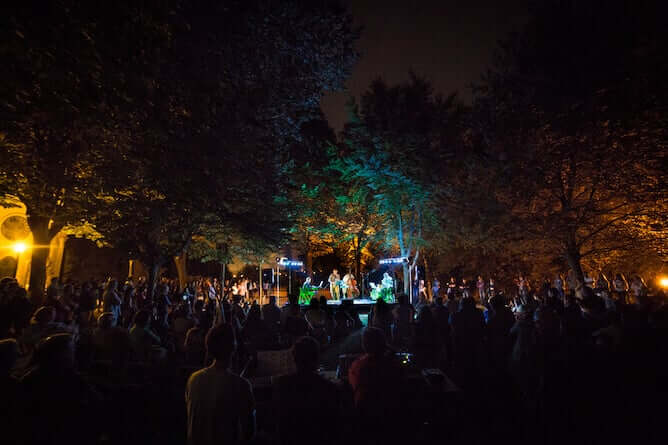 Porta-Jazz is, in many ways, the most important entry into this list of the best jazz clubs in Porto.
While also a club that hosts jazz musician and has regular jazz concerts, Porta-Jazz's main focus is not only to exhibit jazz talent on the club but also to create and promote regular events around the city, all about jazz music.
It is a non-profit organization run by musicians whose main goal is to "promote and support the development of creative projects".
For the last seven years, Porta-Jazz has put up hundreds of concerts, in their club and in events throughout the city, and produced over forty albums.
The concerts happen weekly and feature the most varied catalogue of musicians. Nacional and international, male and female, young and old, all grace the stage in the events sponsored by this essential fixture of jazz life in Porto.
How to get there: you can catch the 4M or 600 bus and get out at Praça da República stop which is right next to the club.
Casa da Música
Avenida da Boavista, 604-610 | Porto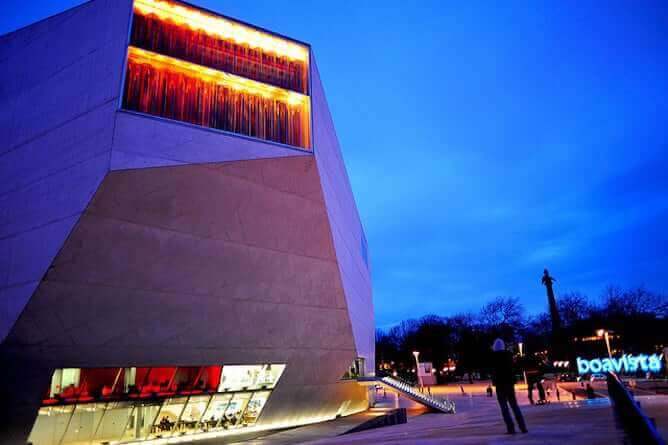 One of the most iconic places in Porto, Casa da Música is not only and architectural point of interest in the city, but one of the best jazz clubs in Porto.
A place dedicated entirely to music – it is called the House of Music after all – it focuses on presenting Porto's people with the best and most varied music in the world.
Casa da Música's event schedule is an endless pit of wonder to me. I feel like Alice discovering wonderland every season when they reveal what's on for the rest of the year.
They bring orchestras from all over the world and classical soloists to grace the stage. National and international pop and rock musicians; folk, electronic and independent talent and the best jazz and blues you will find.
They have a great selection of jazz musicians coming every year and they have sometimes themed cycles of events that bring many incredible artists to the city in a short space of time, allowing you to enjoy a week or a month of the best music of the genre.
You can look up Casa da Música's event schedule for full and updated information. You can also book tickets online.
How to get there: take the metro to Casa da Música station – easy to remember and 2 minutes away from the actual place.
If you are visiting the city make sure to take some time to relax at one of the best jazz clubs in Porto. Have a drink and enjoy the best music the Invicta has to offer. Have fun!
Save this article for later: