I organize private tours in Porto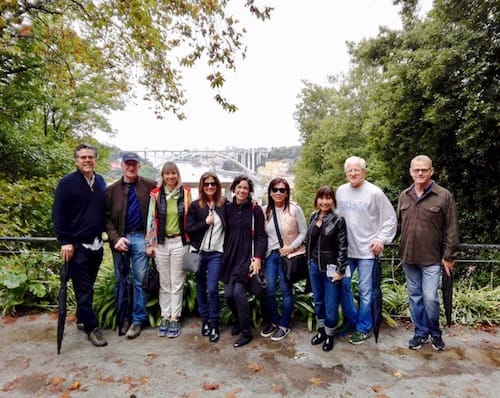 Check this page for more information or send an email to sara@portoalities.com.
What is the best time to visit Porto? We get asked this difficult question A LOT and our answer is…any time of year! But let's be serious for a second, Autumn in Porto is one of the most magical things you will ever experience.
There are many reasons why you should visit Porto during that time. For example, there is the mild weather, the smell of roasted chestnuts, the less crowded city and more.
If you're unsure how to spend Autumn in Porto, here are our top suggestions:
Visit the amazing parks in Porto
While you're spending Autumn in Porto, we recommend you visit some of the most famous parks and gardens in the city. These places get stunning with all the golden leaves during the Autumn months! Not to mention, each park has an interesting story for its visitors. Here are some options to explore:
Go out for hot chocolate
Autumn is the time of year when you finally have an excuse to go out for hot chocolate. And when you're in Porto, the options won't disappoint you. Here are some of our favorite places for hot chocolate in Porto:
Celebrate Saint Martin Day
Like many other countries, Portugal celebrates Saint Martin on the 11th of November. Saint Martin was a Roman soldier who cut his cloak in half to give it to a naked beggar during the winter. In that same night, Saint Martin dreamed that Jesus was wearing the half cloak he gave away. And that's when he decided to be baptized.
During Autumn in Porto, you can attend a magusto, a gathering to celebrate Saint Martin. In a magusto, people roast chestnuts on bonfires and drink wine, jeropiga or água-pé.
Many people have the magusto in the street, so don't be shy and simply join the party.
Jeropiga is freshly-squeezed grape juice mixed with a spirit drink called aguardiente. Água-pé is water with grape marc and schnapps, so it's a less alcoholic beverage. 🍷
Get roasted chestnuts at the entrance of São Bento Train Station

Roasted chestnuts are one of the top things that make us look forward to spending Autumn in Porto. Like we mentioned before, people eat chestnuts in Saint Martin's day to celebrate the harvest. That's why in Portugal, chestnuts are not only a food item, they are cultural and symbolic.
Records show that the chestnut tree Castanea sativa existed in Portugal for more than 9,000 years. Before potatoes were introduced to Europe, people relied on chestnuts for food. This was especially true for those who lived in isolated rural areas in Portugal and needed food and firewood. The wood from the chestnut tree was also important for making wine casks, baskets, sticks and poles for the vineyard.
If you haven't tried the Portuguese roasted chestnuts, please do! They're one of the yummiest things you will ever taste. And like the famous Portuguese song says: "If chestnuts don't take away your hunger, they'll take away the cold".
You can get them from streets vendors at the entrance of the famous São Bento Train Station. You can find more street vendors in Marquês square and Boavista roundabout.
Go out for brunch
Don't feel bad if it's a bit chilly in the morning and you don't feel like getting up. You can go out to eat later in one of the best places to have brunch in Porto.
You can't say no to the exceptional pancakes served in Diplomata with more than 20 toppings to choose from. Even though pancakes are their specialty, they have other options on the menu. You can order a classic egg-ham sandwich or the chicken avocado one. Another reason why Diplomata is perfect for Autumn in Porto is their hot drink selection. Nutella or Oreo cappuccino, hot chocolate, mocha, Americano, and more are on the list. Warning! Don't order too much because the servings are huge!
Another option nearby is

Café Progresso

which has been around since 1899. They have a very versatile menu. You can go for a fried egg with bacon and homemade bread or the red berries pancakes. Everyone loves their egg benedict with roasted asparagus and mushrooms, prosciutto and Hollandaise sauce. For a hot drink, try their coffee (they have different blends) or hot chocolate (white chocolate, 70% cocoa or 58% cocoa).
Attend a concert at Casa da Música
Attending a concert at Casa da Música is a great indoor activity when it's cold or rainy during Autumn in Porto. Casa da Música has become an emblem in Porto's culture, which we have explored in a previous article.
Many people that attended a concert in the main hall will tell you how mesmerizing it is to hear the sound quality. If you don't like classical music, do not worry, Casa da Música has many other genres. You can check the calendar here.
You can also do an hour guided tour. It costs €10 and that money will be discounted from the total price of your concert ticket. English daily visits are held at 11am and 4pm.
Attend a workshop
This indoor activity is fun for everyone, especially for families traveling with children. There are countless workshops held during Autumn in Porto. The two we recommend are related to crafts and gastronomy.
Workshop Pop Up

holds many workshops throughout Autumn. The concept of the place is to mix a pop-up shop with a space for workshops. They have an ongoing workshop called Cook and Taste Portugal. In this workshop, you will learn how to cook a traditional Portuguese meal accompanied by local wine in a fun and informal environment. 

The class is 3 hours long and it costs 35€. When booking, make sure you choose the correct language and city.
If you're inspired by all the

beautiful azulejo tiles in Porto

, make your own at

Brâmica

. In this workshop, you'll be sculpting, painting and learning about the history of ceramic tiles in Portugal. 

Brâmica has a monthly value of 37.50€ which allows you to attend any class from 2pm till 8pm between Monday to Friday. However, the clay is paid separately and there's a fee for using the oven to cook the ceramics (the price depends on the size of each piece).
Take a road trip
We love road trips! A memorable way to spend Autumn in Porto (besides stuffing our faces with chestnuts) is to take a road trip. There are many amazing cities near Porto that will take your breath away in the Autumn months.
For instance, Pinhão in the historic province of Trás-os-Montes is a must-see. There, you get to enjoy the wonderful landscape, the superb local food and the clean air. You can also see the historic station station of Pinhão with its beautiful azulejo tiles or take a boat ride in the Douro river while enjoying a glass of wine.
If you're into history and architecture you should definitely head to Braga and Guimarães, two cities that are so pretty that we bothered to write an article explaining why should Rick Steves get there.
Another destination is Amarante, a small city known for the little bridge on the Tâmega river which is stunning to see in the Autumn. In this small city, there are many monuments to see like Solar dos Magalhães, a manor house from the second half of the 16th century which has become a symbol of resistance to the Neapolitan forces who burned many houses at the time in retaliation. This house in particular, is still standing till today.
So take the bus or get yourself a rental car and visit cities near Porto. You can also join us on one of our private tours in Douro or Braga and Guimarães.
Enjoy some fado
Fado is the music of saudade, a word that resembles the word longing, but no one can translate its true meaning. When you listen to fado whilst in Porto, it immortalizes your experience. So any time you hear fado again, you will remember the Autumn you spent in Porto.
Here are some of the best places for fado in Porto:
You can shelter from the chilly winds of the riverside into Mal Cozinhado in Ribeira. It's a restaurant and a fado music house. There's something magical about listening to fado in

Mal Cozinhado

. After all, it's the space where many legendary artists sang.
In Casa da Música, there's a monthly event called

Fado à Mesa

(fado at the table) where you get to eat while listening to fado. The cost is 37.5€ which includes the price of dinner. The

next one

is held on the 19th of October.
Eat some delicious holiday pastry
When it's Autumn in Porto, you get to eat all the holiday treats which starts rolling out around October and November.
Try a freshly-made bolo rei, a cake covered in crystallized fruit with nuts inside. Pão de ló is another traditional cake served in holidays like Christmas and Easter. Some say it's like a sponge cake, but much better since it only has 3 ingredients: flour, eggs and sugar.
You can find all these desserts in bakeries across town. In Porto's center, there's the 1896 Confeitaria do Bolhao. If you're in Boavista try Petúlia, a bakery most known for its delicious bolo rei cake. And you can't miss Tavi while you're in Foz. They serve Autumn/Christmas treats like walnut cake and sonhos (fried dough with sugar).
And now we're hungry… 🙂
Experience the harvest season in Douro
If you're spending Autumn in Porto, you can't miss out on the harvest season in Douro. The drive from Porto to the Douro region will take you about 1.5 – 2 hours, but you will be entertained by the amazing scenery once you get out of the bounds of Porto.
The colors of the Douro Valley during this time of year are indescribable, and the hills are filled with grapes ready to be picked.
Some wine producers allow visitors to join the harvest and grape stomping experience. You'll have a new appreciation for the Douro wines after seeing the hard work that goes into making them.
If you haven't been to Douro before, we would be happy to take you on one of our top-rated private tours with Sara or Pedro. Just keep in mind that minimum travelers required for private tours are two people.
Extra: Go on a private tour in Porto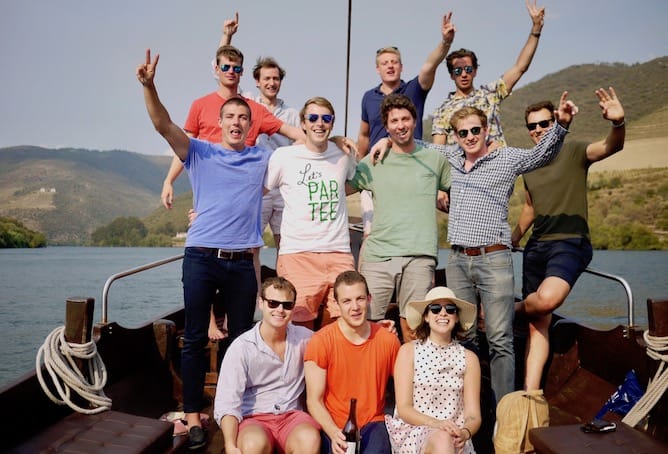 The best way to get to know Porto is to go on a private tour with me!
Check this page to learn more about my tours in Porto, or simply send an email to sara@portoalities.com. I will shortly get back to you with a tailor made tour designed specifically for you.
It will be a pleasure to welcome you in Porto!
---
Save this article for later: