Porto as a whole is hip, there's no denying it, but I don't think I can get away with telling you that Porto is the Hippest part of Porto 😛 We have already written an article about the best neighborhoods to stay in Porto, but question you're asking yourself though, is probably: to which of these neighbourhoods should you immediately run to after leaving the airport? 
Our neighbourhoods may all look the same at first glance, but they couldn't be more different from one another. They are all quite small and compact, and I can think of at least 5 that can fit the description of the Hippest part of Porto. Keep on reading to find out!
UNESCO world heritage Ribeira neighbourhood and the Flores Street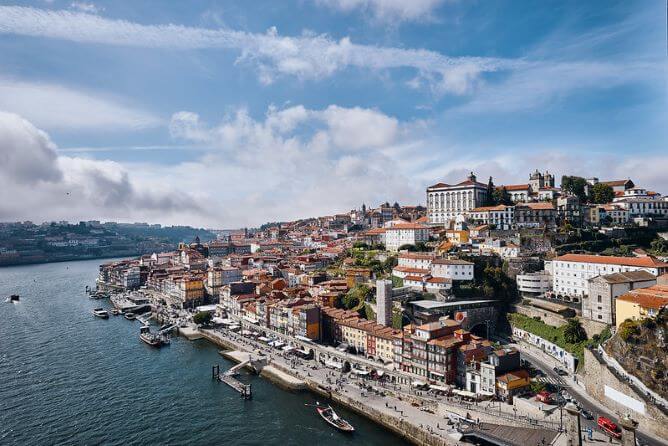 Sitting right below Porto's Cathedral on the southern bank of the Douro river, we have the colourful and bustling Ribeira neighbourhood, famous for its tiny colorful houses, which are protected by Unesco.
The Flores Street, on the other hand, connects this beautiful neighbourhood to a more central part of Porto's Historical center, namely to São Bento train station and to Aliados Avenue. (That is where, by the way, Porto's downtown starts: yes, at an upper part of the city!).
Why are the Flores Street and the Ribeira neighbourhood the hippest part of Porto?
50 years ago, we would have told you that the Ribeira was only famous for being a poor area, for the Luiz I Bridge and for all the kids jumping from the bridge. I remember being in college, around 10 years ago, and Ribeira was the neighbourhood where we didn't hang out at night as it was considered unsafe. Much has changed since then.

Nowadays, Ribeira neighbourhood is a worthy contestant for the title "Hippest part of Porto". The bridge is still there (along with the 5 other bridges across the Douro river) and the same goes for the daring youth jumping from its lower deck, but it is no longer a sketchy area, and there is much to do and see!
What can you do in the Ribeira neighbourhood?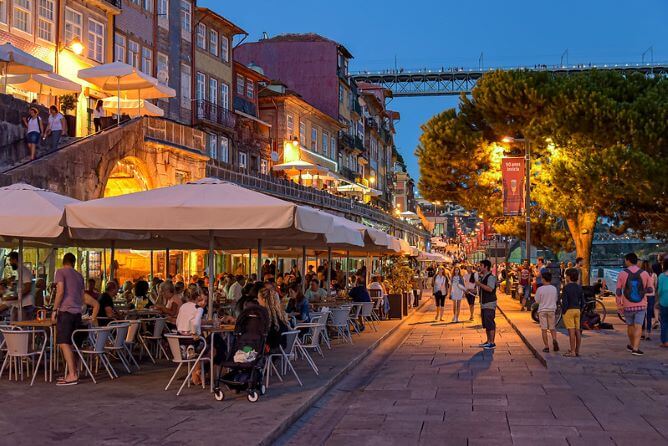 The Ribeira area vibrates with the energy of thousands of tourists, improvised musicians, street performers and street vendors (the break-dancers in the Ribeira Square are my favourite ones!). It is also where most of the 6 bridge cruises operators depart from, so there are always endless queues of tourists waiting to board.
There are also picturesque restaurants in Ribeira, most of them located in small medieval streets full of charm, and still others with a fabulous view of the Douro River. Moreover, if you want to drink great wine and enjoy an even greater view of the Douro river, there is a great place called The Wine Quay Bar in Ribeira, one of the best wine bars in Porto.
If history and museums are more to your taste: 1. Hello, let's be friends! 😛 2. You're going to love the Ribeira area. I won't go on and on about it because we've already told you about the top things to do in the Ribeira area, but let me mention the Casa do Infante, my favourite museum in Porto. This is where Henry the Navigator (the famous Portuguese discoverer) was born, and it has a unique roman mosaic floor, as well as a fully narrated scale model of Porto in the Middle Ages!
Gold and street art in the Flores Street
The Flores Street has always been different from the Ribeira area, as 50 years ago it was where you would find the best jewellery stores in Porto. Today you can still find amazing jewellery, particularly the traditional Portuguese filigree earrings and necklaces. These excquisite jewellery pieces are unique to Portugal, and hence a great souvenir to bring back home.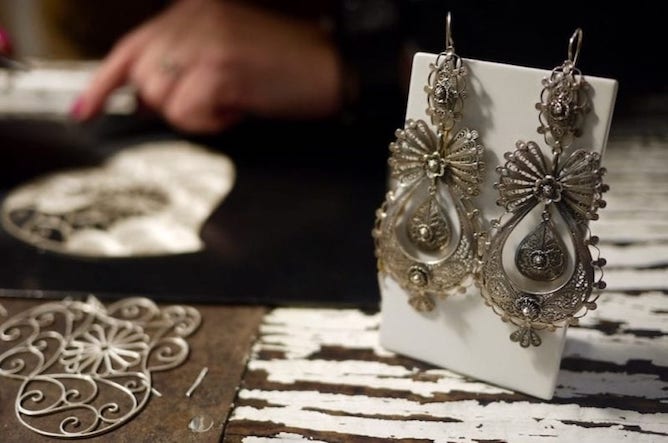 After checking out the gold, you can stop to admire the amazing street performers. You'll find living statues, musicians playing the weirdest instruments and even our very own Harry Potter choirs. If you see a group of people dressed like they're about to catch the train to Hogwarts, singing and dancing around, you know you're in the right place.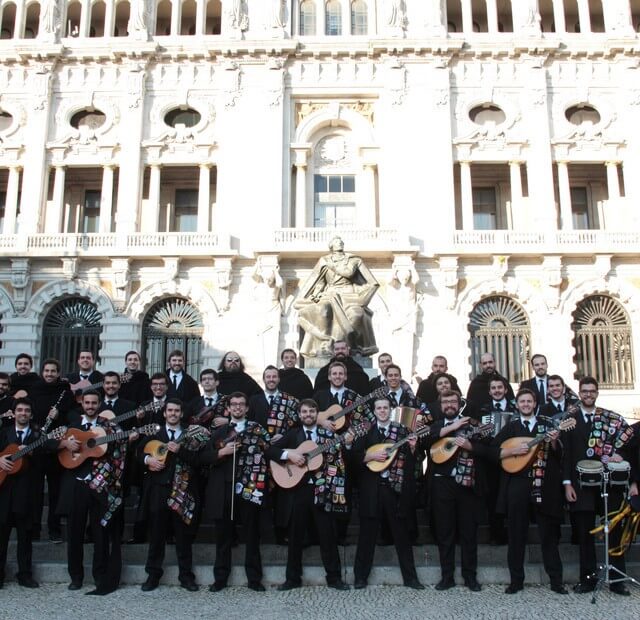 While you're out looking for these choirs, you might see a bunch of people just staring down an alley, and you should do it too! You'll see Porto's most hidden cat, Perspéntico.
It's not a real cat but a giant painting on the side of a building, showing us Porto as if it was a cat. It's one of my favourite pieces of street art in Porto. If this got you in the mood for more hidden art, you should check out the Ribeira Negra tile panel next to the Luiz I bridge and the memorial to the Duke of Ribeira. By the way: if you want to learn more Portuguese azulejos tiles, we'll show you Porto's truly hidden tiles on our private tours in Porto!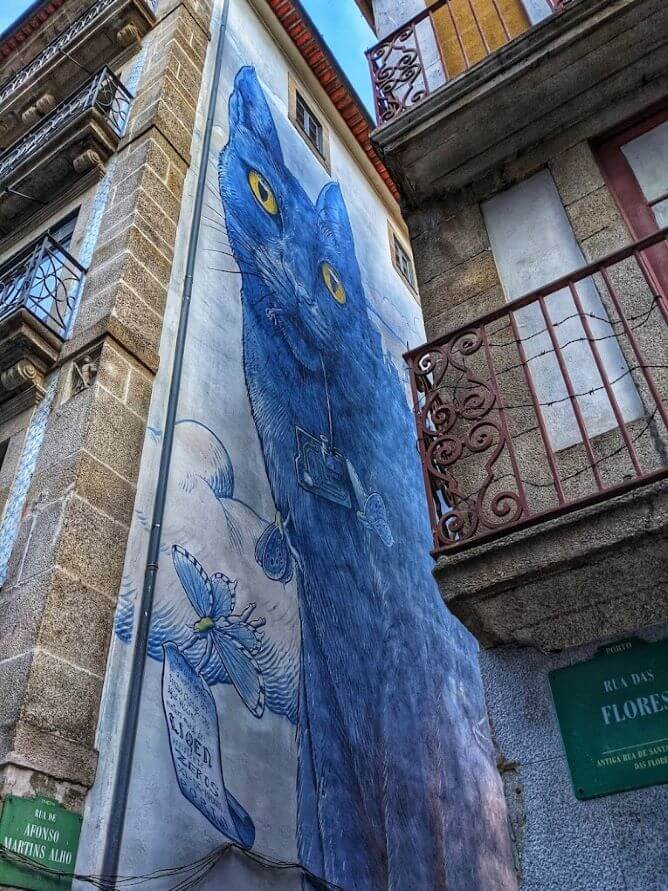 I bet all of this got you itching to discover the Ribeira neighbourhood, so if you're wondering about where to stay in the area, you have the best hotels in Ribeira at your disposal.
Everything you can do, the filigree, the street performers and the amazing hotels make this the Hippest part of Porto… for some.
The Cedofeita neighbourhood, for the art lovers
If you look at a map of Porto, the Cedofeita neighbourhood is right in the middle, around the looooong Cedofeita Street, tucked in between downtown Porto (where the most important monuments of the city are located) and the more corporate Boavista neighbourhood.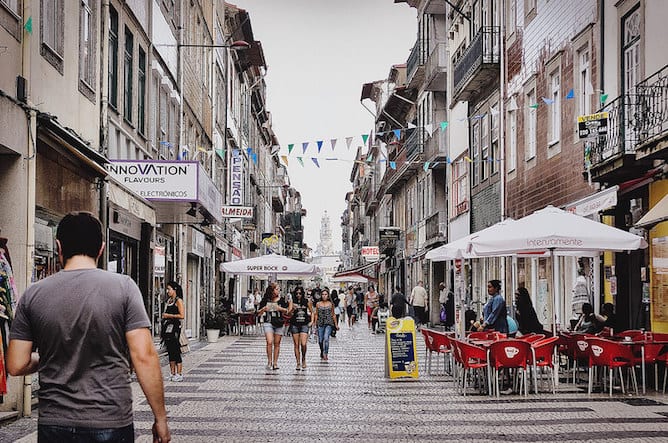 Here's why Cedofeita is the Hippest part of Porto
Walking through the streets in Cedofeita, you immediately notice the difference between this neighbourhood and the Ribeira area. The Ribeira is livelier than Cedofeita (as it has A LOT more tourists), and the views down in the Ribeira neighbourhood, located by the river side, are simply better than in Cedofeita.
However, Cedofeita neighbourhood has some of the greatest food around here (namely in terms of breakfast and brunch) and the best concept stores in Porto. Moreover, it is considered the artsy neighbourhood of Porto, as it has more than 20 art galleries spread all over Miguel Bombard street (a perpendicular to Cedofeita's).
You won't leave the Cedofeita neighbourhood feeling hungry
Let me ask you a question: Do you like great food? Wait, no, this is Porto, we have great food everywhere. Let's narrow it down. Do you like great brunches?
I know the answer is "YES", so I'll immediately jump to the part where I tell you that Cedofeita has some of the best places for brunch in Porto.
I'll start with Zenith, in the Carlos Alberto Square, where Cedofeita Street starts. You see a lot of people sitting outside and that's with good reason. As if it wasn't enough for them to have a great French toast, they serve amazing cocktails as well.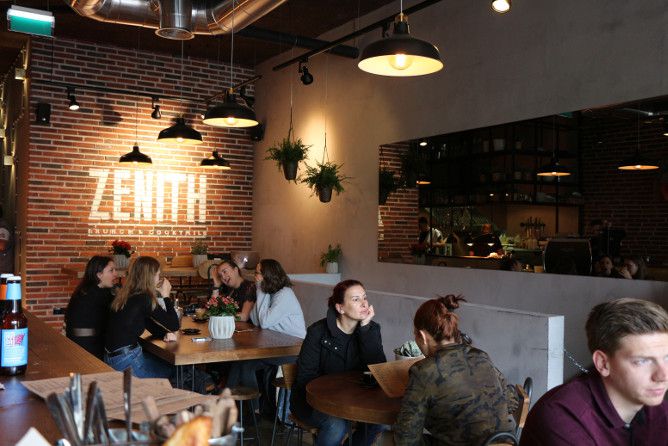 Pretty close by, in the Alberto Pimentel Square, there's a place I saw so many times while walking around that eventually I had to try it: Nicolau. The plants outside reel you in and their amazing benedict eggs with bacon keep you there.
Cedofeita is the best neighbourhood to do some shopping
A short walk down from Nicolau and those amazing eggs benedict, you'll find Cedofeita Street. It is still considered one of Porto's biggest shopping streets, but I wouldn't actually recommend you to do your shopping specifically there. This street had already started to lose a few of its stores before the pandemic, but that only made the problem worse. Nowadays, a third of the stores on Cedofeita Street are closed.
Therefore, you should do your shopping in Miguel Bombarda Street instead, which is right next to it. This street was named after Miguel Bombarda, a Portuguese revolutionary who was very important in creating our Republic, but it would be much more accurate to call this the Street of Artists.
The artsy Miguel Bombarda Street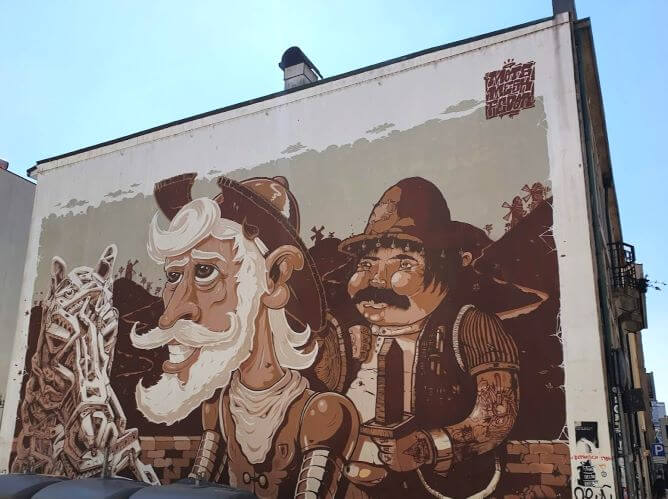 Right after you walk into the street, you're greeted by a massive painting of Don Quixote and a tattooed Sancho Panza on the side of a building, which always manages to surprise me.
This is just a small taste of what Miguel Bombarda Street is all about! You'll find art gallery after art gallery (like Tilsitt and Cruzes Canhoto), shops selling ceramics, and even my favourite shopping center, CCBombarda.
CCBombarda is what you get when you put the best the Miguel Bombarda Street has to offer in just one place. You get concept stores selling locally produced honey, designer jewellery, and yes, you guessed it, more art and ceramics!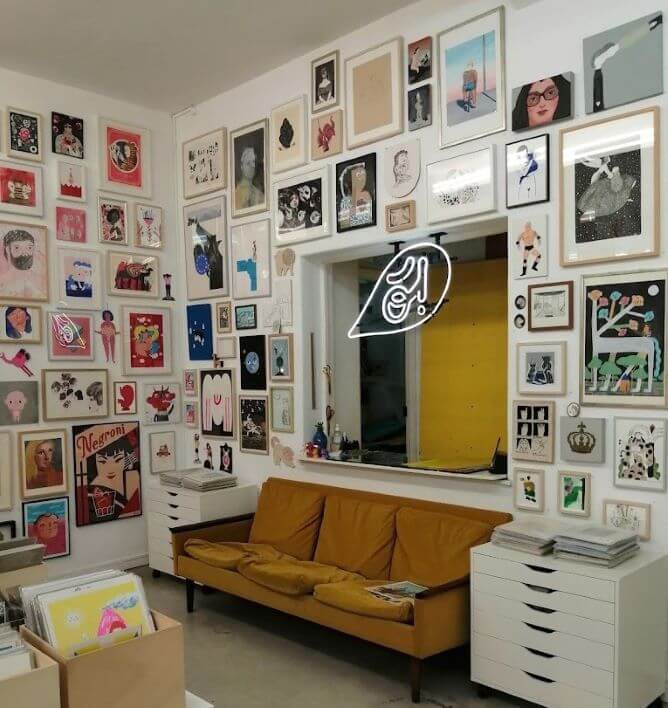 Going back to the street itself, at Ó! Galeria you can buy hand-painted illustrations made by Portuguese designers; LOJA has a little bit of everything, from ceramics to furniture (for the more Portuguese savvy among you, yes, LOJA does translate to shop).

I could spend the rest of the day just going on and on about all the different shops in this street, but if you've already decided that the Cedofeita neighbourhood is the Hippest part of Porto here is a handy list of the BEST places to stay in Cedofeita!
Bonfim neighbourhood, the Hippest part of Porto for… beer lovers!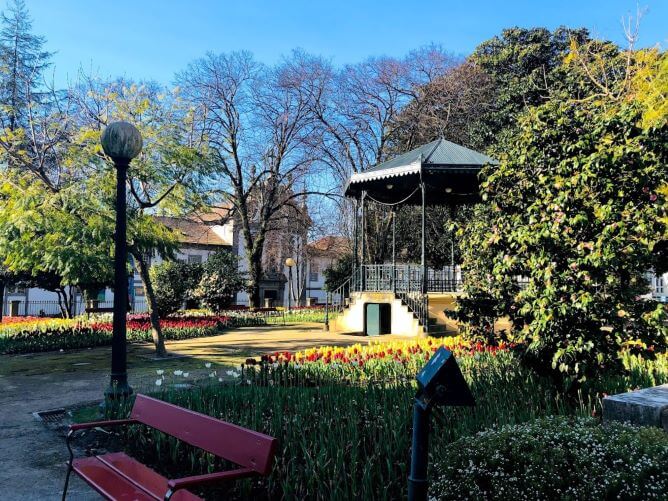 The Bonfim neighbourhood is located between downtown Porto and the (still a bit) shady area of Campanhã, where the most important train station of the city is located. It used to be a quiet area, where only the hippie art students of the Faculty of Arts and the elderly locals used to live. Nowadays it is (unfortunately) becoming more and more touristy, because lots of new hotels have opened up in this neighbourhood since the British newspaper The Guardian included Bonfim in its list of the 10 coolest neighbourhoods in Europe. In their opinion, Bonfim is the Hippest part of Porto!
There's a lot to like about this neighbourhood. Just the amount of things you can do while exploring Bonfim leaves me amazed when I see them all lined up!
This article would get really lengthy if I talked about every single thing, so I'm going to give you my personal highlights: beer, coffee and cats. If you love these, you'll consider Bonfim the Hippest Part of Porto.
The craft beer pubs of Bonfim neighborhood in Porto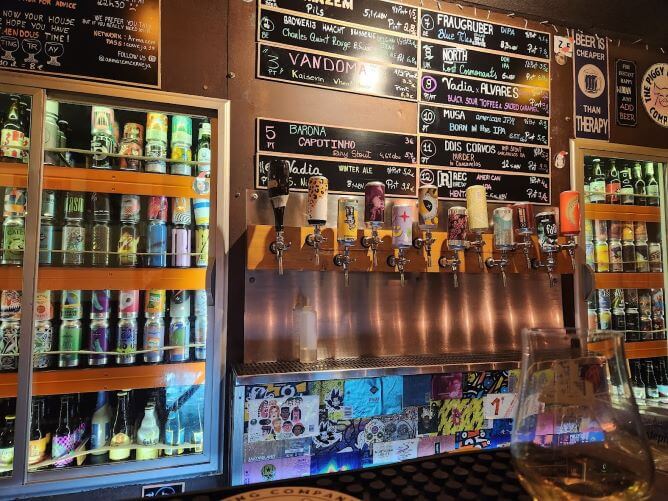 Now, I need to be careful about what I'm about to say next: Super Bock, the beer brand everyone drinks here in Porto, isn't the best thing in the world.
Instead of a random bar and Super Bock, you should have a great craft beer at one of the best Craft Beer Pubs in Porto. If that's what you're after, you have two amazing options in Bonfim.
The first one I'll mention is Armazém da Cerveja, with more than 100 beers to offer, with a healthy mix of Portuguese and international options.
Then, you have Letraria – Craft Beer Garden, where one of the main draws is the garden, where you can have amazing beers and even some snacks.
The specialty coffee shops and the cats. So many cats!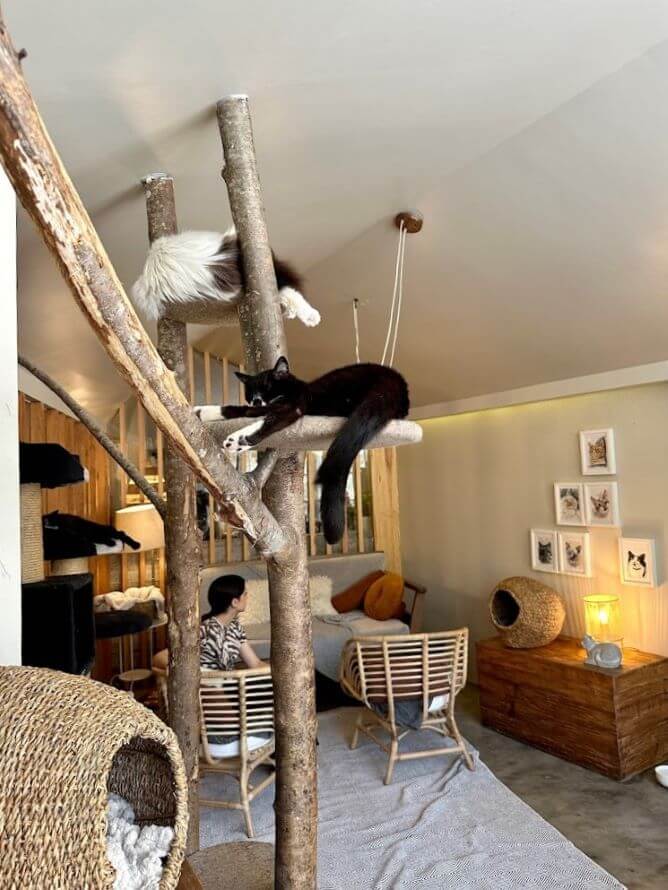 If the craft beer pubs weren't enough to convince you that Bonfim is the Hippest Part of Porto, I'm sure some of the best specialty coffee shops in Porto will!
Once again, there's two spots I adore: Combi and O Café dos Gatos.
At Combi you'll find the wide variety of coffee origins (like El Salvador and Ethiopia) and extraction processes you would expect at a place like this. It's a very hipster place with proper coffee baristas, so it gets filled up very early in the morning.

Meanwhile, at O Café dos Gatos, you'll find cats, because that's what the name means in English, the Cats' Coffee Shop. There's a clear winner here because, you know, cats 🥲
Jardim do Morro, with the best view of Porto
I hope you're ok with cheating, because that's what I'm about to do. You see, the next area I am going to name as the hippest part of Porto isn't actually in Porto. It is a garden right across the Luiz I Bridge, on the other side of the Douro river, in Vila Nova de Gaia, called Jardim do Morro.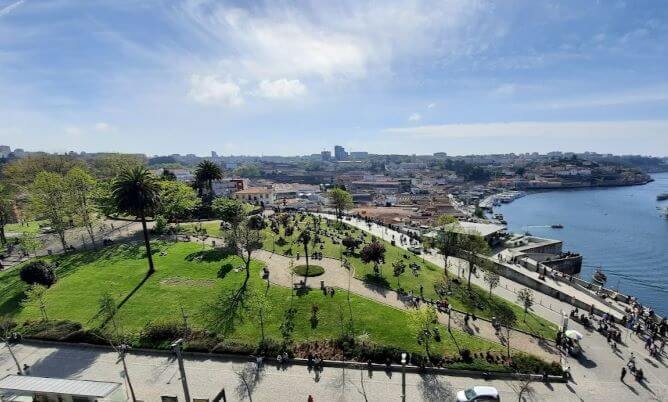 Here's why a garden is the Hippest part of Porto
Jardim do Morro is just a regular garden, definitely not as pretty as the Crystal Palace Gardens (with their peacocks roaming around), but there's something about it: the BEST view of Porto. Full stop. That's the reason why this is one of the best gardens in Porto.

Watching the sunset in Morro is among my top 5 experiences in Porto (you can see what some of the others are on our private tours in Porto). I have spent a lot of afternoons there with my friends, just hanging out, drinking some cool ciders and waiting for the sunset.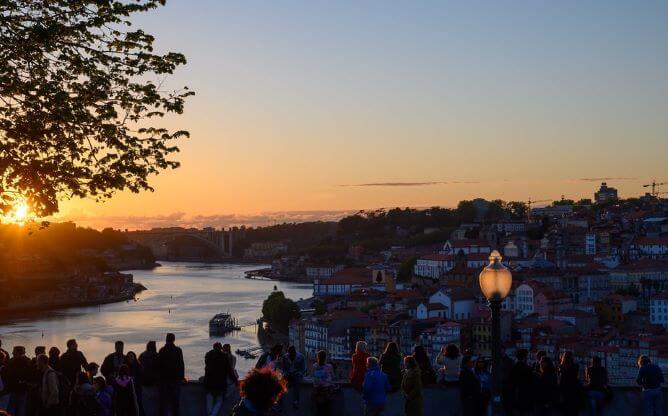 Sometimes you hear people start to play a guitar out of nowhere, which adds to the great mood and I've been surprised by markets that just seem to show up there. I've even watched a tourist ask for his girlfriend to marry him in Jardim do Morro, right in front of everyone. True story 😊
Jardim do Morro can't compete with the Ribeira or Cedofeita neighbourhoods in terms of things to do and see, but the view and the sunset up there more than make up for it.
Once there, take the time to climb all the way to Serra do Pilar, where the view (in my opinion) is even greater than at Jardim do Morro as it stands at a higher position.
Matosinhos, home of the best fish and seafood in Portugal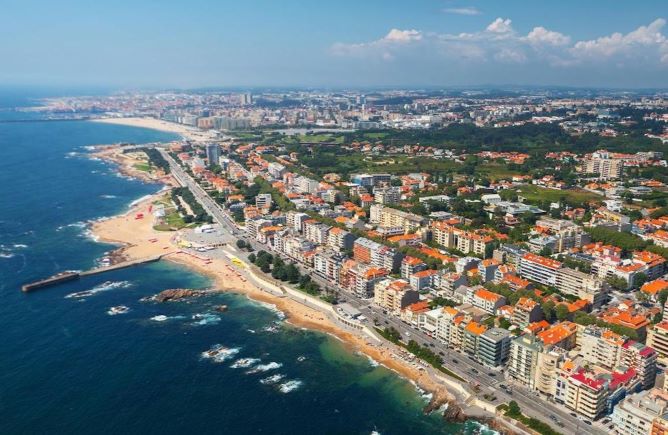 If including the Jardim do Morro in this article was a bit of a stretch, Matosinhos is a jump that would win you an Olympic Gold medal, since it's an entirely different city, just north of Porto. It is extremely popular among expats (probably because it sits near the beach and it is served by the subway of Porto), and hence it has become horribly expensive to buy a home there. 
There you have the best seafood and fish restaurants, the most fun outdoors activities and the best fishmongers. I'm going to get that last one out of the way first, since it's only there because my grandma's sister is a fishmonger at the Matosinhos Market and I love her 😊
That alone is reason enough to make Matosinhos the Hippest part of Porto, but the quality of the fish and seafood here is going to convince you of that.

It's at the best restaurants in Matosinhos that you'll find the BEST fish and seafood in the district, not in Porto city center. I have no shame in saying this!
I'll always tell you to go to Gaveto or Lage do Senhor do Padrão and have a great sea bass instead of simply having a good one in Porto.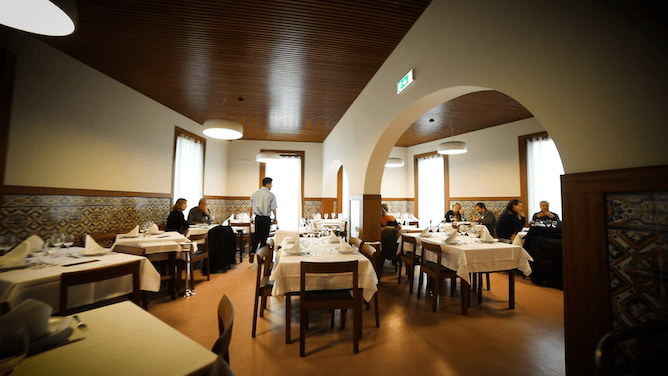 What you can do in Matosinhos besides having a nice meal
I think great food is what should make a place the Hippest part of Porto, but I don't make the rules (yet). Thankfully for Matosinhos, they have a lot else going for them.
The list of the best things to do in Matosinhos is long but I'll just give you two final reasons why Matosinhos is so popular.
Firstly, they have some of the best beaches in Porto, particularly Praia de Matosinhos Sul, where you can even have some (super safe) surf lessons during your stay in Porto. Then, if you're the biggest fan of how windy the beaches around here are (believe me, I get you), you have the option of racing some karts!
With all of this said, I think you'll agree that Matosinhos has all it takes to be the Hippest part of Porto!