Talking to my readers I have realized that when it comes to food, Francesinha is the only dish that is internationally associated with Porto. Which is a pity, really, because even though I find francesinhas to be phenomenal they are not even remotely the most interesting dish from my city.
From seafood to petiscos (we'll get there), Portuguese wines and ice creams there is literally a world for you to discover. With no further delay, let me introduce you to my…
Foodie Guide to Porto
Francesinhas and other amazing sandwiches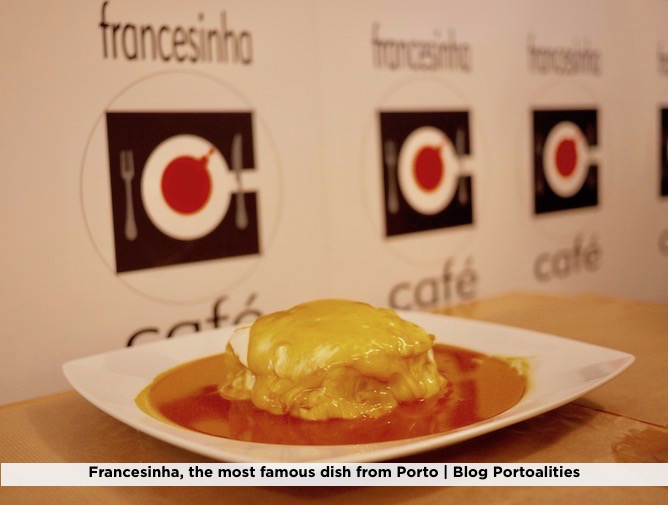 Francesinha is the most famous dish in this Foodie Guide to Porto. Calling it a sandwich is clearly an understatement since it has a steak, three different types of sausages, melted cheese and a spicy sauce (and a frying egg because one can never have too many calories on a single dish :P).
There are plenty of good restaurants serving francesinhas in Porto, but for me nothing quite compares to the francesinhas from Francesinha Café.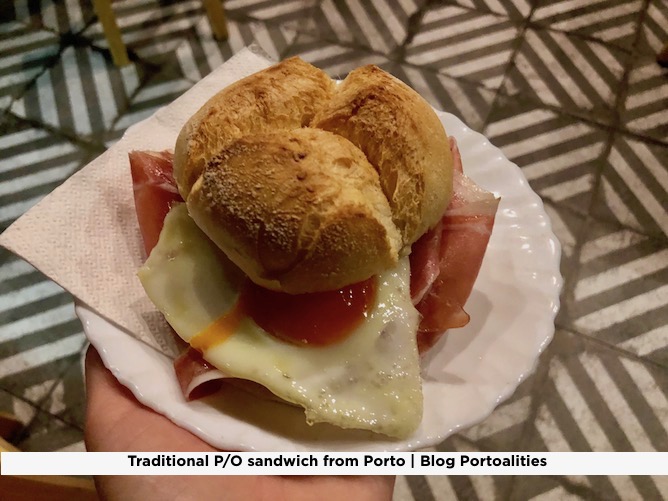 There are also other interesting sandwiches that you can try in Porto such as sandes de pernil (slow cooked Pork shoulder) from Casa Guedes, bifanas (another pork stacked sandwich cooked in spicy sauce) at Conga or the very humble but equally deliciously P/O (thinly sliced smoked ham and fried egg) from A Badalhoca.  
Tripas à Moda do Porto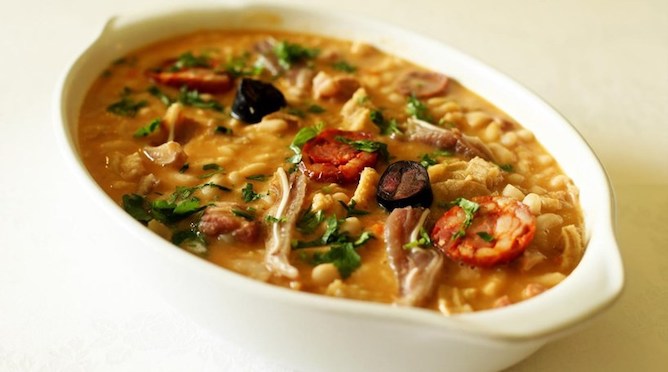 It is a pity that most tourists don't give tripas a try because I can guarantee you that most of you would be very surprise by the delicate flavor of this traditional dish from Porto. Therefore, it has to be mentioned on this Foodie Guide to Porto!
Tripas à Moda do Porto is a stew made from the stomach of the cow (some people use pork's ear and cow's foot as well, because it has plenty of cartilage), different types of sausages, white beans and carrots served with white rice.
I know most of you never even tried tripes but hear me out when I tell you that tripes do not have flavor – they will taste like whatever you cook them with. In this case, they will taste like white beans, sausage and carrots. 
You can find Tripas à Moda do Porto in traditional Portuguese restaurants, and more specifically on Thursdays' lunch time. So if you are a real foodie in Porto, trust my words and go for it!
Petiscos (not tapas!)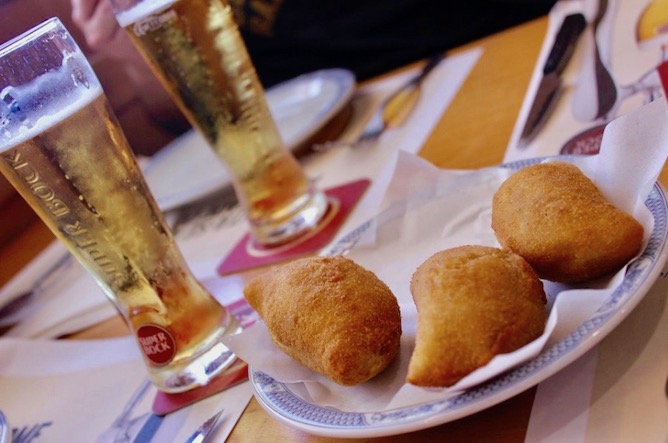 As a foodie myself, I could write a MsC dissertation about Portuguese finger food so I'll use this Foodie Guide to Porto to cast some light into this fascinating topic 😛
First things first: in Portugal we don't exactly have street food (not like I found in South America and in Southeast Asia). However, we do have plenty of finger food that you can buy at a pastry shop and take back home, to a party or to a picnic. These food items immediately come to mind:
Rissóis: breaded hot pockets filled with either minced meat, suckling pig, a creamy shrimp sauce, vegetables or anything else that we might find on the fridge when we prepare them at home. The best restaurants in Porto to try rissóis are Capa Negra II and Brasão Cervejaria.
Bolinhos de Bacalhau: this is a hot topic on this Foodie guide to Porto. It's basically deep-fried codfish cakes made with codfish, eggs, potatoes and parsley. The real bolinhos de bacalhau DO NOT have cheese in the middle. That is a ridiculous concept that was recently introduced by Casa Portuguesa do Pastel do Bacalhau. So if you see this store (close to the Clérigos tower) do yourself a favor and run away.Bolinhos de Bacalhau are such an available treat that there isn't a specific spot to get them. However, the signs of a really good bolinho de bacalhau are very easy to identify: they should be round and petite, golden (not too burned and definitely not too white either) and very crispy when you give the first bite.
Panados: one of my best friends knows that the easiest way to make me happy is to bring me some homemade panados (deep fried pork / turkey / chicken breast covered in breadcrumbs). Tossed in a crispy bread, they are the perfect grab and go lunch. You can find them all around the city but the ones at Confeitaria Cristal are particularly good.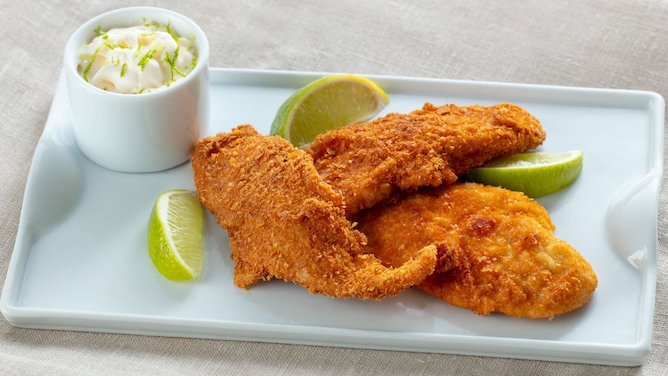 When it comes to tapas… guys, this is Portugal, not Spain. Yes, there are plenty of tapas restaurants where you can eat huevos revueltos and jamón iberico, but why would you want to do that? Just embrace the Portuguese petiscos!
You should instead trust this Foodie Guide to Porto and look for simple, honest tascas in Porto where you can eat real Portuguese petiscos like polvo cozido (boiled octopus served with chopped onions and peppers), punhetas de bacalhau (seasoned raw codfish), fígado de cebolada (deep friend pork / beef liver with caramelized onions), etc?
Some amazing tascas in Porto for you to try the real Portuguese petiscos are o Buraquinho, Adega Viseu no Porto (behind São Bento train station) and Casa do Louro, to name a few. But you can also just trust your instinct and try your luck in decent taverns and cafes spread across the city – there are plenty of them!
Fish and Seafood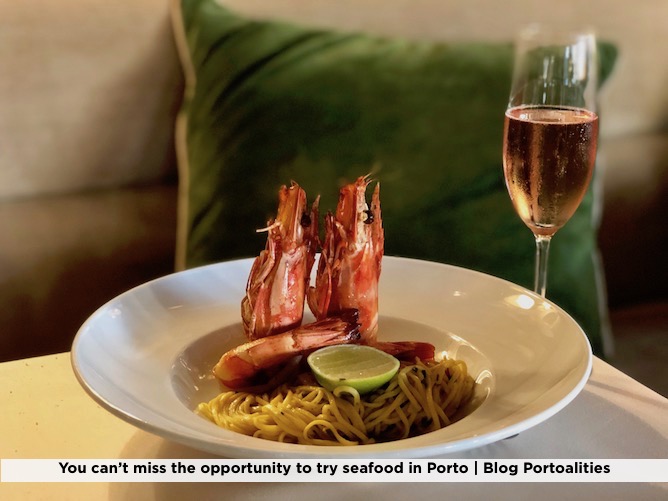 I know I have been boasting predominantly about meat dishes because indeed, this is a meat region. However, given our proximity to the Atlantic ocean this is also an amazing place for fish and seafood which is why it could not be missing on this Foodie Guide to Porto!
I am extremely demanding when it comes to fish and seafood so, to be perfectly honest, I do not eat it in the city center. I usually head to Matosinhos, the nearest coastal city just 10km north of Porto, where the best seafood restaurants are located.
There is a particular street that fascinates me called Rua Heróis de França where you can find more than a dozen restaurants specialized in fish and seafood. I usually check the quality of the fish, pick one and ask them to grill it for me, but you can also try some local specialties such as açorda de marisco (a spicy bread stew with seafood).
My favorite restaurants in Matosinhos are O Gaveto (but it is on the expensive side), Salta o Muro and O Valentim. You should avoid going there at the beginning of the week because fishermen don't work on Sundays and hence the fish available on Monday is not the freshest.
Desserts and Portuguese pastries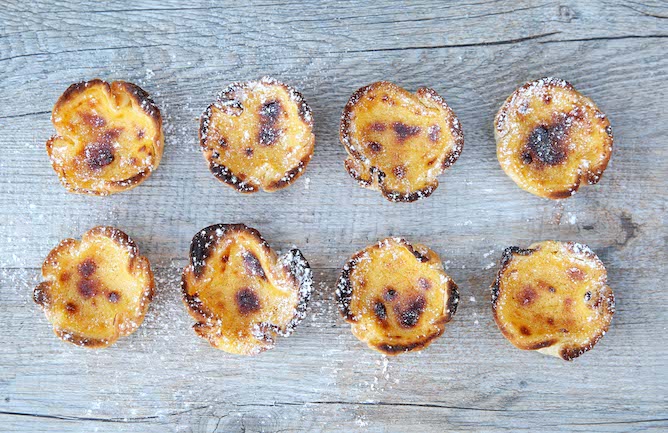 My city is not exactly famous for its desserts, but it would be a pity not to include a sweet section on this Foodie Guide to Porto 😉
In Porto you can find some extraordinary pastéis de nata (the famous Portuguese egg custard pie) pretty much everywhere, but I highly recommend you to try the ones from Manteigaria or from Nata Lisboa. They are truly amazing and can seduce even a sceptic person like me!
But traditional Portuguese pastries don't end there. You can try tarte de amêndoa (decadently good almond pie), telhas (roasted almonds with a sugar glace), éclairs (yes, it is a French recipe but the ones from Leitaria da Quinta do Paço are to die for), guardanapos (a sponge cake gently folded like a napkin)… I could go on!
So don't get fixated on pasteis de nata but rather give it a go at all the other amazing Portuguese pastries!
There are plenty of amazing pastry shops in Porto but I particularly like Padaria Ribeiro (it has the most amazing biscuits), Tavi (at the Foz neighborhood), Pastelaria Tupi and Confeitaria do Bolhão.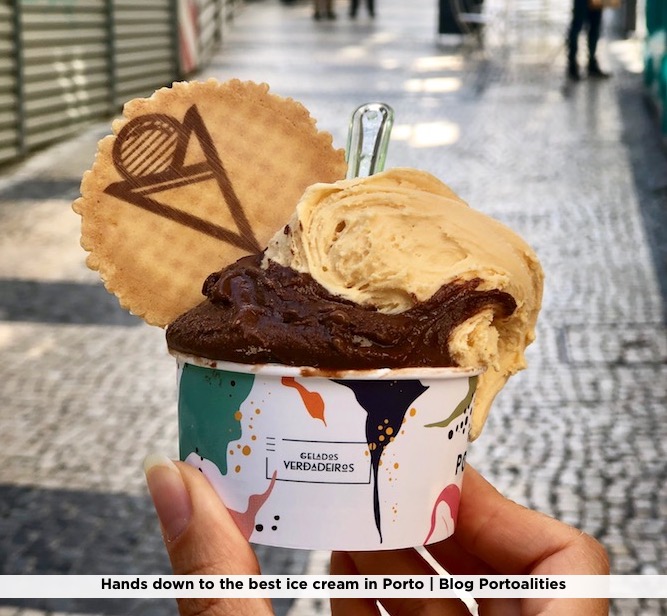 Since we are speaking about sweet things, let me tell you that in Porto there is a very, very special ice cream shop called Portuense. Do yourself a favor and get an ice cream from there – you can thank me later.
Port Wine and other amazing Portuguese wines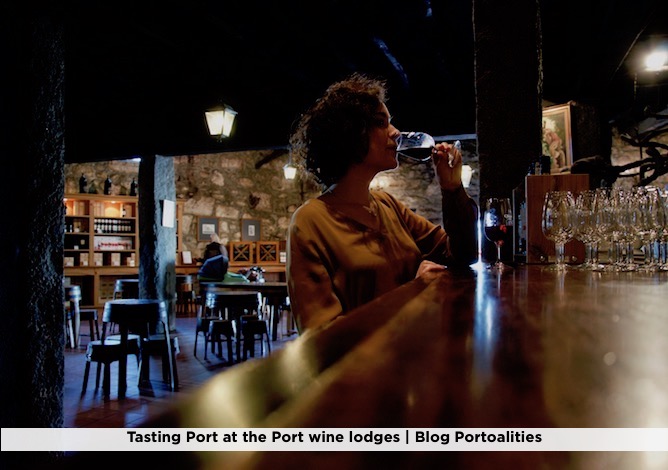 One of the things that Porto is famous for are… the Port wine lodges (which sounds a bit strange since they are located in Gaia and not in Porto, a fact that I already explained on a youtube video). Anyway, moving on this Foodie Guide to Porto.
The Port wine lodges are the perfect spot not only for you to try Port wine but also for you to learn more about its history and production process.
All of them are very touristy (let's be honest, you didn't think that we spent the day sipping wine at our cellars?!) but some are exceptionally good, like Graham's and Cockburn's.
If you are not in the mood to sign up to a guided visit to the Port wine lodges you can simply enjoy a glass of Portuguese wine. We have some proper wine bars in Porto, such as the amazing Wine Quay, Capela Incomum and Prova.
Another interesting spot is Say Cheese, a cheese bar that serves Portuguese wines from small scale producers. Yum!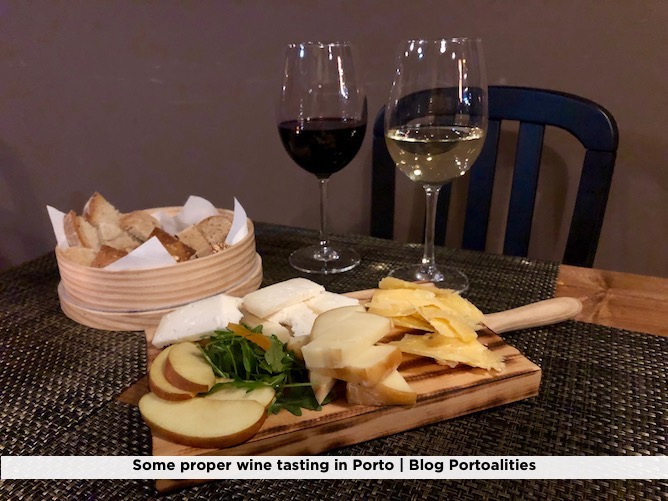 If you are truly fascinated about Port wine and Portuguese wines I highly recommend you to take one of our private tours in Douro Valley.
As our tours are exclusively private we are very flexible and can arrange an itinerary that truly fits your profile.
You can read the feedback of our clients on our TripAdvisor and reach out to me on sara@portoalities.com.
Last but not least, you can buy Portuguese wines in traditional grocery stores or, if you are a complete wine snob like myself, head straight to Garrafeira Tio Pepe.
Extra: where to buy food in Porto?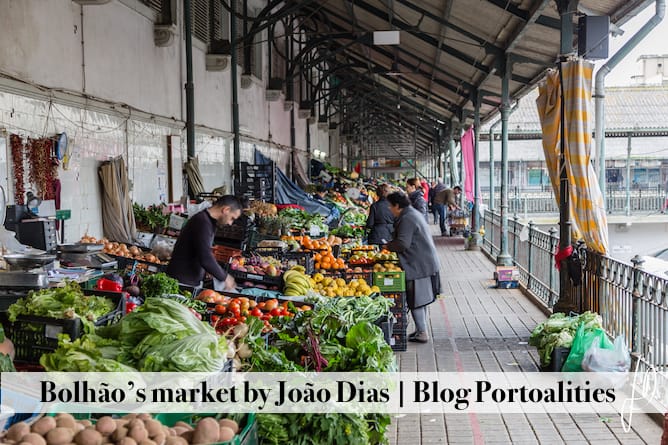 I know you are probably thinking "at the supermarket, duh", but hear me out.
I don't honestly think that a Foodie Guide to Porto would be complete without letting you know where to buy high quality ingredients.
Whether you are planning to cook during your stay in Porto or you are simply looking to buy some Portuguese souvenirs to bring back home, if you are serious about food then you know that supermarkets are truly not the best place to find it 😀
So here are my top recommendations on where to buy high quality food in Porto:
Fish: I definitely recommend visiting the fish market in Matosinhos, but if you cannot, then at least go to the fish stalls in Mercado do Bolhão (it is currently closed for renovation, but all the sellers are working in a temporary market right in front of La Vie's shopping mall).
Meat: Mercado do Bolhão for sure (but I am not an expert in meat since I haven't cooked it in the past 5 years!).
Fruits and vegetables: you can either buy them at Mercado do Bolhão or simply pay a visit to a local mercearia or frutaria, the tiny neighborhood grocery stores where you can find really good national fresh products. I usually write these articles with tourists in mind but if you happen to be living in Porto then you should definitely use Bio Habitus, a service that delivers local organic fruits and vegetables to your home. This small business changed the way I eat as now I only cook with organic, seasonal ingredients delivered by Bio Habitus. I highly recommend them!
Smoked meats, canned fish and dried fruits: You can get all of these at Portuguese grocery stores. They are also an excellent place to buy wines and products from our former colonies, like Brazil.
Cheese: there is this AMAZING store in Porto called Queijaria do Almada. There you can find great Portuguese cheeses as well as international ones. You can also find Portuguese cheeses at the grocery stores that I mentioned above.
Save this article for later: