I organize private tours in Porto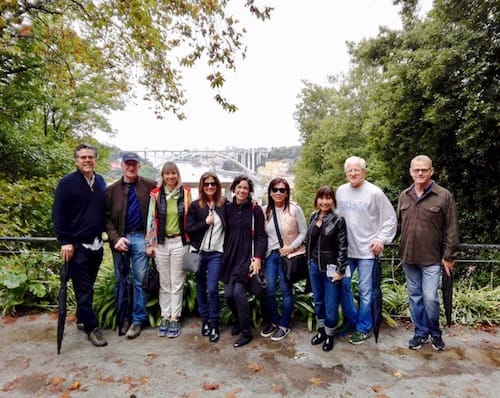 Check this page for more information or send an email to sara@portoalities.com.
Porto has always shown its creativity, may it be through its historic architecture or its typical food dishes.
In the past few years, Porto has seen decaying buildings being renovated into thematic hotels and / or restaurants. An increasing number of art galleries are currently exhibiting the latest trends in contemporary art.
Thus, today I bring you a guide to Porto for design lovers, that includes the best art galleries in Porto, the most artsy hotels and some amazing stores to buy contemporary handcraft souvenirs.
Before reading this article: have you already decided where to stay? If not, read my article about the Best neighborhoods to stay in Porto! There I give you plenty of recommendations of great hotels and apartments in Porto.
Porto for Design Lovers: What to Visit
Miguel Bombarda's Art Galleries
Rua de Miguel Bombarda | Porto
A guide of Porto for design lovers must start in Rua Miguel Bombarda, also known as the art block since it lodges some of the most interesting art galleries in the city.
There are many art galleries in this street of Porto for design lovers, which are walking distance from one another. I recommend you to take your time to stroll down this block and to enjoy all it has to offer. After all, each of the galleries has its peculiarities.
For example Cruzes Canhoto gallery is one of a kind in the Iberian Peninsula, producing art brut as well as primitive folk art – from devilish sculptures to tribal masks, Cruzes Canhoto is a whole new world of marginal art. 
Miguel Bombarda organizes simultaneous openings event (six times a year) during which new art exhibitions are inaugurated. During these events, you may find tons of entertainment, such as dancing performances and workshops taking place on the streets. It is really cool (and free).
How to get there: Rua Miguel Bombarda is only a 15 minutes walk from Downtown Porto, The closest underground stations are Aliados and Carolina Michaelis. You may also take a bus (12M, 13M, 200, 201, 207, 208, 303, 501) and drop at the stop Palácio de Cristal. Art Parking is the closest parking facility (1€ / hour).
Mural by Joana Vasconcelos
Largo Moinho de Vento | Porto
Any guide of Porto to design lovers has to mention this vibrant mural.
I must say that for over a year I walked by this mural and did not realize it was created by Joana Vasconcelos, one of the most recognized visual artists from Portugal. Moreover, she was the first woman and the youngest visual artist ever to exhibit her work at Palace of Versailles!
The multi-colored mural she created is part of the building façade of Steak'n Shake (an American food restaurant famous for its steakburguers) and was inaugurated in 2017. With twenty meters of length and eight thousand painted tiles, this mural is the largest public work of Joana Vasconcelos.
How to get there: The mural is located nearby Praça Guilherme Gomes Fernandes, close to Livraria Lello and the Rectory of the University of Porto. The nearest stations are São Bento and Trindade. The mural is a 15 minutes walk from these.
Avenida da Boavista, 604-610 | Porto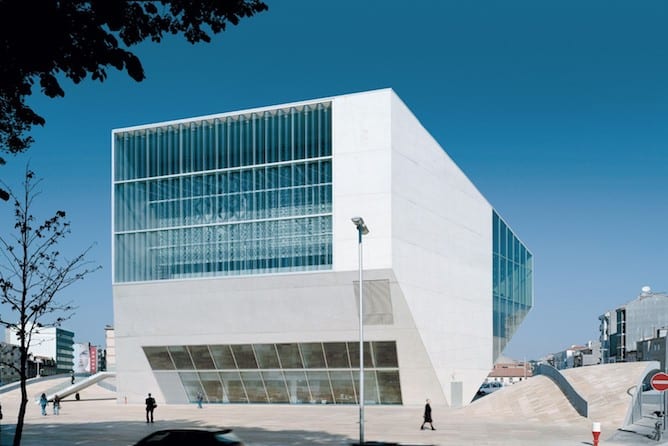 Casa da Música is a must-see in Porto for design lovers.
This concert hall was projected by Rem Koolhaas, a Dutch architect, and was inaugurated in 2005. Casa da Música, due to its peculiar geometric form, looks very similar to a raindrop falling into the ocean.
The tours inside the building take place at 11am and 4pm and are really worth it. Otherwise, just check the schedule of Casa da Música, pick a concert and have fun!
How to get there: The closest underground station, also named Casa da Música, is only a 5 minutes walk from the building.  
Serralves Contemporary Art Museum
Rua Dom João de Castro, 210 | Porto
No guide of Porto for design lovers would be complete without mentioning the Serralves Contemporary Art Museum.
Projected by Álvaro Siza Vieira and inaugurated in 1999, Serralves Museum is considered one of the most important museums of contemporary art in Portugal. There you will find several collections of contemporary art as well as music and dance performances.
Some of the renowned visual artists featured in the museum are Paula Rego, Francisco Tropa, José Pedro Croft, among others.
The ticket to visit the museum costs 12€. Children under twelve do not pay the entrance fee.
It should be mentioned that Serralves is divided into several areas: the museum of contemporary art, Serralves Park, Treetop Walk, Serralves Villa and the House of Cinema Manoel de Oliveira. If you would like to visit all of these areas, the ticket costs 20€, which can be a bit expensive for some.
How to get there: Serralves Museum is located far from Downtown Porto. It will be easier to get to it if you take the subway to Casa da Música and then take a bus (201, 203, 503, 502, 504).
Anémona
Praça da Cidade do Salvador | Matosinhos
"She Changes" was designed by Janet Echelman and is an homage to the fishing community in Matosinhos.
With 50 meters in height and 42 meters in diameter, this structure was dubbed "Anémona" (anemone). Why? When the wind blows, the nets move, imitating the movement of anemones.
This structure is located eight kilometers from Porto. Nevertheless, it is essential to mention it in any guide of Porto for design lovers, as it has become an emblematic symbol of the region.
How to get there: To enjoy the sight of this structure, you can take the bus in São Bento. Without traffic, the bus will only take 30 minutes to arrive at your destination. 
Best stores in Porto for Design Lovers
Ó! Galeria
Rua de Miguel Bombarda, 61 | Porto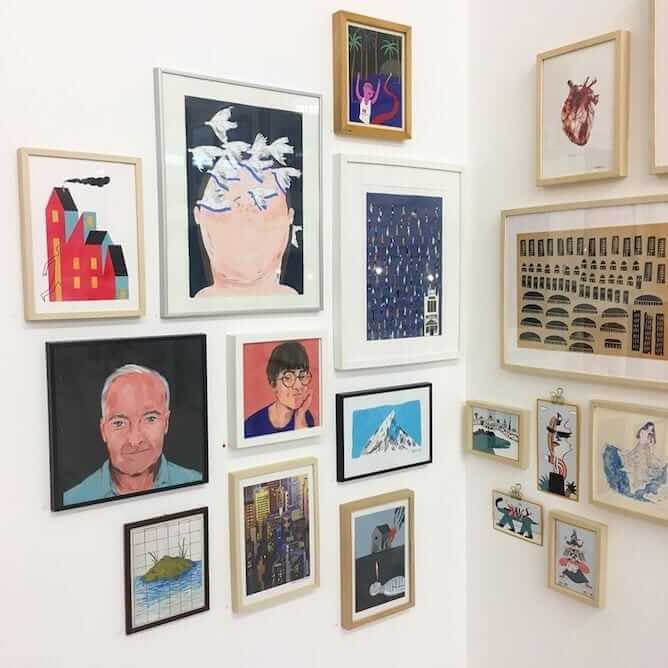 Ó! Galeria is THE place in Porto for design lovers, particularly those that fancy illustration. It exhibits the illustrations of national and international illustrators, such as the amazing Marina Miserável, so it is a great place to buy easy to carry souvenirs and support local artists.
How to get there: Ó! Galeria is a 15 minutes walk from the subway station Lapa.
Collectiva
Centro Comercial Miguel Bombarda | Porto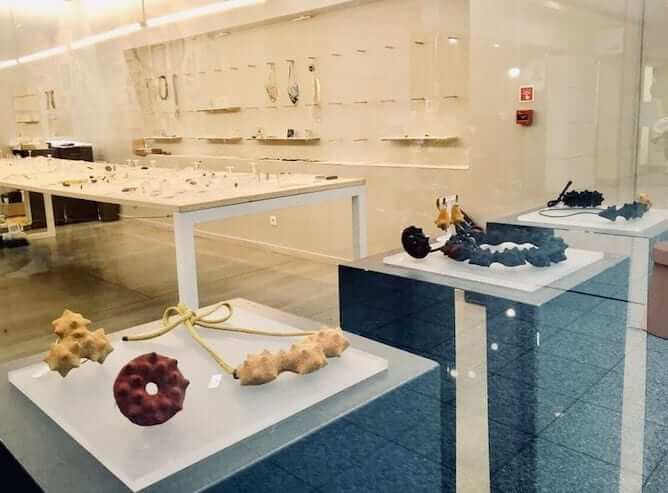 You may not enjoy jewellery that much (I personally don't) but it is impossible to resist Collectiva. This store is a platform for the promotion of contemporary jewellery, exposing and disseminating the work of national and international authors. Besides, it was created by eight FEMALE jewellers & designers and we are so proud of them. Do yourself a favor and get some Portuguese handmade contemporary jewellery, it is not that expensive.
How to get there: Collectiva is a 15 minutes walk from the subway station Lapa.
CRU Cowork
Rua do Rosário, 211 | Porto
CRU Cowork opened in 2012. Not only does it have a store that sells design products of national artists, but also a coworking space, where you will find some designers working on their new projects. Moreover, you will also find art and design exhibitions and workshops in this space.
If you are a design lover and would like to buy contemporary souvenirs in Porto this is definitely the store for you. CRU Cowork sells a wide range of products (jewelry, houseware, illustrations, stationary) fashioned after the latest trends in the design industry.
How to get there: CRU Cowork is near Rua Miguel Bombarda and just a 10 minutes walk from the subway station Aliados.
Best Hotels in Porto for Design Lovers
You will find several articles about the best places to stay in Porto on the blog. However, here are some perfect thematic hotels in Porto for design lovers.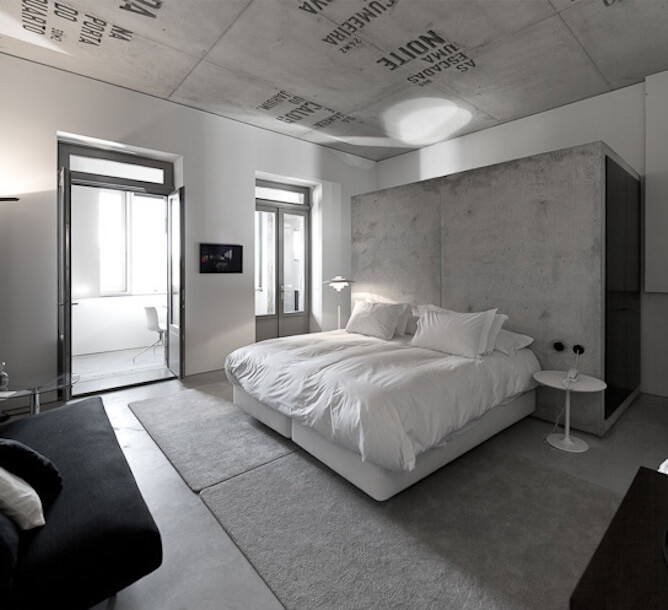 The development of Casa do Conto, one of the best boutique hotels in Porto, began in 2008. However, a year later a fire forced the restoration of this bourgeoisie house of the 19th century to begin anew.
Casa do Conto was designed by Atelier Pedra Líquida – an awarded architecture atelier known for restoring old buildings. It only has six suites – all in relaxing white and grey tones. However, creativity can be found everywhere in the Casa do Conto, as if it was specifically built for design lovers in Porto. Every bedroom tells a story with words engraved on the ceilings.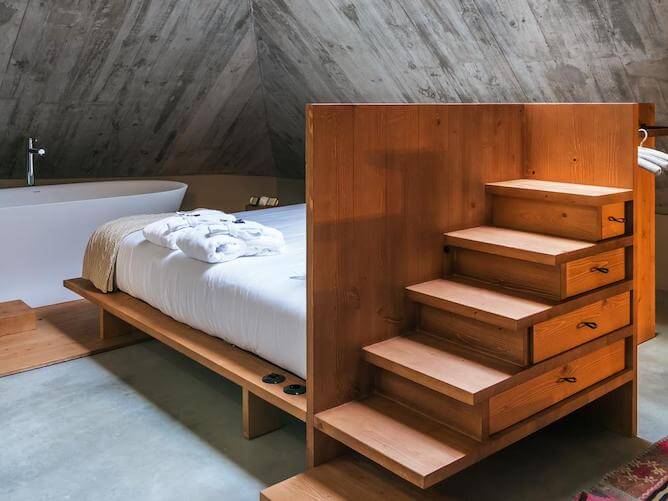 My choice of a photo for this particular hotel in Porto for design lovers might seem a bit odd, but it is entirely intentional as it shows the level of cleverness in the utilisation of space and materials of Armazém Luxury Housing- Architectural & Design Hotel.
This hotel has both private bedrooms and apartments at your disposal, and they provide unique experiences to their guests such as golf, yoga sessions and massages.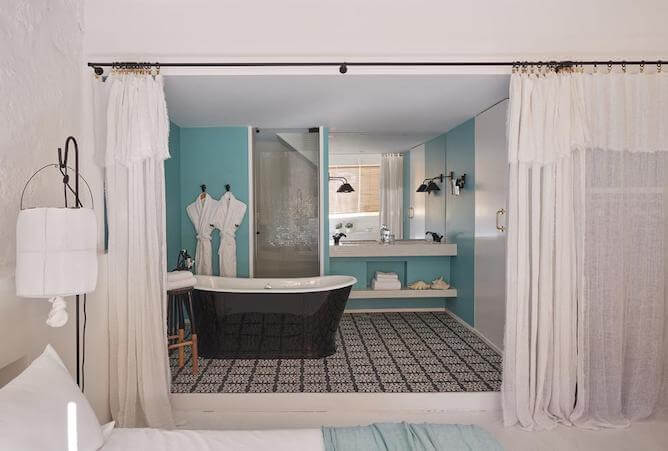 I vividly remember the first time I entered Cocorico, one of the best luxury hotels in Porto. The way it combines vintage furniture with Portuguese azulejos tiles on sections of the floor, and the way it cleverly uses glass walls to separate different section within the same bedroom, made quite an impression on me.
It is certainly not cheap but it is a great hotel to stay in Porto for design lovers.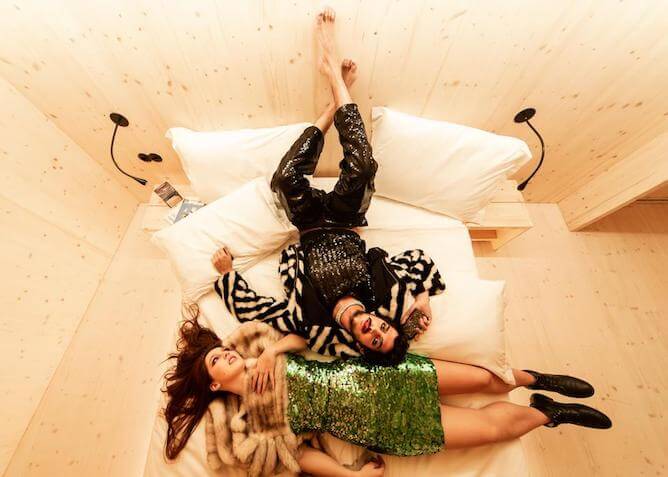 If you are on a budget but want to jazz it up a little bit, I suggest you to stay at the Zero Lodge Box. This stripped-down design hotel was built inside a former bank, and the atmosphere is very relaxed. All rooms are built in wooden boxes and include a private WC.
DOn't forget to check the bar downstairs – they don't serve the best cocktails in the city (sorry guys, but I have to write the truth!) but it is such a nice place that you won't even notice.
Extra: Go on a private tour in Porto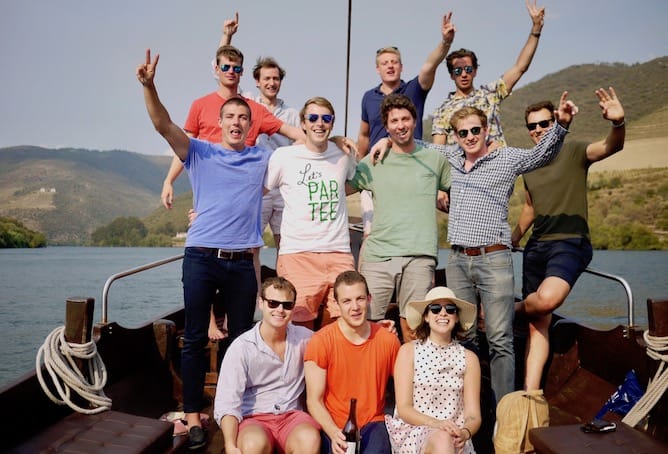 The best way to get to know Porto is to go on a private tour with me!Check this page to learn more about my tours in Porto, or simply send an email to sara@portoalities.com. I will shortly get back to you with a tailor made tour designed specifically for you.It will be a pleasure to welcome you in Porto!
---
Save this article for later: