I already wrote an article about the best times to travel to Porto, and now I write this article with recommendations on what to wear in Porto for each time of year.
However, there are some general recommendations that I would like you to keep, because they are the most useful:
Porto is a very windy city, so always bring a scarf (if it's spring or summer) or a warm scarf (if it's autumn or winter).
The weather is very unstable, that is, there are often sudden changes in the weather in the middle of the day, or from day to night. So, in the warmer seasons, bring one or two warmer sweaters. Similarly, in the colder months bring a cooler item or two. Versatility is the word of the day.
It's also a very sloping city with cobblestones so ladies: no high heels! Bet on comfortable shoes, with some use, to avoid blisters and foot pain.
Weather in Porto: an overview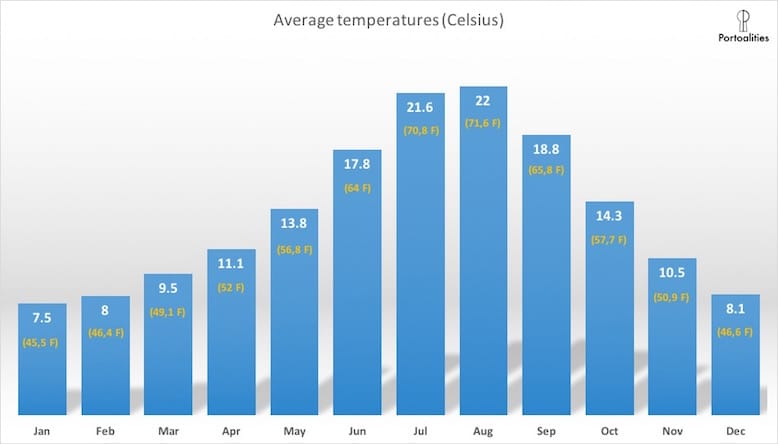 As you can see by the graphics above, Porto has quite moderate temperatures all throughout the year, but it does rain a lot during Winter (and Spring and Autumn too, to be honest).
The last couple of years have been rather exceptional, as we had around 30 / 35 ºC (86 / 95 ºF) during July, August and even September, which is quite warm for our standards. We are used to have mild Summers, with temperatures rarely above 30 ºC (86 ºF), and mild and rainy Winters, with temperatures rarely below 5 ºC (41 ºF).
Another thing you should know about the weather in Porto is that it is temperamental, in the sense that it can be shiny one day and cloudy the following one. Sometimes the temperatures rise / fall dramatically from one day to the other, and daily variations of 8 degrees are not that uncommon.
So my first tip is: regardless of when you decide to visit Porto, make sure that you bring a proper raincoat and a scarf, just in case!
And now, off to recommendations of what to wear in Porto depending on the season:
What to wear in Porto in Spring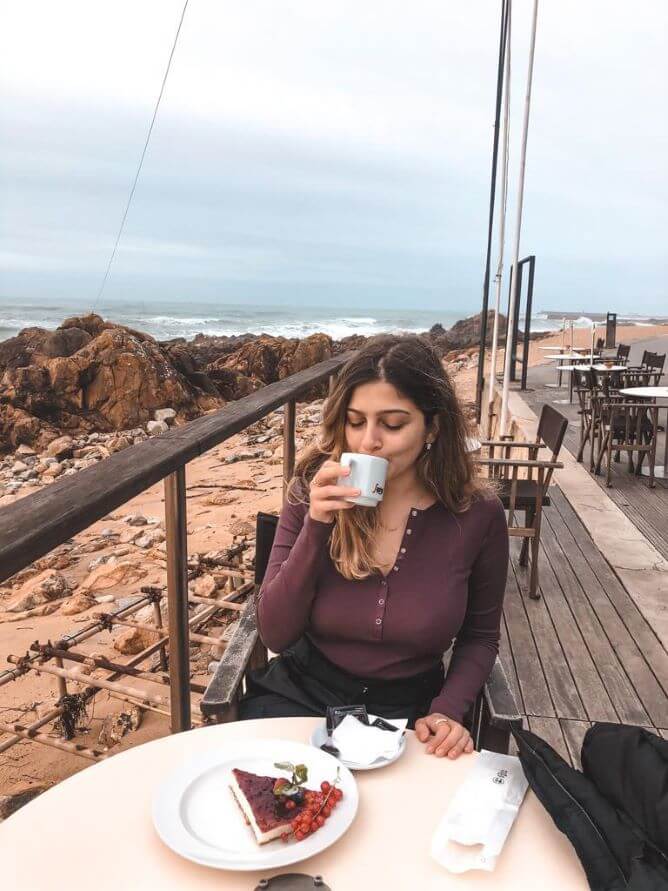 Spring is a tricky season because typically, it rains a lot at the beginning (we even have a saying that goes "April, a thousand waters!"). So the probability of still catching some (or a lot of) rain in late March and the entire month of April is quite high.
The temperatures are usually not very low though – usually around 10 ºC (50 ºF) .
Therefore, these are usually good months to wear demi-season clothing, such as long-sleeved or 3 / 4-sleeved shirts, pants and long skirts. Knitted dresses, long and long-sleeved, are also a good option. I usually wear an undershirt during spring in Porto, but I'm quite chilly.
On top, a stylish raincoat and a cute scarf (on colder days, you can wear a warmer coat). I also like to complete the look with a wide-brimmed hat (depending on the temperatures, you can wear one for winter or one for spring). For you, it's a great time to wear berets 🙂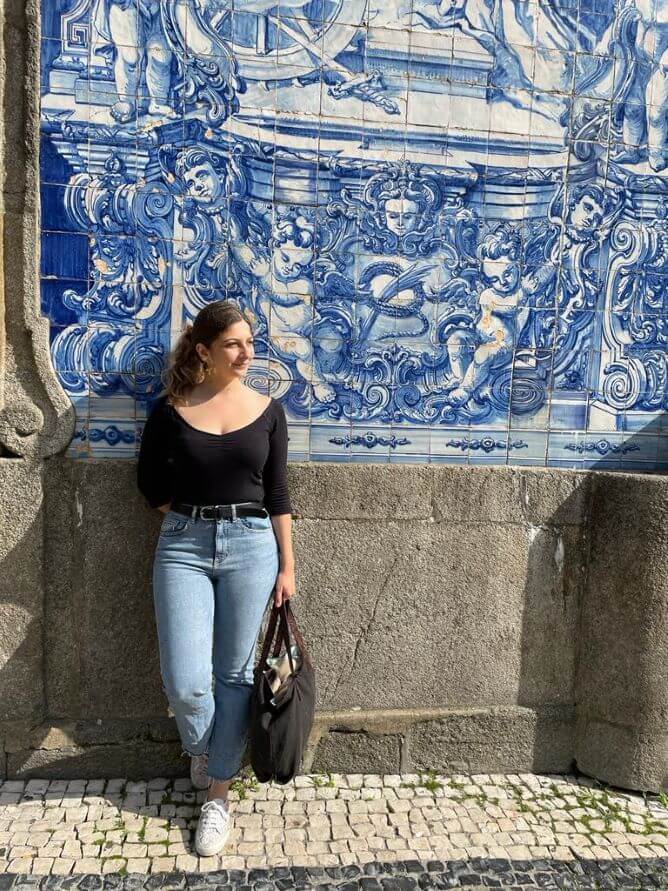 Regarding shoes, it depends a lot on the weather: if it's cold, wear boots or shoes, if it's a cooler day, choose ballerinas.
Above all: if you come in spring and don't know what to wear in Porto, look out the window before deciding. The weather is quite fickle during this season, so check the weather before leaving your country and bring some lighter and some warmer items.
By the way, find out what to do in Porto during Spring.
What to wear in Porto in Summer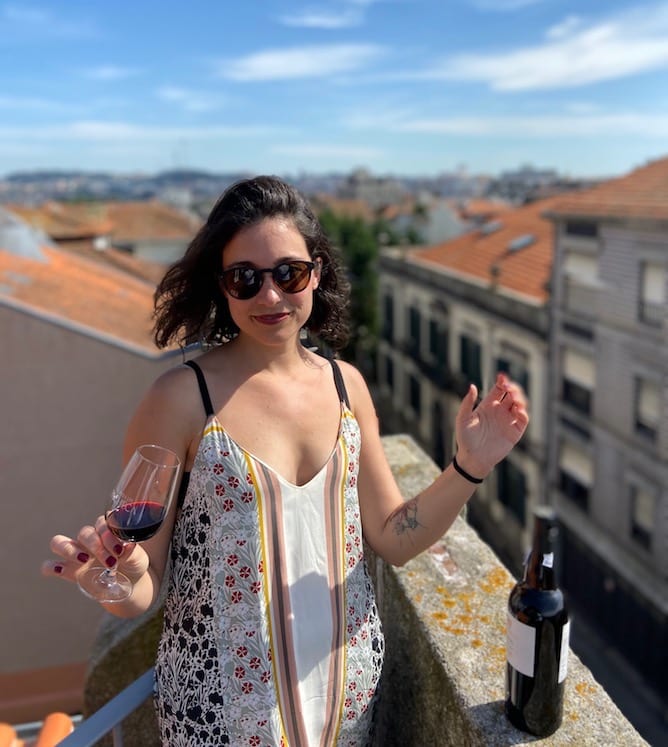 I HATE Summer (there, I said it). I hate excessive temperatures, noise, confusion, traffic… everything irritates me!
However, it is the best time to do outdoor activities such as the 6 Bridges Cruise. And there are a lot of people who can only travel in the summer months (namely families with young children and university students), so find out what to wear in Porto during the summer!
In Porto, the summer temperatures are not like in Lisbon or in the Algarve. The climate is quite Atlantic, reminiscent of some cities on the French coast, and less Mediterranean, as in Spain.
It is usually hot during the day (in recent years, because of climate change, summers have been very hot, around 30ºC (86 ºF) . However, at night it is cold. And it is very common to get windy days during the summer in Porto.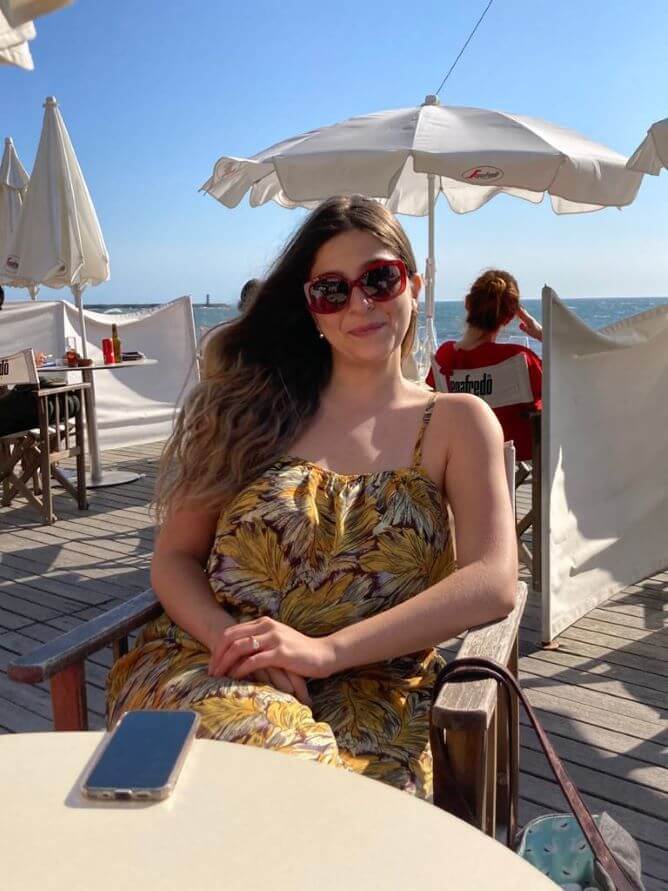 So, during the day wear cotton or linen dresses, short or long skirts, shorts, cotton shirts, t-shirts and tops in all shapes and sizes… imagination is the limit!
You can wear sandals at will, open shoes and summer ballerinas.
Also, I recommend that you always carry a scarf in your wallet, because of the wind.
At night, don't venture out without a demi-season coat, as temperatures drop a lot. By the way, I usually change my clothes during the summer when I go out at night with my friends, exchanging dresses and skirts for long pants.
So, these are my tips on what to wear in Porto during the summer – and these are the best activities to do on a sunny day.
What to wear in Fall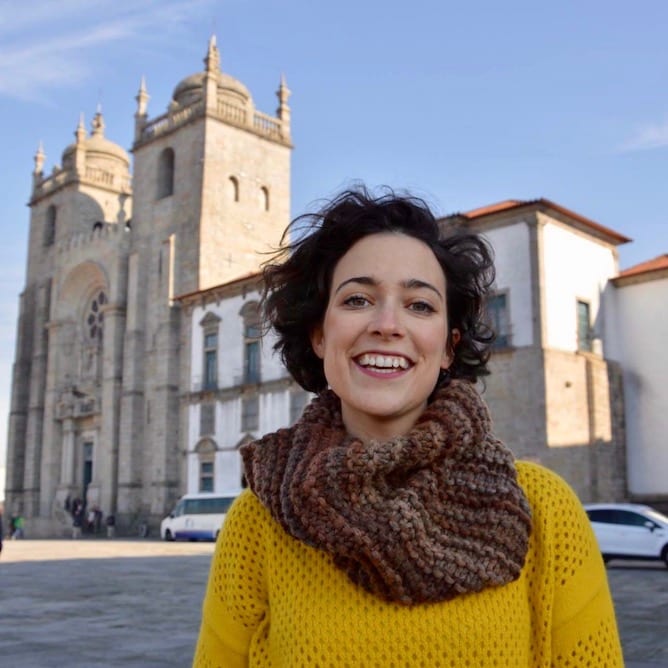 Autumn is undoubtedly one of the best times to visit our city (and I already wrote a great guide about what to do in Porto during the fall). It rarely rains and temperatures are still quite mild, at least in October and November, when they are around 15 ºC. And, for some reason that I don't understand very well, in recent years the good temperatures have always been maintained until Christmas Day (true story). From that point on, the cold comes in seriously.
It's the time of year when we abandon light dresses and return to knitted dresses; we change the shorts for the pants (half-season or denim) and put back the trench coat.
At this time, long-sleeved shirts are also returning, often with a knitted sweater on top.
One thing that I really advise if you don't know what to wear in Porto during autumn is to bring some warmer pieces for the colder nights: a fluffy scarf, a demi-season coat and a warmer pair of shoes.
What to wear in Porto in Winter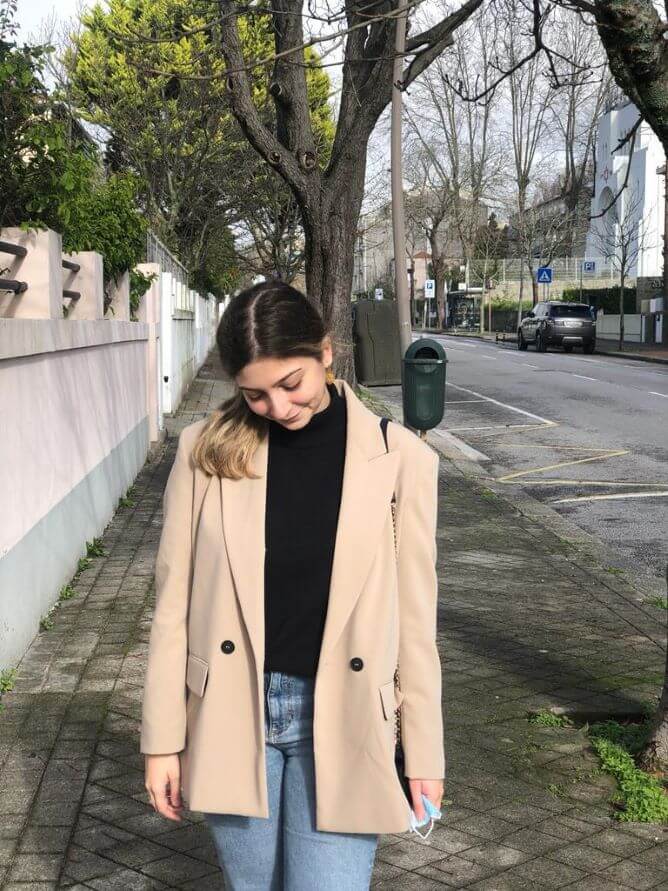 Ah, winter in Porto! It is the season of cold, and of an immensity of rain. The temperatures are not very low (they never drop below 0ºC (32 ºF) at night, and during the day, they are somewhere between 3ºC (37 ºF) and 8ºC (46 ºF) . But, as we live by the coast, the cold sensation is much higher than the temperature). outside, due to the relative humidity.
As many people struggle during this time of the year, I already wrote about the Best activities to do in Porto during winter, as well as an incredible guide about What to do on a Rainy day in the city.
So, what recommendations can I give you about what to wear in Porto during winter?
In addition to the obvious recommendations, bet on warm tights and good undershirts that you can wear under your outerwear; bring a good coat, and two or three warm scarves.
I personally do not like to use umbrellas in Porto, because it is very windy and the probability of breaking them is high. I prefer to bet on a good windbreaker, and waterproof boots (this is when I use my hiking boots the most, which are coated with a Goretex membrane).
Save this article for later: