I organize tours in Douro Valley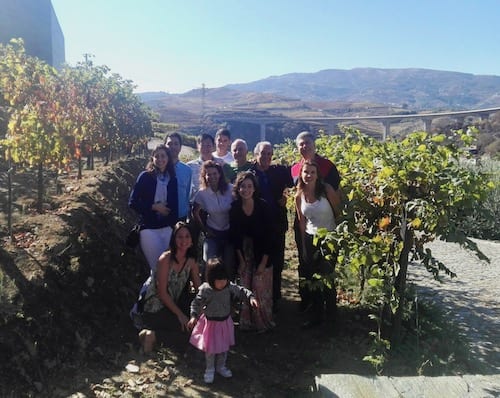 Check this page for more information or send an email to sara@portoalities.com.
Going to Douro Valley is one of the best things you can do if you're staying in Porto for some days.
You can either organise a day trip to visit one or two vineyards, but if you're planning to stay in the region for a longer time, here's my suggestions for you to stay in Douro Valley.
Option 1: Stay at one of the vineyards in Douro Valley
A great option for those who plan to stay in Douro Valley is definitely the vineyards.
Usually, the staff at the vineyards are very friendly and will make you feel at home. If you choose carefully, you'll be able to stay at a nice vineyard with great wine tastings, with a good restaurant and with a superb view over Douro Valley.
I'll recommend three vineyards in Douro Valley where I have already stayed and that I absolutely loved.
I evaluate them for amenities (what is there to do and see at the vineyard itself) and convenience (how close are the vineyards to main roads, ease of transportation and distance to other vineyards). The wines, I can assure you, are fantastic at all of them 🙂
Quinta Nova (de Nossa Senhora do Carmo) is simply stunning, there is no other way to put it, and hence a great option to stay in Douro Valley.
Among the vineyards from which some of the best wines in Douro Valley come from, you'll find a boutique hotel covered in schist and cork, two traditional Portuguese materials. You'll be welcomed by some of the nicest staff I've encountered in my life, and taken to your traditional Portuguese room.
It's time for you to relax; you're at home.
Quinta Nova is the ideal place for someone looking for slow tourism in Douro Valley. As it is quite far away from everything else, it is fantastic if you're looking for a romantic getaway in Douro Valley, or simply to enjoy some days completely away from the rest of the world.
Once there, you can enjoy a glass of wine at the swimming pool facing the mountains, or read a book at its delicate winter garden. You'll also be able to find some very interesting books about the Douro Valley and the production of Port wines, which I personally found fascinating.
If the weather allows it, venture into the property, on the vineyards, on the woods and inside the little chapels. Just make sure to ask for a map at the reception.
Moreover, you musn't loose the opportunity to go for a wine tour at Quinta Nova, as it is very informative and slow paced. At the end, you'll be able to taste some of its marvellous wines – I strongly recommend you to taste the beautiful Mirabilis Grande Reserve (the red one).
How to get there: I have to be honest – it's not that easy to get there. From Pinhão it's around 20min drive, from Porto around 1h45. If you're not in the mood to rent a car, then simply take the train and Quinta Nova will provide you with a free transfer to / from the train station.
Quinta de la Rosa 215, Pinhão | +351 254 732 254
Quinta de La Rosa is a small scale producer just 2min driving from Pinhão, which makes it great in terms of accessibility.
The bedrooms are very comfortable, but this property lacks the existence of appropriate common living rooms, where I usually spend most of my time.
Therefore, unlike Quinta Nova de Nossa Senhora do Carmo, is not the kind of vineyard where you go to stay a long time – on the other hand, and given its privileged location, it's the perfect place to stay in Douro Valley if you're planning to visit several vineyards around.
Therefore, after  taking its wine tour (as it is quite good), you shouldn't miss the opportunity to visit other vineyards in the surroundings, such as Quinta da Roêda and Quinta do Bomfim.
Moreover, give it a try at the restaurant at Quinta de La Rosa, called Cozinha da Clara – for me, it is definitely one of the best restaurants in Douro Valley! The chef, Pedro Cardoso, is surprisingly wise given his age, and has a deep respect for the Portuguese flavours.
How to get there: the easiest way is to take the train to Pinhão, and then a taxi to Quinta de La Rosa.
Celeiros Do Douro, Sabrosa | +351 259 937 000
Quinta do Portal is definitely one of the best vineyards to stay in Douro Valley.
Inside this Quinta you'll find one of the most superb hotels in Douro Valley, with a beautifully decorated living room facing the vineyards, and a cozy, smaller room with a fireplace that is perfect for colder days.
Besides that, Quinta do Portal has a restaurant where you'll be able to taste some beautiful traditional Portuguese dishes (guests from the hotel have discount on the restaurant). I suggest you to take their wine suggestions for each dish, it is really worth it!
Once there, take 1h to visit the wine cellars – Quinta do Portal is rather unique as its warehouse was designed by Álvaro Siza Vieira, the famous architect from Porto. Moreover, this vineyard in Douro Valley produces both wines, Port wines and muscats, and hence it's perfect for a more comprehensive tasting of the wines from this region.
How to get there: it's very easy by car, coming from Porto. Simply take A4 highway (direction Vila Real), then take A24 by leaving on the exit 13. From there, you'll be following the national roads N322 and N323. Quinta do Portal will appear on your left hand side.
If you're enjoying this article, don't forget to pin it for later: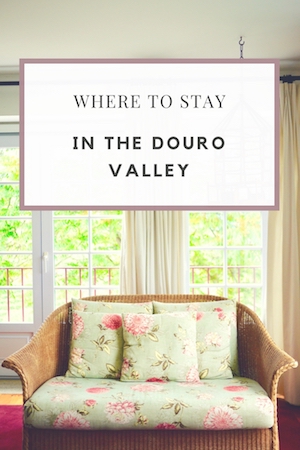 Option 2: Stay at a fabulous hotel in Douro Valley
I am very pick when it comes to choose a place to stay in Douro Valley, as I am not particularly found of hotels.
Nonetheless, there is a hotel that was able to break down my natural resistance, which was…
The room at the The Vintage House Hotel combines traditional elements with all the amenities of a romantic luxury hotel.
Once you arrive you'll be welcomed with a bottle of a Fonseca's Port wine, accompanied by dried nuts. A delight!
The Vintage House Hotel is a very spacious romantic hotel that invites you to enjoy its beautiful common areas besides your own bedroom.
It has a bar decorated in English style, with comfortable leather sofas. On the shelves that cover the walls of the largest living room are antique books and objects that are an invitation to your imagination.
The pool has its own bar. There are also several gardened spaces, with terraces overlooking the Douro river.
The breakfast (very complete, by the way) can even be served on the terrace, if the weather allows it. Otherwise, the breakfast room is very warm and welcoming, just like the other spaces of the Vintage House Hotel.
The Vintage House Hotel is located at the heart of the Douro Valley, in Pinhão. Therefore, you don't need to drive too much around to visit several vineyards in the Douro Valley and even go for a boat ride.
How to get there: take the train to Pinhão.
Extra: Go on a private tour in Douro Valley!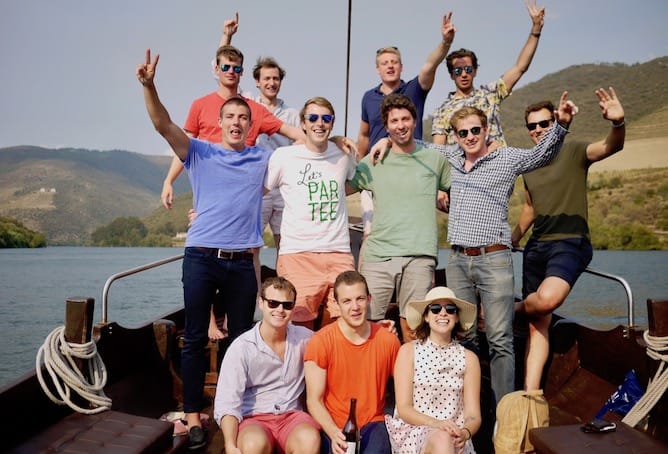 Instead of wasting time organising your day trip to Douro Valley, just send an email to sara@portoalities.com with the date you want to visit the region.
I will create an itinerary in Douro Valley that includes transport to & from Porto, tours in the best vineyards in the region, lunch at a typical Portuguese restaurant and some surprises along the way 🙂