Cami, let me say that this is by far the funniest question I've answered so far! I think you already came across one of our cultural traits, which is that we do enjoy telling a good story, even if sometimes it doesn't quite match reality 🙂
What the true explanation lacks in fantasy, it does compensate in poetry. In fact, this sculpture was designed and built by an American artist, Janet Echelman, in 2005. It is a tribute to Matosinhos, the land of the fishermen, located just 8km North of Porto.
Held by three metal posts, this giant net with a diameter of 42m, swings in the wind, mimicking the movements of anemones. It is, therefore, a sculpture under constant mutation; and for that reason it was given the name She moves. Nonetheless, we dearly nicknamed it Anémona, the Portuguese word for anemone.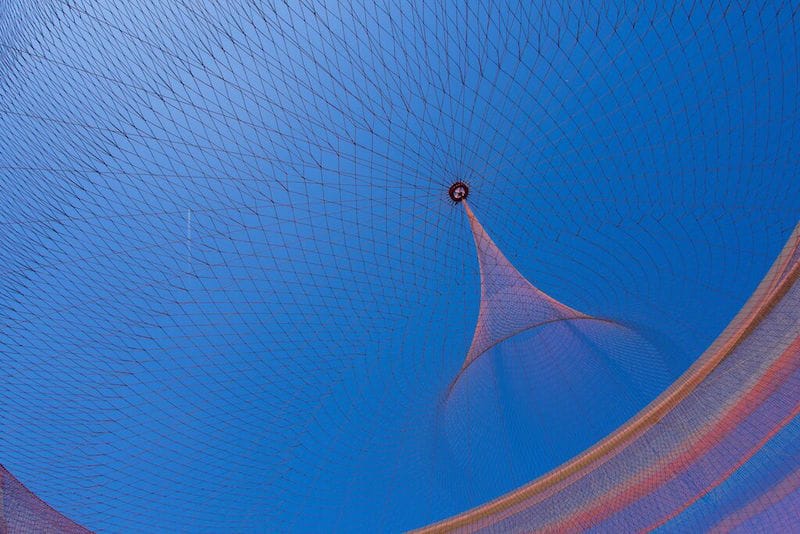 Photo by Nuno Cruz
Unfortunately, Anémona has struggled a bit over the last decade. Around 2007 it started degrading very quickly due to the maritime weather conditions. The town hall and Janet Echelman came to an agreement that the artist would pay for the net replacement, as it was supposed to be in good shape during the first 5 years.
More recently the night lighting system, placed strategically on the garden under the fishing net epicentre, was vandalized and destroyed, causing 20.000€ worth of damages. The mayor has appealed to the population to provide any information that could lead to the arrest of whoever has done such a thing. So I believe that Anémona needs the nocturnal eyes of the population, silently ensuring the safety of its dearest monument.