I organize private tours in Porto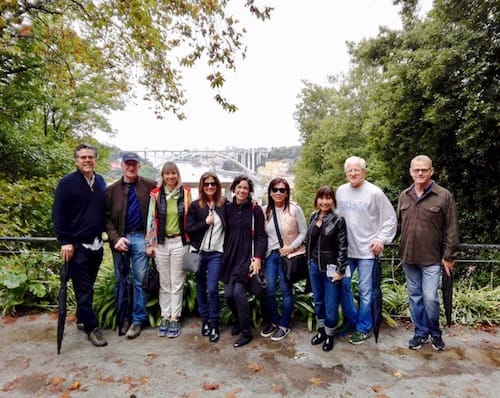 Check this page for more information or send an email to sara@portoalities.com.
(Article updated in Nov. 2018)
The holiday season is one of the happiest times to take a short break in Porto. The streets are filled with Christmas lights and there are plenty of options to entertain both kids and adults.
Therefore, we wrote this article with plenty of suggestions for you to enjoy during your Christmas in Porto.
Before reading this article: have you already decided where to stay? If not, read my article about the Best neighborhoods to stay in Porto! There I give you plenty of recommendations of great hotels and apartments in Porto.
Here's our guide for Christmas in Porto:
Best Christmas events in Porto
Christmas is not complete if you don't go out and enjoy some fun activities. The city organizes many free events that are suitable for both adults and children. Here are our top picks for this year:
Christmas Tree Inauguration Party
Dec 1st | Avenida dos Aliados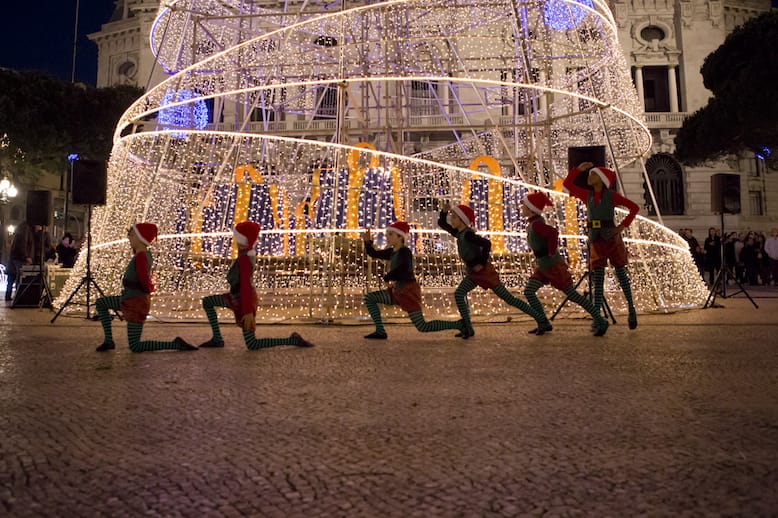 This year on December 1st starting at 3:30pm, Porto's amazing Christmas tree will be the stage for several shows, including a comedy show, gospel music, a fireworks show and much more. There will also be other events throughout December.
Tales and Puppets | December 2, 8, 9 15, 16, 22, 23 | 4pm or 6pm
Inside the Christmas Tree, there will be puppet shows for children, but adults are welcomed. Each weekend until the end of December, there will be a different theme.
Dancing to Christmas | December 8, 15, 22 | 5:30pm
16 students from Balleteatro dance school will embody through silent gestures the different relationships that integrate our lives.
Family Jazz Concert | December 16 | 6:30pm
A show for the family, where jazz and children's themes are performed to remind us of the most enjoyable songs and sounds of childhood.
Wise Kings' Route Parade | December 21 | 9:30pm
A collective initiative that pictures the Wise Kings' Route towards the Live Belen. The parade will present small music performances.
The parade route starts in Avenida dos Aliados; General Humberto Delgado Square (performance next to the Christmas tree); Praça da Liberdade; Largo dos Lóios; Rua Trindade Coelho; Rua das Flores; Largo de São Domingos; Rua Belomonte; Largo de São João Novo (Igreja de S. João Novo Church).
Ópera de Bolso Concert | December 23 | 4pm
Conducted by maestro António Sérgio, Ópera de Bolso Company comes to Aliados to present an amazing performance that joins six voices that participated in the "Christmas at the door" concert series.
Gospel Sounds | December 23 | 6pm
The oldest Portuguese Gospel choir will celebrate their 16 years of existence with a concert that joins both choirs from Porto and Lisbon.
Porto Christmas Village
Nov 24th – Dec 30th | Alfândega do Porto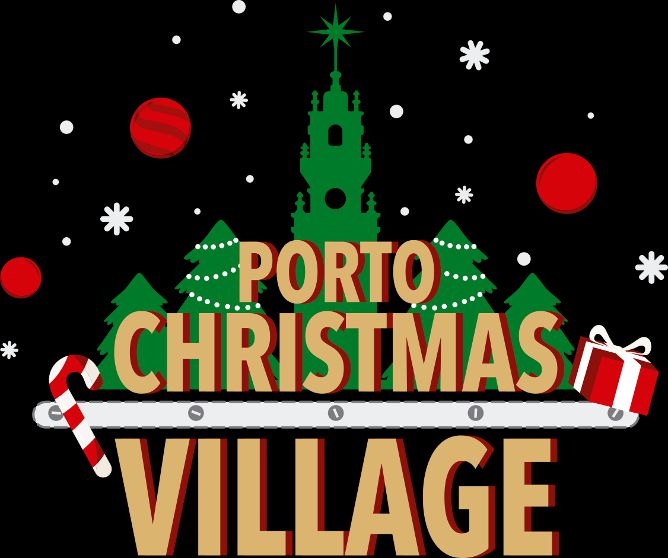 Christmas is arriving early this year with Alfândega do Porto hosting the first indoor space in the city dedicated to Christmas. The space will have ice skating, toys display, Virtual Reality games and much more fun activities for both children and adults. There will also be food & wine bar, coffee shop serving hot chocolate & cookies and other place to sit down and eat.
Price:
Children < 2 years old: Free
Children 3-11 years old: €3.50
Adults > 12: €5
Family Pack (2 adults and up to 3 children): €15
Off-Peak Pass (Mon-Fri): €20
General Pass: €32.50
Schedule:
Mon to Thur: 2:30pm – 8:30pm
Fri to Sun: 11am – 10pm
December 24: 11am – 3pm
Ice Skating
Dec 1st to Jan 6th | Praça D. João I and Rotunda da Boavista
A traditional Christmas activity of Porto is to go ice skating on one of the two covered ice rings much to the delight of children (and adults too!). Nearby the ice ring of Rotunda da Boavista there is also an area with carousels, games and even a Santa Claus house (this, surely just for the children 🙂).
Price:
20 min: €3.50 | 60 min: €5
Schedule Praça D. João I:
Sun to Thu: 09:30am – 11pm
Fri to Sat: 9:30am – 1am
December 24: 10am – 6pm
December 25: 3pm to 7pm
December 31: 10am – 2am
January 1: 10am – 2am
Schedule Rotunda da Boavista:
Sundays: 10am – 10pm
Mon to Thur: 11am – 10pm
Fri to Sat: 11am – 11pm
December 24 and 31: 10am – 4pm
December 25: 2:30pm to 7pm.
Harry Potter Christmas Party
Dec 15th | Mercado Bom Sucesso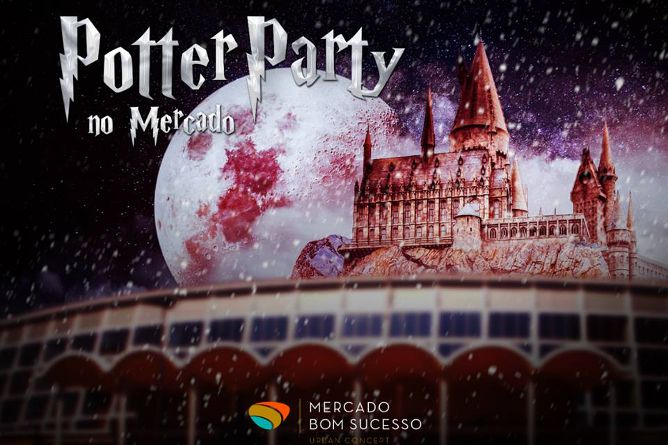 Inspired by the universe created by J.K. Rowling, the "Night of Spells and Potions" will be held in the restaurants' section of the Bom Sucesso Market. There will be treats, drinks inspired by the saga, games and much more. Feel free to bring your magic wand, because you might learn a potion or two. The party starts at 8pm and there is no entrance fee.
Christmas Laughter
Dec 2nd – Dec 23rd | Avenida dos Aliados
In Porto this year, you'll pass Christmas laughing thanks to the many busker performances taking place this December. The event will have many national and international performers that will surely make you and your loved ones laugh out loud. The performances always start at 4:30pm.
December 2: "I do" by Marta Costa (Portugal)
December 8: "Heaven" by de Daniel Gonçalves (Portugal
December 9: "The Great Magician Balidri" by Rui Macedo (Portugal)
December 15: "Tug of War" by Mr. Tartuffo (Chile)
December 16: A show by comedian Diogo Duro (Portugal)
December 22: "Amami!" by McFois (Italy)
December 23: A show by Mimo Huenchulaf (Chile)
If you're enjoying this post, don't forget to pin it for later: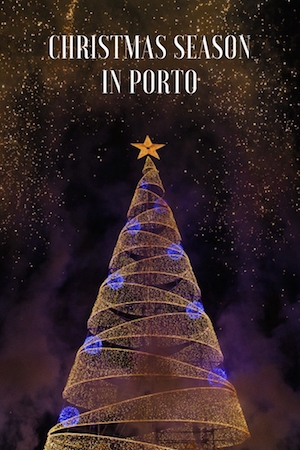 Best Christmas markets in Porto
If you love the tradition of going to Christmas markets, get ready because this year there will be many Christmas markets in Porto. Here are a few examples:
Artesanatus
8th – Dec 23rd | Largo do Amor de Perdição
Here is a Christmas tradition of Porto: Artesanatus, a market that brings together artisans and producers from various regions of the country 🙂 For those who appreciate Portuguese crafts as well as Portuguese foods items such as cheese, honey, olive oil and sausages, it is a great place to buy these Christmas gifts that aren't easily found elsewhere.
Christmas Market
Dec 1st – Dec 2nd | MMIPO – Museu e Igreja da Misericórdia do Porto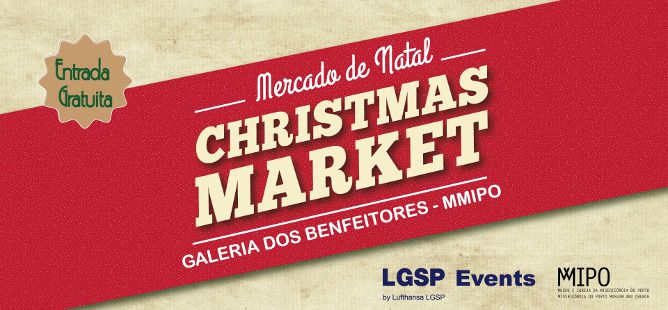 This market celebrates the Christmas season by offering a wide range of products ranging from baby clothes, men and women clothing, accessories, home decor, footwear, gastronomy, urban handcraft, etc. It is a unique opportunity to make your Christmas shopping!
Pink Market – Christmas edition
Dec 1st – Dec 2nd; Dec 8th – Dec 9th | Edifício Transparente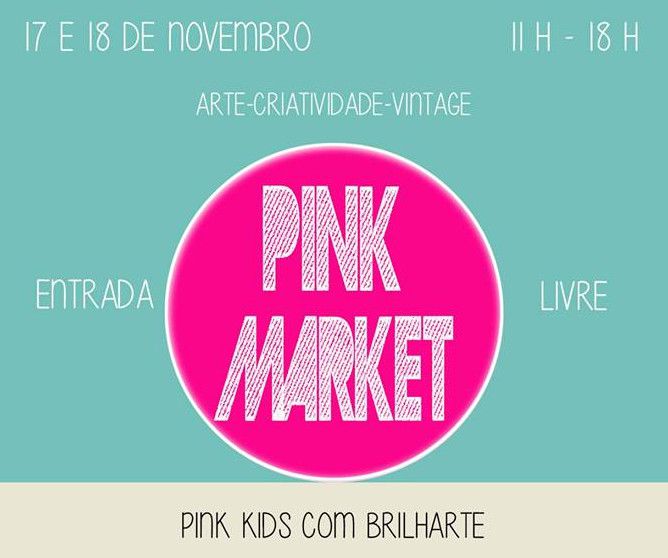 A free market with a superb location: at Edifício Transparente, a glass building in front of the ocean, very close to the magnificent sculpture of a giant fish net by the artist Janet Echelman. The pink market will have not only the typical vendors but also a kids' catwalk show and performances by musicians and dancers. If the weather is good, it is a wonderful afternoon doing some Christmas shopping by the beach 🙂
Christmas Flea Market
Dec 15th | Silo Auto Parking Garage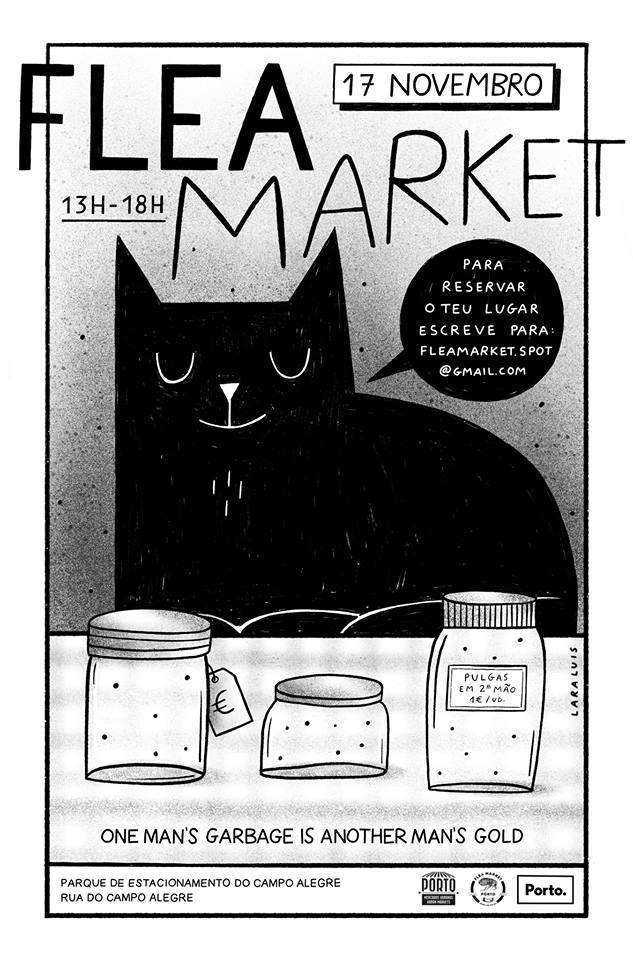 In Porto, we can't get enough of Flea Markets! And this year's Christmas edition poster is made by one of the best street artists in Porto, Lara Luis. It will take place at Silo Auto, a car parking in the city centre, on a car boot sale format – each seller takes his stuff, which includes antiques, books, clothes and footwear and sells it from his car boot, usually at fantastic prices. It is the ideal Christmas market to find truly unique gifts for a bargain!
Mercado de Natal do Porto
Dec 1st – Dec 24th | Praça da Batalha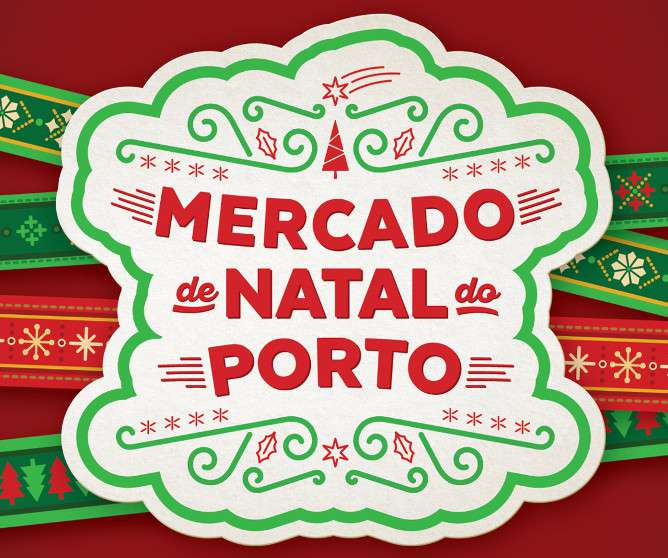 This event held in Batalha Square will be the first of its kind in Porto. It will include music, food, workshops, Christmas decorations and an exhibition of wooden houses. It will also have many items perfect for gift-shopping like crafts, toys, books and clothing.
Best stores to do some shopping in Porto
Visitor might feel so overwhelmed by the amount of shopping stores in Porto that they wouldn't know where to begin. So we're naming our top five stores for Christmas shopping in Porto:
The Best restaurants in Porto for Christmas
One of the joys of Christmas is to share dinner with your loved ones. Thankfully, Porto has a few restaurants open around Christmas. Here are our top picks for the best restaurants in Porto for Christmas:
Note: make sure you book in advance and ask for the Christmas menu prices! And if you're looking to organize a Christmas dinner with friends or co-workers, try one of the best restaurants in Porto for large groups.
Bom Sucesso Gourmet
Mercado do Bom Sucesso
Open on December 24th for dinner and December 25th for lunch.
Reservation: +351 226 076 000 or by email.
SOMOS Restaurant & Lounge
Avenida da Boavista, 1466
Open on December 24th for dinner (7:30pm – 9pm) and December 25th for lunch (12:30 pm – 3pm).
Reservations: +351 22 607 2500 or by email.
33 Alameda
Alameda de Basílio Teles, 29
Open on December 24th and December 25th for lunch and dinner.
Reservations by email.
Palco
Rua de Sá da Bandeira, 84
Open on December 24th for dinner.
Reservations on its website.
Porto Palácio
Avenida da Boavista, 1269
Open on December 24th for dinner (7:30pm – 10:30pm) and on December 25th for lunch (12:30pm – 4pm).
Reservation: +351 226 086 600 or by email.
Where to stay in Porto during Christmas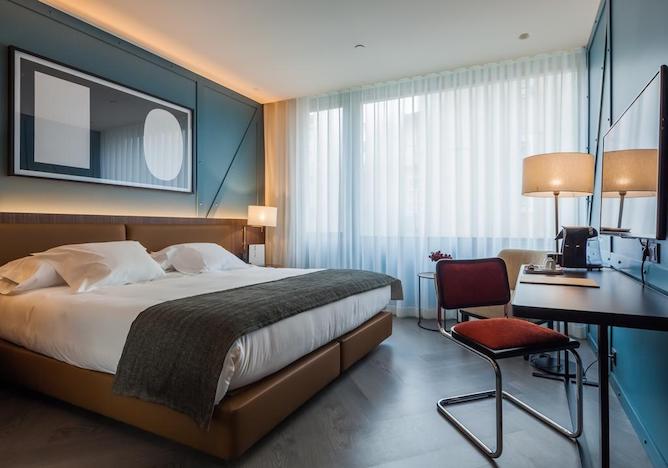 Discovering where to stay in Porto might a tedious task, that's why we pick our favorite boutique hotels, Bed & Breakfast / guesthouses and hostels to stay at during Christmas in Porto. The list starts from the most expensive options to the more budget friendly ones.
If none of these places are available, make sure to read all of our articles about where to stay in Porto.
Note: if you're visiting Porto, I suggest you make your reservation right away because the city is already getting crowded for the holiday season!
Extra: Go on a private tour in Porto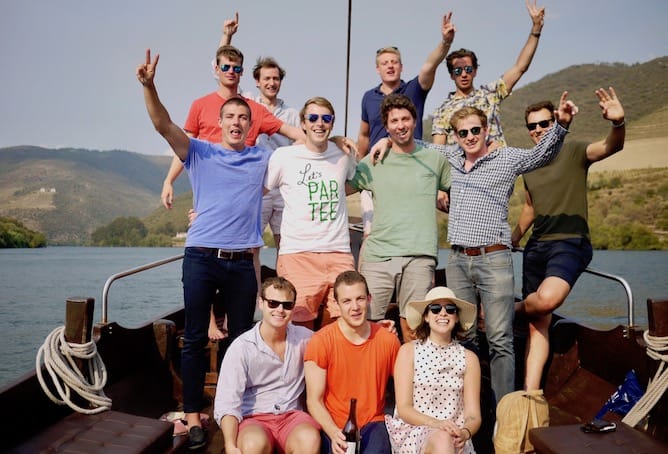 The best way to get to know Porto is to go on a private tour with me!
Check this page to learn more about my tours in Porto, or simply send an email to sara@portoalities.com. I will shortly get back to you with a tailor made tour designed specifically for you.
It will be a pleasure to welcome you in Porto!