Porto witnessed the presence of many important architects like Marques Silva and Siza Vieira who became the anchors of a new architecture movement called Escola do Porto.
One of the prominent figures of this movement is Eduardo Souto de Moura. He's a Pritzker winner and the genius behind Metro do Porto. That's why we are listing the best Souto de Moura buildings in Porto that you should check out when you're in the city. Some of them even belong on my list of the best things to do in Porto!
These are the best Souto de Moura buildings in Porto:
Metro do Porto (1997 – 2005)
Trindade, 4000-057 | Porto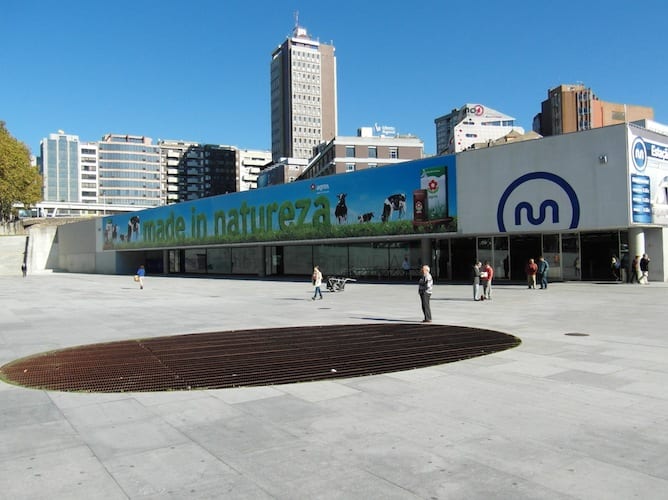 Another award-winning project by Souto de Moura is the glorious subway system in Porto which is referred to as Metro do Porto.
Not only was Moura the head architect, but he also designed many of the stations including Casa da Música and Trindade. Personally, I consider every station in Metro do Porto one of the best Souto de Moura buildings in Porto.
His minimalist design merged concrete and metal in a way only Moura can achieve. Every structure and design element was put there to complement its surrounding.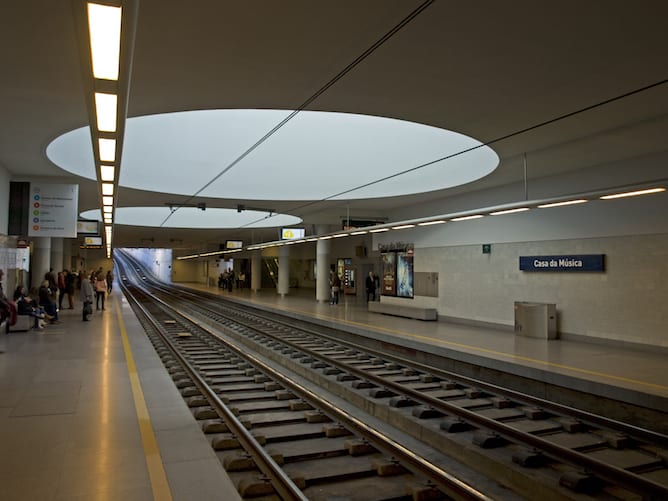 For example, the Trindade station is more flat, using the urban landscape as its background. On the other hand, Casa da Música has different geometrical shape with a color resembling that of the actual Casa da Música. Another amazing design by Souto de Moura is Bolhão subway station which we've included in our best 8 contemporary buildings to visit in Porto.
How to get there: you can get on any subway line in Porto and go to the station Trindade. Make sure to check the map of the metro of Porto.
Burgo Tower (1991 – 2007)
Avenida da Boavista, 1837 | Porto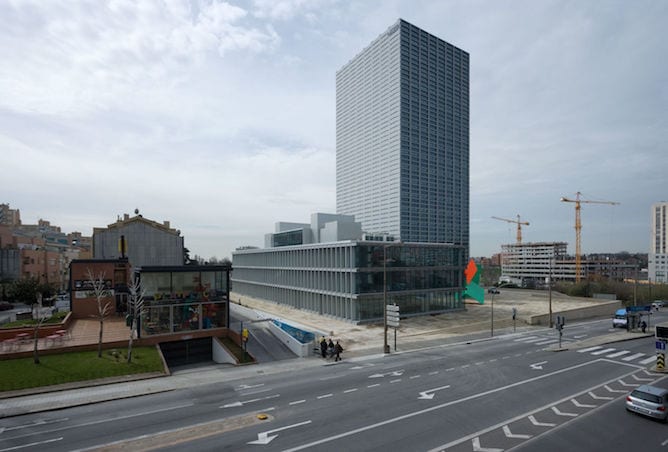 If you're ever in Avenida da Boavista, an avenue that connects Boavista's roundabout to the ocean, you can't miss this outstanding structure. It truly stands out amongst the multitude of buildings in that area. That's why it's one of the best Souto de Moura buildings in Porto.
"Two buildings side by side, one vertical and one horizontal with different scales, in dialogue with each other and the urban landscape." – Pritzker Jury
Moura's design consists of two separate buildings; a three-floor building used for commercial purposes and an 18th-floor tower which houses business offices.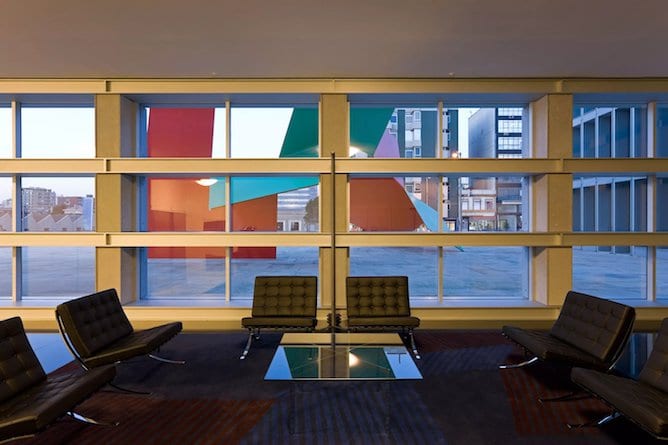 The south and north side of the tower are made with metal structures and lots of glass to allow light to come in. And the west and east walls are protected with granite plates for more privacy. The project is completed with an iron sculpture made by the late artist, Ângelo de Sousa.
Burgo tower is one of the tallest buildings in Porto, but you'd be surprised to know it was Moura's first time designing a high-rise building. "Up until that point, I have only designed one-story houses, I haven't even drawn an elevator", said Souto de Moura when talking about Torre Burgo.
How to get there: take bus 201, 203 or 502 to the stop Bessa. The tower is a 3 minutes walking distance.
Casa do Cinema Manoel de Oliveira (1998 – 2000)
Rua Viana Lima, 224A | Porto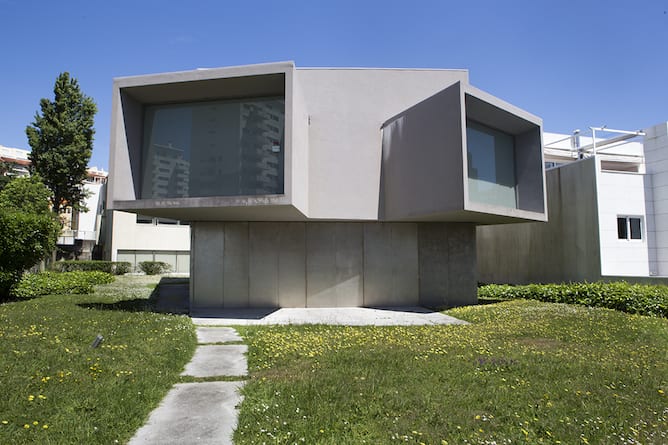 In Foz, where the river meets the ocean, you'll find the work of Moura in a house which belonged to the late Porto filmmaker Manoel de Oliveira. The house is now owned by the local government of Porto with no future in sight.
The first thing you notice about this building is the bulky and huge cubic windows. The right window has the ocean view and the left has the river view.
Even though the building was designed to merge with the houses around (Moura's trademark), it still stands out with its video camera-like features. On the interior, there's a basement for archives and a workroom. And above that, there's a movie theater and the living part of the house.
The house is one of the best Souto de Moura buildings in Porto because it's an artistic collaboration that you won't find anywhere else.
How to get there: take bus 204 until Padre Luis Cabral, the house is an 11 minutes walking distance.
Maia House (1996 – 2007)
Rua Nicolau Nasoni, lot 1 and 9 | Porto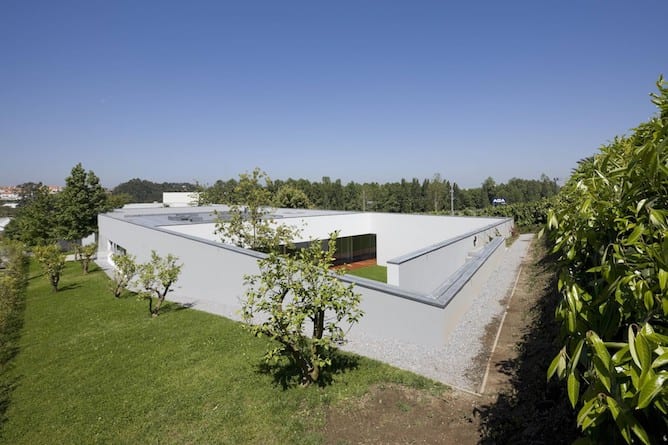 I firmly believe this is one of the best Souto de Moura buildings in Porto, even though it's just a house and not a place you could enter per se. The idea behind designing this dwelling was to make something beautiful out of something ugly, in what Moura believed to be one of the most unattractive parts of Porto's peripheries.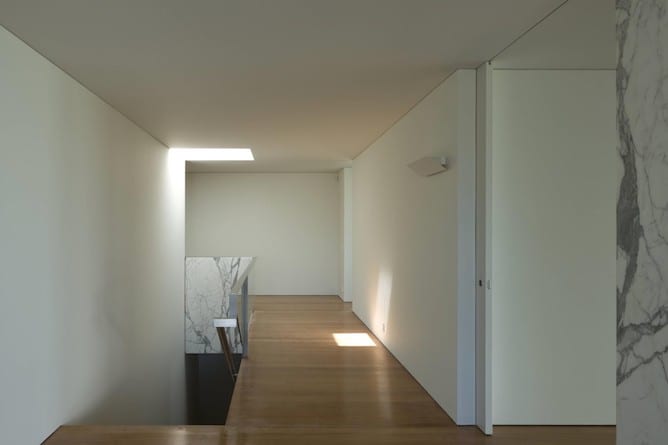 Outside, you notice the corner windows. Moura always jokes about having difficulties making windows and that's why he decided on that shape. The tall walls of the exterior were used to block the sound coming from the nearby metro station. The interior is designed with high-quality materials (e.g wood, marble), something people used to be able to afford before the economic crises. The symmetry in every corner of the house is exceptional.
How to get there: take the metro to Parque da Maia – the house is a 6 minutes walking distance.
Casa das Artes (1981 – 1991)
Rua de António Cardoso, 175 | Porto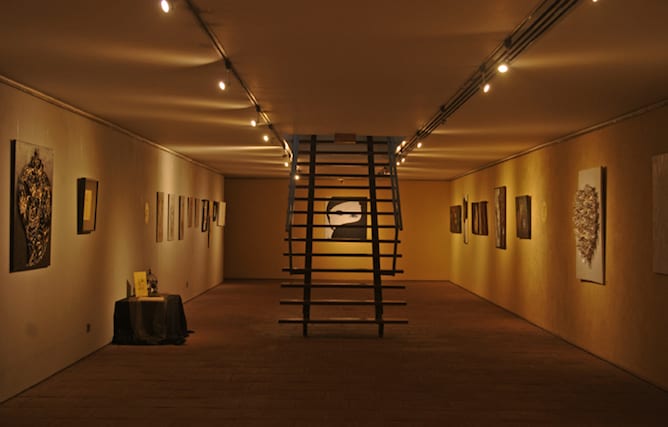 In Rua de António Cardoso, you'll find an old mansion referred to as Casa de Allen. It was Marques da Silva who built the original house in the late 1920s for the 3rd Viscount Villar d'Allen, and is now considered a heritage site. However, a new division was added, which I consider one of the best Souto de Moura buildings in Porto.
Souto was responsible for renovating the gardens and adding an auditorium, film library and exhibitions room which he did very elegantly. This was one of Moura's first projects where the influence of Mies Van der Rohe comes through in the simplicity and cleanness. Also, the merging of wood, metal and concrete is outstanding.
If you're in Porto, you can visit Casa das Artes. It holds many cultural activities throughout the year. It's also a great chance for you to see the works of two of Porto's famous architects, which are years apart but coexist in total harmony.
How to get there: take the bus 502 until Casa das Artes, the building will be right in front of you.
Braga Municipal Stadium (2000 – 2003)
Parque Norte, Rua de Monte Castro | Braga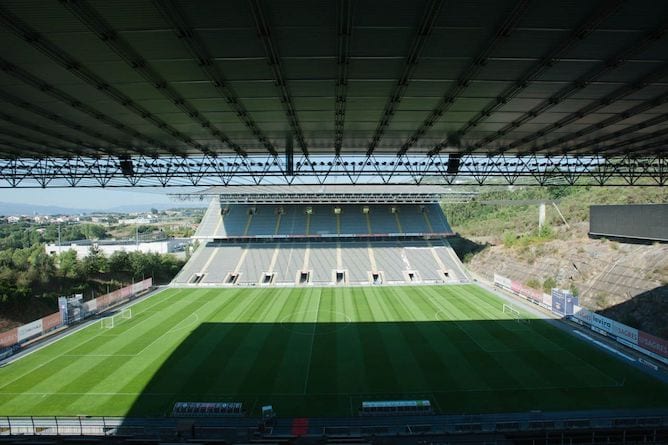 This award-winning project was built in Braga (an hour away from Porto) to accommodate the 2004 Euro Football Competition. Even though this may not be classified under "the best Souto de Moura buildings in Porto", I thought it is still important to include. This is one of the architect's best work, so don't miss it when you visit Northern Portugal.
The initial project was meant to be constructed near a body of water on a hill called Monte Castro. However, Souto de Moura decided it was best to build the stadium on a higher ground. So the stadium was carved into some of the hill rocks which blended well with the concrete. The stadium has two bleachers in front of each other, but the sides are empty. This allows people to see the beautiful landscape.
It took intensive research and many rocks moved to build this stadium. This project is a prime example of how Eduardo Souto de Moura can build something in harmony with its surrounding.
How to get there: take Linha de Braga from São Bento train station until Ferreiros. The stadium is a 25 minutes walking distance.
About Eduardo Souto de Moura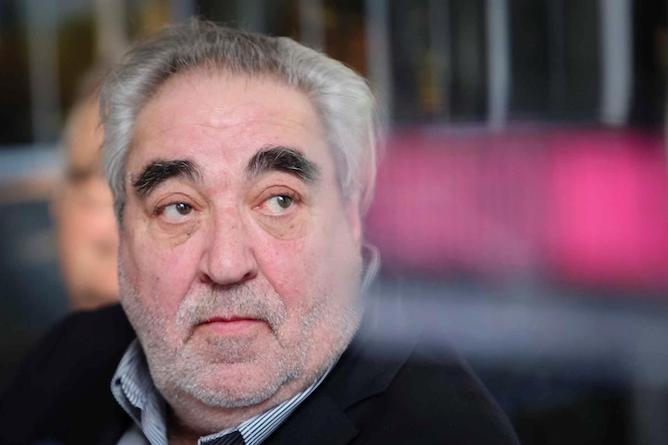 Eduardo Souto de Moura was born in 1952. He attended architecture classes at the Porto School of Fine Arts and the Faculty of Architecture of the University of Porto. As a student, he worked in Álvaro Siza Vieira workshops (1974-1979). After finishing his degree in 1980, he won a design award and after that, he became an independent architect.
In 1981, he began teaching at Porto's School of Architecture. He's frequently a guest-speaker at well-known universities. Moura is a 3rd generation architect of the Escola do Porto movement.
In 2011, he added a Pritzker to his long list of awards, becoming the 2nd Portuguese architect to ever win a Pritzker prize, after Álvaro Siza who won it in 1992.
You must visit one of Souto de Moura buildings in Porto to experience the feeling only a designer of this talent can transmit. You can also buy books dedicated to his work that you can keep for your own reading pleasure or gift them to a design enthusiast.
He's often working on international projects in places like Switzerland and the United States.
Save this article for later: