I organize private tours in Porto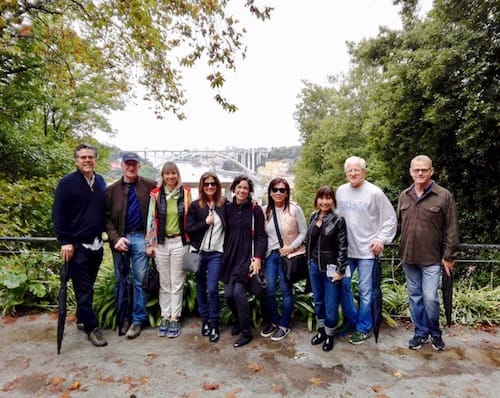 Check this page for more information or send an email to sara@portoalities.com.
You already had a good night of sleep at your hotel / apartment in Porto, and now it is time for breakfast.
Before reading this list of the best places for breakfast in Porto, there are a couple of things you should know:
Unlike other European countries, we don't eat a lot for breakfast. We don't eat savoury things in the mornings, like sausages or beans or other weird stuff, so don't expect to find that in these breakfast cafés. Therefore, if you are looking for a Continental Breakfast or something of the sort, you should check my article about the best brunch places in Porto.
Personally I don't fancy pretentious places, which is why most of the places on this list are down to Earth, traditional Portuguese pastry shops. But trust me, they are all damn good! 🙂
With no further delay, let's find out about…
The best places for breakfast in Porto
Confeitaria CristalRua de Cedofeita, 585
I've been going almost everyday to Padaria Cristal, in the lovely Cedofeita neighborhood, since I was a little girl. This pastry shop in Porto is a delight – everything is fantastic, from all the bread varieties (rye, beetroot, carrot with seeds,…) to the traditional Portuguese pastries and pies.
My all time favourites are the recently introduced courgette and ginger cookies, which I like to get over an espresso.Over lunch they have a delicious soup, as well as some sandwiches. But the best time to get to Padaria Cristal is definitely in the morning as this is one of the top places for breakfast in Porto!
How to get there: the subway station Lapa is a 5 minutes walking distance.
Leitaria da Quinta do PaçoPraça Guilherme Gomes Fernandes, 47
Leitaria da Quinta do Paço is famous for its insaneously good eclairs filled with artisanal whipped cream. But it is also one of the top places for breakfast in Porto!
It has several breakfast menus ranging from 3,90€ to 5,90€, which include stuff like croissants, bread or toasts, butter and jams, coffee, fresh orange juice, fruits and yoghurt. I find these menus a good deal!
If you have a (very) sweet tooth you can also order an eclair – Leitaria has 8 fixed flavours, but it regularly introduces new ones 🙂
How to get there: the subway station Aliados is a 5 minutes walking distance.
MoleteAvenida Rodrigues de Freitas, 256
Molete is the cute word we use in Porto to say bread. It is also one of my top places for breakfast in Porto, as here you can find not only freshly baked bread, but all different kind of sweet and savoury pastries.
Molete provides several breakfast menus that range for the simplest one (coffee + egg custard pastry for 1€) to the most complete one, with orange juice, coffee, croissant with ham & cheese, bread with butter and an egg custard pastry for 3,70€. For those of you who prefer to have a salty breakfast in Porto, I suggest you to ask for a bôla saloia at Molete… it's really good!
Another great thing of Molete is its location, right next to Casa Guedes, where you can find the best sandwich of Porto 🙂 There are plenty of tourist attractions close by as well.
How to get there: the subway stations Campo 24 de Agosto and Heroísmo are a 5 minutes walking distance.
Confeitaria ChicanaAvenida Rodrigues de Freitas, 36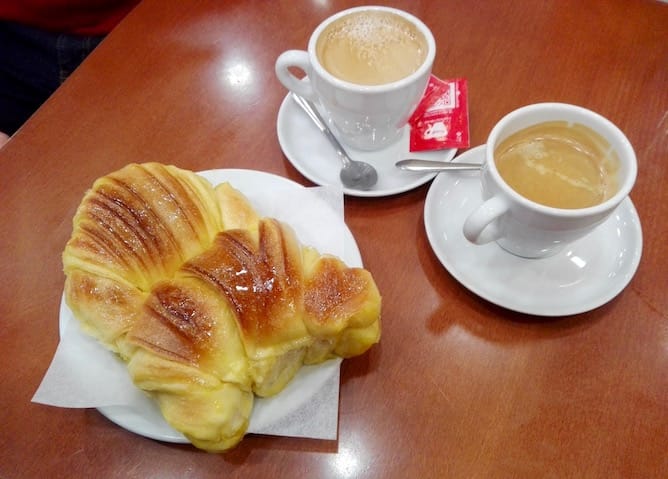 I used to live a street away from Confeitaria Chicana, the amazing pastry shop in Porto's Bonfim neighborhood. I remember going there every Sunday morning, with my parents, to try the most fantastic croissants in the city. They still do them (and they are still the best ones! 🙂
Confeitaria Chicana is a family run pastry shop in Porto, where you'll only find locals. It's not a fancy place, but it's perfect for croissants, for "húngaros" biscuits or simply for toasts.
I really love this spot, as it kept its cozy vibe throughout time, so it's definitely one of my top places for breakfast in Porto!
How to get there: the subway 24 de Agosto or Heroísmo are a 5 minutes walking distance.
Tavi is the most expensive option on this top places for breakfast in Porto. It's one of the few pastry shops in Porto with a view towards the ocean, since it's located in the fancy Foz neighbourhood.
Even though it's a bit far away from Downtown Porto, it's worth to take the time to have breakfast in Tavi since they have a) the best scrambled eggs with bacon in town b) great toasts and c) a to-die-for plum cake! 🙂 Therefore, every time I visit Tavi I end up eating way too much 😛
I recommend Tavi if you're not in a hurry – it's a good option for a rainy day, or if you're feeling lazy, or even if you're in the mood to write a few postcards for your friends back home 😉
How to get there: take the tram line #1 or a taxi / Uber.
Época PortoRua do Rosário, 22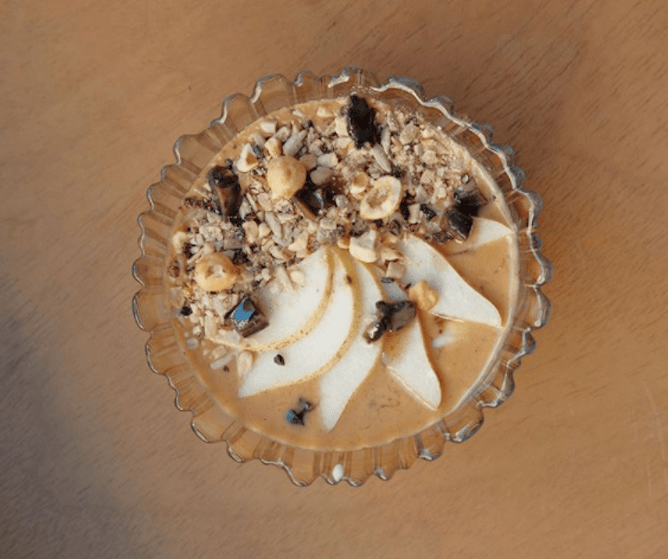 Época Porto is a rather unique place in the city. With a clear Nordic inspiration in the interior decor, this breakfast place in Porto likes to take life slow. It has a short list that changes according to the season, but everything is prepared with great care and using organic ingredients from local producers.
This is a very high quality café so expect to pay a bit more than you would pay at a regular café. The space is super tiny, so get there as early as possible.
How to get there: the subway station São Bento is a 15 minutes walking distance. 
Confeitaria do BolhãoRua Formosa, 339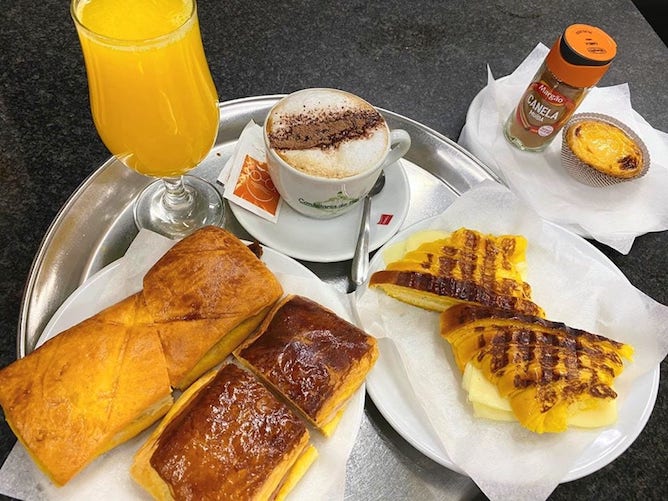 Confeitaria do Bolhão is a very special place to have breakfast in Porto. After all, it is the oldest pastry shop in the city (it was founded in 1896 and recovered by a Venezuelan family around 25 years ago).
It is virtually impossible to not find something that you like at Confeitaria do Bolhão because they sell EVERYTHING, from a gazzillion of bread varieties, traditional Portuguese pastry (both sweet and savoury), toasts, sandwiches, etc.
It is a fantastic place for you to get acquainted with the Portuguese food culture.
How to get there: the subway station Bolhão is a 1 minute walking distance.
Lameiras 2
Rua de Cedofeita, 243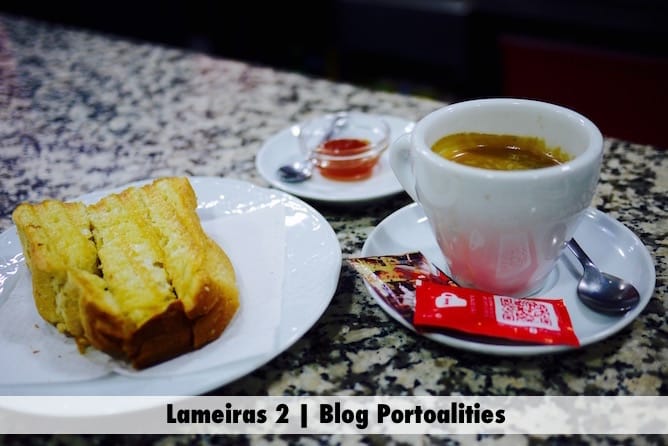 All and all, I have the simplest taste. I am always satisfied with the best 😛
And since Lamelas 2 has the best toasts with butter in town, it fully deserves its spot on this top places for breakfast in Porto!Lameiras 2 is a simple cafe in Cedofeita neighborhood, where once in a while I go to have toast with butter AND home made compote on top. It's fabulous.
Completely non touristic, very cheap, everything you can ask when having breakfast in Porto.
How to get there: the subway station Lapa is a 10 minutes walking distance.
Amarelo TorradaRua de José Falcão, 29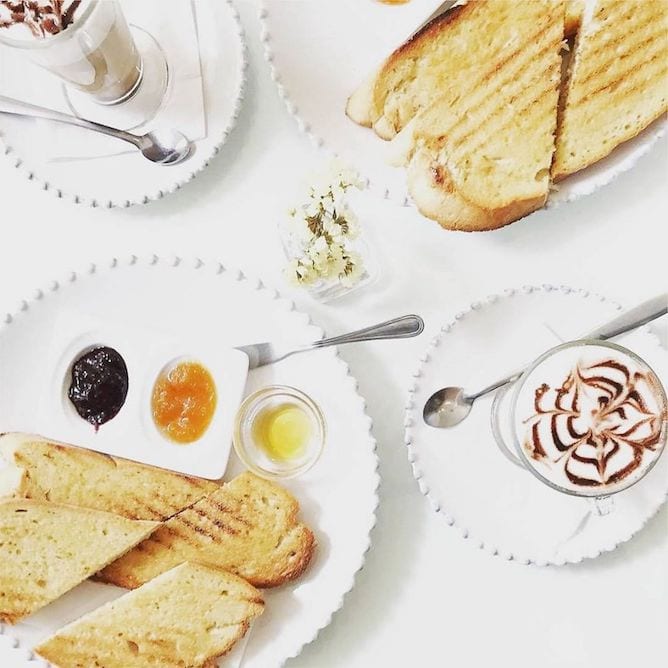 Right in front of one of the most famous places for brunch in Porto is Amarelo Torrada, a quaint little shop that focus on what Portuguese people love the most for breakfast: torradas. It is basically a toast that we drown in butter. Delicious!
In Amarelo Torrada you can find a variety of different torradas (made with different types of breads), as well as home baked scones. You can also get many different toasts, wraps and even soup for lunch.
How to get there: Trindade and Aliados subway stations are a 5 minutes walking distance.
DaTerra (Baixa)Rua Mouzinho da Silveira, 249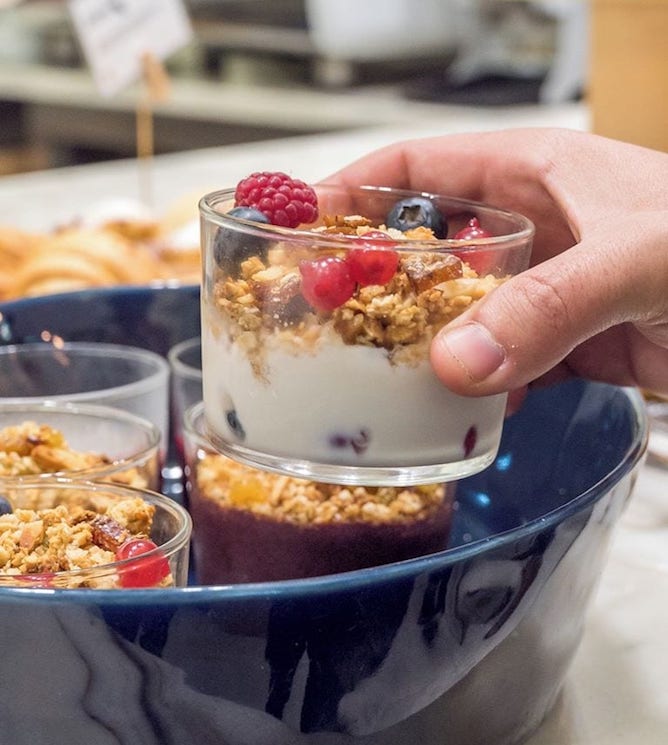 All my vegan friends out there: don't get desperate, I know your pain. Therefore I included a vegan restaurant on this list of the best places for breakfast in Porto.
From Monday to Friday, from 8h30 t0 11h30, you can head to DaTerra Baixa (check the address above the photo) and get a vegan buffet breakfast. You will be able to taste vegan pastéis de nata, Soy yogurt with granola and berries, Chia pudding with red fruit jam, Açaí bowls, pancakes and breads. I recommend you to order a detox juice as they are fabulous.
How to get there: São Bento train station is a 5 minutes walking distance.
A BolacheiraRua do Carvalho, 102-A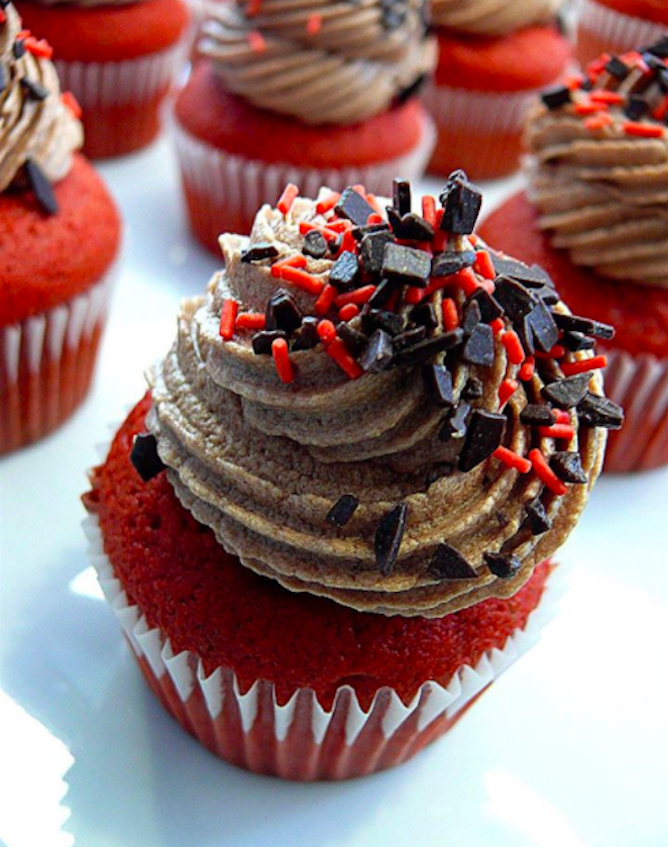 I thought I would use a red velvet cupcake to grab your attention (if I failed, it means you don't have a heart and there is nothing I can do for you).
I wanted to include as much variety as possible on this list of the best places for breakfast in Porto so I decided to include A Bolacheira. You see, this is the only pastry shop in Porto specialised in cookies and cupcakes. They are delicious, fresh and decadent.
Therefore if you have a sweet tooth, I highly recommend you this place.
How to get there: take an Uber.
Chelo Coast HouseAvenida da República, 128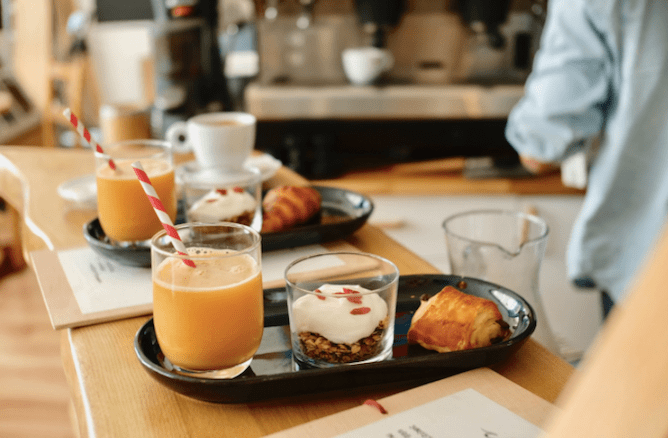 I probably shouldn't include Chelo Coast House on this list of places for breakfast in Porto because it is located in… Matosinhos, the nearest city.
But this bicycle / concept store is so adorable, it has such a great terrace overlooking the Matosinhos beach, it is so easily accessible using the metro of Porto that I couldn't help to mention it.
At Chelo Coast House you can find a wide variety of healthy breakfast options like granola bowls, homemade quiches and cakes, sourdough, toasts, vegan burgers, specialty coffee from my dear friends at Combi and delicious milkshakes.
How to get there: Matosinhos Sul station is a 2 minutes walking distance.
---
Extra: I decided to give you some tips of what to do after you've had your wonderful and filling breakfast!
Onwards then, travellers, and learn the best (and cheapest!) ways to discover the city:
One way is to get a combo ticket that allows you to visit Calém Port wine lodge followed by a Port wine tasting while watching a Fado show. This allows you to save A LOT of money as a visit to a Port wine lodge costs 15/18€, and a Fado show with dinner costs around 30€/person. By getting this online combo ticket for the Port wine lodge + Fado show you pay only 21€ – this is really cheap!
You can get the whole package with this ticket of a city train tour, river cruise and wine cellar visit. It is a great combo if you want to get the most of a single day and it's very cheap – only 22€. I absolutely recommend you buy the combo ticket because if you buy separately you will be paying double that price (over 40€).
If water is not really your thing, you can get a similar experience by getting a ticket to the magic train tour and Port Wine tasting.
Another great deal is to get a combo ticket for the Hop On Hop Off Bus, river cruise and Port wine cellar for 25,20€. This is incredibly cheap because the river cruise costs 15€, a visit to a Port wine lodge around 15/18€ and the Hop on Hop off Bus around 18€ / day. Save yourself some bucks by getting this online ticket.
Enjoy the city!
Extra: Go on a private tour in Porto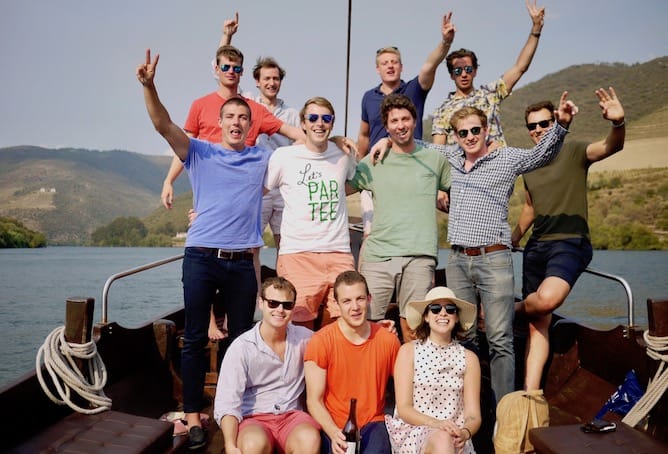 The best way to get to know Porto is to go on a private tour with me!Check this page to learn more about my tours in Porto, or simply send an email to sara@portoalities.com. I will shortly get back to you with a tailor made tour designed specifically for you.It will be a pleasure to welcome you in Porto!
---
Save this article for later: