I already written about the best neighbourhoods to stay in the city, so this time I carefully gathered a list of the best apartments in Porto to hopefully help you on your accommodation hunt. I chose different designs, styles and central locations for people traveling with family, friends or as a couple.
Let's check out the best apartments in Porto!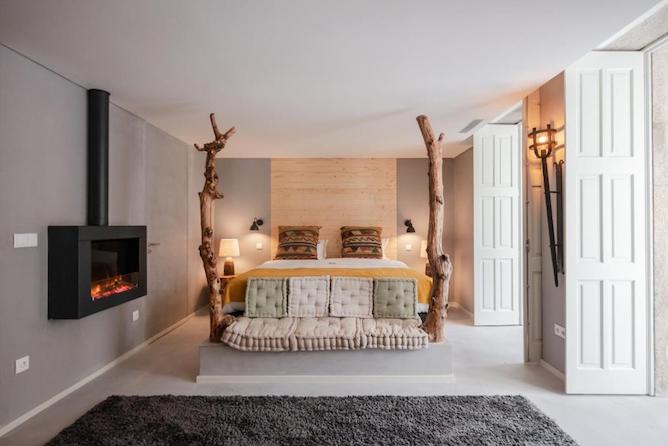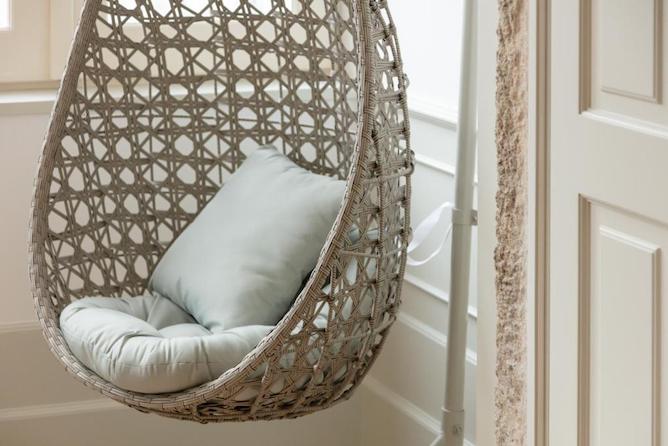 One of the best places to stay in Porto is definitely the Porto Deluxe Apartments – as the name suggests, these are luxury apartments, but for a very affordable price 🙂
All apartments are distinctively decorated (my favorite one is the Penthouse – isn't it gorgeous?!), and can accommodate from 2 to 8 people. They have wonderful decor details, like the wooden logs at the foot of the bed or the hanging chair in the terrace.
Porto Deluxe apartments are a 25 minute walk from the city center – yet the subway station Casa da Música is a 5 minutes walking distance. In addition, there is free parking for the guests.
Another thing I really like about these apartments in Porto is that access is via number codes and all communication is handled by WhatsApp – so, no unnecessary contact during this pandemic!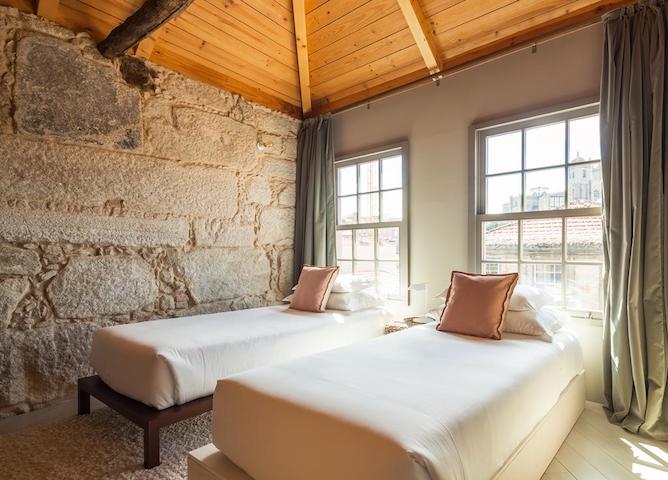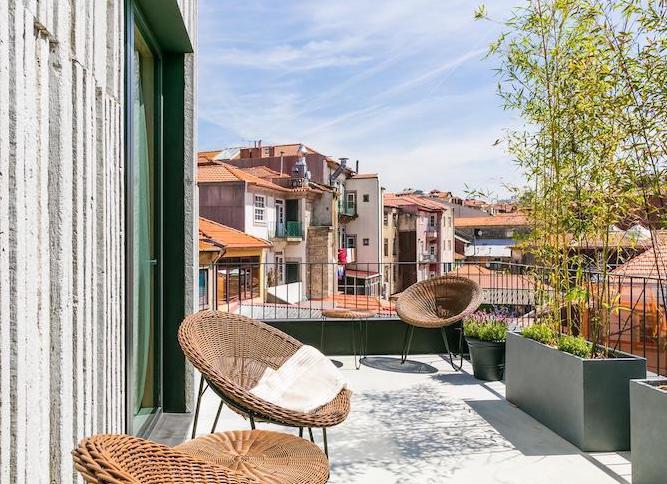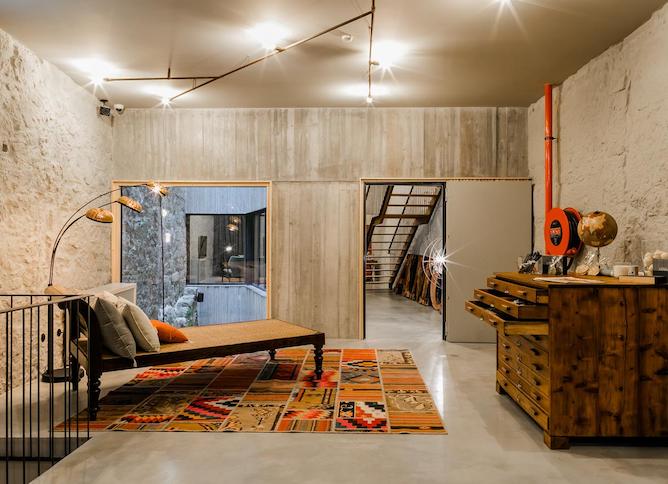 I have to gush for a little bit now and it is about the first entry on my list, Armazém Luxury Housing. It is a dream of industrial design and I am totally in love with it! Its minimalist and rough look is due to the choice of monochromatic colour schemes and iron doors and decor. The stone walls and wood ceilings and furniture add a certain rustic charm to the whole place that is absolutely charming.
Personally, the ambience of a place is one of the most important things and Armazém, one of the best apartments in Porto, is spot on.
You will also be in the historic center close to Porto's Cathedral, São Bento train station, Lello bookstore, the Clérigos tower, the Douro river and much more.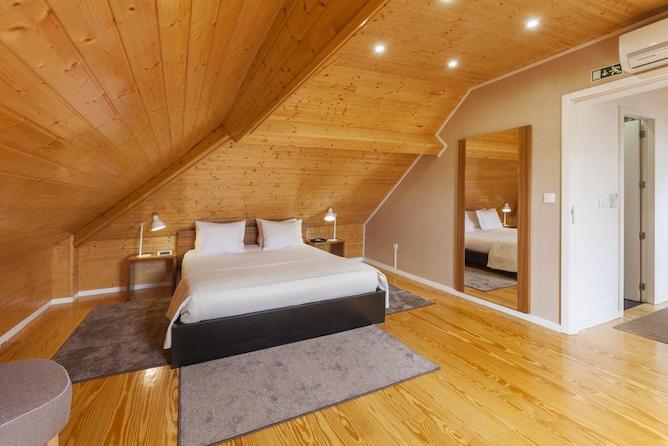 BO Fernandes Tomás Apartments makes it to my top three best apartments in Porto for its location close to Rua de Sá da Bandeira and its Scandinavian design, with sliding doors and a cool wooden ceiling.
The place comes with many amenities including a washing machine, dishwasher and a dryer, making it very convenient if you are planning to stay for a longer period of time or if you simply enjoy cooking while traveling.
If you book here, you won't miss out on anything. You'll be surrounded by beautiful Art Deco buildings and historical monuments. Plus, ViaCatarina shopping center and Bolhão market are just around the corner.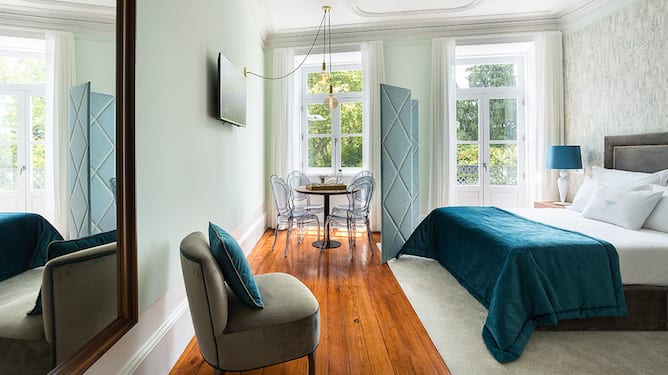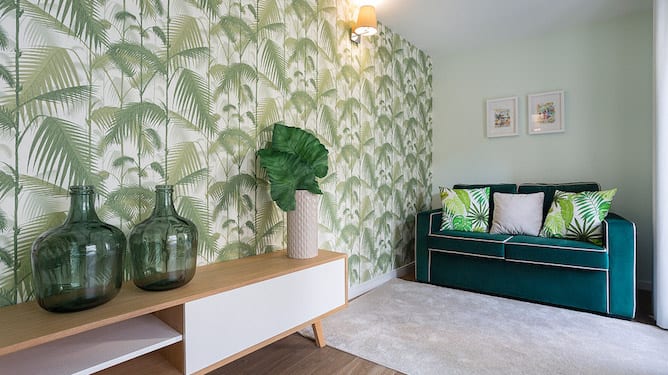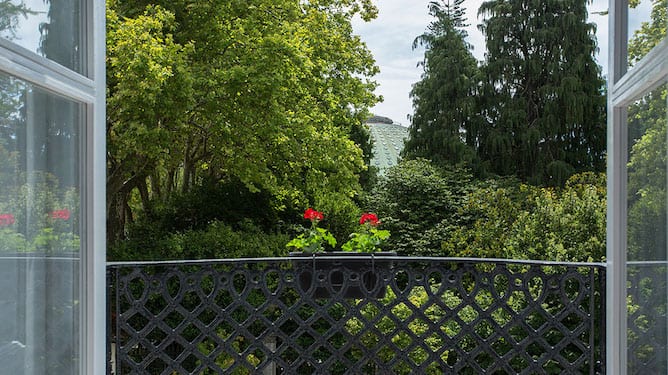 This apartment is right in front of the Crystal Palace gardens which is great for some morning walks and perfect sunsets. Who knows, maybe you will catch an event happening at the park. Because of this and so much more, this is truly one of the best apartments in Porto.
Predicados do Douro Palace has a really simple and interesting décor with elements of tropical influence. The rooms are cozy with great color combinations. The units are soundproof (which is quite rare in Portugal), bright, cozy and with a view to inspire envy!
Close by you will find tons of museums like Museu Nacional Soares dos Reis, one of the best museums in Porto. If you are fond of walking, Clérigos tower is the perfect destination for a stroll and Casa da Música, which is about 20 minutes away, is not to be missed.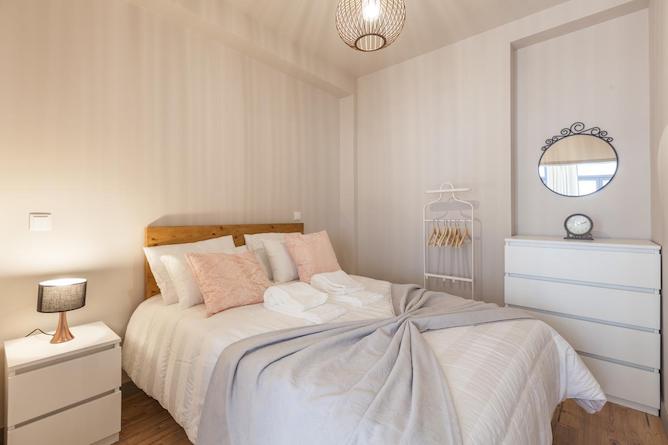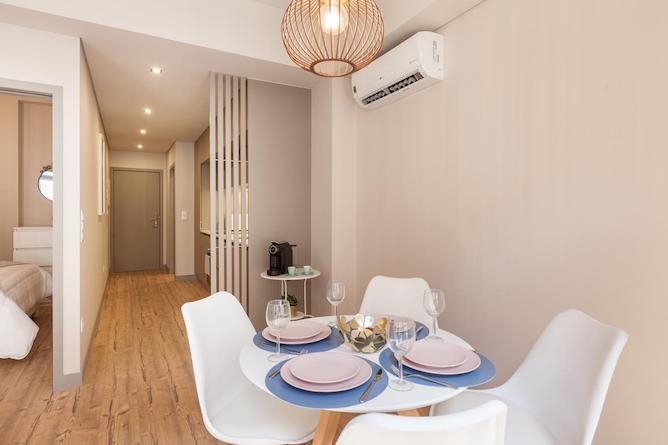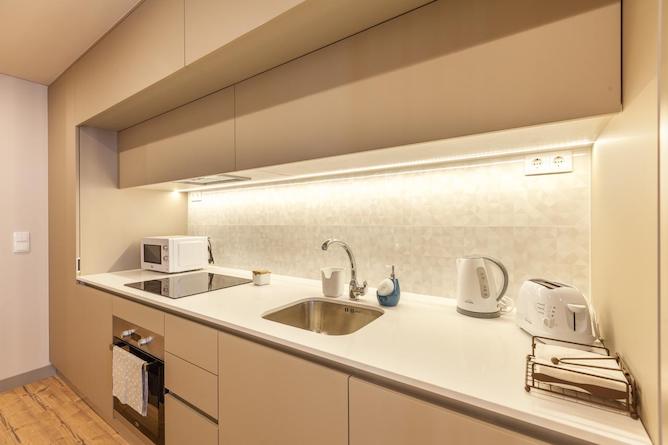 If you want a charismatic apartment in Porto, Sendme2Portugal is the perfect choice. It is a wonder of clear pastel colors and soft wood accents. The airiness of the rooms is truly delightful and a wonderful environment to wind down after exploring the city.
Besides the soft and cozy greatness of this apartment, its location is also a huge plus. Located in Santa Catarina street, it is close to everything like Bolhão Market and Coliseu do Porto, which are landmarks of Porto.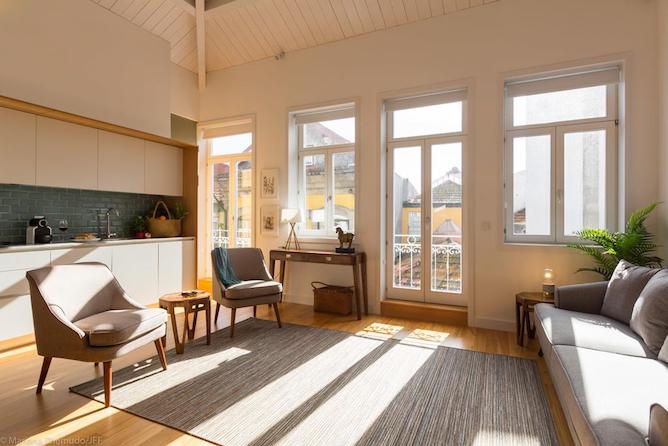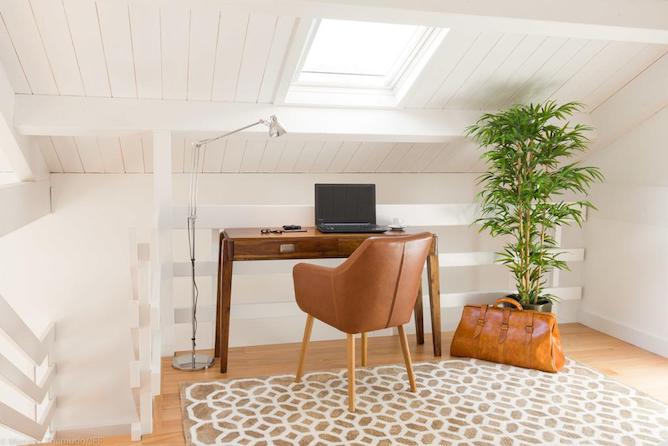 If you are looking for a cozy, simple and unassuming place to stay, MSC Flats are one of the best in Ribeira neighborhood. And the view is just astounding. After all, this is Ribeira we are talking about and the Douro river is a sight on every window. Let me just say that waking up to sunshine and the river flowing outside your window is the best way to start the day.
There are some wonderful places to see near this apartment as well. The Stock Exchange Palace is close by, as are Ferreira Borges Market and the famous Clérigos tower. Make sure not to miss them!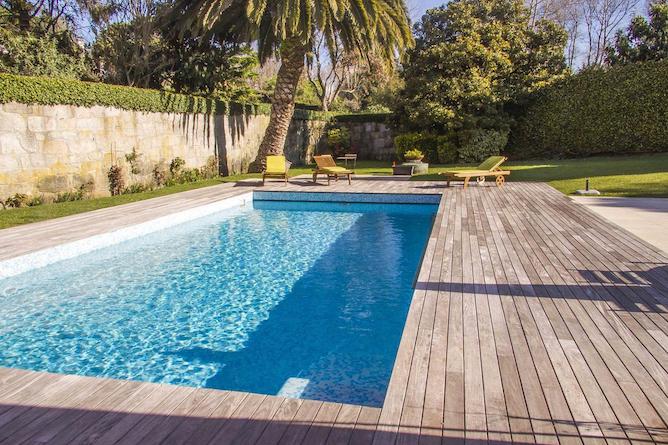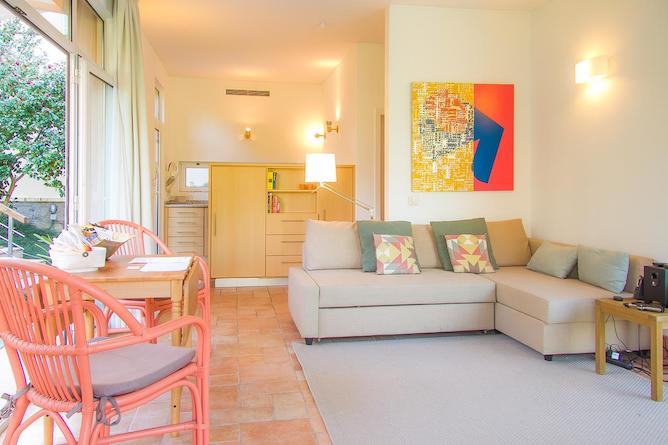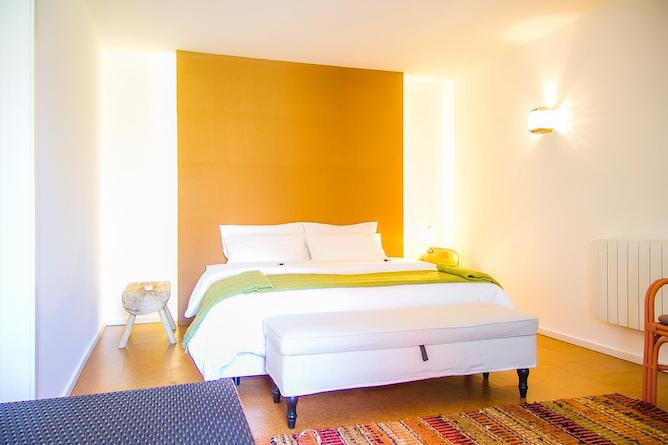 I have handpicked this suggestion for those amongst my readers that prefer a little downtime indoors. Oporto Garden Pool House is a perfect place for families, groups of friends and homebodies that prefer a good afternoon with a book, some knitting or a nice soak in the pool. That's right! This apartment not only has an extensive garden – perfect to get a nice Mediterranean tan – but a ginormous pool as well!
Let me tell you, I am glad I live in Porto because if I was visiting I would probably never leave this apartment. I am definitely considering moving there… can I? 😉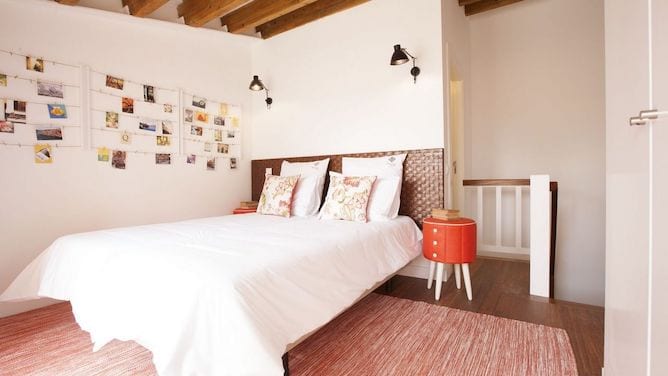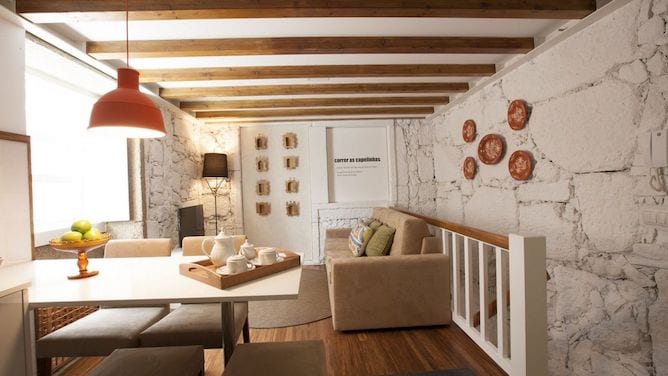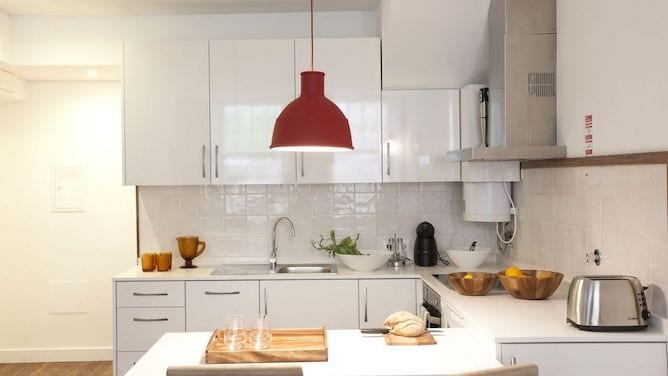 While on the hunt for the best apartments in Porto, I had to include Rua de Trás Apartments, because they have one of the best views of the Clérigos tower. The apartments are compact and the area is well utilized, a characteristic that I enjoyed. The ceiling is a bit lower which adds to the coziness of the place and you feel like you are in an old cottage where Porto's history is incrusted in the rock walls.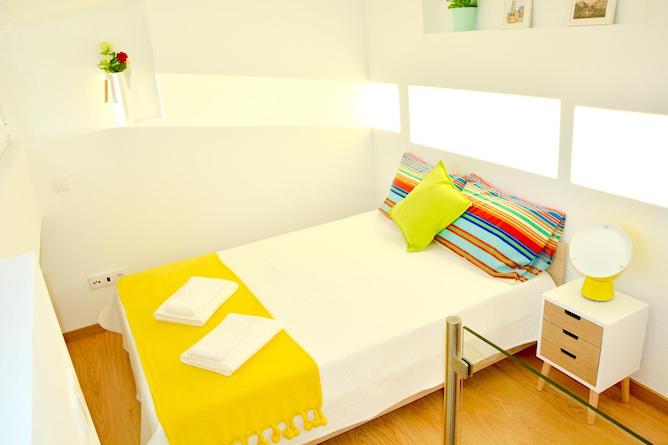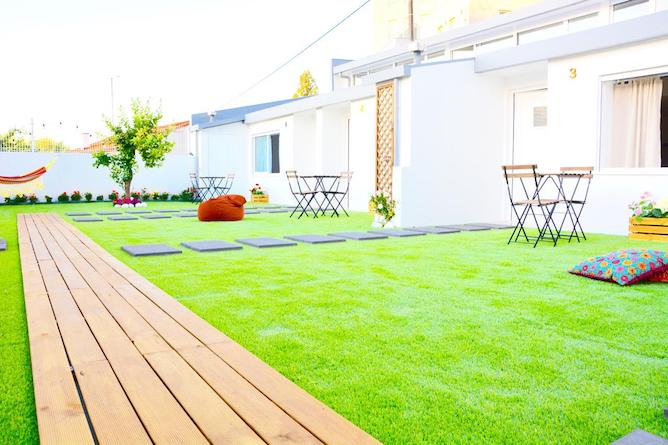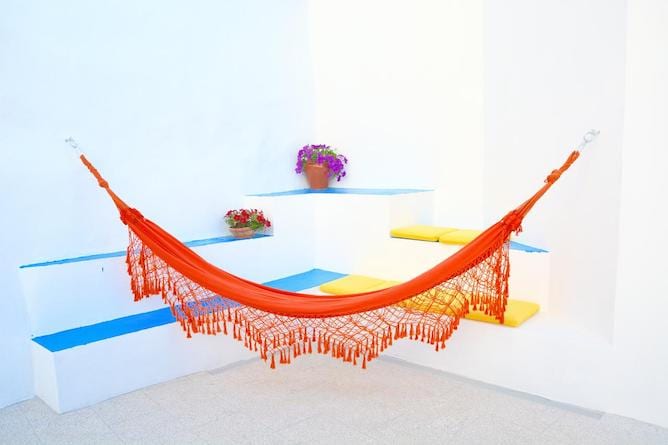 Porto Garden Villas are the utilitarian kind of apartments. They are small, but comfortable and versatile and while not suitable for large groups (you can go as a large group but you would have to be separated in several distinct apartments), they are perfect for couples or small families and groups of friends.
The large common garden is really suited for some outdoor fun and game playing (though the grass is fake, which I'm not really a fan of).
Like I said it is a great place if you are a no frills, straightforward person. Do give it a try!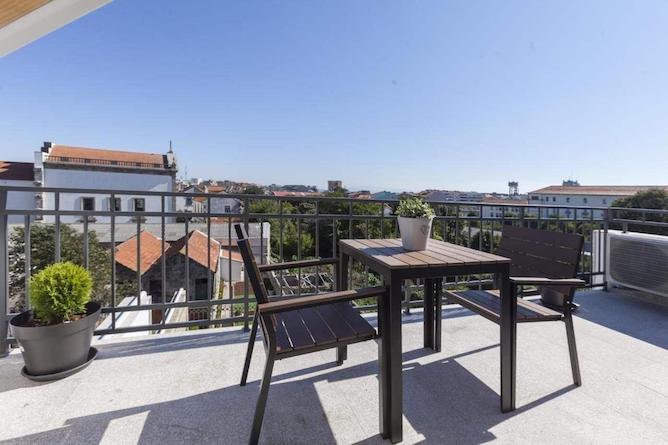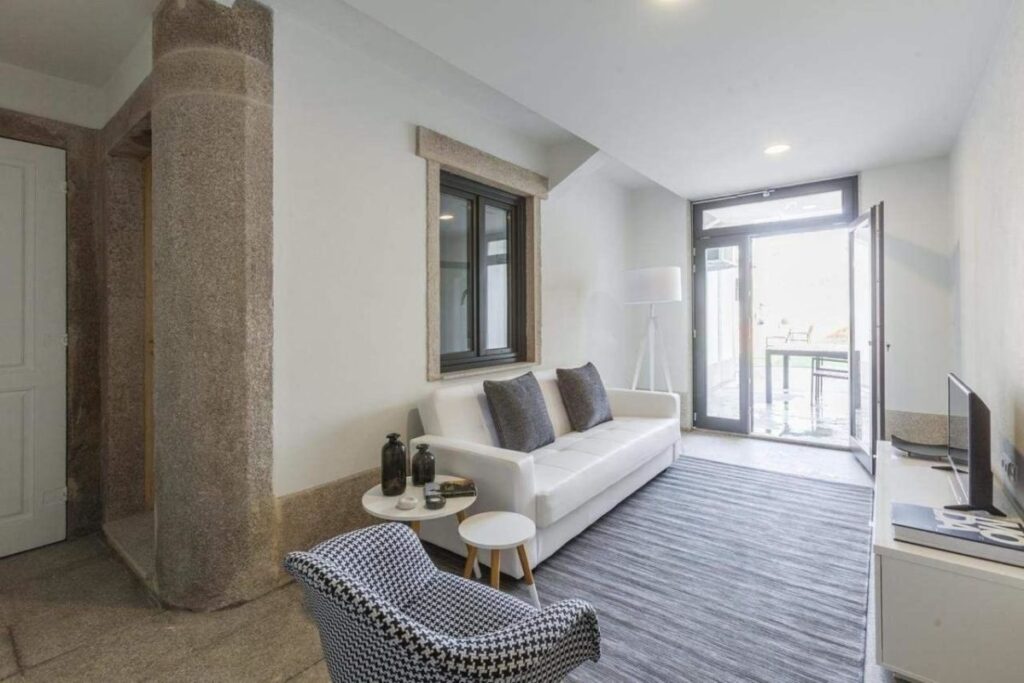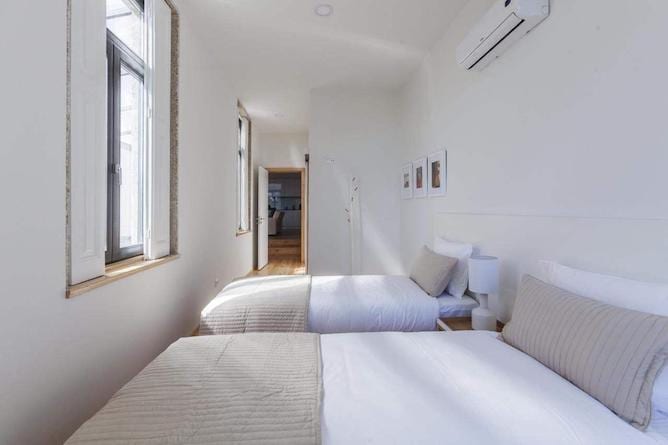 BO – Marquês Apartments in Porto are located in Marquês, an underrated area in Porto. It intersects many important streets like Santa Catarina and Constituição. There are some great bakeries and restaurants around and even though it is completely non touristy, you can get to the city centre in 5min by taking the subway.
This is a great choice if you are looking to stay distanced from the noisy center of the city. While still very much near important landmarks, points of interest and with great connection to transportation, these apartments are a bit removed from the hustle and bustle of the more popular areas.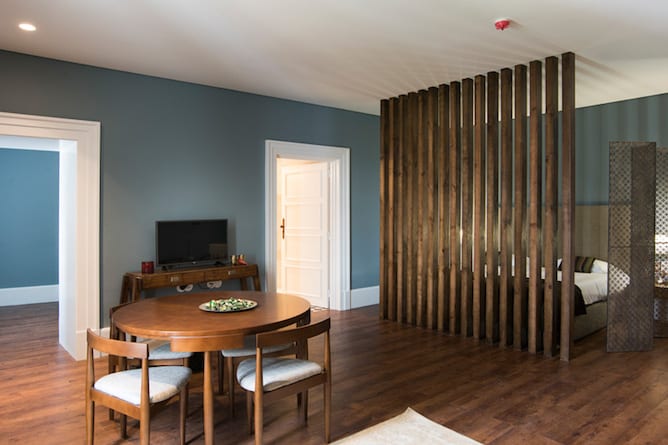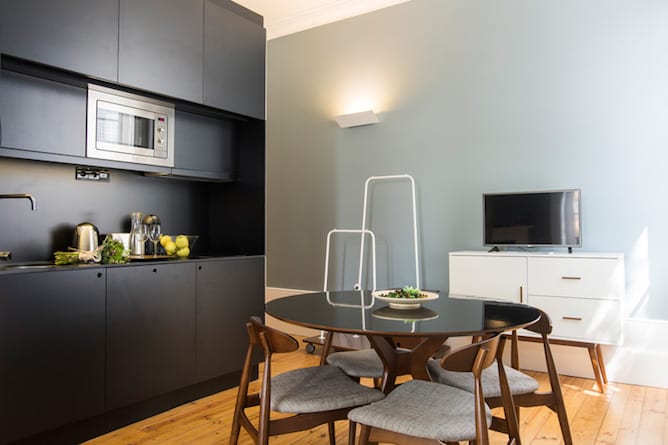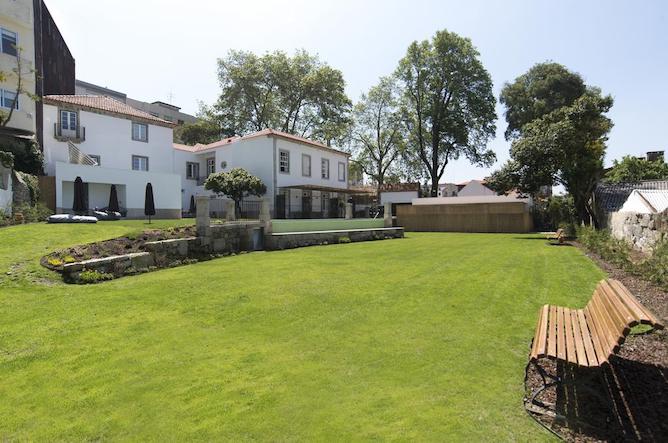 I think these apartments are the jewel of our list of the best apartments in Porto. Bnapartments Carregal are in a renovated palace from the 17th century with a garden that makes me want to grab a book and turn off the real world for a couple of hours.
It is a truly gorgeous place with a quiet charm and beautiful design. And that book? Let's close it and take a dip in the palace's huge pool. I mean it, come on! 😉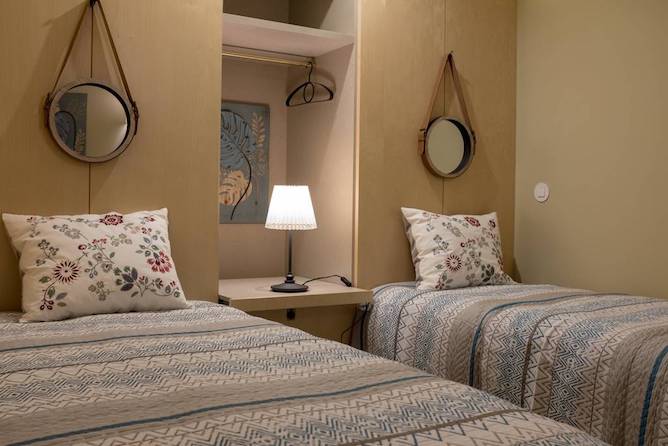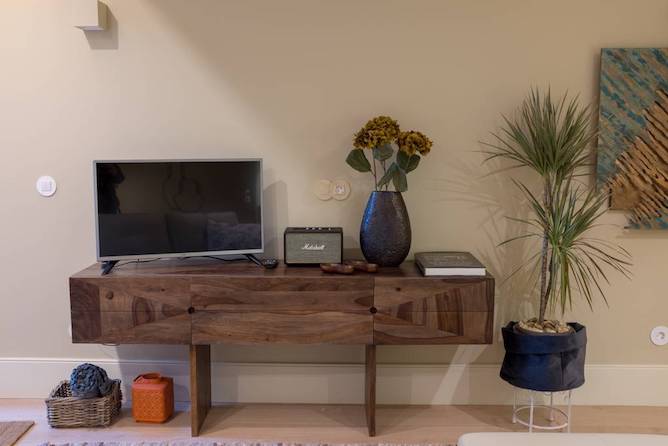 Home in Town has a strong tropical spa vibe, standing out from many accommodations in the same area. It's such a quaint little thing and it's perfect for those that love staying in cozy, comfortable places. Despite the sizes of the rooms, it is not cramped at all and there's everything you need there to have an amazing time while visiting Porto.
It's situated on one of my favourites streets in Porto, Rua do Almada. In the same street, there's so many cool vintage stores, record stores and coffee shops.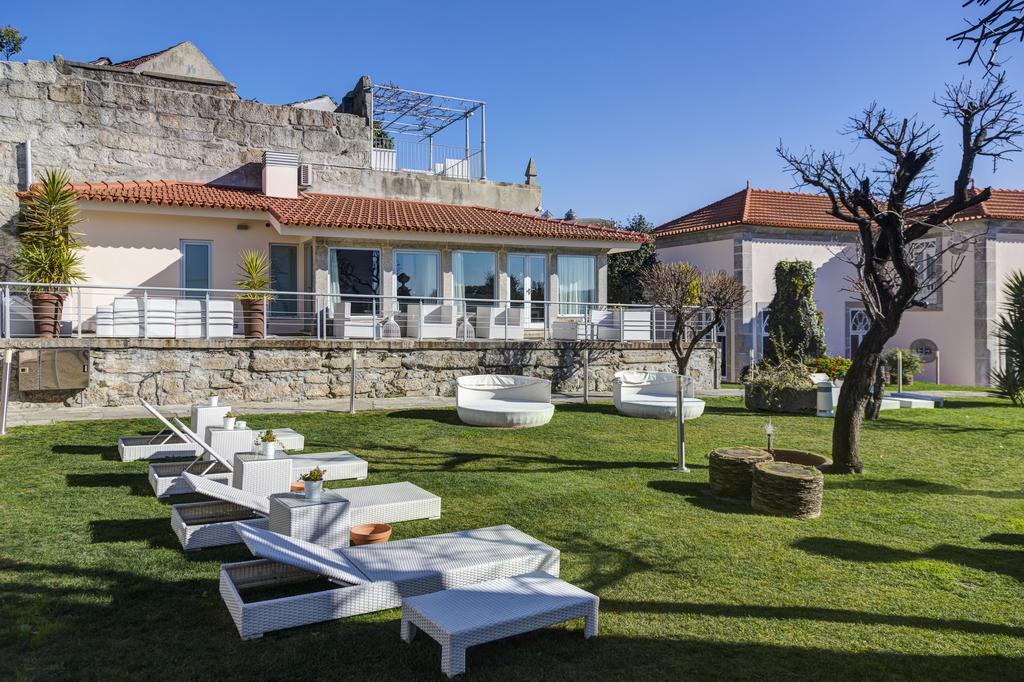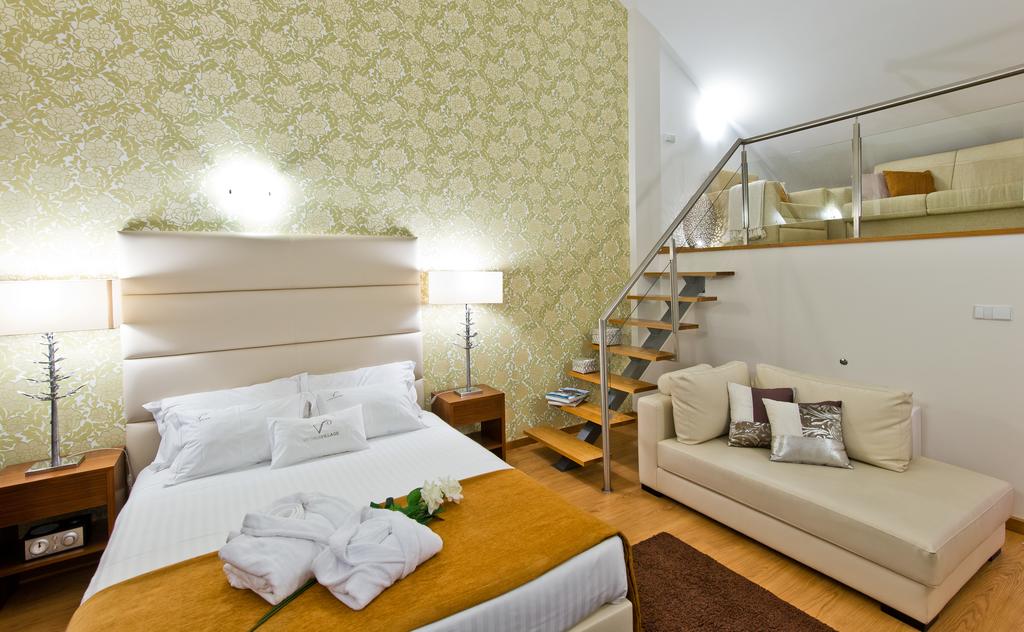 Flores Village Hotel & Spa is on my top list of apartments in Porto. A bit on the expensive side, these apartments are a good choice for those looking for a relaxing time with a group of friends. It's also good for families since there are tons of fun activities for kids around.
The location is on a no-car-zone on Rua das Flores so you don't have to worry about traffic noise. You really can't go wrong if you book a place on Rua das Flores because there are many things to see, places to eat and activities to do.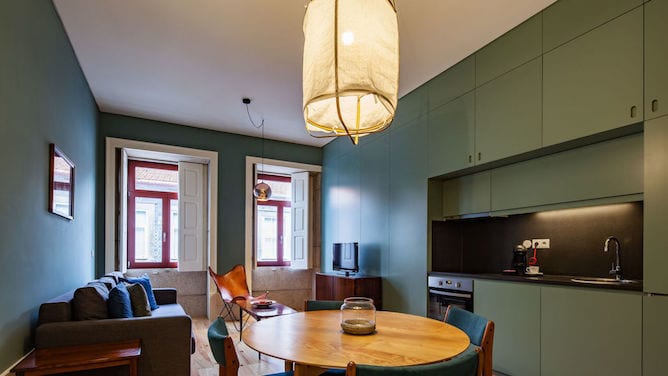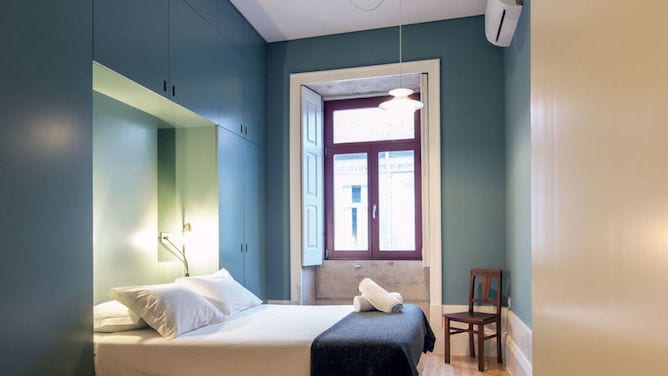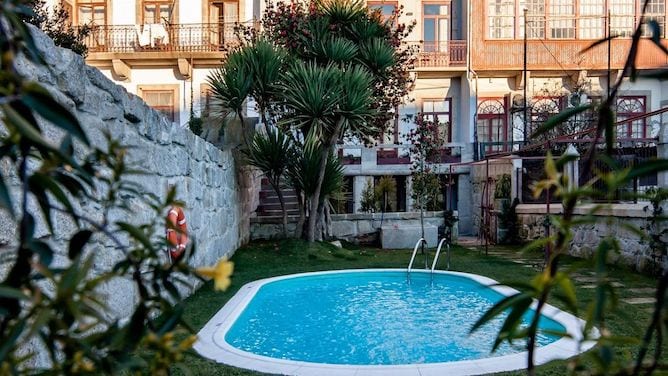 I genuinely love places that play special attention to design and have something that makes them stand out from the rest. In the case of Aparthotel Oporto Alves da Veiga, it's the ceilings.
Everything about them is interesting, stylish and just plain beautiful.
The décor of the rooms is simple but assertive and I think they made the right choice there. The exposed beams and plaster art are the staple of this Aparthotel and should, rightly, take center stage. If this is your choice among our suggestions for the best apartments in Porto, I suggest when you go there to just take a minute, look up and appreciate the beauty that resides upwards.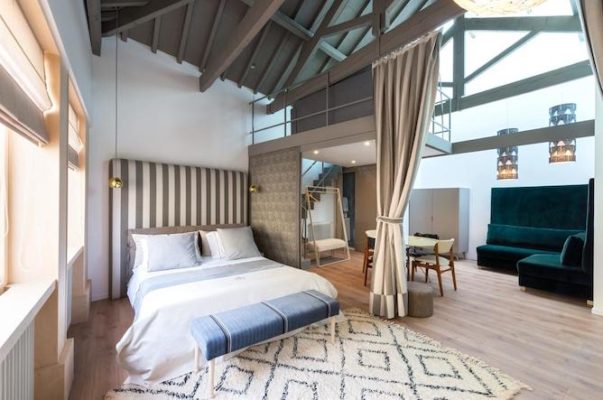 Charm Palace takes the trophy for the, well, most charming apartment on this list.
I have to warn you though: it's charm comes from its hectic architecture and mismatched décor.
Any room you enter you get the sense someone got bored halfway through decorating it in one style and changed it completely. It is royal palace meets New York industrial loft. It's classical skylight and exposed beams, it is velvet cushions, floor to ceiling mirrors, chandeliers and paper lanterns.
Charm Palace is a great place to help you channel the artist within you – I can attest, I was so inspired by the hectic style of the place on my visit.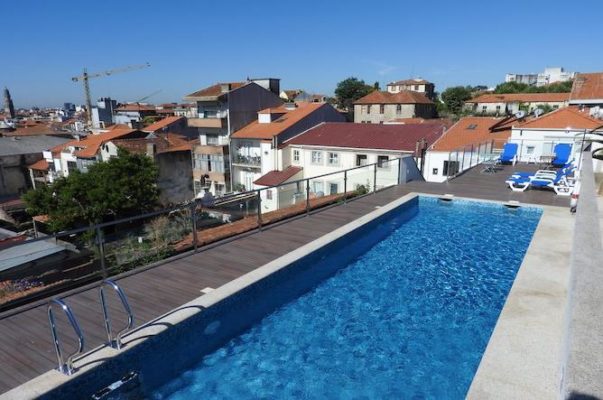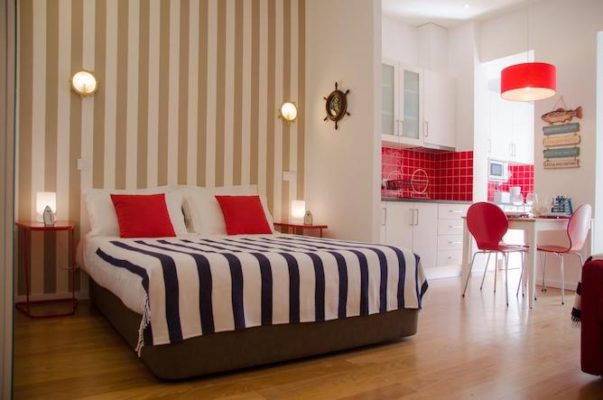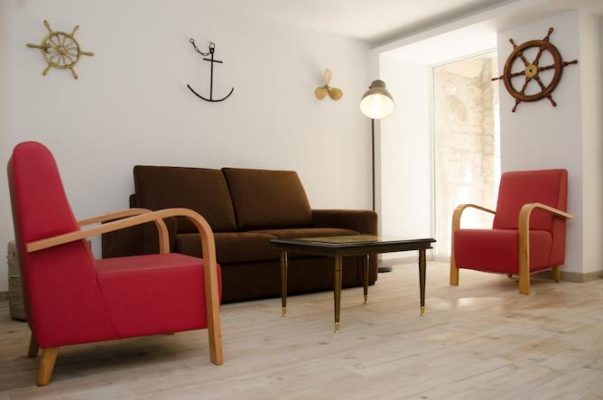 Being a fisherman's and trade city, we couldn't miss one of the best apartments to stay in Porto with a nautical theme. Porto Náutico is decorated to match the sea and river that lick the margins of Porto. The rooms ar full of staple pieces like ancient helms, rudders, hooks and fisherman's knots.
And they have their own little body of water in the terrace! A huge exterior pool graces the shared terrace of the apartments and the experience is complemented by the privileged view over Porto with Clérigos tower taking center stage close by.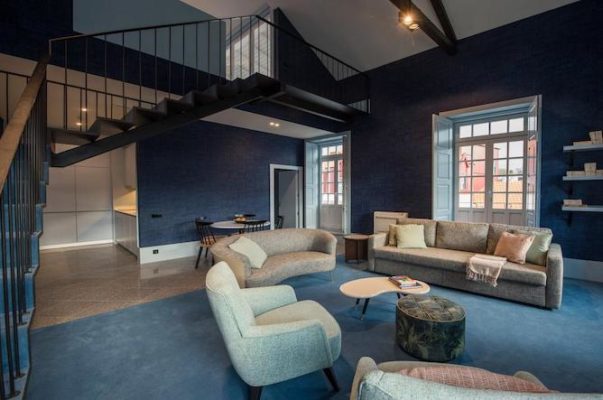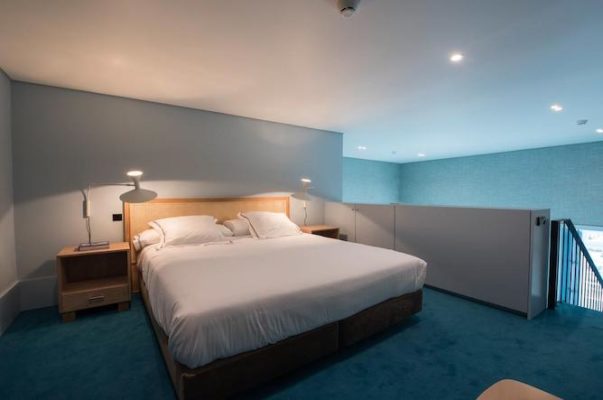 I have one word for you: BLUE.
The doors are blue. Walls, ceilings and and floors are blue. Sofas, stairs, sinks – lampshades and vases. Dark blue, light, pale, pastel, shiny and matte. Fluffy blue and blue marble. I think I'm in love and I am almost certain whoever design Apartamentos The Arc Carrís has exhausted the possibilities of the color. It's truly fascinating what they have done with the interior design in The Art Carrís Apartments.
You would think so much blue would be boring and just too over the top – but that's the wonder of this place: it just works.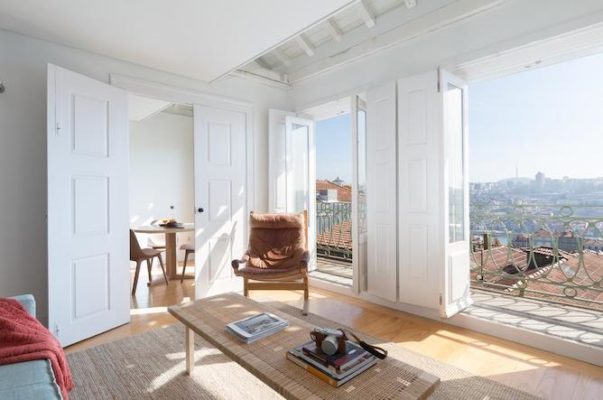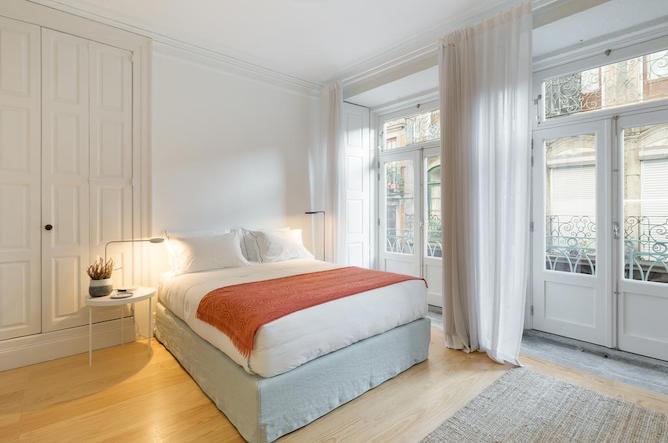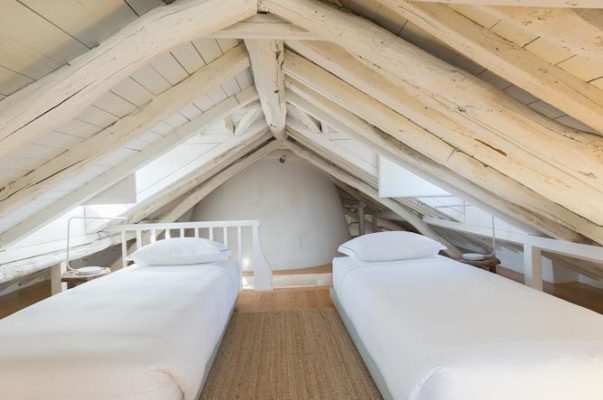 B28 Apartments in Porto are a wonder in white. Few colors open up a space as much as clear, clean white.
This is a beautiful place that accommodates large groups of people comfortably and is really stylish to boot. Besides that, it is situated in a really nice spot in Ribeira. It is near the Stock Exchange Palace – an architectural wonder, Vitória Viewpoint – the place to take some perfect pictures of Porto's skyline, and the Douro river and Luiz I bridge are just a few streets away.
Come on, let's get exploring!
Save this article for later: